5 Advanced Paymo Alternatives to Use in 2023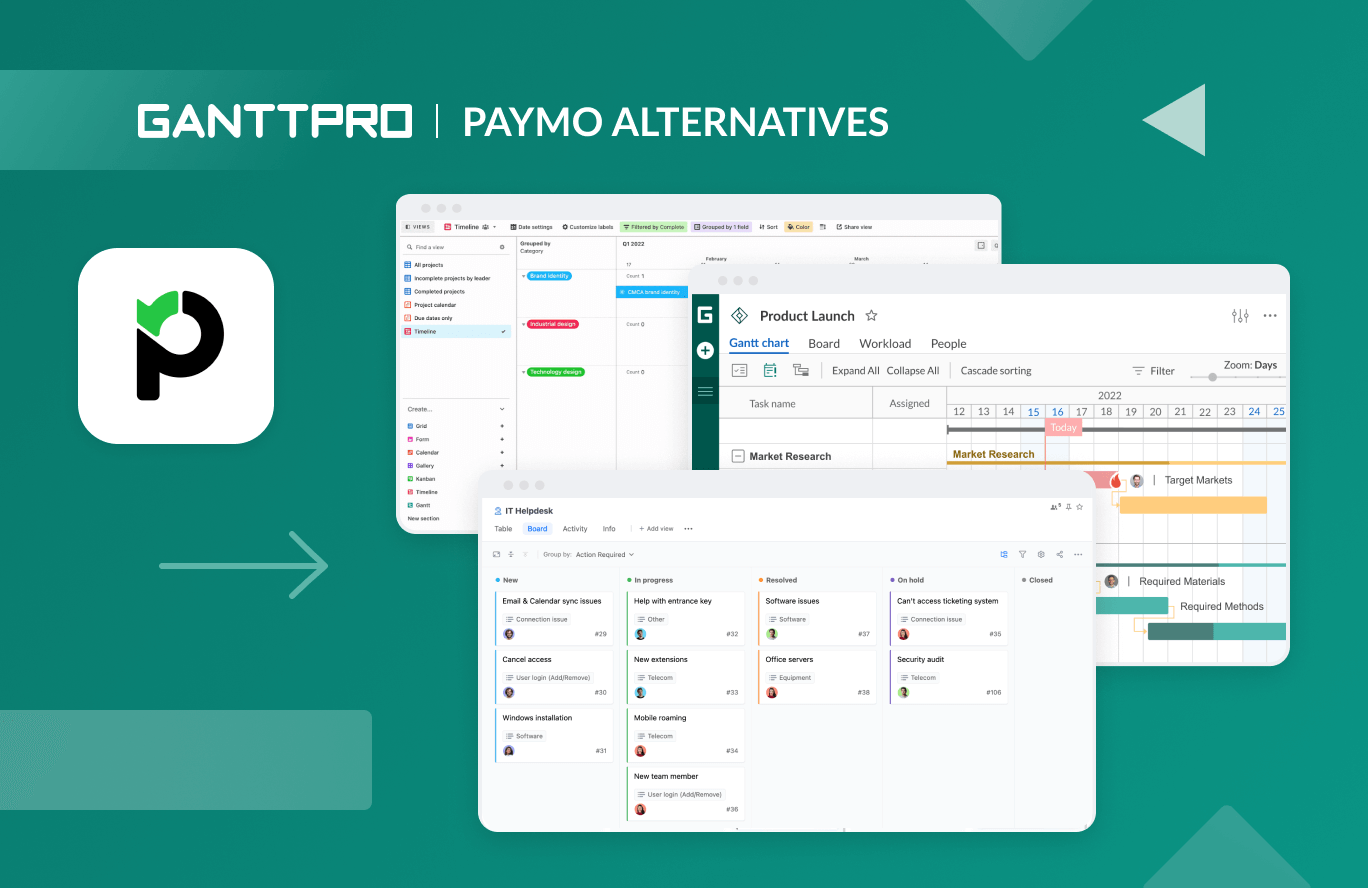 Audio version:
Paymo is a reliable project management solution mainly used by small and medium-sized companies. However, the tool is not the best option for all businesses. It encourages some users to look for a Paymo alternative.
Fortunately, there are advanced platforms similar to Paymo out there that are worth checking out.
Below you'll find the overview of five amazing tools, including Paymo free alternatives.
But first, let's clarify why Paymo can lose user trust.
Contents:
Paymo comes with a set of comprehensive project management features that help to streamline workflows and improve project efficiency. The platform is good for task management, time tracking, invoicing, and scheduling.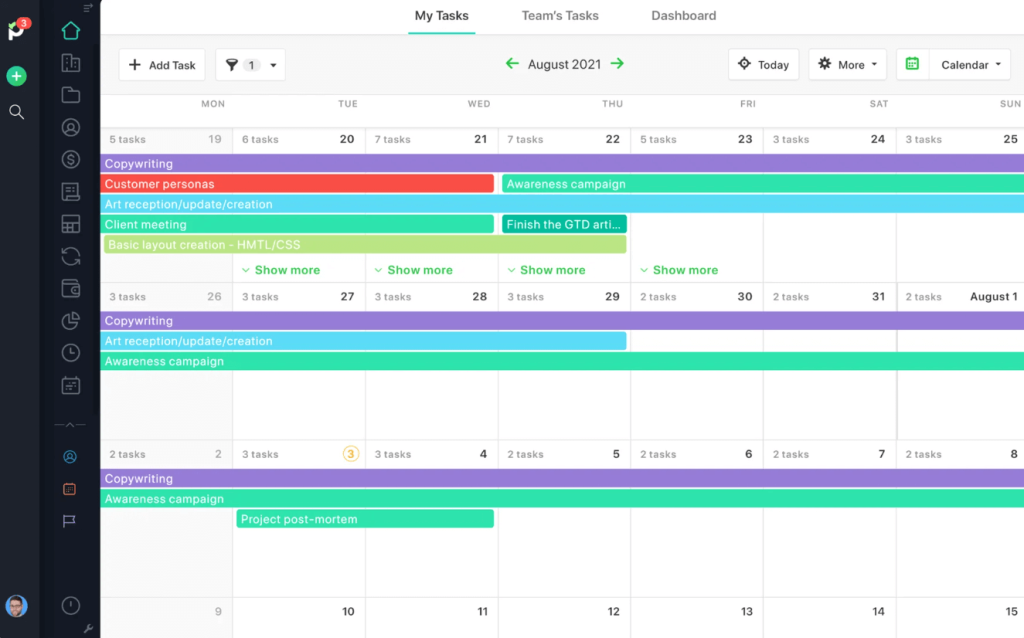 Communication is another crucial point that users consider when choosing Paymo. By the way, 11% of companies apply project management solutions for client communication. Only emails get more preference – 62%.
Although the app has a lot of evident advantages, many competitors still outperform it in terms of functionality, ease of use, and user attitude.
Let's briefly describe the exact reasons that make users look for Paymo alternatives.
Why do businesses need a Paymo alternative?
Paymo doesn't meet everyone's expectations and needs. Some of the most common reasons why users look for Paymo alternatives are listed below.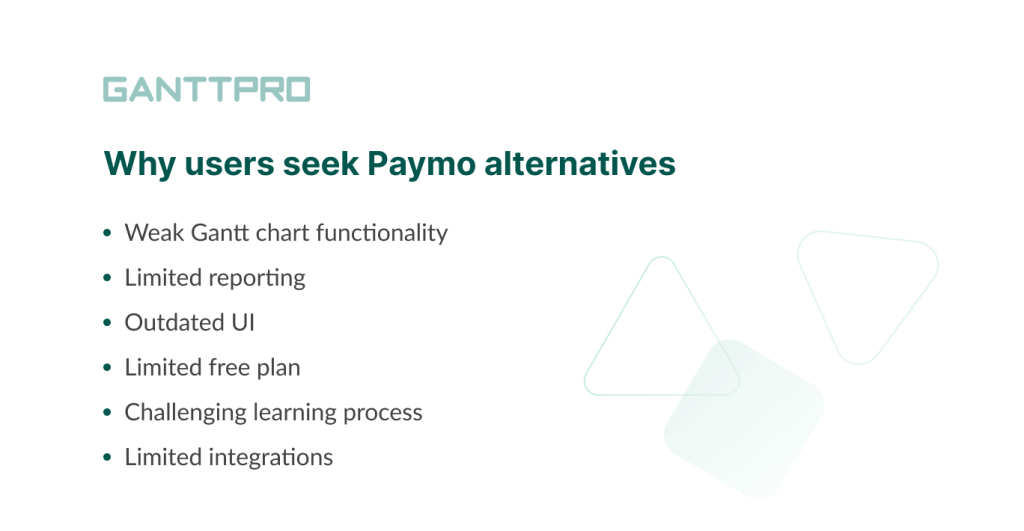 1. Weak Gantt chart functionality
Paymo offers an online Gantt diagram for planning and scheduling. However, it's not convenient and powerful enough to visualize complex projects with many hierarchy levels.
2. Limited reporting
Businesses tend to rely on reports to track many indicators, including the financial health of their projects. While Paymo provides reports to track time and user activity, its users often need reporting on income and invoices.
3. Outdated UI
Paymo interface isn't suited to manage multiple projects as it often gets cluttered. In general, the UI needs to be a bit more simple and intuitive.
4. Limited free plan
The platform offers a free plan, but it comes with a lot of limitations. For example, there are no advanced task management features here. A Gantt chart is only available on the Business plan dedicated for medium and large teams.
5. Challenging learning process
The learning process in Paymo is quite challenging. It can take a considerable amount of time to find and understand new features.
6. Limited integrations
There are not so many integrations with Paymo. If you like to work with several other apps, you may not have the ability to use them cooperatively. Moreover, all integrations in Paymo are available only with the paid pricing plans.
If these limitations and drawbacks of Paymo encourage you to think about moving from this software to any its replacement, then be ready to carefully review the next part of this article.
Best Paymo alternatives with key features, pricing, and rating
We've selected some powerful software solutions similar to Paymo to narrow down your potential list of candidates.
Let's dive into these top-5 software solutions worth your consideration including Paymo free alternatives.
1. GanttPRO – best for planning with an online Gantt chart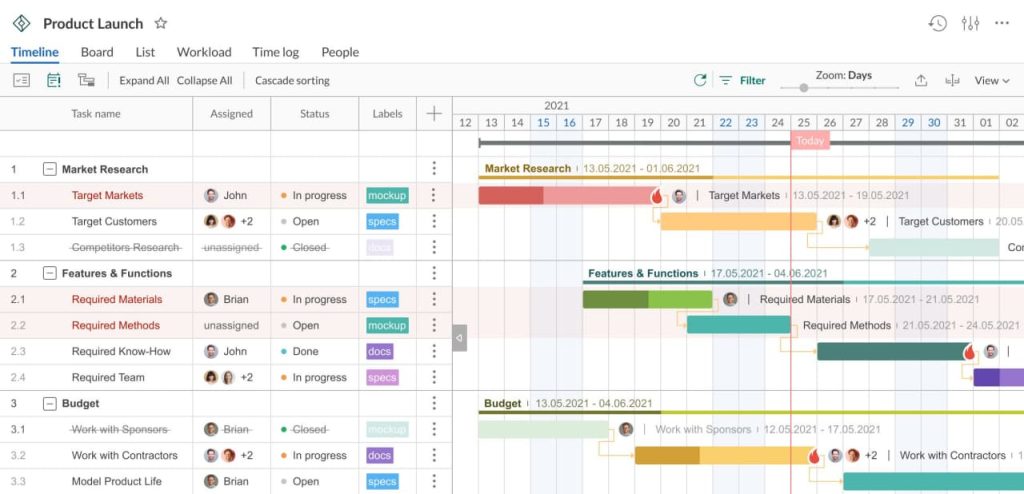 Basic: starts at $7.99 user/month (billed annually).
Pro: starts at $12.99 user/month (billed annually).
Business: starts at $19.99 user/month (billed annually).
Free trial: 14 days.

Let's start with GanttPRO – a robust project management solution that helps teams to make Gantt charts online.
A Gantt chart is used for visual planning and scheduling. This important functionality makes GanttPRO the best friend of professional project managers and an advanced alternative to Paymo.
Besides planning and scheduling, the platform allows for managing tasks and resources, controlling deadlines, setting dependencies and milestones, collaborating with colleagues, customers, and stakeholders. It is possible to manage several workspaces and projects at once.
The tool helps to break complex and incomprehensible work into manageable tasks that makes GanttPRO an excellent WBS creator.
The Gantt chart maker allows for initiating and completing projects of various complexity. It is applied by small businesses and large companies. Therefore, the tool is often defined both as project management software for startups and enterprise project management software.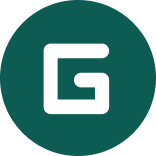 Paymo alternative for project teams
Create an online Gantt chart in minutes.
Sign up for free
GanttPRO integrates with JIRA Cloud, Slack, Google Drive, and other platforms. It provides a free trial and handy templates. You can export and import charts from Excel and MS Project.
It's worth adding that GanttPRO is recognized consistently as the leading tool in project management and other related fields.
Features:
Online Gantt chart for planning and scheduling.

Task management.
Resource management
Budget management.
Time tracking.
Board view.
Notifications.
Importing/exporting.
Reporting.
Gantt chart templates.
Find out more:
Rating as of February, 2023:
2. GoodDay – best for streamlined task management and productivity growth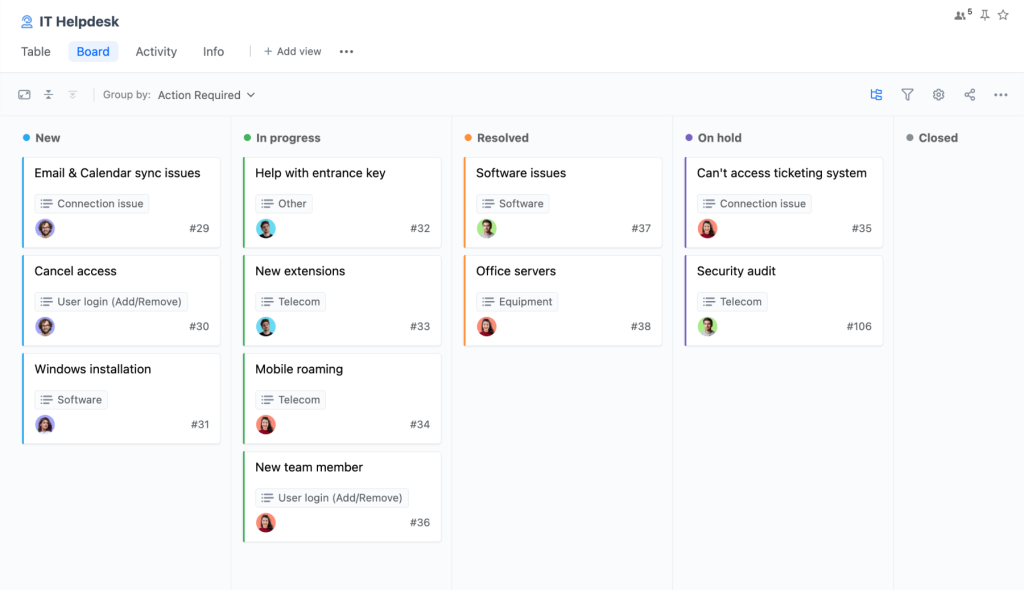 Professional: starts at $4 user/month (billed annually).
Enterprise: By request.
Free trial and free version: available.

GoodDay is also a robust Paymo app alternative. The platform provides teams with professional tools for planning, day-to-day work, and continuous improvement of all the processes based on transparency and accountability.
This free app offers different project views, including a Kanban board and a Gantt diagram. Beyond those views, each project has a Summary tab that contains an overview of tasks, users, and events.
GoodDay is also known as one of the most reliable tools for resource management. It helps to visualize your whole work processes and drive collaboration through timely updates and notifications.
You can take the free plan to another level with available integrations.
Features:
Task management.

Project planning/scheduling.
Resource management.
Prioritization.
Client portal.
Alerts/notifications.
Time tracking.
Customizable templates.
Reporting and statistics.
Find out more:
Rating as of February, 2023:
3. Airtable – best Paymo alternative with the extended set of templates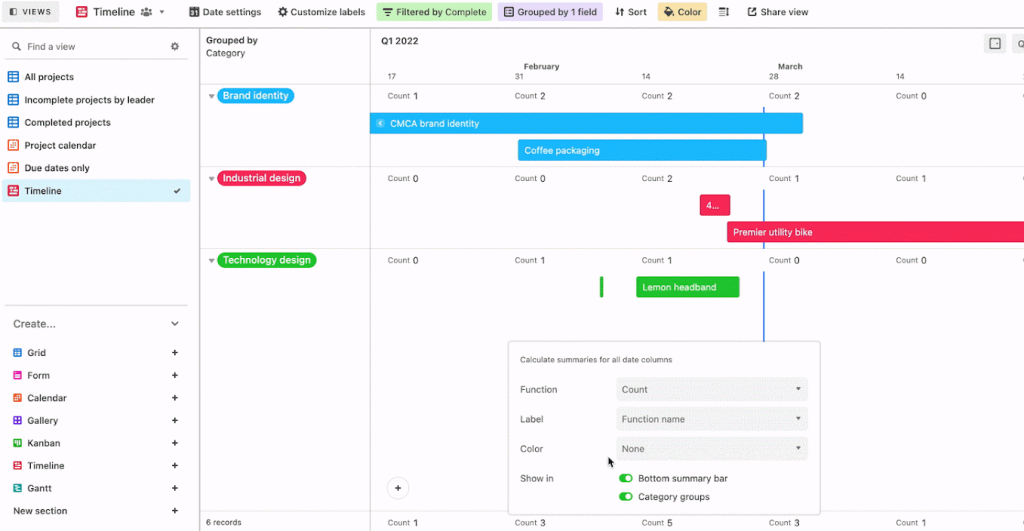 Plus: starts at $10 user/month (billed annually).
Pro: starts at $20 user/month (billed annually).
Free trial: 14 days.

Airtable is flexible enough to satisfy teams with diverse project management needs. It offers a free version with unlimited bases, grids, task boards, calendars, and gallery views.
You can create online spreadsheets in an easy-to-navigate format, schedule team meetings, process bills, and manage invoices.
If you're just beginning your journey in project management, Airtable will serve as your reliable guide. With its advanced functionality and templates, you'll quickly learn how to become a project manager without experience or how to create a project timeline from scratch.
Features:
Online spreadsheets.

Task management.
Multiple views.
Budget management.
Brainstorming functionality.
Asset categorization.
Alerts and notifications.
Categorization/grouping.
Email integration.
Reporting.
Find out more:
Rating as of February, 2023:
4. Wrike – best collaboration tool that scales across teams in any business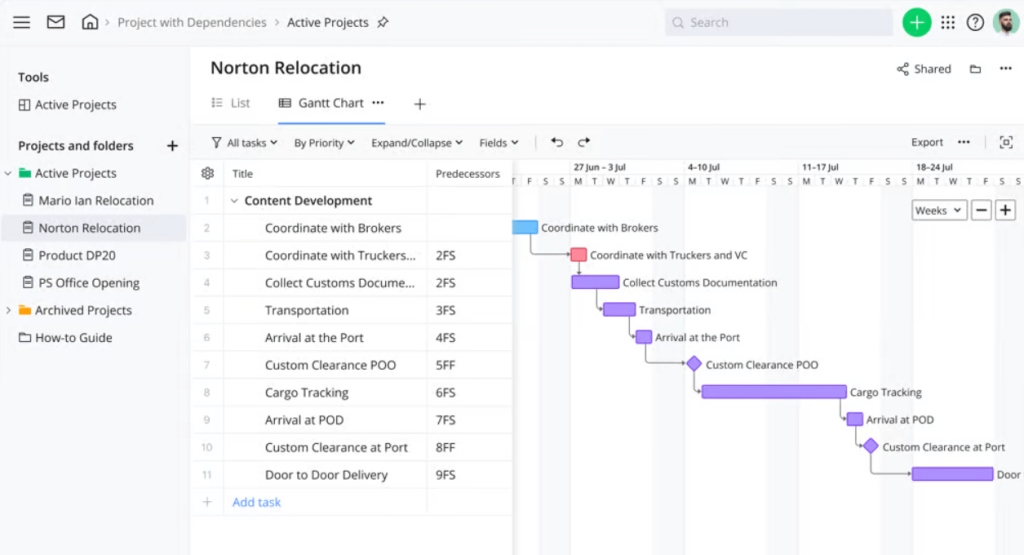 Professional: starts at $9.80 user/month (billed annually).
Business: starts at $24.80 user/month (billed annually).
Free trial: 14 days.

Wrike is an impressive project management tool with an intuitive visual interface. This Paymo app alternative is suitable for individuals and organizations of any size, so you can apply it for large enterprise projects or use it as small business project management software.
The flexibility and scalability of Wrike make it a great choice for businesses in many industries. For example, there are many cases of utilizing this tool as professional construction scheduling software.
Wrike users can schedule projects, visualize all their activities on a friendly Gantt chart, control tasks, prioritize, and analyze them.
The platform provides built-in tutorials, guides, and visual prompts for project managers from any sphere. These sources are pretty useful for beginners. For example, if you are interested in the topic "project roadmap vs. product roadmap", you can get required knowledge and skills to generate both of them in Wrike.
Features:
Task management.

Gantt chart timeline.
Spreadsheets.
Calendar.
Custom workflows.
Progress tracking.
Time tracking.
Real-time updates.
Public URL.
Analytics.
Find out more:
Rating as of February, 2023: 
5. Hive – best free alternative to Paymo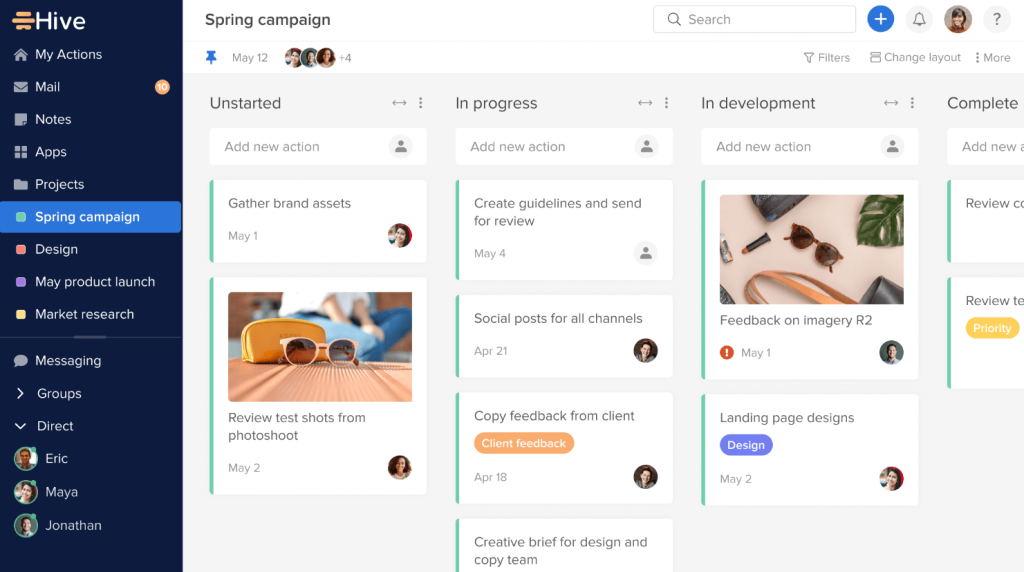 Teams: starts at $12 user/month (billed annually).
Free trial and free version: available.

This Paymo free alternative looks perfect for small project management teams. Hive makes it easy to plan and manage projects thanks to its task boards, timelines, and file markups.
Business groups and departments that have typical traits of high performing teams will benefit from this software, as it offers a great set of tools for collaboration and increasing productivity on a daily basis.
Hive comes with a handy interface, reporting, and time tracking. A special project space feature allows users to store files, create task lists, and track deadlines in one place.
The only drawback is that Hive doesn't offer a way to export project data. It can hurt teams' ability to analyze their performance once a project is completed.
Features:
Task management.

Multiple project views.
Workflow automation.
Time tracking.
Reports.
Advanced collaboration.
Meeting auto scheduling.
Integrations.
Find out more:
Rating as of February, 2023:
Capterra – 4.5.

G2 – 4.6.
Which Paymo alternative will you choose?
After reviewing our list of the best Paymo alternatives, you can make an informed decision on the software solution that's the best fit for your business.
Give a try to GanttPRO if you need the best Gantt chart maker. Choose GoodDay or Airtable for smooth task management. Benefit from Wrike if your goal is increasing collaboration, and finally, explore Hive if you want to work with free functionality.
Feel free to explore more project management tools and their alternatives:
Frequently asked questions about Paymo
Paymo is a work management software solution designed for small and medium-sized companies related to spheres and areas like IT, web design, marketing, creative agencies, business consultancy, and more. It provides robust features to plan, manage, and complete projects of any complexity.

Paymo focuses on helping teams with planning and managing tasks, creating team schedules, tracking work time, communicating, and billing customers.

This content is licensed by