Top-5 Work Breakdown Structure (WBS) Software to Use in Project Management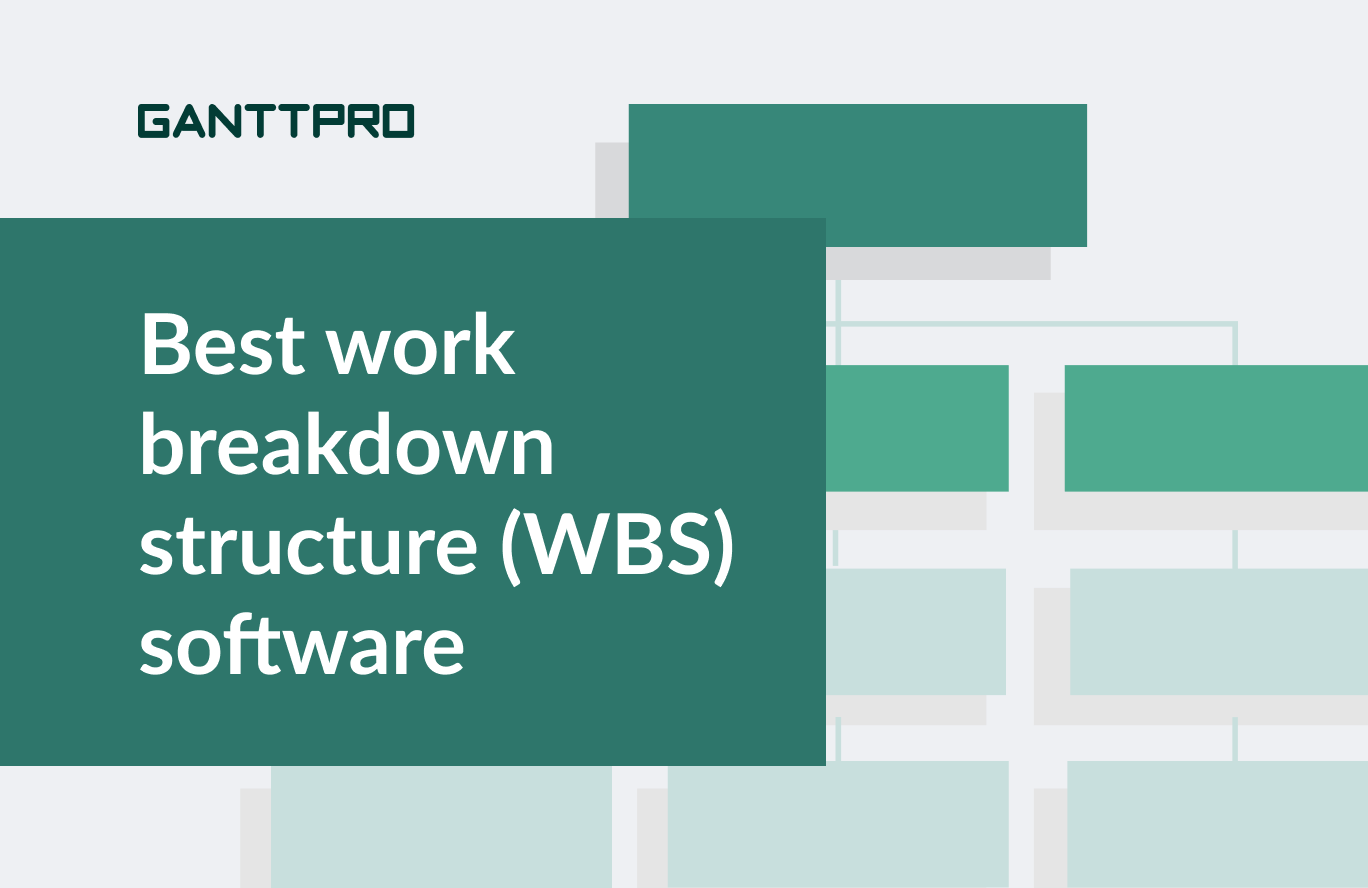 If you are used to applying a work breakdown structure for your projects, then choosing the right WBS software is nothing extraordinary to you. However, if this is the first time you come across this type of project management charts, finding an effective software solution can be a challenge on your agenda.
In this post, we describe some robust software to create a WBS. So, in case you need to build this kind of chart from scratch or find an appropriate work breakdown structure example, then you are in the right place at the right time.
Contents:
Creating a WBS is a professional way to get a project off the ground and ensure it is efficiently executed in a short time.
Luckily, you have a choice to pick up the best WBS software for your project.
Applying software to generate a work breakdown structure is especially valuable, as it is a simpler option of outlining the project scope and its deliverables.
It's up to you what platform to choose: you may seek free WBS software or perhaps you are ready to pay for the advanced functionality. Your team may desire to choose work breakdown structure software for Mac or Windows – this is not a problem as well. Finally, you may want to work with a highly specialized WBS-focused platform or choose a multifunctional project management tool with the correspondent feature.
The main idea is that you have a choice, and that's awesome.

Below, we list the best work breakdown structure software solutions for your projects. Consider them all and choose one that will lead your project to success.
Best WBS software
Companies from different industries utilize a work breakdown structure to organize their projects due to its high efficiency output and compliance with the latest trends in project management. They simply seek available WBS software solutions on the internet or listen to recommendations and reviews.
The variety of such platforms can satisfy any demanding project manager, because they can find the WBS software of any complexity level and design.
It can be:
A multi-functional project management Gantt chart maker that allows breaking down projects to smaller chunks.

A special app with a result-oriented tree WBS chart as the major feature.

Any charting system, where a work breakdown structure is just one of dozens of diagrams available.
Some specialists still use Microsoft Excel to build a work breakdown structure online. This way seems to be effective, but outdated due to the availability of more convenient and professional platforms for building a WBS chart. However, if you want to learn how to create a work breakdown structure in Excel, you won't need much time and effort.
Composing our top-5 list of the best affordable and free work breakdown structure software, we've chosen different but equally reliable solutions for your project success. Let's see what we got.
1. GanttPRO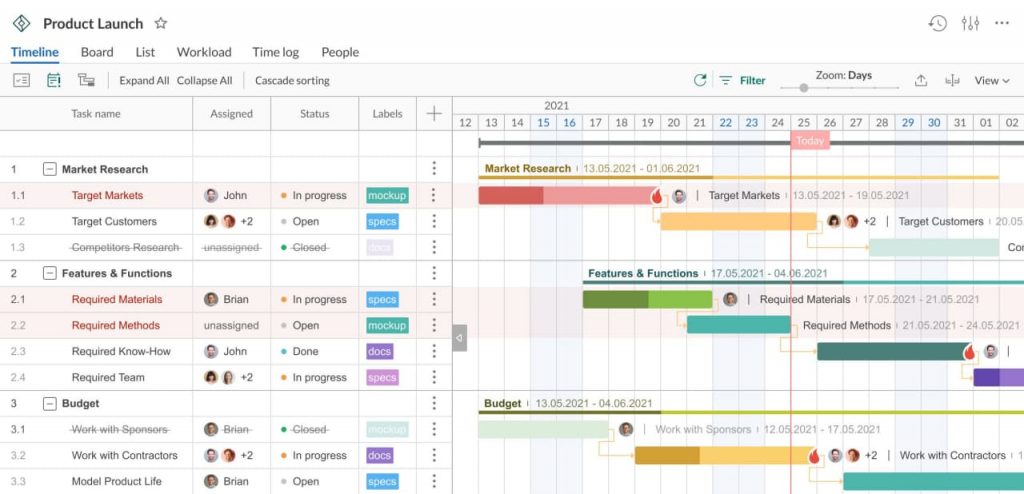 Free trial: 14 days.
Basic: starts at $7.99 user/month (billed annually).
Pro: starts at $12.99 user/month (billed annually).
Business: starts at $19.99 user/month (billed annually).

If you want to get a handy and neat work breakdown structure visualized on an online Gantt chart, there is a reliable and proven way – to try GanttPRO.
There are many discussions about "WBS vs. Gantt chart" with the key message that these are two different diagrams. However, GanttPRO has proved that the charts can be perfectly combined and benefit any project.
GanttPRO is based on an online Gantt diagram. It allows you to create charts for different types of projects. With the help of this WBS creator, you can manage your team more efficiently so they could have more productive results and cut off project management expenses.
Here are some key features of GanttPRO:
Professional Gantt chart for simple and complex projects.

Flexible WBS hierarchies based on a nesting system. So you can create 1.1, 1.1.1, 1.1.1.1 tasks and so on (up to 13 nesting levels).

Comprehensive task management with dozens of settings.

Drag and drop functionality.

Delegating projects and tasks.

Tasks prioritization.

Setting durations, dependencies, and milestones.

Resource and cost management.

Export and import.

Various integrations.
GanttPRO offers many other useful features to discover but you need to try it for yourself. Get a free version from the website and make a Gantt chart online like a real professional.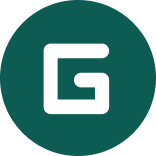 Advanced project management and planning
Create a work breakdown structure with a handy Gantt chart.
Sign up for free
With GanttPRO, you can easily visualize your tasks with the WBS nesting.
For this, compose a list of tasks and subtasks, then click on the plus sign that is placed to the left of your timeline in the settings block to see the hidden fields. You'll get the list of the options. Click on a WBS field, and order your task list to visualize the hierarchy you want.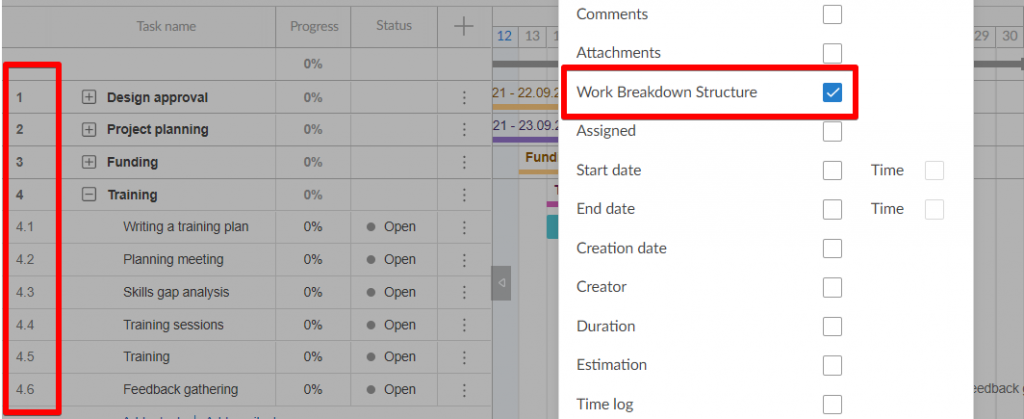 You can always export your chart with a WBS to PNG, PDF, XML, or Excel and share any given state of your project. Then you'll be able to get a physical copy of your project.
Watch the following video to learn more about it:
Transfering projects created in Microsoft Excel to GanttPRO is also available.
To import a project with the WBS numbering in Excel, you have to press Import (when creating a new project), and apply a drag-and-drop feature (or upload it from your computer).
Set the task number in a WBS to let GanttPRO correctly define the position of the tasks. And that's it!
The following video provides more details about importing projects from Excel to GanttPRO:
Available Gantt chart templates will assist you in creating your diagrams, including WBS Gantt chart template, even if you have little experience.
Pros

Cons

Easily understandable hierarchy of a WBS.

User-friendly Gantt chart templates for various cases.

Convenient and intuitive interface.

Advanced project management functionality for simple and complex projects.

A WBS may not fit the screen and requires scrolling.

There is no free version, but a fully-featured 14-day free trial is enough for getting started.
2. EdrawMax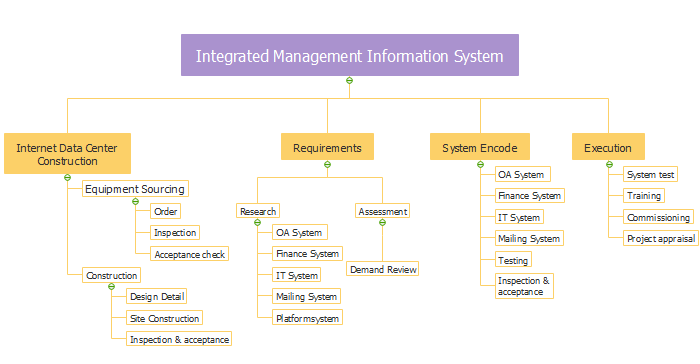 Free version: available.
Free trial: 15 days.
Individual: starts at $8.25 user/month (billed annually).
Team and business: starts at $199 user/one time payment.

EdrawMax is a multi-purpose diagramming platform where you can get a wide range of powerful diagrams, including a work breakdown structure. This is a free WBS software. However, if you want to get its advanced functionality, you have to pay.
EdrawMax supports more than 280 diagram types, ranging from simple flowcharts to complex workflow and business diagrams. It is equipped with an extensive gallery of templates that makes it especially useful for users new to diagramming software.
You don't need professional drawing skills to create a user-friendly WBS here as the platform allows for doing it using its features set.
You can just grab a built-in WBS template and quickly edit it, by changing the default layout, distributing team resources, sharing in the team cloud, and exporting it to different formats.
EdrawMax will help you to plan your tasks, improve team collaboration, and deliver a successful project. You can download the structure by clicking on the Download PC Version and Mac Version (so, Edraw can be considered as WBS software for Mac).
Here are some key features of EdrawMax:
Easy-to-build WBS system.

Convenient drag and drop functionality.

Setting, changing, or measuring progress for all tasks and subtasks.

Linking tasks to create dependencies.

Generating reports to capture specific project info in summary views.

Quick export to MS Office files and other files.

Tracking costs involving a system of standard or overtime rates.
EdrawMax will help you deliver high-quality work on time by planning all your projects in one place using a handy WBS.
Pros

Cons

Supports 280+ diagram visualization types, including a WBS chart.

Provides an extensive gallery of templates.

Supports a large number of file formats (pdf, ppt, jpeg, html, etc.).

Available for Windows, Mac, Linux, and Web.

Diagrams designed during a trial period have watermarks.
3. Lucidchart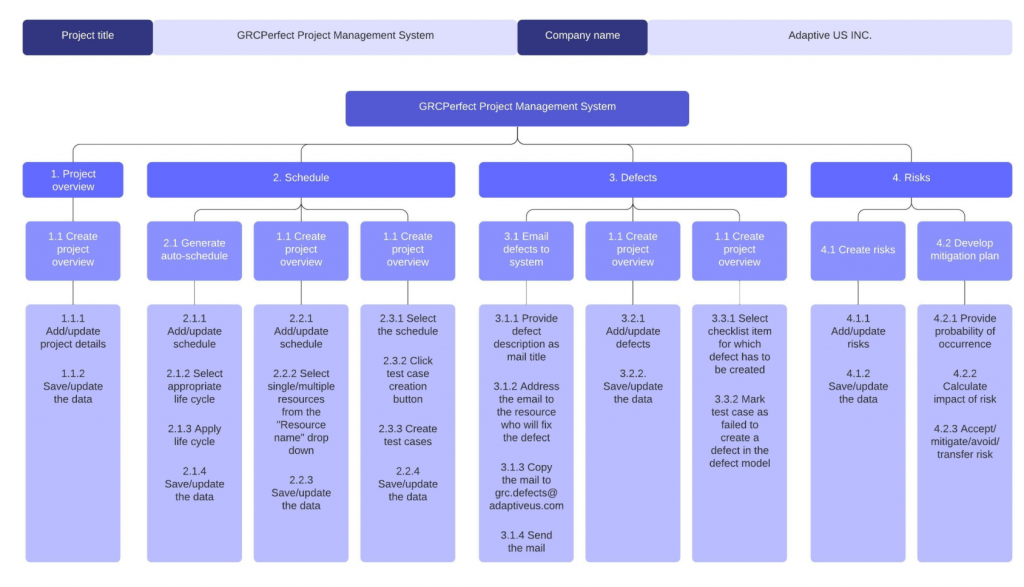 Free trial: 15 days.
Individual: starts at $7.95 user/month (billed annually).
Team: $9 user/month (billed annually, 3 users minimum).
Enterpise: by quote.

Another professional solution for creating stunning work breakdown structures is Lucidchart.
You don't need special design skills to generate top-notch diagrams for workplace collaborations in Lucidchart. The application even includes an option to work offline.
This free WBS software comes with a wide range of templates to instantly break down your projects into smaller bite-sized pieces. The only thing you need to start working with a WBS is to choose the correspondent template and make some required changes.
The users of Lucidchart have a chance to choose between a free version and professional level subscription plans. They can sync data with business apps like JIRA, Confluence, or Salesforce.
Here are some key features of Lucidchart:
A simple tree-oriented WBS.

Links and layers for easy-to-read diagrams.

Chat/messaging.

Access control and permissions.

Alerts/notifications.

Unlimited number of simultaneous collaborators.

Export to pdf, png, jpg, and Microsoft Visio (.vdx).

Integrations with Google Drive, Confluence, JIRA, etc.

Hundreds of templates and examples.
Pros

Cons

Equipped with a massive gallery of over 500+ templates.

Supports smart automatic visualizations from data imported from Excel, Salesforce, and other tools.

Supports real-time collaboration.

Provides many integration options.

Doesn't support SVG and Visio formats.

Free plan looks too limited.
4. Creately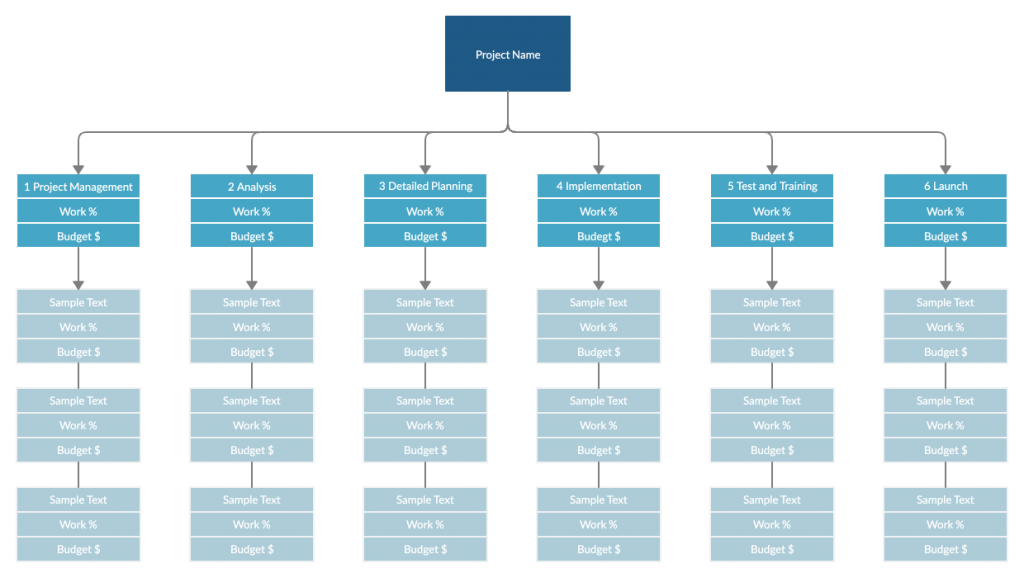 Free version: available.
Personal: starts at $4 user/month (billed annually).
Team: starts at $4.80 user/month (billed annually).
Enterprise: custom pricing.

This affordable WBS project management software looks like a great alternative to other famous software for work breakdown structure since it has a lot of elements to make various types of powerful diagrams.
Creately has long been helping many businesses by providing quick and quality chart solutions to different situations. Apart from a WBS, there are many other project management diagrams in its template library.
Simply put, this is the well-designed free WBS software that is perfect for visualizing whatever concept or idea you have.
Here are some key features of Creately:
Advanced visual canvas.

Drag and drop functionality.

Data linking.

Process mapping.

History revision.

Data import/export.

Mockup creation.

Multiple access and role levels.
Pros

Cons

Free feature options.

Equipped with a rich template library.

Supports drag and drop for fast design.

Allows exporting in different formats.

No way to create or edit diagrams on the mobile app.
5. WBS Schedule Pro by Criticaltools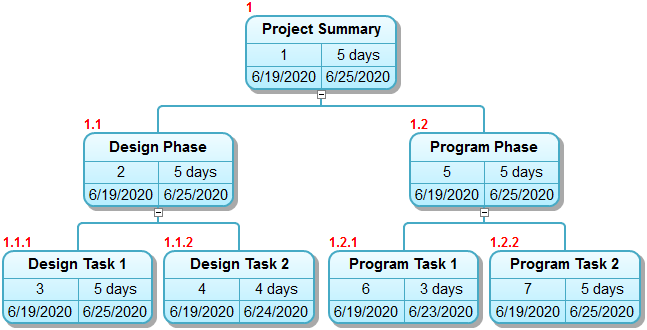 Free trial: 14 days.
WBS version: starts at $199 user/month (billed annually).
WBS Schedule Pro with Network Charts and Gantt Charts: starts at $349 per license/month (billed annually).

WBS Schedule Pro is a WBS chart planning tool provided by Criticaltools.com.
This solution is totally focused on the WBS chart functionality. However, if you want to use a network diagram or a Gantt chart, you can upgrade your plan and get them within this platform.
The users of WBS Schedule Pro apply it to brainstorm their projects by breaking them down into manageable pieces. This visual management way with a top-down approach makes for more comprehensive project plans. 
This Windows-based project management WBS software offers the intuitive user interface and visual nature of the charts. It minimizes the learning curve needed to use more complicated project management software. It looks perfect for presenting projects to the team, management, and clients.
Your projects created in WBS Schedule Pro can be of any size and consist of any number of tasks.
Here are some key features of WBS Schedule Pro:
Simple visual planning.

Easy tasks and subtasks creating.

Additional network charts and Gantt charts.

Microsoft Project integration.

Ability to export finished projects to Excel spreadsheets.

Tracking project progress with graphical presentations.
Pros

Cons

A simple top-down hierarchical view of a project.

Easy to use (compared with the rivals).

Doesn't provide other templates as many competitors do.

Too simple for complex projects.
What is your favorite work breakdown structure software for project management needs?
That's all we wanted to share about the five best (but not the only) software solutions for building a work breakdown structure. Have you already chosen which WBS diagram to use to decompose your project tasks?
If this is the first time you want to work with a work breakdown structure, then you'd better start with a simple system. MS Excel or WBS Schedule Pro will be a good choice.

If you already know how a WBS works and have used it many times, but want to try a more complex system or a structure integrated into another tool, such as a Gantt chart, then GanttPRO is one the best options you can find. 
Whatever WBS diagram software you choose, it's vital to adapt it to the specifics of your project and the work of the entire team. If you succeed in this, then you receive professional planning and competent management of your tasks throughout the life cycle of your project.