How to Create a Project Timeline and Make it Your Strategic Ally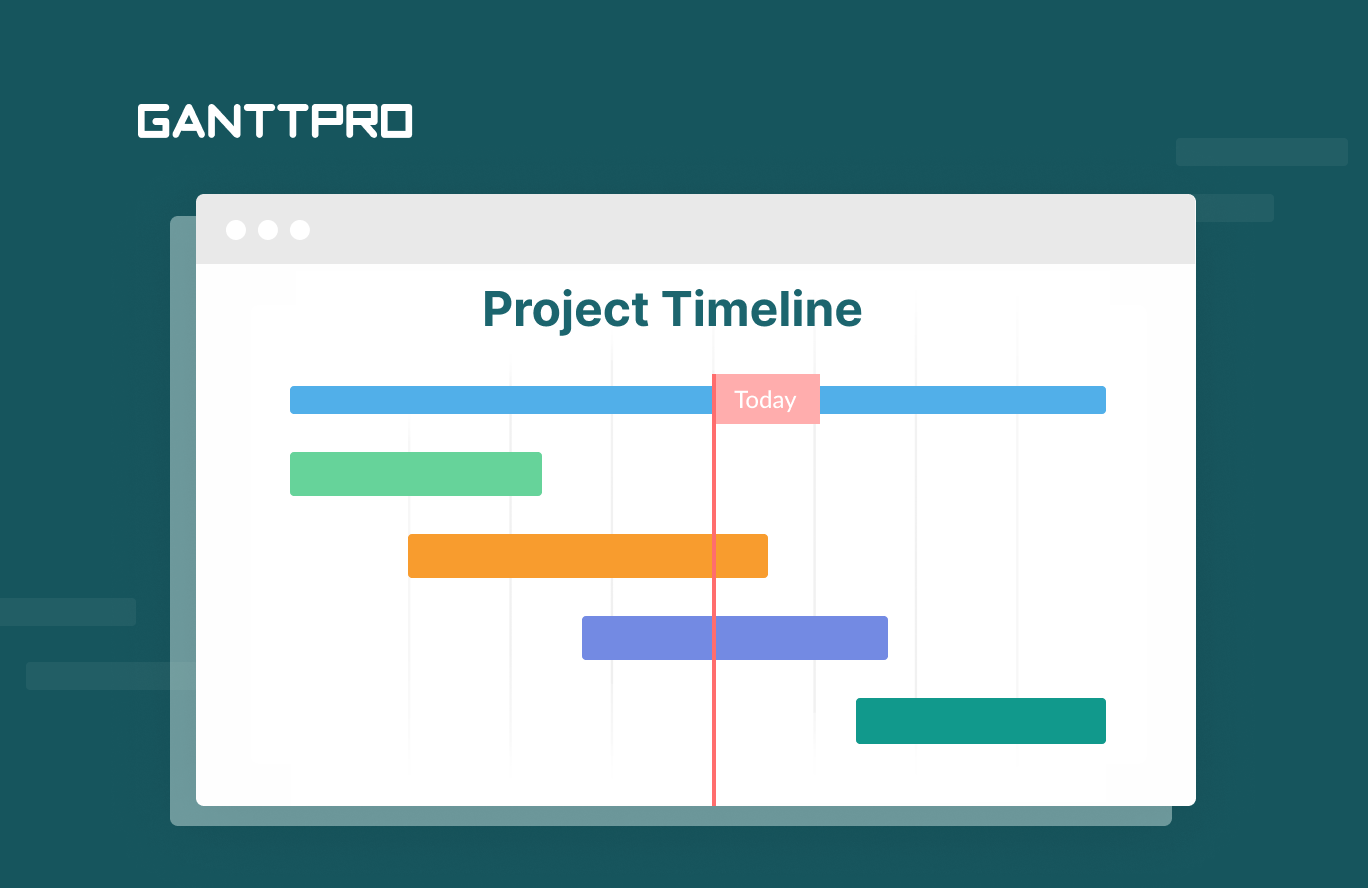 Projects can't exist without timelines. There is no way to accomplish work without having a clear understanding of start and end dates. Therefore, project managers at the earliest stages of their career should know how to create a project timeline.
How should they make it with benefits and maximum effect? It depends on a carefully chosen project management and planning tool that allows building a timeline.
Many professional software solutions offer different ways to create timelines. Some of them propose a simple vertical line. Some tools provide a Gantt chart that is the easiest and the most reliable way to plan timelines.
In general, there are several ways to do it. But all of them have almost the same steps. Let's study all these steps to master the essential skill of creating a project timeline.
Contents:
What is a project timeline?
A project timeline is a chronologically ordered line with dates, events, or essential project actions. This visual reference point allows understanding of the steps required to complete a project on time.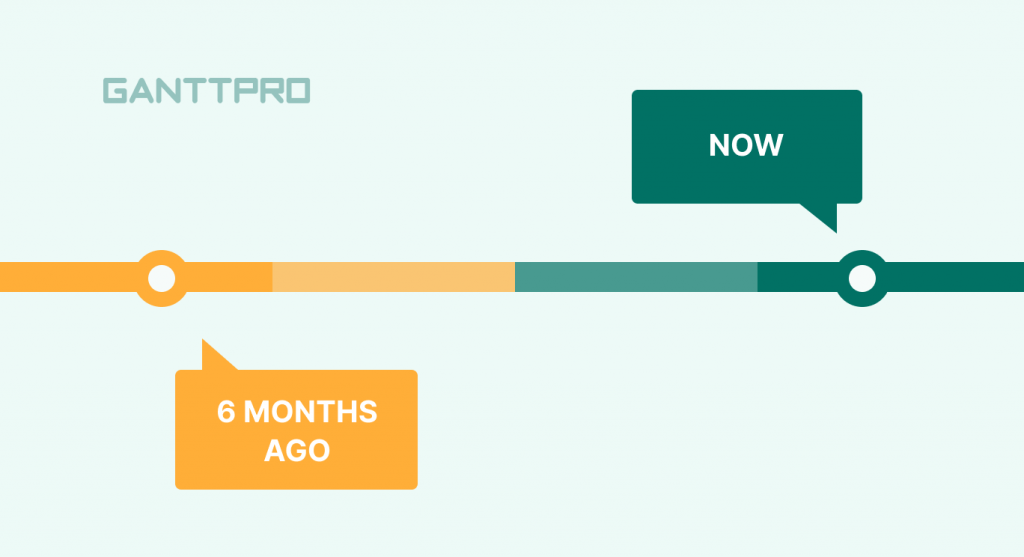 The role of timelines is constantly growing because the importance of the project management sphere is also increasing. 69% of project professionals state that their senior leaders value project management (PMI).
Online timelines give teams an understanding of their work at a glance, offering an overview of all the required tasks, along with their assignments, priority levels, and project milestones.
The benefits of creating a project timeline
Developing a timeline of any size can provide significant benefits for everyone in a team.
There is a long list of reasons why project managers must know how to write a timeline for a project. Let's dig deeper into the fundamental values and define what a reasonable timetable is really worth.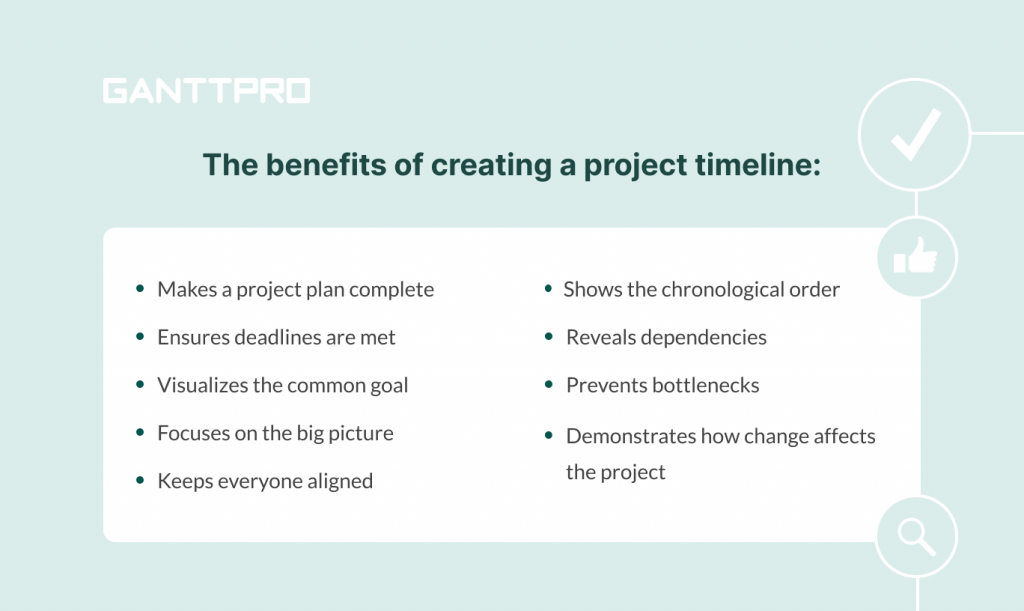 Here are some vivid advantages of a project timeline:
Makes a project plan complete. It provides a visual overview of work from start to finish and connects all the necessary elements to activate the plan.
Ensures deadlines are met. The entire team can work together towards a common goal.
Visualizes the common goal. It allows any team member to recognize their role in the process and assess their contribution.
Focuses on the big picture. It communicates relevant information about the status of your work.
Keeps everyone aligned. It makes all processes transparent to everyone in the team as well as boosts trust in client communication.
Shows the chronological order. With its help, all employees understand the order in which tasks should be completed.
Reveals dependencies. A timeline is the better place to illustrate task dependencies.
Prevents bottlenecks. It also helps to recognize dependency violations.
Demonstrates how a change affects the project. With the help of professional project planning software, you can change things and adjust the timeline.
We understand that you can't wait to figure out how to write a project timeline. However, before describing the stages of building this indispensable PM tool, it is also worth noting some challenges that you may encounter.
Challenges in creating a project management timeline
You can face various challenges when developing a timeline for a project.
Here are some of them: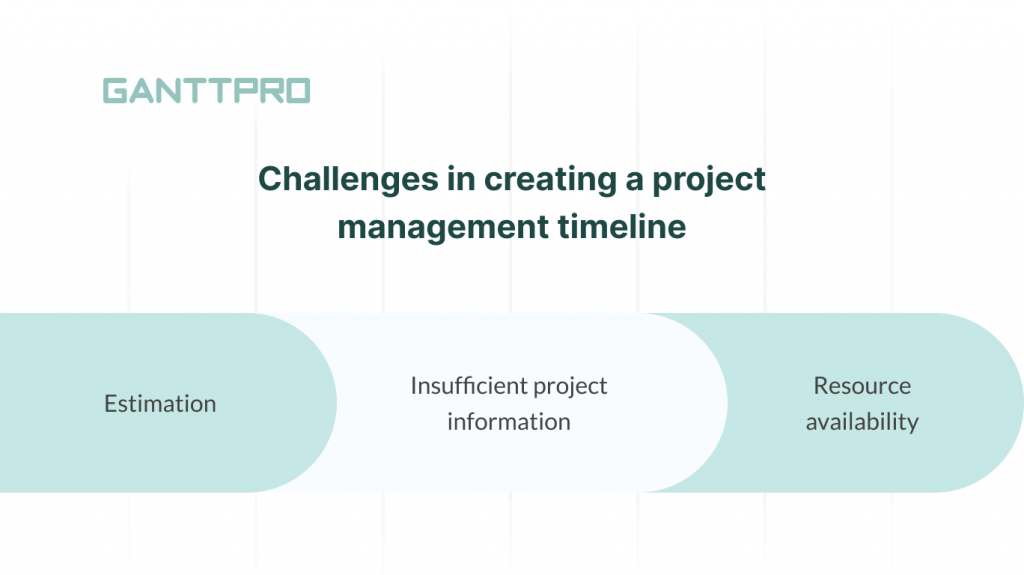 Estimation. It is one of the most common difficulties in creating project timelines. It's not easy to estimate how long it'll take to complete a task – you'll consider many factors: task complexity, resource availability, competency, etc.
Insufficient project information. If you have insufficient data, it is better to freeze the project scope and get it approved before the planning and execution stages.
Resource availability. Managers should book resources for the estimated time and a buffer period before or after the actual scheduled task.
Now it's high time to explore how to make a timeline for a project using specific sequential steps.
How to create a project timeline: 10 steps to success
A typical timeline conveys a complete picture of a project with its significant dates and events. Although it may look easy to make, developing one involves several steps that someone new can find challenging.
We have broken the process down and defined ten consistent steps. Let's dive in!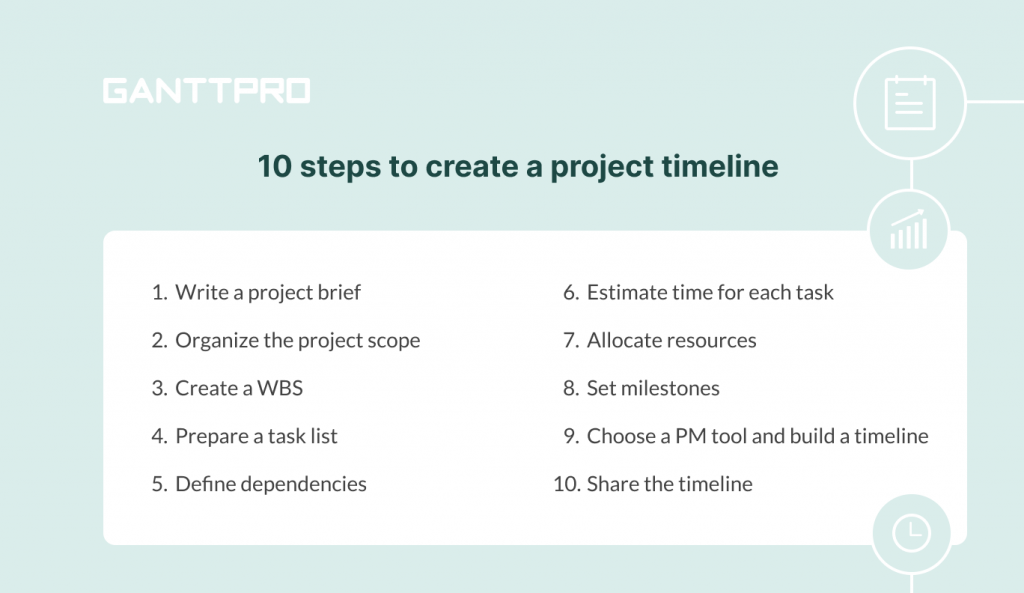 1. Start with a project brief
You should already have the initial project vision with all details, including its description, goals, approximate costs, deadlines, and potential challenges.
A brief is a summary of all this information that will serve as the point of reference for your team members, investors, or customers who will want to understand the project overview quickly. It should be short enough for quick review.
2. Organize the project scope
Understanding the scope is the basement and the essential step you need to follow if you want to know how to do a project timeline.
A project scope statement should contain the deliverables you plan to produce by the end of your work, as well as all project requirements, priorities, and constraints. 
Make sure customers approve the scope. Otherwise, they may request deliverables outside the original scope (what is called scope creep).
3. Generate a Work Breakdown Structure
After dealing with the scope, the next step in preparing your project timeline is to create a Work Breakdown Structure (WBS). It will require splitting your project into work elements. 
For example, you can split the deliverables defined in the scope into smaller deliverables or divide your project into phases by milestones (it all depends on the type and complexity of your project). 
Make sure you are not confusing the concepts of Work Breakdown Structure and a Gantt diagram, as "Gantt chart vs. WBS" is a common subject of confusion in the world of project management.
In general words, project managers use a WBS to visualize what they are doing and apply a Gantt chart to show when they are doing it.
4. Prepare a task list
This stage is about defining which smaller pieces make up the big statement.
Projects always have many constituent parts, so now your purpose is to break your work down into smaller chunks.
Create a to-do list with the tasks based on those small chunks. Their execution will help you to deliver each work package.
When dividing your work into tasks, make sure that they are neither too small nor too big. Small tasks require micromanagement and waste time, while big ones are difficult to estimate.
This process will help you define task dependencies in the next step.
5. Define dependencies
A dependency is a relationship between tasks meaning that one cannot be started until another one has been completed. 
Determining dependencies is relatively straightforward. However, for more complex processes, mapping dependencies requires some extra effort.
Building a handy diagram helps visualize and identify these dependencies. Color-coding and various columns will assist you in designating which team or individual will take responsibility for each task. 
6. Estimate time
The next step is to estimate the time required to complete every single task. 
It is logical to assume that every assigned individual will give their undivided attention to the task. If it is not easy to estimate, explore your previous projects or talk to an expert.
7. Allocate resources
Often resources are your employees or team members.
Project managers should consider the preferences and abilities of all team members to create more accurate timelines.
Luckily, most online planning tools allow visualizing your team's workload and availability using color-coded timetables.
8. Set milestones
Project milestones are important events placed on a timeline. They help in tracking progress and getting intermittent feedback from clients. It is recommended to add milestones regularly and based on certain key moments, like completing a complex task.
Milestones also help teams to stay motivated to deliver on time.
9. Choose PM software and build a stunning project timeline
You can easily make a project timeline in a simple spreadsheet or via another manual method. 
However, generating it with a project timeline software that updates in real-time is a more professional and efficient way.
Modern PM tools help avoid overlapping tasks and ensure that everyone stays focused at all times.
10. Share the timeline
One of the excellent features of modern project management planning tools is sharing timelines with stakeholders. This is a chance for all involved sides to review, discuss, and approve files in one place simultaneously. It also leads to receiving feedback much faster.
The only aspect that remains to be figured out here is how to choose the best project timeline tool right for your needs.
Project timeline software
By choosing an appropriate project timeline software solution, you will line your tasks end to end, adjust their lengths, add dependencies and milestones, set deadlines, and more. 
You can take a look at the tools that have already proved to be efficient to make a timeline (PowerPoint or Excel) or rely on one of the famous online timeline makers.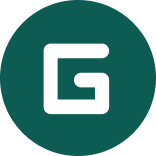 Project management software based on a Gantt chart
Create an online project timeline in minutes.
Sign up for free
When choosing a proper PM timeline tool, you should consider some common aspects of project management and planning requirements.
Below is a brief set of three PM timeline software worth your attention.
1. GanttPRO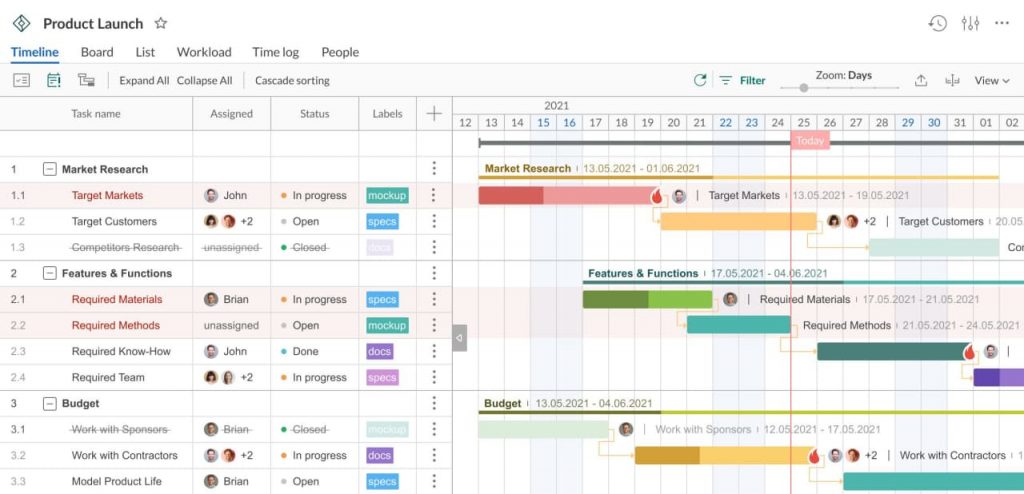 Free trial: 14 days.
Basic: starts at $7.99 user/month (billed annually).
Pro: starts at $12.99 user/month (billed annually).
Business: starts at $19.99 user/month (billed annually).

The first robust and highly-demanded tool in our list is GanttPRO. It deservedly tops our set of the best project management timeline tools as it provides its users with great features for planning and managing timelines of various complexity.
The tool is based on a Gantt chart – the best helper in planning and scheduling project activities. You can use it as a professional WBS creator to break your tasks into subtasks. It allows for setting dependencies and milestones, managing resources, and collaborating with team members.
This Gantt chart creator offers professional design and many additional features admired by project managers worldwide.
It allows exporting and importing charts from different software. For example, if you have a timeline in Excel or MS Project, you can easily move it to GanttPRO. 
Moreover, you'll get helpful Gantt chart templates and timeline examples for an easy start.
2. Monday
Free trial: 14 days.
Basic: starts at €8 user/month (billed annually).
Standard: starts at €10 user/month (billed annually).
Pro: starts at €16 user/month (billed annually).

This is also a helpful software solution where anyone can create a beautiful timeline to run every aspect of their work. The platform is known for its versatility, advanced features, and affordable price tag.
Monday offers an easy-to-use visual interface and many integrations that allow teams to build or customize their work solutions seamlessly.
The tool allows applying a Gantt chart, a Kanban board, or using a calendar view. It is also frequently mentioned when discussing a popular topic "Gantt chart vs. timeline".
Handy templates to accommodate your needs are also available.
3. Vizzlo
Free trial: 14 days.
Professional: starts at $11 user/month (billed annually).
Teams: starts at $45 user/month (billed annually).

Another reliable solution that will become a good helper if the question "how to do a timeline for a project" is relevant to you.
Vizzlo is an elegant timeline maker that increases productivity by providing individuals and teams with intuitive tools to create designer-grade charts and timetables in no time. 
The tool looks helpful for improving project management, tracking progress, creating marketing reports, financial forecasts, and various timeline events. It is easy to use and friendly for distributed teams.
Collaborating is also simple with this tool since you can edit your work on a browser. You can also share viewing and editing rights with your teammates with just a click.
What about other popular tools?
Of course, this set of three tools is not the only choice for you. You can take popular platforms that are on everyone's lips. 
Look for them in popular listings, or ask colleagues how to find the best option. 
Time to repeat everything and finally learn about how to plan a project timeline like a pro
Making a project timeline is not a complicated science but a serious responsibility that leads to the success of the whole work.
Online timetables will help you and your team make progress efficiently. And we hope you've learned how to succeed in this way without getting a few gray hairs.
Voila! Now you know the basics of creating efficient timetables.
Got anything to add? Do not hesitate to share your thoughts with us.