Top ProofHub Alternatives to Give a Try in 2023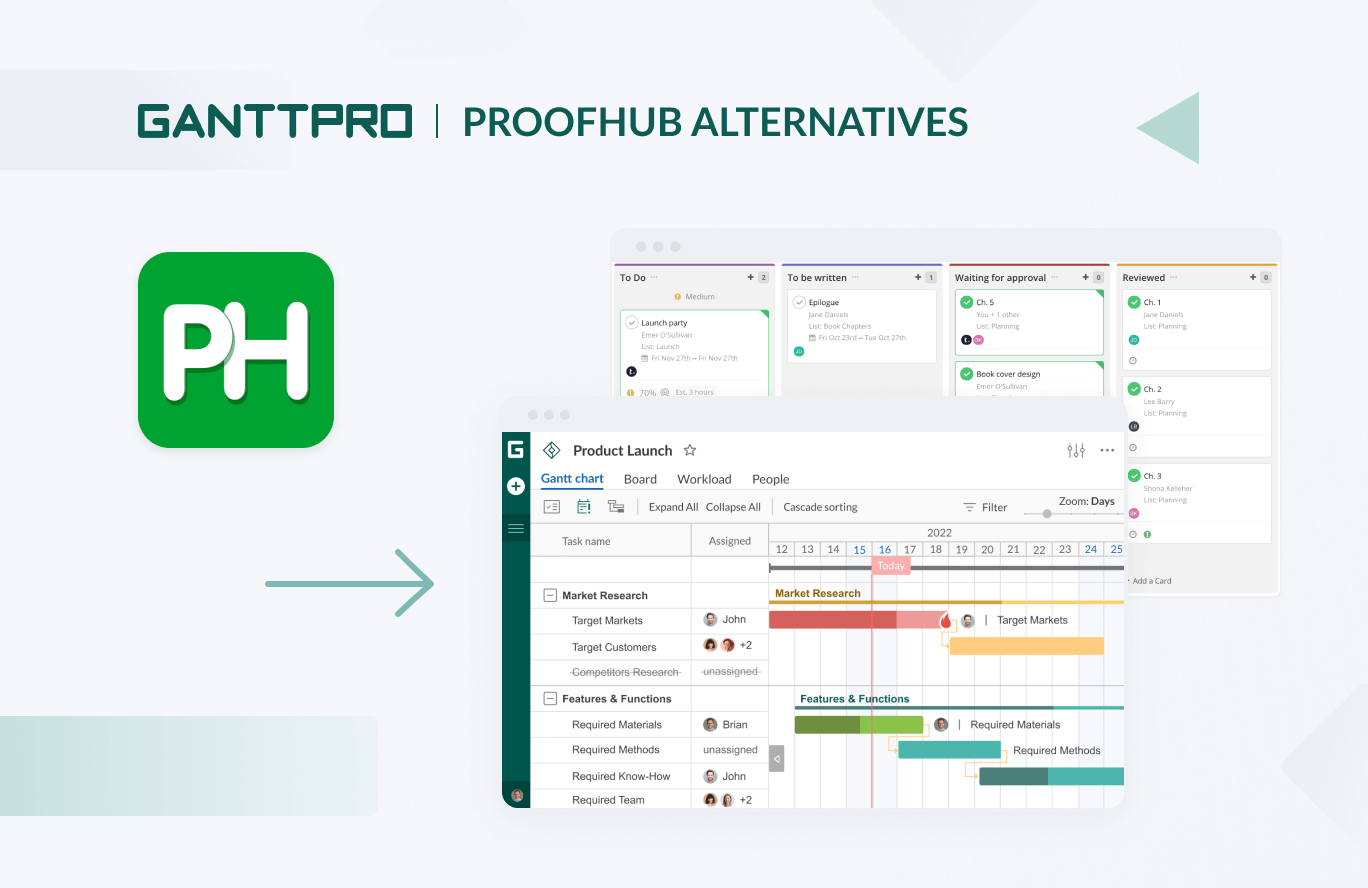 Audio version:
ProofHub is a trustworthy software solution that enables teams to plan and manage their projects in a single workspace. However, it might not be the right choice for your business. Therefore, the topic of a worthy ProofHub alternative can be pretty high on your agenda.
There are plenty of outstanding alternatives to ProofHub that will help you improve project and team management. Don't be afraid to leave familiar features and try new solutions.
Read on to find out more.
Contents:
ProofHub helps teams to use one master hub for all kinds of work they have to do.This comprehensive tool includes all the features they need to collaborate, manage projects, share files, track time, and so much more.
The platform is recommended for:
Small and mid-sized businesses.

Remote teams.
Project managers.
Marketing teams.
Low-tech users.
Sales teams.
HR managers, and other professionals.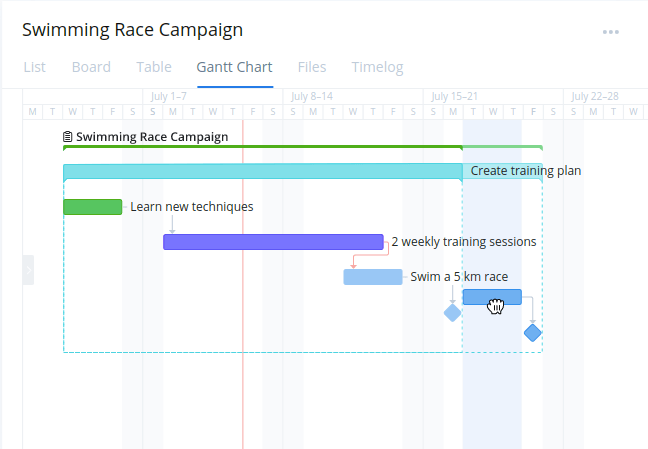 With ProofHub, you can make your workflows highly customizable. This is a very important point as customization of tools is recognized as one of the project management trends in 2023.
Such a positive characteristic makes ProofHub a good option for many businesses. However, is this enough to overtake competitors?
Eventually, many ProofHub alternatives are able to perform better.
Let's explore some of them. But first, it's important to understand where ProofHub falls short.
By analyzing this information, you'll be able to recognize your ideal ProofHub alternative.
Why you may look for a ProofHub alternative
Although ProofHub comes with an impressive toolkit, it's not easy for new users to get started. Some of its features are limited, others need updates.
In order not to be unfounded, we've compiled the most obvious reasons why users look for alternatives to ProofHub.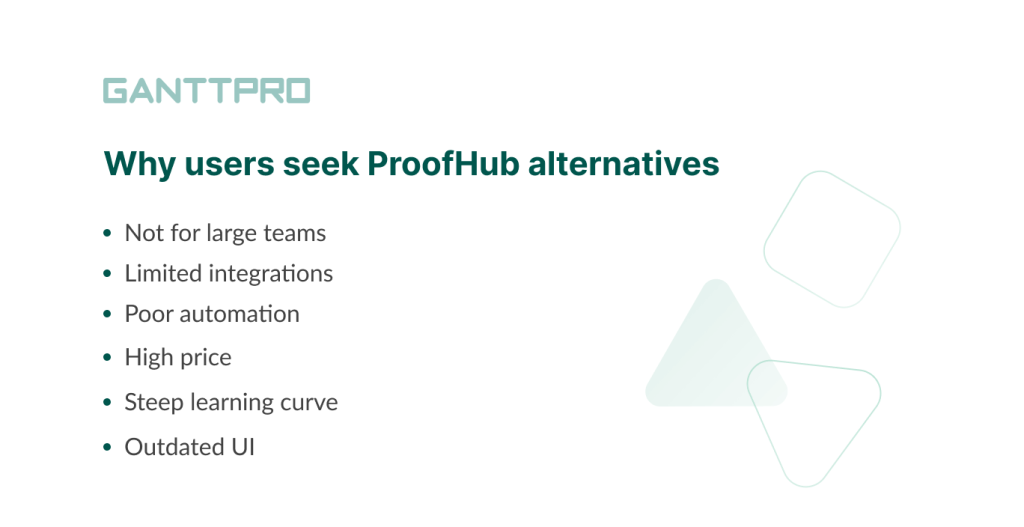 1. Not for large teams
ProofHub is a great choice for small businesses. It is also considered a freelance project management software solution. However, the tool doesn't meet the needs of large and cross-functional teams working on complex projects.
For example, if you need to visualize a long-term project with many tasks, subtasks, additional hierarchies and dependencies on an online Gantt chart, then you'd better move to some more advanced tool from our list below.
2. Limited integrations
You are free to integrate ProofHub with Google Drive, Dropbox, Onedrive, Outlook, and some more solutions. However, if you compare the tool with other competing software solutions, you'll see that its integration list is quite limited.
It's rather important, as most businesses need more integrations to let them tackle various tasks rather than just proofing docs, arranging meetings, etc.
3. Poor automation
Automations reduce manual tasks, improve efficiency, and save time. However, ProofHub still doesn't have the full-fledged automation functionality.
4. High price
After using a14-day free trial, you will have to choose one paid plan among the available options that seem rather expensive for small teams.
5. Steep learning curve
You'll need some time to get a hang of it. ProofHub requires continuous learning due to frequent new feature releases. It may become the biggest obstacle for teams of all sizes.
6. Outdated UI
This point may seem subjective but the truth is that the outdated user interface can make the tool more difficult to learn. The UI in ProofHub is easily cluttered with a lot of things, which are hard to follow and navigate.
If all these reasons make you think about moving from ProofHub to any other software, then the next part of the article with robust ProofHub alternatives will be especially useful for you.
Keep going on.
Best ProofHub alternatives
We've narrowed down the list of suitable ProofHub-like tools and selected five attractive solutions for managing projects and teams. They combine versatile features to support your work, offer multiple pricing tiers, and provide constant updates to satisfy your professional needs.
1. GanttPRO – best ProofHub alternative for professional Gantt chart planning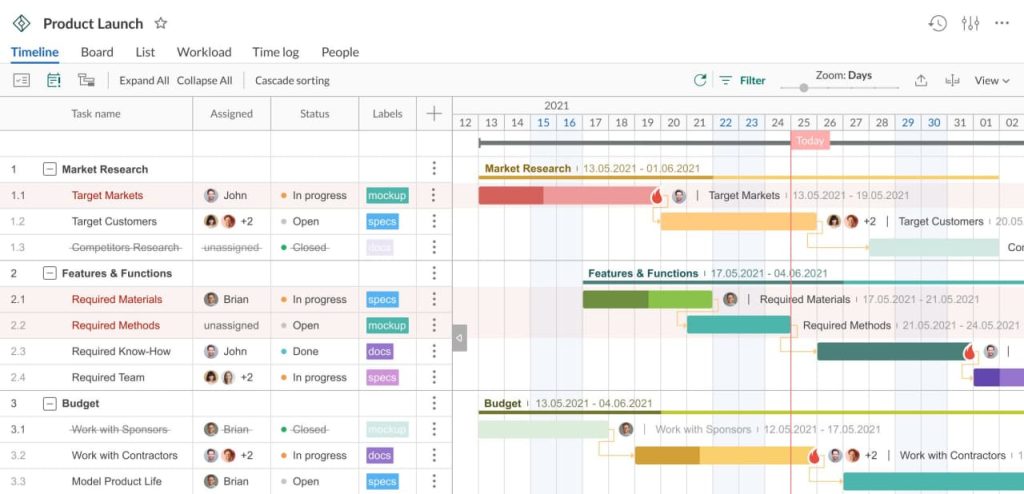 Basic: starts at $7.99 user/month (billed annually).
Pro: starts at $12.99 user/month (billed annually).
Business: starts at $19.99 user/month (billed annually).
Free trial: 14 days.

Although ProofHub offers a timeline view that shows how projects are performing, there are modern solutions that are far more advanced in this direction.
GanttPRO is a powerful project management tool that allows for visualizing, planning, and scheduling projects and tasks on a friendly Gantt chart.
Choosing this diagram, you can create a work plan for a project, set task dependencies, highlight critical paths, add milestones, track progress, move tasks as work changes, export your timeline, and keep all your data in one central place.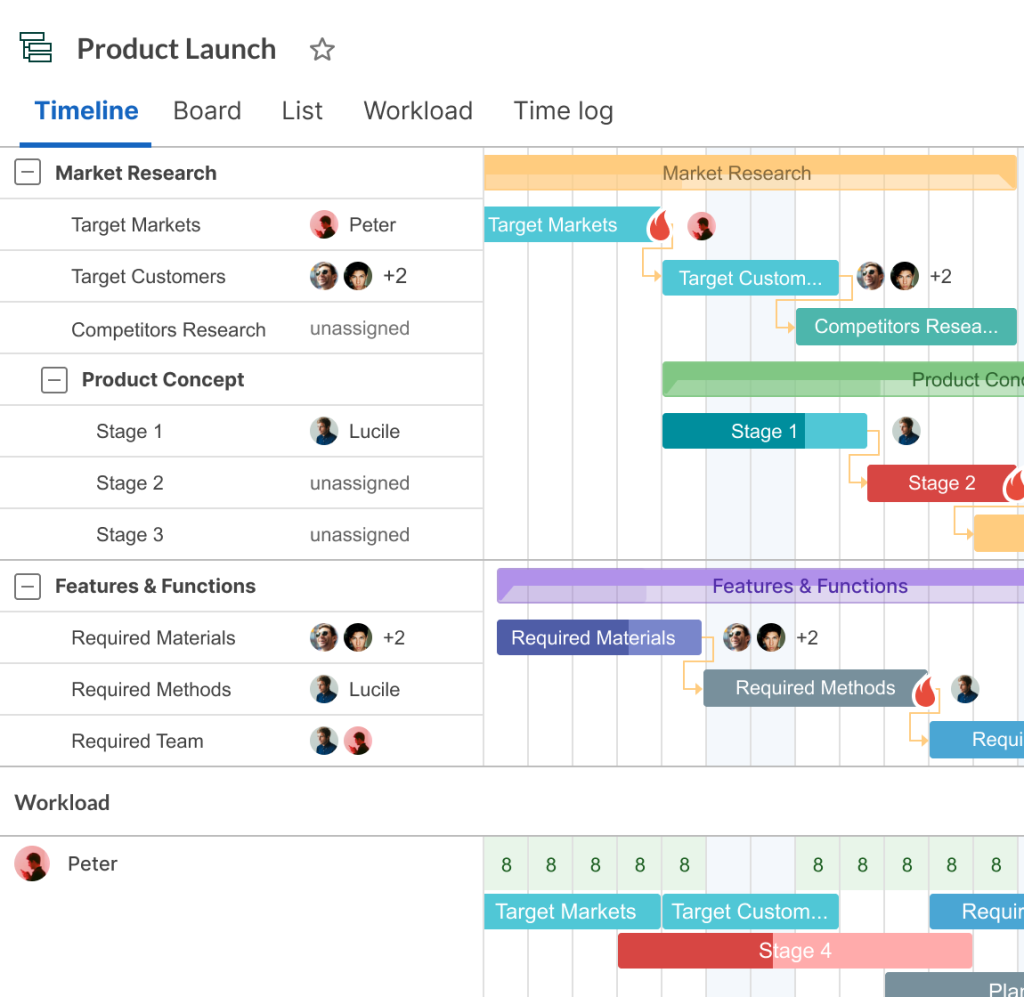 This advanced functionality inspires users to transfer from their old solutions with limited features to GanttPRO. It makes the Gantt generator a great alternative to many popular tools.
GanttPRO serves as a trustworthy assistant for managers in various fields, including software development, construction, retail, manufacturing, education, events, and other professional spheres. It often hits the lists of the best enterprise project management software. At the same time, GanttPRO is widely used among small businesses and startups.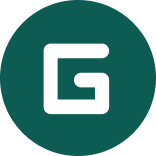 ProofHub alternative for project teams
Create an online Gantt chart in minutes.
Sign up for free
You can integrate the Gantt chart maker with Slack, JIRA Cloud, Google Drive, and other platforms. It provides a free trial and user-friendly templates for an easy start.
What features make GanttPRO a good alternative to ProofHub?
Professional timeline visualization based on a Gantt chart.

Task management.
Board view.
Resource calendar.
Time tracking.
Analytics and reporting.
Resource management.
Budget management.
Notifications.
Importing/exporting.
Set of helpful Gantt chart templates.
Find out more:
Rating as of February, 2023:
2. Teamwork – best ProofHub alternative with convenient task boards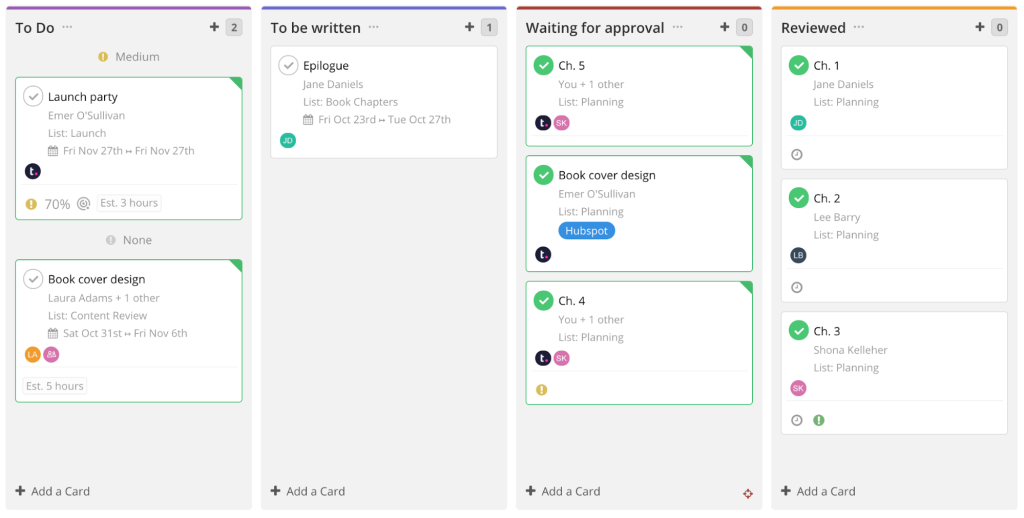 Starter: starts at $5.99 user/month (billed annually).
Deliver: starts at $9.99 user/month (billed annually).
Free trial and free version: available.

Having a professional Kanban project management solution, you'll be able to focus on increasing efficiency while using its visual workflow with columns and cards.
Teamwork is a robust ProofHub alternative that offers neat and friendly Kanban boards, used by project teams all over the world.
The software is packed with everything you need to manage both simple and complex projects as well as scale your team. In addition to task boards, you get a handy Gantt chart, time tracking, portfolio management, reporting, and more essential features.
Teamwork allows for setting priorities and forecasting better for future projects. It integrates with a myriad of powerful apps, unlike ProofHub that has quite limited integrations.
What features make Teamwork a good alternative to ProofHub?
Task management.

Powerful Kanban boards.
Gantt chart view.
Resource scheduling.
Project portfolio workflow.
Messaging and chat.
Time tracking.
Project templates.
Utilization reports.
Invoicing.
Find out more:
Rating as of February, 2023:
3. Nifty – best for remote collaboration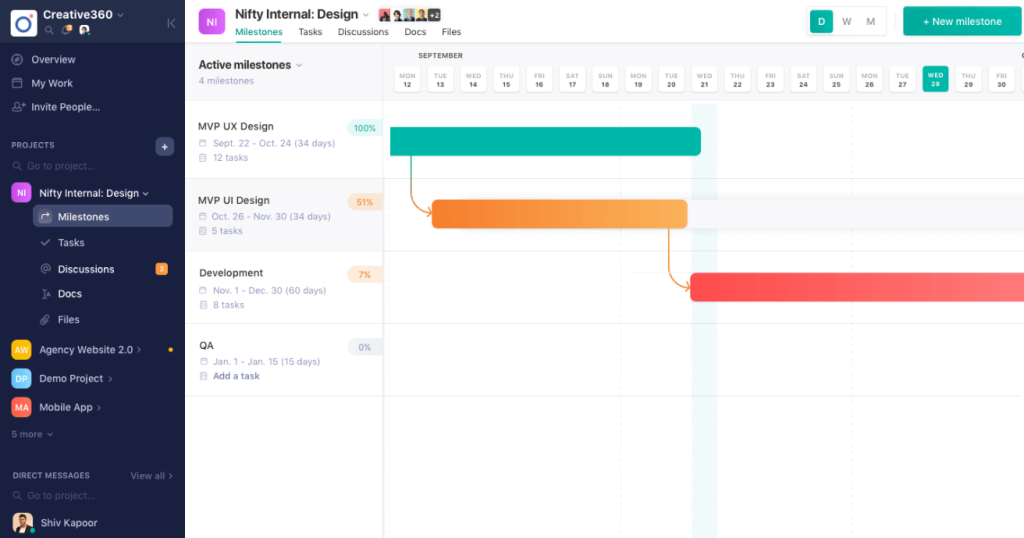 Starter: starts at $39 for 10 users/month (billed annually).
Pro: starts at $79 for 20 users/month (billed annually).
Business: starts at $124 for 50 users/month (billed annually).
Free trial: 14 days.

Project teams that have distributed members take Nifty on the go for planning, managing tasks, tracking progress, and collaborating from anywhere.
Despite being a relative newcomer on the market, the platform has already won the hearts of many project managers looking for a scalable and intuitive PM solution.
This ProofHub alternative lets teams focus on projects, tasks, docs, and files all in one place. It provides convenient task boards to flexibly organize and prioritize work while easily managing deadlines and feedback.
You can also find a Gantt chart example here. Although the Nifty's diagram isn't as functional and convenient as the GanttPRO's Gantt chart, it is also used to build effective online timelines and roadmaps.
Nifty is known as a reliable solution for Windows users and as good project management software for Mac. The app is available on iOS and Android.
What features make Nifty a good alternative to ProofHub?
Task management.

Kanban board.
Project scheduling based on a Gantt chart.
To-do lists.
Calendar.
Portfolio management.
Budget management.
Alerts/notifications.
Customizable reports.
Deadline management.
Video conferencing.
Find out more:
Rating as of February, 2023:
4. Infinity – best for increasing overall productivity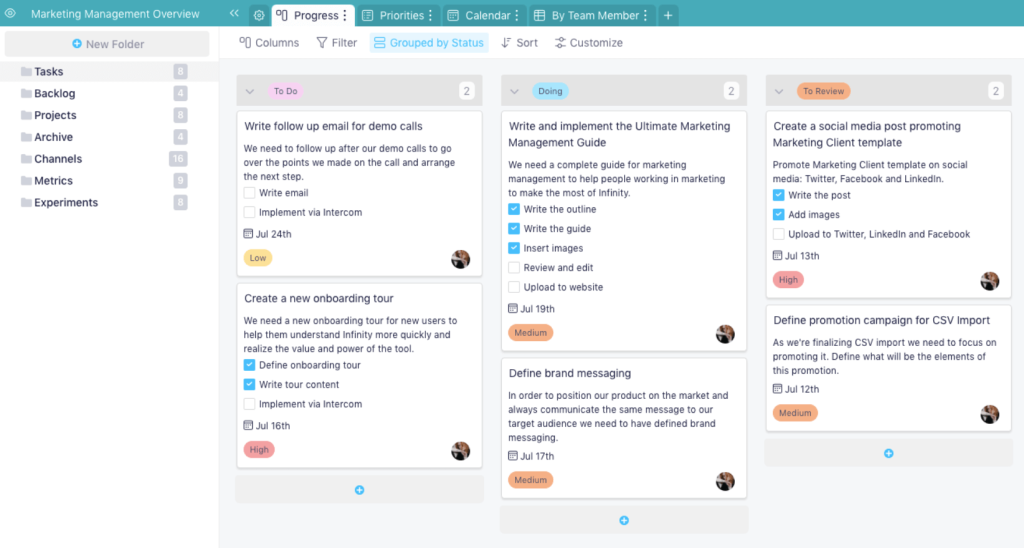 Basic: starts at $3.75 user/month (billed annually).
Pro: starts at $6 user/month (billed annually).
Free trial: not available.

Infinity consolidates many efficient tools and features to make project teams more productive.
If you are not a master in project management and just learning, this tool will quickly teach you how to create a project plan, organize tasks, collaborate with remote colleagues, compose detailed reports, and more. It won't take much time, as Infinity offers an intuitive interface and an easy learning curve – all to boost your productivity.
Infinity allows for creating different project views for various use cases: from simple online tables and calendars to comprehensive task boards. The tool also belongs to the range of online roadmap tools as it offers handy timelines based on a Gantt chart.
It's up to you which view to use and when. You can switch between different views within the same folder or create a new view every time you open up a new tab there.
Infinity offers even more customization options than ProofHub. It comes with ready-made templates built for various spheres and industries.
What features make Infinity a good alternative to ProofHub?
Task management.

Planning and scheduling.
Different ways to view project data.
Portfolio management.
Deadline management.
Time tracking.
Document management.
Alerts/notifications.
File sharing.
Reporting.
Find out more:
Rating as of February, 2023:
5. Monday – best ProofHub alternative with the variety of project views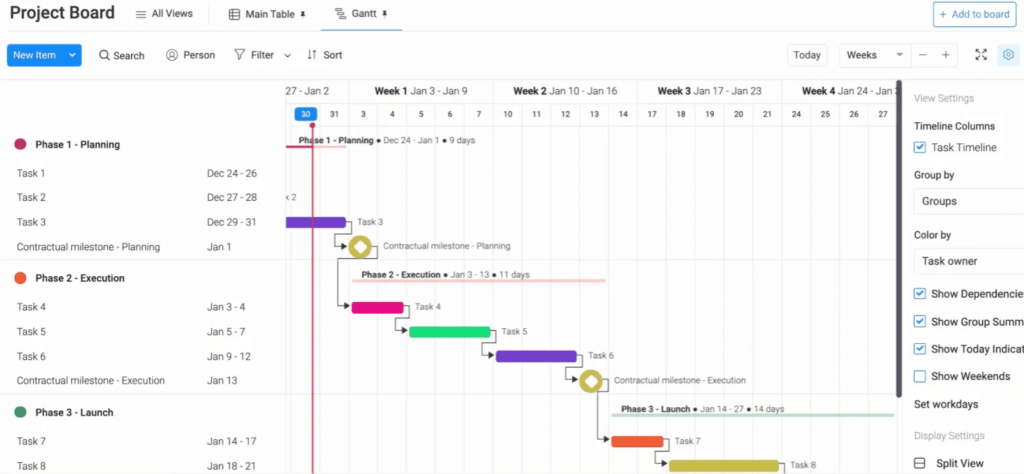 Basic: starts at €8 user/month (billed annually).
Standard: starts at €10 user/month (billed annually).
Pro: starts at €16 user/month (billed annually).
Free trial and free version: available.

Monday.com can also be considered a big star in the project management space. This alternative to ProofHub is widely used by software development, marketing, creative, and other teams striving to lead their projects to perfection.
Monday helps to manage tasks and workflows without unnecessary headaches. The tool comes with a modern interface that allows for quick customization, so you can build workflows around your project needs with ease.
With Monday, you can assign and prioritize tasks, generate workflows, collaborate with team members, and automate your work. The platform provides user-friendly views to visualize your project activities in the way you want it. From simple to-do lists to creative boards and roadmaps, you get everything to organize your work processes in a professional manner.
Whether you want to learn how to plan projects from A to Z, what functionality to use for generating a work breakdown structure, or how to manage project delays, you will find all the answers using this powerful tool.
What features make Monday a good alternative to ProofHub?
The variety of project views.

Time tracking.
Customizable notifications.
Activity logs.
Advanced reporting.
Professional analytics.
200+ templates.
Integrations.
Find out more:
Rating as of February, 2023: 
Capterra – 4.6.

G2 – 4.7.
Are these five tools enough for you to choose a worthy ProofHub alternative? 
If you still have doubts, explore other solutions available on the market – it will make your experience even richer.
Ready to single out the best ProofHub alternative?
If ProofHub doesn't suit your business requirements, you have plenty of other tools to explore as ProofHub alternatives are crowding the market. 
One of the best ProofHub replacements is GanttPRO because it has everything you need from professional planning to advanced project completion. Other great solutions similar to ProofHub are Teamwork, Nifty, Infinity, and Monday. They are good not only for project management, but also for team collaboration and increasing productivity.
If you want to explore more project management tools and their alternatives, feel free to read the following articles:
Frequently asked questions about ProofHub and its alternatives
ProofHub is used for planning, organizing, and delivering projects, as well as for collaborating with a team in an easy, fast, and smart way.

ProofHub doesn't have a free version but it offers a 14-day free trial with unlimited projects.

ProofHub has a mobile app available on Android and iOS devices. With ProofHub mobile app, you can run all your projects and teams on the go.

ProofHub is owned by Sandeep Kashyap – the Founder and CEO of this project management and collaboration software.

This content is licensed by