Gantt Chart Examples in Project Management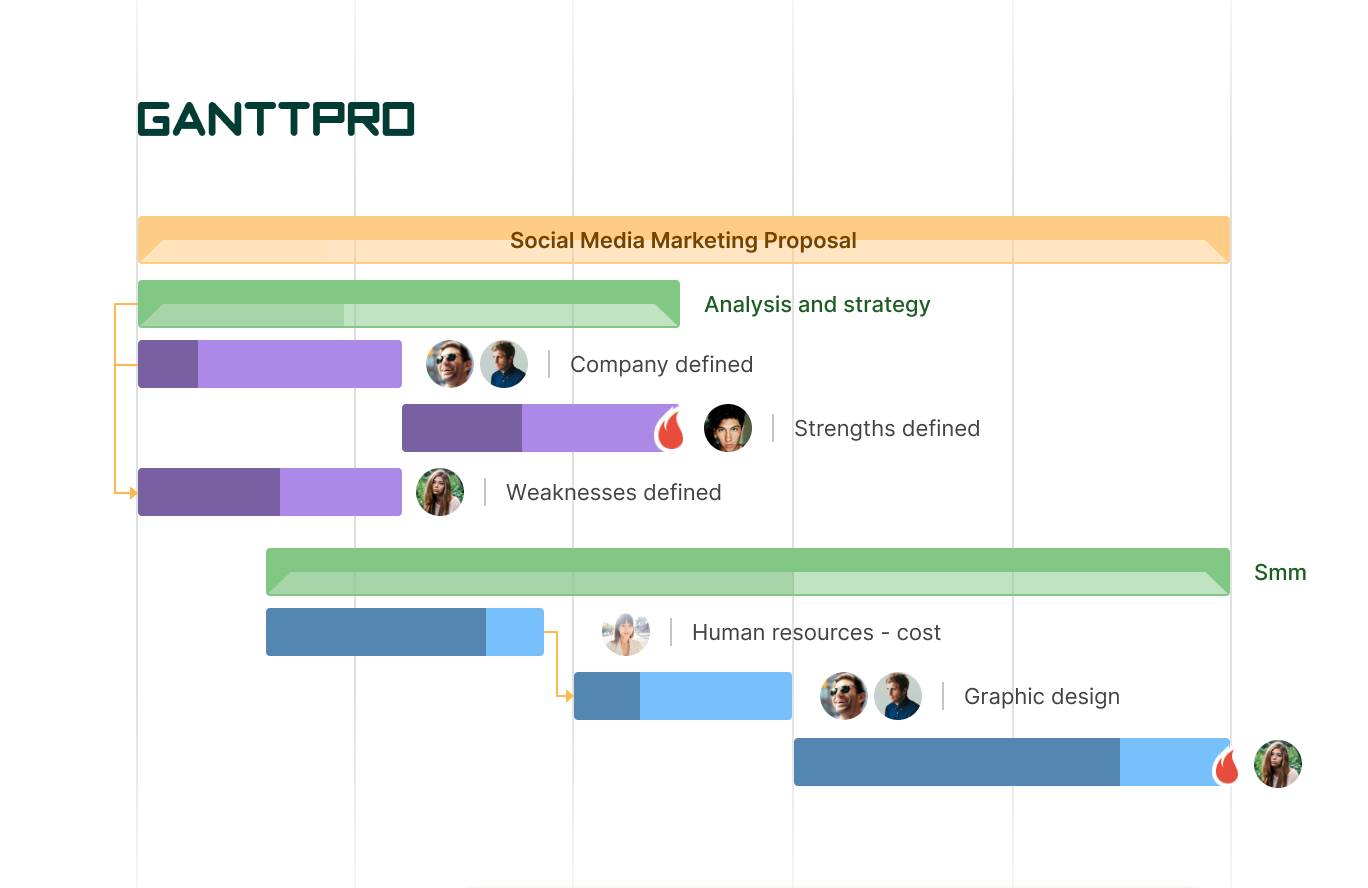 Audio version:
It is not a surprise that project management has become an irreplaceable part of the work of companies, organizations, and businesses in various professional spheres. 
The main idea of project management is a successful project delivery on time. To achieve this objective, the team applies appropriate methodologies, skills, different techniques, and knowledge.
While working on projects, businesses often use project management software to facilitate project delivery and make this process more transparent and efficient. These apps help in project planning, time tracking, reporting, estimating, and many more. 
One of the most popular features in project management is a Gantt chart. According to SaasList (an independent software discovery and comparison resource), 45% of reviewers claim Gantt charts are their most used project management tool. From our article, you will learn about a Gantt chart and its examples in different spheres and apps. 
Contents:
What is a Gantt chart?
So what is a Gantt chart? It is a tool that allows you to plan and visualize projects, their structure, and see the big picture of tasks, both personal and assigned to your colleagues.
A Gantt chart consists of two axes and horizontal bars located between them.
A vertical axis is a task list.

A horizontal axis is a timeline for the project.

A bar represents a project, task, or subtask that must be completed within a specific time frame.
The timeline is made in chronological order to help track deadlines and the task order. 
The time from the beginning of the first task to completing the last one is the entire project's duration. Each task is assigned to one or more people. Everyone who has access to the project can check the status of every visible task on a timeline.
Gantt chart examples
So a Gantt chart is an essential tool for project management. It provides a visual display of the work plan. Also, a Gantt chart is convenient for tracking the progress and monitoring of tasks implementation.
Finally, let's have a closer look at this feature and its usage in different professional areas and tools.
Gantt chart example for project management
There are many different tools for working with Gantt charts. Online or on-premise, they allow you to make your workflow smoother, and the management process is more robust. One of them, GanttPRO, is cloud-based PM software. 
Project management with GanttPRO is easy as pie. The software lets you create plans, customize the timeline, set dependencies, control workload and deadlines, effectively allocate resources, and collaborate with the team.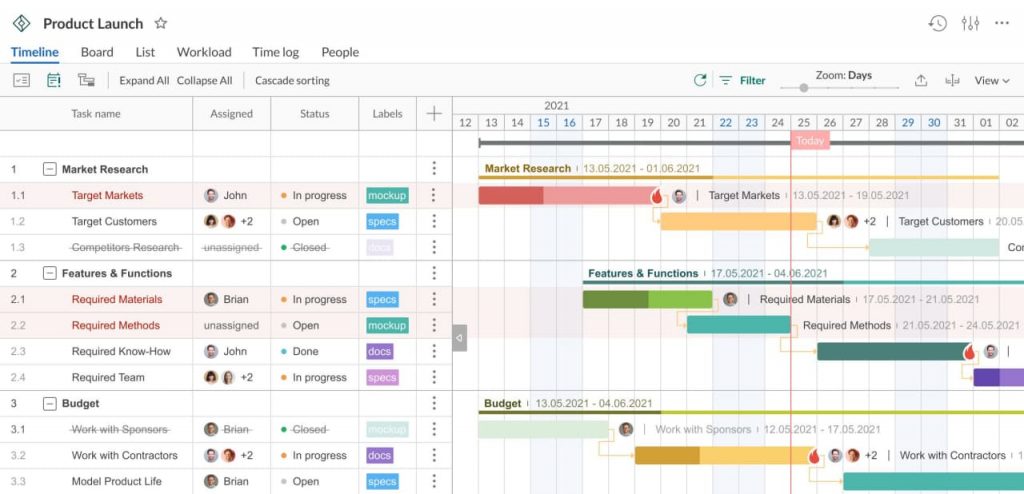 On the timeline, you can find the basic and necessary information about the needed project:
The project's name and duration.

List of tasks and subtasks.

Every task's name, priority, assignee(s), progress.

Deadlines, dependencies, and milestones.

Workload.
All templates are easy to customize. Moreover, you can save your plans and use them as templates in the future.
Gantt chart software development example
Free software development templates will facilitate project creation in GanttPRO. To start using a ready-made template, choose "Create new project," name it, and select "Software development" among templates. That's it!
In a couple of seconds, you can see your project that is divided into working stages, such as:
Project management activities.

Initiation/planning.

Requirements analysis.

Design.

Development.

QA.

Implementation.

Operations & maintenance.

Disposition.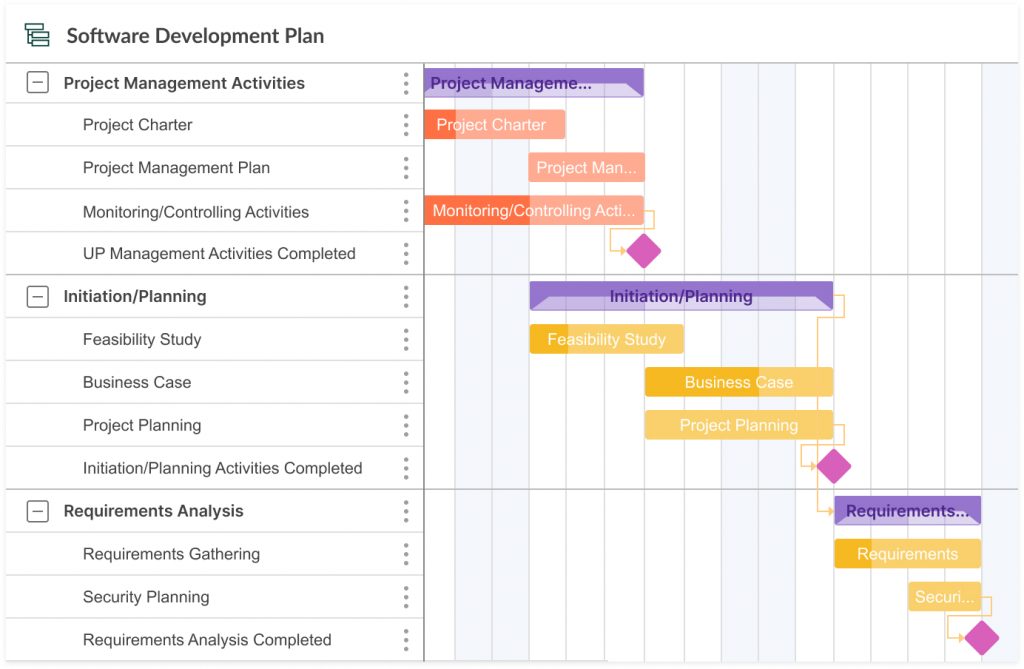 Sure, it is possible to customize the template and make it more convenient for you and your team. You can add or delete columns, change a zoom, and set colors to tasks, subtasks, and project bars.
Moreover, you can even save your project as a template and use it in the future.
Gantt chart example for construction
The plan provides subcategories, where you can find different types of construction templates, for example:
Residential construction budget.

Hotel construction budget.

Construction project report.

Home building budget.

Restaurant construction budget,

and more.
Here's how the default construction template looks like. Again, all working stages are already on the timeline: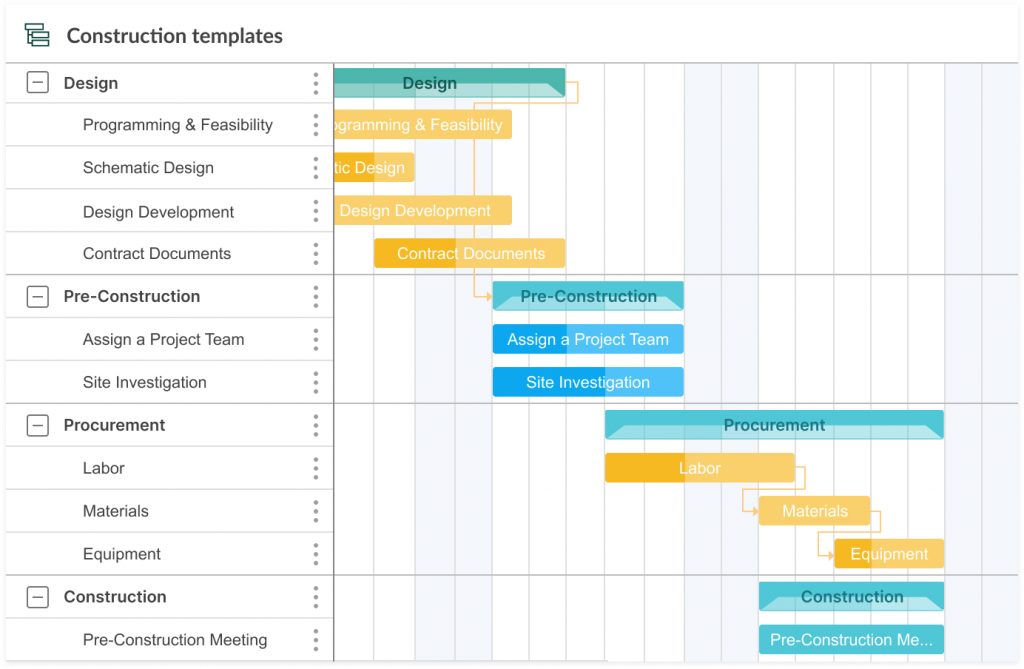 Gantt chart example for marketing
Also, GanttPRO has for you marketing templates. The software provides a lot of options that suit both offline and online marketing. It could be content marketing, social media publication schedule, SEO campaign, online ads, or anything else.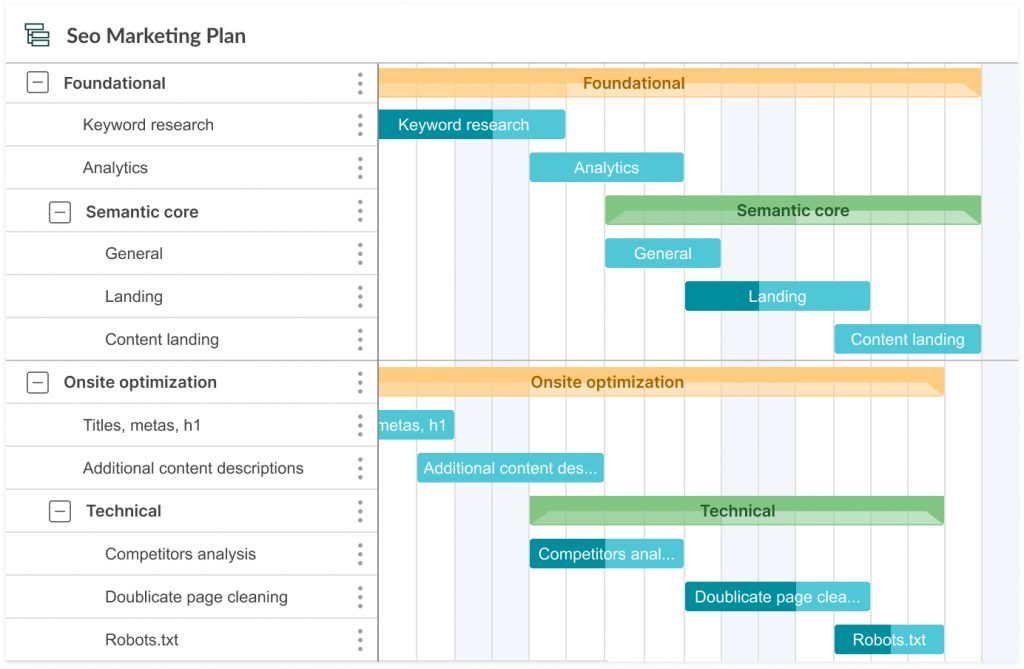 GanttPRO provides such marketing templates as:
Real estate marketing plan.

Marketing budget template.

Nonprofit marketing plan.

B2b marketing plan template.

Startup marketing plan,
Gantt chart example for Web design projects
The default web design template consists of several working phases:
Research for main layout.

Concept generation.

Color & graphics.

Content presentation.

Multimedia.

Functionality.

Prototype 1.

Prototype 2.

Browser compatibility.

Accessibility.

Finalizing & bug reports.
Here's how it looks. The predefined template structure allows you to start working on your projects right away.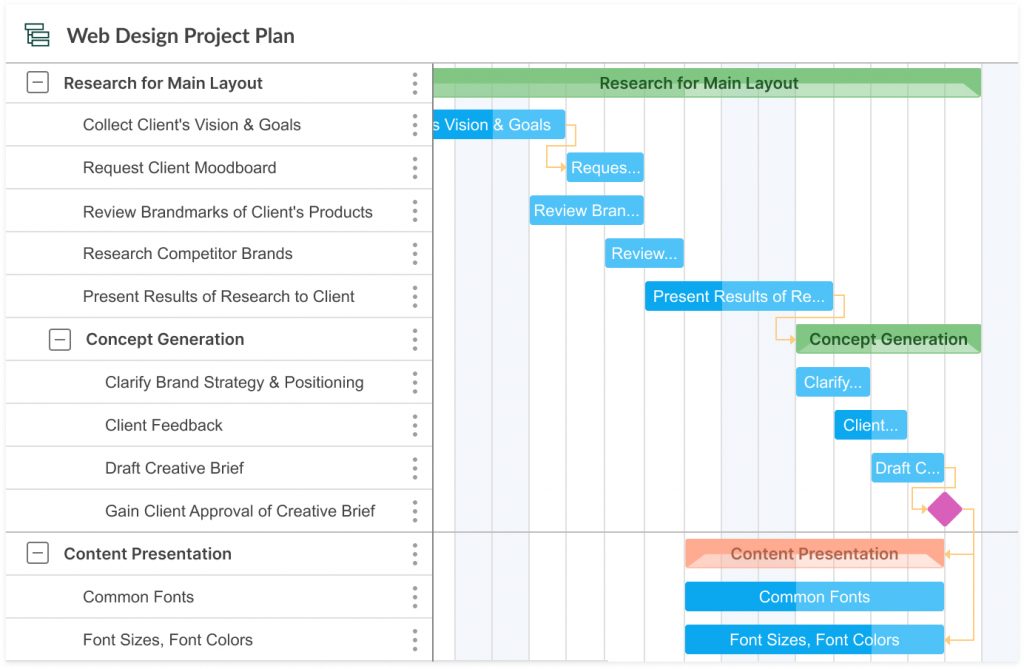 Gantt chart example for event planning
GanttPRO's event planning templates will be the key to your successful project implementation, whether it be a conference, seminar, trade show, workshop, corporate meeting, or private party. For every event, you can use a ready-made template and start planning in seconds.
The plan provides lots of subcategories:
Event schedule.

Event marketing timeline.

Exhibition planning.

Workshop agenda.

Event planning worksheet,

and so on.
The default event planning template looks like that: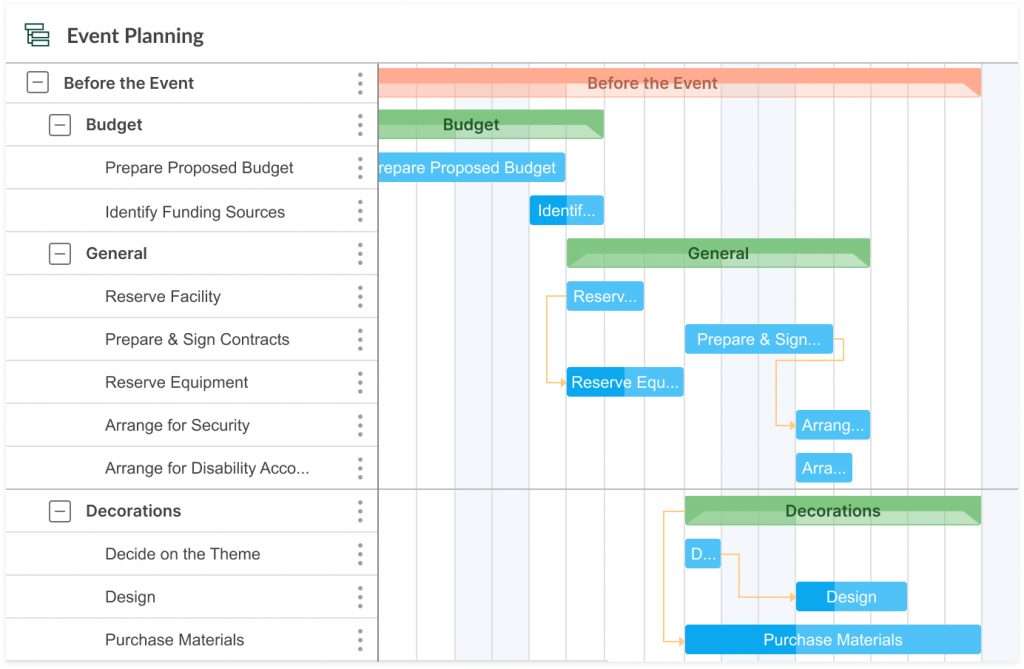 Here you can plan and control everything that happens before the event, several days prior, on the day of the event, and after it. Nobody will forget about budgets, decorations, catering, and other things. Each step will be under control.
Gantt chart example for wedding planning
Wedding templates will help you plan and manage one of the main events in your life. With its help, you can be sure that everything is ready on time, guests are happy and not hungry, and all the details are taken into account.
Probably, the one thing you can't control in that case is the weather. But you are surely able to plan all the ways out instead.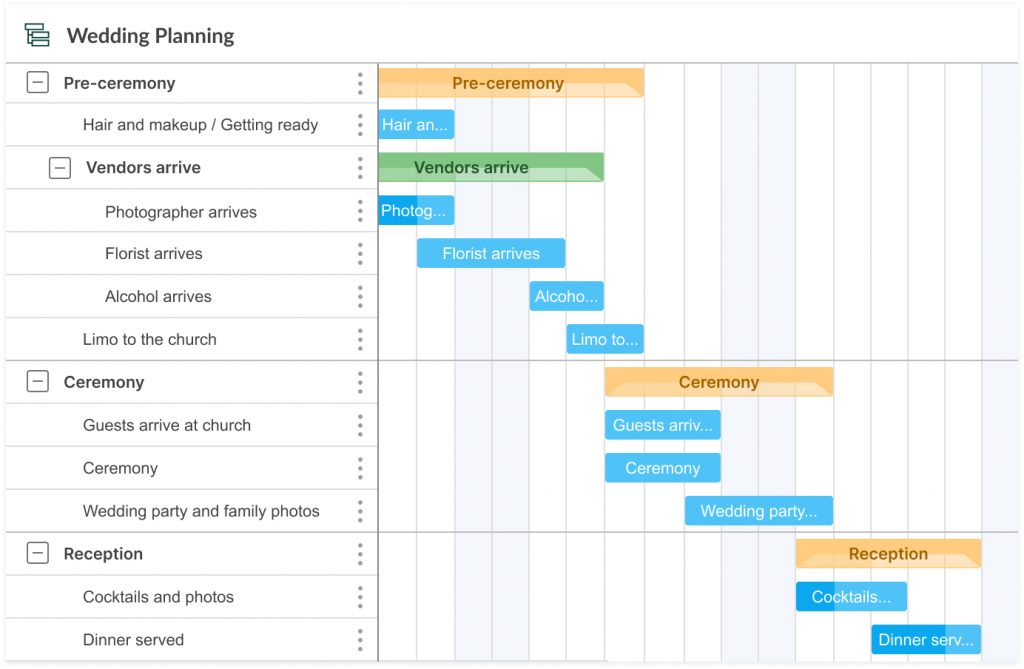 Gantt chart example for business plan
It is easy to start your business realization using Gantt charts. You can outline all planning steps on the timeline, track the progress, control deadlines, and create dependencies and milestones. GanttPRO product launch template will help you to plan and start your business.
Gantt chart Excel example
Creating Gantt charts in Excel is possible but not so convenient and easy. Unfortunately, Microsoft Excel does not provide a built-in Gantt chart template as an option. So the execution process is getting more complicated.
To create a project, you need to manually enter the names of columns, tasks, and assignees. Also, it is not possible to create dependencies. For medium-sized and large projects, running the project in Excel is obviously not the best option.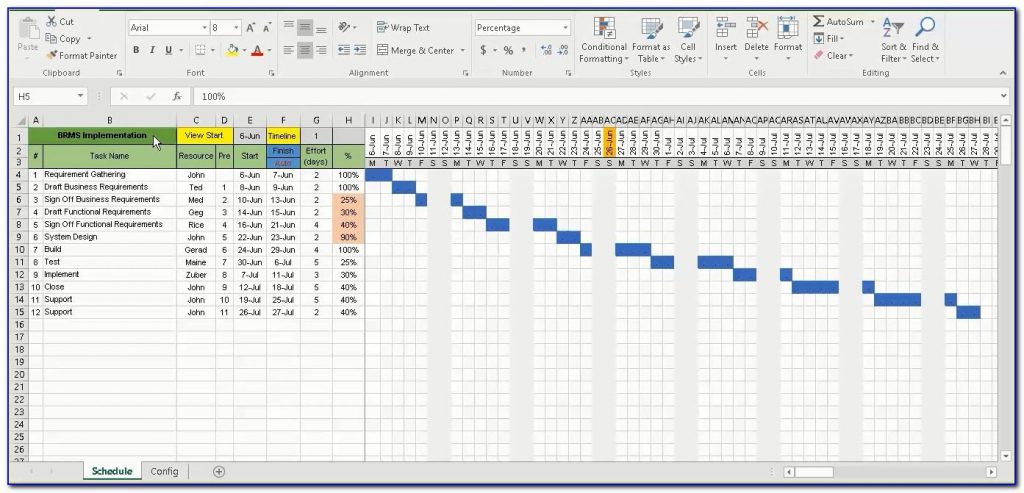 Anyway, there are detailed tutorials that will explain to you how to make a Gantt chart in Excel.
Microsoft Project Gantt chart example
MS Project is still one of the most popular PM tools. Anyway, working with it is not simple, especially for new users. Our Microsoft project tutorial will facilitate the learning process. Particularly, you can learn about how to make a Gantt chart in MS Project.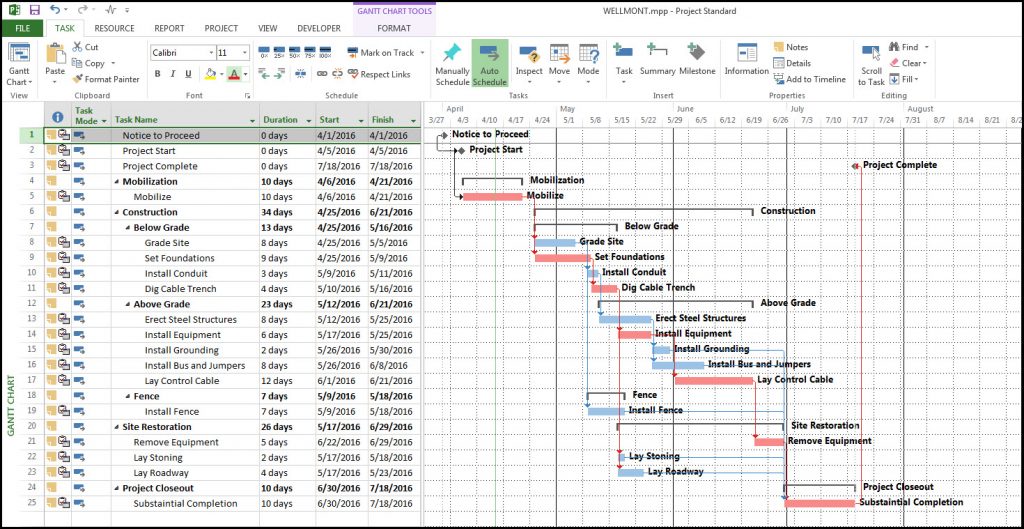 It is essential for enterprises to adopt software without a steep learning curve that will let teammates start building plans quickly and efficiently. If the software seems challenging to adopt by your company, check our MS Project alternatives article. We are sure you'll find the tool that fits your team.
Gantt chart example in PowerPoint
Microsoft PowerPoint is often used for presenting plans, reports, or proposals to big audiences. Unfortunately, the tool doesn't provide a Gantt feature. If you want to add a Gantt chart to your presentation, you can use a ready-made template or create and edit it right in the program.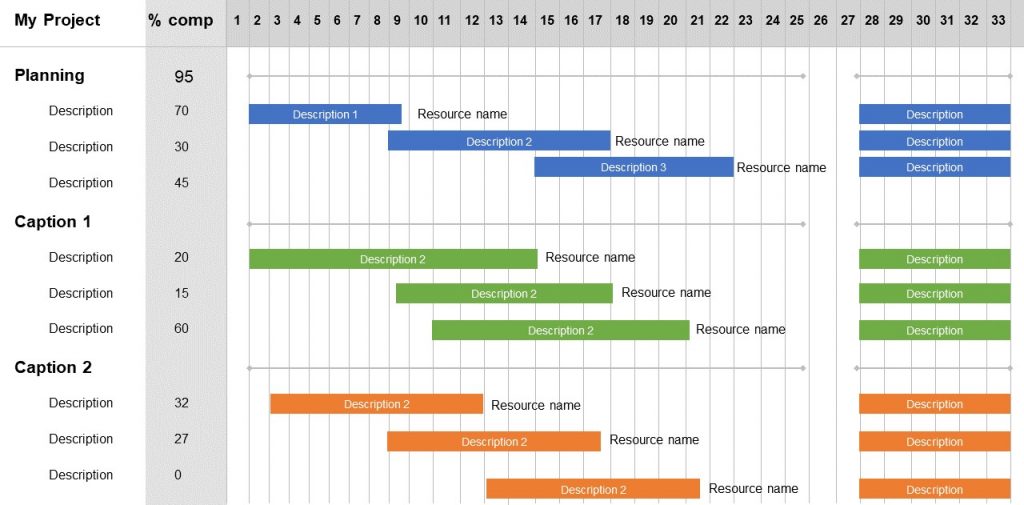 Gantt chart example in Word
Also, you can create a Gantt chart in MS Word. However, the software's primary purpose is document editing, and it doesn't have a Gantt feature. That's why the timeline can't be flexible, and all the updates you will have to make manually.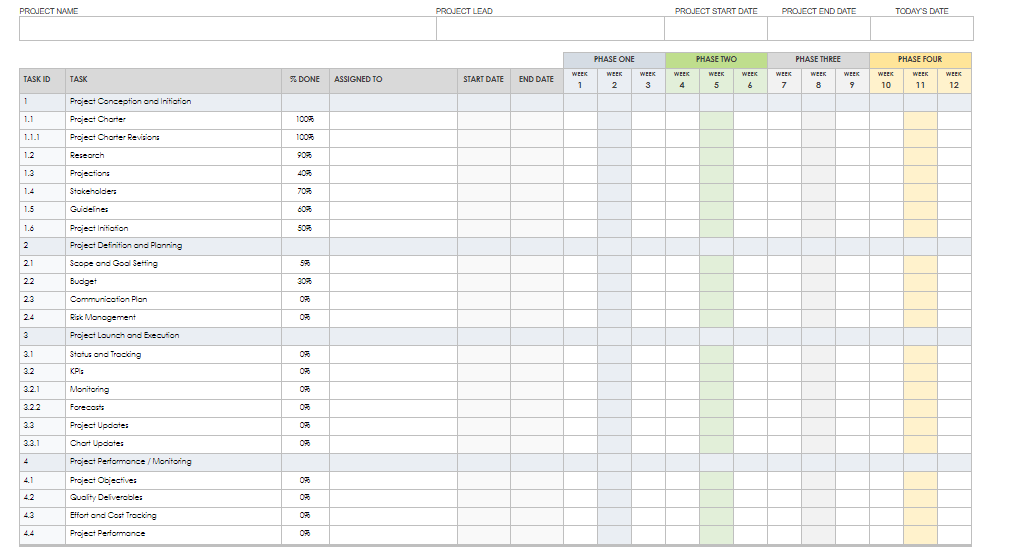 Gantt chart example in Google Sheets
There is no problem working with Gantt charts in a spreadsheet with the help of ready-made templates available on the Internet.

Gantt chart example in PDF
Using GanttPRO, you can always export the plan in PDF format in a couple of clicks. Just click on the three dots on the upper right and choose "Export." Customize documents to your needs and enjoy the project as a PDF file on your device.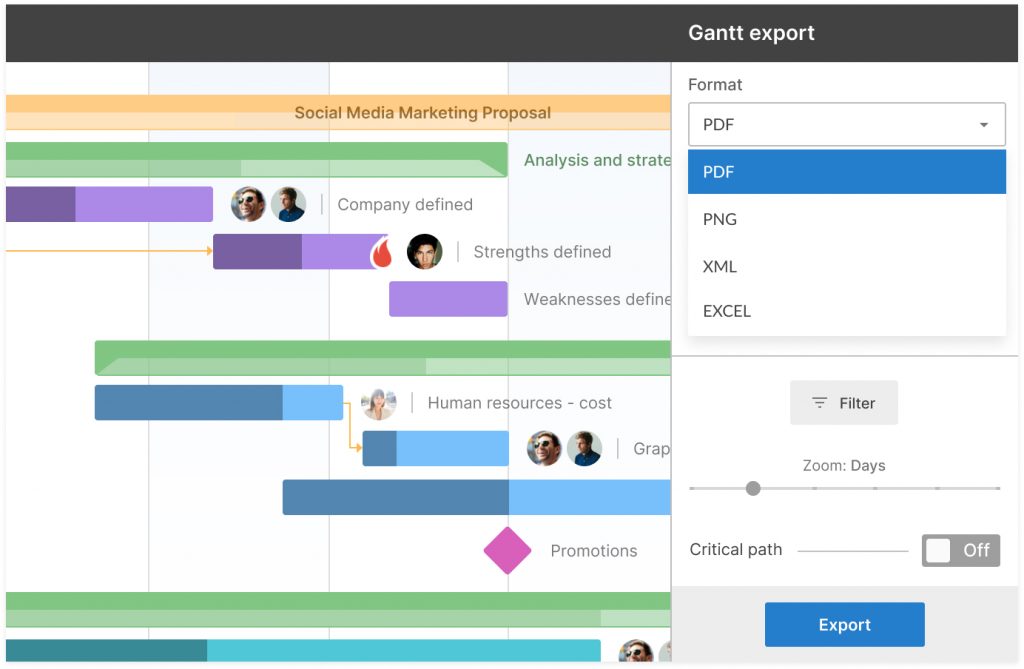 Making Gantt charts in GanttPRO
As you already know, there are many tools for working with Gantt charts. If you need a robust PM tool based on Gantt charts, try GanttPRO. This software combines all the features necessary for creating and managing projects and is suitable for most spheres. With its help, you will complete projects on time, effectively allocate resources, control workload, and collaborate with the team.
The tool's intuitive interface and a short learning curve let you create your first plan in minutes. GanttPRO offers a bunch of Gantt chart templates that fit most professional areas and teams to make this process easier.
Apart from working in GanttPRO, you can download every template in Excel format or open it in a spreadsheet.
With the Export feature, it is easy to save your charts in popular formats: PNG and PDF. You will be able to add them in online presentations or print them to always have plans at hand.
What tools do you use to work with Gantt charts? Let us know in the comments below!

This content is licensed by