Best Project Management Timeline Tools: How to Choose Between Them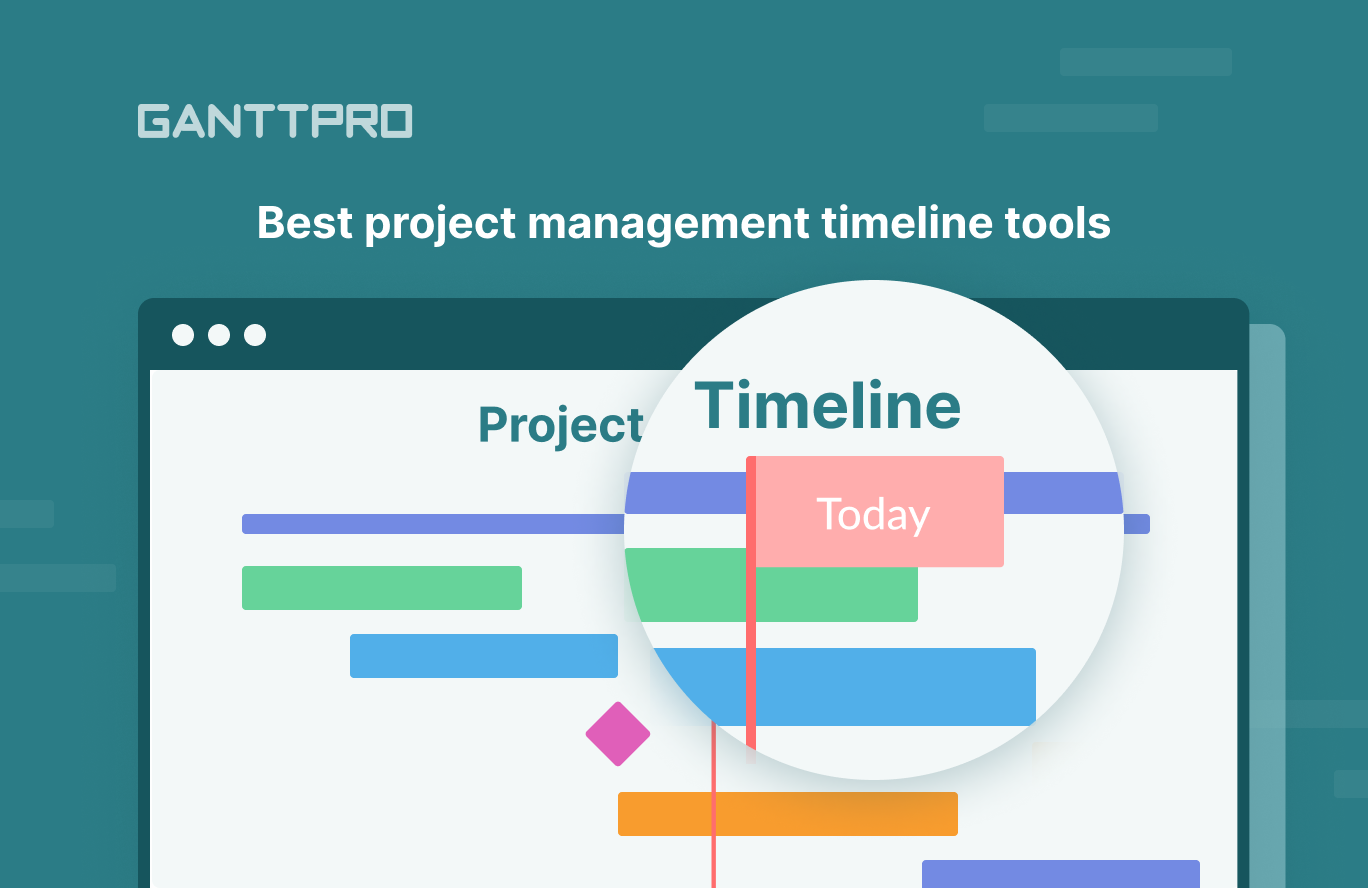 Audio version:
Nothing can be achieved at work without rigorous planning. No matter how small or big your goals are.
Completing tasks in time requires planning them individually as well as from the project's perspective. This is where project management timeline tools save a lot of time and effort.
According to the authoritative PMI's statement, demand over the next years for project managers will grow faster than demand for workers in other occupations. Therefore, such tools will flourish and evolve as well.
Would you like to know how they help in project management?
Well, you're about to find the answers.
Here we've collected the best project management tools with timeline functionality. Let's begin to explore them.
Contents:
What is a project timeline?
A project timeline is an overview of a project's events laid out in chronological order. It maps out what should be completed before your new task commences.
This timetable typically comes in a visual format. It means that your team members and stakeholders can get a quick overview at a glance. It allows showing all task dependencies and project milestones, managing individual tasks that need to be completed, and all-important delivery dates.
With the help of a handy timeline, you can schedule all your tasks, see what and when needs to be done, and keep an eye on the entire project.
Without this robust PM tool, it's easy for a project to derail and descend into absolute chaos. Therefore, even newcomers and inexperienced managers should know how to create a project timeline on cue.
A timeline is a beneficial PM tool because it:
Improves teamwork.

Prevents waste of time and money.

Provides better work maintenance.
Key elements of a typical project management timeline
Almost 98% of project managers admit they use project planning tools (PMI). These tools are mainly based on visual timelines that typically contain standard elements.
These elements depend on the requirements and preferences of a specific team. They help ensure that the project is on target regarding time, output, and costs.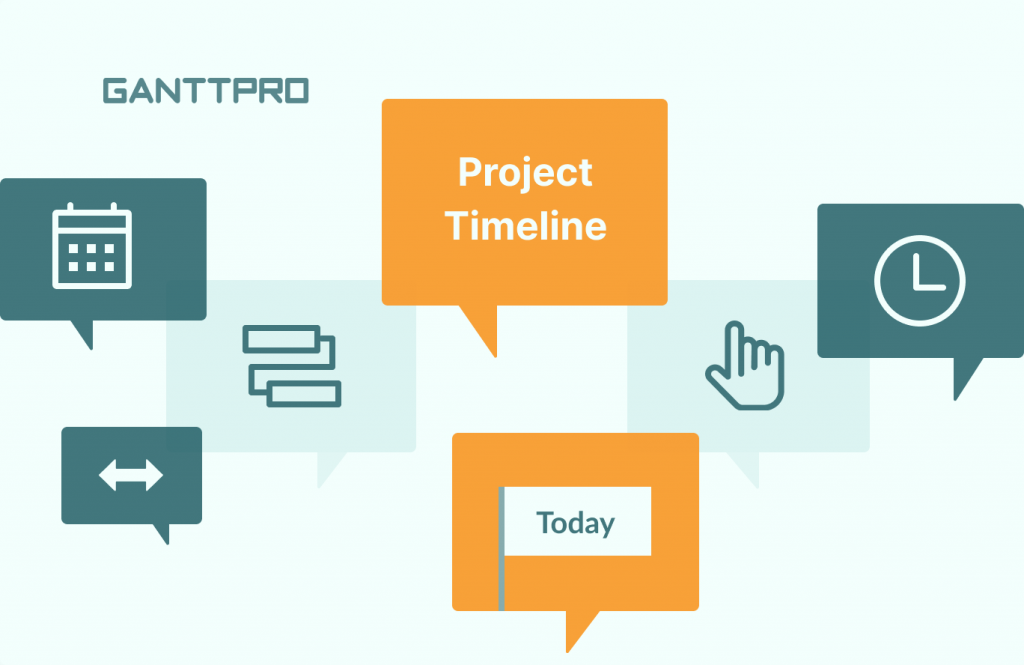 Here's a standard set of components a PM timeline usually contain:
A list of tasks that need to be completed.

Starting and ending dates of all tasks.

Dependencies.

Duration of tasks.

Headers and images (optional).
Most project management timeline software solutions usually contain this default list of elements, while some of them can be customized. By the way, customization of project management tools is one of the apparent PM trends in 2023.
Since we have mentioned such tools, now is the time to list the most successful and effective ones.
Best project management timeline tools
Now that you know what timelines are and what types are ideal for work and task management, let's take a quick look at some of the best options accessible to you.
Which is a well-known tool in project management that illustrates project tasks against a timeline? There are a lot of them.
Below is the list of the best project timeline makers that businesses can use to create more accurate timelines and increase the chances of successful management. This list includes both free and paid options, along with the features you get in each plan.
1. GanttPRO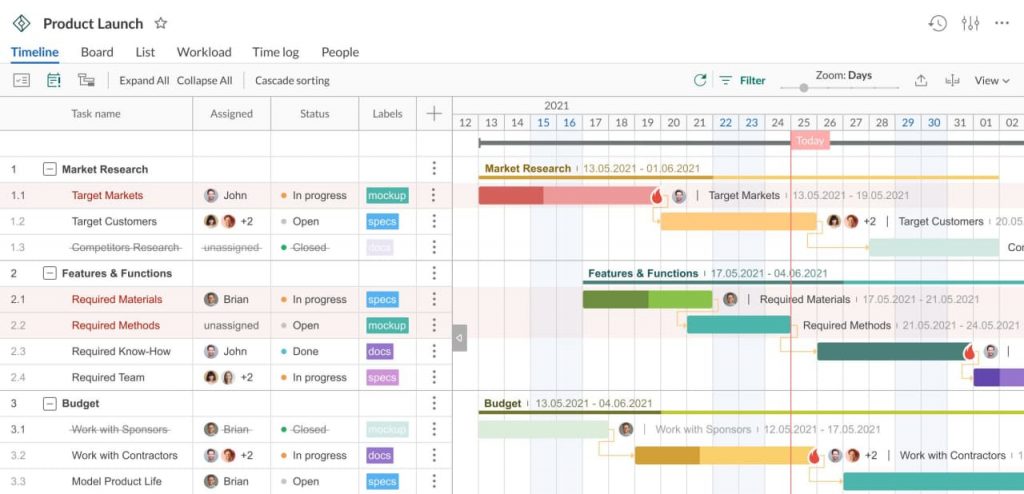 Free trial: 14 days.
Basic: starts at $7.99 user/month (billed annually).
Pro: starts at $12.99 user/month (billed annually).
Business: starts at $19.99 user/month (billed annually).

A professional project management tool with timeline functionality should be well-visualized, detailed, and multi-featured. This is where GanttPRO wins.
With its help, you can easily create a Gantt chart online and apply it to your projects. You can also use additional features for managing and completing tasks of various complexity.
This online Gantt chart maker is one of the best timeline project management software as it allows planning and scheduling tasks, setting dependencies and milestones, managing resources, and professionally collaborating with stakeholders. GanttPRO also provides super handy Gantt chart templates and timeline examples for your easy start.
The tool is known for its friendly design and convenient learning curve. You can export and import your Gantt chart timeline from software like Excel and MS Project.
If you already use other tools, including Google Drive or Dropbox, you can integrate them into these tools.
These things come in several price points that will help your team keep apprised of everything that needs to be done.
Key features:
Project planning and tracking.
Collaboration.
Real-time notifications.
Board view.
Time tracking.
Export/import.
History of changes.
Drag and drop functionality.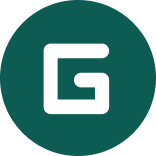 Project management software based on a Gantt chart
Create an online project timeline in minutes.
Sign up for free
2. ProofHub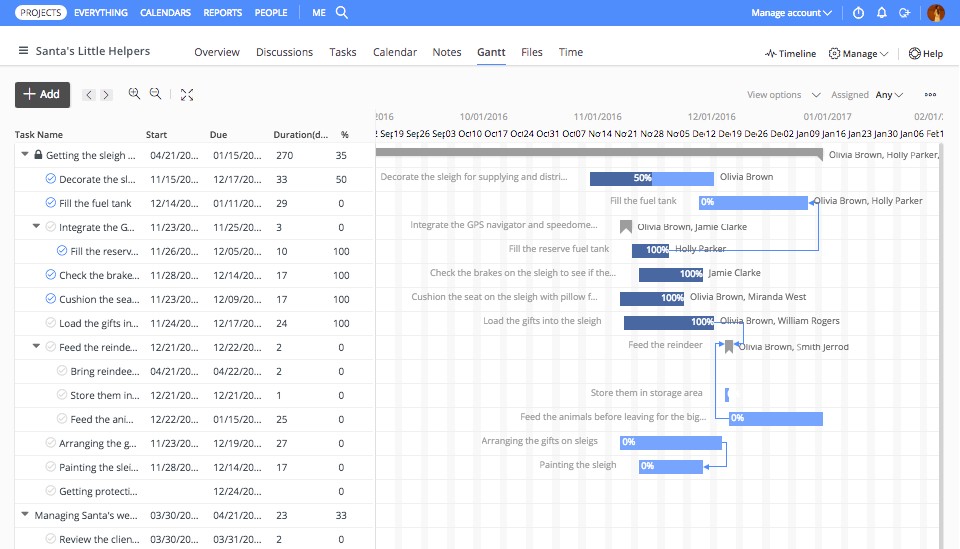 Free trial: 14 days.
Essential: starts at $45 per feature/month.
Ultimate control: starts at $89 per feature/month.

Another reliable project management timeline app on our list is ProofHub.
This online collaboration tool can help you in your project management-related endeavors such as task management, planning activities, and conducting meetings.
ProofHub comes with a solid feature set for timeline management and a dedicated space to carry out real-time discussions. It allows sharing files and adding collaborators to proof, review, and approve them.
You can apply ready-made templates. Integrations are also available, however, affordable ProofHub alternatives provide more options to integrate.
Key features:
Comprehensive PM timelines.

Effortless task management.

Simple workflows.

Time tracking.

Ability to customize roles and reports.

File sharing.

Third-party integrations.

Customizable templates.

Reporting and statistics.
3. Wrike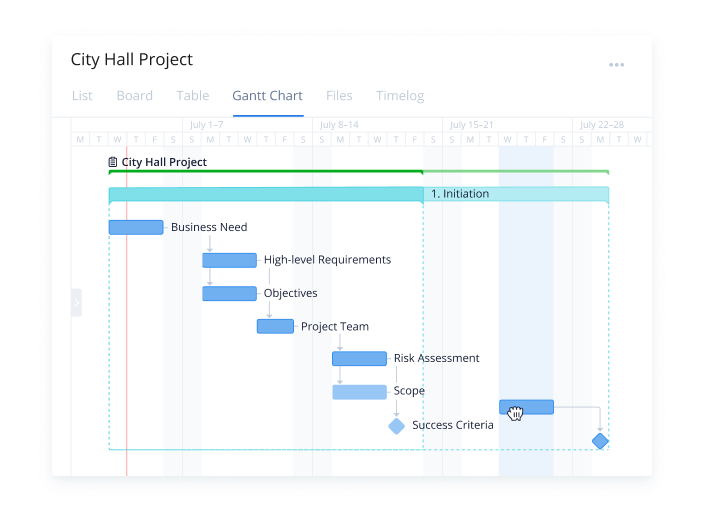 Free trial: 14 days.
Professional: starts at $9.80 user/month.
Business: starts at $24.80 user/month.

Wrike is a tool that does not need a special introduction. This project timeline app is widely used for work and task management. It scales across teams and businesses worldwide.
Wrike organizes everything you need in one place and lets you collaborate and deliver work items most productively
Online project timelines designed with this tool look handy and comprehensive. Wrike also allows viewing real-time reports and status for all projects, turning strategies into actionable plans, and much more.
Key features:
Project planning.

Personal dashboards.

Resource management.

Prioritizing.

Real-time reporting.

Subtasks.

Secure data storage.
4. Smartsheet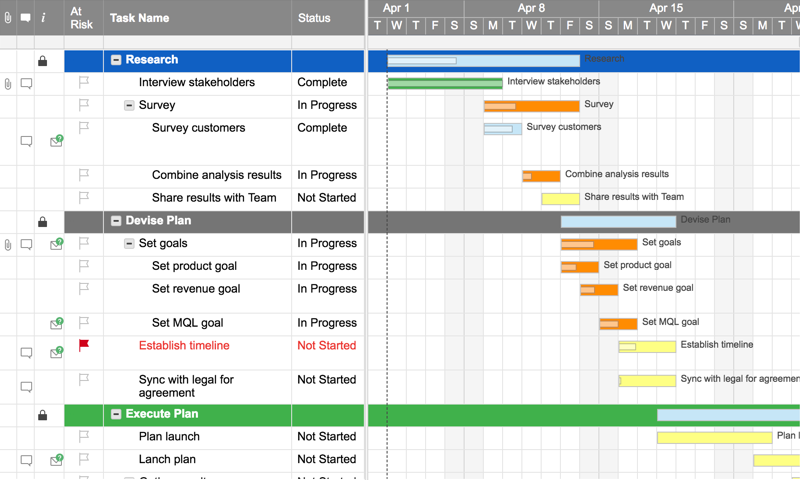 Free trial: 14 days.
Pro: starts at $7 user/month.
Business: starts at $25 user/month.

Smartsheet is a fantastic timeline project management software. It can be customized to match your requirements so that you can manage all your projects with their tasks and activities more efficiently.
The tool allows downloading and applying free timeline templates that will help you to better track and manage projects of different complexity. They are especially beneficial for project managers with no experience who have difficulty in differentiating "Gantt chart vs. timeline".
Using the templates, you'll be able to display tasks and essential milestones, track task start and end dates, and view them against each other in weekly, monthly, or yearly views.
Smartsheet may not look so fancy among the other PM timeline software solutions; however, it is still in line and service.
Key features:
Project planning.

Resource management.

Process management.

Seamless team collaboration.

Task automation.

Powerful integrations and add-ons.

Prioritization.

Time tracking.

Alerts/notifications.
5. Monday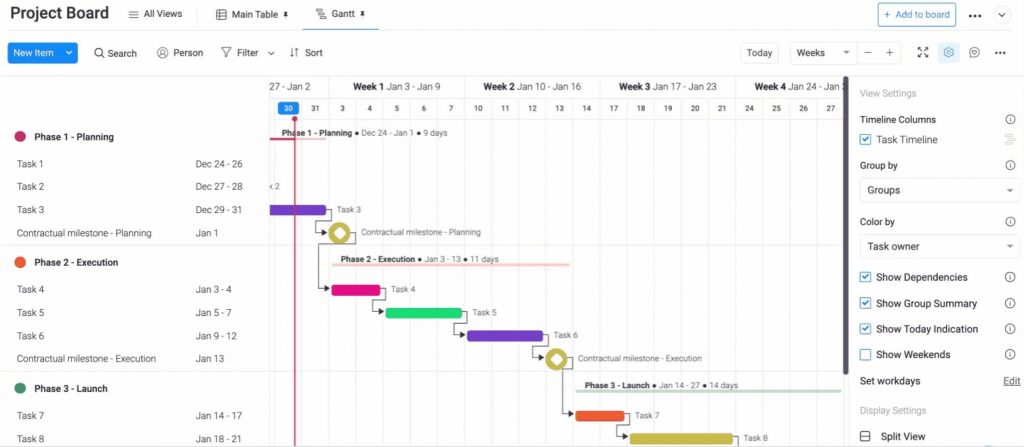 Free trial: 14 days.
Basic: starts at €8 user/month.
Standard: starts at €10 user/month.
Pro: starts at €16 user/month.

Within a short span of time, Monday has become a reliable timeline software for project management needs. Its handy project timeline templates work as a great time-saving olution for teams.
Monday is a good helper in planning and scheduling issues. It ensures that all team members are on the right track. It is simple to use, which makes it suitable for beginning users.
The platform has excellent timeline views, calendars, collaboration features, time tracking, and many integration options. It is appreciated for its versatility, advanced features, and affordable price tag.
Key features:
PM timelines.

Handy dashboards.

Deadline views.

Team assigning.

Group messaging.

Third-party integrations.

Document management.

Alerts/notifications.

File sharing.
6. Easy Projects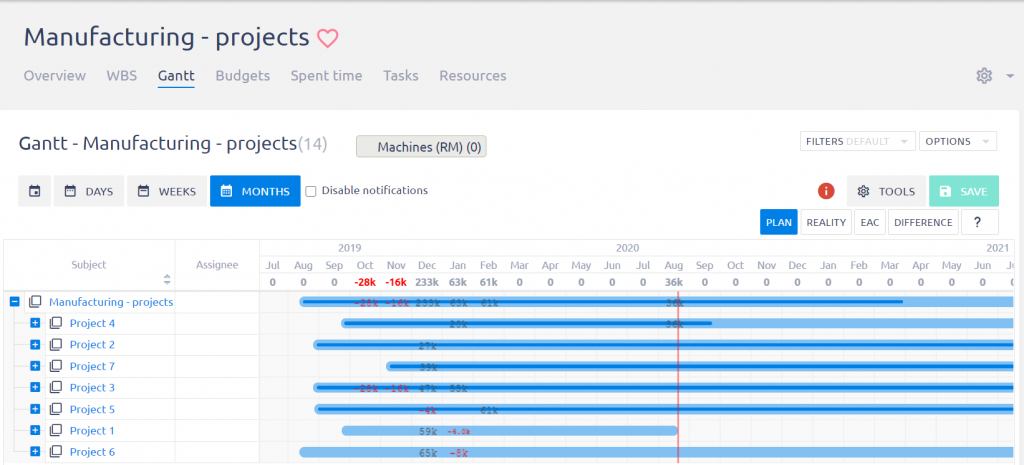 Free trial: 30 days.
Essentials: starts at €5.90 user/month.
Business: starts at €11.90 user/month.
Platform: starts at €23.90 user/month.

Easy Project is designed for fast-moving midsize to enterprise-level project teams. It is so feature-packed that you can perform nearly every activity related to project management in it, and it will execute it flawlessly.
The tool includes visual project planning, resource planning, friendly reports, and much more.
Detailed reporting capabilities help managers view and analyze work performance and identify possible bottlenecks.
It also has an intuitive interface that can be easily understood and mastered.
Key features:
PM planning.

Drag & drop.

Communication management.

Custom fields.

File sharing.

Desktop notifications.

Email notifications.

Image annotations.
7. Vizzlo
Free trial: 14 days.
Professional: starts at $11 user/month.
Teams: starts at $45 user/month.

If you are wondering how to create a project timeline, one more software solution can professionally assist you.
Vizzlo is a user-friendly timeline tool for project management that increases productivity by providing intuitive tools for generating designer-grade timetables and charts in no time.
It will help you track progress, create marketing reports, financial forecasts, and different timeline events.
Vizzlo is easy to use, and it perfectly suits remote teams.
Key features:
Charts charts.

Data visualization.

Visual aids for presentations.

Team collaboration.

Handy interface.
8. Hygger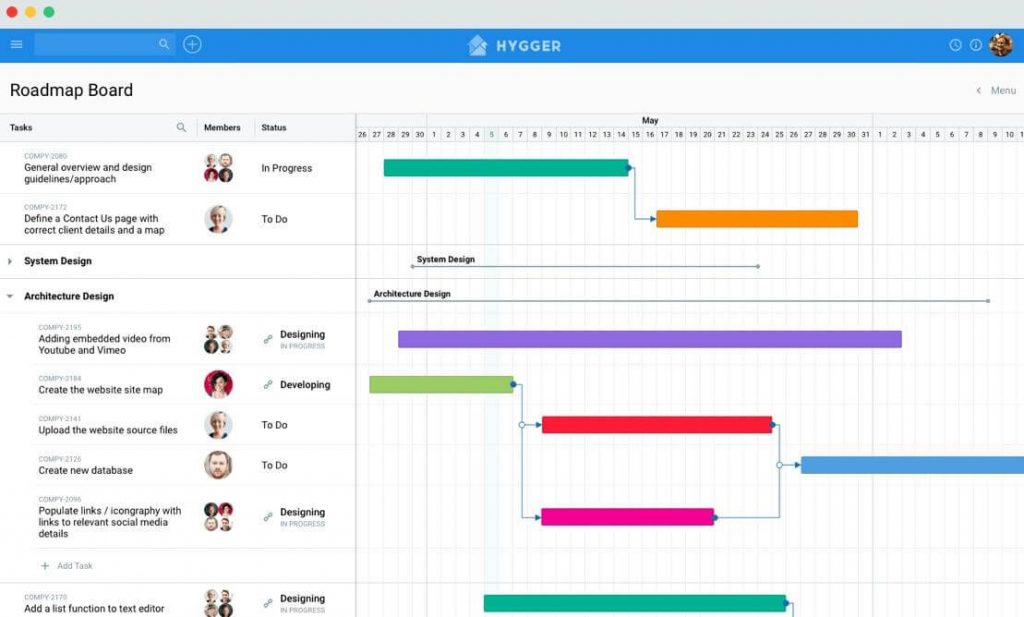 Free trial: 14 days.
Standard: starts at $7 user/month.
Enterprise: starts at $14 user/month.

At first glance, you may think Hygger is exclusively designed for product managers. However, this platform has a lot to offer as a project timeline software. With this tool, you can manage your projects from start to finish: plan, prioritize, manage, and achieve goals, seamlessly.
The Gantt view in Hygger's roadmaps acts as a primary means for managing project timelines. You can apply it for monitoring tasks' progress and making changes as you go forward.
The tool also helps in planning what needs to be done in the future. Its functionality allows planning work with pleasure, setting dependencies, due dates, and applying changes with the drag and drop feature.
You can share timelines with your colleagues and stakeholders to get progress updates quickly and easily.
Key features:
Colorful timelines with the intuitive scenario.

Kanban boards.

Task management.

Powerful prioritization frameworks.

Tasks lists.

Time tracking.

Alerts/notifications.

Reporting.

Analytics.
9. Workzone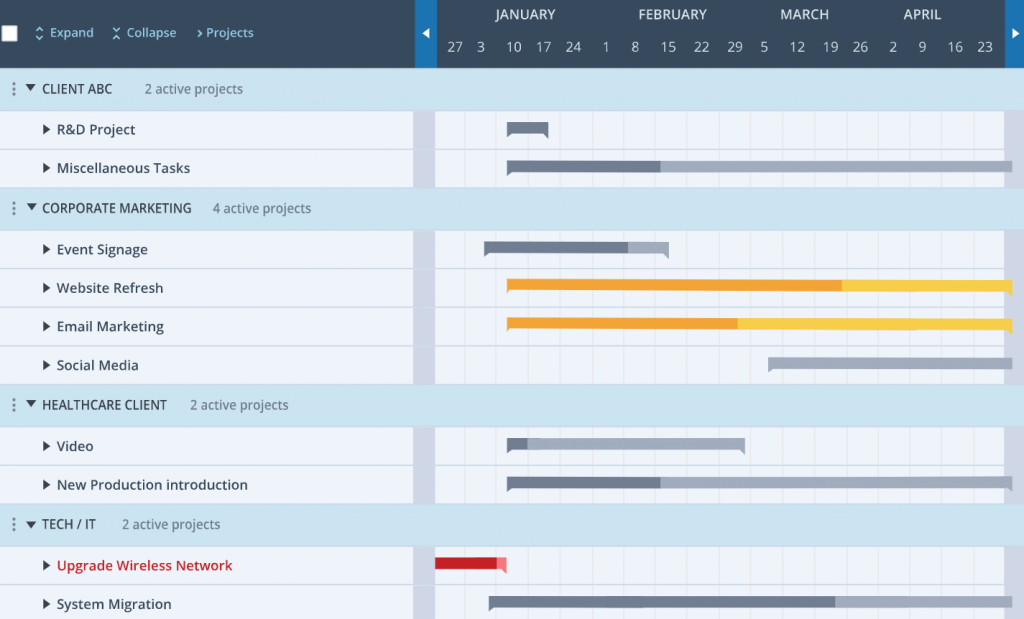 Free trial: not provided.
Team: starts at $24 user/month.
Perofessional: starts at $34 user/month.
Enterprise: starts at $43 user/month.

Workzone is a powerful project timeline maker that allows visualizing schedules across beautiful timetables. With the help of this software, you can easily manage tasks of various complexity. However, it is simple enough that any team can use it without extra effort.
Workzone offers a handy dashboard that gives an instant big-picture view of the project's status across the company.
This project management timeline tool can be installed on Mac, Windows PC, or Linux. It is widely applied by teams with a diverse mix of experienced and not experienced users.
Key features:
Gantt chart for advanced planning.

Handy workflow.

Budget management

Automated reports.

Email alerts.

File versioning.

Expense tracking.

Flexible permissions.
10. Celoxis

Free trial: 30 days.
Cloud: starts at $22.50 user/month.

This is the last project management timeline tool on our list, and it is also worth your attention.
Celoxis helps in planning and managing projects better as well as delivering great results. It is packed with different features that allow managers and their teams to manage their projects, timelines, collaboration activities, and workflows.
With this tool, you can quickly improve project deliverability.
Key features:
Project planning.

Activity stream.

Custom reports.

Document management.

Portfolio management.

Visual health indicators.

Auto scheduling modes.
All the tools listed above incorporate project management and planning features that allow users to get more options to use timelines in business and present ideas to their colleagues clearly and consistently.
What about free PM timeline makers?
Sometimes you may need timeline generators just for personal or occasional projects. Such tools usually do not offer professional PM features but only provide pretty simple tools for quick but not detailed planning.
They usually need registration and enable you to make simple timelines. Here are some examples of free timeline tools:
Choose the best tool to jumpstart your project success
A PM timeline is an easy and effective way to visualize essential facts, events, or ideas. There are many robust PM timeline software solutions that enable its smooth creation and sharing.
Some of these online tools are free; others are pretty budget-friendly. But most of them focus on project management and take data visualization to the next level. The only thing you need is to choose the best option for your business and team.
What is your favorite on our list? Which timeline tool would you like to add? Feel free to comment below!