9 of the Best Instagantt Alternatives for Successful Teams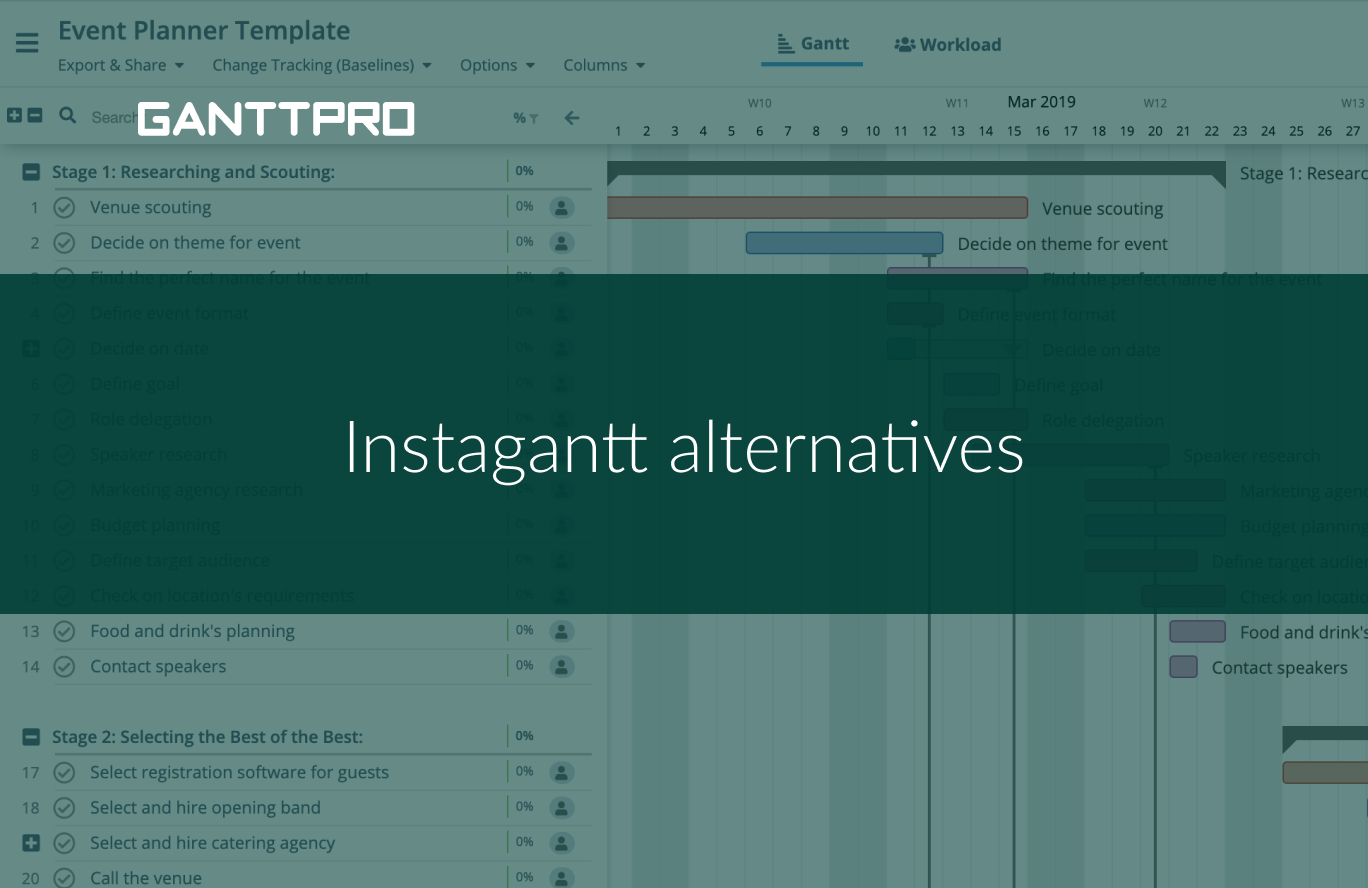 I have recently noticed a trend of teams and organizations investing in Gantt chart technology. Why?
The reason is simple – Gantt charts are intuitive, expressive and a great way to monitor the productivity and time efficiency of your team members. With Gantt planners, you can effectively map out your agendas and polish schedules to perfection.
The good thing is that there are many tools out there that will help you manage projects, stay on the same page, view your goals and deadlines, and collaborate better with the help of Gantt charts.
Instagantt is one such tool. It finds purpose in almost every industry. However, it does not come without its fair share of limitations. Even though no tool is meant to answer all of your needs, Instagantt seems to come up short on a lot of fronts.
In this article, we are going to have a look at some of the best alternatives to Instagantt.
But first, let's discuss.
Why should you start looking for an Instagantt alternative?
Instagantt, like many other management tools, offers a great platform for viewing and managing work in the form of Gantt charts. It has enough features to make it an outstanding tool. But because of some limitations, it does not suit every team the way a project management software platform is supposed to.
In a broader sense, the tool in question lacks in certain aspects. And through many reviews and citations, anybody can take a guess that the main issues come from two main fronts.
The ease of operating.
The steep learning curve.
I rounded up some reviews and went through the complaints that people generally have with Instagantt. Let's take a look at some of its main limitations:
The learning curve seems to be steep and adapting to the tool is very hard for teams.
There is an absence of pre-made templates which makes the process of setting up projects a little difficult.
As per many user reviews, Instagantt cannot be used for complex
Tracking time by logging the hours also proves to be a challenging task.
Its integrations and tie-ups with other project management tools are anything but seamless.
The workload calculation is a little murky.
Overall, the tool is not very flexible and the numerous features feel inadequate at the end of the day.
Best alternatives to Instagantt
There are many tools out there that can help you manage your projects, your tasks, and your time. These tools have everything that Instagantt offers and more.
Now, without further adieu, let's take a look into the 9 most amazing Instagantt alternatives.
1. GanttPRO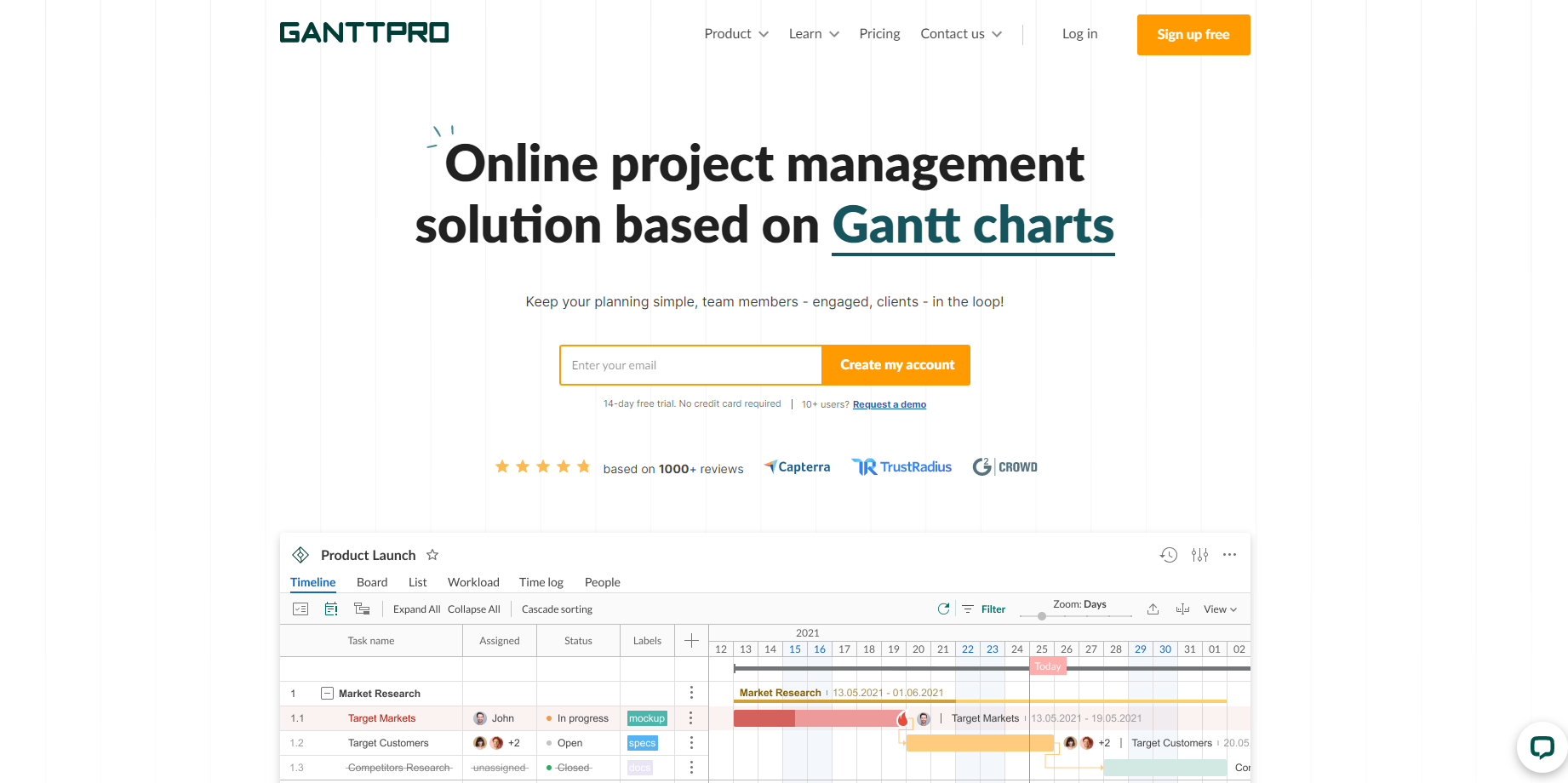 GanttPRO is a reliable tool for managing projects. In fact, it is a go-to tool if you want your team to be on track with scheduled tasks and fixed deadlines. It offers a base for effortlessly managing the team agenda. With GanttPRO, you get to make quick modifications to tasks and deadlines.
Why is GanttPRO the best alternative to Instagantt?
Offers information in different layouts like portfolio, grid, board, Gantt chart.
Offers task filters to view exactly what you want.
Creates a project timeline in a very attractive way.
Sets a hierarchy for your tasks to emphasize priority.
Schedules your tasks so they can automatically fit into the timeline when something changes.
Offers great ways to work on portfolios.
Allows working with advanced resource workload.
Has ready-made Gantt chart templates.
Notable users: Salesforce, SONY, and Hubspot.
Pricing:
Individual: $15 per user per month when billed annually.
Team: starts at $8.90 for 5 users and varies as the number of users increases.
Enterprise: quote-based.
2. ProofHub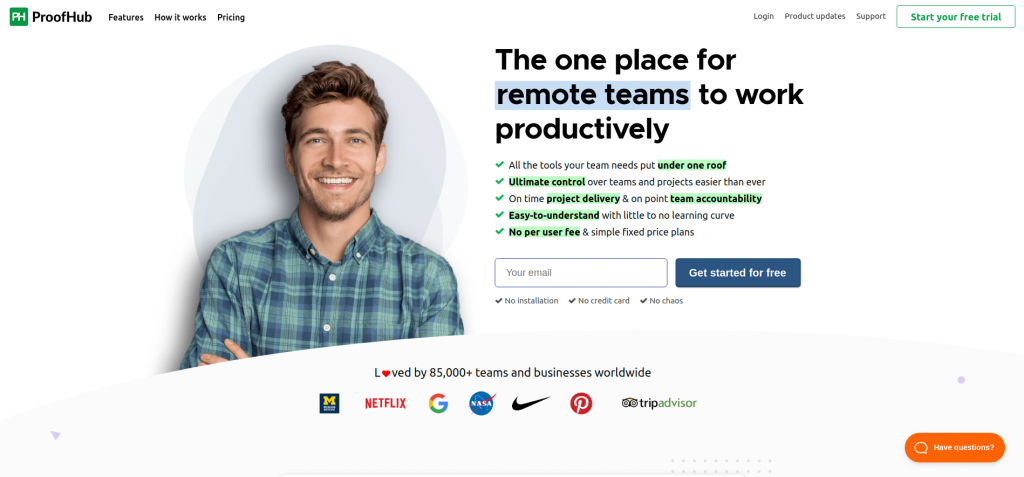 ProofHub is both reliable and intuitive. It is very versatile and gives you everything from task management to calculating billable hours in one consolidated place. It presents you with a project timeline that is highly articulate and customizable at the same time.
Why is ProofHub the best alternative to Instagantt?
Provides a platform where you can visualize your goals, projects, deadlines, and tasks.
Allows setting and managing milestones and viewing them in an extensive calendar view.
Has the task and task list import with minimum hassle from other tools.
Highlights critical chains of tasks with easy-to-use Gantt charts.
It is a time management hub with timesheets, reminders, and time estimates.
Notable users: Netflix, NASA, and Pinterest.
Pricing:
Ultimate control: $89 per month when billed annually, down from $150 (limited time offer). No per-user fee.
Essential: $45 per month when billed annually. No per-user fee.
3. ClickUp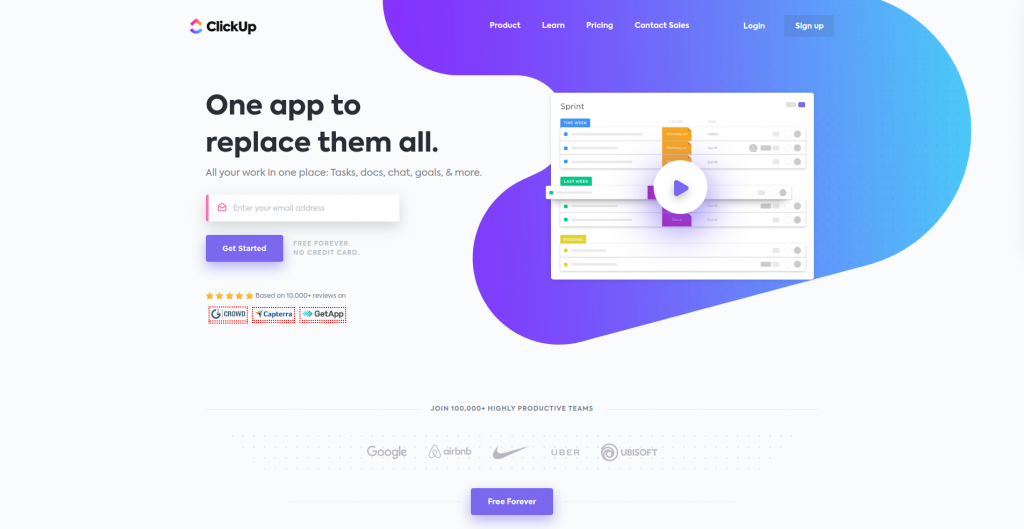 ClickUp is another great addition to the alternatives on this list. It is a project management solution that is both appealing and useful at the same time. With its practical features and ease of use, it is probably the most adaptive project management tool out there. It also offers a great user experience and comes with an interactive interface.
However, large teams with complex projects have little to gain by choosing it. Therefore, they often look for ClickUp alternatives themselves.
Why is ClickUp the best alternative to Instagantt?
Helps you schedule tasks and events in a very accessible setting.
Creates project plans and helps keep track of the project timeline.
Sets and allows tracking the schedules for multiple projects, all in the same window.
Helps watch and monitor the swift progress of the tasks and progress of your teammates.
Notable users: Airbnb, Nike, and Google.
Pricing:
There is a forever free plan.
Unlimited: $5 per person per month when paid annually. This totals to $200 for 40 users.
4. Smartsheet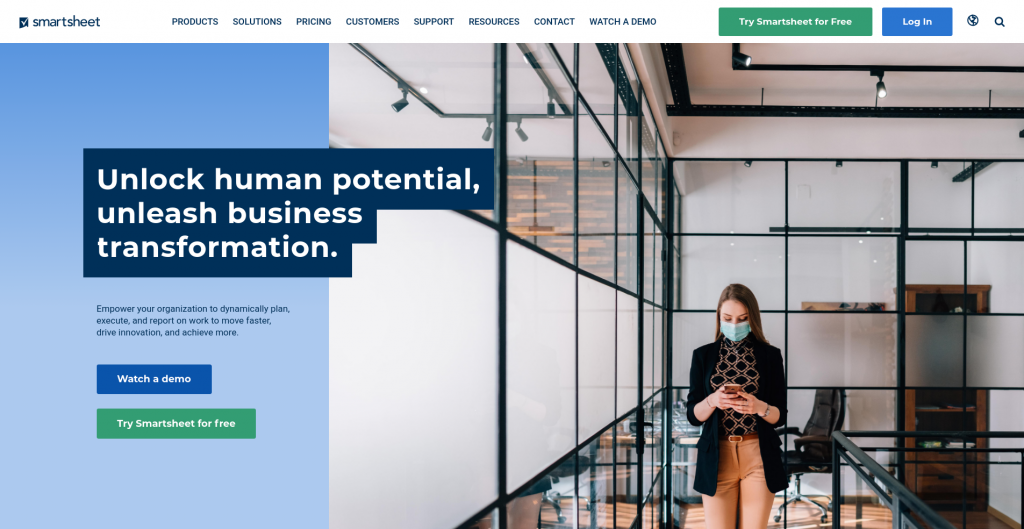 Smartsheet is a project management software that puts the "smart" in "smart work management". It is a dependable and sturdy platform that aids teams in staying on the same page with one another. It has excellent compatibility with most of the other tools of its kind for easy export and import of files.
Why is Smartsheet the best alternative to Instagantt?
Has integrations with Adobe Creative Cloud, Slack, Microsoft, box, G Suite, and more.
Allows viewing your goals and upcoming tasks with a grid, card, or Gantt view.
Streamlines your work by planning, scheduling, delivering, and organizing.
Allows attaching files from any platform and collaborate with your team a lot better.
Offers ways to share and consolidate your data using just one platform.
Notable users: Roche, Spartan, and Whirlpool.
Pricing:
Pro: $7 per user/month.
Business: $25 per user/month.
5. GoodDay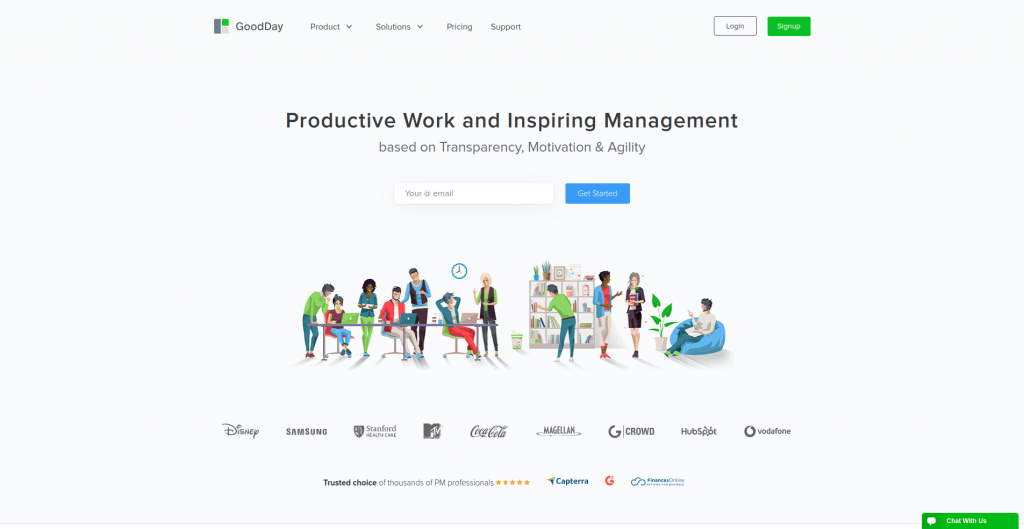 GoodDay is a one-stop-shop when it comes to team collaboration and agility in the work processes. It is an effective alternative to Instagantt that helps with productivity through task organization. It's a go-to tool for almost all kinds of industries as it comes with many distinct features.
Why is GoodDay the best alternative to Instagantt?
Offers transparency with a visual representation of tasks and projects.
Takes care of reports, analytical data, and process management with one single platform.
It is supported by multiple apps and devices.
Provided access to "My work" to see individual progress and upcoming tasks.
Notable users: Samsung, Coca-Cola, and Vodafone.
Pricing:
Free: free forever (for 1-5 users).
Professional: $4 per user per month when billed annually. This totals to $160 for 40 users.
Enterprise: quote-based.
6. OpenProject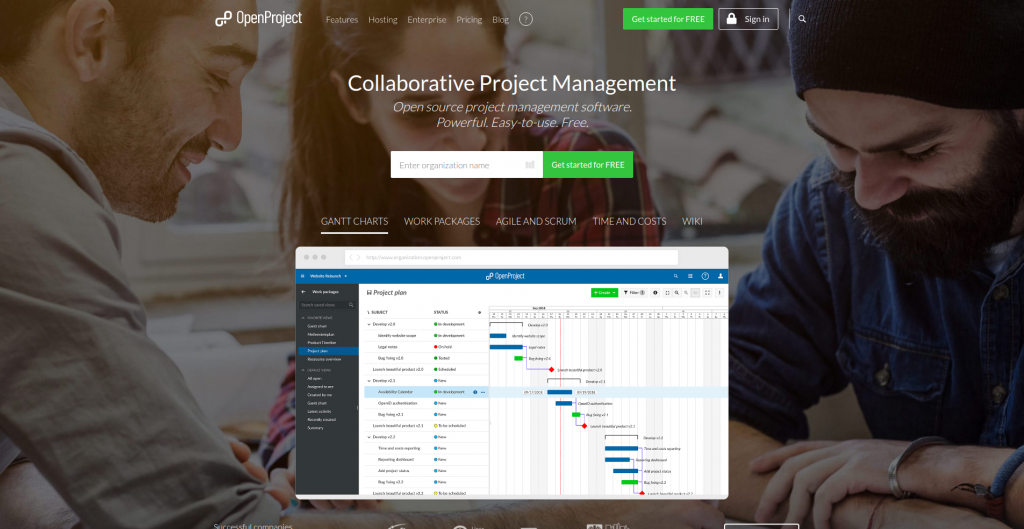 OpenProject is an easy-to-use management software platform that helps in planning, initiating, and setting up a project easily. With so many features, it is a step ahead of Instagantt, since it offers you a vision into the execution of the project throughout its whole lifecycle.
Why is OpenProject the best alternative to Instagantt?
Builds "shared timelines" to interact and collaborate.
Executes the agile and scrum techniques.
Visualizes goals and events with a calendar as well as a board view.
Tracks bugs with ease.
Creates successful feedback loops.
Notable users: Siemens, Linux Professional Institute, and Audi.
Pricing:
Community: free.
Enterprise on-premises (self-Hosted): $6.75 per user per month when billed annually. That totals to $270 for a team of 40 people.
Enterprise Cloud (hosted by OpenProject): $4.58 per user per month when billed annually. This totals to $183.2 for a team of 40 people.
7. Gantter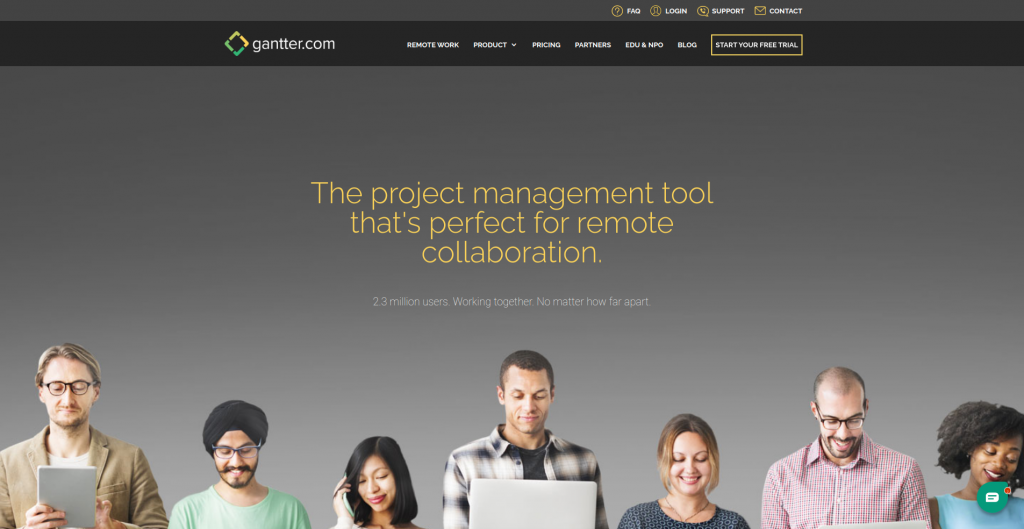 Gantter is a productivity tool that offers you quick accessibility to project management and file organization. It offers a hassle-free user interface that is highly customizable. It is an efficient scheduling platform built for effective collaboration.
Why is Gantter the best alternative to Instagantt?
Comes in a sleek packaging with an easy-to-use AI-powered interface.
Allows tracking every aspect of your project's progress.
Keeps track of the whole timeline by focusing on every task and their deadlines.
Offers an optimized user experience by streamlining your workflow.
Allows documenting ideas, tasks, resources, and risks on the same platform.
Notable users: Pittsburgh Glass Center, RSPCA (Royal Society for the Prevention of Cruelty to Animals), and Hermosillo.
Pricing:
Gantter Cloud: $5 per user per month. Totals to $200 per month for 40 users. Ideal for single users.
Gantter for Google Drive: $5 per user per month. Totals to $200 per month for 40 users. Ideal for Google users.
Gantter for G Suite: $5 per user per month. Totals to $200 per month for 40 users. Ideal for teams.
8. TeamGantt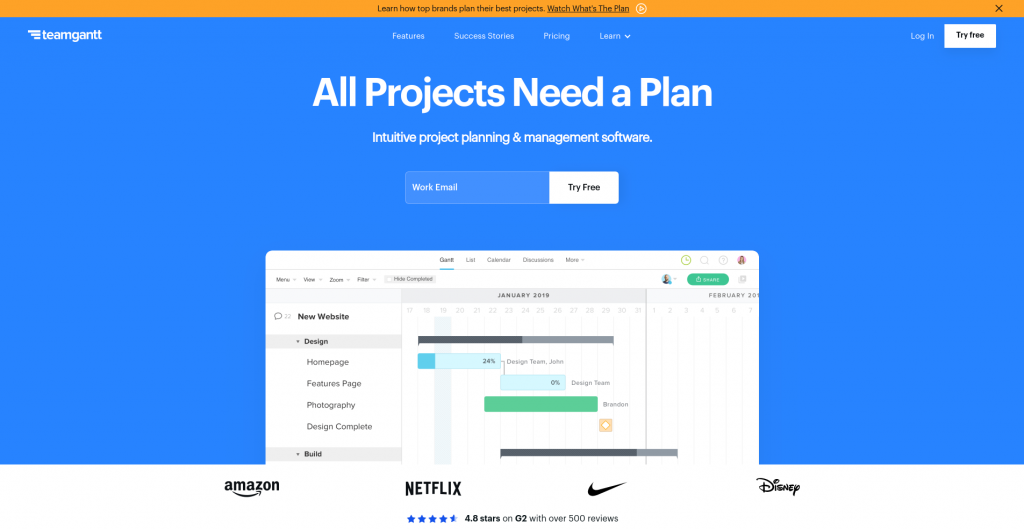 TeamGantt is a project planning software platform. This alternative to Instagantt offers a seamless online Gantt chart system that will help you plan every move of the project at length. It is easy to use and has some great quickly accessible features.
Why is TeamGantt the best alternative to Instagantt?
Keeps organized and centralizes all your project requirements.
Offers the simplicity of drag-and-drop for planning and scheduling.
Has a portfolio view.
Gives opportunities to manage resources and track every teammate's performance.
Allows sharing and instantly notifying people about updates in the details of the project.
Notable users: Amazon, Disney, and Netflix.
Pricing:
Free: free forever for up to 3 users and 1 project.
Standard Team: $19.9 per user per month. Totals to $328 per month for 40 users.
Advanced Team: $24.45 per user per month. Totals to $510 per month for 40 users.
9. Toggl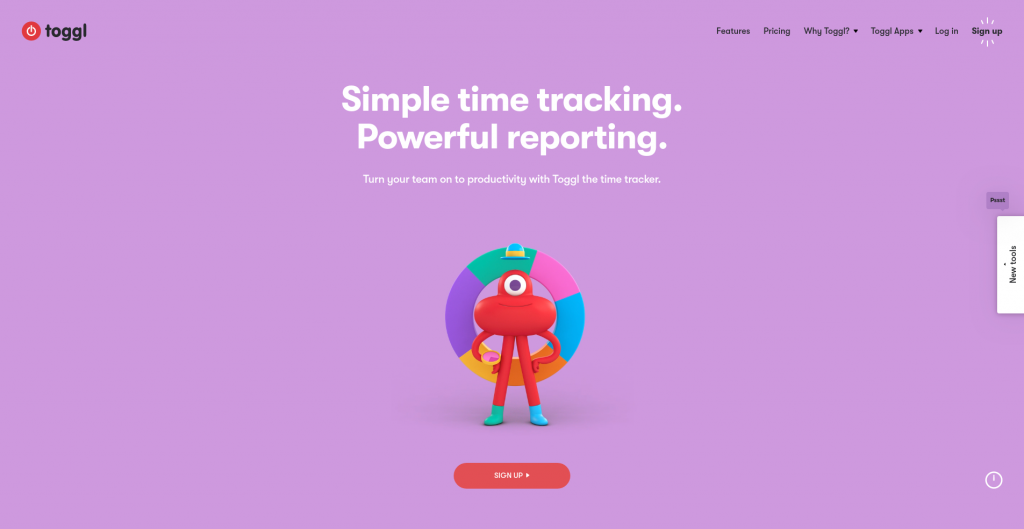 Toggl gives you a window into easy time tracking. It has an array of helpful features to keep your team on the same page. In addition to this, it has a powerful reporting feature too. You can create reports and pass information with ease using Toggl. Manage your projects and interact with your team on the same platform with this versatile tool.
Why is Toggl the best alternative to Instagantt?

Allows tracking time-sensitive tasks easily.
Comes with a free Gantt chart tool by the name "Toggl Plan". This tool is great for project planning, although it's worth noting that some Toggl Plan alternatives look more progessional.
Creates structured project plans and defines a proper schedule for the tasks.
Offers a team calendar to get a quick view of upcoming events and tasks.
Sends view-only calendars to your clients so they get a window into what you are up to.
Notable users: The New York Times, Spotify, and Airbnb.
Pricing:
Free: free forever for up to 5 users.
Premium: $9 per user per month when billed annually. This totals to $360 per month for a team of 40 users.
Conclusion
I hope you take away from this article the fact that Instagantt though a perfectly adequate software platform does come with some blaring drawbacks.
Remember; this is an era where the tools you use determine the productivity of your team and the performance of your whole organization. So choose wisely. This list of 9 powerful tools will help you replace Instagantt with a better solution to productivity, time management, and collaboration.
If you have been using Instagantt for a while now, you should try out other tools because you never know how much more they might have to offer to you. The best part is that most of the tools mentioned above offer free trials. So, you can give them a try without worrying about incurring any financial burden.
Feel free to explore other alternatives and comparison of tools in the following articles: