Top 10 JIRA Alternatives for Agile Project Management in 2023 [+Free and Open Source Tools]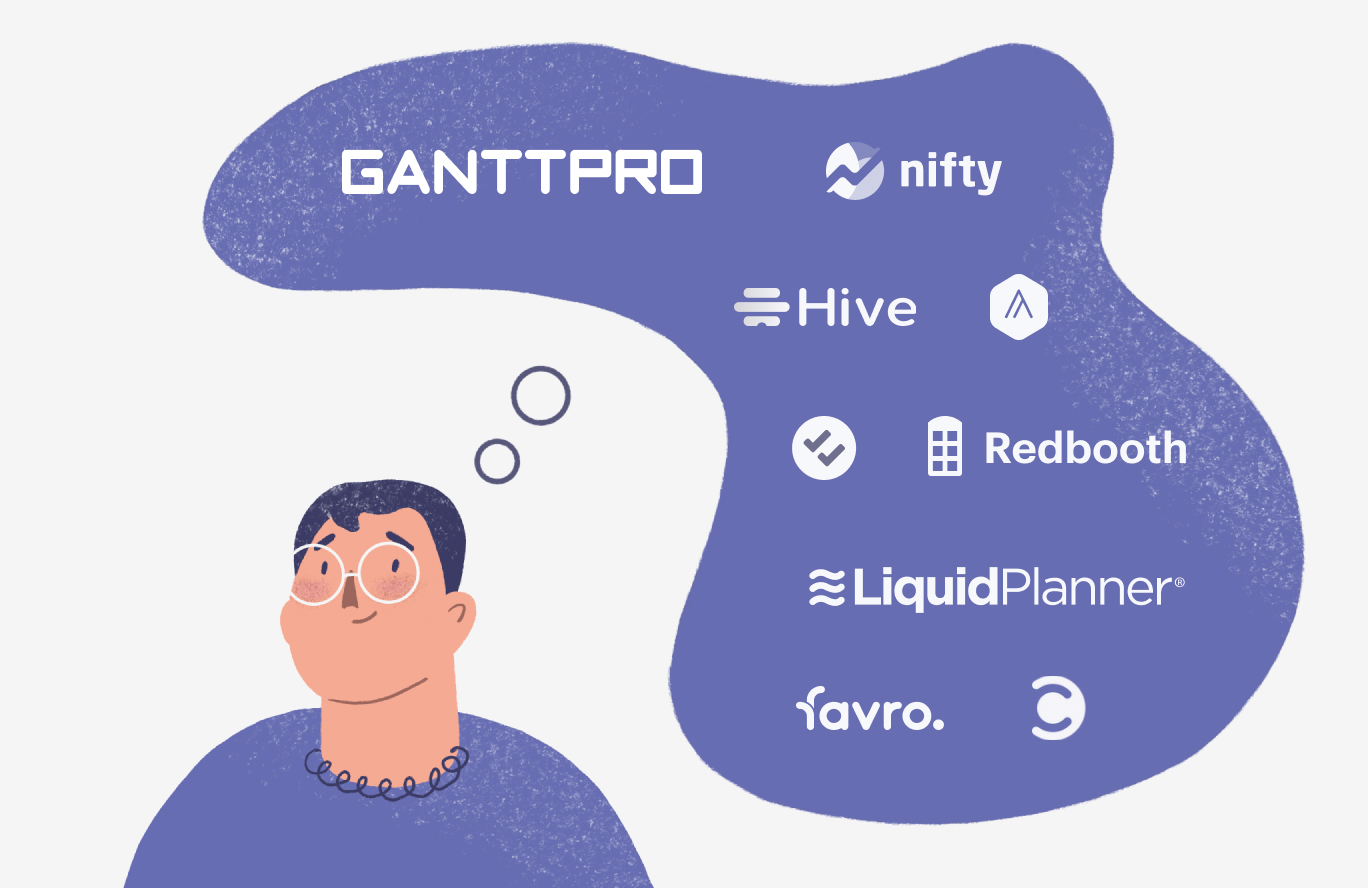 Audio version:
It is not a secret that JIRA is one of the most popular project management tools worldwide. Currently, it takes almost 40,08% of the whole PM software market.
According to Atlassian (the Australian company that created the platform), JIRA is used in more than 120 countries with 75,000+ purchasers.
The software is suitable for both team and personal use. Nevertheless, despite its immense popularity, JIRA has its drawbacks. Users name the high price, a steep learning curve, and not quite friendly and intuitive interface among the main reasons why they are looking for a JIRA alternative.
In this article, we have collected the best PM tools you can use instead of JIRA.
But firstly, let us remind you what JIRA software is.
What is JIRA?
JIRA is issue tracking and project management software developed by Australian company Atlassian in 2002. The tool has become widely used by Agile teams to track tasks, stories, epics, and bugs.
JIRA project management tool is widely used in software development and software testing. It is better suited for Agile development teams and designed to plan, manage, track, test, and release software.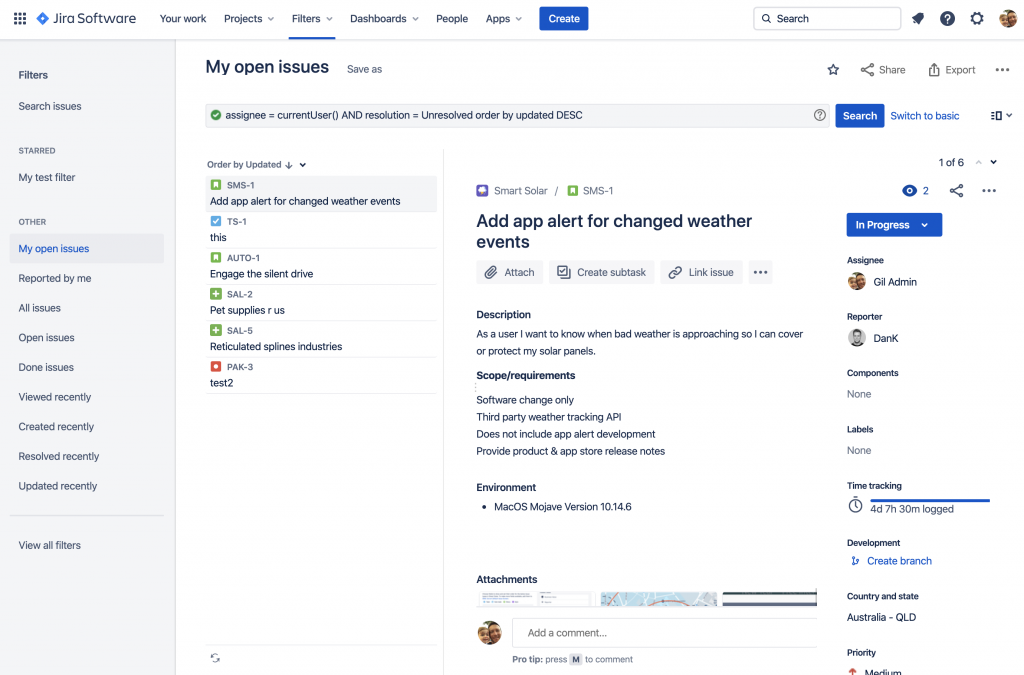 How much does JIRA cost?
JIRA offers two plans:
Data center (on-premise).

Cloud (web-based).
The price for the first option starts from $42000 for 500 users. It is a yearly subscription for the product. It ensures technical support and updates as long as you are subscribed to the solution.
A cloud version provides three subscription levels:
Standard.

Premium.

Enterprise.
A lot of teams choose a Standard option with a price of $7,75/user monthly.
For those who have advanced needs, the Premium level will be the right option. Starting at $15,25 per user monthly, it provides more available features and 24/7 support.
The Enterprise plan is designed for larger companies. To learn about its pricing, you need to contact Atlassian representatives.
| | | |
| --- | --- | --- |
| Standard | Premium | Enterprise |
| $7,75/user/month | $15,25/user/month | on request |
Also, big enterprises can save money from a bulk discount. The bigger your team is, the lower the price per user will be.
Is there a free JIRA version?
JIRA offers a Free plan for JIRA Software for up to 10 users, 2GB of storage, and community support. When you need to involve more than 10 users or get access to more storage and support, you can use a 7-day free trial.
Thus the software allows small businesses to plan and track workflow processes more effectively and thoroughly.
The thing is, the free plan is not fully-featured and lacks some options needed for teams. That's why this plan is not a robust business solution and suits rather for a basic utilization.
What are the features of JIRA?
JIRA Software is well-known in the Agile project management world as a robust tool for workflow controlling and issue tracking capability. It helps teams flexibly plan and prioritize due to the tool's support for Scrum, Kanban, and Scrumban methodologies.
Also, this project management solution has many other features:
Advanced reporting.

Searching and filtering.

Real-time notifications.

Activity log.

Customizable workflows.

Agile views.

Unlimited custom fields.

Backlog prioritization.

Time tracking.

Bugs and defect management.

Customizable dashboards and wallboards.
Why look for JIRA alternatives?
There is no doubt JIRA is a powerful and flexible project management software. However, like any other tool, it also has some cons, and searching for JIRA alternatives is pretty prudent.
So, if you wonder, "What can I use instead of JIRA?", we are here to help you. Scroll down a bit for the answer.
JIRA pros
Wide range of customization.

Advanced security and administration.

Rich toolkit for developers.

Flexible deployment options.

Various integrations.

Mobile app (for IOS and Android).
JIRA cons
Pricey for startups, small and medium-sized teams.

Outdated and complicated interface.

Steep learning curve.

Tough onboarding process.

No multiple assignees.

Predominantly suits development teams.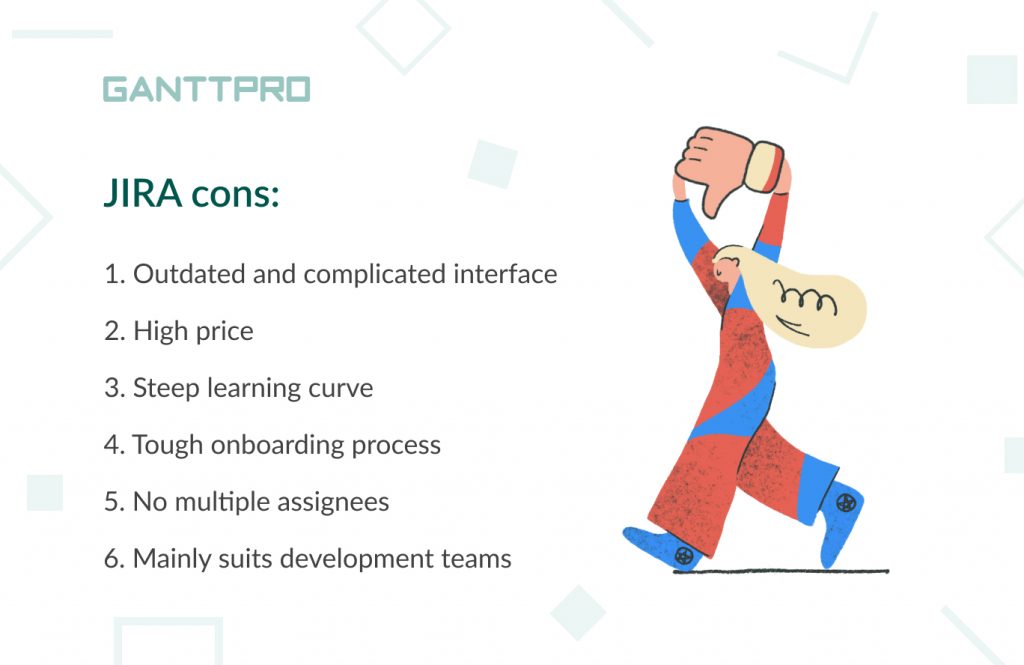 Top 10 JIRA alternatives for Agile projects
1. GanttPRO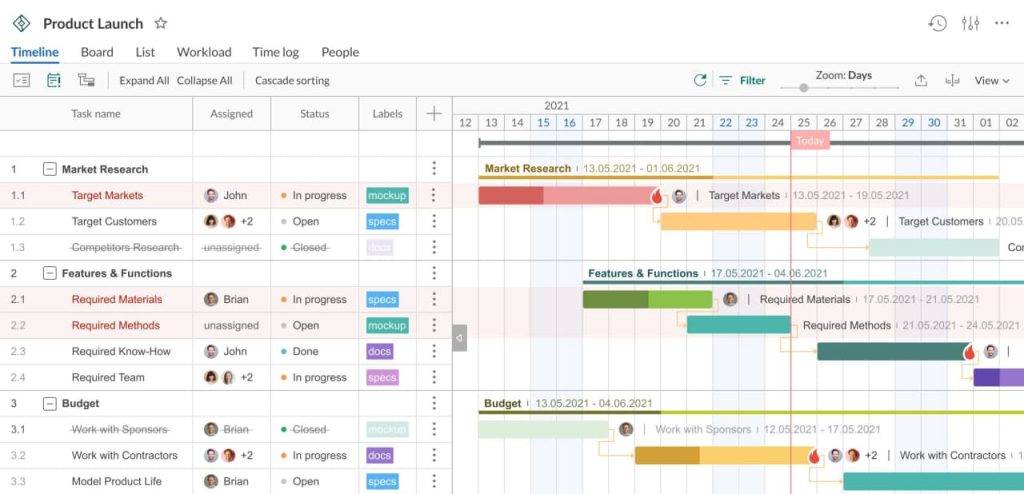 OS supported: the solution is web-based and suits every OS.
Best for: different-sized teams and businesses; product, project, and portfolio managers.
Integrations: JIRA, Google Drive, Slack.
Pricing: Basic – from $7.99 user/month billed annually; Pro – from $12.99 user/month billed annually; Business – from $19.99 user/month billed annually.

GanttPRO is a project management solution based on Gantt charts. The software is designed to control workflow, prioritize, manage tasks, and be on the same page with your team and stakeholders.
This tool is online, so all project participants have 24/7 access to actual information. The friendly and intuitive interface allows you not to waste your time while starting work with the software and makes the onboarding process robust and straightforward.
Moreover, with GanttPRO, you can switch from a timeline to a classical Board view. There you can find all tasks in four columns: Open, In progress, Done, and Closed. It is possible to sort tasks by status, priority, or assignees.
The cherry on the cake is that the tool provides an efficient Gantt chart integration for JIRA. This collaboration makes the workflow even smoother and more transparent, facilitates communication and information exchange among different teams, departments, and even companies.
Features:
Online notifications.

Kanban view.

Advanced workload management.

Ready-made Gantt chart templates.

Undo and history of changes.

Ability to leave comments, mention users, attach files.

Resource management.

Export to PDF, PNG, and XLSX formats.

Project portfolio management.

Budget planning.

Ability to share projects via a public link.
Why is GanttPRO a good alternative to JIRA?
GanttPRO is a multifunctional platform that makes teamwork more efficient and convenient.
The software will be a great choice while creating and managing Agile projects. With it, you can quickly and easily fill sprints with tasks, make real-time changes using drag&drop, communicate with others, and immediately see all updates.
2. Assembla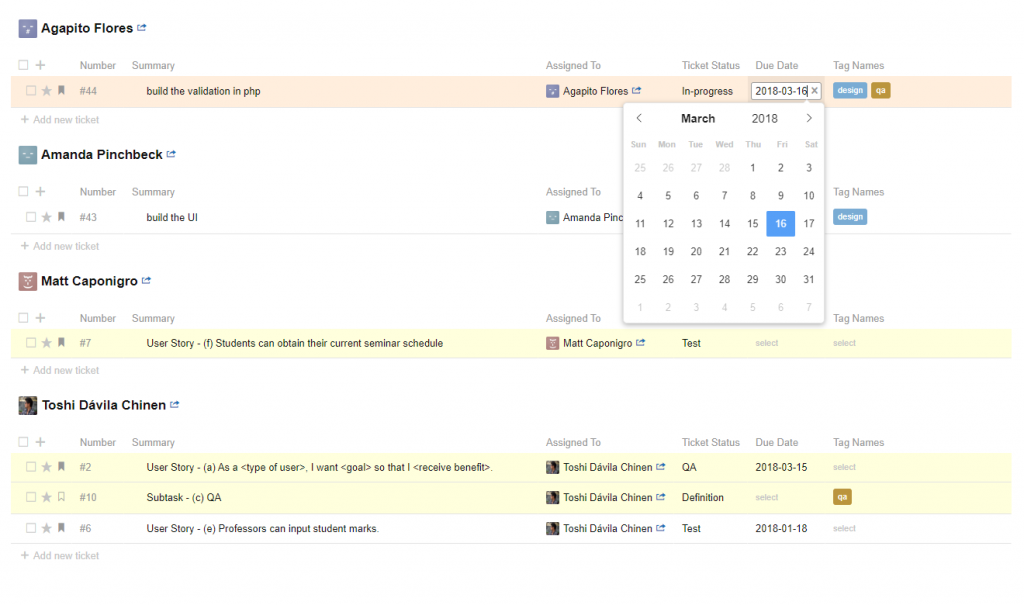 OS supported: the solution is web-based.
Best for: teams from 5 to 5000 users.
Integrations: JIRA, Trello, and Slack.
Pricing: from $12 user/month.

This software gives you an opportunity to plan and deliver multiple projects combining Scrum, Gantt, Kanban, Waterfall, and SAFe methodologies in one place. The tool suits software developer teams and is widely used among mobile app and video game developers.
Assembla offers a wide range of functionality in its core, like code deployment and Git hosting. Also, it provides a lot of robust collaboration features for keeping everybody on the same page.
Features:
Task and milestones management.

Time tracking.

Ticket views.

Subversion, Git & Perforce Hosting.

Cardwalls and taskboards.

Personal filters.

Bug tracking.

Hourly backups.
Why is Assembla a good alternative to JIRA?
In brief, Assembla is a great choice for techs who like various and smartly-designed features. If you are looking for a simpler JIRA alternative, it is better to consider other solutions.
3. ActiveCollab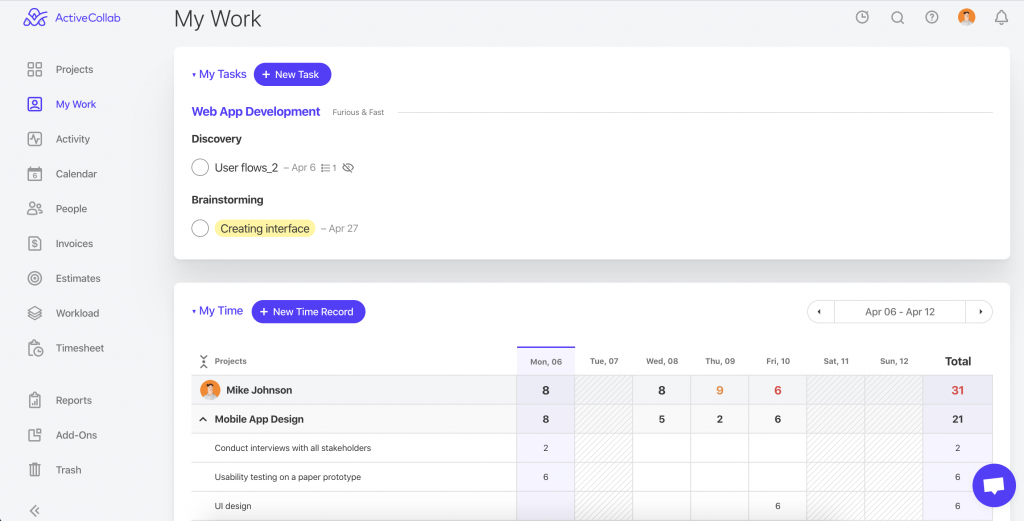 OS supported: Mac, Windows, web-based.
Best for: teams of all backgrounds.
Integrations: Google Drive, Dropbox, Slack, Hubstaff, Zapier, and others.
Pricing: $8 per member per month for annual billing.

ActiveCollab is a project management software created to get rid of the chaos in your daily workflow and bring your team on the same page. This affordable and easy-to-use PM solution provides a big picture of all your projects, allows you to create an efficient work schedule, and saves team members' time on unnecessary emails and meetings due to its collaboration features.
The only thing users report is that the tool lacks integration with Git or another version of the control system.
Features:
Task dependencies.

Time tracking.

Kanban boards.

Customizable templates.

Advanced reports.

Invoicing.

Calendar.
Why is ActiveCollab a good alternative to JIRA?
Active Collab is a good Agile Jira alternative suited for everyone. Its nice and friendly UI facilitates the workflow and boosts your team's productivity whether you are an experienced developer or not.
4. LiquidPlanner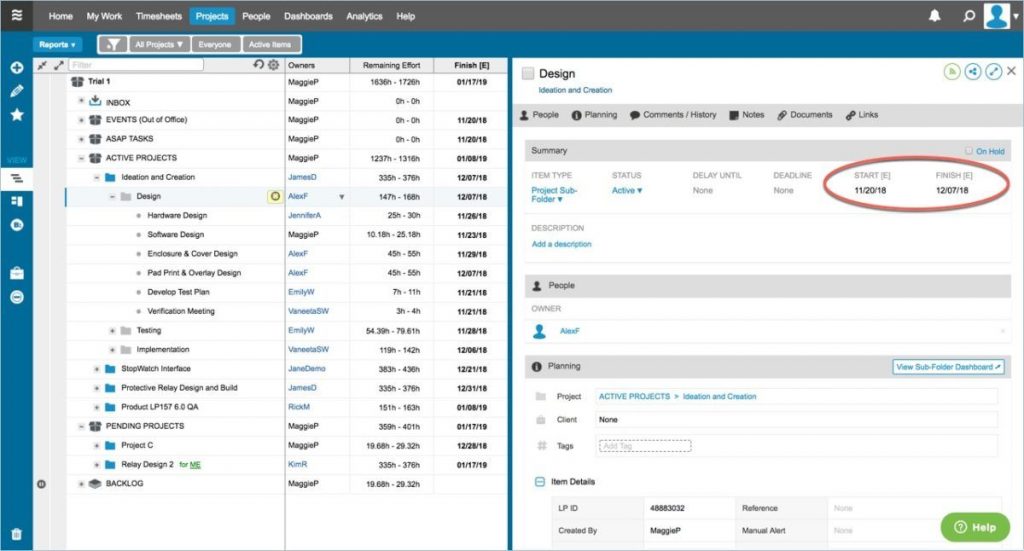 OS supported: the software is cloud-based.
Best for: technology teams of various sizes.
Integrations: Google Drive, Dropbox, Box.
Pricing: $15/user/month billed annually.

The tool creators say that "LiquidPlanner is the only automated scheduling and forecasting solution on the market." For example, the software can calculate when you most-likely will complete your work. To do this, you just need to estimate the time required to finish tasks. LiquidPlanner takes priorities, vacations, and team availability into account. That's why you can be sure everything is under control.
Also, this solution automatically looks for risks in your schedule and signals red when your project is in danger of being finished with delay.
Features:
Time tracking.

Card view.

Baseline.

Customizable templates.

Dashboards.

Automated resource leveling.

Advanced analytics.
Why is LiquidPlanner a good alternative to JIRA?
LiquidPlanner is a PM solution that allows you to plan, prioritize, and control project realization processes. It is a powerful alternative to JIRA due to its Agile approach to project management.
5. DoneDone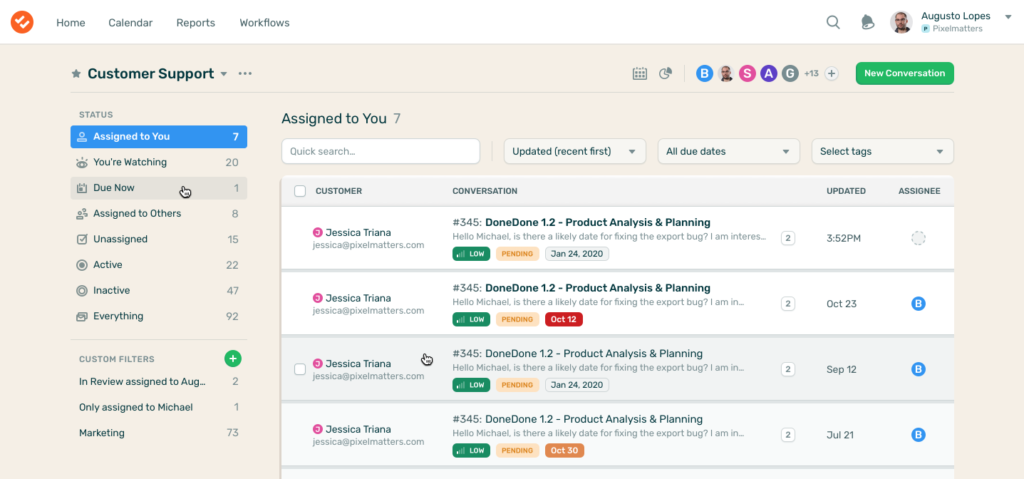 OS supported: web-based only.
Best for: programming teams that want a simple way to manage tasks, issues, and bugs.
Integrations: Slack, Github, Harvest, and others.
Pricing: from $4/user/month billed yearly.

DoneDone is the simple issue and bug tracker. With its help, you can track workflow and support tickets in one uncomplicated hub.
DoneDone gathers user feedback and possible purchaser questions that are sent to your public email. It happens inside the software, so every project participant gets factual information.
Since the tool is web-based, all you need to start working with this JIRA alternative is an internet connection.
Features:
Task management.

Dashboard.

Issue scheduling and auditing.

Backlog management.

Ticket management.

Hourly backups.
Why is DoneDone a good alternative to JIRA?
This software has one of the most straightforward user-interface and onboarding processes. With it, one can forget about spreadsheets, emails, and sticky notes to track your requests and ideas.
6. Favro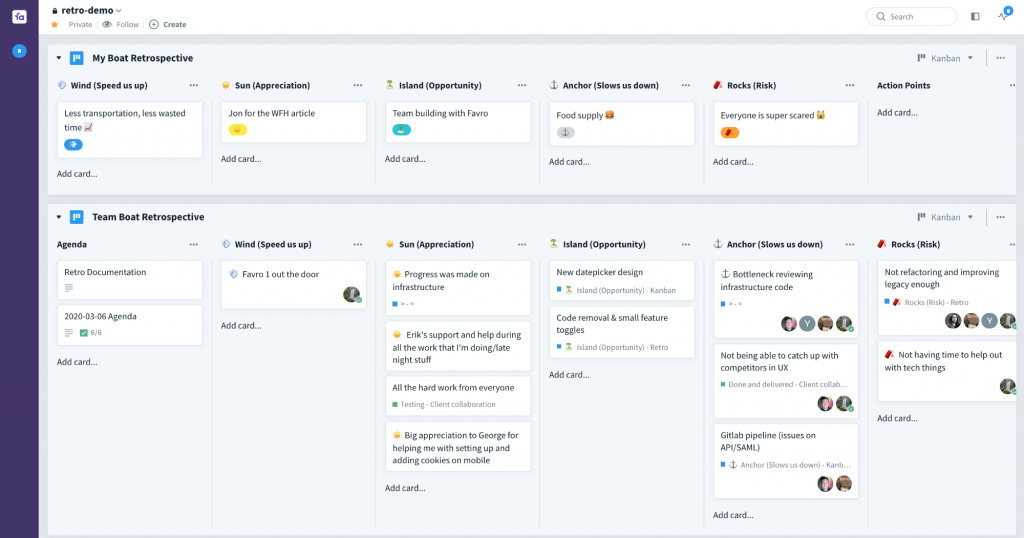 OS supported: only cloud version.
Best for: fast-growing companies, enterprises, and startups looking for agility to the organization.
Integrations: Slack, JIRA, Github, Dropbox, and others.
Pricing: from $10.2 for 2 users/month billed annually.

Favro is a universal planning and collaboration tool that ensures developers, stakeholders, executives, and marketers are in the loop.
Creating and planning is always real-time in Favro. It makes team collaboration smoother, no matter if you work in the office or remotely. The tool helps to automate your workflow, thereby saving project participants' time and increasing team productivity.
Features:
Bug tracking.

Workflow management.

Prioritization.

Time tracking.

Product roadmapping.

Kanban board.

Gantt charts.

Advanced reporting.
Why is Favro a good alternative to JIRA?
Favro supports work processes for Kanban, Scrum, and other Agile methodologies. You can also import Trello, Basecamp, and Excel files into the app. Finally, you will like building strong reports that aggregate data from different teams or departments.
7. Nifty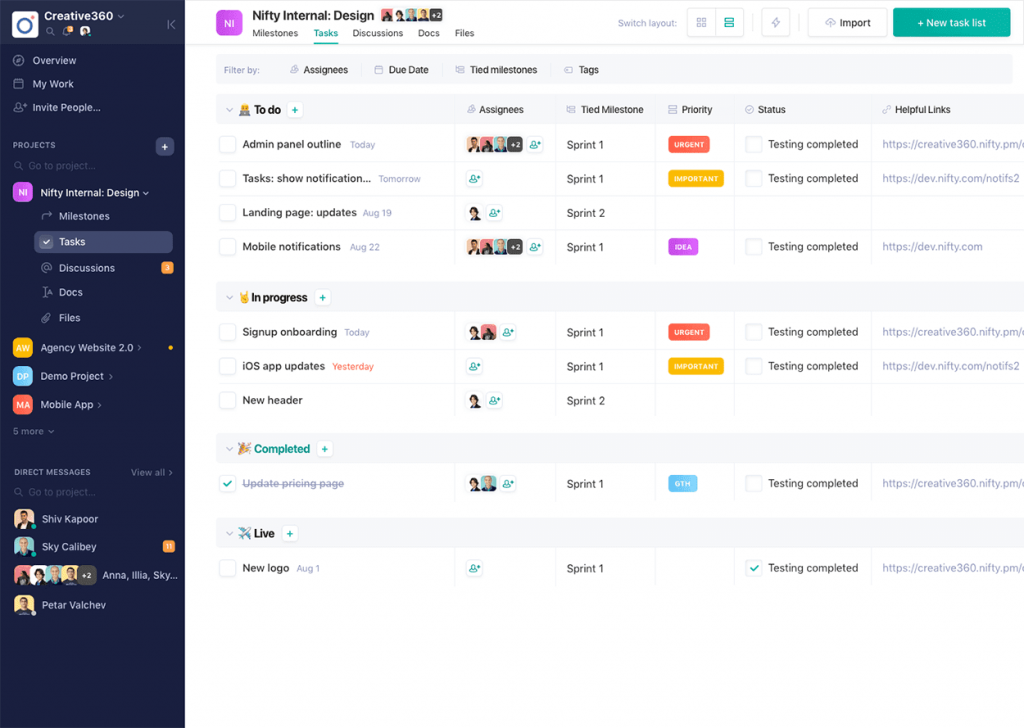 OS supported: Mac, Windows, сloud version.
Best for: companies of all sizes from small businesses to large enterprises.
Integrations: Trello, Basecamp, Zoom, and others.
Pricing: from $39/up to 10 users/month billed annually.

Nifty is a robust and Agile PM tool that provides various features to simplify your project delivery.
Customizable fields help teams plan sprints and track progress and budget with ease and convenience. Moreover, every user can customize a home screen according to their roles and needs in a project.
Features:
Project overviews.

Portfolio management.

Dashboards.

Progress tracking.

File sharing.

Lifecycle management.

Activity tracking.

Resource management.

Time tracking.
Why is Nifty a good alternative to JIRA?
This PM solution visualizes all your working processes and ensures team members are on the same page. The app lets you create, assign, and track milestone-connected tasks and task lists while storing its files and feedback all in one place.
8. Hive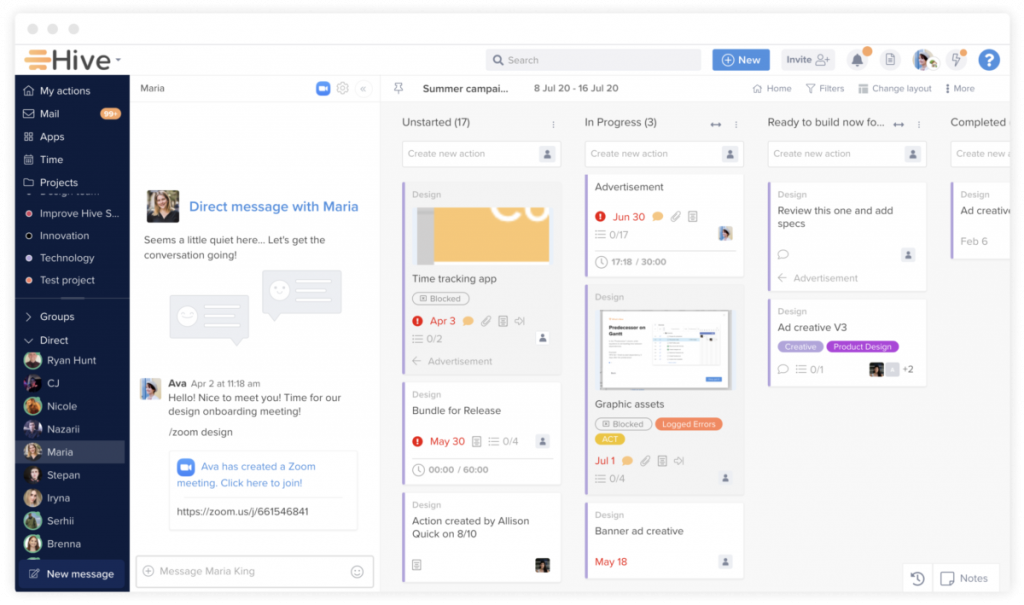 OS supported: Mac, Windows, and web-based version.
Best for: startups and agencies; marketing, project management, and education teams.
Integrations: Slack, MailChimp, Gmail, Dropbox, and many others.
Pricing: from $12 user/month billed yearly.

Hive is a PM tool that allows you to control the workflow without any hassle. You can create, manage and access all your projects via the browser, desktop solution, and mobile applications for Android and IOS.
This JIRA substitution offers various project views that are perfect for Agile teams: Kanban, Gantt, calendar, portfolio, table, and summary view. It is not necessary to utilize only one type of project view. You can switch among them at any convenient moment.
Features:
Flexible project views.

Personal dashboard.

Individual/team analytics.

Action templates.

Time and expense tracking.

Collaboration tools.

Backlog management.
Why is Hive a good alternative to JIRA?
Hive PM solution ensures a strong workflow for Agile teams and lets you create customizable forms, group chats, and direct messaging for better communication among project participants. Ready-made templates allow you to repeat needed actions and projects in a couple of clicks.
9. Celoxis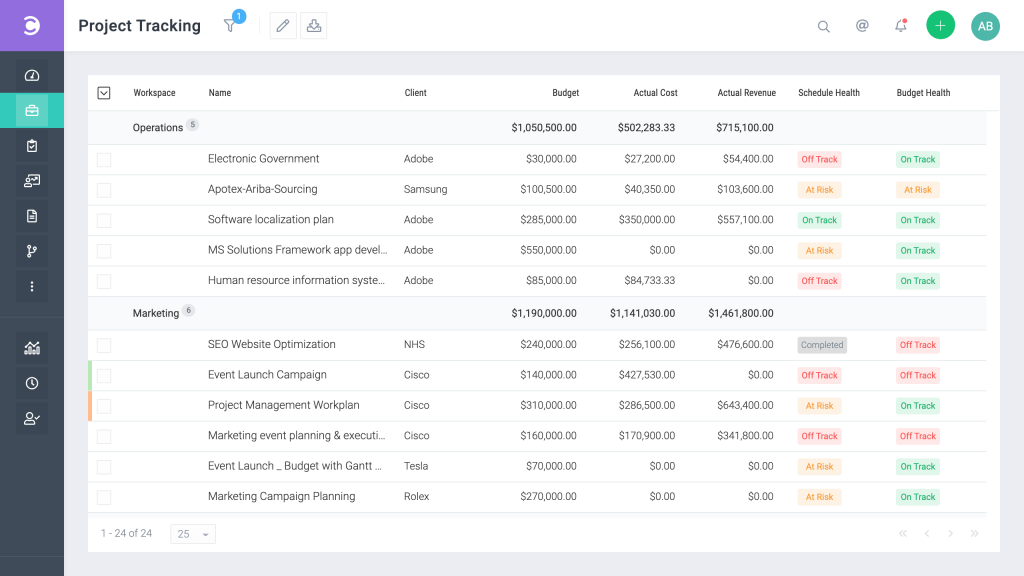 OS supported: Mac, Windows, web-based.
Best for: teams looking for a powerful PM tool.
Integrations: Google Drive, JIRA, Salesforce, Evernote, Zendesk, Mail Chimp, Trello, and others.
Pricing: from $22.50 user/month billed yearly.

Celoxis is a comprehensive tool for managing projects, workflow, and resources. Real-time notifications, file sharing, comments, the ability to mention other users, and online discussions facilitate communication among team members, clients, and stakeholders.
Thorough software reports bring transparency into the workflow and give you valuable insights that will be useful in the future.
Celoxis comes with an API for quick and seamless integration with different existing business solutions. Last but not least, the tool costs lower when billed yearly, 2-yearly, and 3-yearly.
Features:
Kanban boards.

Gantt charts.

Multiple resources per task.

Customization templates.

Inbuilt timers.

Shareable calendar.

Profit & margin tracking.

Portfolio management.
Why is Celoxis a good alternative to JIRA?
It is an all-in-one efficient JIRA alternative with all needed features for a robust workflow, team, and project management.
10. Redbooth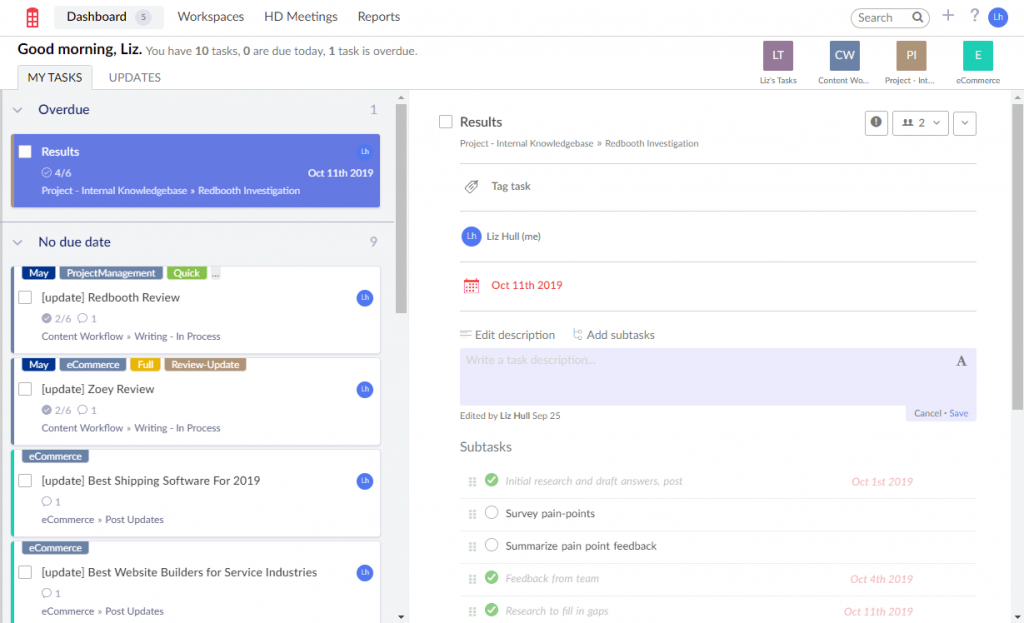 OS supported: Mac, Windows, web-based.
Best for: various industries and remote teams.
Integrations: Google Drive, Dropbox, Slack, Zapier, WebEx Teams, Okta, and many others.
Pricing: from $9 user/month billed annually. Provides a free plan but only up to 2 users.

"Project management for modern teams" — this is how the Redbooth team describes their product. This tool is simple and easy-to-use, with Redbooth there is no problem to organize and manage tasks. 
Moreover, the tool provides an extension for Chrome that lets you get notifications, create tasks, and track time. With the extension, it is easy as pie to manage the workflow while opening other tabs in Chrome. 
Features:
Gantt charts.

Task overview.

Calendar.

HD video meetings.

Workspace templates.

Collaboration tools.

Idea management tools.

Milestone tracking.

Detailed reports.
Why is Redbooth a good alternative to JIRA?
The software accelerates the workflow and brings your team on the same page due to its robust collaborative features. Also, Redbooth has a free plan but only for 2 users maximum. Overall, it is an excellent option if you are looking for something simple instead of JIRA software. 
Free JIRA alternatives
For startups or those who just begin working with Agile project management tools and needs something simple and free of charge, we have compiled 20 free JIRA software alternatives that are worth trying:
Best open source alternatives to JIRA
Below you will find 20 open source JIRA alternatives that will facilitate your workflow, project management, and software development:
Which JIRA alternatives do you find the best?
JIRA Software is a popular tool designed to support development teams and help them plan, manage, and track the workflow. Anyways, it has its disadvantages and difficulties.
So, if the software doesn't meet your expectations or needs, you can always find a robust JIRA alternative that suits your team and company. A market provides a bunch of alternatives to JIRA that have a lot of useful features, not so costly and complicated to adopt.
If you want Gantt charts in JIRA to be more functional and effective, you can try out diverse Gantt chart JIRA plugins like, for example, WBS Gantt chart for JIRA. Also, there are other JIRA plugins that further expand the capabilities of this tool.
Which software instead of JIRA do you prefer? Let us know in the comments below.
Feel free to explore other alternatives and comparison of tools in the following articles:
Frequently asked questions
JIRA can be configured to fit any type of project. From convenient online boards, roadmaps, backlogs, and reports to integrations and add-ons, you can plan, track, and manage all your Agile projects from a single tool. You can start with a project template or create your own custom workflow.

Azure DevOps is an equivalent to JIRA. Both tools are helpful for software development teams. JIRA uses Agile methodologies and offers additional search functionality. Azure DevOps can be used by cross-functional teams throughout the entire lifecycle of a software product.

JIRA is a project management tool used for capturing and organizing issues, assigning work, and following team activity. Microsoft Teams is a chat-based workspace within Office 365 that allows for collaboration on documents, making voice and video conference calls, and viewing chat logs.

Microsoft Project and JIRA differ in many ways. But generally, MS Project is a planning tool that helps to plan projects considering complex constraints between tasks. JIRA is a multifunctional task management tool. It cannot calculate capacity planning. However, it has other advantages, including collaboration, views, and ease of use.

This content is licensed by