Top 9 Software Alternatives to Asana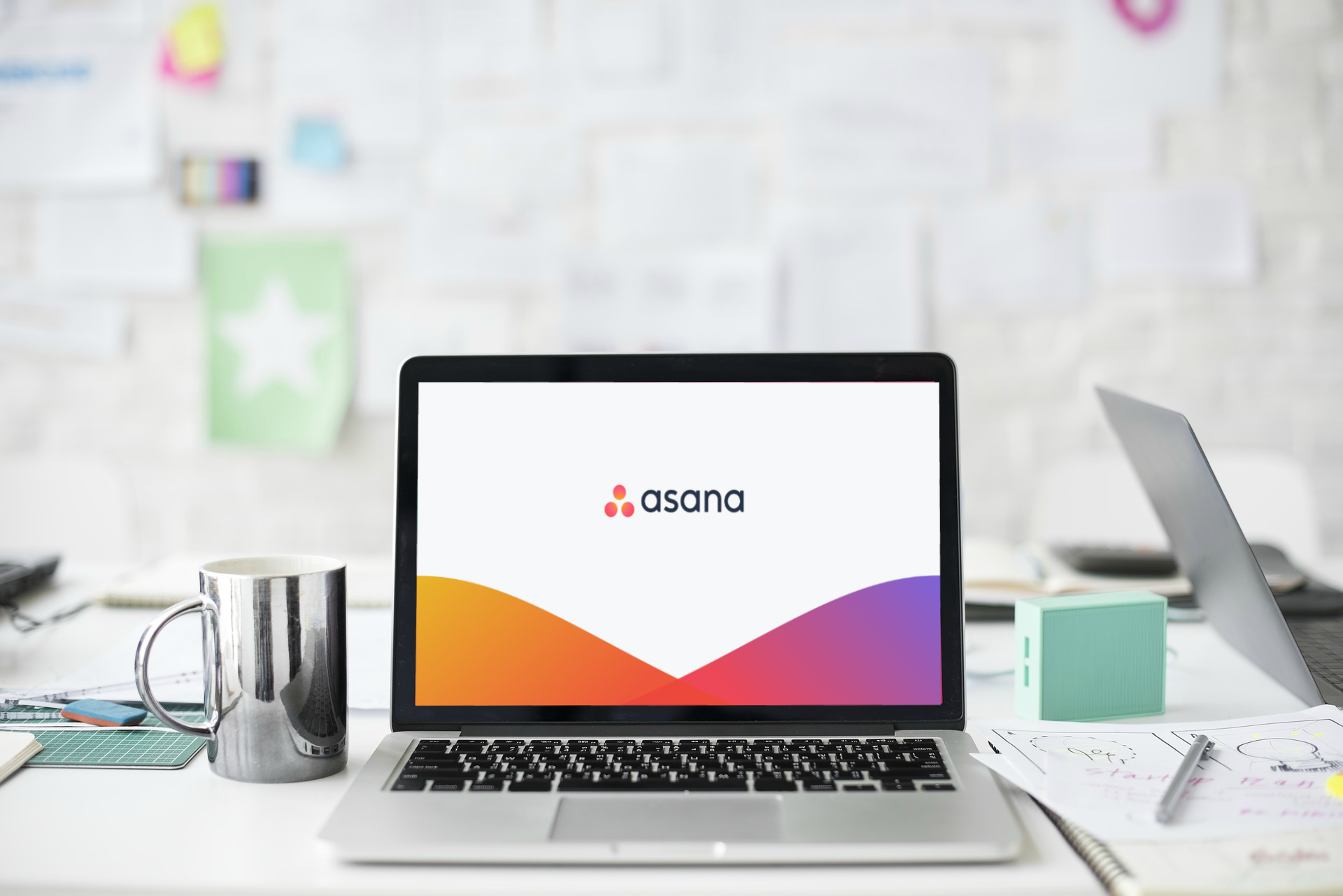 Asana has successfully transformed its simple task management software launched in 2008 into a serious contender in the enterprise work management software market after 10 years. As a task management and project tracking application, it is used by thousands of teams working for both small and big companies alike. From aviation giant like Air France-KLM to non-profit Avesta Housing helping local communities in the area of Maine and New Hampshire, teams are able to collaborate, get tasks done, and deliver projects on time.
Today, marketing teams use Asana to improve sales. Clinical teams use it to improve patient care workflows. Product development teams use Asana to launch new products, and many other teams rely on it in various situations. The application with its basic features remains free for up to 15 members.
However, it will be wrong to think that Asana is the ultimate productivity tool that can magically turn any project into success. It is great for many use cases, but not for all.
In fact, it continues to add new integrations to its list of third-party applications that it can work with. Because it simply cannot do everything.
Asana new features for premium users
At present, you still cannot find a Gantt chart in Asana to plan your project what makes people look for Asana Gantt chart integration.
In March 2018, it released a premium feature called Timeline. But it is more of a view where tasks, assignees, and due dates/date range appear together. Dependencies between tasks can also be created, and the timeline gets updated whenever any individual task included gets updated.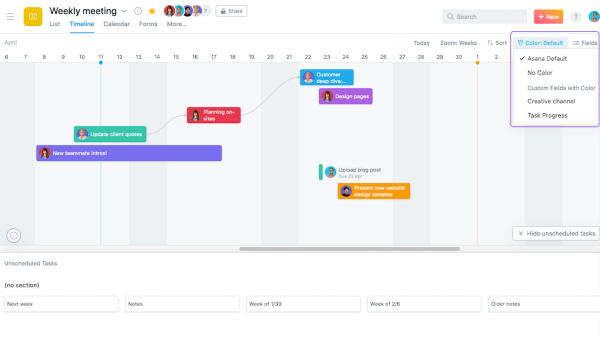 However, it is not fully automatic. Subtasks, for example, must be manually added and must have a due date, or it will not appear in the Timeline.
Also, Asana has missing features that teams specifically need to manage their projects. It does not have time tracking or expense tracking, so you have to use another application for this purpose. In addition, it has limited exporting tools, so you cannot export your data to Excel easily to present it in a meeting or to send it to a client.
If you must stay…
If you have already invested time and resources in Asana, and data from dozens of projects are already entered, there is a solution to continue working on this platform. Bridge24 for Asana is an application that connects dynamically with Asana, so there is no need to copy/paste or export/import data. It connects in just a few clicks, and you get 2-way sync between the applications.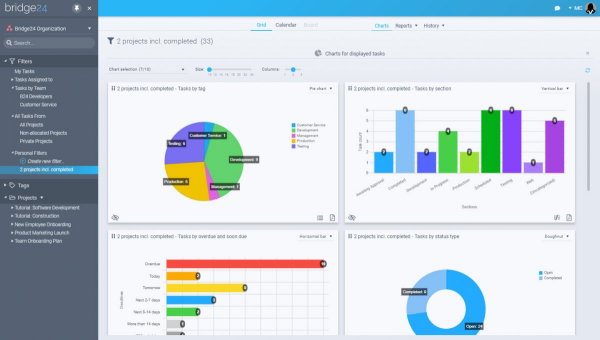 Bridge24 offers additional views, such as the powerful Power Grid view for analytics, a Calendar view for timeline perspective, and a flexible Board view for progress tracking. Aside from the multiple views that you can easily switch to and from, it has advanced reports with powerful filters, interactive charts, and print-quality outputs that can easily be exported in several file formats, including Excel, CSV, and PDF.
Top 9 Alternatives to Asana
If you believe that Asana is not for you, your team, or your business, there are simpler and more affordable alternatives to Asana where you can find the features you really need to manage your project.
1. GanttPRO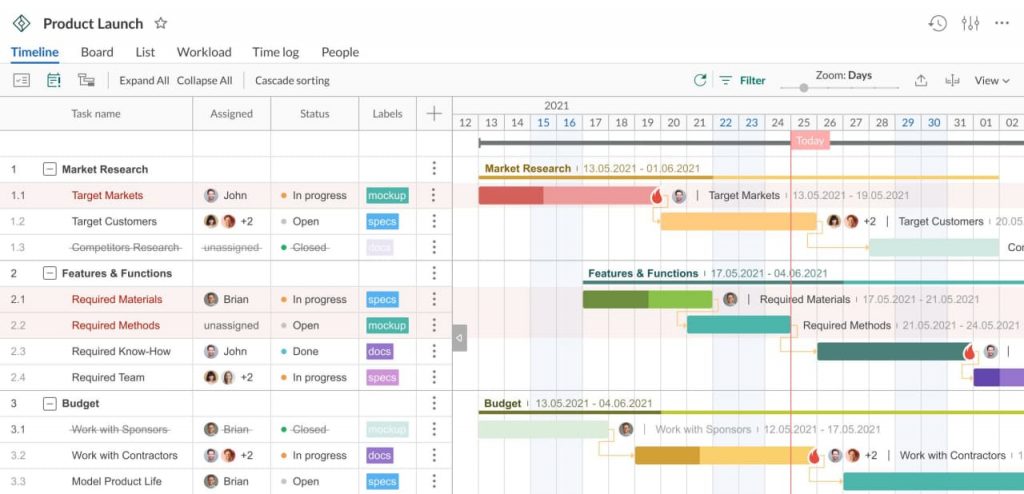 GanttPRO is an online Gantt chart maker for project planning. It is a modern and effective Asana alternative that allows you to save time with efficient planning and improves productivity with a more engaged team.
GanttPRO is an interactive Gantt chart that provides real-time information to team members or external partners that you give the right to view. This alternative to Asana allows managers and teams to easily manage multiple projects with automatic scheduling and drag and drop functionality.
In this Asana alternative, you can set roles such as an Owner, Admin, or Member, assign tasks, post comments, attach files, collaboratively track progress, manage not only tasks and resources but also project costs.
The tool even has Gantt chart templates for a quick start, whether you are in software development, professional services, construction, marketing, consulting, or event planning, among many others.
Project professionals from Salesforce, Sony, Hubspot, and NASA are some of the customers getting great benefits from using this Asana alternative.
2. Toggl Plan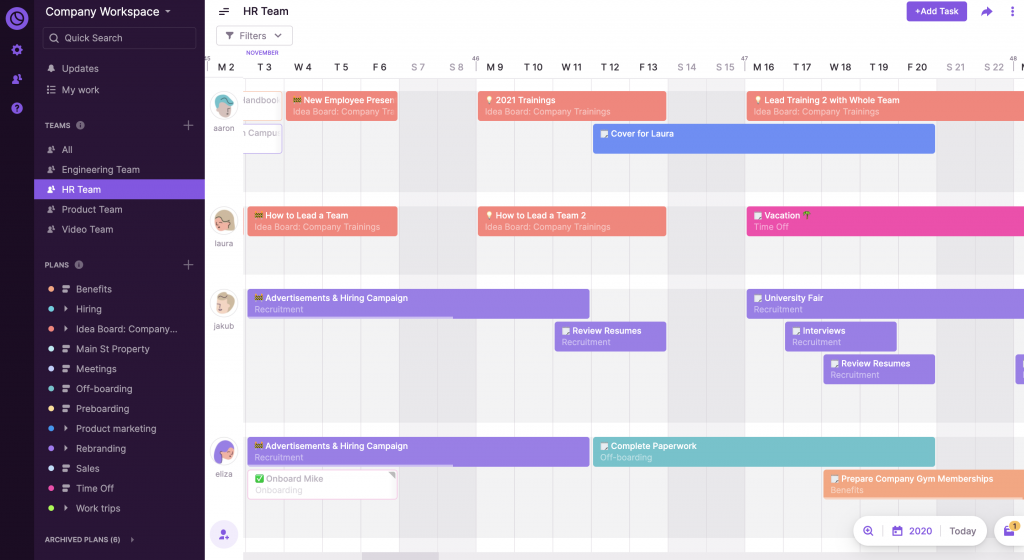 Toggl Plan is a beautifully simple project planning and execution tool that can be a good alternative to Asana. It makes project management easy, even if you're not a certified project manager.
Perhaps that's why creative and marketing teams enjoy using it.
With Toggl Plan, planning and adjusting project schedules is really easy. All you need to do is drag and drop tasks and milestones on the plan timeline. Project plans are color-coded. That way, there's no confusion even if you work on multiple projects.
While you can manage task workflow from the plan timeline itself, there's another option. If you're a Kanban fan or use Agile development practices, you can use Toggl Plan's board feature too. Plus, tasks are automatically synced between the timeline and the board.
In addition to the plan timeline, Toggl Plan also has a team timeline. It is great for workload management, i.e. to make sure none of your team members are overwhelmed or underworked.
Small and big creative teams like Airbnb, Amazon, Buzzfeed, Netflix, New York Times, and Spotify use this Asana alternative for managing their projects.
3. ProofHub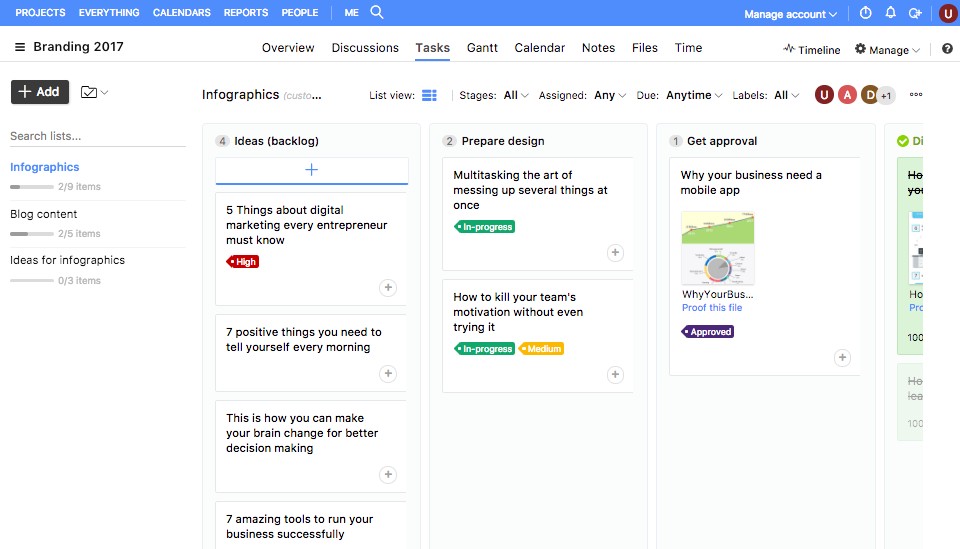 ProofHub is a simple and intuitive project management and collaboration software. This Asana alternative helps teams get work done more effectively and efficiently by streamlining all their processes at one central location.
ProofHub saves time, eliminates confusion, channelizes communication, facilitates collaboration, and keeps everyone informed at all times through its various features.
This Asana alternative takes care of everything from the planning of the project using Gantt charts, smooth execution through real-time collaboration (file sharing, real-time notifications on task progress, team chat, centralized place for proofreading), effective management (assigning tasks, status reports, workload overview, bottlenecks visibility) to delivery of projects on time in the most organized manner.
What makes ProofHub a right fit as an Asana alternative is that it solves almost every problem related to project management and collaboration without making a hole in your pocket. ProofHub does not charge per user and is economical yet it does not make you compromise on any of the core features of a project management tool.
Some of the notable companies like Netflix, TripAdvisor, and Nike get project management benefits from this Asana Alternative.
4. nTask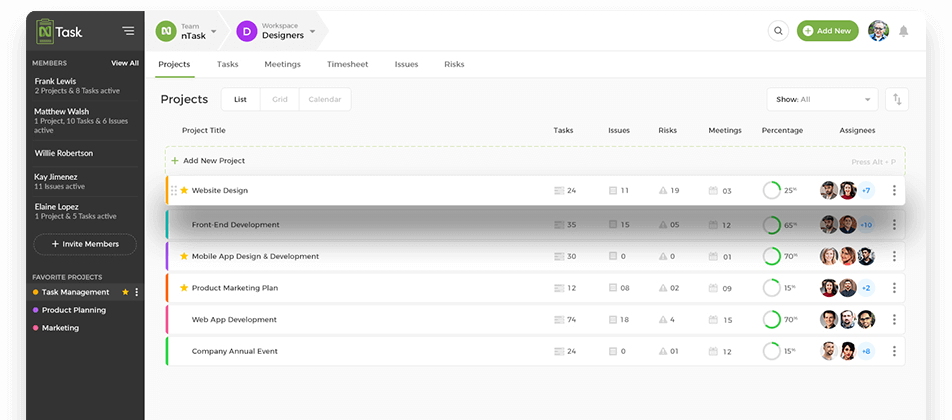 nTask is a robust project management tool used to manage multiple projects and help teams collaborate for getting things done. This Asana alternative is easy to use application that doesn't need technical knowledge.
nTask offers several tools that help you to manage projects from start to finish. It allows you to create Gantt charts for managing your workflows, timesheets for time tracking of all your tasks, issues management, risk matrix, task management, and work assignment. Give due dates, set the status and priority of your tasks for tracking the progress.
It recently launched Kanban boards for smooth project management and seamless team collaboration on tasks. It integrates with Zoom, Slack, Google Calendar, and other applications through Zapier.
This alternative to Asana is used by more than 100,000 teams worldwide, including Sony, Walmart, HP, and AT&T. nTask lets you manage all your projects in one place without the need to shift through apps.
5. Office Timeline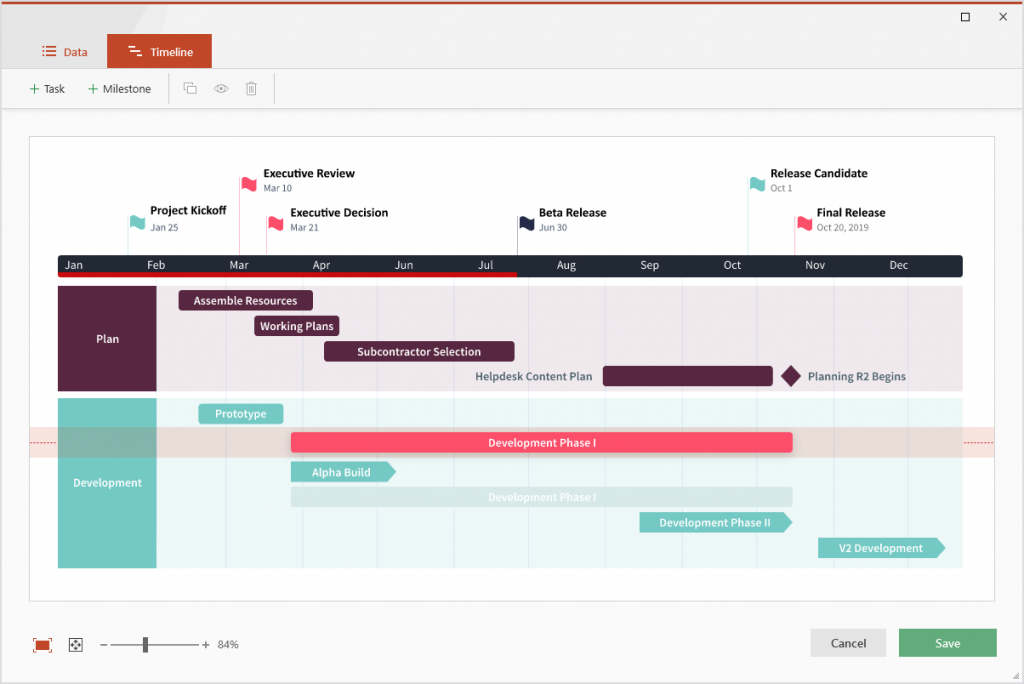 Office Timeline is a free PowerPoint timeline maker. If you often work with MS PowerPoint for creating presentations, you can also create a visually impressive project plan with a tool that you are already familiar with and use it as an alternative to Asana.
Office Timeline has a PowerPoint add-in that allows you to create Gantt charts, Swimlane diagrams, and other types of timelines as quickly as your clients or stakeholders can ask of them. And it works with all versions of PowerPoint or Office 365, so you can be confident that your plans can be viewed by others.
Individuals and teams from Fujifilm Medical Systems, Identropy, Hitachi Solutions, and Ericsson use this alternative to Asana.
6. AceProject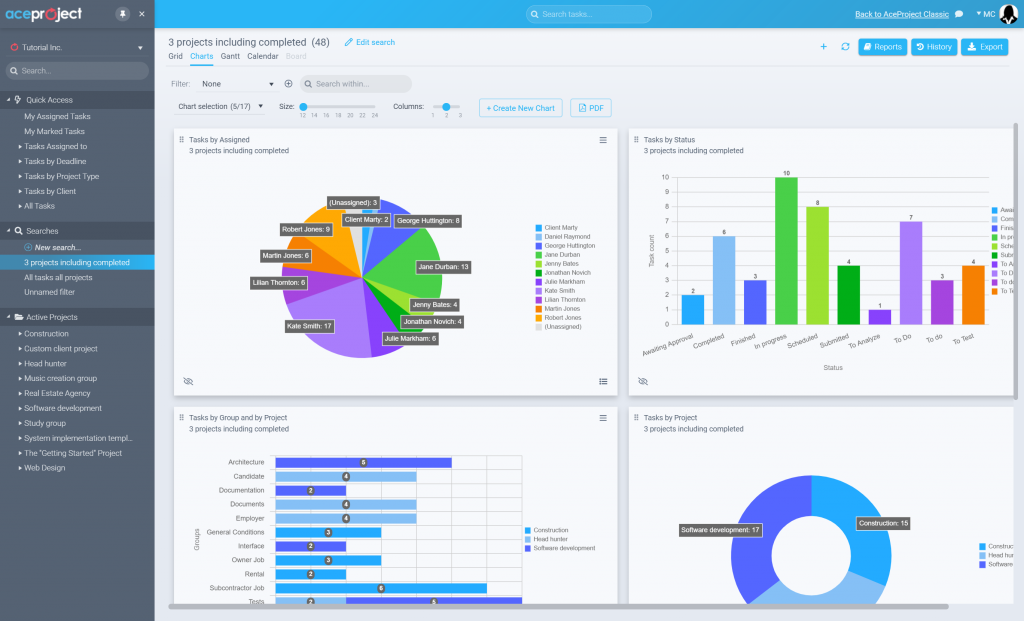 AceProject is a free and feature-rich online project management software. A simple interface of this alternative gives you easy access to a comprehensive set of tools that will help you manage multiple projects, unlimited tasks, and teams of all sizes.
This Asana alternative offers a Dashboard to provide instant information about your tasks, time, projects, and expenses. It has built-in time tracking, timesheet, and expense tracking. You get this on top of a Gantt chart planning tool, email notifications, document management with image preview, and customizable reports.
Thousands of people in over 50 countries are completing their projects with this alternative to Asana.
7. Procore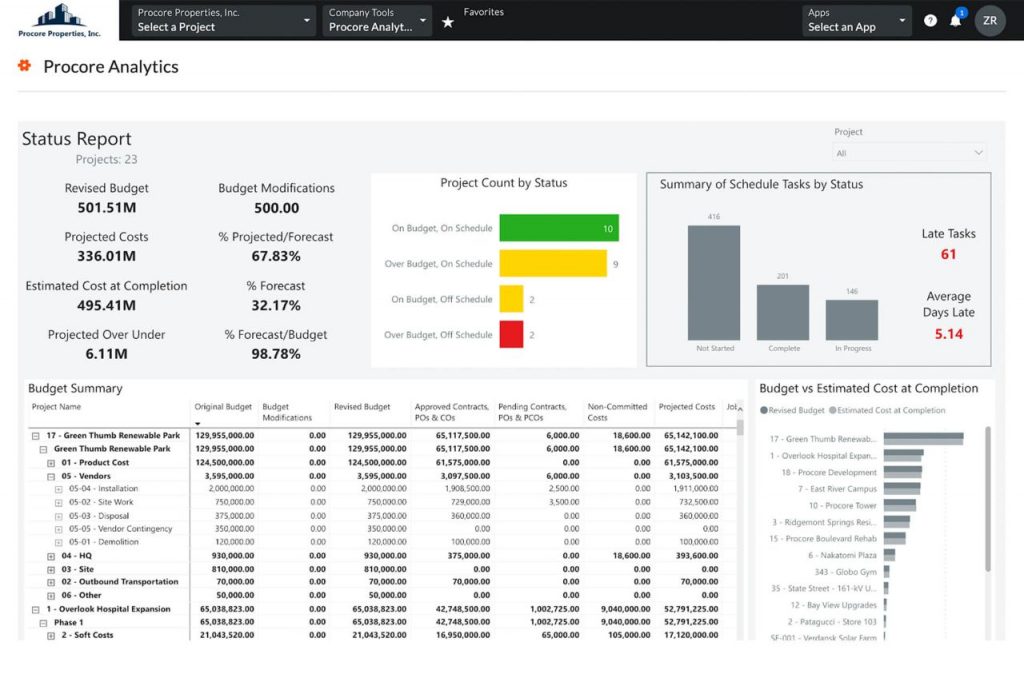 Procore is a project management software specially designed for the construction industry. Most businesses and organizations can utilize general project management tools like Asana. However, the construction industry has specific requirements, resources, workflow, customers, and regulations that can easily be addressed by Procore. Whether you are an owner, a general contractor, or a specialty contractor, this alternative to Asana enables you to manage all the phases of a construction project, as well as manage resources and finances involved in the project.
Customers like Athena Engineering, Ascot Group, Bottenfield Construction, and Cullison Wright are able to complete projects with certainty and confidence with the help of this PM tool.
8. Trello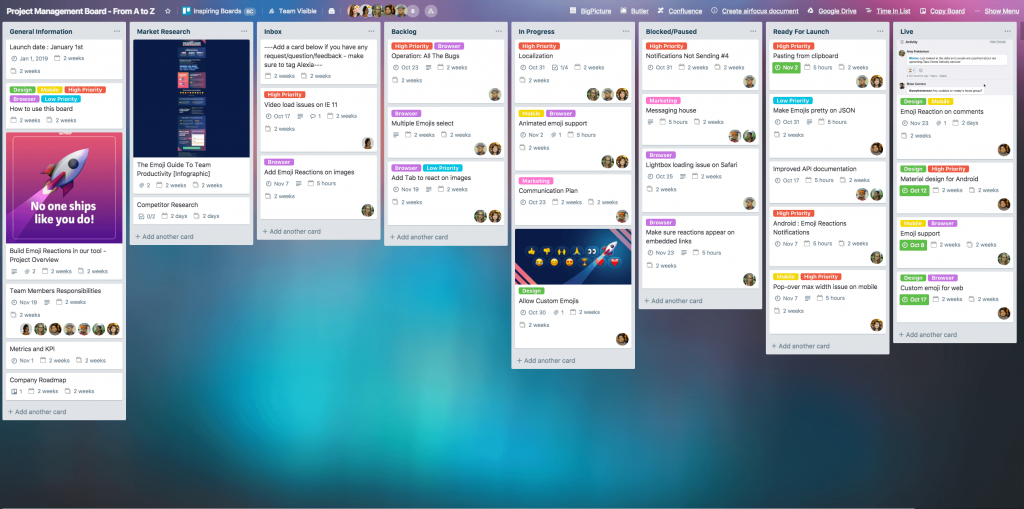 Another free tool that can help individuals, teams, and SMBs manage tasks, workflow, and projects is Trello. It is easy to use, intuitive, and highly visual. A variety of companies and organizations use this Asana alternative to help them manage day-to-day tasks, track progress, and collaborate in a simple way.
Although also lacking a Gantt chart tool, the free plan allows for 1 Power-Up integration. For project planning, you can choose Power-Ups like Deadlines from Elegantt, Projects by Placker, or TeamGantt, as an alternative project planning application.
9. Hubstaff Tasks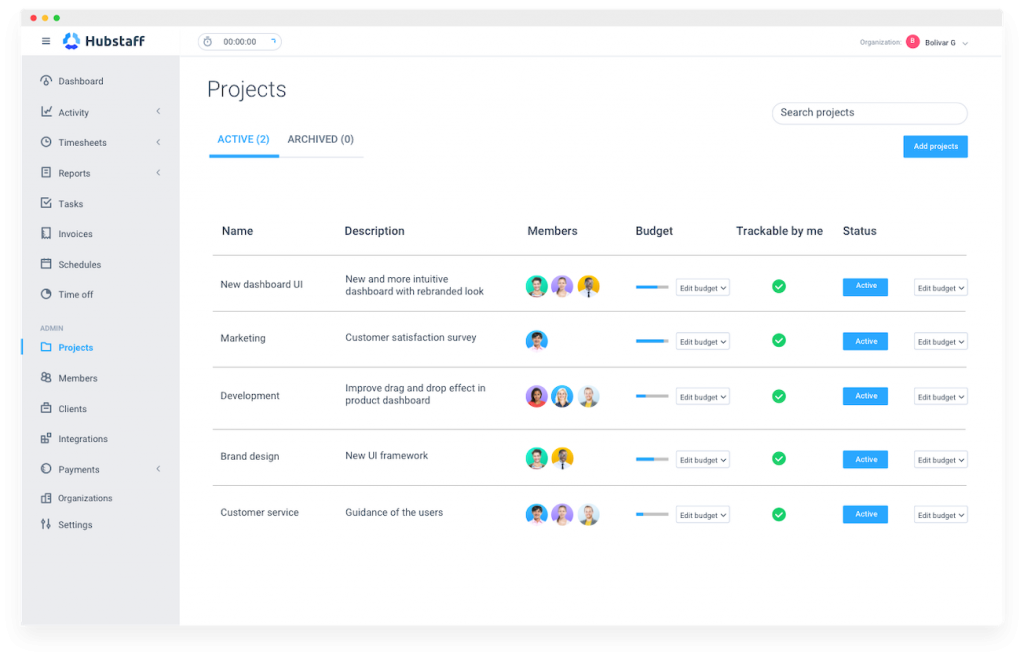 Hubstaff Tasks is an Agile project management tool designed to improve team collaboration. It's built with Agile in mind and helps you keep track of to-dos with several task organization capabilities.
Its Kanban interface allows you to easily move tasks from one stage to another by dragging and dropping. You can attach files to task cards, create checklists, set estimates and deadlines, and communicate with teammates via comments.
This alternative to Asana comes with an Agile Sprints feature that helps teams with prioritizing work. You can assign tasks to different sprints — current, future, or backlog — based on when they need to be done. It also has customizable workflows that let you move tasks forward and assign them to team members with one click.
Hubstaff Tasks also has a Gantt chart feature called Timelines, which shows you an overview of your projects so you can stay on top of them.
Conclusion
For serious project professionals, a Gantt chart is an essential tool that gives many advantages. It provides an overview of multiple tasks, people, schedule, and status in a single document.
Online charts with real-time information automatically provide communication and status updates. Along with clarity comes accountability, and this also motivates teams to meet deadlines, to coordinate properly, and to manage their time and schedule well.