Google Sheets Alternatives For Advanced Spreadsheet Management and More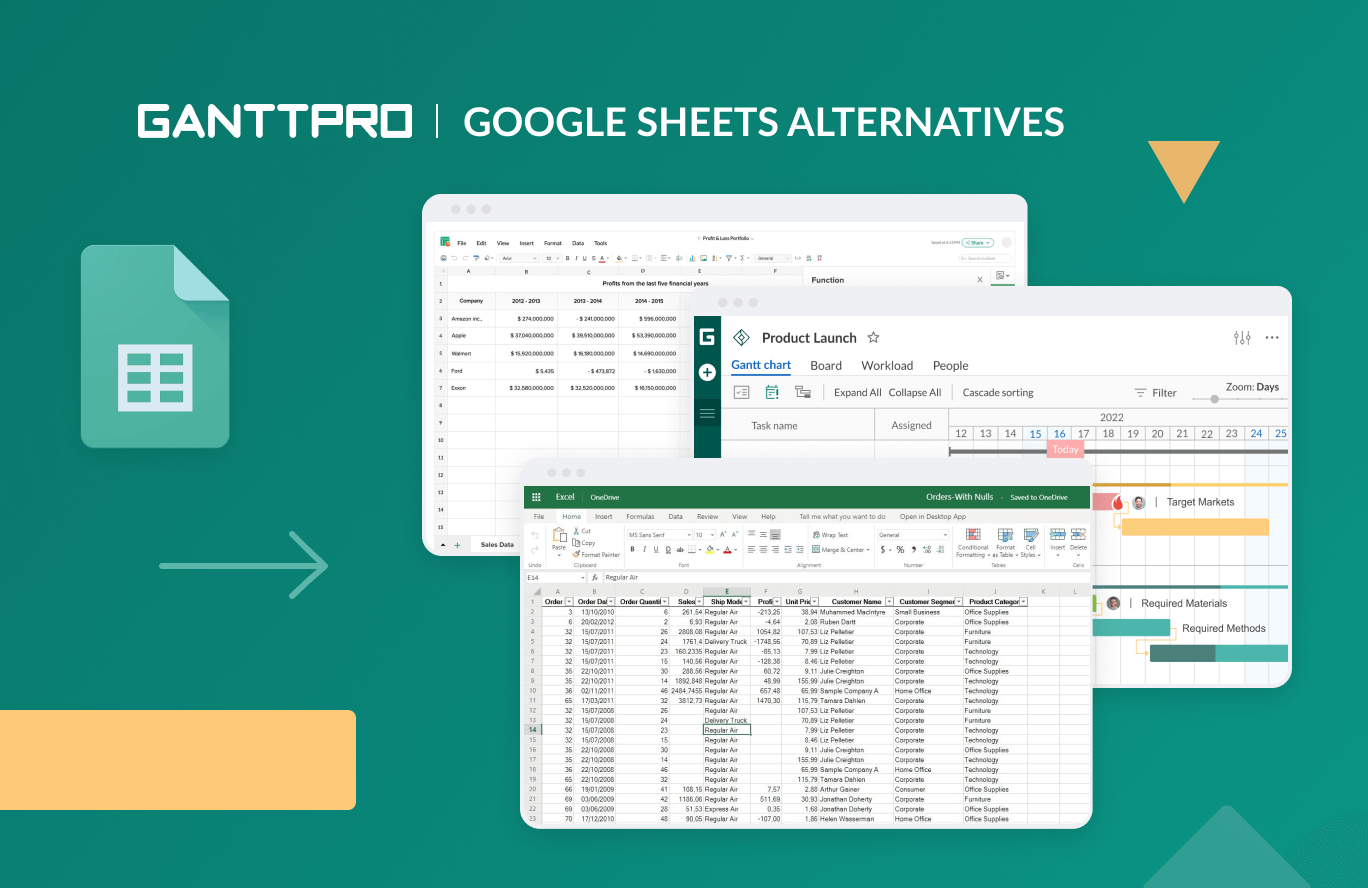 Audio version:
Spreadsheets are used for various business purposes. They are good for organizing and categorizing data into logical formats.
Google Sheets has become famous for its high-quality work with online spreadsheets. But despite its popularity, Google Sheets alternatives do exist and evolve.
These robust tools offer similar functionality and often open up much wider horizons. Therefore, if you apply Google Sheets as the one and only solution for managing your projects, you deprive yourself of many professional opportunities and take unnecessary risks.
Like in the case of Excel alternatives, by choosing an appropriate tool for transition, you'll get a chance to input, track, analyze, and store your data in a more proper way.
What is an alternative to Google Sheets that will lead your project to success?
There are some great platforms to generate detailed and intricate spreadsheets that easily rival Google Sheets. Here we share 10 options available on the market.
Contents:
10 Google Sheets alternatives: choose and win
Google Sheets keeps getting better with the updates and offers its users innovative features. All the same, this doesn't save it from the active offensive of competitors and profitable alternatives.
The tools similar to Google Sheets often provide more advanced functionality, especially for managing large rows of data. Besides, some of them don't require constant internet access.
Google Sheets alternatives are widely applied in many fields of project management from task scheduling to production processing and analytics.
Let's explore these robust platforms.
1. Microsoft Excel – best alternative to Google Sheets with similar features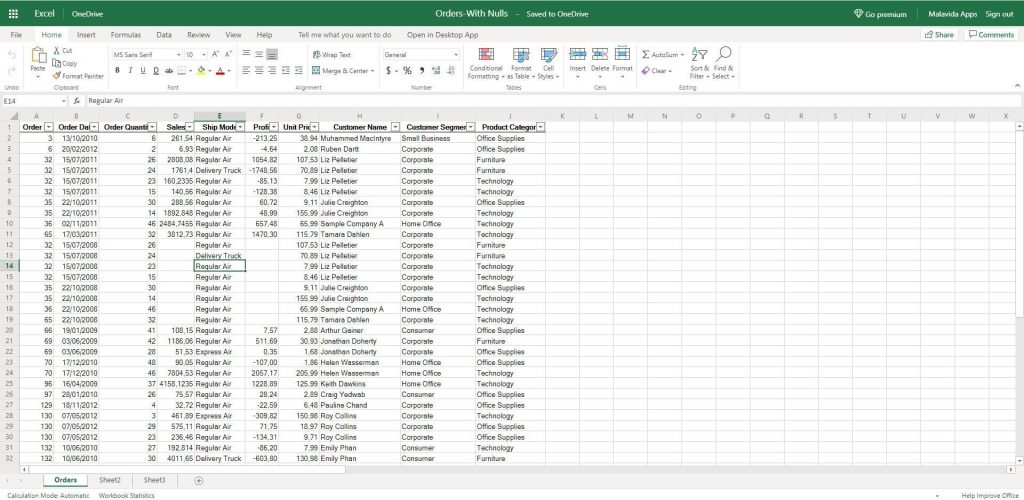 Paid plan: starts at $8.25 user/month (billed annually).
Free version: available.

Microsoft Excel is undoubtedly the first thing that comes to mind when people think of an alternative to Google Sheets.
That's right, Excel can be a viable substitution to any spreadsheet tool as it has been the flagship solution for spreadsheets for years, offering cutting-edge features for data organization and sorting.
Its interface provides easy access on most computers and mobile devices. Excel may look a bit more expensive compared to competitors. However, the added expense gives its users access to customer support and dynamic features.
The famous tool allows for increasing efficiency by structuring your tables, formatting assignments, and organizing your data in general. Whether you are finding the way to visualize and count any set of items or wondering how to make a Gantt chart in Excel, you'll find proper functions to do it there.
MS Excel's ability to automatically complete the tables and analyze your entry patterns whenever you leave a column or blank row is one of its most attractive opportunities.
Top features:
Powerful tables.

Filtering and sorting data.

Conditional formatting.

Lookup functions.

Co-authoring in real-time

Array formulas.

Data analysis.
2. Smartsheet – best Google Sheets substitution in terms of interface simplicity
Professional: starts at $7 user/month (billed annually).
Business: starts at $25 user/month (billed annually).
Free trial: 30 days.

Smartsheet is a leading cloud-based platform designed for dynamic work. Using this Google spreadsheet alternative, businesses can dynamically plan, execute, and report on data and work at scale.
The best thing about Smartsheet is that it is not only a spreadsheet tool but a full-fledged collaboration and management platform. That is why its users claim that Smartsheet is even better than Google Sheets.
Smartsheet projects are created with the help of cells in columns and rows, with plenty of options for manipulating data and performing calculations.
The app comes with calendars and online Gantt charts, making project management easy. It provides pre-made templates to generate spreadsheets from scratch.
Smartsheet suits small businesses as well as bigger organizations that have to manage different projects at once.
Top features:
Handy online sheets.

Task planning.

Gantt chart view.

Drag and drop functionality.

Commenting/notes.

Budget management.

Analytics.

Calendar management.

Time tracking.

Customizable templates.
3. Zoho Sheet – best Google Sheets alternative for the businesses of all sizes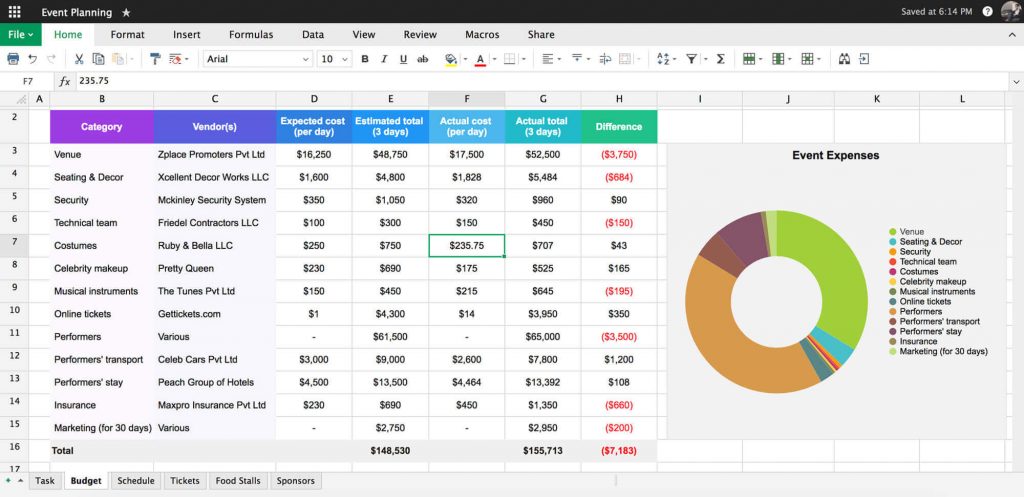 Free version: available.
Free trial: available.

From data planning to project management and analysis, if you're looking for a spreadsheet tool just as powerful as Google Sheets, Zoho is the reliable solution to work with.
Zoho Sheet combines the best features of Google Sheets and Excel and provides cutting-edge spreadsheet functionality for businesses of all sizes.
It can be integrated with other tools in the Zoho Suite, making it a good choice if you want to move away from the Google ecosystem but want to stick with a familiar interface.
Top features:
Spreadsheets.

Collaboration features.

Access control/permissions.

Audit management.

Search/filter.

Spreadsheet control.

Analysis.

Reporting.

Data cleaning.
4. Stackby – best for maintaining records and creating custom settings instantly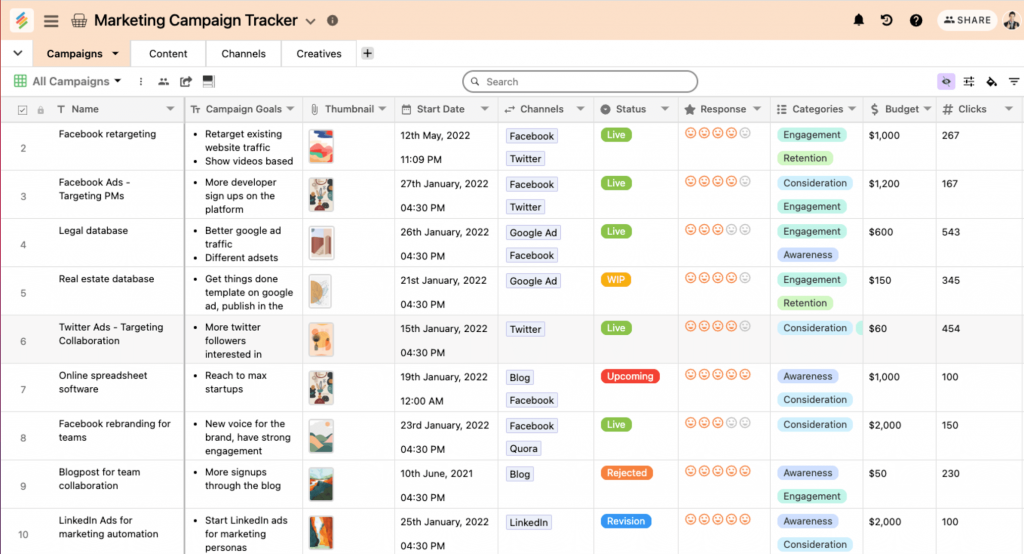 Personal: starts at $5 user/month (billed annually).
Economy: starts at $9 user/month (billed annually).
Business: starts at $18 user/month (billed annually).
Free trial: 14 days.

Stackby is a collaborative spreadsheet-database hybrid tool that empowers teams to create their own workflows and automate them via third party services.
This platform brings together the familiarity of spreadsheet-style interface, functionality of databases, and best business APIs on a single customizable canvas.
You can generate online databases in the form of customizable spreadsheets by importing data from existing files in CSV or XLS format.
You get more than 200 pre-defined templates across different spheres including project management, marketing, sales, video production, and others.
Top features:
Spreadsheets.

Workflow management.

Project planning.

Time and expense tracking.

Third party integrations.

Prioritization.

Alerts/notifications.
5. WPS Spreadsheet – best for tracking budgets and analyzing personal or business finances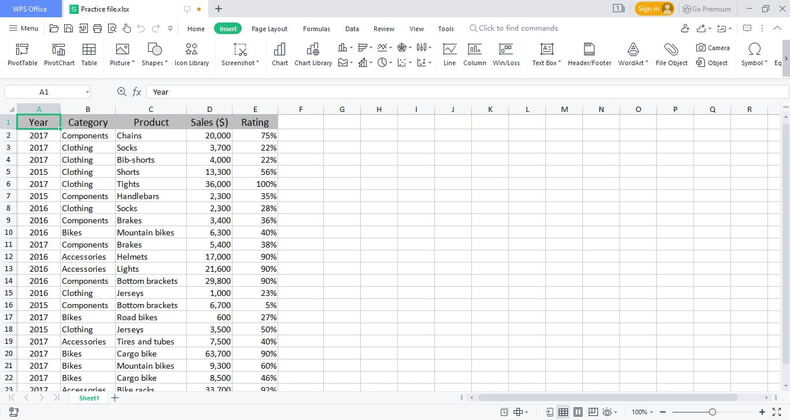 WPS Premium: starts at $29.99 user/month (billed annually).
Free version: available.

WPS Spreadsheet is a data analysis and visualization platform that offers free templates to manage charts, track budgets, and analyze personal finances.
This Google Sheets online alternative allows for creating exquisite charts. It supports .xls, .xlsx, and .csv files and comes with a handy feature of uploading your spreadsheet documents on the cloud to let your team access it anywhere and anytime.
You can use the templates in categories such as project planning, personal budget, schedule, and calendar.
Top features:
Spreadsheets.

Complete office suite.

Table formatting.

Collaboration tools.

Extended desktop support.

Pivot tables.

Comments.

Charts and graphs.
6. Airtable – best Google Sheets substitution with the dynamic dashboard and extended template library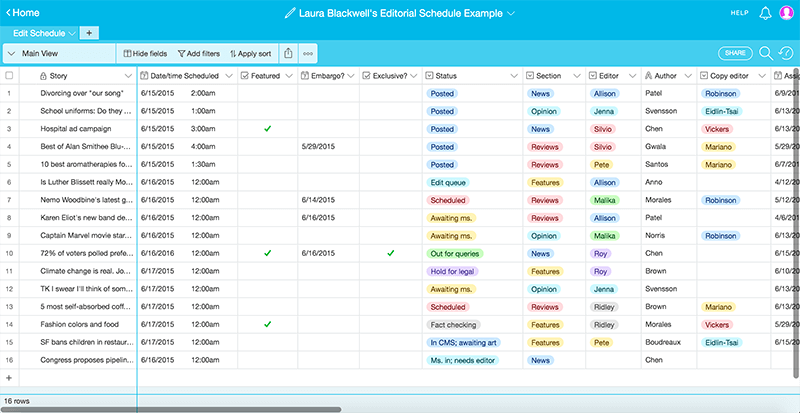 Plus: starts at $10 user/month (billed annually).
Pro: starts at $20 user/month (billed annually).
Free version: available.
Free trial: available.

Airtable also serves as a good alternative for Google Sheets, providing its users with the capability to generate and manage online spreadsheets.
This is actually an enhanced version of Google Sheets wherein you can generate tabular columns, add daily tasks or lists, and maintain a timely record.
The Airtable UI is easy to navigate with quick tools. Using the app, you can collaborate with other users like colleagues, clients, or partners to track expenses.
The tool has a free plan with limited features, so you can test drive it with ease.
Top features:
Spreadsheets.

Custom views.

Data synchronization.

Task management.

Tags and keywords.

Automations.

Integrations.

Calendar management.

Notifications.
7. OnlyOffice – best for devices that use Mac and iOS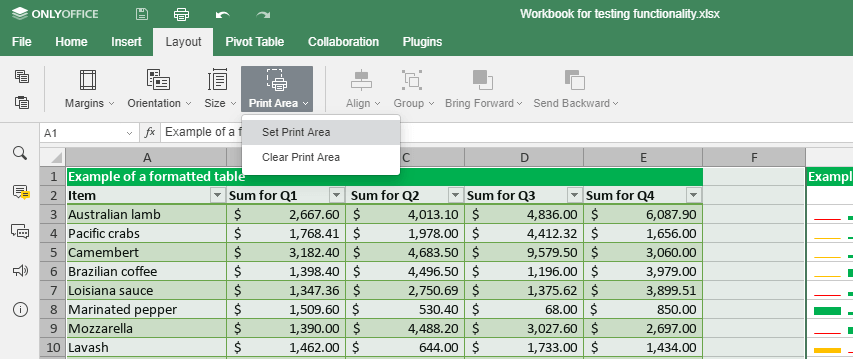 Business: starts at $5 user/month (billed annually).
Free version: available.
Free trial: 30 days.

Another collaborative Google Sheets alternative worth your attention is OnlyOffice.
The comprehensive productivity software suite offers many powerful features, including forms, word processing, visual presentations, email, and customer relationship management.
This free and open source alternative to Google Sheets gives its users full control over their content.
OnlyOffice looks good for carrying out day-to-day functions. It is accessible either as a cloud-based solution or deployed on-premise servers.
Top features:
Spreadsheets.

Document management.

Online office suite.

CRM system and invoicing.

Email aggregator.

Collaboration functionality.

Project management.

Calendar.

Commenting/notes.

Customizable templates.

Time tracking.
8. LibreOffice Calc – best alternative to Google Sheets for Linux users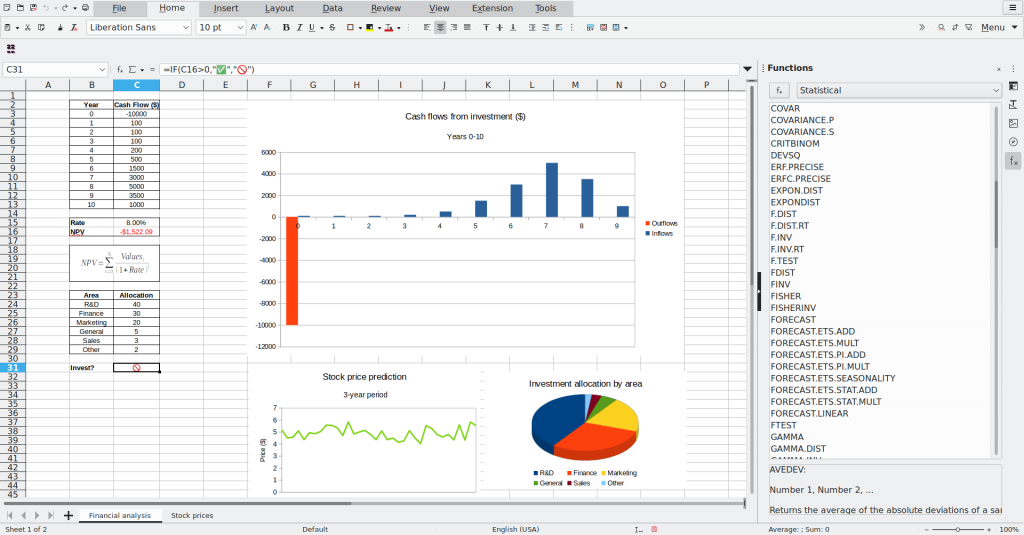 Free version: available.
Free trial: not available.

LibreOffice Calc is a free office suite that offers its own Google Sheets alternative, also called Calc. This is a highly intuitive and easy to use solution.
Calc lacks cloud support and real-time collaboration but it actually provides a surprisingly robust list of features, many of which aren't present in Google Sheets or Excel.
This alternative to Google Sheets provides various styling options such as freely rotating contents, borders, backgrounds, templates, and more. Its users can also collaborate and co-author online spreadsheets easily.
The tool is also compatible with Excel and can even convert spreadsheets into PDFs.
Top features:
Spreadsheets.

Charts and graphs editing.

Slideshows.

Document signing.

Formulas editing.

Additional extensions.

Improved compatibility, .docx export.

Presentation templates.
9. Calligra Sheets – best open source solution for transition from Google Sheets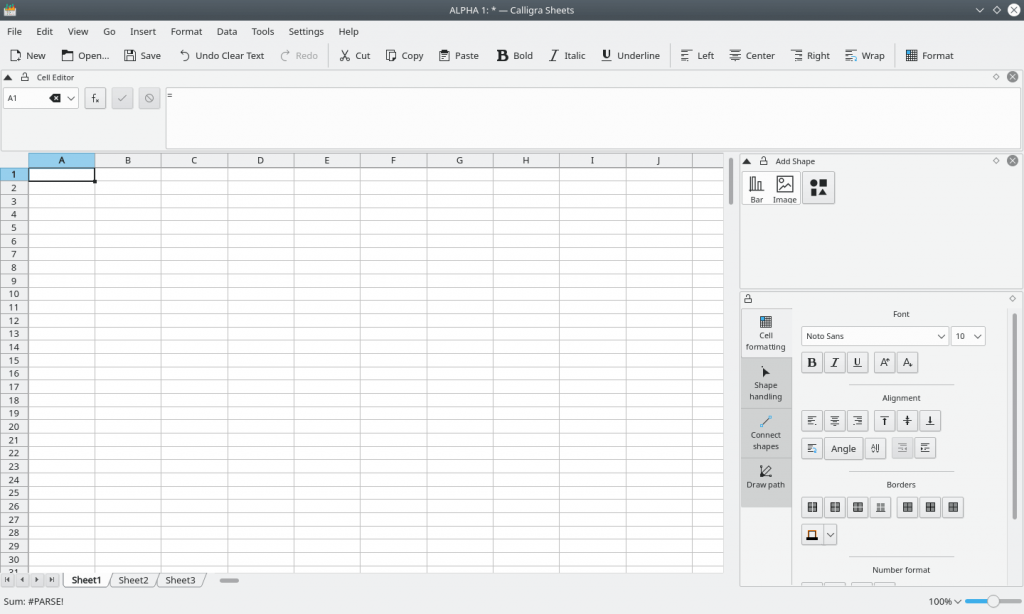 Free version: available.
Free trial: not available.

Another solution that can be considered a Google Sheets alternative in some ways.
Calligra Sheets is a free software spreadsheet app that is part of Calligra Suite, an integrated graphic art platform developed by KDE.
The tool offers the feature of multiple tables per document, assorted formatting possibilities, templates, charts, hyperlinks, data sorting, and many more advanced features.
With Calligra Sheets, you can also import several spreadsheet formats, including .xls.
Top features:
Spreadsheets.

Drag and drop functionality.

Notes.

Mind maps.

Pre-defined templates.
10. GanttPRO – best Google Sheets alternative for task and project management needs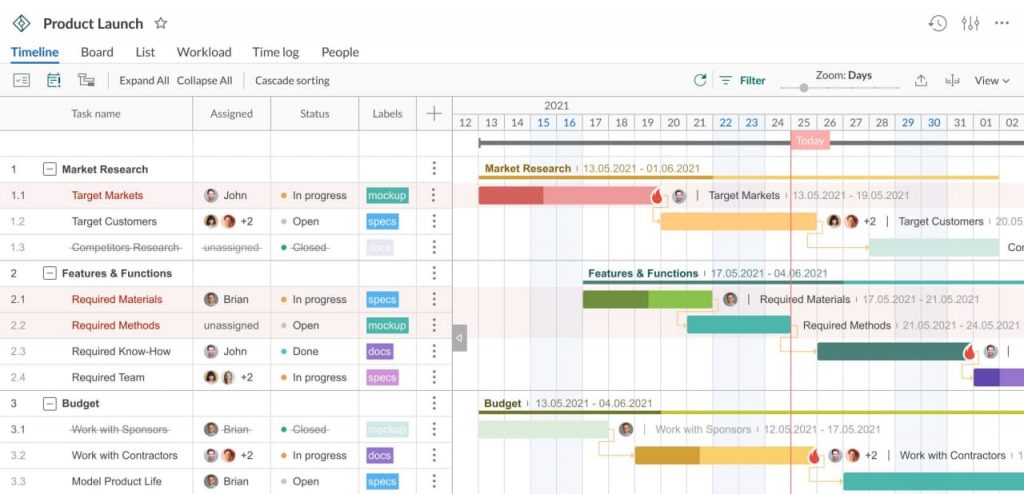 Basic: starts at $7.99 user/month (billed annually).
Pro: starts at $12.99 user/month (billed annually).
Business: starts at $19.99 user/month (billed annually).
Free trial: 14 days.

GanttPRO is an online project management tool that facilitates project scheduling and implementation with the help of a Gantt chart. It empowers teams from various industries to create unlimited projects and work with unlimited resources, even using a free trial.
The Gantt chart generator has all the essential features for successful project management that favorably distinguishes it in our list of Google Sheets alternatives.
When you decide to transfer from Google Sheets to GanttPRO, you'll do it without much effort, as you will find many similarities, especially in the part of grids and fields with bars. In the same way, it can be a robust Excel replacement.
In GanttPRO, a project grid on the left side is the place where you can manage your task list.
A timeline with bars on the right side allows you to display your project tasks there.
You can also use a workload window at the bottom to see how estimated working hours are distributed between your team members. It is also possible to count costs for your tasks and define their priority.
However, GanttPRO is much more functional and reliable. While in Google Sheets it's not so convenient to build a Gantt diagram, here you will do it in a matter of minutes.
The tool allows making visually appealing timelines for simple and complex projects, tracking their progress, organizing tasks and subtasks in a way you need.
You can work with dates, dependencies, milestones, and baselines, share projects using public URLs, and be engaged in resource management.
If you are new to working with project management charts, or, for example, do not know how to read a Gantt chart or any other diagram, then you should start with ready-made templates.
Handy Gantt chart templates in GanttPRO will provide an easy start for everyone who is looking for apps like Google Sheets.
This alternative to Google Sheets allows for smooth project importing from Excel, MS Project, and JIRA Cloud Software. Just a couple of clicks will help you to bring your projects from these tools and get an intuitive interface with powerful features, letting you continue work on your tasks immediately.
You can also export your Gantt chart timelines in GanttPRO and share your data with stakeholders using Excel, PDF, PNG, or XML formats.
Businesses use the Gantt chart maker to work with online timelines in the IT sector, marketing, design, sales, events, and HR. The tool is also widely known as the perfect construction scheduling software.
Top features:
Professional project planning and scheduling.

Task management.

Drag and drop functionality.

Collaboration.

Time tracking.

Real-time notifications.

Export/import.

History of changes.

Gantt chart templates.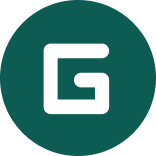 Google Sheets alternative for project managers
Create an online Gantt chart in minutes.
Sign up for free
That was the list of alternatives that are already actively competing with Google Sheets.
Of course, this set is not complete and may include other platforms, which, in turn, are often considered excellent substitutes for other popular software solutions as well. For example, a tool you've chosen to replace Google Sheets can also be a great MS Project alternative or a substitution for any other famous app.
Have you chosen your best Google Sheets alternative?
The above set of Google Sheets alternatives is not exhaustive. However, the described tools are widely used worldwide and can serve you best in your quest for alternatives to this famous program. 
Regardless of which alternative to Google Sheets you end up with, use it to boost your productivity and make your projects even better.
Feel free to explore other alternatives and comparison of tools in the following articles:

This content is licensed by