14 Project Milestones Examples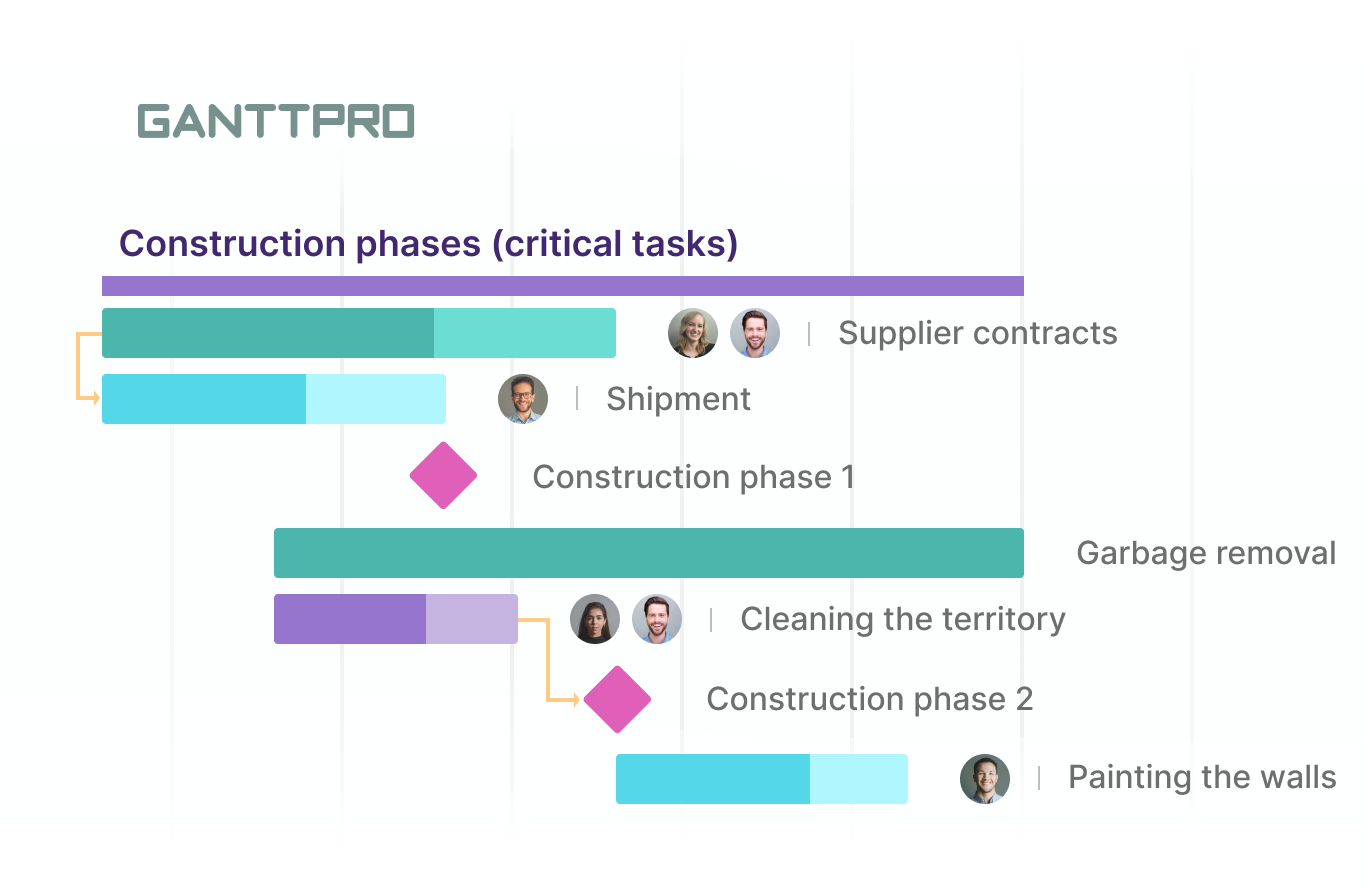 Audio version:
The arsenal of project management tools looks incomplete without milestones. This vital tool helps project teams to identify what must be done to achieve their goals and boost their productivity.
Having project milestones examples at hand stimulates the right synergy among your team and ensures the desired project outcomes.
Below you'll find the examples of milestones in project management that will help you better understand their roles and destination in many industries and areas. But first, let's briefly review some theoretical basics.
Contents:
What is a milestone in a project?
A milestone is a specific point of progress as you move along your project timeline. This checkpoint highlights the successful completion of major tasks and events within your project.
Milestones are not events, as many define them. The Project Management Institute (PMI) notes that they should describe what you want to achieve and when you get there. However, many people avoid this level of precision. When they define milestones as events, their attention diverts from what the project is supposed to deliver.
Why project milestones?
Project teams strive to hit milestones to finish work on time and reach the rest of the goals. They use them to divide a timeline into stages to signify the overall progress.
These checkpoints are typically defined during the planning phase. They help to break down the project into manageable sections and systematize everything so that the team can feel less overwhelmed or stressed.
They are also helpful when you care about creating a project plan from the ground up. They allow for a clear schedule that includes all significant events to expect along the way.
Milestones help to spot potential bottlenecks. When the deadlines are not being hit, managers can define why and what blockers the team may be experiencing that are holding up the entire process.
Since the use of any concepts and tools is better understood through practical cases, we recommend you delve deeper into the most widely used milestones project management examples.
14 examples of milestones in project management
There are different milestones for various projects and industries, from construction to the IT sector.
Among the most used construction PM milestones examples, we can define:
Customer approval.

Tendering the construction contract.

Securing permissions.

Securing the funds.

The acquisition of a site.
If you are looking for the software development milestones examples, you will indeed find the cases related to:
Requirements gathering.

Pre-development planning.

Support.

Quality assurance testing.

User acceptance testing.

Deployment.
Besides, project teams set these checkpoints in such industries as:
Education.

Technology.

Event management.

Financial services.

Healthcare.

Law.
No matter how big or small your project is, here are some major project milestones examples that you can set as a way to keep your team on track.
We'll divide them into the following groups:
Early-stage milestones
1. Project approval
Project approval is typically the first key checkpoint in a project's life cycle.
When you have approval from the senior management and stakeholders, you get a "green light" to begin your work. Here's how it can be visualized in GanttPRO online Gantt chart maker: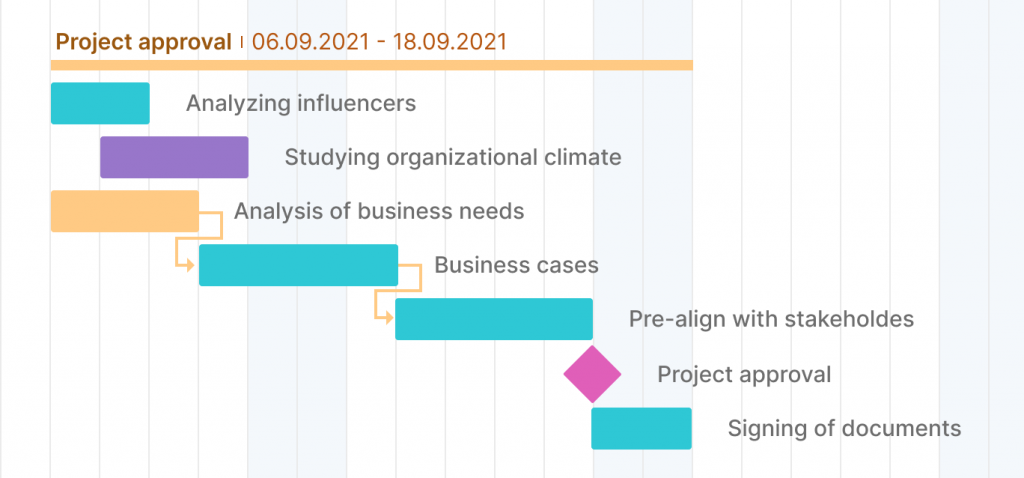 2. Planning
A project plan includes all critical details, from key goals to schedules. They can have regular adjustments. However, it is crucial to implement them to let all team members understand how to reach their final objectives.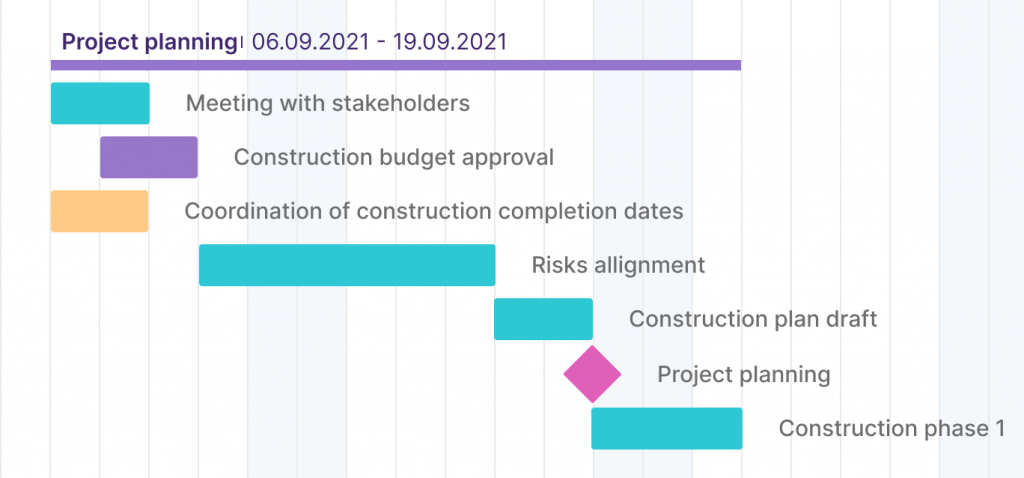 3. Funding
When teams start any project, they have to make sure that enough funding is available to carry out all required tasks. Besides, it is crucial to compensate all team members for their work.
You should also secure enough funding to provide for unexpected changes that can incur costs.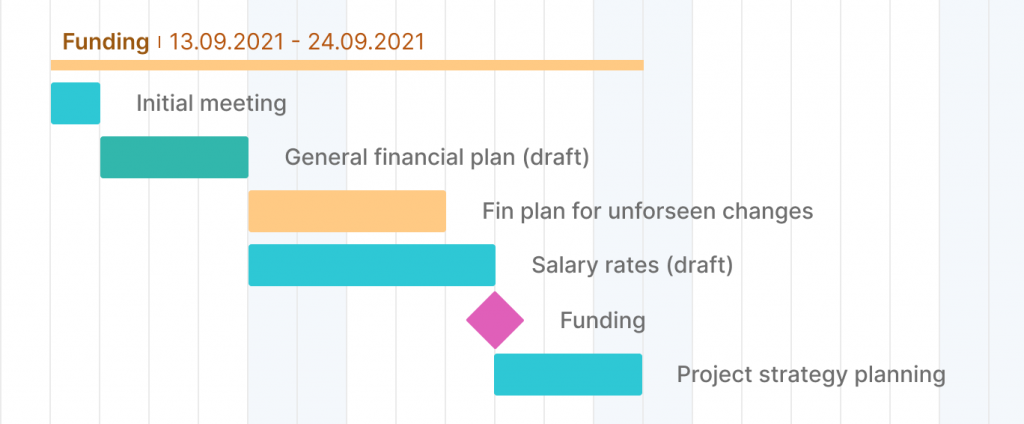 4. Design approval
Before designing processes, customers usually want to be aware of the expectations for the projected revisions and hours they will take.
They will feel more confident if they understand what is being done and why it is so. When you involve stakeholders, you can get feedback easily and reach the approval milestone much more quickly.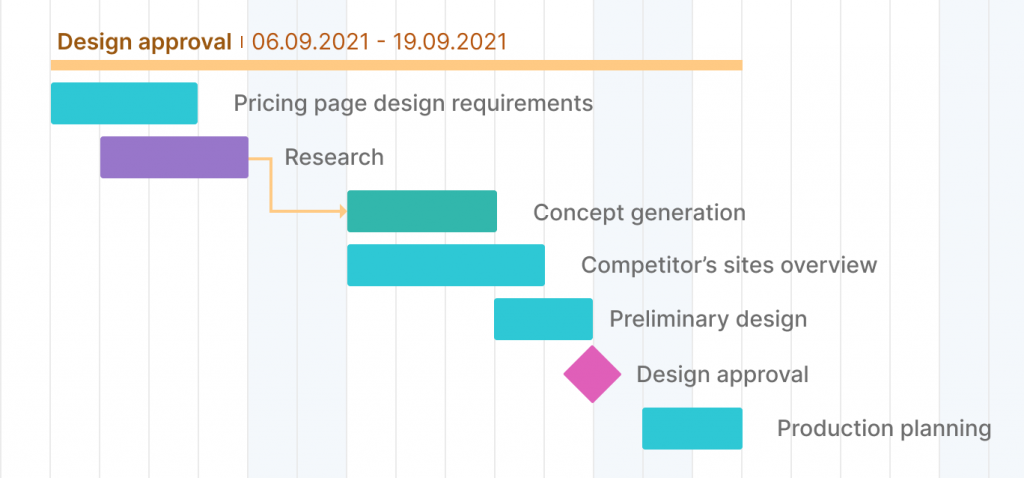 5. Hiring individual positions
Another essential milestone example is hiring people for critical roles.
Searching for the new talents for your business is a significant step that leads to the new project phases. During the hiring proсess, you will need to identify the staffing needs, ask appropriate interview questions, and set milestones for each opening.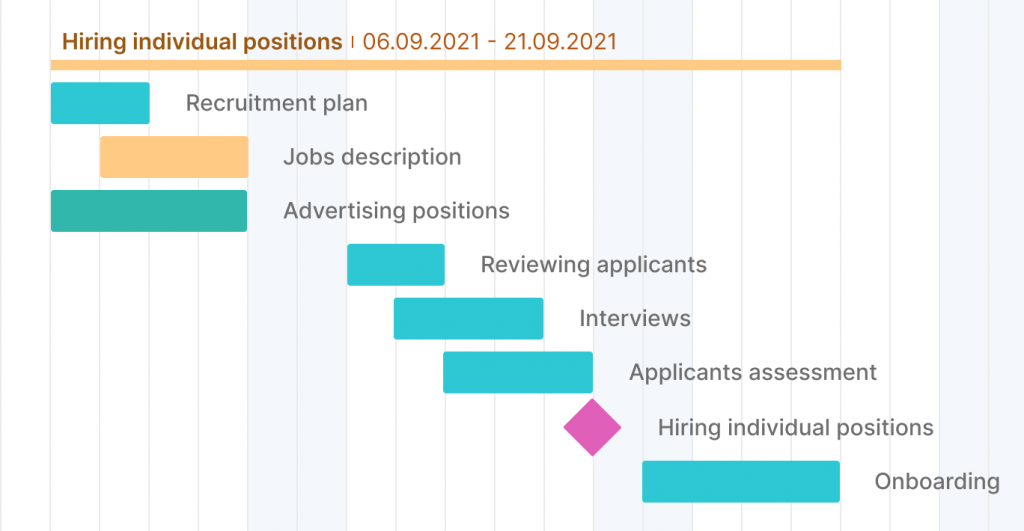 6. Training
This example involves activities to prepare team members for the project better. For example, knowledge transfer to the operations team.
You can hold training activities by your in-house team or outsource if specialized knowledge is required.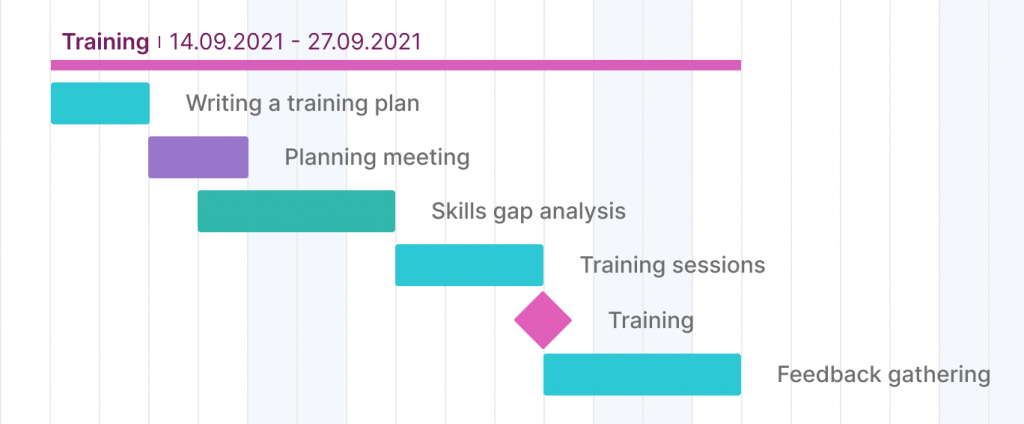 7. Vendor contracts
Many projects in various industries require external vendors. It prompts managers to research and analyze the market to find the best fit.
When the needs are identified, they send proposal requests to multiple vendors where the executive summary, requirements, and proof of concept are listed. As responses are received, milestones can be marked off for every vendor spot.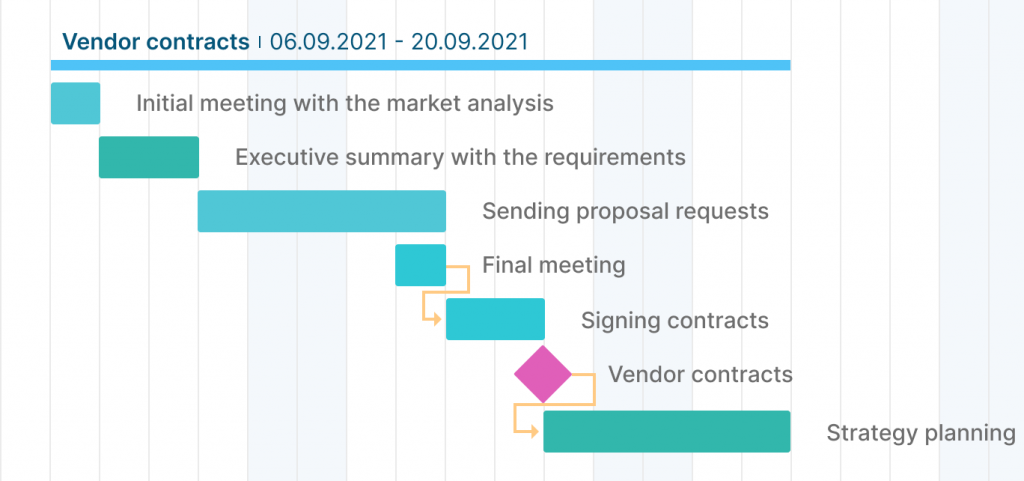 Mid-project milestones
8. Project requirements review
Before the project is approved, your team should consider such a checkpoint as reviewing the project requirements. For this milestone, you have to closely go over the plan with your customers and consider things like:
The number of people to be included in the team.

The budget.

The total duration.

The core resources you'll need from start to finish, etc.
When all these details are defined, your team will have a better idea of what to expect along the way.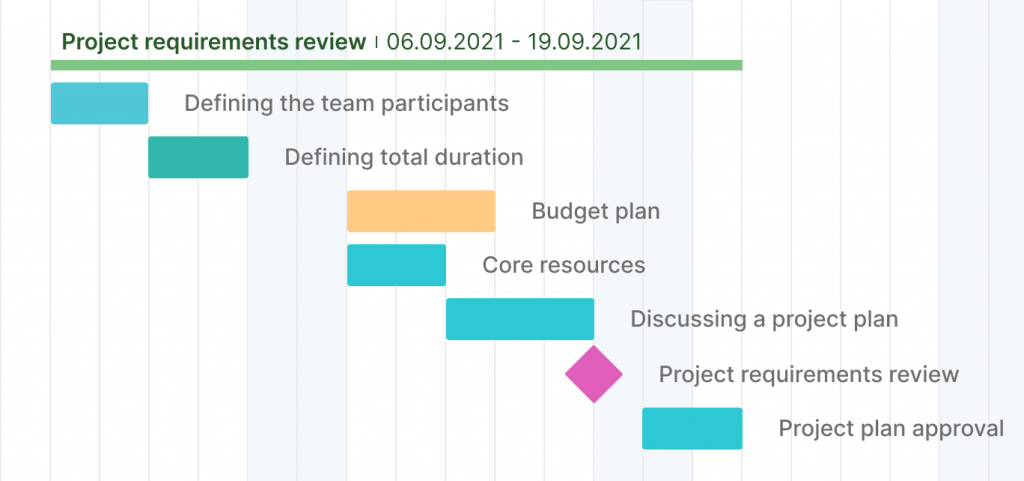 9. Completing critical tasks
Sometimes teams set milestones for themselves to focus on critical tasks that need to be completed.
Do not forget that tasks or action items are the building blocks of your project. Some of them will take longer to complete than others. Therefore, they differ from milestones, as these checkpoints do not have a duration assigned to them, and they group particular tasks.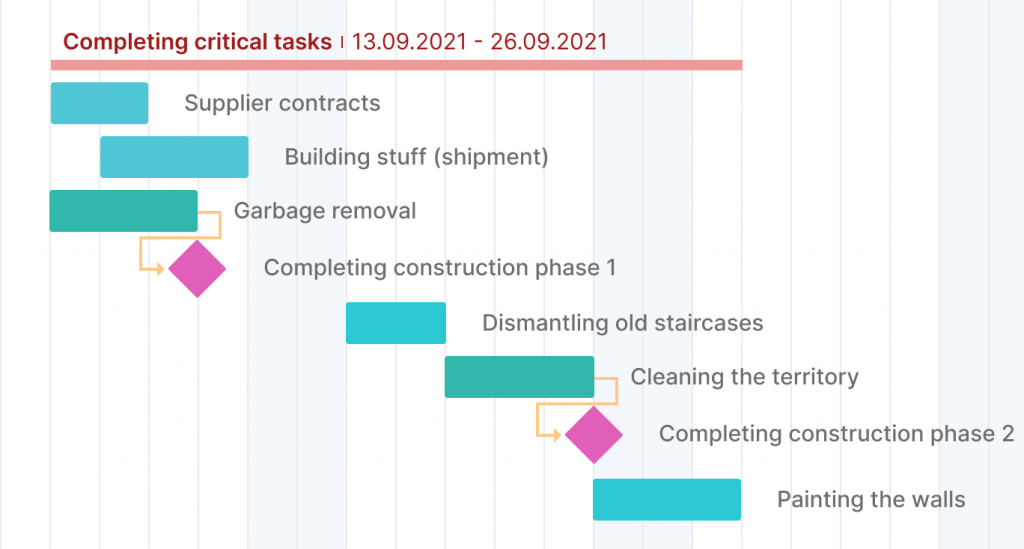 10. Reaching KPIs
KPIs are Key Performance Indicators. They represent measurable goals that help to track the overall performance of projects.
As an example, KPIs can include actual costs, ROI (return on investment), resource utilization, and so on. These metrics must be actionable and straightforward and allow measuring success.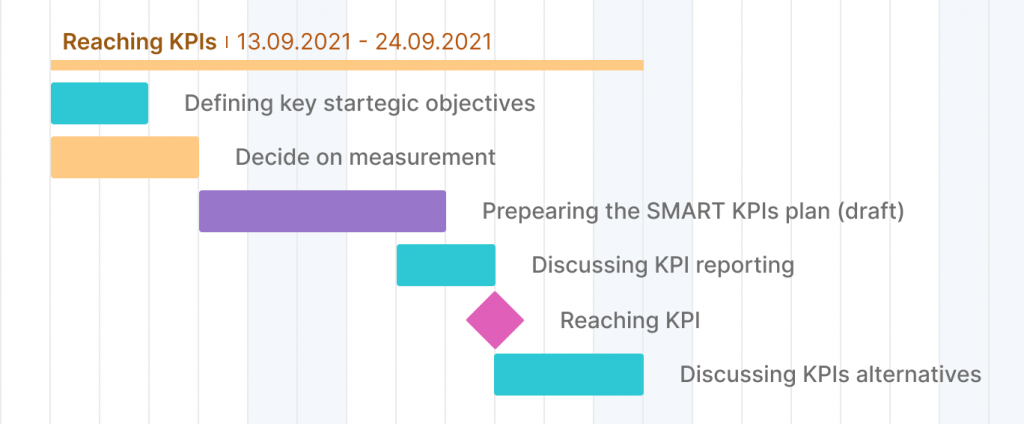 11. Receiving feedback from stakeholders
Making sure that your key stakeholders have enough time to share their feedback is also one of the actual examples of checkpoints.
Whether it is an executive or a customer, it's critical to consider all their feedback. Perhaps you will have to alter your milestones to ensure the project moves forward (whether negative or positive feedback).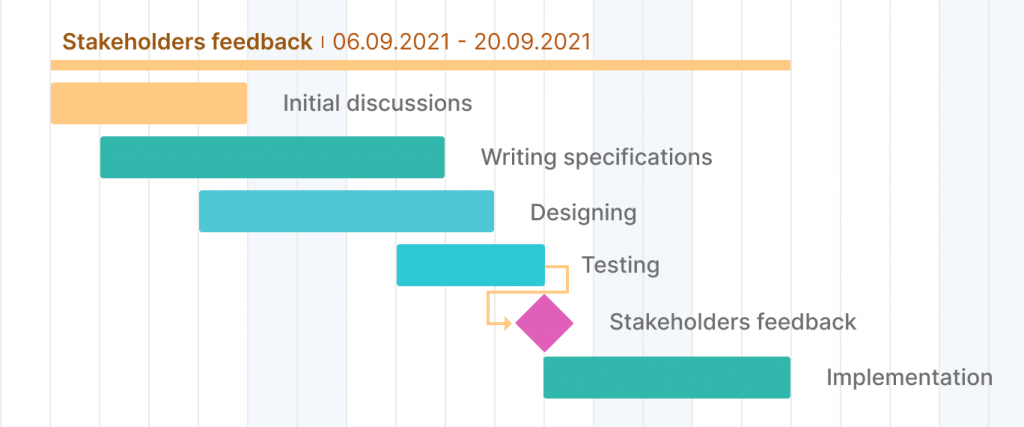 Final stages milestones
12. Testing stages
Many projects in engineering or construction fields need to go through testing and evaluation stages.
These stages include checking all systems, such as IT, electrical, and security. You can set a single milestone with multiple tasks for each test, or choose key points to separate the process for all individual systems.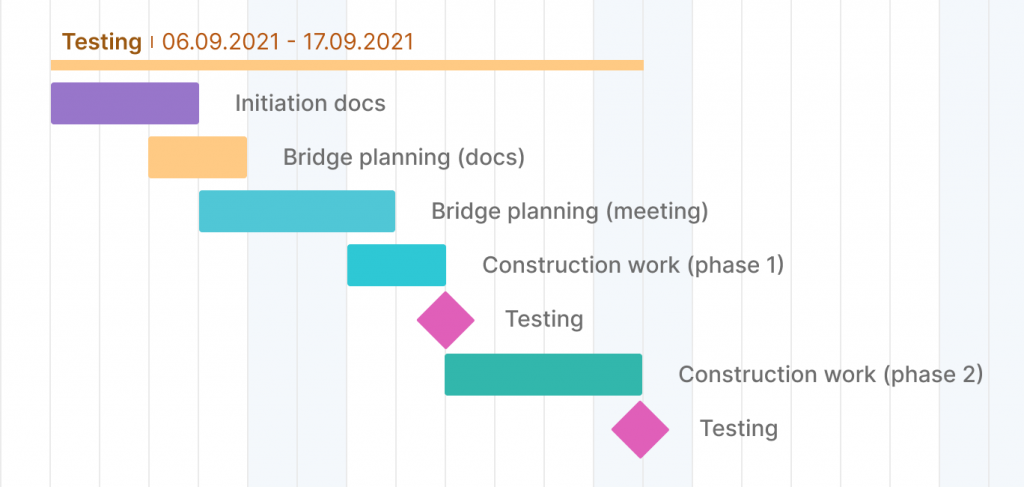 13. Defects fixing
You can find numerous issues during testing. New milestones can be scheduled to make adjustments or repair possible defects.
Defects may relate to the design, materials, or quality. There are also latent defects that can not be discovered until years after the project's completion.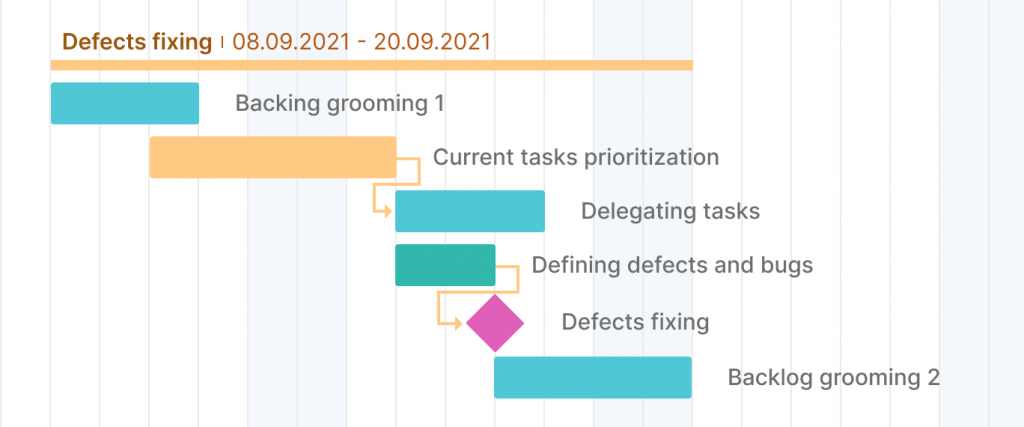 14. Final approval
When your team has finished creating the product and tested it, everything seems to be ready. However, do not rush to celebrate.
It would be better to care about how to present the project to the key stakeholders. If it meets all the requirements, then your stakeholders will approve it.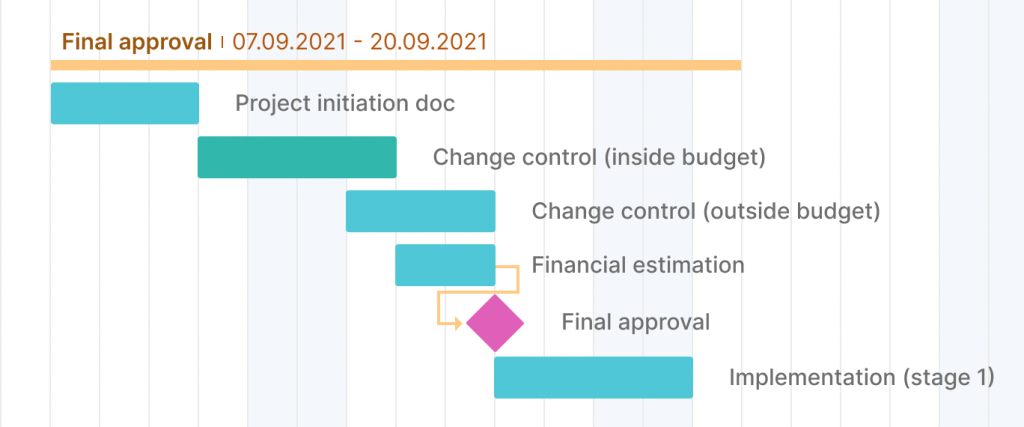 Examples of project milestones and deliverables
Make sure you don't confuse the key milestone and deliverable examples. These are different concepts, although, in a particular context, they may overlap.
What is the difference between PM milestones and deliverables examples?
A team develops a deliverable in alignment with the project goals. It is a measurable and tangible outcome.
As you remember, a milestone is a checkpoint throughout the project's life that identifies when one or many activities have been completed, thus implying that a significant point in the project has been reached.
A deliverable is a quantifiable result, such as a product or service. A milestone is a crucial moment in the project's lifecycle.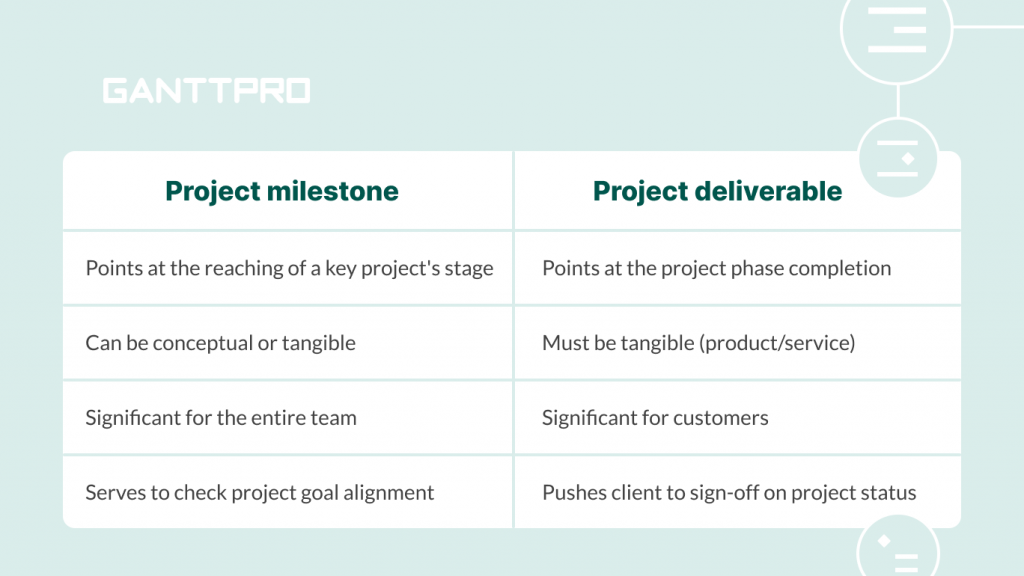 Sometimes, completed checkpoints can result in deliverables. However, that is not always the case.
For example, completing the first version of your blog is a deliverable and a milestone. However, the key stakeholders' approval isn't necessarily a deliverable, even though it's a milestone.
How to create milestones in GanttPRO
Now you know many examples of PM milestones, so the only thing you miss is a proper online management tool.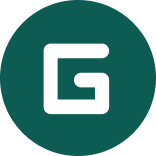 Gantt chart project management software
Use the power of Gantt chart milestones to cater to all your project needs.
Sign up for free
GanttPRO will help you to work with milestones and go through some initial steps while creating your project. Here're these steps.
1. Determining objectives and goals
Setting objectives and goals is required for any project. Well-determined objectives will show you how you'll accomplish the key goal.
2. Creating a project
Sign up to start a new project in GanttPRO. Open the Create a new project page and enter all the required fields there.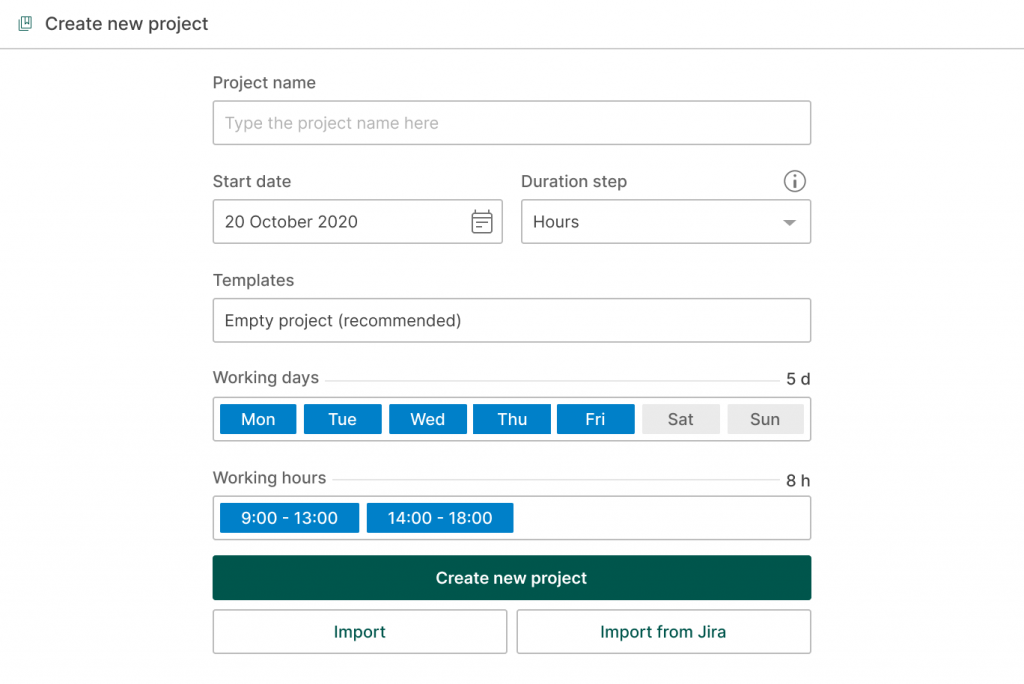 3. Filling your project with tasks and subtasks
It's high time to split your project into tasks and subtasks to systematize all things and make them easy to track. With the online Gantt chart maker, you'll easily break even the massive project into smaller chunks. You'll be able to track it 24/7 as every single task on a timeline will have a built-in project status bar.
Click Add task/subtask on the timeline and set all needed parameters.

4. Setting milestones
Now you can arrange all tasks and group them according to various project phases. Define the most critical tasks, the tasks that need special approval, and then highlight the checkpoints.
In GanttPRO, you can follow two ways to add milestones to your Gantt chart.
1) Click on three dots on the right of the task setting line. Select Add a sibling milestone or Add a child milestone.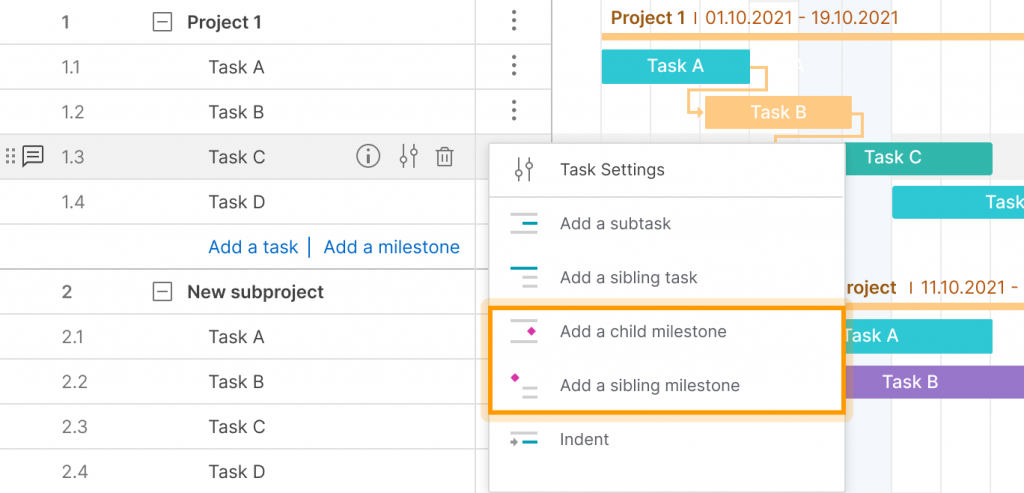 2) Just click the button Add a milestone directly.

The tool allows naming your milestones, changing their dates, dragging them, and setting dependencies with tasks and milestones themselves.

5. Adding dependencies to the tasks and milestones
You can also set task dependencies and milestones dependencies. Click the white circles that will appear and drag the dependency line to the task or the milestone you want to link it to.

6. Assigning people and tasks
In GanttPRO, you can invite people who are already part of your project and assign any task you want. Task settings will help you to figure this out.
7. Exporting projects with milestones
Finally, you can export your project with all its tasks, dependencies, and milestones, using friendly GanttPRO options. Choose to export your chart to PNG, PDF, XML, or Excel.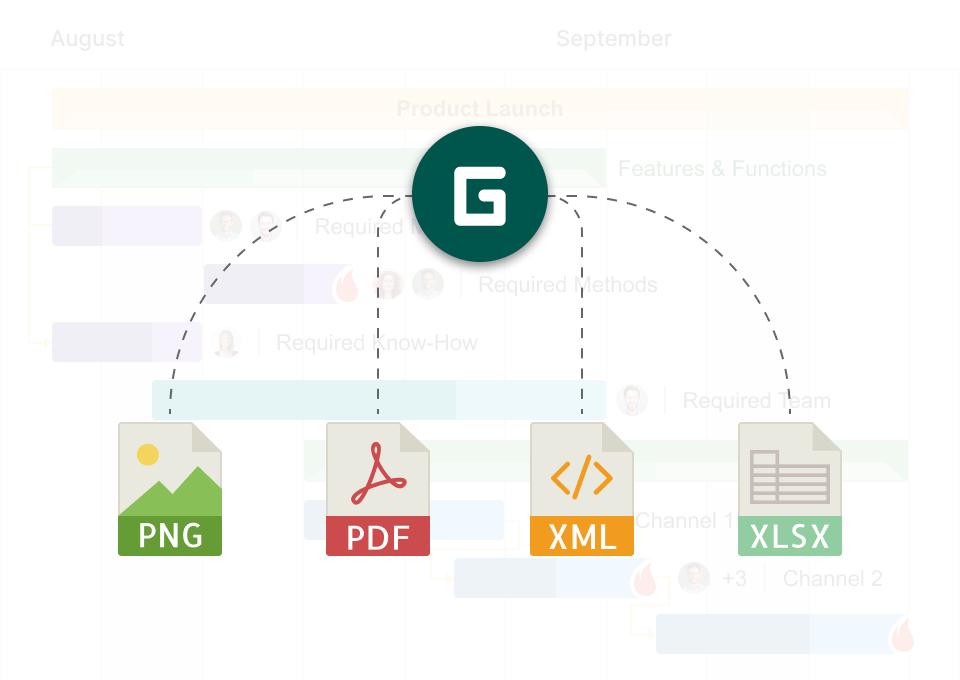 Hopefully, these steps seemed clear to you. Feel free to explore many more exciting opportunities and features in GanttPRO!
Conclusion
Never forget that milestones are key events that determine your project's success. They assist in tracking the progress and serve as checkpoints that keep you focused on your overall goals.
To make the most out of these checkpoints, make sure your project is organized and structured well. Keep in mind all the examples listed above and choose a proper management tool to succeed. GanttPRO is ready to help you plan and organize your work with ease!

This content is licensed by