10 Best Freelance Project Management Software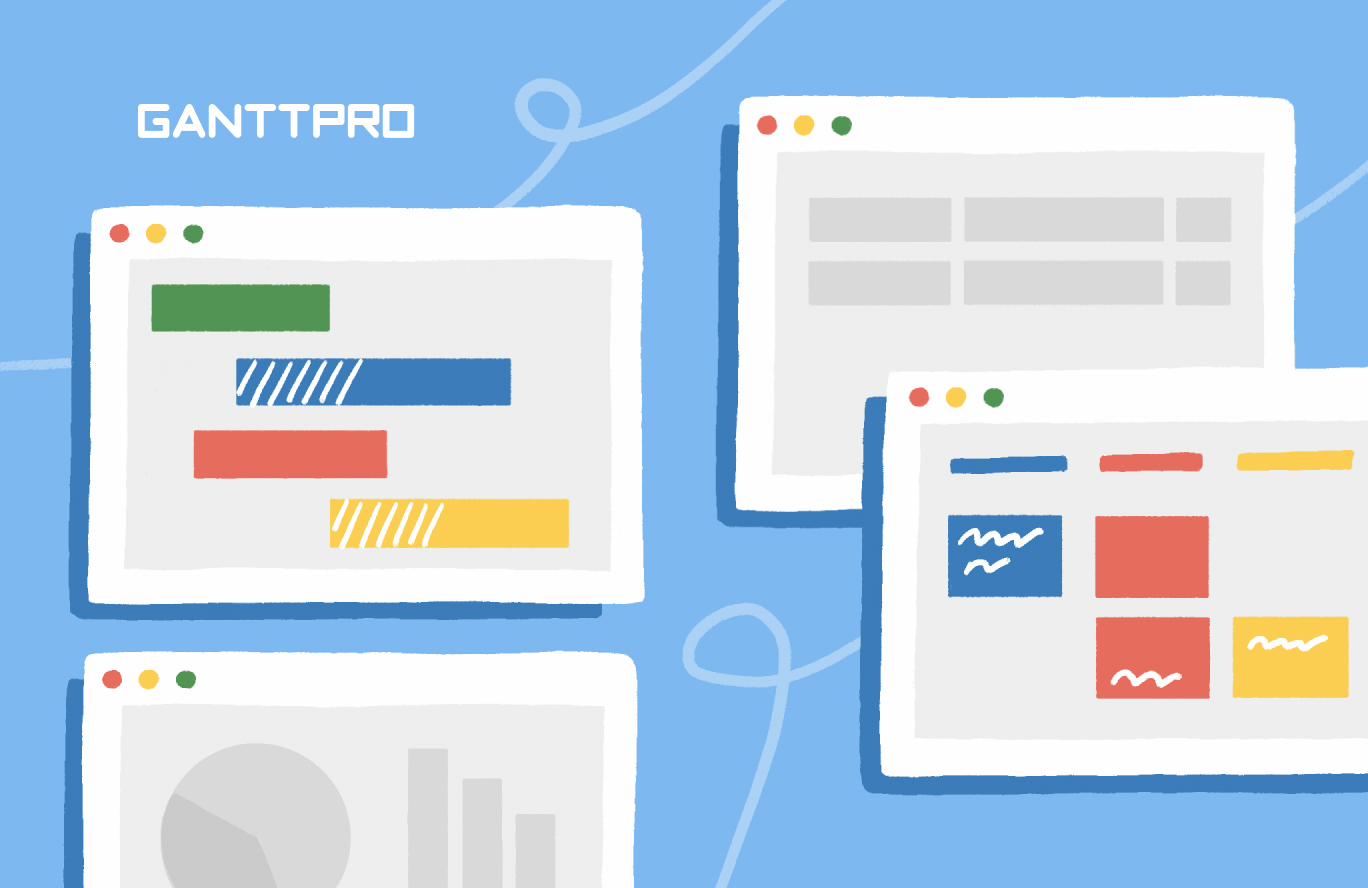 Audio version:
A full-time office job is not the best choice for many managers. That is why the role of a freelancer is becoming more and more popular.
Working alone while managing several projects at once can bring essential profits. Many project managers come to this conclusion, especially since they have a wide selection of excellent freelance project management software. These tools help PMs to manage several projects and consider so many freelance nuances.
Below you will find an overview of the most popular online platforms that make freelancing project management more effortless.
But first, dive into some valuable theories. Additionally, you can go through the list of project management software for startups and small business project management software.
What is freelance project management?
Freelance project management ensures that everything gets done on behalf of a client on a set budget and on time.
It includes the timely completion of deliverables and ensures that a project will align with the clients' business goals.
Freelance PM specialists initiate, plan, manage, and implement projects. Their role usually involves:
Managing people, timelines, tools, and budgets.

Connecting all project participants.

Monitoring the bigger picture of a project

Preparing plans, schedules, and budgets.

Creating strategies to respond to changes.

Distributing tasks and setting deadlines for all the people involved in the project.

Communicating with all stakeholders, reporting.

Ensuring the project deliverables quality.
In order to succeed in a freelancing career, you need to think about the productivity and efficiency of your work and constantly evaluate all advantages and disadvantages of freelancing project management. Non-staff managers should take care of the viability of their projects, take into account many things, manage tasks, projects, and people at the highest level to get an increase in clients and profits as soon as possible. Everything is simple here: more work means more projects. More projects represent income.
What is the power of freelancing?
The freelance market is experiencing global changes. It's not a secret that the reason for these changes is a virus that's caused a global pandemic.
The uncertainty related to the changes may force difficult decisions. For many, moving to a freelance PM model is a kind of restructuring that depends on flexible working. It is more about a forced reality than a considered choice. It is not a problem to find such a specialist – you may use one of the marketplaces available where experienced freelancing PMs are listed.
Why do companies prefer to hire freelancers?
According to the latest statistics, 62% of companies admit that freelancers complete projects faster, 55% note that this reduces costs, and 49% think that freelancing increases transparency in the process.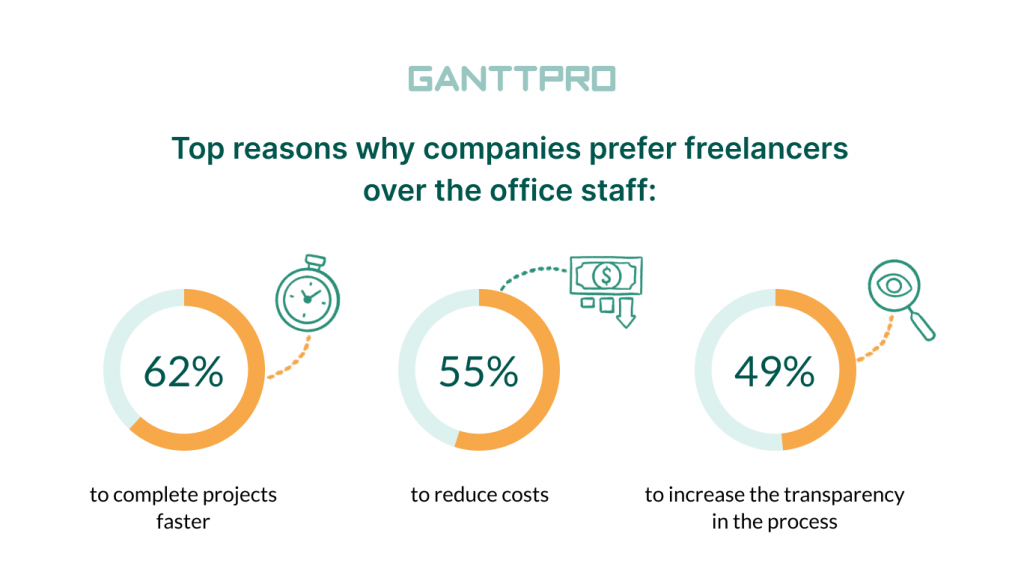 By the way, the salary of a freelancing project manager looks rather attractive.
No matter how high-quality a project manager is, they will not be able to conquer the world without the right PM tool.
What makes PM software effective for freelancers
Any manager striving to work outside the office keeps in mind a set of specific criteria that the selected software must meet. These criteria are about features and other nuances such as cost, a free plan, or an available free trial. Every PM has a list of features that are necessary specifically for their work in freelance conditions.
Key features of freelance project management software
Many different features must or should be included in freelance project management tools. It all depends on the individual and their work needs.
Here is the list of the most common functionality:
Planning and scheduling.

Task management.

Time tracking.

Creating lists and notes.

Prioritizing tasks.

File sharing.

Team collaboration and communication.

Budgeting.

Reporting.
Let's take a closer look at the two most important criteria when choosing such tools – planning and task management.
Timeline planning
One of the main objectives for freelance PMs is to schedule their projects to deliver them before the set deadline. The tool they need should provide clarity on long-term and short-term goals and tasks.
They will need a roadmap to divide different project areas into segments for better categorization. Here's where Gantt charts come to the rescue as they allow adding working tasks across the timeline according to the schedule.
Task management
Task management keeps freelancers updated about what needs to be done to move the project forward. The best management tool for freelancers should provide them with a chance to customize their workflow. They utilize convenient task boards and cards to organize all tasks and track their progress no matter whether they are in the plan, in progress, or completed. It is also vital to add start and end dates for each task, notes, attached files, and subtasks to get more granularity.
In addition, many freelance project management specialists need a PM tool with a long list of integration opportunities. Integrations allow managing as much as possible from a single app.
What are the benefits of PM tools for freelancers?
A well-chosen tool for freelancers' needs offers many benefits, including:
Streamlined workflows. They save time and allow freelancers to work more effectively while eliminating unnecessary work.
Automated organization. If you have no system for managing important information in a way that's quickly accessible, you'll soon lose this info.
A bird's-eye view of the workload. A proper freelance PM tool will help you to see everything you're working on, rather than individual projects for a particular client.
Increased earnings. The earnings of freelancers depend on the ability to get work done and send high-quality deliverables to customers. Robust PM apps can save your time significantly.
Advanced consistency. Having reliable PM software, you can onboard customers without learning the details of a new system.
Of course, there is no ideal solution, and each software has strengths and weaknesses. However, we've tried our best to combine the best paid and free project management software for freelancers in one list.
Quick overview of the best project management software for freelancers
You may find so many great and feature-rich project management software solutions. However, are they all suitable for the freelance project managers' work environment? Surely, not!
That is why we've compiled this overview, which includes the most suitable tools for freelance management and contains the maximum of features that we've described above. Let's take a quick look at this helpful list!
1. GanttPRO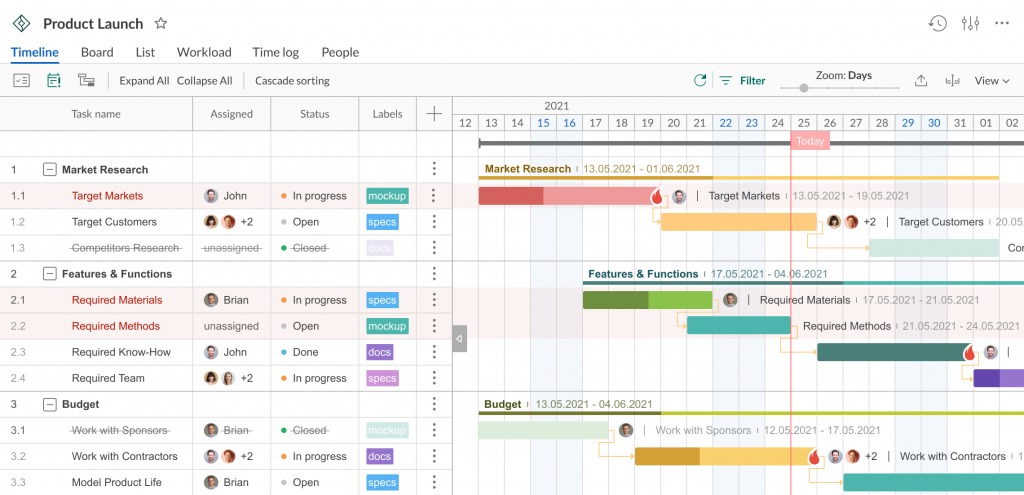 Free trial: 14 days.
Basic: starts at $7.99 user/month (billed annually).
Pro: starts at $12.99 user/month (billed annually).
Business: starts at $19.99 user/month (billed annually).

GanttPRO is one of the leading project management tools based on Gantt charts. It perfectly suits the needs of freelance project management. With the help of GanttPRO, non-staff PM specialists can easily create unlimited projects and work with unlimited resources, even using a free trial.
Once a freelancer tries this online Gantt chart maker, they can improve work planning and scheduling, optimize task management and resource management, set up a work calendar, track time, report, and establish communication with clients. The tool provides a pretty short learning curve, so instead of wasting time studying the hidden corners of the platform, PMs get a powerful freelance project management software with multiple features.
GanttPRO is widely used in software development, marketing, construction, healthcare, retail, education, event planning, and many other areas. For many of them, having a project manager on a freelance basis is a common practice.
Learn more about this tool here:
Key features:
Intuitive and friendly online Gantt charts for advanced planning and scheduling.

Comprehensive task management and resource management with dozens of settings.

Time tracking.

Notifications and deadlines.

Cost and budget management.

Capability to export projects to pdf, png, and Excel formats.

Sharing projects ​with third parties.

Flexible WBS hierarchies.

Advanced reporting with statistics.

Helpful Gantt chart templates.
Why is GanttPRO a good fit for freelance project management?
A Gantt diagram is a tool that can turn work from a senseless routine into a well-tuned and manageable process. Any freelancer will be happy to enjoy all the advantages of this reliable system. With GanttPRO, project managers who work out of the office can keep their planning simple, task management ordered, and customers satisfied. And no extra headache!
Possible drawbacks for non-staff individuals:
No free version though there is a fully-featured 14-day free trial.

No ways to create recurring tasks.
2. Asana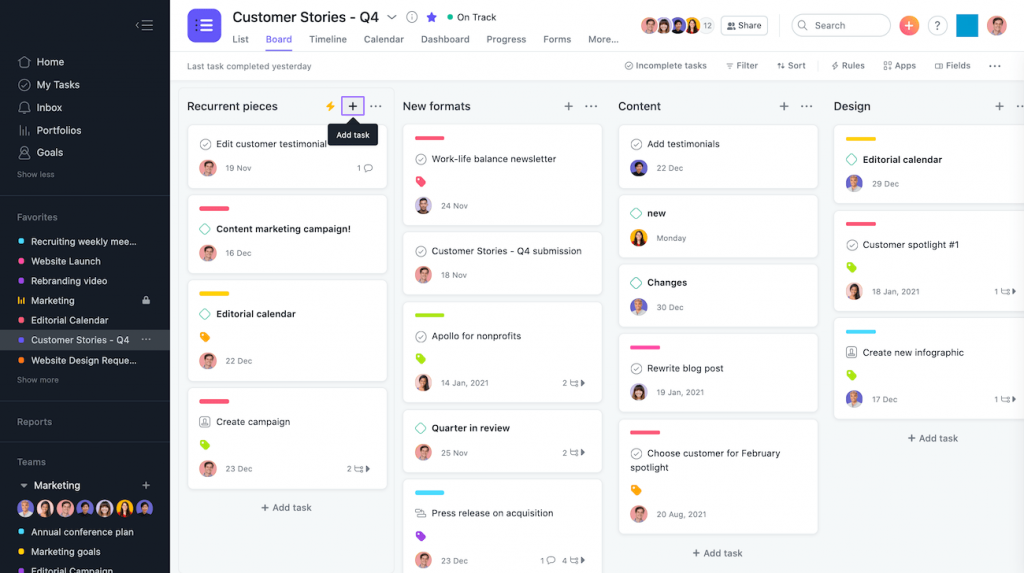 Free trial: 30 days.
Premium: starts at $10.99 user/month.
Business: starts at $ 24.99 user/month.

This robust management app for freelancers is deservedly ranked number two on our list. The system looks suitable for managers who work with several projects and resources because of its functionality and flexibility in tracking numerous projects.
Inquiring for a free version, non-staff PM specialists get unlimited tasks and projects and collaborate with up to 15 colleagues. Asana is available on the web or through Android or iOS apps. The software integrates with 100+ additional apps.
Learn more about this tool here:
Key features:
Advanced visualization of projects with handy lists, calendars, boards, and timelines.

Set rules for automating critical actions.

Capability to develop task dependencies for more effective planning.

Streamlined task planning.

Segmenting tasks into various categories.

Setting milestones to indicate the completion of phases.

Reliable reporting.
Why is Asana a good fit for freelance project management?
Asana can be considered one of the best PM software for freelancers: it provides handy 'levers' to manage team projects, tasks, and processes remotely and give non-staff managers a chance to stay productive while delivering their work faster. The capability to track unlimited projects with features to assign people and due dates to specific tasks make it a robust and reliable PM solution.
Possible drawbacks for non-staff individuals:
Lack of time tracking without additional integration.

Lack of powerful features in the free plan.

A learning curve may seem complicated for new users.
3. Monday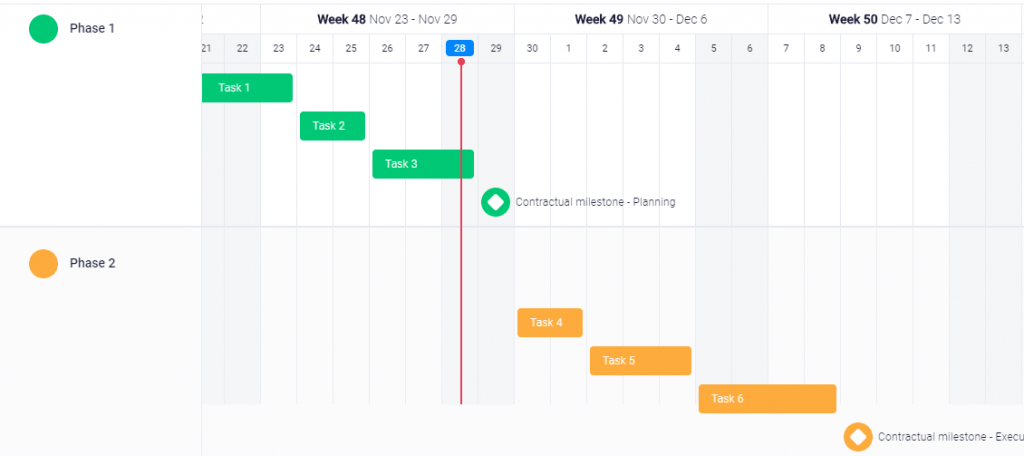 Free trial: 14 days.
Standard: starts at $10 user/month.
Pro: starts at $16 ussr/month.

This is a popular project management and resource management software solution. It provides freelancers with a set of great features that consider the broad scope of the project manager's responsibilities.
With this freelance project management app, managers can keep their teams aligned without pain from one collaborative workspace. Monday allows centralizing your data, leveraging inbuilt integrations, powerful widgets, and third-party apps.
Learn more about this tool here:
Key features:
Advanced timelines for planning and monitoring freelance tasks.

Creating workflow automation processes to assign tasks automatically.

Planning the work more effectively due to observing tasks in the list view.

Visualizing tasks with handy Kanban boards.

Reliable knowledge base.

Helpful templates and custom automation.

A long list of integrations.
Why is Monday a good fit for freelance project management?
Monday is widely used by big, small, and cross-functional teams for many kinds of projects and freelance PM. Its set of features, intuitive interface, and customization capabilities make it suitable for any business.
However, many experienced freelancers admit that its comprehensive scope increases its complexity and makes it less ideal for freelancing. Tastes differ but it is worth trying anyway.
Possible drawbacks for non-staff individuals:
No accounting and email integration.

No chance to show the drive distance between locations on maps.

Version control of uploaded docs could be better.
4. Trello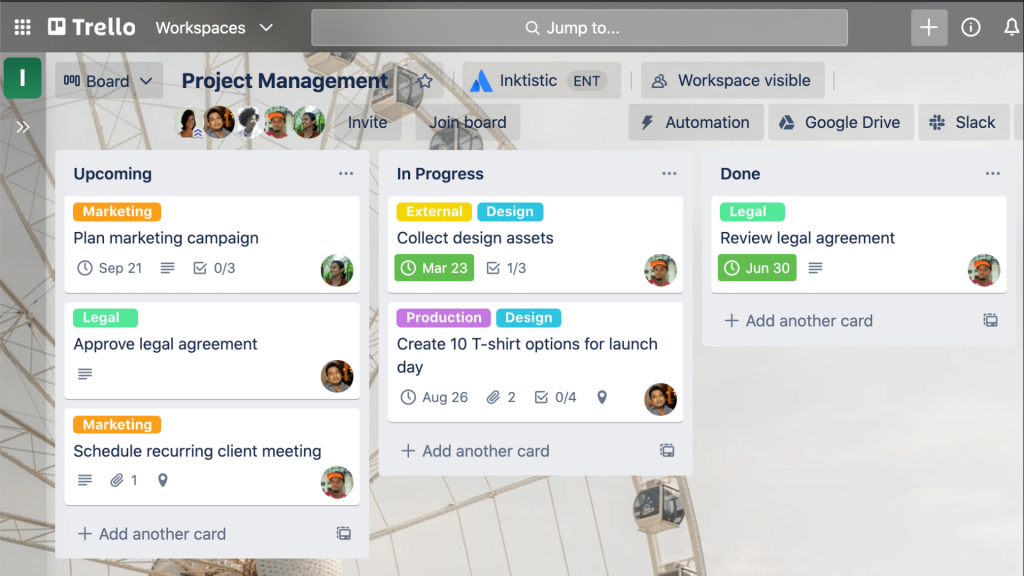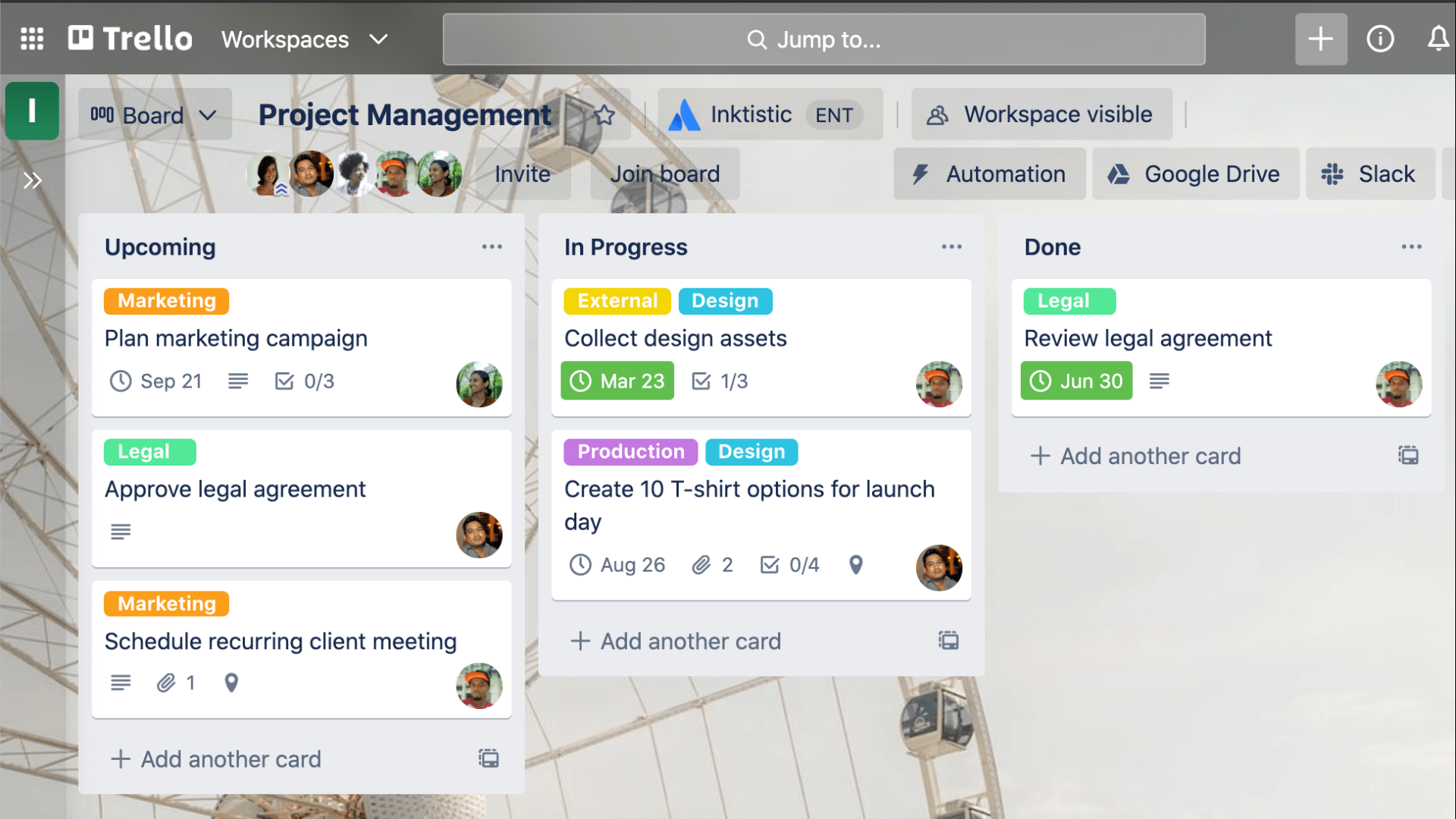 Free trial: 14 days.
Business: starts at $12.50 ussr/month.
Enterprise: starts at $17.50 user/month.

Reliable project organization and task management are the best descriptions for this widely known and appreciated tool. If you're involved in project management for freelancers, frequently doing the same tasks, or have different groups of clients you work with, Trello is one of the best solutions. It helps to track numerous tasks from conception to invoicing.
Trello allows managers to track every detail of a project, support documentation, outbound links, photo files, and marketing copies. Its friendly interface will be straightforward for any freelancer to grasp quickly and master within a couple of weeks. That's why this app is so popular among non-staff team members, including project managers, product managers, marketers, and designers.
Learn more about this tool here:
Key features:
A comprehensive set of collaboration features make it easy to use Trello for the needs of freelancing project management.

Super handy task cards allow adding and displaying various task details (attachments, comments, deadlines, etc.).

Easy drag-and-drop editing.

Integration with third-party app features.

Built-in board repositories.

Tags, labeling, and comments.
Why is Trello a good fit for freelance project management?
Let's say Trello is one of the most in-demand project management software for freelancers that are addicted to online Kanban boards. The tool is user-friendly and straightforward. Therefore, being out of the office and away from the team, project managers get not very extensive but an effective platform with a robust set of features.
Possible drawbacks for non-staff individuals:
Only card-focused tasks and projects may not be enough for all freelancing projects.

Some non-staff individuals may face difficulties with handling big projects.

It's not easy to edit spreadsheets quickly.

No Gantt charts.
5. ClickUp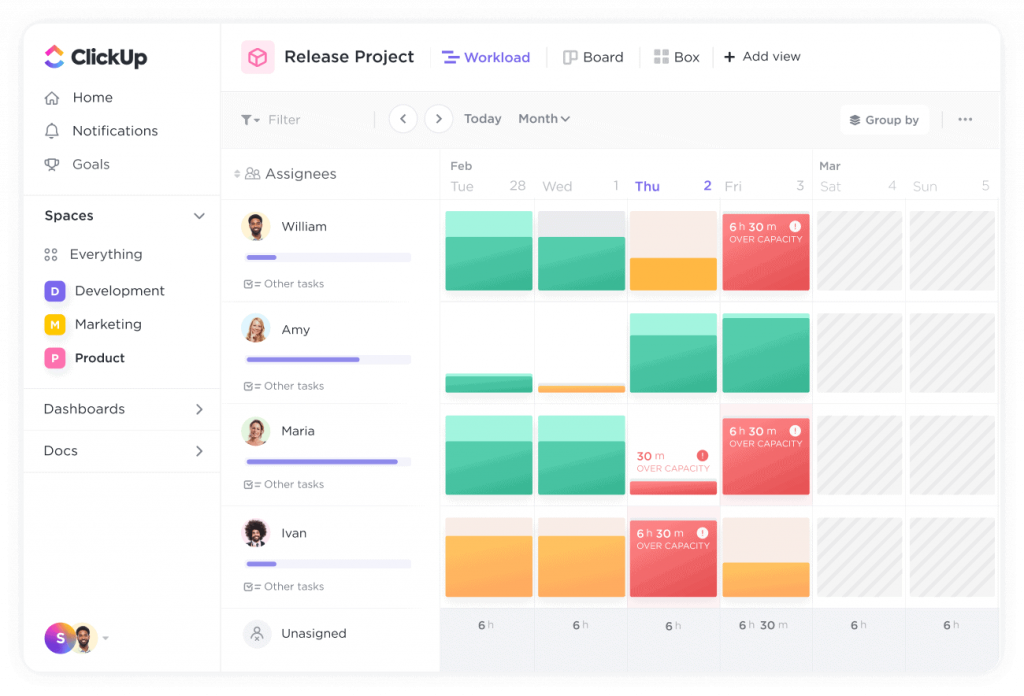 Free trial: 14 days.
Unlimited: starts at $9 user/month.

If you are a freelance project manager, ClickUp would also be an excellent fit for you. The software offers a list of powerful features that provide project managers most of what they need to stay up.
ClickUp can be considered a free project management software for freelancers, but its paid version also looks affordable (just $5 per user per month). It adds unlimited use and additional tools such as custom fields or portfolios.
Learn more about this tool here:
Key features:
Visualizing plans using multiple views.

Advanced opportunities for remote work.

Сustomizable features, so any team (even composed of freelancers) can use ClickUp for sprint management, bug tracking, or product launches.

Custom statuses for any unique project that can be edited and colored individually.

Timely alerts and notifications.
Why is ClickUp a good fit for freelance project management?
This convenient software solution can do anything freelancers want. If its functionality looks complicated and overloaded for the needs of freelancing project management, PMs can simplify the tool without the need to look for any ClickUp alternative.
Possible drawbacks for non-staff individuals:
Too many ClickUp features and too many options for customization may confuse new users.

Not all features are included in the free version.

Many admit that the UI needs some essential improvements.
6. Wrike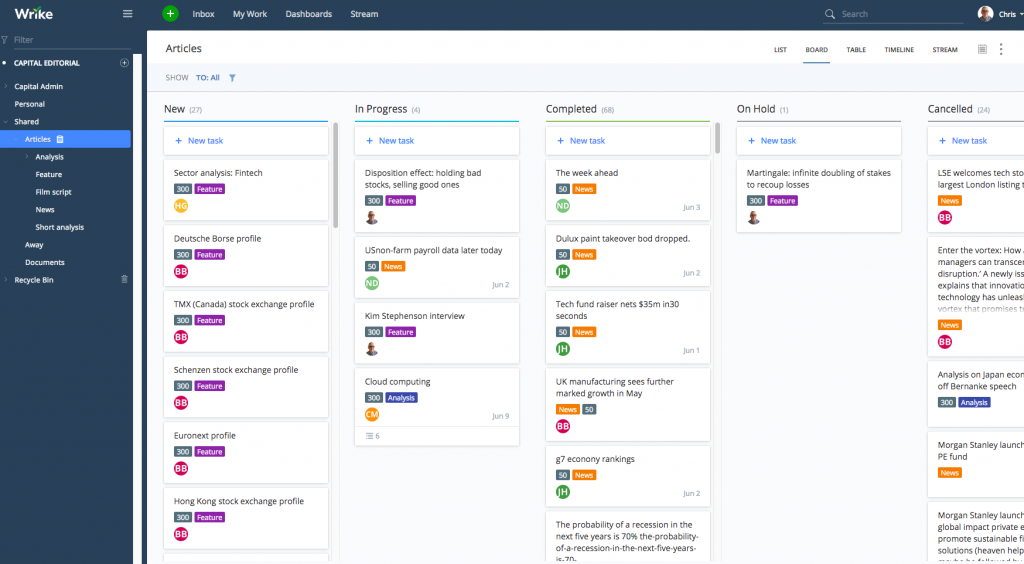 Free trial: 14 days.
Professional: starts at $9.80 user/month.
Business: starts at $24.80 per user/month.

Another all-in-one PM software that helps remote, co-located, and freelance teams get more things done together.
Wrike is also an intuitive software solution like the previous tool described above.
It can often be seen among the top project management software for freelancers. By choosing the app, managers can track collaborative projects and milestones as real professionals, ensure the proper collaboration, and deliver efficiencies for their teams.
Learn more about this tool here:
Key features:
Efficient task management, transparent for different kinds of teams.

Seamless communication (that is

undoubtedly

important for non-staff people).

Visual timelines and a nice scheduling feature.

Handy forms and requests to create and fulfill tasks.

Customizable workflows.

Capability to prioritize tasks.

Advanced analytics with detailed insights through intuitive charts and infographics.
Why is Wrike a good fit for freelance project management?
This service is not overloaded with complex solutions and hard-to-understand features. It embraces teamwork and allows running multiple projects and clients that make project management for freelancers one of the fields where the software is always appreciated and valued.
Possible drawbacks for non-staff individuals:
A limited free version (to 5 users).

Extra fees for additional tools (for example, for complete security).

Some services and marketing tools require separate pricing plans.

Requires watching some tutorials to figure it out.
7. Podio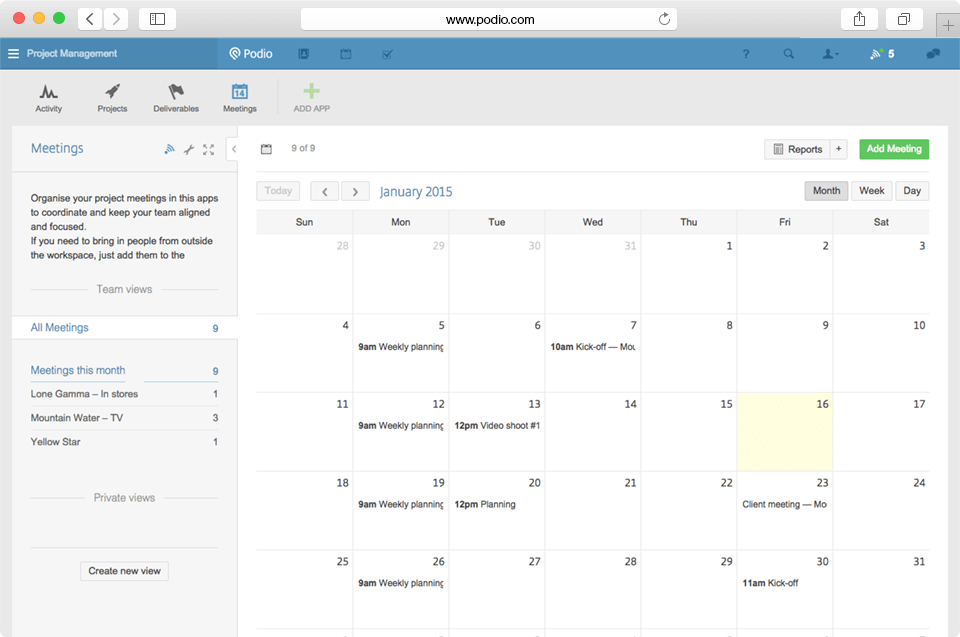 Free trial: 14 days.
Basic: starts at $9 user/month.
Plus: starts at $14 user/month.
Premium: starts at $24 user/month.

Citrix owns this platform, and it is well-known among large corporations. However, Podio also offers reliable features that are often interesting to project management freelancers.
A comprehensive view of tasks, the ease of collaboration, and a beautiful interface make Podio an appropriate solution for managing freelance projects in various spheres. It allows replicating similar projects for repeat customers that may significantly save time.
Learn more about this tool here:
Key features:
Cozy workspaces for connecting employees with each other.

Private workspaces to collaborate on a project with customers (that looks especially attractive for freelancers).

Ability to automatically add comments every time a user makes changes to a task.

Sophisticated reporting

Advanced budget tracking.
Why is Podio a good fit for freelance project management?
Many PM tools look pretty limited when it comes to personalization. Using Podio, non-staff managers can control the design of each of their projects. That is why it is usually chosen by freelancers who want an app that provides lots of customization power.
Possible drawbacks for non-staff individuals:
No time tracking feature to check how long tasks may take that makes the available Podio alternatives more preferred by some users.

No option to markup attachments.

No capability to customize integrated apps or invite others to join the team in the freelancer plan.

Lack of integrations.
8. nTask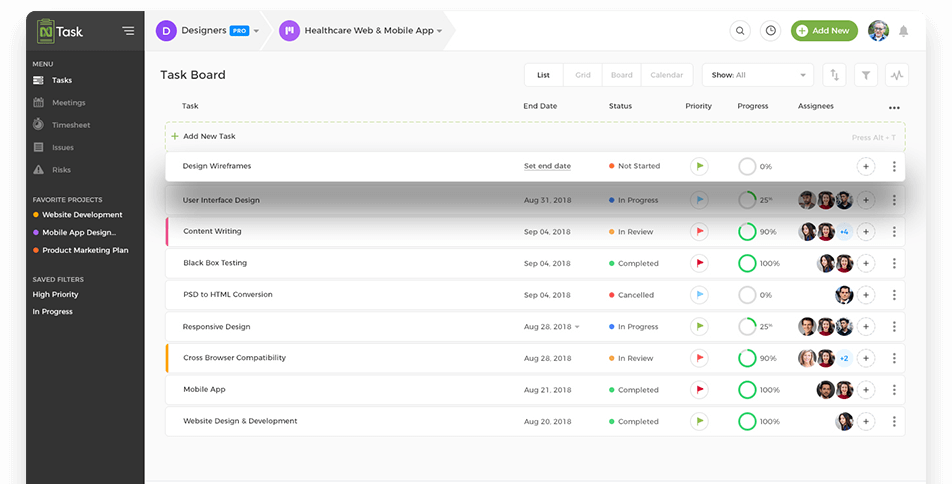 Free trial: 14 days.
Premium: starts at $3.99 user/month.
Business: starts at $11.99 user/month.

nTask would be a better solution for freelancers than any other rivals. Its free plan looks quite suitable, and 'Premium' is a lot cheaper. However, you will not find a Kanban board on the free plan, and this upgrade requires a minimum of 3 users.
The platform offers full-fledged functionality and usability that are also available on both Android and iOS devices.
Learn more about this tool here:
Key features:
A handy task board and cards system.

A built-in note-taking tool that provides a centralized spot to look up all salient discussion points.

Capability to organize and manage tasks through easy collaboration.

Nice issue-tracking capabilities.

Solid and easy-to-use Gantt diagrams.

Lots of built-in integrations.

Supporting risk management with thorough analysis and forecasting.
Why is nTask a good fit for freelance project management?
This question is evident: with just $3 per user monthly, this software solution is probably the cheapest PM solution out there. Logically, every freelancer dreams of finding an affordable and high-quality product. If it is possible to work without an online Kanban board, nTask is highly recommended.
Possible drawbacks for non-staff individuals:
No Kanban boards in the free plan.

Lots of clicking around.
9. Basecamp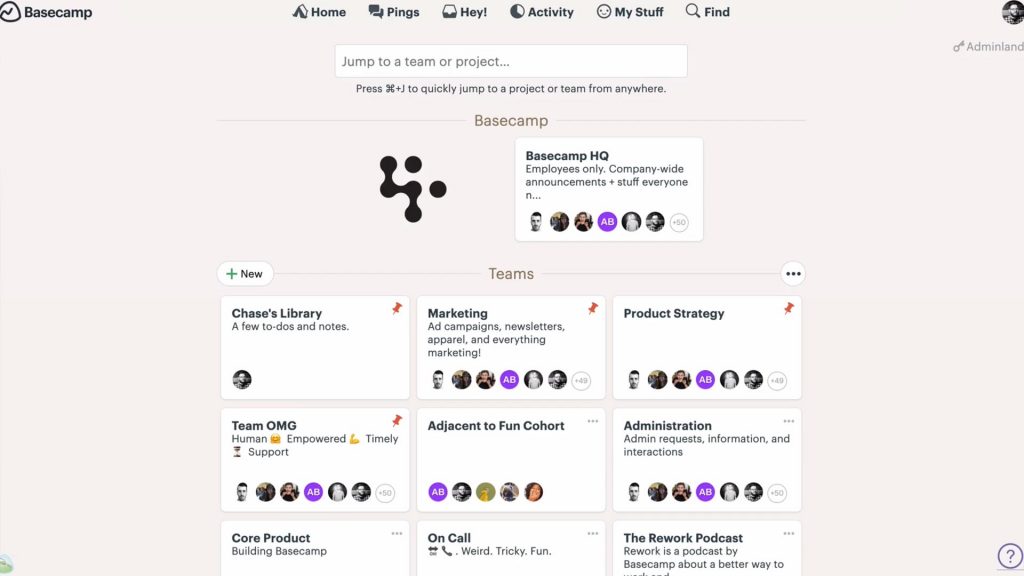 Free trial: 30 days.
Business: starts at $99 unlimited users/month.

Basecamp is one of the most user-friendly project management and collaboration systems with quite an unconventional interface (compared to the other PM solutions).
This web-based tool keeps discussions, docs, to-do lists, and related files organized by projects that everyone can access. Many managers of various projects probably know a best-selling book on telecommuting and project management – Rework, written by the tool's founders, J. Fried and D. Heinemeier Hansson.
Learn more about this tool here:
Key features:
Friendly to-do lists to manage tasks.

A chat platform for real-time communication.

Automated check-ins.

My stuff menu displays tasks, assignments, schedules, meetings, and bookmarks that simplify the life of freelancers.

Customizable templates.

Advanced milestone tracking.
Why is Basecamp a good fit for freelance project management?
Basecamp pricing looks expensive for personal use. However, the software offers the 'Basecamp Personal' option designed for freelancers and students. This edition seems suitable for personal side projects (up to 3). PMs can collaborate with 20+ users and enjoy 1GB of file space for their projects. Basecamp Personal is an excellent tool to use that separates personal projects from work ones.
Possible drawbacks for non-staff individuals:
High price.

Minimal functionality (as many users admit).

No way to customize task statuses to suit different project needs.

No time tracking.
10. Hive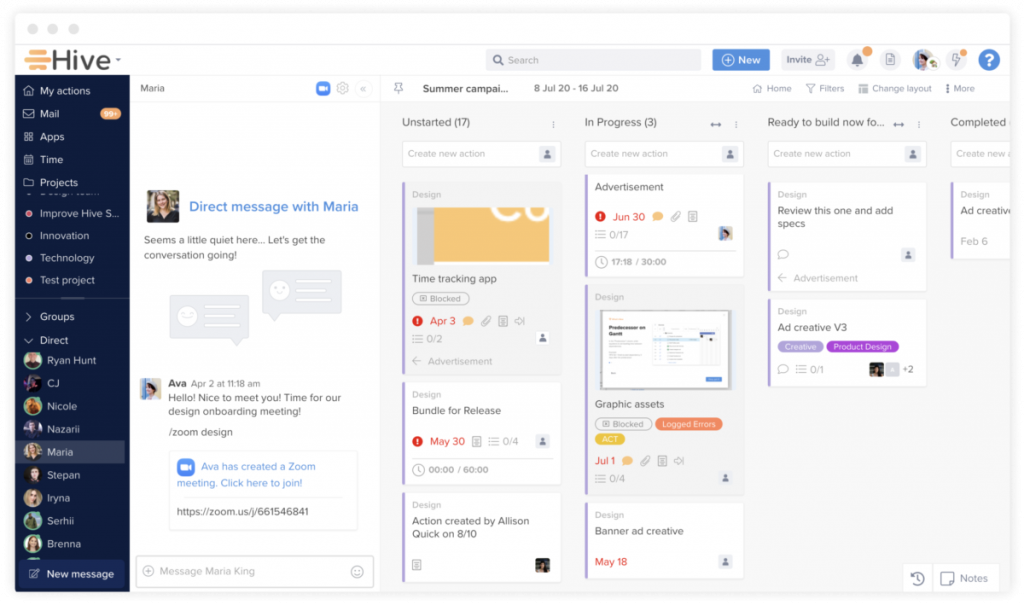 Free trial: 14 days.
Standard: starts at $12 user/month.

This cloud-based software is designed for different teams of all sizes that need to chat, share files, and automate task management actively. Project managers who have chosen the freelance way of working may also find Hive beneficial. They get helpful workflow templates, multiple task views, group messaging, and more than 100 app integrations.
Learn more about this tool here:
Key features:
Nice-looking Kanban boards.

Gantt charts.

Flexible project views for smooth collaboration.

Centralized team communication.

Transparent process management capabilities.

Handy project layouts and action templates.

Portfolio view.
Why is Hive a good fit for freelance project management?
There were many cases when Hive helped non-staff people to move faster and improve their efficiency and productivity. In many ways, this was due to the convenient and functional Kanban boards.
Possible drawbacks for non-staff individuals:
Summary of the best freelance project management tools with pricing and the essential features
| | | | | | |
| --- | --- | --- | --- | --- | --- |
| Software | Free version | Trial | User/month | Timeline | Task boards |
| GanttPRO | – | + | $8.90 | + | + |
| Asana | + | + | $10.99 | + | + |
| Monday | + | + | $10 | + | + |
| Trello | + | + | $12.50 | – | + |
| ClickUp | + | + | $9 | + | + |
| Wrike | + | + | $9.80 | + | + |
| Podio | + | + | $9 | – | + |
| nTask | + | + | $3.99 | + | + |
| Basecamp | + | + | $99 | – | + |
| Hive | – | + | $12 | + | + |
What is the main problem of choosing freelance PM tools?
Freelancing project managers looking for the best software solution often get short shrift as most overviews focus on businesses with more than one worker. 
If you are working on your own out of the office, you may have your specific set of requirements. Hopefully, our roundup of the best paid and free project management software for freelancers will help you manage your projects and tasks professionally, even if you are just a one-man-band.
Do not hesitate to become the guru of freelance project management!
You will find many more reliable online resources for freelancers that will help to succeed in project management. However, our roundup is worthy of immediate attention.
Please note that working on a project in a freelance setting requires picking a reliable, secure, and super handy service. This task can be challenging. Many project managers without experience cannot do this, and it is pretty difficult for them to find remote work. However, it is worth considering.
Just imagine how inspiring it is to work on great projects and collaborate online with teams while enjoying the cozy atmosphere of your room. Go ahead and use the resources we've gathered here, and you will become a rocking PM freelancer. All you need to do is just get started!