Project Roadmap vs. Product Roadmap: Different but Equally Important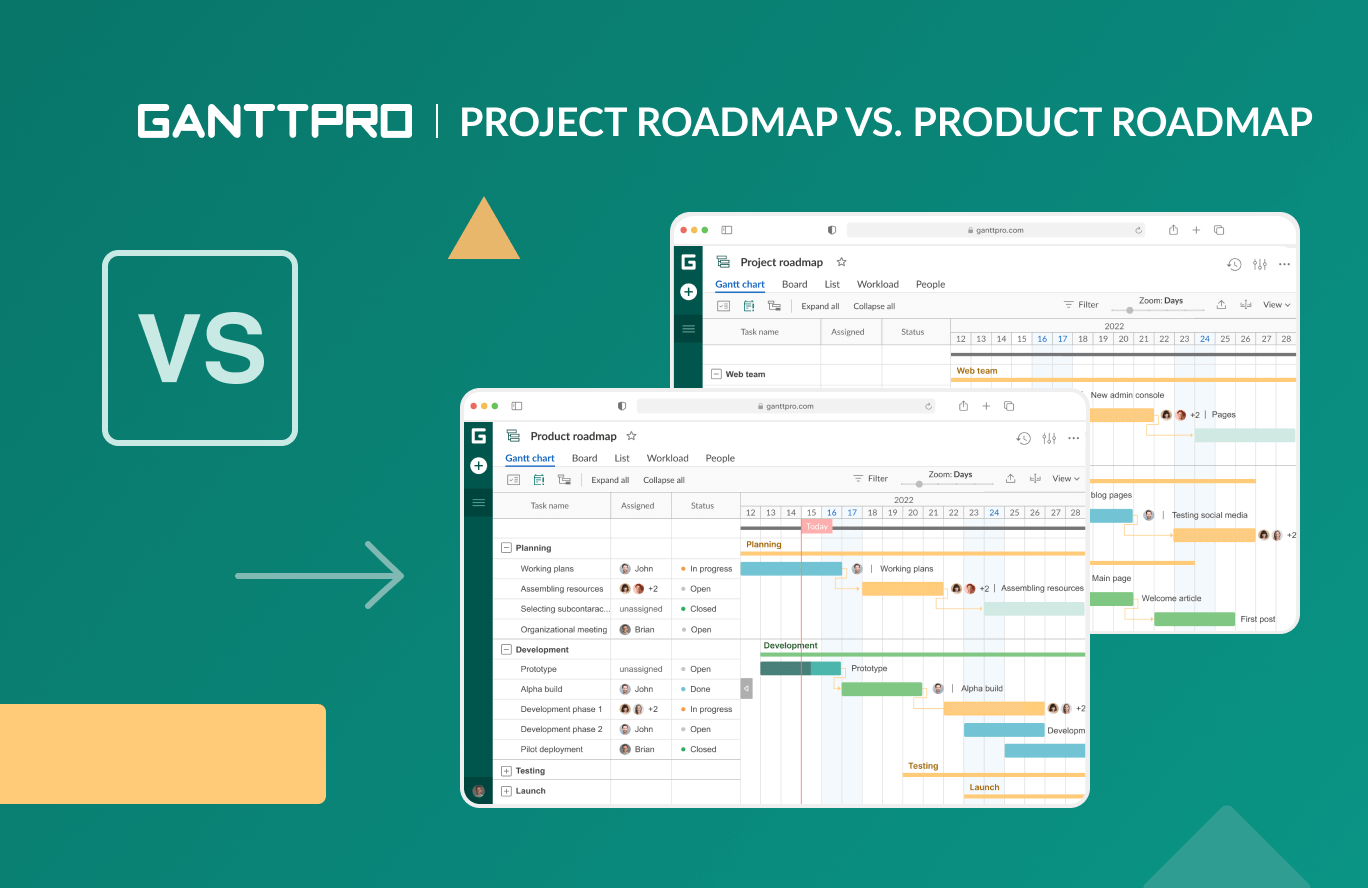 If you don't know the difference between a project roadmap vs. product roadmap, you can start with studying their purposes and intended use.
The latest project and product management future predictions prove the fact that planning work with online timelines is popular among various teams all over the world.
While there are vivid similarities, there are also essential differences between product roadmaps and project roadmaps. Understanding them starts with realizing the characteristics of a product and a project.
We'll start this article with some basic definitions so you can get a comfortable jump to the product roadmap vs project roadmap comparison. You'll also get some additional visuals in the form of roadmap templates and roadmap examples designed with the help of GanttPRO Gantt chart maker.
So here we go.
Contents:
What is a project?
In common words, a project is a temporary venture aimed to produce a new deliverable. This unique deliverable can be a tangible product or service.
One of the best ways to differentiate a project from various operations is to look for a clear start and end.
Although the dates of a project's delivery may move, the project will have a defined end either because it will produce the defined product or because it will be agreed to be closed.
Most of projects are characterized by the following:
They have a start and a finish (a certain point when it commences and a point when it can be agreed to be done).

They create new or unique things.

They start with an idea, which is turned into any solid object. It can be a solution you can hold, use or something less tangible like a project to change behavior.
All projects are unique. They are managed using acknowledged standards, processes, procedures, and skills. They are created, improved, and maintained by people and companies dedicated to the project management profession. And one of the core tools that help these people and companies perform is a roadmap.
A graphical high-level tool that provides an overview of objectives and key stages of your project is called a project management roadmap. Managers usually build it on an online timeline.
The key goal of this kind of roadmap is to ensure that every individual related to the project has a single truth source. With this timeline, your team will have a clear and transparent vision of the project's goals and its implementation, including tasks and milestones.
Sometimes a project roadmap provides an approximate timing of a project that can be changed during its implementation.
Key components of a project roadmap
A typical project roadmap includes some essential elements.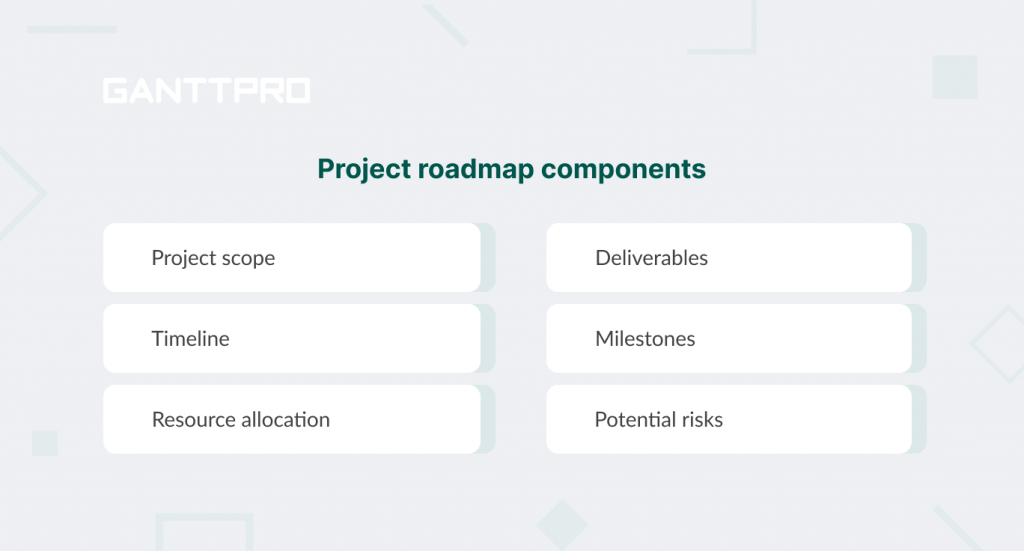 Here's the list of the most common components of a project timeline:
Project scope – a big picture of a plan with all its goals and objectives.

Timeline. It represents crucial activities you have to finish in chronological order during a particular time frame.

Resource allocation.

Deliverables – the result of the work a team will do during the project implementation.

Milestones – checkpoints that illustrate the change of a particular stage.

Potential risks – bottlenecks or challenges during the project implementation that can cause workload, schedule, or budget deviation.
Generate a professional roadmap with GanttPRO
A well-prepared roadmap ensures everyone is on the same page and understands the common plan in the right manner.
When creating a project roadmap that will perform correctly you need to pay special attention to choosing professional roadmap tools for easy start.
GanttPRO is one of the best solutions that can assist and benefit any project team.
This Gantt chart-based software helps managers create a project overall view in various professional spheres. It assists in keeping all team members and other project participants aligned and provides smooth communication processes among different departments and third parties.
GanttPRO users get a convenient workflow, from simple task management to professional project roadmapping.
Gantt charts provide an intuitive and friendly interface that helps to build a timeline that will be understandable to every project participant and all stakeholders. You can add dependencies and milestones, track progress and workload, manage budgets, and predict risks.
Here's a simple example of such a roadmap created on a Gantt chart.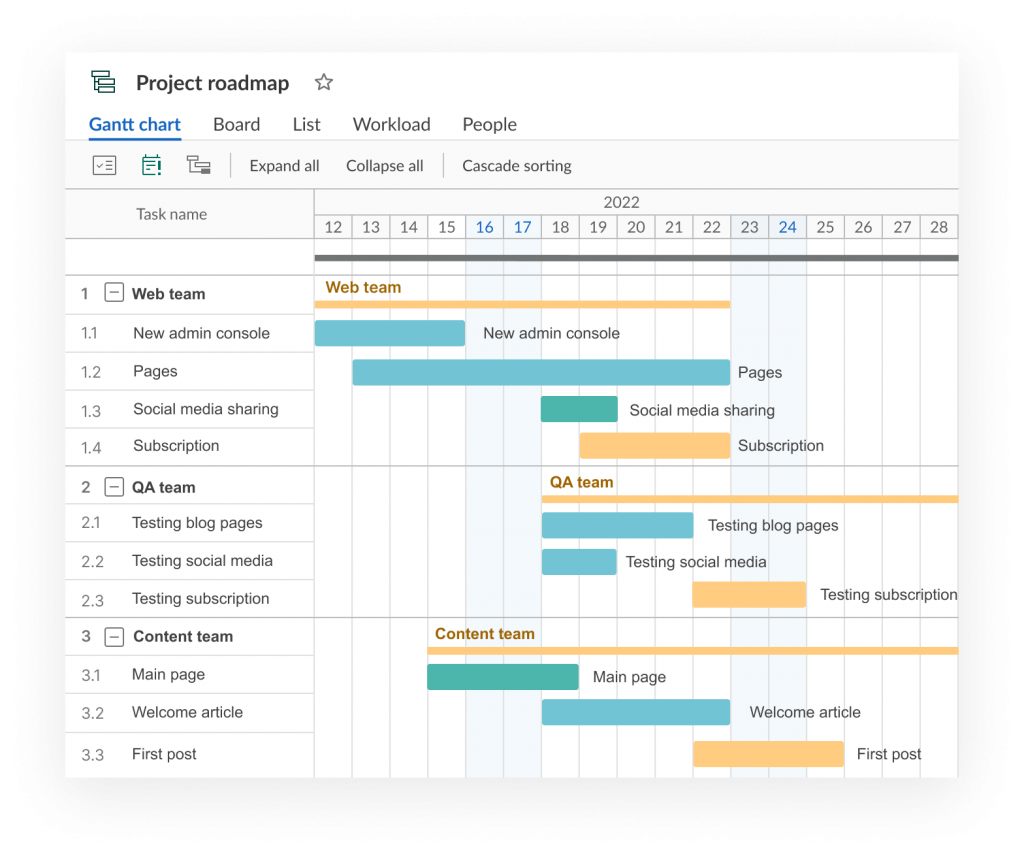 Delving into GanttPRO opportunities, you'll also get a friendly Gantt chart project management template that you can customize and adapt to your requirements. It will be especially useful for project managers with no experience and young specialists.
GanttPRO offers many other useful features for project teams. One of them is advanced export that allows for having your timelines at hand whenever you need them.
You can easily export your project roadmap to PNG, PDF, XML, or Excel.
To export your timeline from GanttPRO you need to follow some simple steps:
Be sure your project is ready for exporting.

Define what and how you will export. You can choose a format, paper size, and orientation, use filters and zoom. It is also possible to enable fields you want to include in your downloadable project.

Include resource workload to demonstrate it during various meetings, if needed.
The real benefit is that you can share your roadmap any time with all stakeholders and other people involved in the project processes. Easy and convenient.
That was the first part of the product roadmaps and project roadmaps comparison.
Now we are moving to the next part related to the other kind of timeline and the key differences between product roadmaps and project roadmaps.
What is a product?
A product is any item or service that companies sell to serve customer's needs and solve market problems. It can be physical or virtual.
Physical products can be durable and nondurable. Virtual goods are typically offerings of services or experiences.
Products and projects can be connected in many ways. Usually a product contains many projects before it is ready to be launched or updated.
A product roadmap is used to communicate the strategic path of a certain product with the aim to achieve business goals. Product teams at diverse organizations utilize it to plan their work on a daily basis.
Key components of a product roadmap
A typical product roadmap often includes the following elements.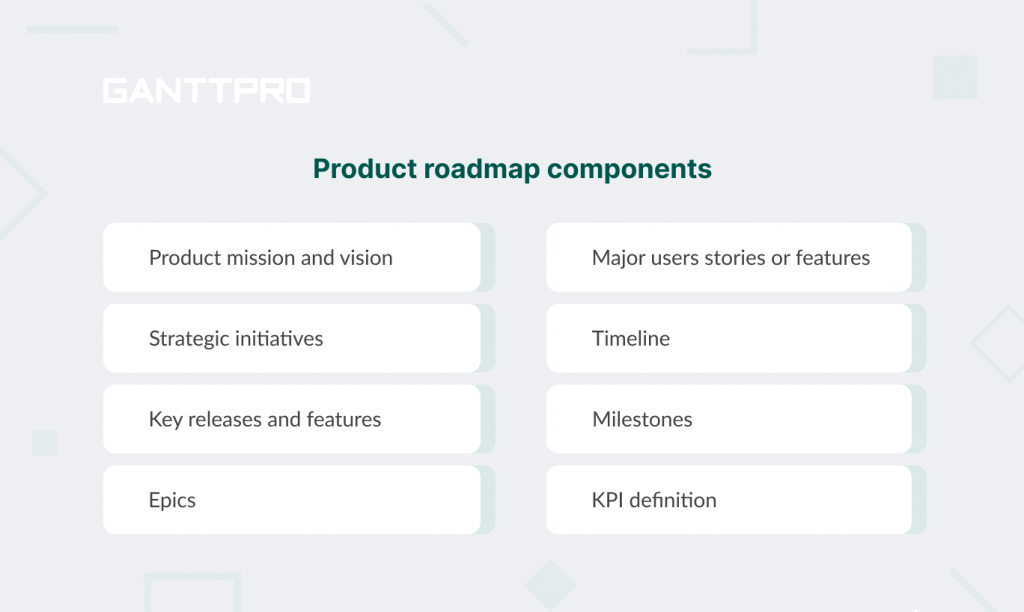 The timeline for your product management may contain different elements, but the most typical are the following:
Product mission and vision.

Strategic initiatives.

Key releases and features.

Epics.

Major users stories or features.

Timeline.

Milestones.

KPI definition.
Use GanttPRO to build a professional product roadmap
GanttPRO benefits not only project teams but also shows how to improve product planning in general with the help of a Gantt chart-based timeline.
GanttPRO product roadmap will help you clarify the vision of your product and align colleagues on the required work to ensure efficient feature releases.
You will be able to plan tasks, set milestones, track progress, and reach all intended goals. All within a handy online Gantt chart.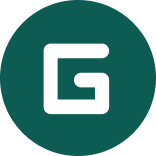 Roadmap tool based on an online Gantt chart
Create a timeline or use handy roadmap examples for easy start.
Sign up for free
In case you need to generate a product timeline from scratch without initial experience in planning, GanttPRO offers a handy product roadmap template as well as ready-made product roadmap examples that you can study and use at any time.
Look at the following example, where the process of a product launch is visually described.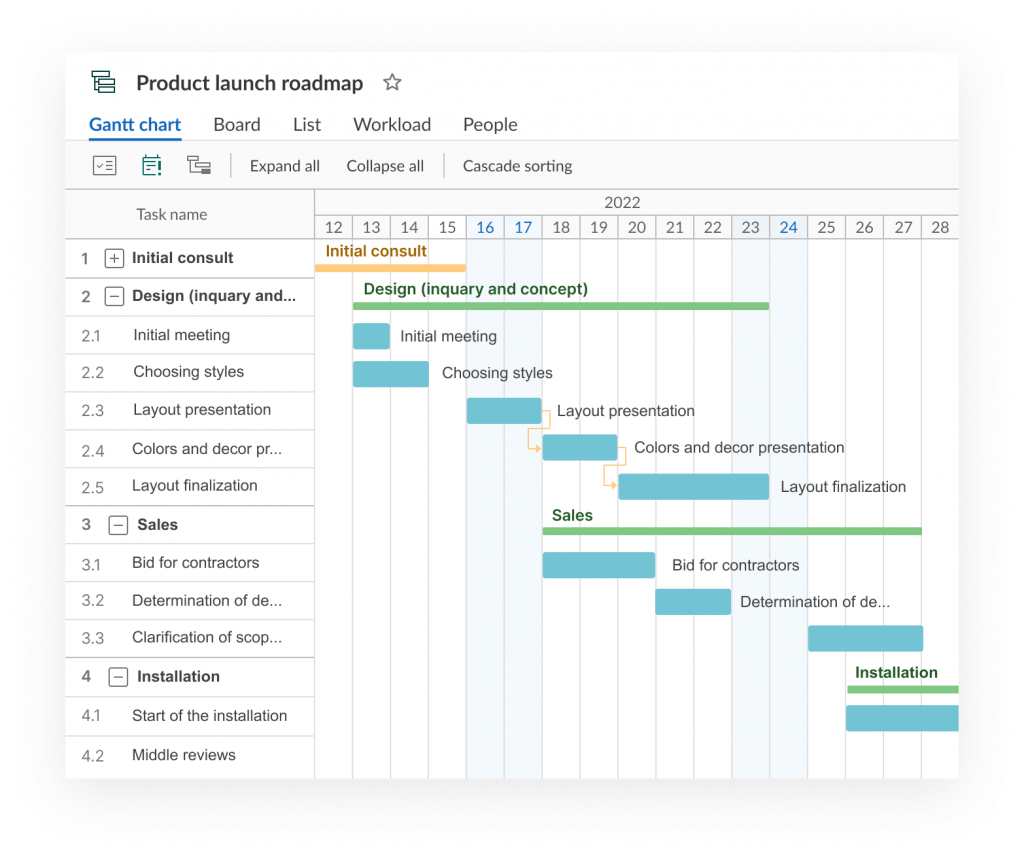 Just like with a project roadmap, you can export your product roadmap in seconds. You will need to follow the same steps as described above.
Your product timeline with all the tasks, subtasks, milestones, and dependencies can be exported to PNG, PDF, XML, or Excel formats.
Don't forget to share the roadmap with all the people interested in your project.
These were brief descriptions of both roadmaps. Now let's highlight the most important things in them to understand the key differences in the pair "project roadmap vs product roadmap".
Project roadmap vs. product roadmap: key differences
Despite some similarities that we'll mention below, the pair "product vs. project roadmap" has some vivid distinctions.
You will need a professional product roadmap to get the plan for achieving your product goals and objectives. The project roadmap will also lay out this plan but it is usually focused on the timeline for a specific project.
Your product roadmap will include high-level strategic initiatives, the info about the upcoming releases and features. It will communicate the overall direction of the product to internal and external stakeholders.
The project roadmap will take the project objectives and provide a timeline of specific tasks and milestones. It will include all essential goals, milestones, and activities to achieve those goals.
There are also some differences in the creation and sharing processes. In order to better assimilate the information, we put the rest of the differences in a convenient table. Feel free to study it.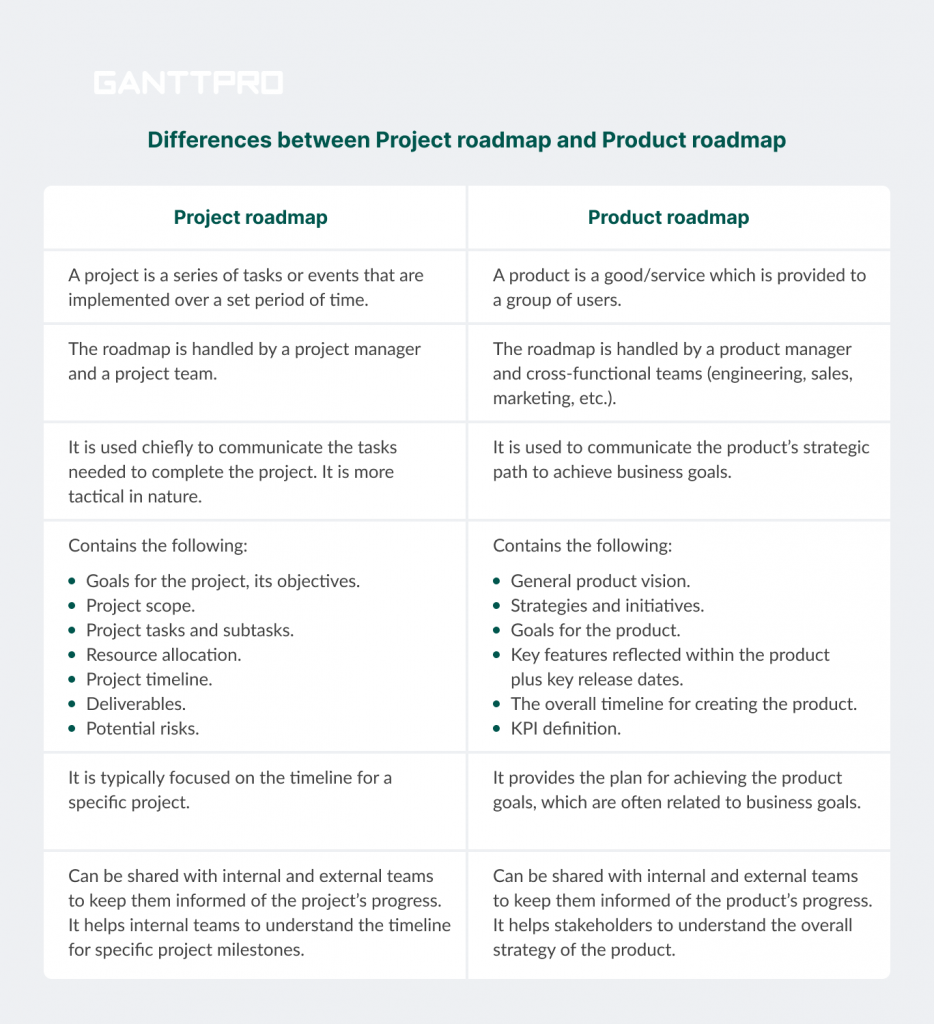 Project roadmap vs. product roadmap: any similarities?
Both roadmaps are crucial to product development. They both should be informative and shared both internally and externally to keep all stakeholders aware of any detail. It will allow them to understand the process of the product and where on the timeline it currently lies.
And of course, an important similarity in them is that both product roadmap and project roadmap should be built with professional roadmap software.
Wrap up
Product managers and project managers plan everything from long-term strategy to short-term tasks and events while keeping their teams in sync. Therefore an online roadmap is becoming one of the most reliable planning tools for them.
With professional timelines that contain advanced management features, their teams can achieve success faster avoiding many pitfalls.
There is no winner or loser in the project roadmap vs.product roadmap battle, as they both are extremely important and useful for various businesses.
Which roadmap is best for your team? Have you used both of them? 
Hopefully, this article was useful not only in comparing two popular roadmaps, but also in applying a Gantt diagram to plan them. But if you still have any questions related to this subject, feel free to delve into one of our articles about Gantt chart vs. roadmap. You'll learn how to differentiate them and utilize them for project and product success.