How to open an MPP file online without MS Project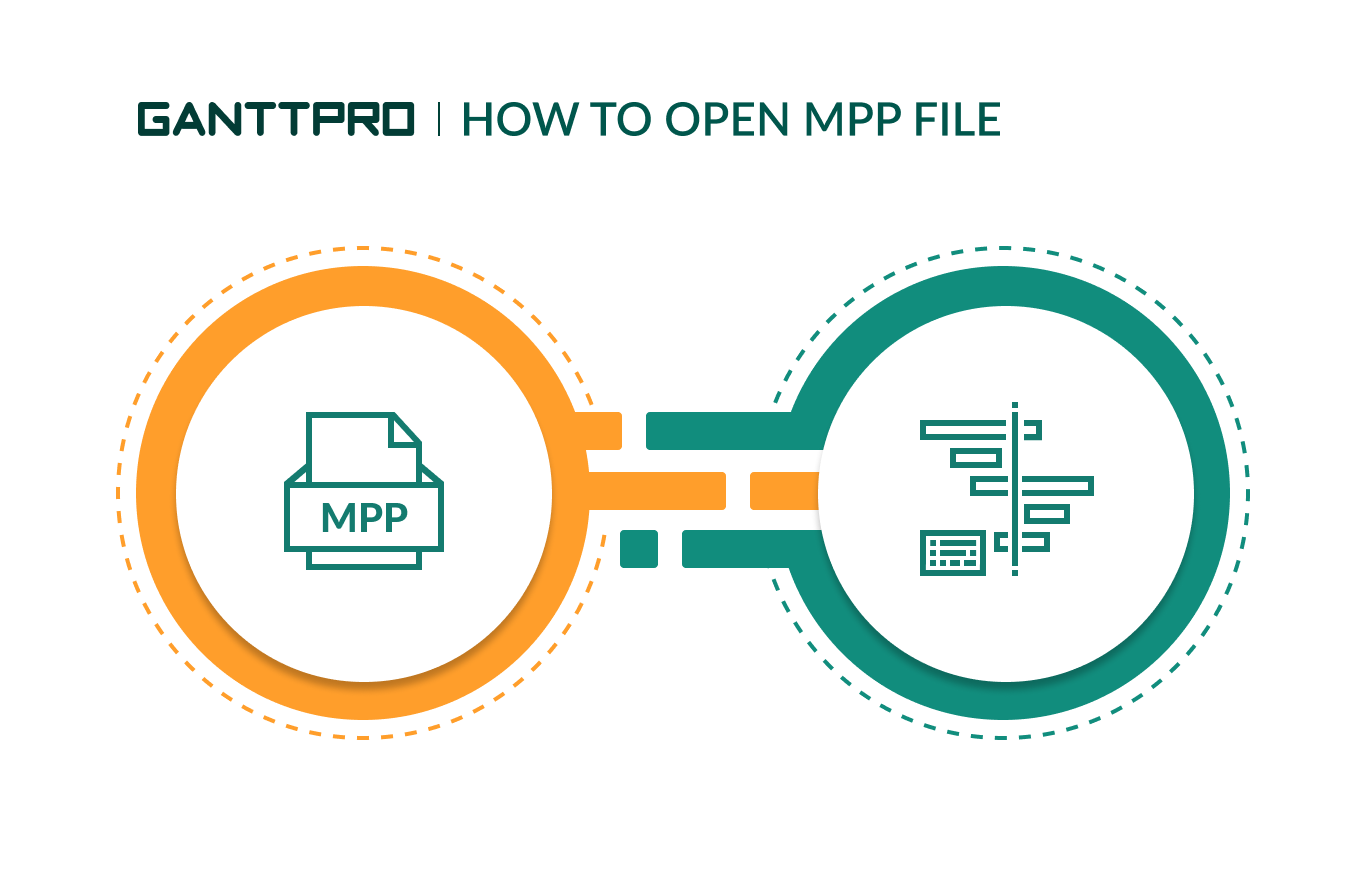 Microsoft Project is one of the most popular and widespread project management software. The software allows you to plan projects, assign tasks, manage resources and workflows, create reports, and do many other things.
Nevertheless, recent GetApp's surveys showed that almost 60% of project managers are ready to try some new software in 2020.
The thing is that there are many MS Project alternatives nowadays. Some of them are easier to use, and others are more affordable. Some offer cloud versions or a more intuitive interface.
For these reasons, MS Project users started paying attention to new tools and testing them to choose the most suitable one for them, teams, and clients.
But what if you worked on your project in the product from Microsoft, but now, want to switch to other tools? Are there any solutions that allow opening and working on MPP files in other software?
Yes. From this article, you will learn about the features and benefits of GanttPRO MPP Viewer.
Contents:
What does MPP format stand for?
MPP is a format for a project file created in MS Project. It contains all the information about the project: workload, deadlines, reports, and many other things.
MS Project doesn't provide an opportunity to open or edit the MPP format file for non-registered users. In other words, if you don't have a purchased Microsoft Project license, you cannot work with MPP files. It's one of the main difficulties in the project-related work for large companies, their teams, and customers.
That's why you can try GanttPRO.
How to open an MPP file online
GanttPRO MPP Viewer is a free and easy-to-use tool for working with MPP files. The tool is available for any OS, even Mac, and all browsers. All you need is Internet access. You can open and view the MPP file online and start working with your plan following a few simple steps.
Two ways to open and start working with an MPP file
Option 1
Open

GanttPRO MPP Viewer

page.

Drag&drop or upload your document.

Press "Open in GanttPRO."

Create an account and enjoy browsing and editing your project.
Option 2
1. Visit the GanttPRO website and create an account.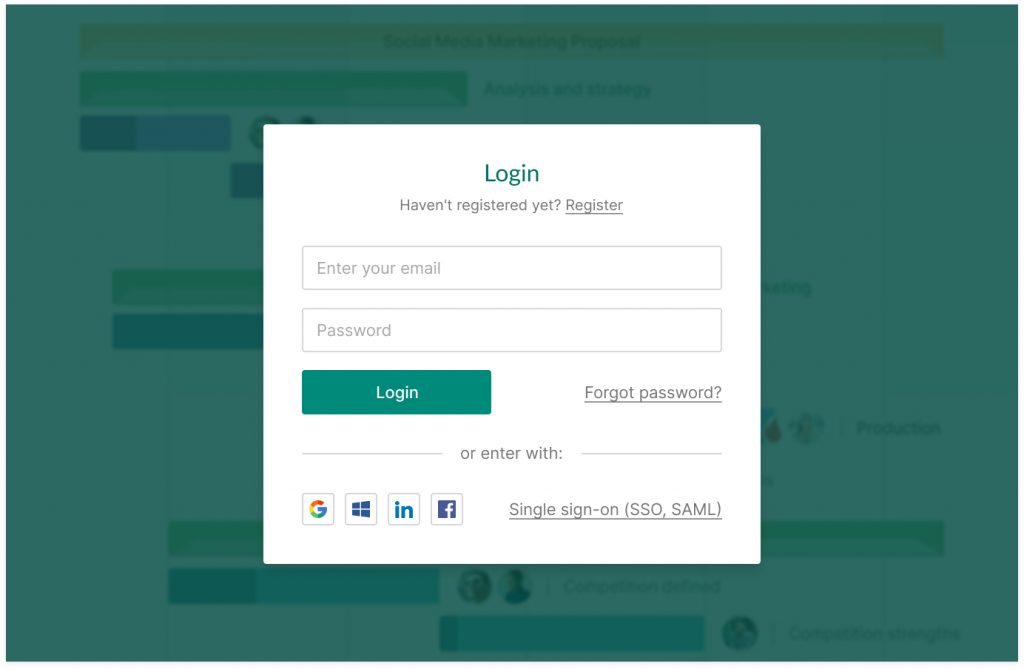 2. You're a GanttPRO user now. Click on the "+" sign in the white circle on the left dashboard and select the option "Create a new project."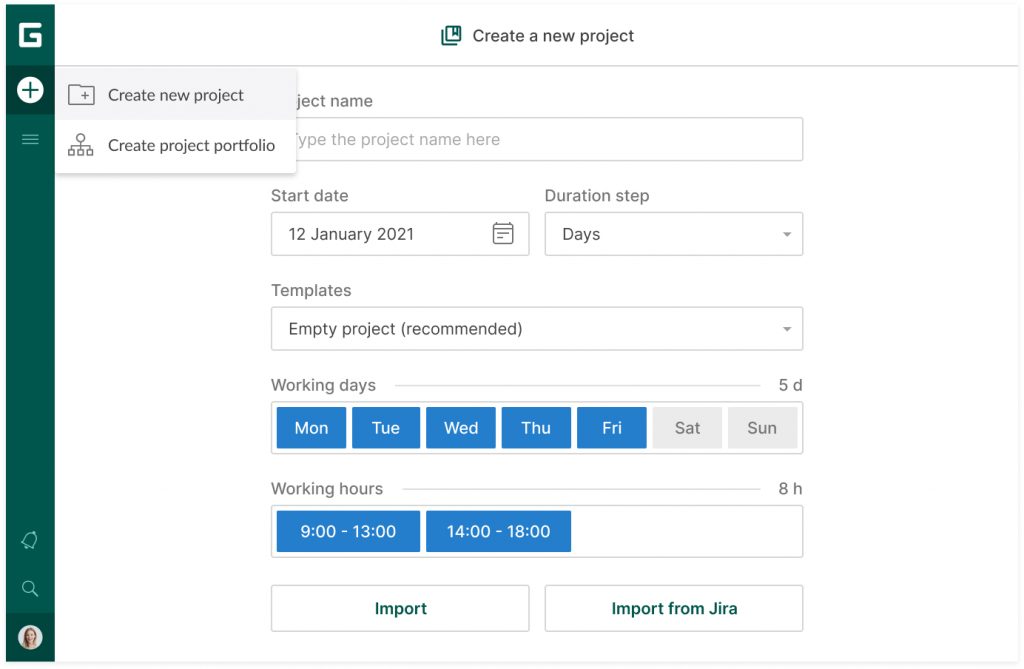 3. Then, name your project and press "Import my project".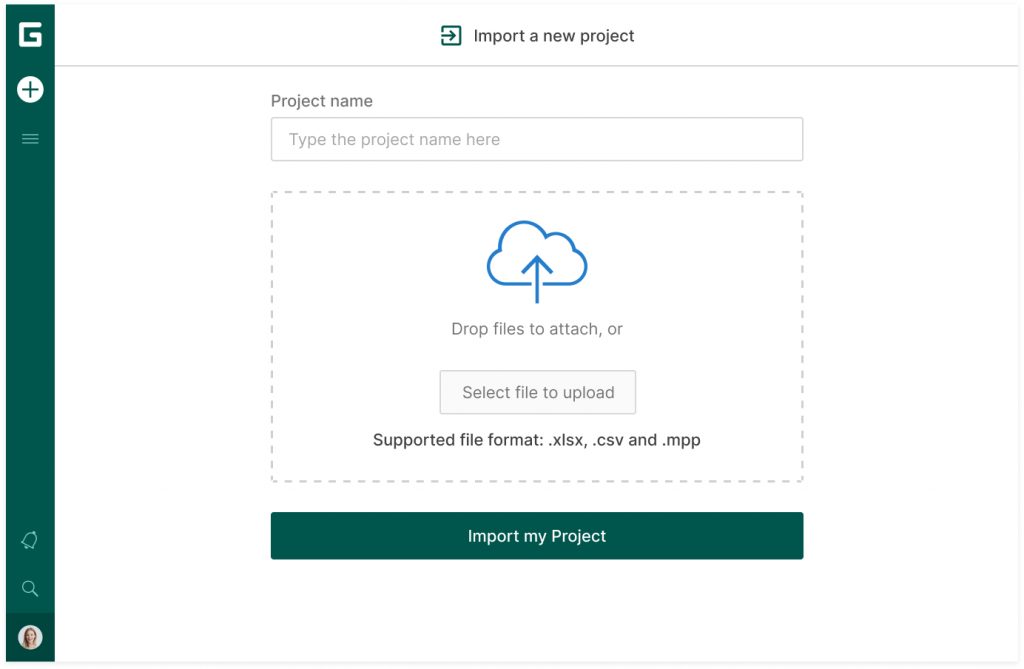 4. Upload the document from your PC or drag&drop the MPP file. GanttPRO supports Microsoft Project 2003, 2007, 2010, 2013, 2016, and 2019 file formats.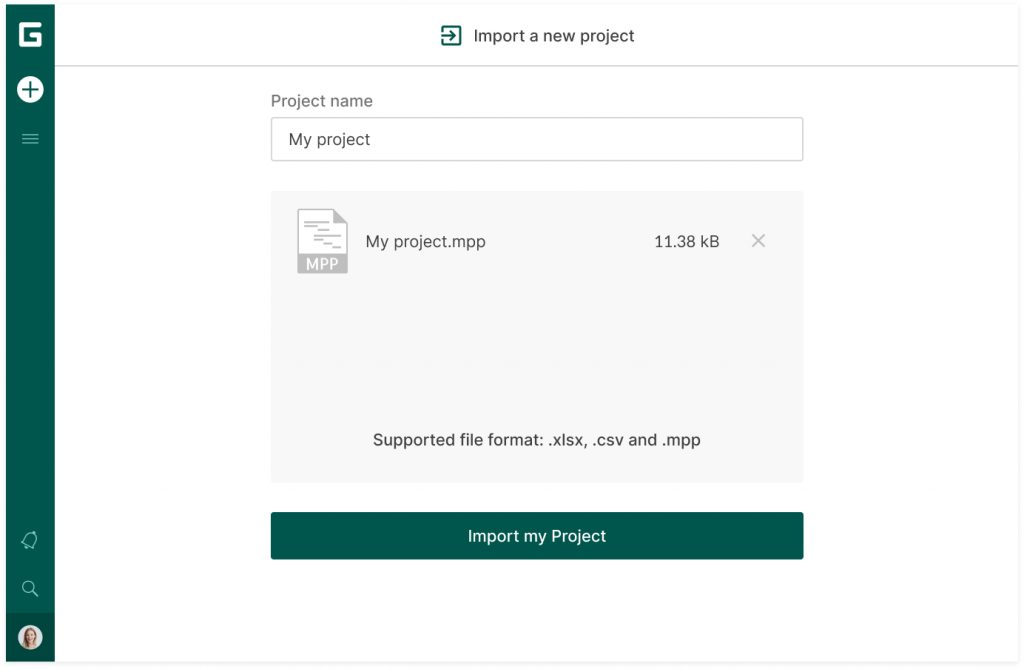 5. After you have uploaded the necessary document into the program, click "Import My Project."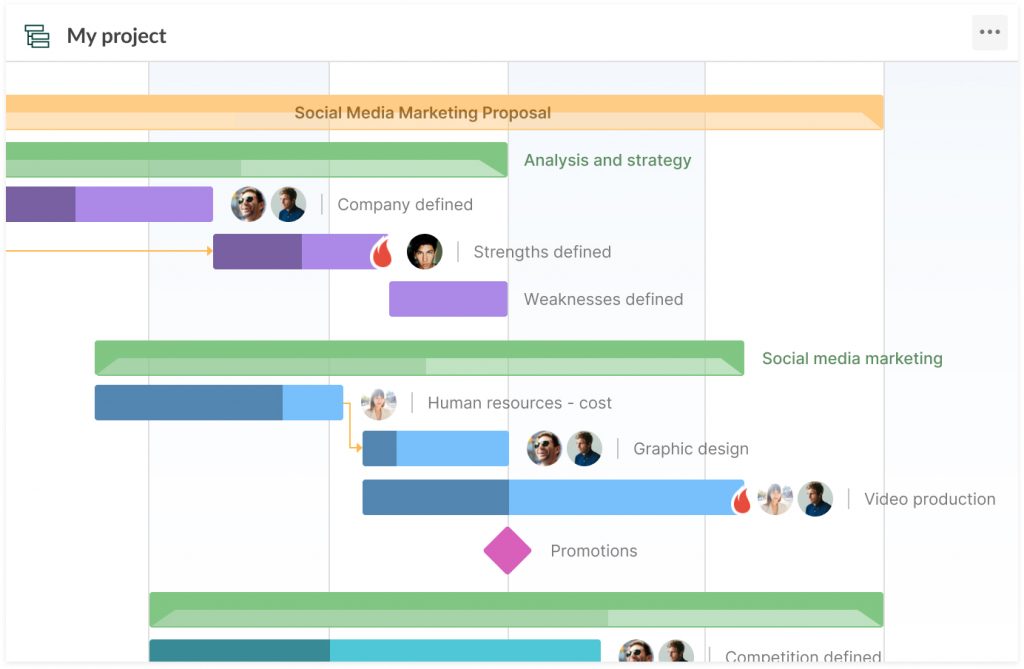 That's it! Just in a few clicks, you can open the MPP file online and start working on your project for free in other software.
See for yourself how GanttPRO's intuitive and friendly interface is easy to understand in a couple of minutes.
GanttPRO is online Gantt chart software with an intuitive interface for the project, portfolio, resource, and time management and team collaboration. It is an efficient solution to open .mpp files and work on them.
How to convert .mpp to a Gantt chart in other formats
In GanttPRO, you can convert mpp files online to other extensions. For that, click on the icon with three dots in the upper right corner and choose the "Export" option.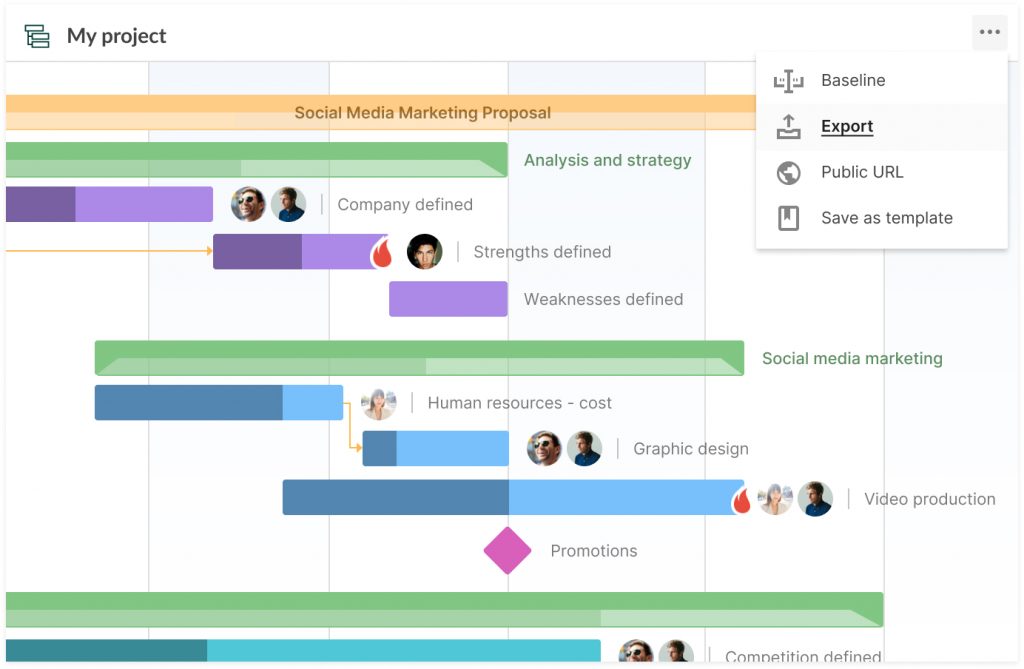 Next, in the drop-down list, select one of the four available formats:
Convert .mpp to pdf online.
Convert .mpp to xls online.
Convert .mpp to png online.
Convert .mpp to xml online.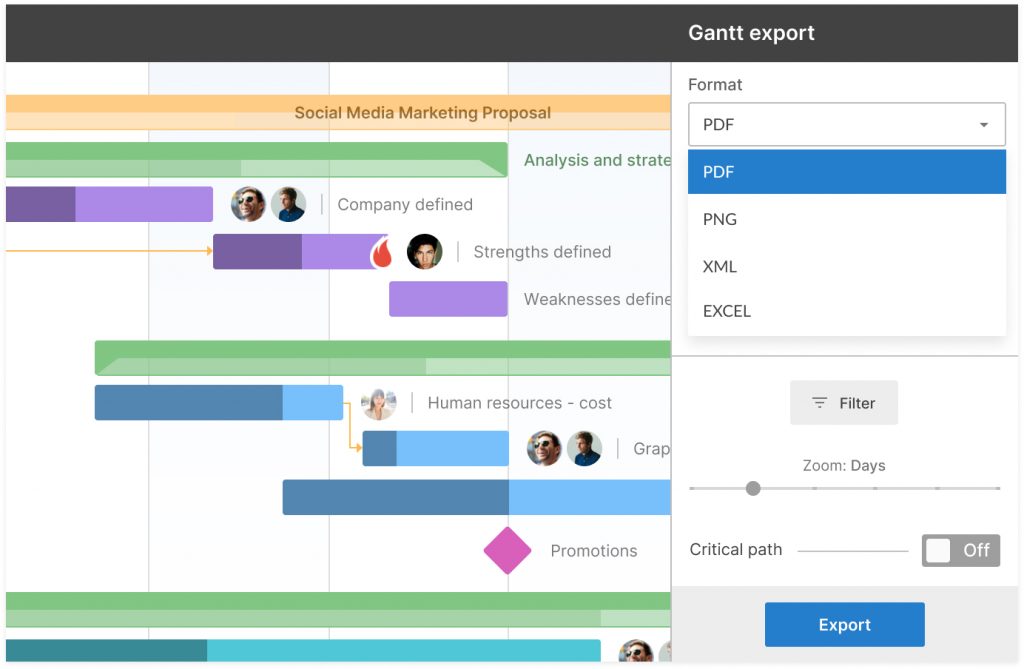 In a few moments, the file will be ready.
Import in GanttPRO and other software's features
One more GanttPRO's advantage is the ability to download and work online with files in different extensions. Except for .mpp, you can open and work with data in .xlsx, .csv, and JIRA Cloud formats.
Besides, while working with MPP files in the software, you can easily collaborate with your team. And this is not the only advantage of GanttPRO.
Benefits of working in GanttPRO
GanttPRO is a robust Microsoft Project alternative. It offers:
Free 14-day trial where you can test all the available features.
Cloud-based system based on Gantt charts.
Intuitive interface.
Import from mpp, xlsx, csv formats, and files from JIRA Cloud.
The Sharing feature.
Export in popular extensions such as PDF, PNG, XML, XLSX.
Robust resource management.
Ability to work in all OS, even Mac, and browsers.
With GanttPRO, you can easily open, view, and edit your MPP file and convert it to other formats. For this, you don't need Microsoft Project guide.
Do not just take our words and try the software for free!
If you want to learn more about all the benefits of GanttPRO and why this tool is considered one of the best alternatives to Microsoft Project, watch the following video.