Five-Star ClickUp Alternatives to Turn Project Management into a Dream Work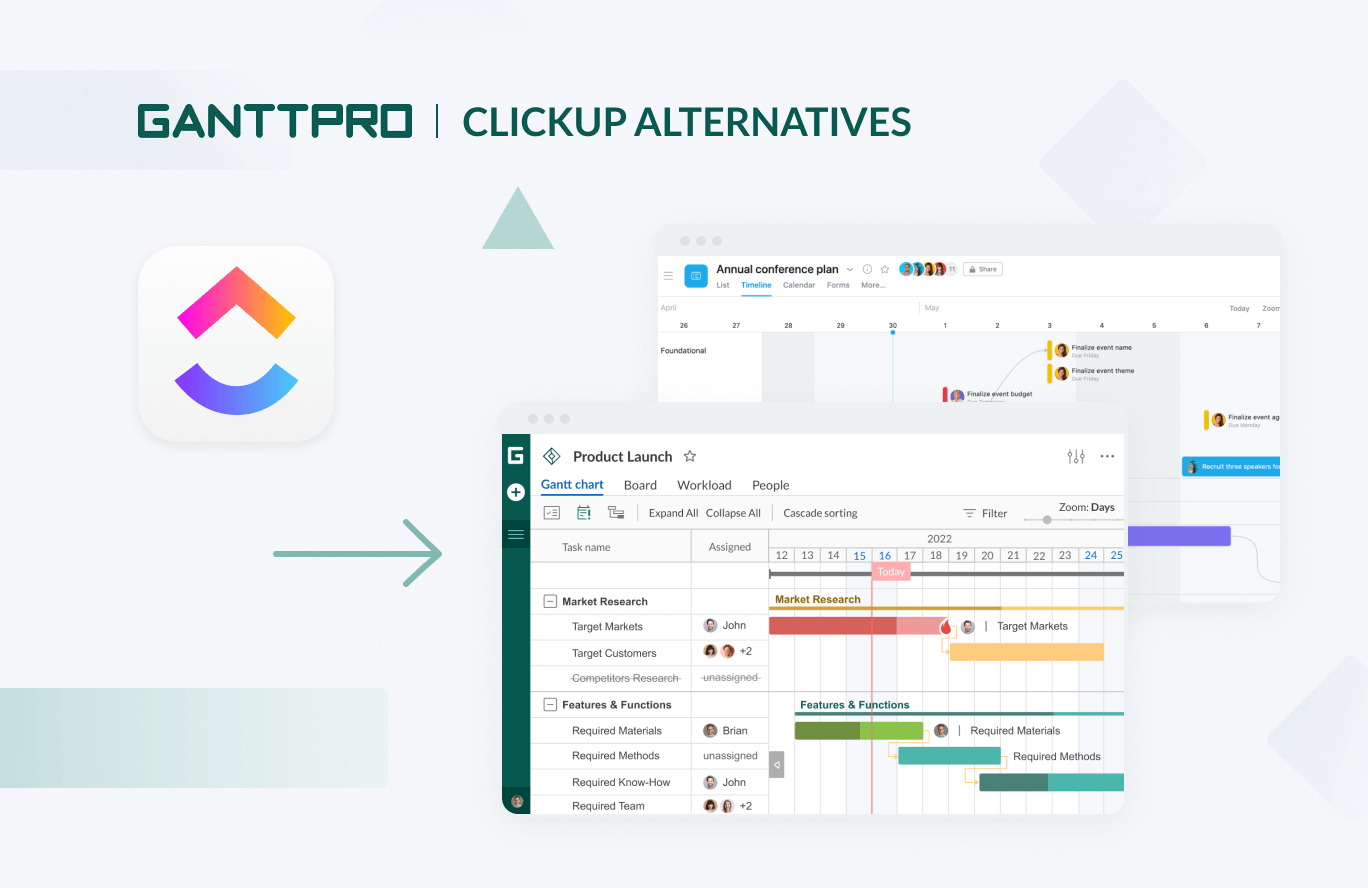 ClickUp is one of the most popular project management and collaboration software available today. The developers of the tool call it the "one app to replace them all" excluding the need for any ClickUp alternative.
Is ClickUp software free?
Yes, it is (but partially, as some features are paid). The tool provides many opportunities for advanced project management. However, it doesn't suit every business.
Of course, there is no ideal solution, as the requirements in teams may vary from project to project. But the truth is: when replacements are available on the market, there is no need to limit yourself to a particular tool.
What is ClickUp similar to? Is there an appropriate alternative with familiar features?
That's what this article is about.
Contents:
What is ClickUp used for?
According to the statistics (2022), ClickUp usage indicators as well as its overall popularity are growing from month to month.
Who needs ClickUp?
Teams of different sizes all over the world apply it to enhance their processes in the following directions:
Project management. The tool offers a simple task hierarchy clear to any project manager. The users can add multiple assignees, set task priorities, plan using a Gantt chart functionality, and perform many other things needed for successful project management.
Agile management. In ClickUp, you can use a Kanban/Scrum board that allows for customizing columns and arranging tasks by status, assignee, priority, tags, and due dates. It's also possible to add WIP (Work In Progress) limits, so your team doesn't flood their workload with too many tasks.
Sprint management. Breaking down any complex Agile project into multiple sprints is also possible in ClickUp.
Remote team management. The tool allows for giving precise feedback to any of your team, even when you're miles away from their desks. You can add comments directly on images and PDFs, record screens, and collaborate in other ways.
Marketing issues. In ClickUp, you can break down your goals into smaller targets. They can be used to monitor units like task lists, numbers, currency, etc. It's also easy here to create rich-text docs for your marketing plans, strategies, and reports.
Brainstorming sessions. Using mind maps supercharges the brainstorming process. ClickUp assists in connecting similar ideas to each other, so you can organize your thoughts with ease.
Why seek a ClickUp alternative?
Competitors don't stand still and offer new features and innovative upgrades.
Below are some essential reasons why users are increasingly looking towards ClickUp substitutes.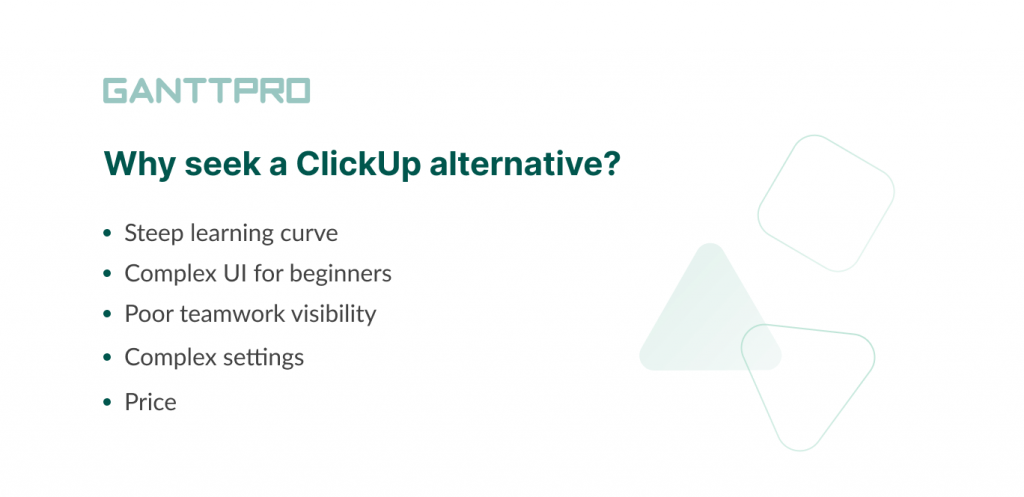 1. A steep learning curve
ClickUp is known for its steep learning curve, so the onboarding process needs to be improved. It'd be not easy for the newcomers who can likely get overwhelmed while figuring out its functionality.
2. Complex UI for biginners
The user interface is not the strongest link in ClickUp, therefore users often get confused and experience some difficulties. The UI needs to be improved since it is not clear and straightforward.
3. Poor teamwork visibility
ClickUp is great at managing simple task lists. However it lacks advanced visibility in key areas in one glance. This is especially important for large organizations that strive to find an appropriate enterprise level project management software.
4. Complex settings
Setting up ClickUp takes some time. It can be challenging for many people. It'd be great to get more guides and help documentation.
5. Price
It is unlikely that the tool with ideal pricing does exist. However, all tools should strive for maximum customer satisfaction.
ClickUp's free version is limited in functionality, while many PM tools offer more features at a lower price.
Keeping in mind these points, it's time to move on to explore available alternatives to ClickUp.
9 ClickUp alternatives and competitors worth your consideration
Obviously, the ClickUp creators have tried their best to combine as many project management and collaboration features as possible in one tool. They've actually succeeded a lot.
However, a large number of features doesn't mean the professional weight and focus on specific directions. So if you're choosing among the best planners for project managers, looking for an impactful task board, advanced team collaboration, or masterful prioritization, you'd better consider alternative software solutions that have proven themselves in their particular PM field.
Below we list some efficient and reliable platforms that you may use as ClickUp alternatives. Let's move on to explore them better.
1. GanttPRO – best ClickUp alternative in terms of project planning and management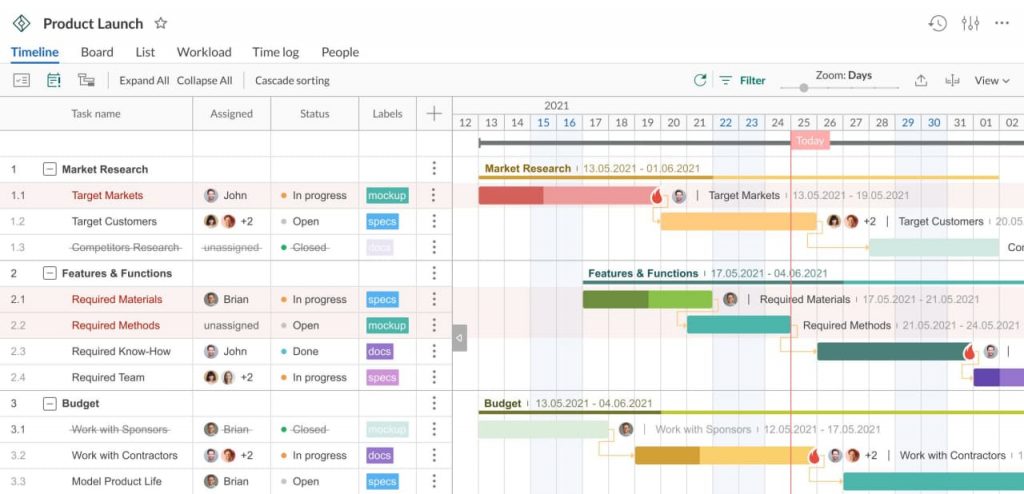 Basic: starts at $7.99 user/month (billed annually).
Pro: starts at $12.99 user/month (billed annually).
Business: starts at $19.99 user/month (billed annually).
Free trial: 14 days.

GanttPRO ranks among the top ClickUp alternatives, especially when it comes to professional planning and project management. The main strength of this tool lies in the convenient and functional Gantt chart, which makes GanttPRO a head and shoulders above many platforms.
ClickUp also provides a Gantt diagram, but GanttPRO elevates this functionality to a masterful level.
Deciding to make a transfer from ClickUp to GanttPRO, you will find many similarities. However, the professional Gantt chart maker is more functional and reliable. It allows for generating a visually appealing Gantt diagram in minutes and quickly realizing all Gantt chart advantages and disadvantages for your particular project.
The award-winning platform facilitates project scheduling and empowers teams from various industries to create and control unlimited projects and work with unlimited resources.
Here you can create online timelines for simple and complex projects, tracking their progress, organizing tasks and subtasks in a way you need. The tool allows for working with dates, dependencies, milestones, and baselines.
Among the most popular timeline and roadmap tools, GanttPRO also stands out for its intuitive interface, integrations, importing and exporting capabilities.
This ClickUp alternative allows for project importing from Excel, MS Project, and JIRA Cloud Software. You just need a couple of clicks to bring your projects from these tools and get powerful features and an intuitive interface in GanttPRO.

Timeline exporting is also available. Export and share your data with stakeholders using Excel, PDF, PNG, or XML formats.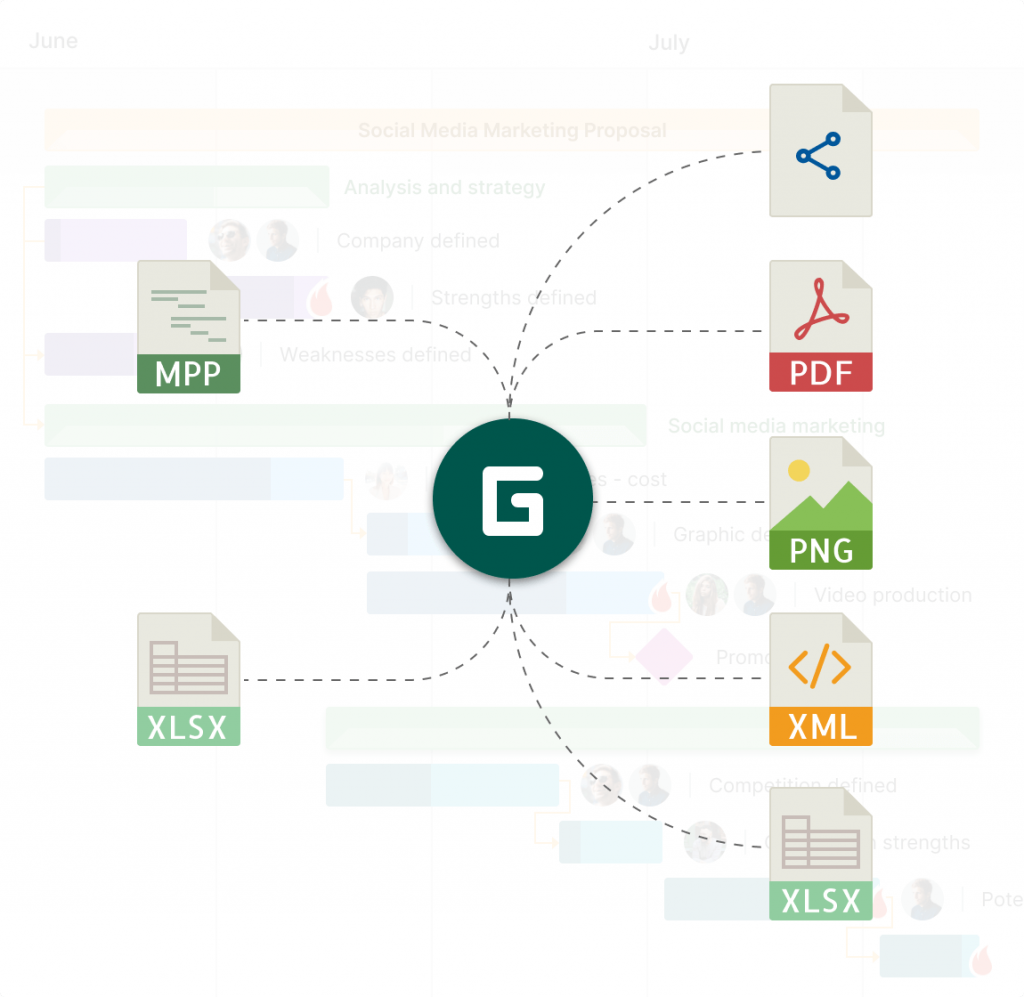 You can actually share your projects using a public URL feature, available in this tool.
GanttPRO is widely used in software development, construction, design, sales, marketing, events, and many more areas.
If you are new to working with PM diagrams and need a reliable Gantt chart example for project management, then you should start with ready-made roadmap templates and friendly roadmap examples in GanttPRO. They will help you onboard faster and get started quickly.
Most competitive features:
Project planning based on a Gantt chart.

Task management.

Resource management.

Time tracking.

Drag and drop functionality.

Team collaboration.

Notifications.

Export and import.

History of changes.

Friendly Gantt template for various cases.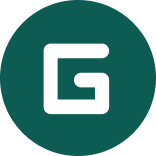 ClickUp alternative for project managers
Create an online Gantt chart in minutes.
Sign up for free
2. Google Sheets – best for those who need an advanced spreadsheet tool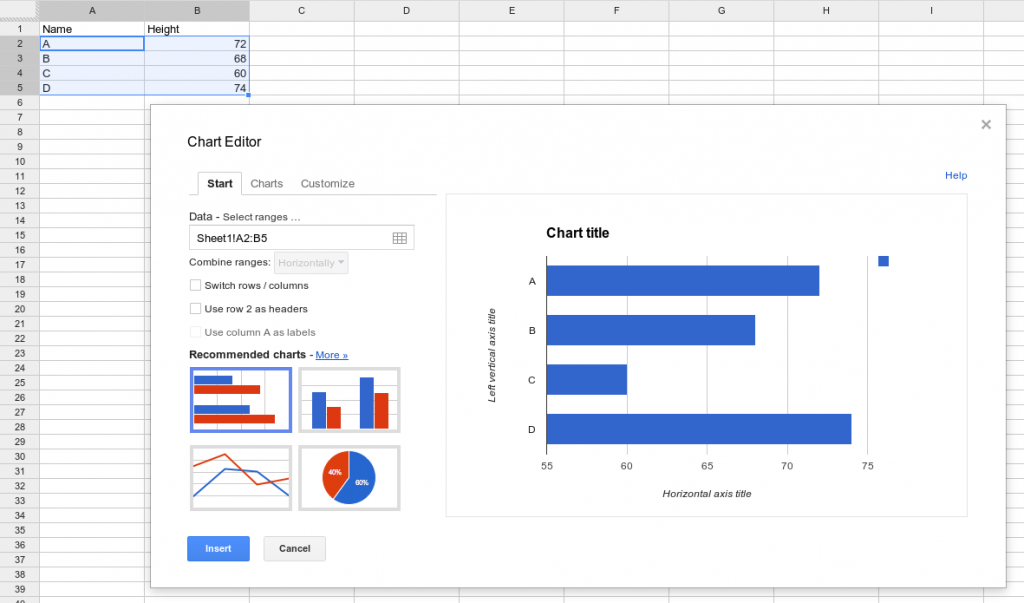 Basic: starts at $6 user/month (billed annually).
Business: starts at $12 user/month (billed annually).
Enterprise: starts at $25 user/month (billed annually).
Free trial and free version: available.

Google Sheets is a web-based platform that comes with your Google account for free.
Spreadsheets that you get when choosing this tool look great for absolute beginners and when ClickUp seems too intimidating.
Google Sheets offers robust built-in collaboration features, so cooperating with your team members shouldn't be a challenge.
Working with this alternative to ClickUp, you save all your data in Google Drive, so you don't have to worry about losing any chart or board. It can be run on Windows, macOS, and Linux systems.
Google Sheets allow multiple users to edit their docs at the same time, controlling what they're doing, being able to chat right in the document window. The tool comes with pre-designed templates that are friendly for presentations.
Most competitive features:
Professional multi-functional spreadsheet.

Spreadsheet editing and formatting.

Integration with Google products.

Compatibility.

Collaboration features.
3. Hive – best for compact projects and team optimization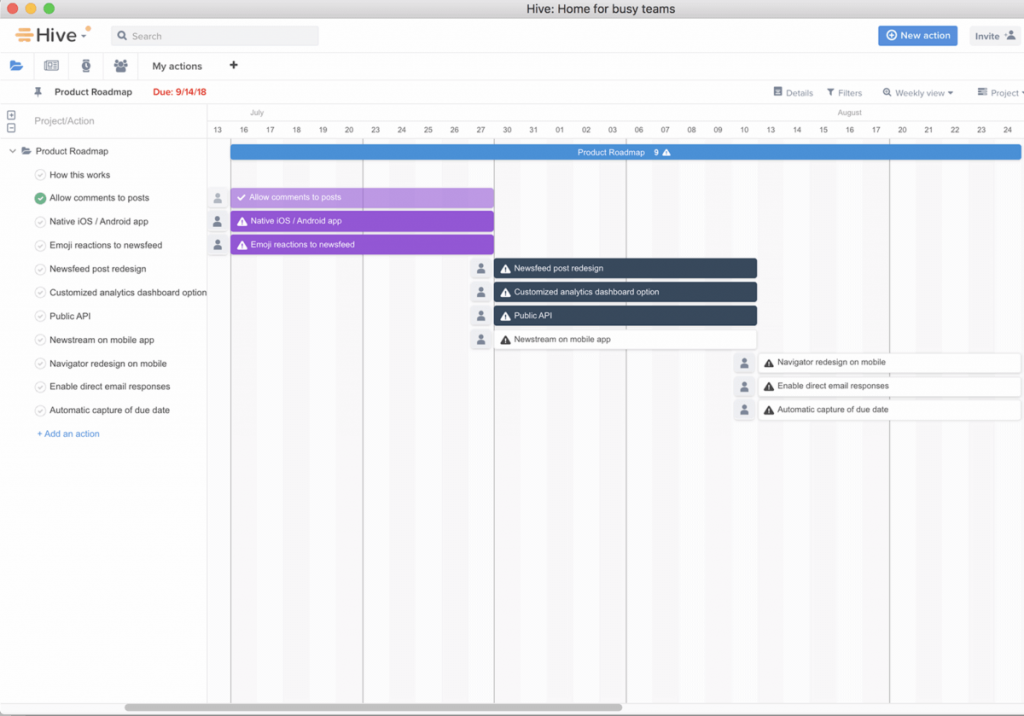 Teams: starts at $16 user/month (billed annually).
Free trial and free version: available.

Another representative of Click Up alternatives is Hive. This compact project management software looks great for teamwork and collaboration.
This tool provides you with a centralized workflow management system that can deliver you the exact information you need.
Businesses use it for task management, note taking, resource management, progress tracking, boosting workplace productivity, and more purposes. It is also suitable for those who want to increase the focus on the roadmap in project management.
Hive is more beneficial for teams as they can experience the full functionality of the app's productivity and collaboration features.
You also get customizable summary views and other professional features for managing various processes.
Most competitive features:
Automated workflow management.

Multiple project views (Gantt chart, Kanban board, Table view, Calendar).

Meeting autoscheduling.

Integrations.

Advanced team collaboration.
4. Asana – best alternative to ClickUp for beginners in project management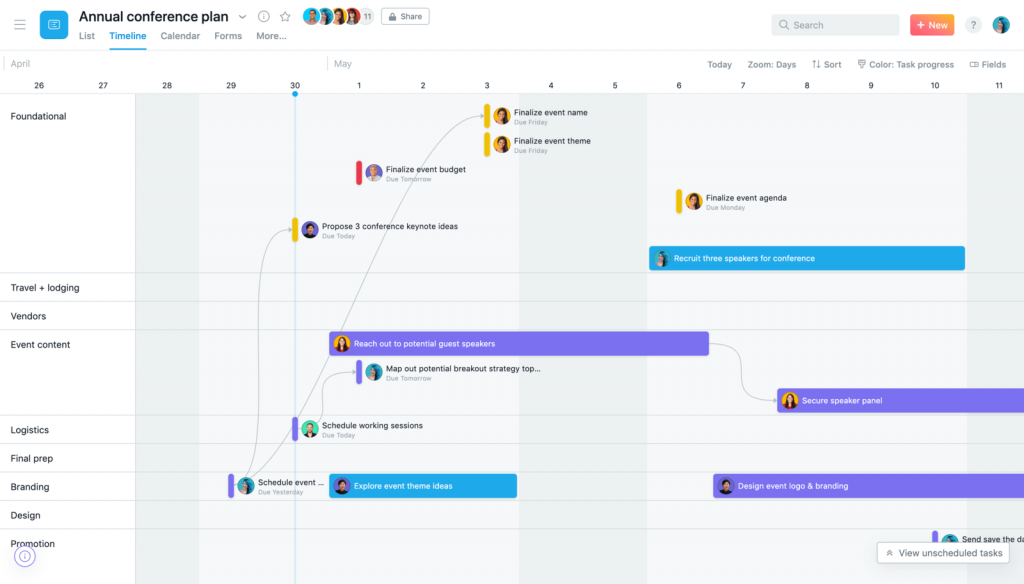 Premium: starts at $10,99 user/month (billed annually).
Business: starts at $24,99 user/month (billed annually).
Free trial and free version: available.

Is ClickUp similar to Asana?
Yes, it is. Both tools provide many features that empower project management in a professional manner. However, Asana seems better for the teams that are just getting started with project management.
Asana is mostly known for its task management and planning features. It also offers many additional opportunities like messaging, file sharing, reporting, etc.
The tool allows for tracking work against goals that is really helpful for macro-level planning and helps to provide a summary of work for the executive team.
Some users have an affinity to Asana's layout, as opposed to a bit overwhelming interface in ClickUp.
This effective alternative to ClickUp also offers a free forever plan for individuals and teams with up to 15 members. That's why the tool looks like a good choice for small businesses and startups.
Asana integrates with many tools like Gmail, Dropbox, and Slack.
Most competitive features:
Timelines and boards for visual project management.

Customizable dashboards.

Individual task lists.

Subtasks assignment.

Prioritization.

Custom calendar.

Notifications and reminders.
5. Trello – best Kanban-focused ClickUp alternative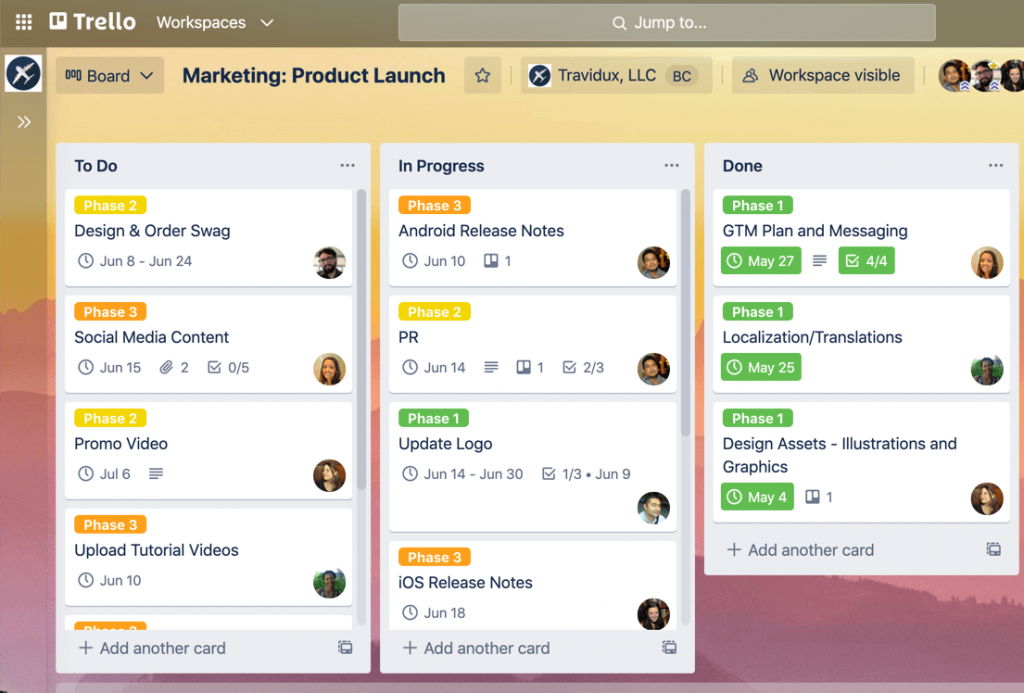 Standard: starts at $5 user/month (billed annually).
Premium: starts at $10 user/month (billed annually).
Enterprise: starts at $17.50 user/month (billed annually).
Free trial and free version: available.

Is Trello the same as ClickUp?
Not really, but the first tool has much in common with the second one.
Many people use Trello as it offers comfortable boards. This Kanban-style project management platform looks appropriate for managing short and lightweight projects.
This is an ideal solution for visual thinkers because it puts all the tasks in front of your eyes. Usually, team onboarding doesn't take more than a few hours.
Working inside Trello is like a breeze and pure enjoyment if you're a fan of Kanban. You just need to create different stages and move cards from one stage to another using the drag-and-drop feature. Kanban cards can have due dates, assignees, comments, mentions, attachments, and more.
The incredible ease of use makes this alternative to ClickUp a top-notch choice for freelancers managing to-do lists, startups, sales, and design teams, but not for large development teams with complex needs.
Most competitive features:
Easy-to-use interface.

Handy Kanban boards.

Time tracker.

Powerful search and filtering.

Integrations.

Calendar view.

Custom fields .
6. Notion – best ClickUp alternative for task management and documentation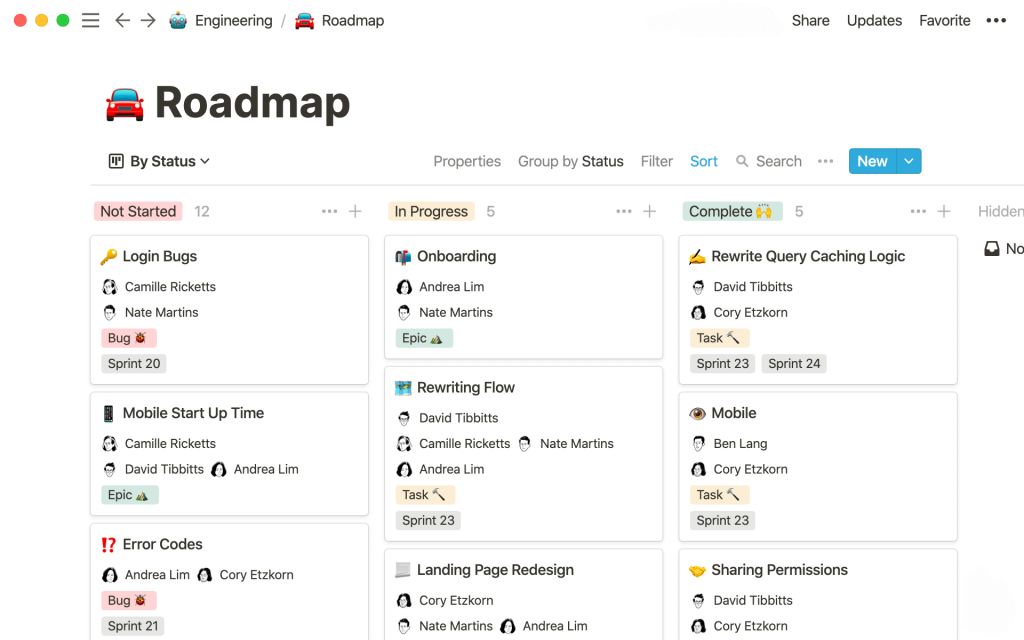 Personal Pro: starts at $4 user/month (billed annually).
Team: starts at $8 user/month (billed annually).
Free trial and free version: available.

When mentioning best ClickUp alternatives, Notion is a solution that has to be there as well.
This user-friendly software offers a load of features for various teams and individuals for streamlined collaboration on tasks. Notion lets you organize scattered projects so you can have a clear visualization of the progress of every task and activity.
Businesses use the tool to create to-do lists, brainstorm ideas, track work progress, and more. It is possible to categorize everything into folders for easy retrieval there.
You can easily generate shared documents with your team members through various integrations with platforms such as Google Drive, Google Calendar, and more.
Most competitive features:
Customizable database for different purposes.

Document storage.

Team collaboration.

Integrations with various tools.

Task prioritization.
7. Nifty – best team management solution for those who consider ClickUp too intimidating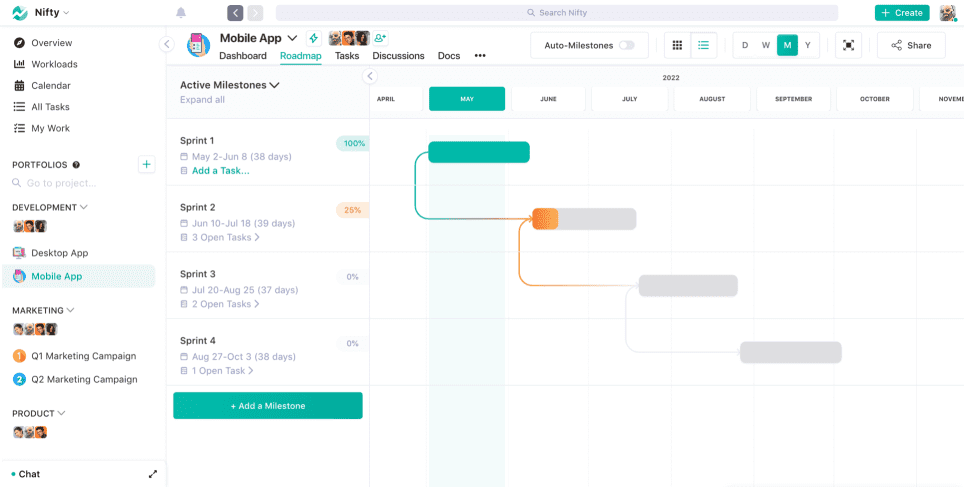 Starter: starts at $39 per 10 users/month (billed annually).
Pro: starts at $79 per 20 users/month (billed annually).
Business: starts at $124 per 50 users/month (billed annually).
Free trial and free version: available.

Nifty is a full-featured collaboration tool with lots of functionality.
This ClickUp substitution aligns teams, accelerates project cycles and automates progress reporting. The tool is designed to cater to all business sizes and types. It provides them with the benefits of a powerful project management solution and more.
Nifty allows for real-time collaboration for group discussions and one to one communication. You can use several notification methods to keep team members up to date with the current project status.
The platform offers handy task lists and Kanban boards. It will also help you if you are wondering how to create a roadmap for a project as it provides a Gantt chart view.
As a premium feature in the business plan, you get advanced time tracking. You can use it for accounting, billing, or workload management, depending on your business needs.
Most competitive features:
Different project views.

Team collaboration.

Swimlanes.

Built-in time tracking.

Wiki capabilities for storage of the company data.
8. Any.do – best replacement to ClickUp for Android users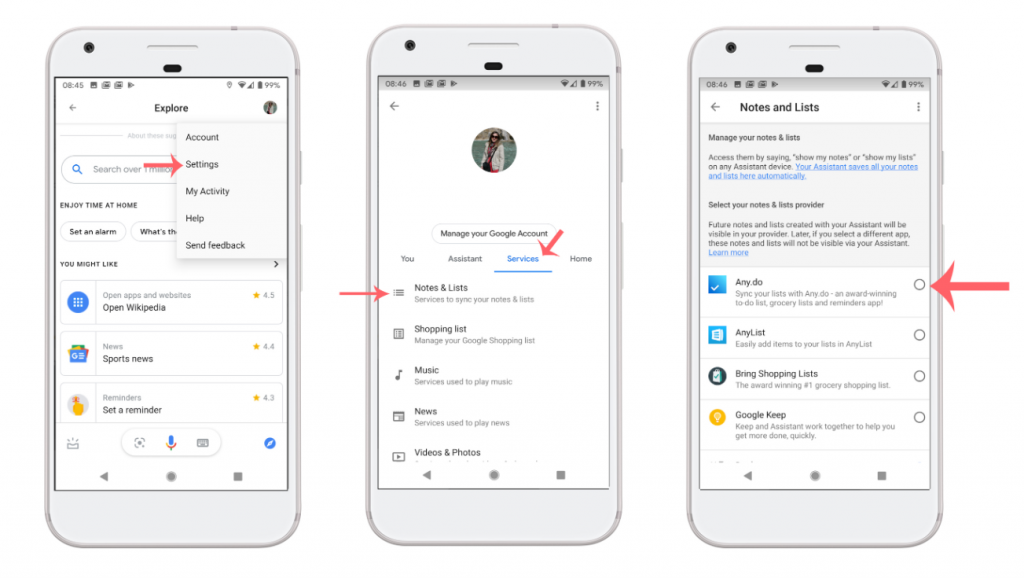 Basic: starts at $2.99 user/month (billed annually).
Free trial and free version: available.

Any.do is a productivity tool aimed at task management. It is available on web and mobile, and its Android version is widely used among the teams that need powerful calendars and virtual assistants.
This handy alternative to ClickUp organizes tasks into lists. They are general enough to cover most bases and they'll be enough to get you started. But when you create tasks, organizing them into smaller groups will make it easier to find the tasks you need to complete them.
Any.do's simple design makes it attractive for users who prefer easy-to-use tools. However, although the platform is good as a general task management solution, it lacks features that are required when working on more complex projects.
Most competitive features:
Simple to-do lists.

Tasks and subtasks.

Handy calendar.

Schedule control.

Seamless integration.

Alerts/notifications.

Reminder system.

Time tracking.
9. TickTick – best for straightforward task management on iPhone devices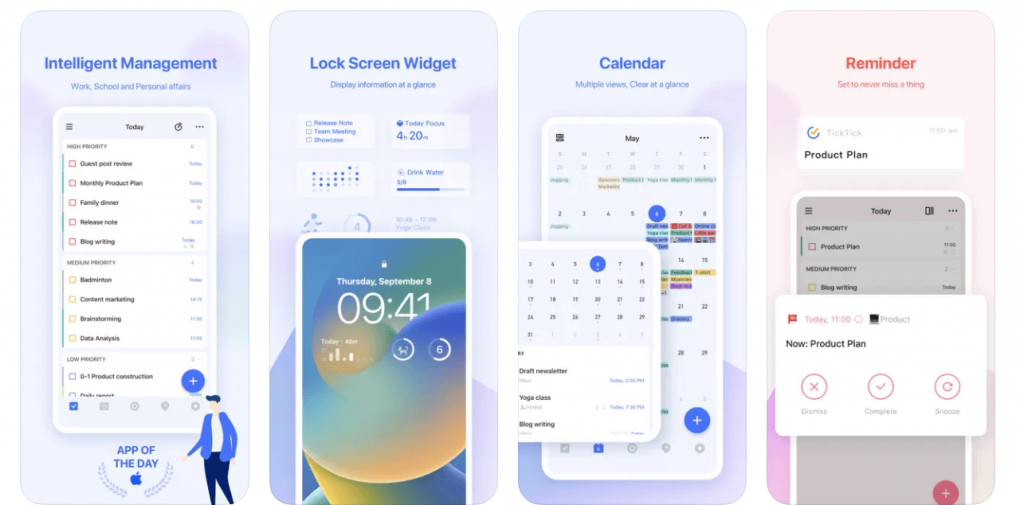 Basic: starts at $2.99 user/month (billed annually).
Free trial and free version: available.

TickTick is one of the simplest Click Up alternatives yet it looks suitable for iPhone users.
This task management tool offers surprising flexibility and ease of use, placing it among the other solutions in our list. 
If you're not sure whether you need the multi-featured PM software or just a simple task manager, then TickTick may be a right choice. It straddles the line between task control and project management, and does so at a good price. 
The app is typically used among freelancers or small teams that want to keep on top of tasks without too much of a learning curve.
Most competitive features:
Simple task management.

To-do lists.

Calendar management.

Kanban view.

Alerts/notifications.

Commenting/notes.

Drag and drop functionality.

Task prioritization.
Have you already chosen your best option among the proposed ClickUp alternatives? If not, you can find even more free tools and open source solutions below.
ClickUp free alternatives
Users often look for free ClickUp alternatives. This happens because they feel uncertainty before switching to a new paid software solution. People want to test free features and then decide how to act next.
Explore the below set of some popular ClickUp free alternatives:
Open source alternatives to ClickUp
An open source alternative to ClickUp is what many users are also looking for. Such solutions make work on projects easy with no need to care about associated costs or licensing fees. 
Here're some of them:
Find your best ClickUp alternatives and empower your project management efforts
All ClickUp alternatives mentioned above may provide you with all those things that ClickUp doesn't: minimal learning curve, ease of usage, advanced features, and affordable price.
Make the right choice and get the best out of your teamwork without overwhelming it.
Additionally, you can explore more alternatives and comparison of tools in the following articles: