7 Resource Management Tools to Make Allocating Processes Smoother [+Free and Open Source Software]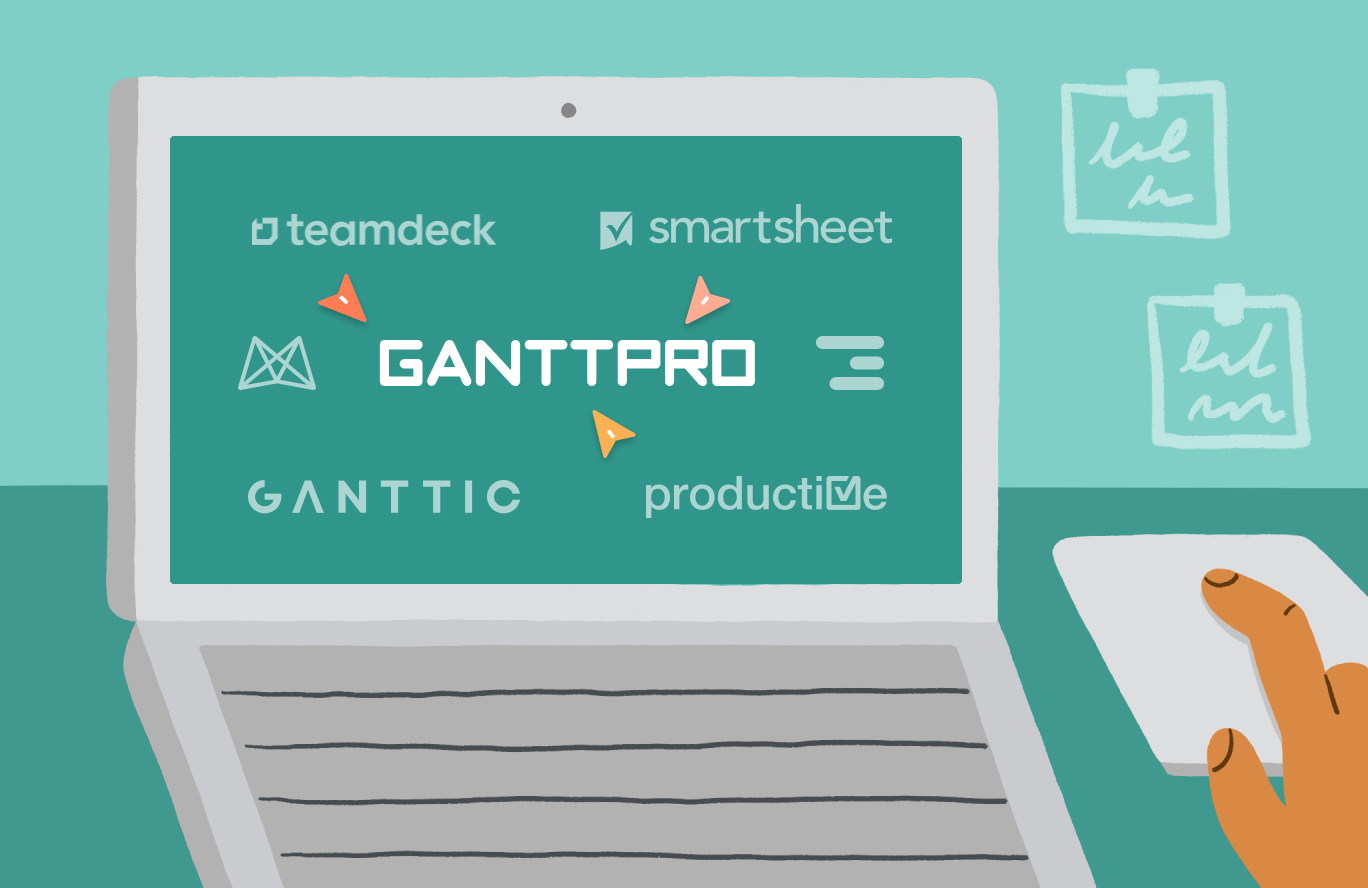 Audio version:
You can hardly overestimate the need to use resource management tools. According to Wellington's survey (2020), respondents call poor resource administration one of their organization's most significant project management (PM) challenges. It goes third right after attempting to run too many projects and incompetent managers.
Meanwhile, almost 60% of managers run two to five projects, 15% work on only one, 15% of PMs run more than 10 plans, and 11% take on six to 10 of them.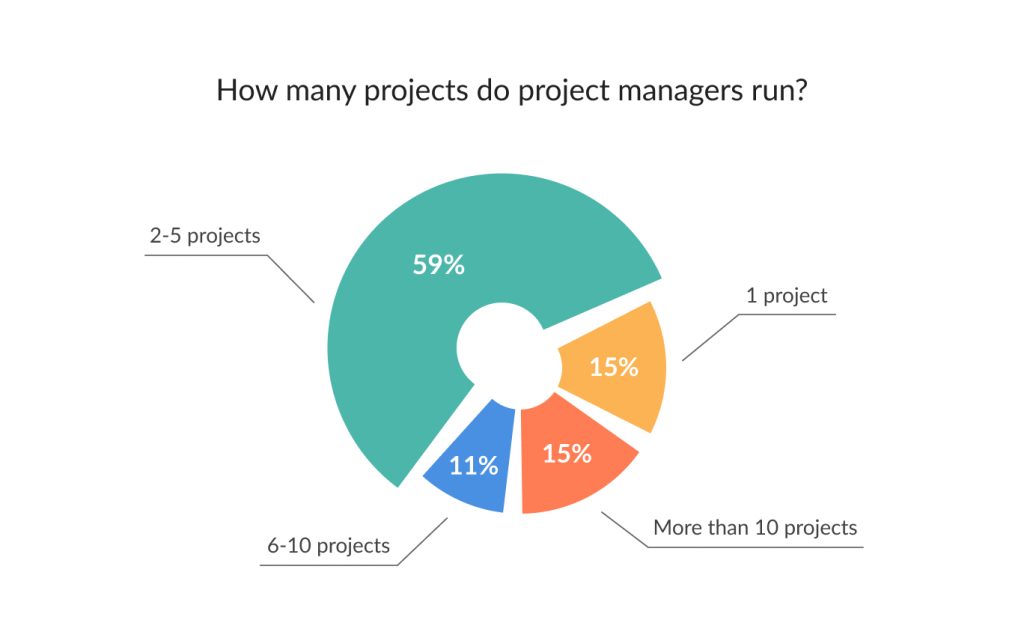 Impressive numbers, aren't they? And we can only imagine how many resources are involved in each project. That's why the importance of resource management systems is getting higher with such a work scope.
This article will tell you what resource management is, why it matters, and how the right resource management software facilitates the workflow in a company.
Contents
What is resource management?
Resource management is the process of planning, aligning, and allocating all available resources in the most effective and profitable way.
In other words, it is all about doing more and better using fewer resources. By last ones, we mean everything you need to complete your plan successfully and on time. They can be:
Employees.

Contractors.

Special equipment or machinery.

Working premises.

Stationery,

and, of course, money.
Also, resource management includes three techniques:
Why is resource management important in project management?
Resource administration is an essential part of the PM processes. Done correctly, it allows to avoid risks and overallocation, meet business objectives, and adapt to possible changes.
For these purposes, different companies and corporations around the world hire certain specialists — resource managers. Their main objective is to properly allocate resources to get the most out of them by paying the minimum.
Resource management helps:
Forecast and avoid possible hiccups and difficulties, troubleshoot scarcity of workers, materials, money, etc.

Prevent burnout.

Make workflow among different teams and departments more transparent.

Finish tasks and plans promptly.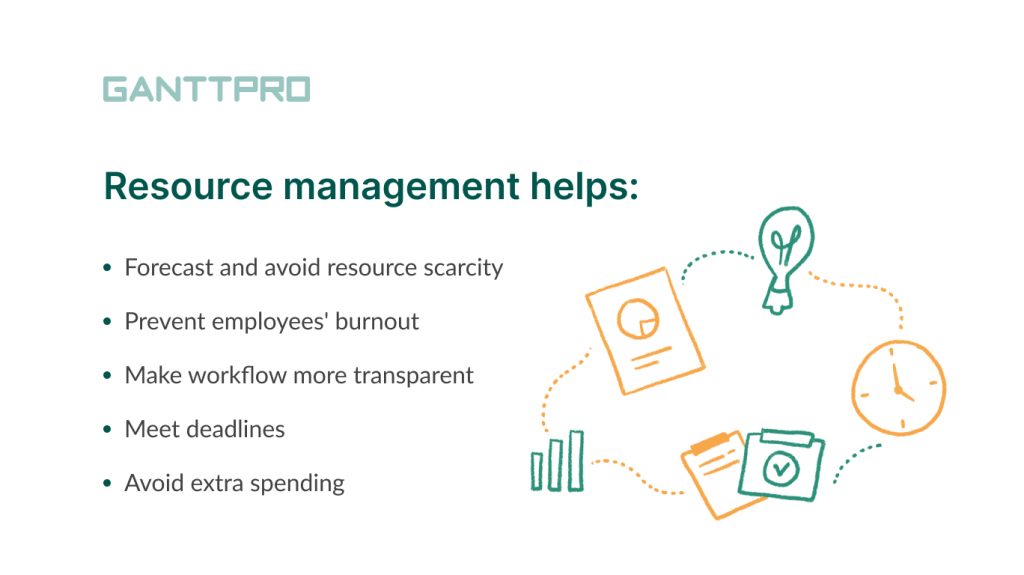 What are resource management tools?
The more projects you run, the more resources you need to manage. In this case, the designed software comes in handy. With it, you can organize a large amount of data and store it in one place, always have the information at hand, plan and allocate resources as efficiently as possible.
With resource management software, you can:
Create a realistic plan.

Forecast potential pitfalls.

Manage workload properly.

Utilize resources with maximal efficiency.

Avoid overworking or staying idle.

Solve staff conflicts.

Hire new employees in advance.

Predict capacity.
How to choose resource management software? Assess your needs, define the most critical features and available budget. Maybe, you will like one of the solutions we offer below.
Best resource management tools
Here are 7 robust resource management software that aims to facilitate and improve your workflow. Also, we have compiled lists of free and open source tools for beginners and professionals. Enjoy!
1. GanttPRO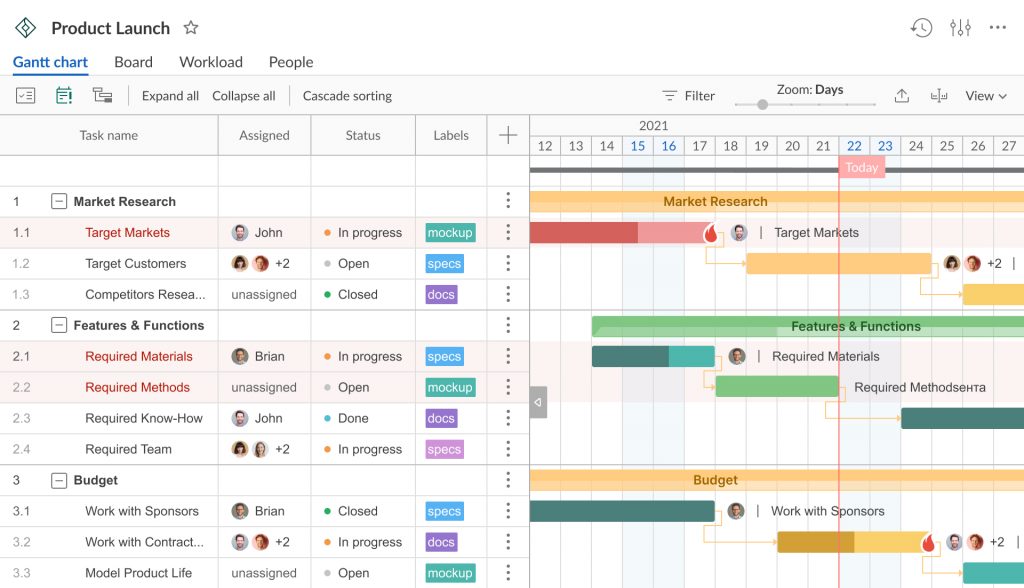 Free trial: 14 days.
Basic: starts at $7.99 user/month (billed annually).
Pro: starts at $12.99 user/month (billed annually).
Business: starts at $19.99 user/month (billed annually).

GanttPRO is an online Gantt chart software for project planning. With this platform, you can easily create projects, tasks, assign people to them, and see the whole picture of the workflow at any time.
The software provides robust team collaboration and workload administration. Using GanttPRO, you can leave comments, attach files, mention people, and add descriptions to tasks. Also, you can share your plan via URL even with unregistered users.
The workload of project participants is always available right under the chart. There, you can see how many hours your colleagues spend on work and how many plans they are busy with.
In addition, this cloud-based solution allows users to see a complete workload picture. You can find all information about virtual and real resources in a separate window: their working hours, personal calendars, and projects they are involved in. If the red human icon appears near the assignee, it means that they are overloaded.
You can use GanttPRO for software development, marketing, sales, HR, and other needs. It's also excelled itself as the robust construction resource scheduling software.
Key features:
Online notifications.

Reports.

Time tracking.

Kanban boards.

Workload administration.

Ready-made templates.

Integrations with Slack, Jira.

Progress tracking.

Export in popular formats.

Free MPP viewer.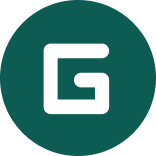 Powerful resource management tool
Manage resources, administrate workload, collaborate with a team.
Sign up for free
2. Float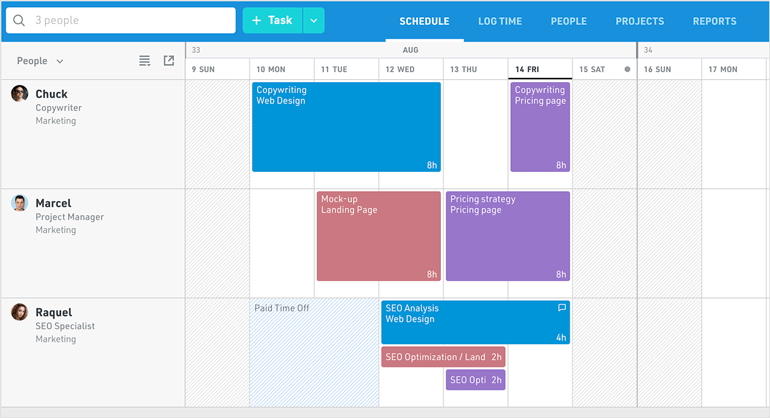 Pricing: from $6 per user per month, billed annually.

Float is a robust platform for capacity planning, time tracking, and reporting. Using it, you can easily assign, replace, or reschedule tasks using drag&drop in real time. All changes will appear in your team's activity feed so that everyone will be in the loop.
You can label tasks as tentative or finished, set hours, duration, and name to them. If you need to find something, the robust search feature will be helpful. Just start typing the keyword and filter by people, projects, tags, department, and others.
Also, with the solution, it is simple to set roles and access levels to project participants. To keep track of the plan's progress, compare the schedule with the team's logged hours.
Key features:
Capacity control.

Mobile access.

Time tracking.

Search/Filter.

Employee activity monitoring.

Vacation tracking.

Dashboard.

Automated scheduling.
3. Productive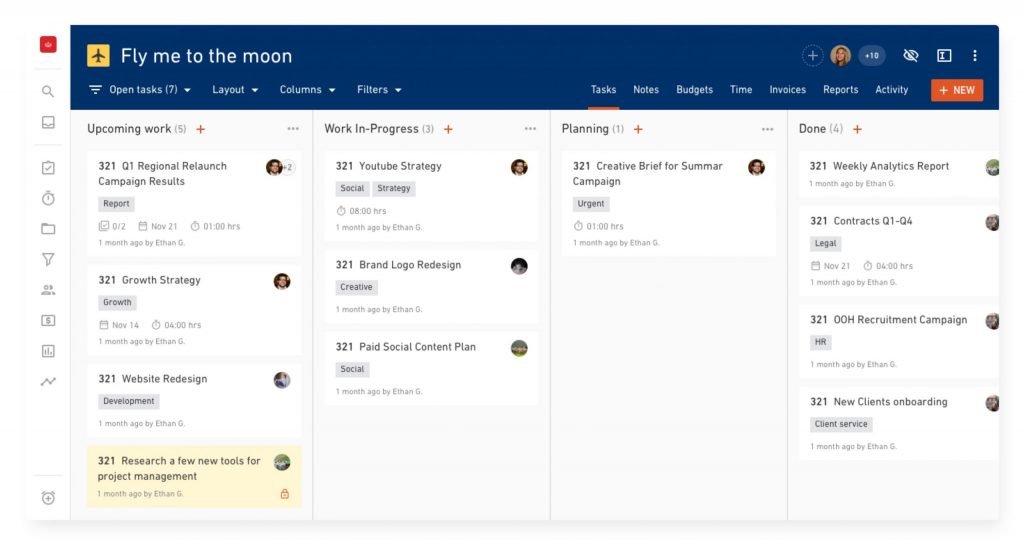 Pricing: from $12.5 per user per month, billed annually.

Productive software suits most marketing agencies, design studios, or development shops looking for a robust resource and project administration platform.
This agency-focused tool has a simple and intuitive interface. It helps teams be more effective, stay on time, and do not exceed a budget. It allows to monitor profitability, forecast risks, and analyze projects and tasks.
You can set projects at a fixed or hourly price or even mix them up. Also, the platform allows you to track every employee's salary and their costs for the work they have done. Detailed reports will help you to store all information about the team's profitability.
A simple time tracker lets you collaborate on tasks and track time. API provides integrations with other valuable and functional applications.
Key features:
Time tracking.

Budget control.

Forecasting.

Expense tracking.

Drag&drop.

File sharing.

Kanban board.

CRM.
4. 10,000ft by Smartsheet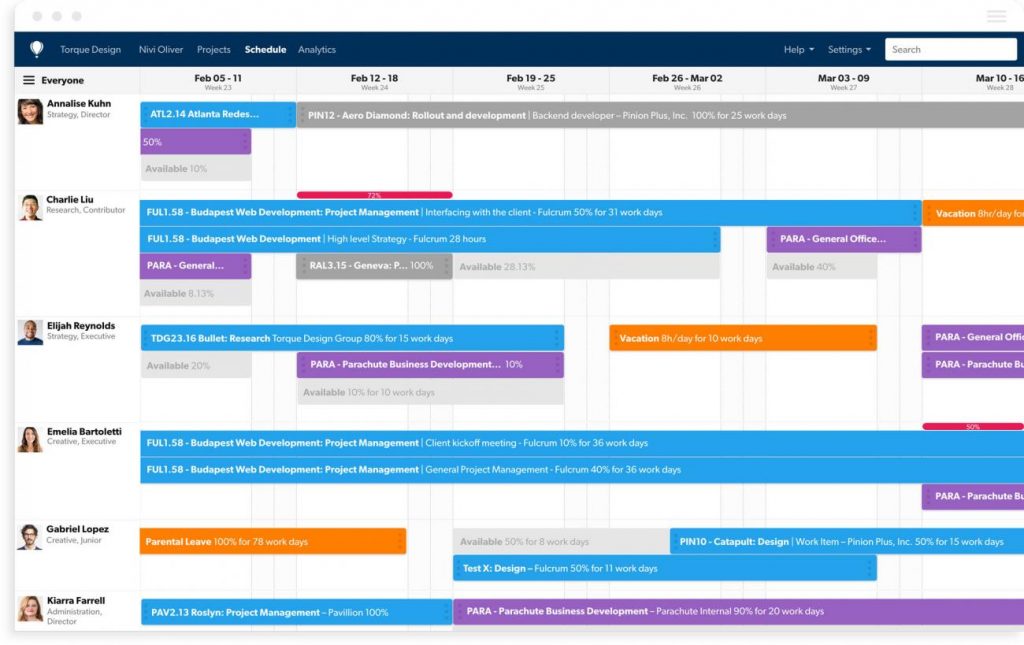 The 10,000ft tool helps make decisions about team capacity and utilization, project planning, and budget forecasting in real time.
This solution suits dynamic companies that manage multiple people and projects. Also, it will be especially suitable for those who use Smartsheet. It will allow different kinds of managers to connect their resourcing plans with project plans without any effort.
The system allows you to track multiple projects, forecast some risks, and see who is overworked or still has enough time for more tasks. It resolves staffing conflicts and improves your team's climate.
Key features:
Capacity control.

Employee database.

Contractor administration.

Reporting.

Vacation tracking.

Drag&drop.

Search/Filter.
5. Mavenlink
Pricing: not provided by the vendor.

Mavenlink is an enterprise resource management tool that provides a bunch of features valuable for workflow control. It is a good solution for mid-sized organizations to forecast employees', materials, or money availability, manage workload and allocations across the company in real time.
You can easily view the overall picture of multiple plans and always keep resources balanced. The transparency of the workflow ensures everyone will be on track and 24/7 updated about every change.
Also, Mavenlink comes with robust planning and administration processes. With it, you can distribute tasks, create dependencies, share files, and design powerful, customizable reports.
Key features:
Integration with Salesforce.

CRM.

Customizable calendars.

Activity tracking.

Portfolio administration.

Kanban board.
6. Teamdeck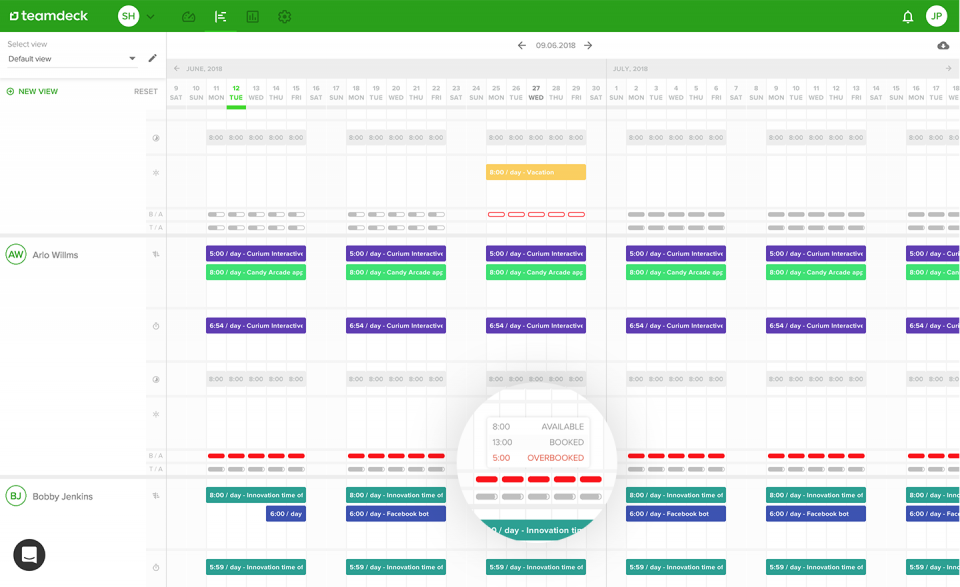 Pricing: $3.60 per team member/month. The system is free for up to 2 members. Additionally: $1 per basic resource/month.

Teamdeck is a complete solution for project managers, sales and marketing teams, developers, and freelancers. It allows you to plan accordingly, forecast and allocate available assignees, track time, and manage the work schedule.
The software helps managers organize teams with less effort. An understandable calendar view allows you to find relevant employees, check their availability, and assign them to a project at a glance.
Teamdeck ensures total workload control as well as effective assignees, materials, and money planning and leveling.
Key features:
Team utilization report.

Time tracking.

Workload control.

Customizable calendars.

Collaboration apps.

Search/filter.
7. Ganttic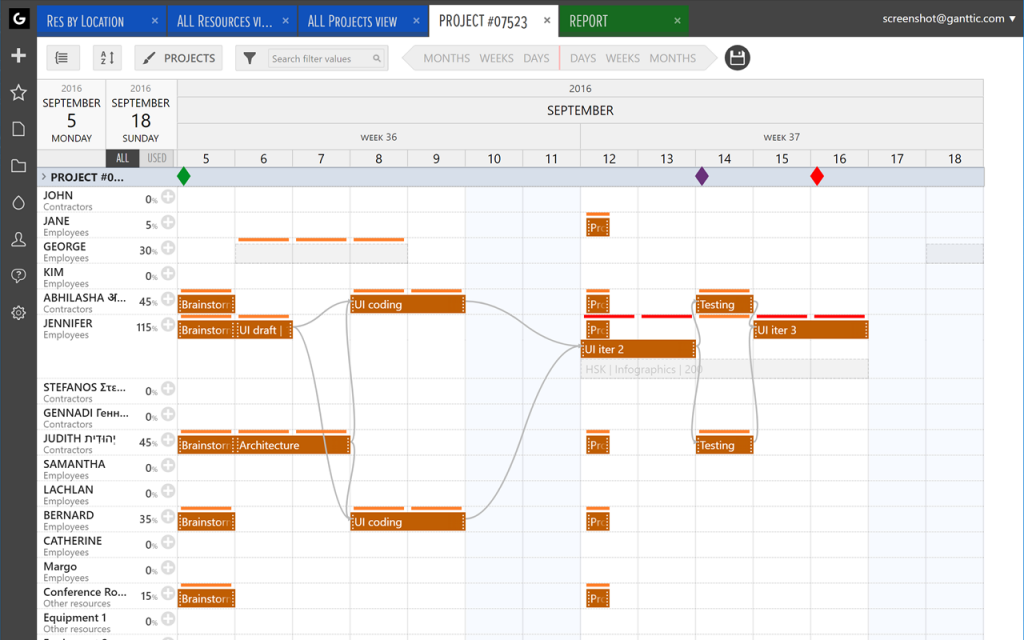 Pricing: $25 and lower per user per year. The software is free for up to 10 members.

Ganttic is a resource scheduling tool designed to plan projects and allocate assignees. It gives a high-level overview of your workflow with the help of a Gantt chart, Kanban board, report, list, and chart view.
The ability to track progress and time as well as create automatic reports and boards increases your team transparency and ensures the best assignees' utilization. 
Also, it is easy to share reports and schedules with your team and others: clients, stakeholders, and everyone involved in the project. Moreover, it is possible to make plans more secure. You can always define who is able to see and edit them.
Key features:
Utilization reporting.

Capacity control.

Reporting.

Online notifications.

Task administration.

Time tracking.
Free resource management tools
These free tools give you the opportunity to test their interface for free at any time. However, it is worth noting that their functionality is usually limited.
Open source resource management tools
Here is the list of open source solutions for managers of various professional areas.
Conclusion
Resource management tools are vital for a robust workflow and smooth team collaboration. They facilitate the planning phase, workload administration and ensures everyone keeps abreast of the latest changes and updates.
And what is your favorite resource management software? Please, share your experience in the comments below.

This content is licensed by