Best Construction Scheduling Software in 2023 [Including Online, Free, Open Source, and Mac-focused Solutions]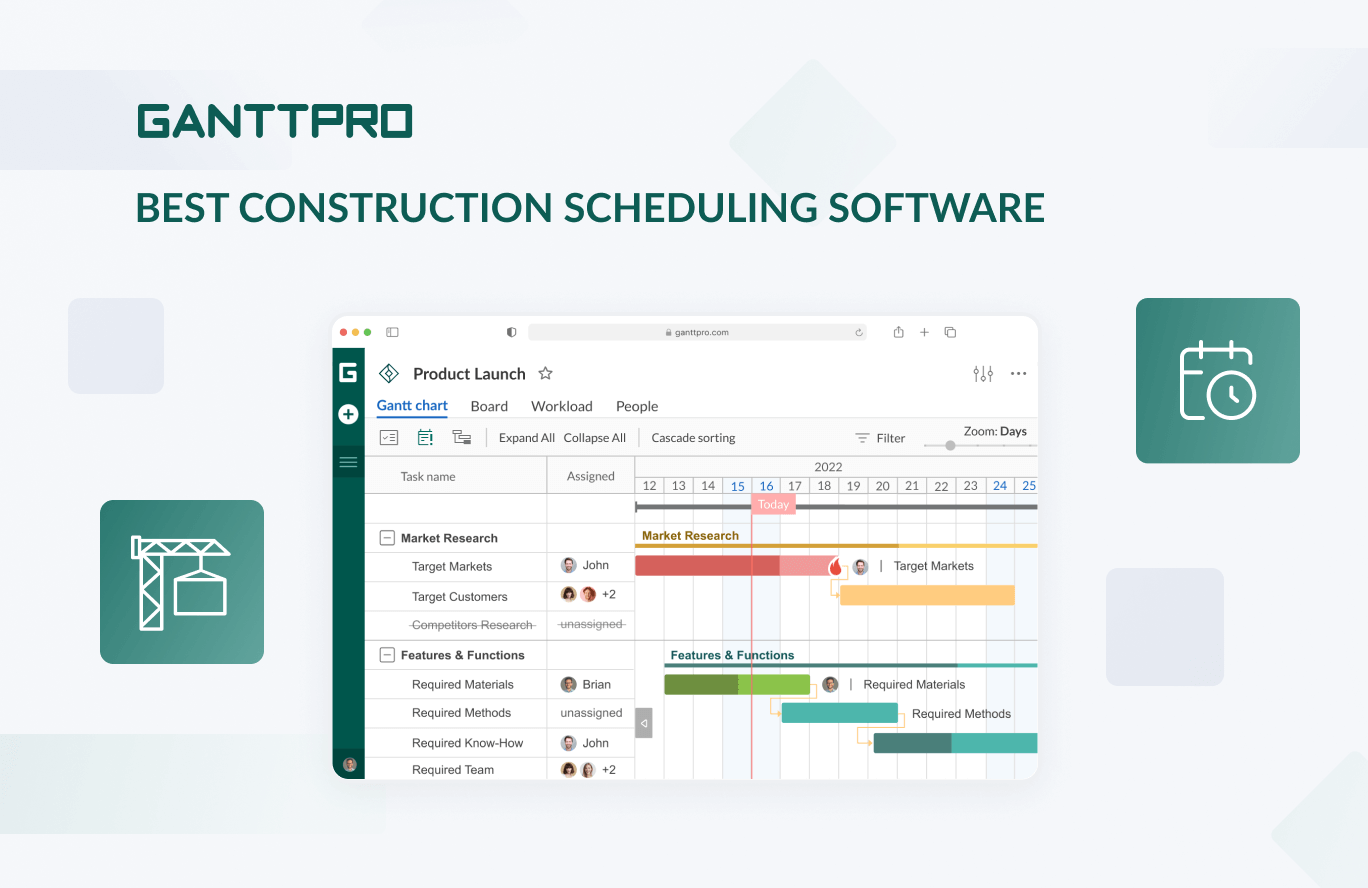 Audio version:
Construction scheduling software helps to deal with big, complex, and often unruly projects. It assists in planning activities, managing multiple teams, regulatory issues, equipment rentals, safety concerns, and more.
Why is it important?
According to the Global Forecast for Construction to 2030 composed by Marsh and Guy Carpenter and written with Oxford Economics (2021), global construction is expected to grow 35% in the next 10 years. This is the fertile ground for the development of scheduling tools for this industry, isn't it?
There are amazing paid and free construction scheduling software solutions that we are going to discuss in this article. You'll also explore online, cloud-based, web-based, open source platforms and the apps available for Mac users. But first, let's briefly observe the types of such tools as well as common features and benefits they provide.
Contents:
What is construction scheduling software?
Construction scheduling software is a collaborative platform that enables users to oversee all involved stakeholders and moving components in a construction project schedule.
Approximately 7.5 million people are employed by the construction industry, as of January 2022 — that's about 4.8% of the U.S. workforce.
All these people need handy tools to work efficiently: from a simple construction project checklist to multifeatured software. Professional planning platforms simplify the coordination of teams, partners, subs, and customers, as well as required materials, equipment, and other resources needed for construction workflow management. They take plans and data and convert them into actionable day-to-day tasks. They also greatly improve communication in construction and make construction project scope of work more efficient. 
How do construction scheduling software solutions differ?
Types of construction scheduling software
This type of scheduling software is an industry solution that provides specialized features for the phases and requirements of the business. Managers need it to deal with project planning, design, procurement, pre-construction, construction, and post-construction. They can schedule activities during all the stages to complete projects on time and within budget.

This is a general system for project management needs that can be applied for various cases including construction projects. It is mostly cloud-based and offers mobile apps to provide wide accessibility. PM software solutions are usually customizable. Therefore users can create any project schedule tailored to their business and industry.

This type of construction scheduling software provides general resource scheduling for multiple jobs and tasks. With its help, users can create, view, and track job schedules, assignments, time, costs, and profitability. It is typically used in simple projects.
Let's see what all these types of construction scheduling software have in common.
Features of construction scheduling software
Businesses use construction scheduling software to provide teams with the tools to initiate, visualize, and manage their plans and schedules with ease.
The features listed below are important for improving efficiency, boosting team productivity, and increasing profitability.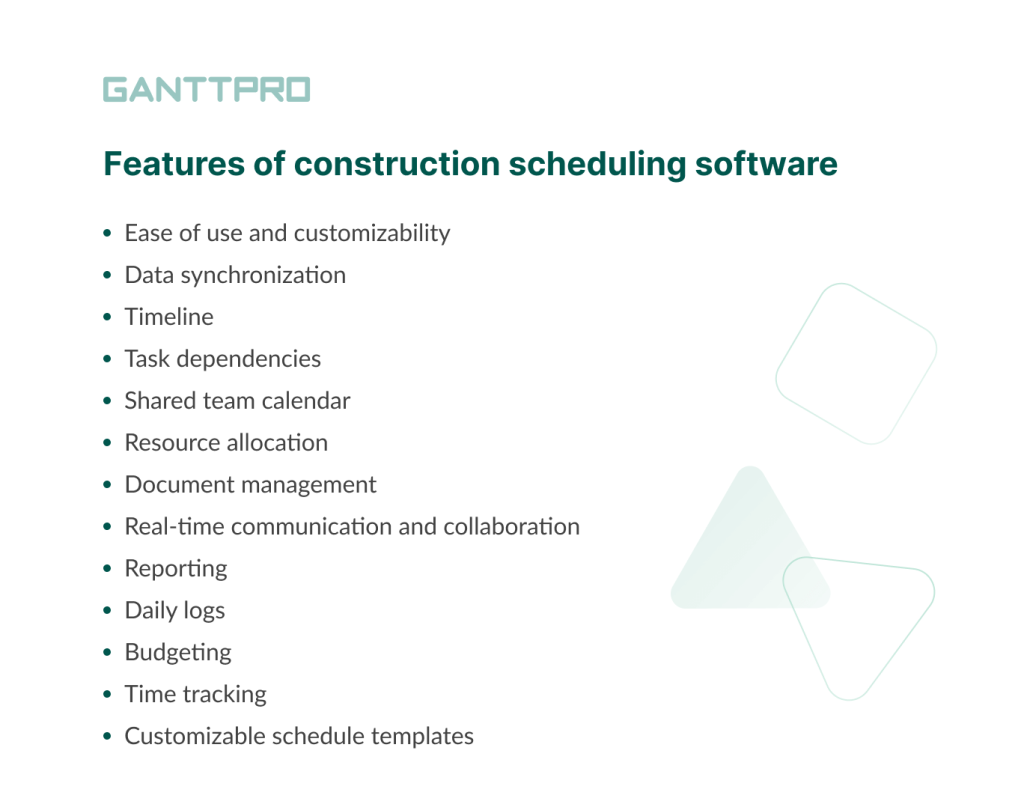 1. Ease of use and customizability
If you take any list of construction project management tips, there will be a recommendation to choose handy and customizable software.
The best construction scheduling systems should provide a user-friendly interface and convenient navigation. They should be easy to set up and customize to suit your team structures.
2. Data synchronization
It's good for any company when the construction scheduling software they use is cloud-based. It allows teams to access the updated data remotely from anywhere.
3. Timeline based on a Gantt chart
A Gantt chart visualizes a construction project schedule including the time it'll take to complete each task, which tasks you should prioritize, and sometimes a critical path that shows the quickest route to completion.
4. Task dependencies
A task dependency demonstrates the relationship between different project activities and which ones you have to complete in order to move onto the next.
5. Shared team calendar
According to the annual Wellingtone annual report (2021), only 34% of companies complete projects on time. This result doesn't look very impressive, because businesses often underestimate visualization of a project planning calendar and the role of deadlines.
Most of the construction resource scheduling software solutions come with easy-to-edit calendars. They display tasks when needed in order to provide a contextualized overview of the project at hand.
6. Resource allocation
This feature allows for assigning workers, materials, and equipment to specific tasks and projects.
7. Document management
Given the amount of critical documentation construction businesses manage, it's no surprise that there is a pressure to store and handle that docs securely. This feature helps to figure it out.
8. Real-time communication and collaboration
Managing projects as they grow and change can be a challenge. With the robust scheduling software for construction companies in place, every team member has access to a centralized point of communication no matter where they're working or what device they use.
9. Reporting
Construction reporting requires coordinated data from all project stages, from planning to deliver. A well-structured report will summarize all the statistics on project expectations, budget, deadlines, and spending information.
10. Daily logs
A daily log tracks information on the work done at the site. It keeps project owners and contractors updated on the progress.
11. Budgeting
This essential construction scheduling software feature allows you to estimate project costs based on scheduled labor hours.
12. Time tracking
With this feature, managers can track time spent on individual tasks and projects.
13. Customizable schedule templates
If you are new to construction planning and scheduling, then customizable templates will provide you with an easy start.
All scheduling tools have their own characteristics. But most often, they have similar advantages and benefits.
Benefits of construction scheduling software
A central hub.
Data-driven decision making.
Resource and waste management.
Cost analysis.
Real-time updates.
Transparency and accountability.
Time management.
Integrations.
People involved in the construction industry often assume that scheduling software is a basic planning tool that helps managers generate beautiful tables to present them during the meetings with stakeholders.
However, construction scheduling software solutions offer more. Let's have a look at the top benefits of typical scheduling software for construction.
1. A central hub
It's rather critical for any construction company to have a scheduling system that will take all the information and store it in a single place. Managers, workers, and clients should have access to the project flow whenever the need arises.
2. Data-driven decision making
The best construction project scheduling software allows for data-driven decision making. If decision making is poor, it affects planning and budget allocation.
3. Budget and waste management
Construction managers can improve decision making to control resource allocation and waste management thanks to the real-time technology that scheduling software provides. They consider the experience with previous projects to create a much informed decision regarding waste management.
4. Cost analysis
Many construction projects deal with cost overruns. They can often suffer from resource misallocation or poor planning. Therefore a good management tool with an efficient budget planning and waste management can help managers to make accurate cost estimates.
5. Real-time updates
Modern scheduling software for construction projects provides real-time updates. It ensures efficiency and better collaboration as well as improves better communication between all team members.
6. Transparency and accountability
The ability to be accountable for every task is a crucial skill for any project manager. Professional construction scheduling and estimating software provide a central spot to track each task, resources and costs throughout the project. They remove miscommunication that leads to transparent control of the entire construction process.
7. Time management
Another benefit of scheduling tools is their capability to manage time. Real-time updates reduce the time to inform relevant parties and make proper decisions. This makes it possible to have a realistic and accurate plan of the entire process.
8. Integrations
Many construction companies still store the data in Excel or different data management tools. They rarely provide a real-time and dynamic view of the project.
An appropriate construction management scheduling software solution provides integrations that allow moving the static info into a live storage system.
Now it's time to explore specific tools and their capabilities. Keep reading to learn about 10 of the best scheduling solutions on the construction market.
Top 10 construction scheduling software
The digital nature of any construction scheduling software means that the detailed project plans are accessible in real time to all users wherever they are.
There are many powerful software systems available on the construction project planning and management market. And if you're confused about which solution to pick, don't worry. We've done the research for you.
All the tools described below can be used for various cases. You may consider them if you need:
Residential construction scheduling software solution.

Home construction scheduling software.
New home construction scheduling software.
Construction contractor scheduling software.
Engineering construction planning tool.
Commercial construction scheduling tool.
Heavy industrial construction planning system.
Institutional construction scheduling platform.
1. GanttPRO – best for visualizing construction projects on a Gantt chart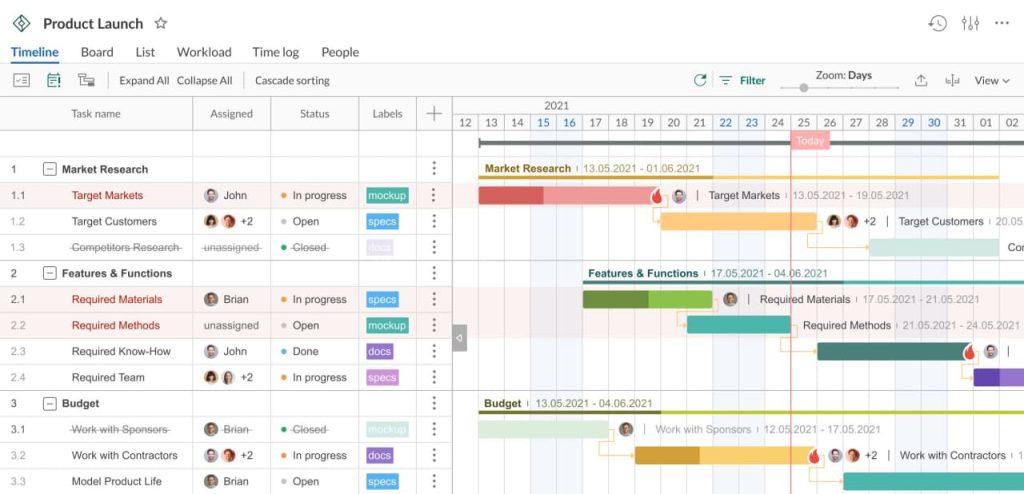 Basic: starts at $7.99 user/month (billed annually).
Pro: starts at $12.99 user/month (billed annually).
Business: starts at $19.99 user/month (billed annually).
Free trial: 14 days.

Construction teams all over the world utilize a Gantt chart for planning and scheduling their project needs. The diagram created by Henry Gantt is a highly advantageous and useful tool.
Therefore, such solutions as GanttPRO attract more and more users from the construction industry making it one of the high-demanded construction project management software.
This project planner online assists in scheduling and presenting a project by offering a visually appealing timeline.
If construction teams desire to work with other project views, they can also find what they need in GanttPRO. For example, a board view, where all tasks are displayed in friendly columns and cards.
Besides the obvious board and Gantt chart advantages, the platform has all characteristics of a professional WBS creator. So, you can easily break tasks into subtasks and generate a work breakdown structure there. It also allows construction teams to set dependencies and milestones, manage resources and budget, collaborate with stakeholders, and more.
This easy to use construction scheduling software has a short learning curve and attractive UX/UI design. Even newcomers and managers without experience who want to know the answer to the question "What is a Gantt chart and why is it important?" can generate their first diagrams in a few minutes after registration. They can launch a new project, apply a ready-made construction project template, or import their projects in .mpp formats from MS Project or in Excel formats.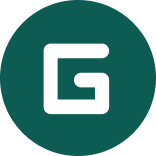 Advanced construction scheduling software
Create an online Gantt chart in minutes.
Sign up for free
The tool also helps to prevent construction project delays that often occur in the industry.
You can synchronize your work between the web and mobile versions in real time. iOS and Android apps are available.
Here's the feedback of one of the GanttPRO users, Peter Stone, a Project Manager and Onsite Supervisor at KenWood Construction, LLC:
One of the reasons that I advocated for GanttPRO to the owner was that this tool allows people with different technical abilities to easily create and track schedules. Now, I handle the entire construction process in GanttPRO.
Top features:
Task management.

Planning and scheduling with a professional Gantt chart.
Kanban board.
Resource management.
Deadlines.
Drag and drop feature.
Notifications.
Budget management.
Timeline import and export.
Time tracking.
Personal calendars.
History of changes and Undo feature.
Baselines.
Convenient templates.
Reporting.
Rating as of November, 2022: Capterra – 4.8, G2 – 4.8.
2. nTask – best scheduling tool for small businesses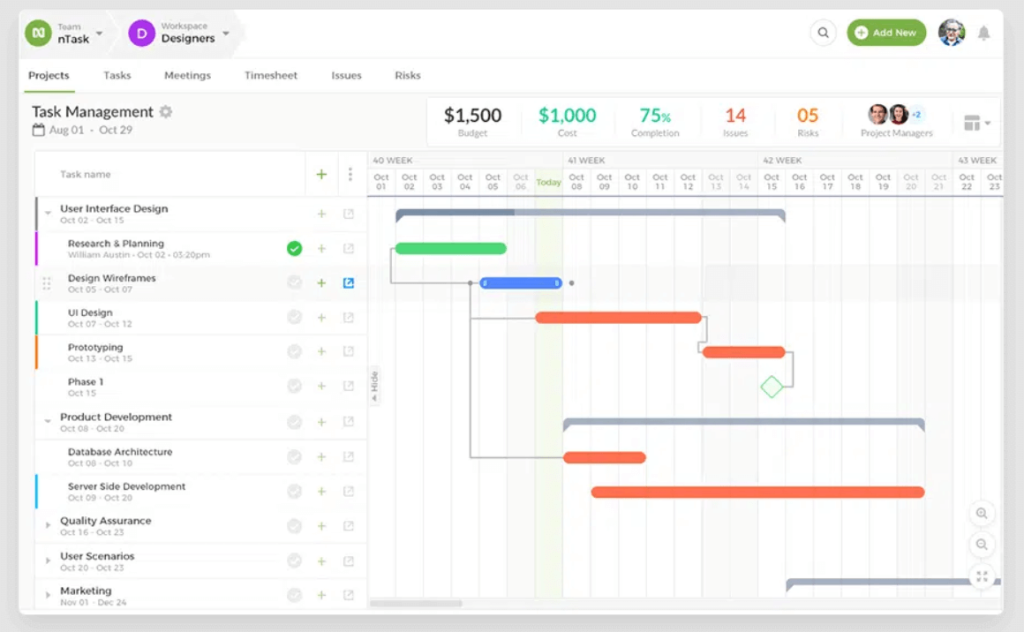 Premium: starts at $3 user/month (billed annually).
Business: starts at $8 user/month (billed annually).
Free trial: 14 days.

nTask delivers outstanding results no matter whether you are generating a work plan for a project in software development or trying to schedule construction processes.
This simple construction scheduling software caters to small teams and startups. It provides them with professional features that enable visually appealing planning based on a Gantt chart, collaboration with team members, task management, meeting scheduling, and more.
nTask users can assign tasks, set recurring activities, generate progress reports, share files, and create checklists. It's also possible to plan and monitor budgets for different projects, allot resources, define risks, and control team members' time spent on different tasks.
Thanks to the task dependencies feature, everything will be in order, and you'll be sure that your project and all surrounding activities will be performed without any barriers.
Top features:
Professional scheduling and planning based on a Gantt chart.

Task management.
Kanban boards.
Time tracking.
Meeting management.
Bug and issue tracking.
Risk management.
Rating as of November, 2022: Capterra – 4.1, G2 – 4.4.
3. Monday.com – best for remodelers
Basic: starts at €8 user/month (billed annually).
Standard: starts at €10 user/month (billed annually).
Pro: starts at €16 user/month (billed annually).
Free trial: available.

If you are looking for a highly customizable project management tool for construction needs that will help you clarify the sequence of work and see the progress and status of your projects at a glance, then Monday.com is a good suit.
The platform allows for planning projects, adding deadlines, assigning team members, breaking down tasks, and setting dependencies. It also suits the new users who strive to understand how to create a WBS, use PERT charts in project management or generate a professional roadmap.
It's easy to reassign tasks here by simply clicking and dragging. You can view your timelines as spreadsheets, with the help of lists, maps, Kanban boards, and other views.
Using this construction company scheduling software, you can create summary charts as well as export and share project plans in a variety of formats, including XML and PDF.
Free construction schedule templates will let you create action items, stay within budget, and visualize your projects from planning to closeout.
The solution performs great for remodeling projects.
Top features:
Different project views.

Strategic planning.
Backlog management.
Professional analytics.
Prioritization.
Time tracking.
Budget management.
Reporting.
Real-time notifications.
Dependencies.
Integrations.
Rating as of November, 2022: Capterra – 4.6, G2 – 4.7.
4. Smartsheet – best scheduling tool based on a simple spreadsheet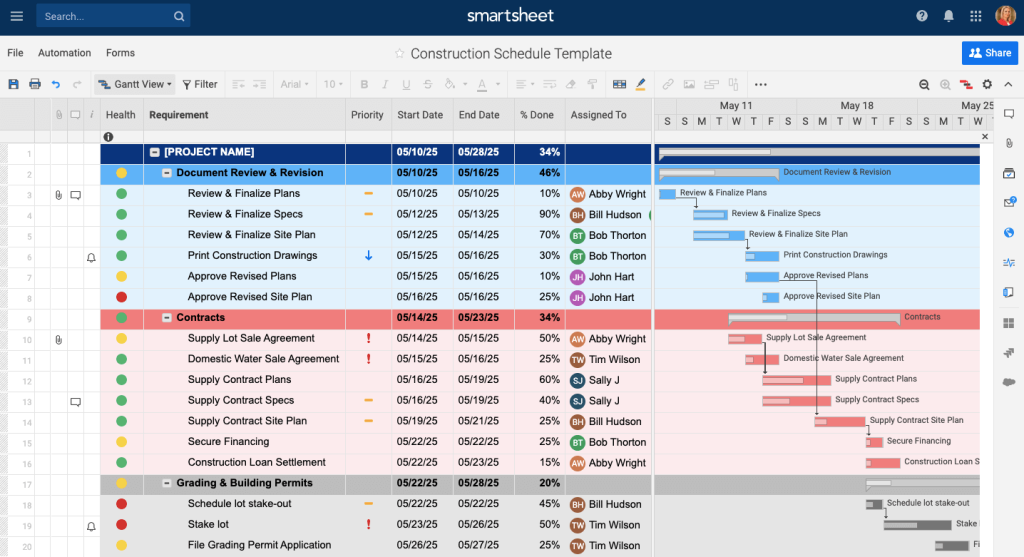 Pro: starts at $7 user/month (billed annually).
Business: starts at $25 user/month (billed annually).
Free trial: available.

Smartsheet also professionally assists in streamlining construction project lifecycles considering all safety concerns. It is also known as a reliable and efficient solution in many other spheres and industries.
This powerful project scheduling software for construction helps with accurate planning, scheduling, management of tasks, and smooth collaboration. The tool offers intuitive spreadsheets as well as multiple view options: grids, calendars, Gantt diagrams, and other project management charts.
Smartsheet provides integration with popular software solutions such as Slack, Google, and Salesforce. By using this construction project scheduling software, your team will save time on email treads and unnecessary meetings. It will help to stay focused on what matters most.
Top features:
Advanced spreadsheets.

Task management.
Gantt charts.
Kanban view.
Portfolio management.
Resource management.
Workflow automation.
Budget management
Safety management.
Quality control.
Reporting.
Multiple integration options.
File sharing.
Time tracking.
Customizable templates.
Rating as of November, 2022: Capterra – 4.5, G2 – 4.4.
5. CoConstruct – best for customer communication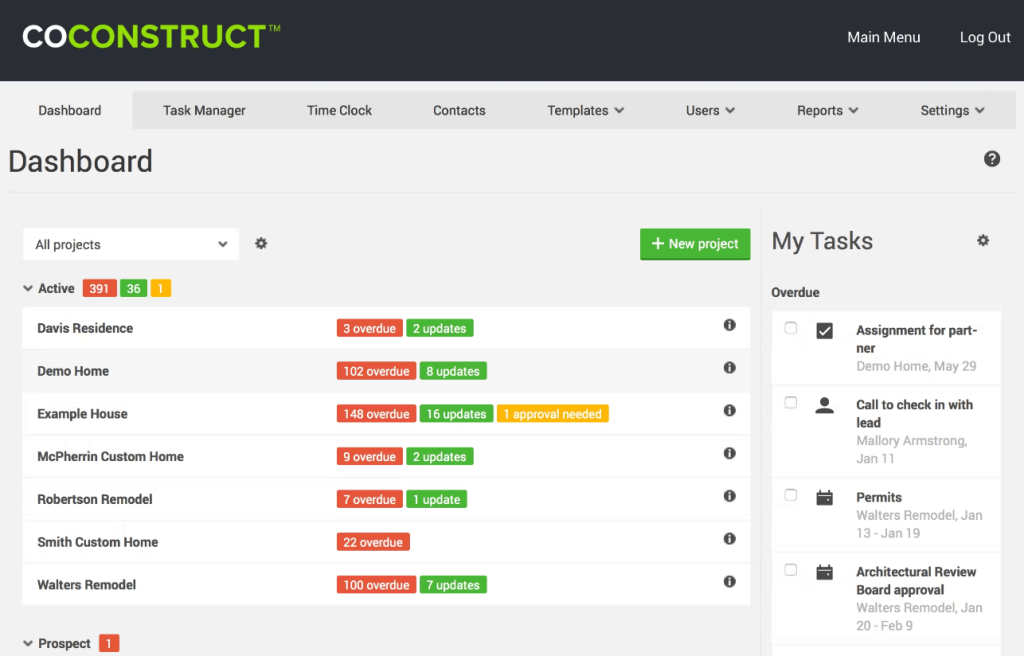 Essential: starts at $99 team/month (billed annually).
Advanced: starts at $399 team/month (billed annually).
Free trial: not available.

Another top construction scheduling software for managing projects, clients, and contractors is CoConstruct.
The platform looks ideal for construction and remodeling teams that can use it for project management, financials, and communication. Its scheduling feature provides users predictability and reduces coordination problems and possible risks.
This basic construction scheduling software allows for starting with a pre-built template or creating your own you can reuse later.
You can apply the drag and drop functionality to generate schedules using a project management calendar or a Gantt chart with handy options like assignees, predecessors, critical path on a Gantt chart, and baselining. You also get SMS and email notifications, mobile access, and client access.
CoConstruct is easy to customize. It has good customer service if you need its assistance.
A fly in the ointment is CoConstruct pricing as it seems expensive in comparison with other best scheduling software for construction.
Top features:
Task management.

Scheduling.
Activity tracking.
Compliance management.
Data import/export.
Document storage.
Mobile access.
Activity dashboard.
Alerts/notifications.
Customizable reports.
Document management.
Inventory management.
Rating as of November, 2022: Capterra – 4.7, G2 – 4.0.
6. Jobber – best for mobile access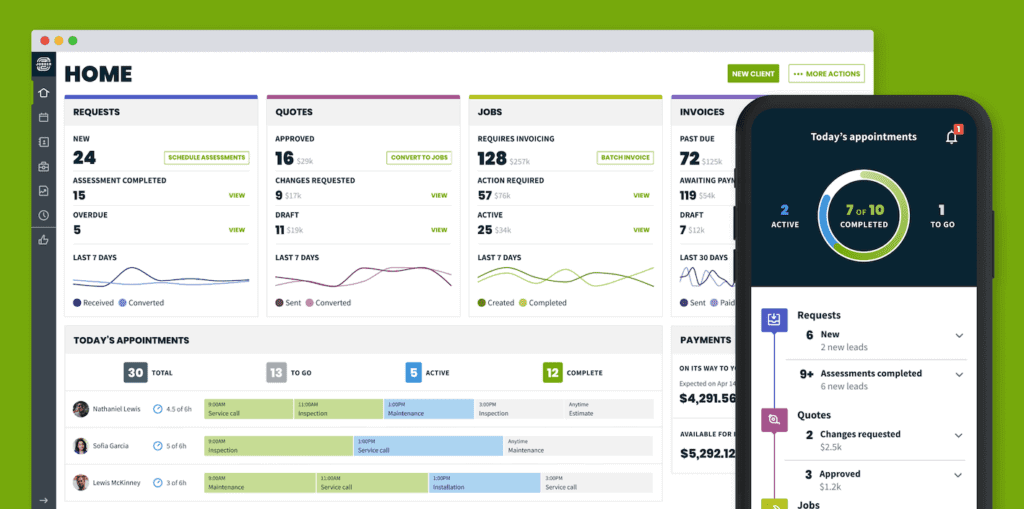 Core: starts at $49 user/month (billed annually).
Connect: starts at $129 user/month (billed annually).
Grow: starts at $249 user/month (billed annually).
Free trial: 14 days.

Jobber assists construction teams in working more efficiently without organizational headaches. The cloud-based software allows small and midsize businesses to manage field staff, provide customer support, and expand business operations either through a desktop dashboard or a mobile app.
The tool helps contractors manage client relations, dispatch teams, and invoice jobs from within a single app. It is designed not only for managers but also for specialty contractors such as landscapers, painters, roofers, elevator technicians, janitors, and other specialists.
Jobber allows you to handle and keep a clean and organized client history. This handy construction project management scheduling software helps to observe the past work, visits, invoices, and billing accounts related to your customers.
Top features:
Task scheduling.

Calendar for project management.
Workflow management.
Drag and drop functionality.
Document management.
Cost tracking.
CRM.
Billing and invoicing.
Reporting.
Third party integrations.
Rating as of November, 2022: Capterra – 4.5, G2 – 4.2.
7. eSUB – best for document management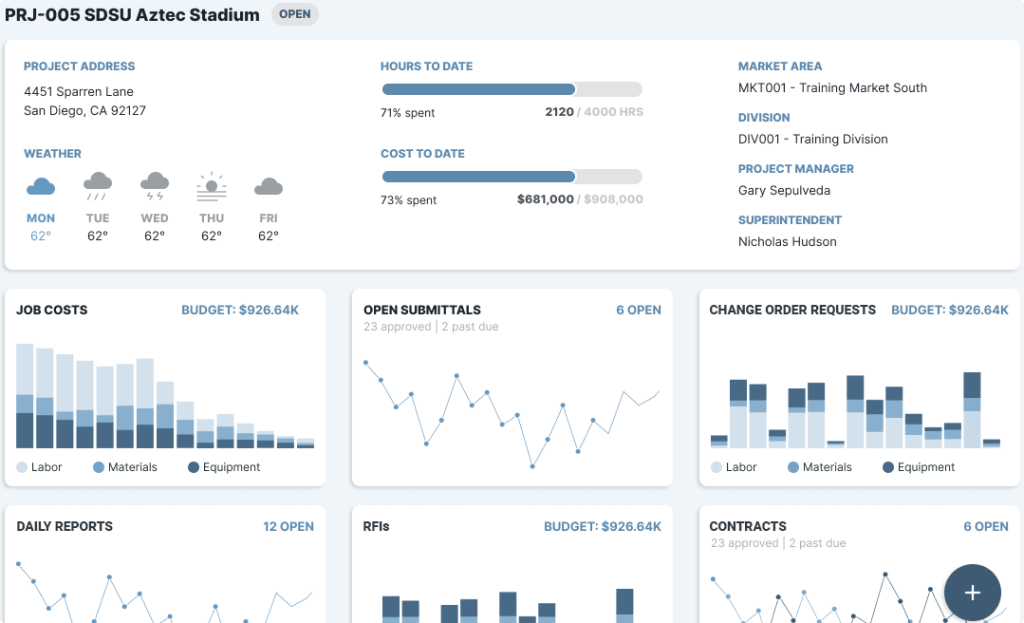 Base: starts at $39 user/month (billed annually).
Free trial: 14 days.

eSUB is a dedicated scheduling software construction teams use. It provides reliable field communication and document management functionality. The platform is specially tailored with the friendly management solutions designed to help users improve their productivity.
eSUB centralizes all processes to let you control everything from a central location. You don't need to jump from one spot to another to streamline things.
This handy scheduling software for the construction industry offers a Gantt chart to view and manage a breakdown of complex sets of tasks with ease. It combines the features of visual task management, dependencies, progress tracking, and relative timelines.
Top features:
Scheduling and resource management.

Progress tracking.
Meeting scheduling.
Unlimited file storage.
Field reporting.
Advanced tracking.
Document control.
Rating as of November, 2022: Capterra – 4.6, G2 – 4.6.
8. Fieldwire – best scheduling tool with standardized inspection checklists and templates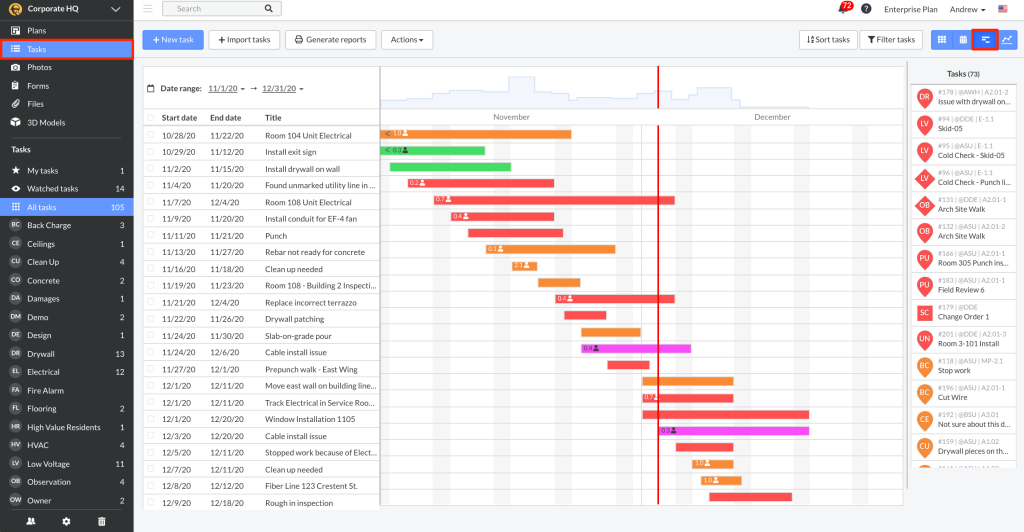 Pro: starts at $39 user/month (billed annually).
Business: starts at $59 user/month (billed annually).
Premier: starts at $99 user/month (billed annually).
Free trial and free version: available.

Fieldwire also takes a place of honor in the list of the best construction scheduling software available on the market.
The strong side of this platform is team collaboration. From foremen to project managers, users can plan their activities, assign tasks, work on the drawings, and coordinate across devices. It's also possible to create schedules of upcoming work, identify responsible people, and track performance there.
Fieldwire has a Gantt chart, a Kanban board, and a calendar view. These views allow for creating plans with advanced look-ahead sessions to share with all team members.
The tool also offers mobile apps that let everyone in the team stay on the same page.
Top features:
Project views.

Advanced scheduling.
Efficient coordination.
Track performance.
Record information.
Reporting.
Real-time messaging.
Rating as of November, 2022: Capterra – 4.6, G2 – 4.5.
9. ProjectManager – best for large teams and enterprises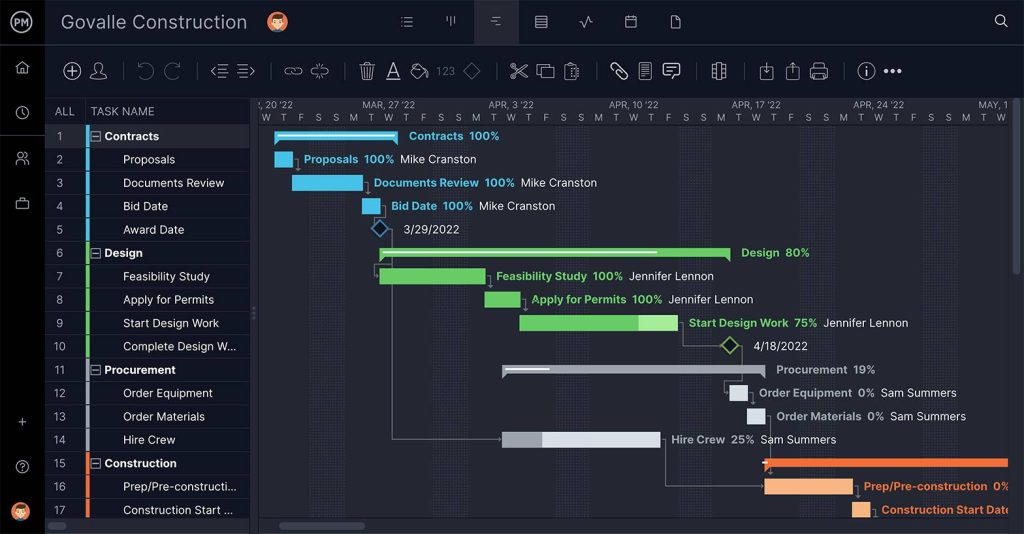 Team: starts at $13 user/month (billed annually).
Business: starts at $24 user/month (billed annually).
Free trial: available.

Another example of reliable construction resource scheduling software is ProjectManager.com.
Being one of the most popular roadmap tools, ProjectManager allows you to access your data from anywhere around the world. It provides great features for construction teams, including professional planning and scheduling.
Using an online Gantt chart, you'll be able to generate interactive project timelines.The tool also provides a simple, visual interface that allows users to drag and drop cards on a Kanban board to organize work efficiently.
ProjectManager's collaboration functionality is a real benefit for construction managers as they have to travel all over the world. It allows them to keep an eye on everything that is happening with their construction project.
One-click reports simplify sharing information with stakeholders.
Top features:
Activity dashboard.

Task management.
Handy timelines.
Kanban boards.
Project planning.
Time tracking.
Milestone tracking.
Collaboration tools.
Time & expense tracking.
Rating as of November, 2022: Capterra – 4.1, G2 – 4.4.
10. Float – bet purpose-built tool for resource management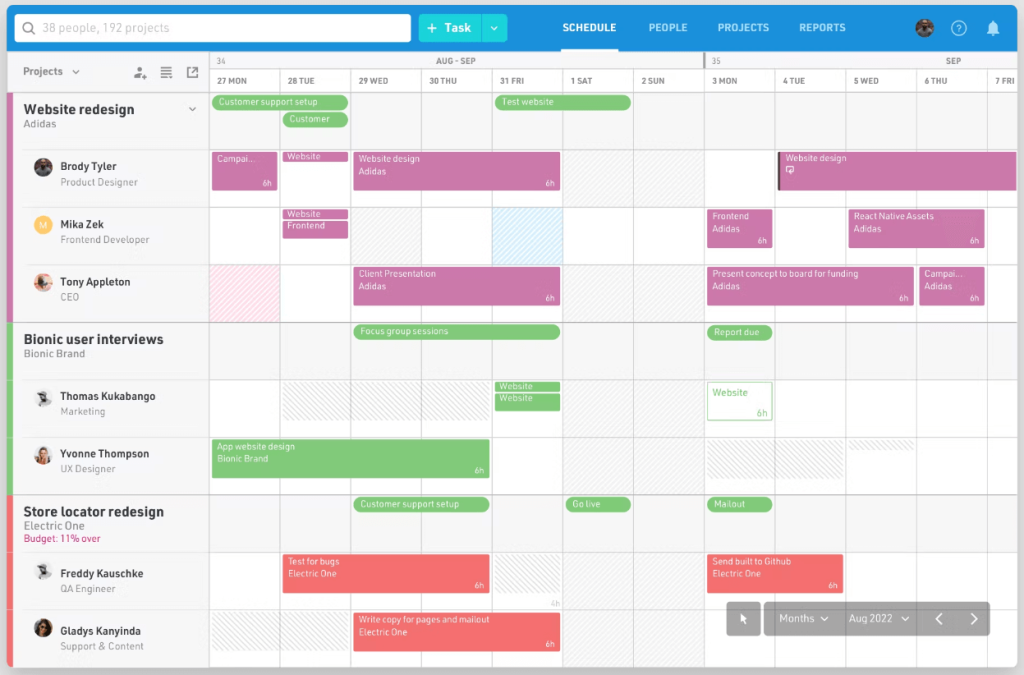 Starts at $6 user/month (billed annually).
Free trial: 30 days.

Last on our list of the best construction scheduling software we have Float.
The resource management tool features drag and drop task assignments, real-time updates, project budgets, and more to help construction teams plan their time and tasks better.
Choosing this platform, you can schedule your team's time across multiple projects on the go, monitor the resources utilization using handy reporting, log hours, and see what the upcoming weeks/months look like in terms of resource commitment.
Float is known for its modern-looking user interface and the variety of integrations.
Top features:
Gantt/timeline view.

Task management.
Automated scheduling.
Time tracking.
Budget management.
Drag and drop functionality.
Prioritization.
Commenting/notes.
Rating as of November, 2022: Capterra – 4.5, G2 – 4.2.
That was the list of the best scheduling software for construction, but it can be expanded any time.
Users are often looking for a more specific tool. For example, a free, online, open source platform or a solution for Mac. Below we recommend some more tools to satisfy the needs of everyone.
Free scheduling software for construction
People involved in this industry often seek free construction scheduling software. It may happen because they feel uncertainty before trying a new platform or switching to a new paid solution.
Some of the tools we listed above offer free features or trial periods. Below you can see more free online construction scheduling software.
Online construction scheduling software
If you need exactly an online solution, consider something from the list of the best cloud based construction scheduling software.
Construction scheduling software for Mac
There are many Apple users among the people involved in the construction management sphere. They may look for both free and open source construction project scheduling software for Mac.
If you are also a fan of iPhone and iPad products, then some of the best construction scheduling software for Mac listed below will suit you well.
Open source construction scheduling software
Open source construction scheduling software is what many users are also looking for. Such systems make work on project schedules easy with no need to care about associated costs or licensing fees.
Here're some of them:
Frequently asked questions about construction scheduling software
There are many software solutions that can professionally assist in scheduling and managing modern construction projects. Depending on the business and project requirements, you can choose from the list of advanced platforms: GanttPRO, nTask, Monday, Smartsheet, CoConstruct, Jobber, eSUB, Fieldwire, ProjectManager, Float.