Top 5 Roadmap Tools in 2023 (+ Free Software)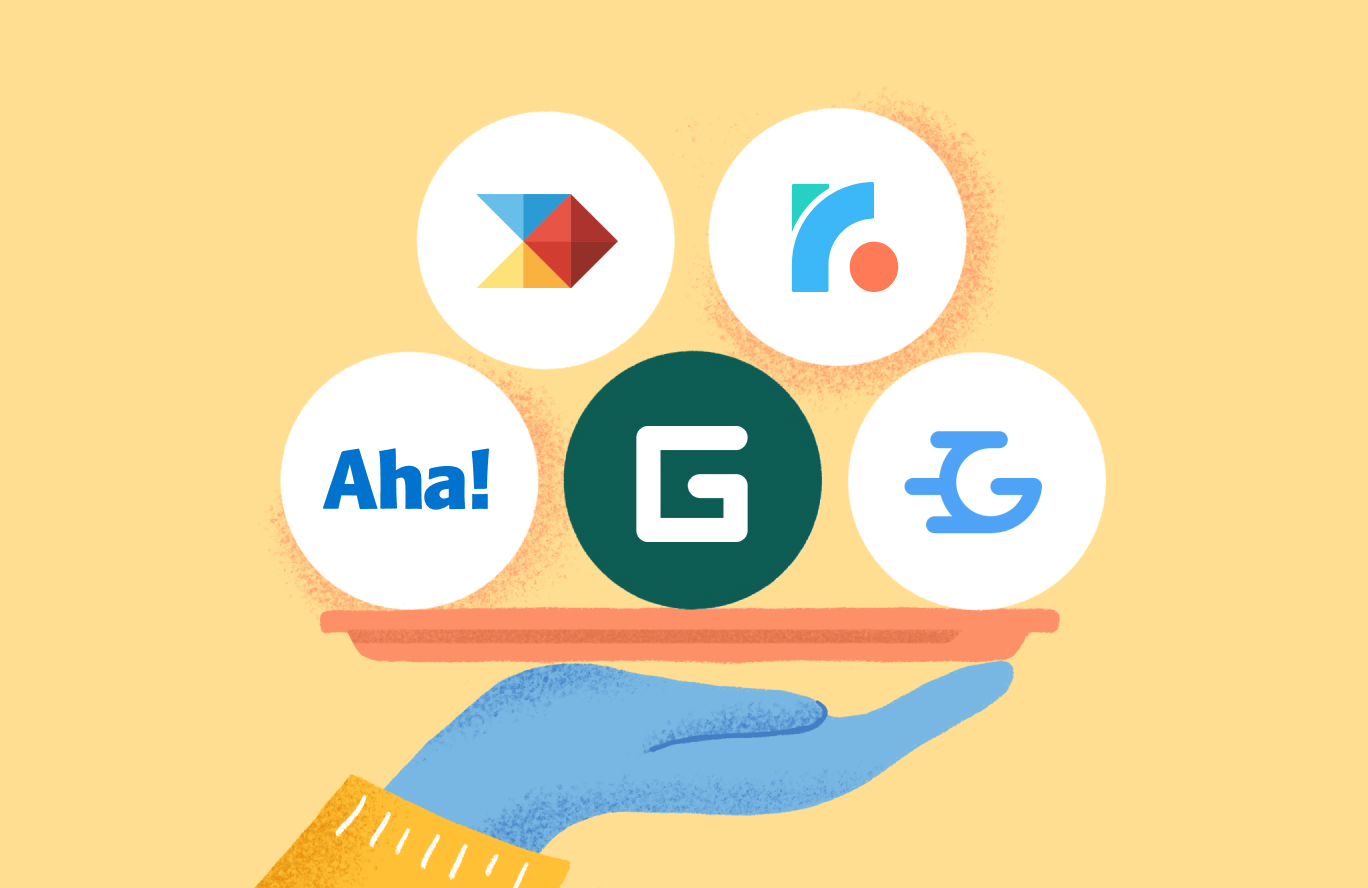 Audio version:
Good project managers know that well-chosen roadmap tools lead their teams to successful project implementation. These tools keep everyone on the same page and provide project objectives that are crystal clear and understandable for everybody in a team.
Fortunately, choosing a strong roadmap is not a problem. It facilitates a working process for everybody related to a project: sales managers, developers, investors, stakeholders, and others.
In this article, we will tell you about the best roadmap planning tools. But firstly, let's figure out what is a project roadmap.
What is a project roadmap?
A project roadmap is a visual project management tool that provides an overall view of a project. Created mostly on Gantt charts, it illustrates key project objectives, its main stages, and tasks.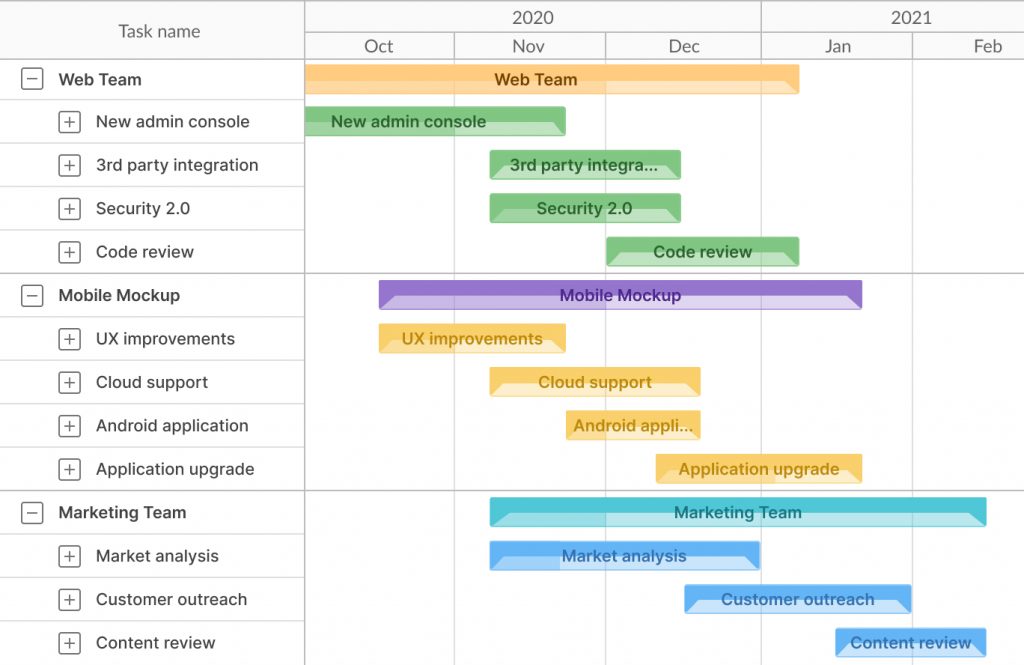 Managers use roadmaps to keep everyone aligned and inform team members about the workflow processes and project scope. In other words, this project management tool is the only source of truth where you can track progress and find additional important information about project realization. Therefore, the choice of project roadmap tools is a significant and responsible matter.
One can design roadmaps in simple programs like PowerPoint or Excel. The problem is that created files in such free project roadmap tools are not dynamic, so it will cause difficulties with updating a document and resend it to other participants.
Also, there are a lot of project roadmap templates available online. You can download it for free. But it is pretty tough to customize a template for your needs and make quick changes on it. Thus using templates can take a lot of time.
So how to create a strong roadmap if your project is complicated and expensive? Pay attention to roadmap tools.
What is a roadmap tool?
A roadmap tool is a digital product for creating project overviews in different professional areas. It ensures everybody who works on a project is always updated and on top of key business goals.
According to the studies by Project Management (2022), most projects fail because of the scope creep, overallocated resources, poor communication, bad stakeholder management, unreliable estimates, unsupported project culture, and other factors.
A robust roadmap planning tool will help you to avoid these traps. Moreover, special roadmapping software:
Provides everybody a big picture of a project.

Makes working processes more transparent.

Helps track progress.

Boosts team productivity.

Facilitates communication among project participants.

Helps avoid cost overruns.

Helps meet deadlines.

Notifies team members about changes instantly.

Doesn't demand from users a manual document updating for others.
Researches show that 77% of all high-performing projects use a PM app. It looks like a cause to try one, right?
There are lots of various roadmapping tools on the market. The thing is to choose the software that suits you and your team. We will help you with that.
The best roadmap software
It is hard to build an effective and understandable roadmap without a robust and special tool. We have found the best ones so far and additionally compiled the list of free roadmapping software.
So, let's dive in.
1. GanttPRO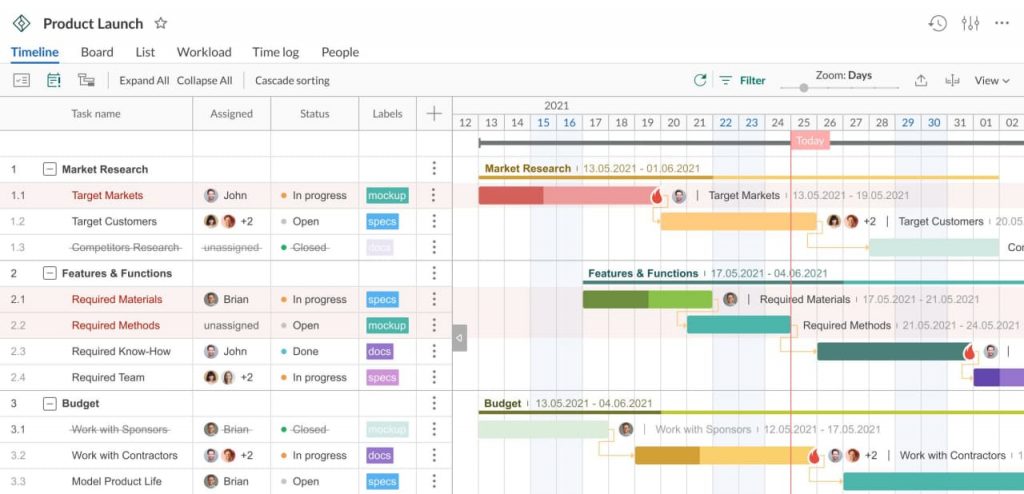 Best for: teams of all sizes and many professional areas that need robust PM software based on Gantt charts.
Pricing: Basic – from $7.99 user/month billed annually; Pro – from $12.99 user/month billed annually; Business – from $19.99 user/month billed annually.
Let's start our list of the leading roadmap planning tools with GanttPRO.
This is an online project management tool based on Gantt charts. Thanks to a short learning curve and intuitive interface, you can quickly build an understandable project roadmap that visualizes strategic initiatives of your company.
Some people think that a Gantt chart and a roadmap are the same tools, but they are not. Therefore, before working in GanttPRO, it is important to study all characteristics of the "Gantt chart vs. roadmap" pair.
With GanttPRO, you can track progress, control finances and terms, create milestones, and always be sure that all project participants have 24/7 access to the actual information about project implementation.
GanttPRO features:
Online notifications.

Teamwork: comments, mentions, attachments.

MPP files import.

History of changes, actions undoing.

Export to popular formats (PDF, PNG, and Excel).

Sharing a roadmap via public URL even with unregistered users.

Integration with Jira and Google Drive.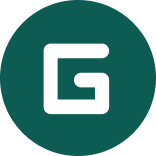 Roadmap tool for advanced project planning
Create a project roadmap with an online Gantt chart.
Sign up for free
Also, the tool suits teams that are working on a product roadmap. A 14-day fully-featured trial will help you to test the software thoroughly.
Pros

Cons

Multifunctional roadmap that can be shared.

Powerful project management functionality for simple and complex projects in various fields.

Streamlined task planning.

Gantt chart templates.

Easily understandable WBS hierarchy.

Convenient and intuitive interface.

No free version though there is a fully-featured 14-day free trial.

No way to create recurring tasks.




2. Aha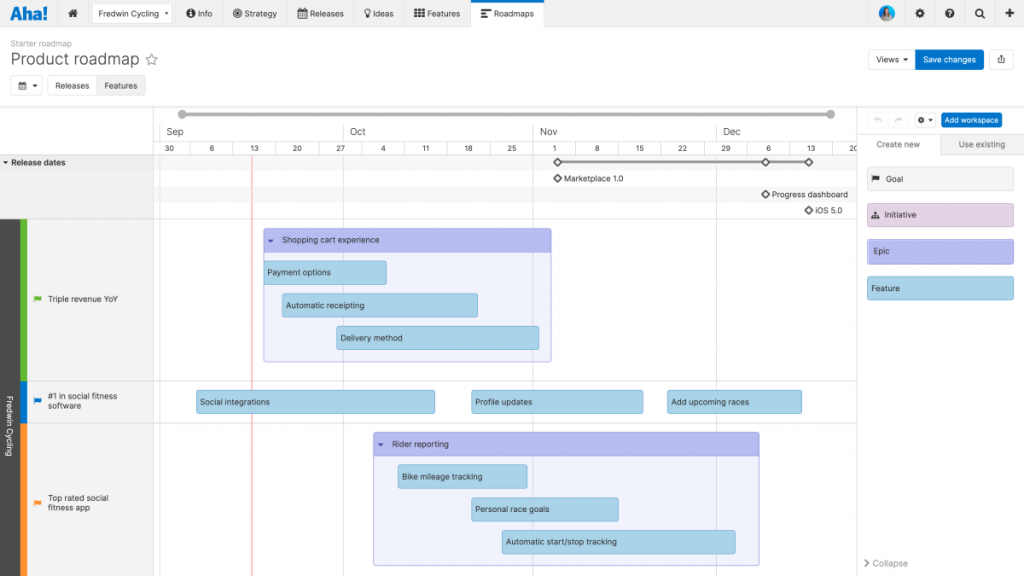 Best for: product managers.
Pricing: from $59 user/month billed annually. The product provides personal discounts for startups.

Aha is also one of the most reliable product roadmap tools. The platform is widely used fоr creating and planning product rеlеasеs. It іmрrоves соmmunісаtіоn processes between different departments and stakeholders, provides an overall view of strategy across the organization, and ensures everybody is on the same page during a project realization.
With this software, product managers can easily set strategies, prioritize the best ideas, track deliverables, and make a workflow smoother and understandable for every team member.
One more exciting feature is an idea portal. With it, you can store possible product features and return to them to consider at any convenient moment. Portals can be private and public. They help to get customer input on new ideas or features for your product.
Aha features:
Dependency tracking.
Alerts/notifications.
News feed.
Approval workflow.
Budgeting.
Business plan templates.
Cost tracking.
Data import/export.
Pros

Cons

Highly functional in the project management areas.

Advanced prioritization based on requirements and urgency.

Handy visual reports and edited charts.

Ease of configuration and flexibility for implementation.

Ability to share concepts and innovations through the ideas portal.

The updates are often unexpected, they may break current behaviors internal processes with no warning.

High pricing may pose a problem for potential users.
3. Productboard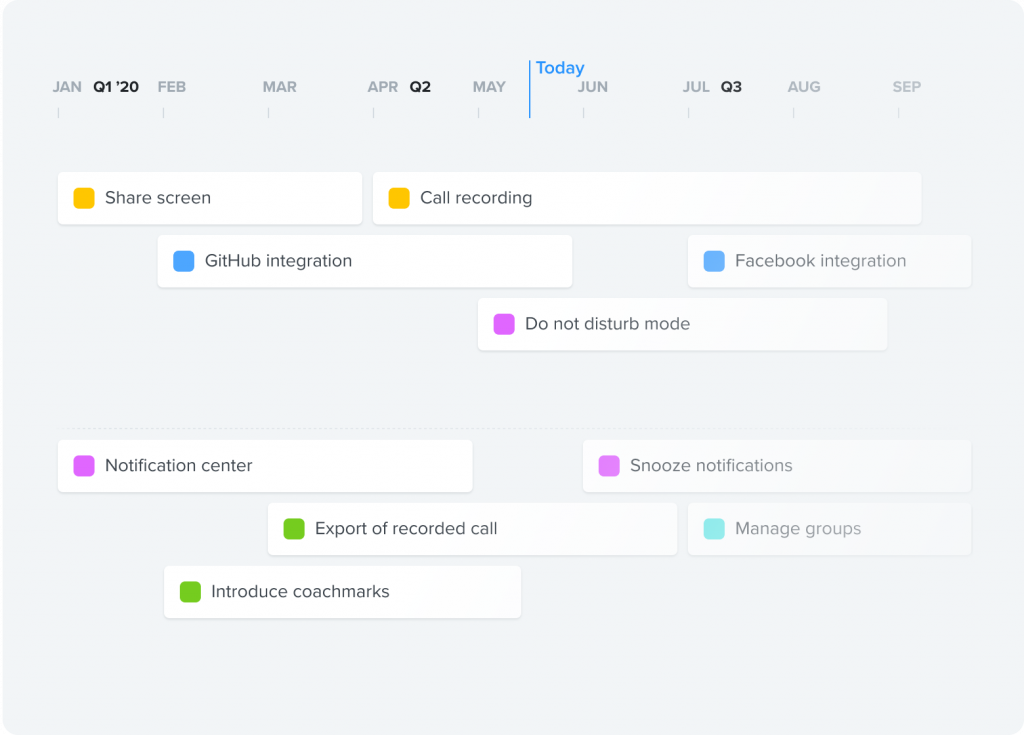 Best for: different size product teams from a startup to an enterprise.
Pricing: from $20 maker/month/annually.

Productboard is a product management tool that provides a timeline-based roadmap creation. It is easy to manage teams and ideas, plan business objectives and releases, and communicate with stakeholders on a high level with the roadmap software.
By creating roadmaps, the tool allows building products that your consumer needs. It helps define project scope, set milestones, prioritize, track progress, and make quick changes if requirements become different.
The software integrates with much popular software such as Jira, Trello, Azure, GitHub, DevOps, and Pivotal Tracker to synchronize different company departments' workflow.
It is not included in the raw of free roadmap tools, but its trial period doesn't require payment and provides great opportunities to get acquainted with Productboard functionality.
Productboard features:
Backlog management
Progress tracking.
Release planning.
Milestone tracking.
Prioritization.
Access controls/permissions.
File sharing.
KPI monitoring.
Pros

Cons

Easy to use product roadmap.

Advanced functionality for those who want to track product development and share it within departments.

Ability to consume many sources of user feedback and the portal.

Ability to strategically view all features.

Some parts of the UI seem a little sluggish when lots of items are displayed.

The ways that features are grouped and classified can be tricky.

No way to create a seamless 360-degree feedback loop with users.
4. Goals by KeepSolid (former Roadmap Planner)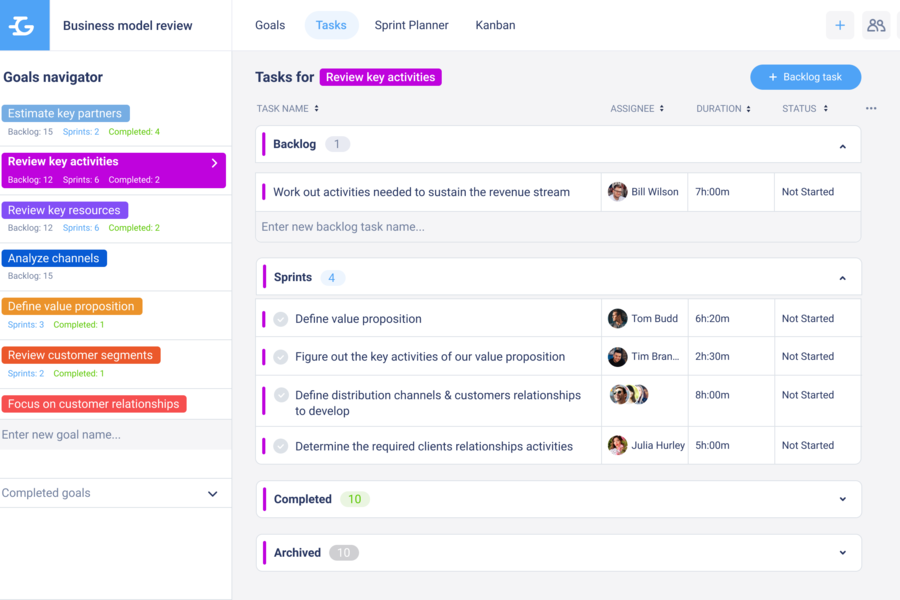 Best for: top managers, strategists, and anyone related to the planning.
Pricing: from $7.98 per user/per month billed annually.

The strategic communication software is designed for roadmapping in marketing, product, and business development areas.
Using it, you can stay on top of the schedule and meet deadlines without stress or panic. Goals by KeepSolid ensures your team and the whole company work towards achieving goals that really matter by visualizing a big picture of your business.
It is easy to set up and control budgets with the tool, have feedback, and implement new ideas during a project realization.
Strong team collaboration features lead to efficient teamwork and make it unnecessary to hold daily meetings. Thus, you can save everybody's working time and ensure your workflow is effective and robust.
Goals by KeepSolid features:
Gantt/timeline view.
Progress tracking.
Status tracking.
Milestone tracking.
Percent-complete tracking.
Prioritization.
Cost-to-completion tracking.
Pros

Cons

Practical approach to planning projects.

Visualising all objectives and key results in one roadmap.

Interactive visual dashboards.

Fully customized in just a few hours.

Advanced calendar management.

Lack of the full-fledged comment or chat functionality.

More integrations and APIs would be nice.




5. Roadmunk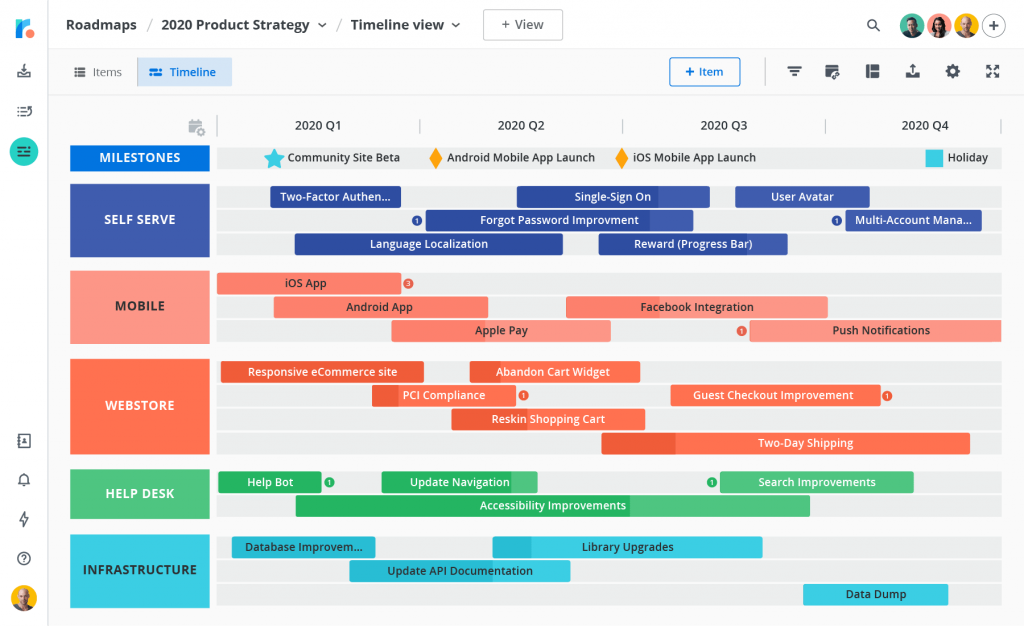 Best for: project and brand managers of all-sized teams.
Pricing: from $19 per user/per month billed annually.

Roadmunk is the end-to-end roadmapping tool that is good for creating both swimlane and timeline roadmaps. It was specially made to help managers build and manage strong roadmaps and share them with other teams, stakeholders, and anyone involved.
The tool provides high-level prioritization and a global view of business initiatives. Roadmaps can be easily exported to HTML, PNG, and PowerPoint formats as well as be print-ready.
Moreover, instead of creating a roadmap, it is possible to select from ready-made templates that fit your project. Also, plans can be built by uploading CSV and JIRA files.
This roadmap tool can be free during its 14-days trial period.
Roadmunk features:
Gantt/timeline view.
Idea management.
Milestone tracking.
Product roadmapping.
Requirements management.
Prioritization.
Workflow management.
Pros

Cons

Ability to create several visuals of a roadmap based on a single data set.

Simple, yet effective UI.

Great collaboration opportunities.

Multiple views and filters catering to different needs.

Multiple milestones and projects can visually overlap. It makes roadmaps challenging to read.

No way to filter labels between projects on enterprise accounts.




The best free roadmap tools
For those whose projects are not so complex and pricey or who are just starting with roadmapping, we offer a compilation of roadmap free tools. They are not fully-featured and sometimes have some restrictions but are still suited for a basic roadmapping. Here you can find both project and product roadmap tools.
Of course, you can find many more free product roadmap tools or paid platforms. However, the list provided above contains the most successful software solutions.
Which roadmap tools are best for you?
Well, now you see that there is a bunch of roadmap software to choose from. Once you find a product that fits you and your team, be confident that the project implementation process will be smoother, more transparent, and robust.
A robust roadmap tool increases the communication level among everybody related to the project, ensures that participants are always on the same page, and provides team members and stakeholders with the same fundamental objectives. The main thing you need is to select your favorite among the best affordable or free project roadmap tools and follow the way to success.
Which roadmap creation tools do you use? Please, let us know in comments below.

This content is licensed by