How to Compose an Effective Construction Scope of Work: 8 Steps and Example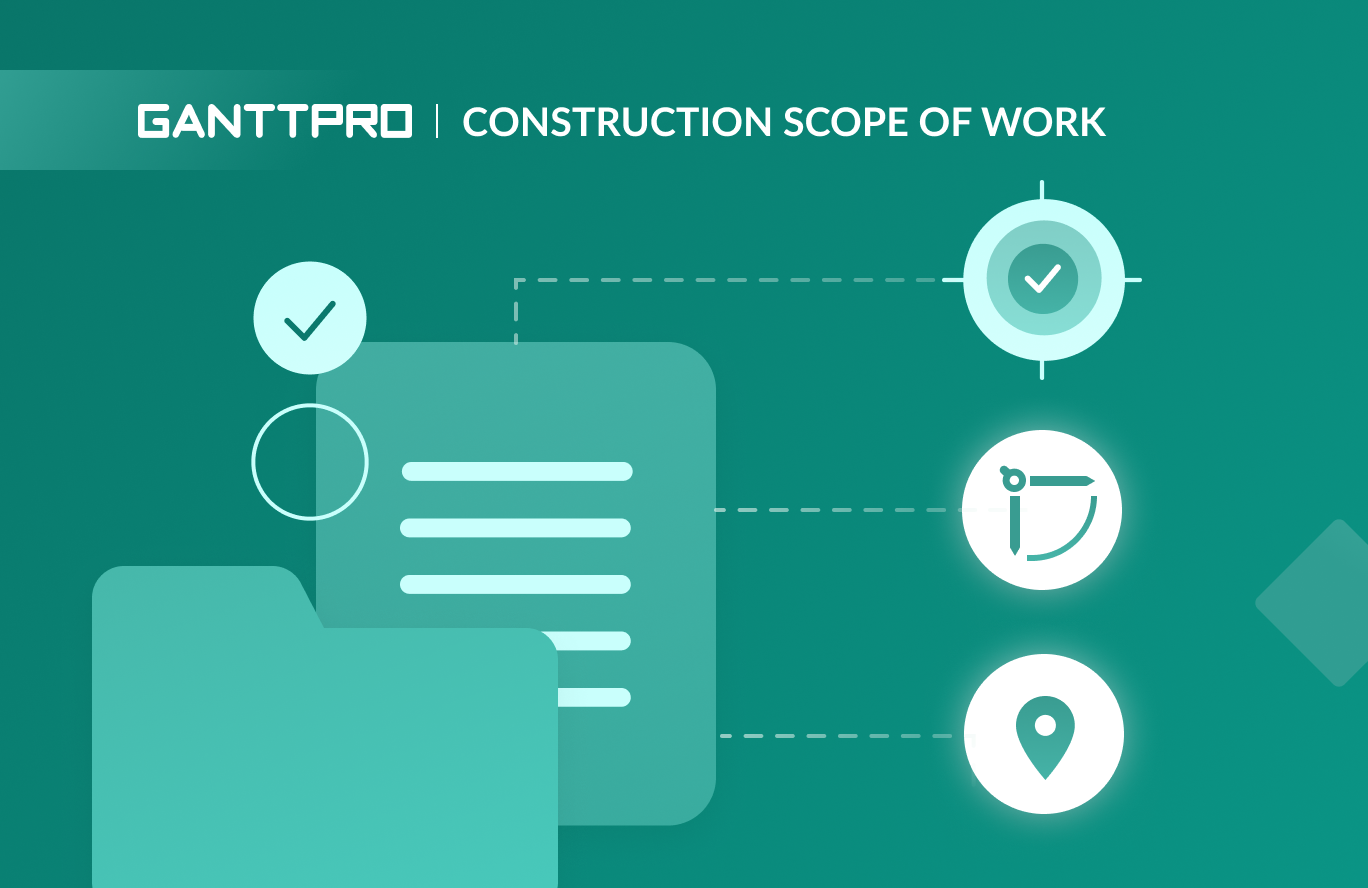 Audio version:
A construction scope of work (SoW) typically serves as a reliable guide for managing all phases of the construction project lifecycle. This strategic document determines the activities needed to be done in a clear manner. It may contain only a few pages long, but the information it offers is essential to the entire success of the project.
A well-prepared SoW prevents backtracking, time loss, and poor communication in construction.
In this post, included in our set of construction project management articles, we define what a scope of work in construction is, what parts it contains, and how to generate your own SoW. You'll also find a simple construction scope of work example.
Contents:
What is a scope of work in construction?
A construction scope of work is a certain set of work activities that managers, contractors, and suppliers have to perform. It breaks down and systemizes what a construction company has promised its client and everything it takes to deliver the desired results.
The document visualizes all objectives and deliverables related to the project. It may also contain specific terms, conditions, responsibilities of team members, and certain requirements.
In simple terms, a construction scope of work clarifies where all project works begin and where they end. Its logical sequence and order make it similar to a construction project checklist – another vital management document.
What should a construction scope of work include?
Project overview.
Deliverables.
Essential details.
Timeline and schedule.
Roles and responsibilities.
Protocol for changes.
Management issues.
Budget.
The contents of the document may vary depending on the nature of your project, the parties involved, and other crucial factors. No step-by-step guide to manage a construction project will teach you how to write the ideal SoW document because every case is different.
However, there are some basic elements that should be reflected in any construction scope of work document. It's better to complete these elements in a sequential order. It will allow you to start with drafting a big-picture and progressively add all necessary details.
Here're the key elements of a construction scope of work.
1. Project overview
The overview provides a basic summary of your project. It gives a short description of all project processes and typically involves essential deliverables and objectives that must be met to close out the project.
Remember about the importance of key phases and events within your project lifecycle – traditionally, they are called milestones in project management.
Here you can also define what project success will ideally look like by the end.
2. Deliverables
The aim of this element of a construction project scope of work is to compose a detailed breakdown of all milestones and deliverables that must be completed during the project lifecycle.
Project managers must ensure that all contractors and subcontractors clearly understand what they have to do to make all deliverables meet the standards outlined in the big-picture plan.
3. Essential details
A project scope should provide important details about the tasks and actual technical specifications associated with all deliverables. Project managers describe specific techniques, methods, and particular steps that contractors will follow to complete each stage of their project.
In fact, project deliverables show you "what," while the scope details are more about "how."
4. Timeline and schedule
Each deliverable will be preceded by certain tasks required to complete it. Project timelines typically include all required tasks and activities, including expected deadlines and time limits.
This element of the doc doesn't require a ton of details. The goal is to give stakeholders enough information to let them plan around project milestones.
5. Roles and responsibilities
This element of a typical construction management scope of work includes the data related to the assigned people who will perform tasks and activities.
6. Protocol for changes
The scope of work document is written at the beginning of a construction workflow. Therefore, managers often have to make some changes to it before their project ends.
In order to consider this, it's better to agree upon a special protocol. It will ensure that your client and you will understand exactly what should happen to make any changes to the SoW document.
7. Management issues
This element of a construction scope of work defines the administrative procedures related to your project. For example, when payments are issued.
8. Budget
It's important for project managers to list the prices for each deliverable category in the SoW document. It may include labor, fees, permits, and materials.
The document may contain extra information that can constitute an addition to the scope.
Beyond the core parts of a typical construction scope of work, as outlined above, there are some essential recommendations that will help you compose an effective SoW document.
How to write a scope of work for construction?
Use plain language.
Set realistic expectations.
Break down the scope of work.
Create timelines and schedules.
Get the whole team involved.
Add visuals.
Be detailed but concise.
Get signatures.
Similar to any project document, every scope of work is unique.
Your project may require more than one scope of work for construction. For example, design specialists may compose an architect-engineer SoW, and the construction team can prepare a construction process scope.
Let's explore how to prepare a robust scope of work for a typical construction project.
1. Use plain language
A scope of work in construction should be clear for everyone. Therefore, it's critical to avoid unnecessarily complex words, ambiguous statements, or vague language when preparing the doc.
If you have to use complex construction terminology, it's better to create a glossary. Your contractors may be well-versed in these terms, but clients, sales, and others may not be.
Anyway, try to get to the point right away without inappropriate vocabulary.
2. Set realistic expectations
If you open any source of construction project management tips, the first thing you'll find is guidance on setting the right goals and expectations.
The expectations you keep in mind when preparing a construction scope of work should align with the ambitions of your project. At the same time, they should be reasonable enough to allow for meeting the goals.
Remember that the goals of your project should be specific, measurable, achievable, realistic, and time-bound – in accordance with the fundamental SMART goals concept.
For example, specify the required materials and the expected amount of labor for concrete tasks. Provide your contractors with the info on what they'll need to know, such as how much time they'll have to finish their job.
3. Break down the scope of work
Сonstruction projects can be long and complex. They may include many different parts and deliverables. Therefore, it's logical that you'll want to break up the work into smaller chunks.
You may start creating a work breakdown structure by listing your objectives and milestones. Then define the separate steps and tasks that need to be completed. This will help all parties better understand the key specifications of your construction workflow.
By using reliable construction scheduling software, you'll break down all your project activities without an unnecessary headache.
This software should be intuitive, easy to use, and user-friendly. GanttPRO is an awesome example.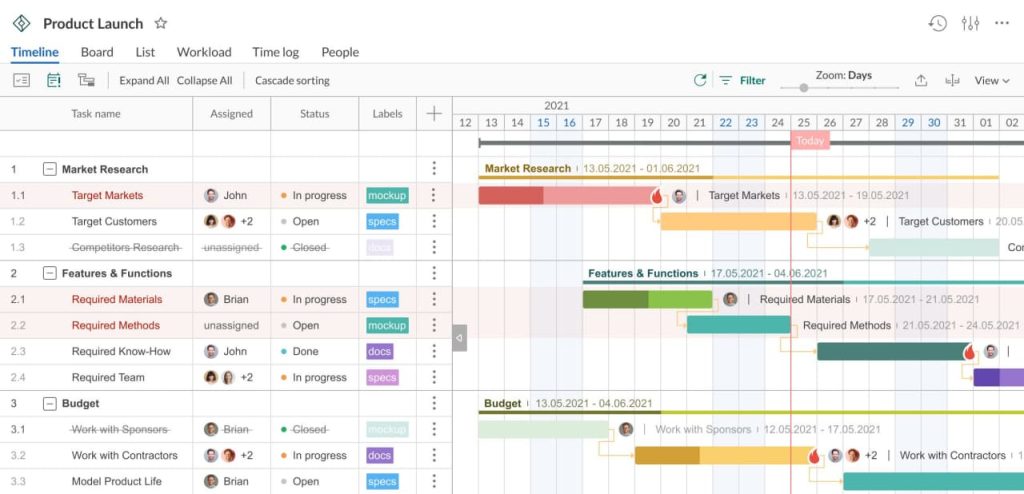 The platform comes with an intuitive Gantt chart. It lets you visualize and control what you do and when you do it.
The Gantt chart creator allows for breaking complex projects into manageable tasks with their further breakdown into subtasks according to the hierarchy of work. You can generate as many projects as you need with an unlimited number of tasks.
The tool keeps its leading position in the world of construction project management software as it provides powerful features including:
Advanced project planning.

Task management.

Resource management.

Time tracking.

Reporting.

Portfolio management.

Cost management.

Importing/exporting.

Integrations, and more.
The platform allows for using handy construction project management templates that simplify effort and provide an easy start.
Here's the feedback of George Rossle, a production manager at A+ Construction Pro:
For us, GanttPRO is a basic tool for planning and management. We use the software for deadline management and time tracking, file sharing, and smart scheduling.
It's worth adding that construction teams all over the world take advantage of handy GanttPRO mobile apps available for iOS and Android. The applications simplify communication in construction and help everyone to stay on the same page.
4. Create timelines and schedules
Once you clearly understand the work breakdown structure of your construction project, you can schedule dates with the help of an appropriate WBS creator and expect your workers to complete tasks.
Meet your contractors to better understand how long particular tasks usually take to generate more accurate timelines.
Often, construction timelines and schedules should be tentative. It allows contractors and subcontractors to make adjustments according to their needs.
A timeline should contain deadlines and dates to check the progress of the project. In GanttPRO, you can visualize them in minutes.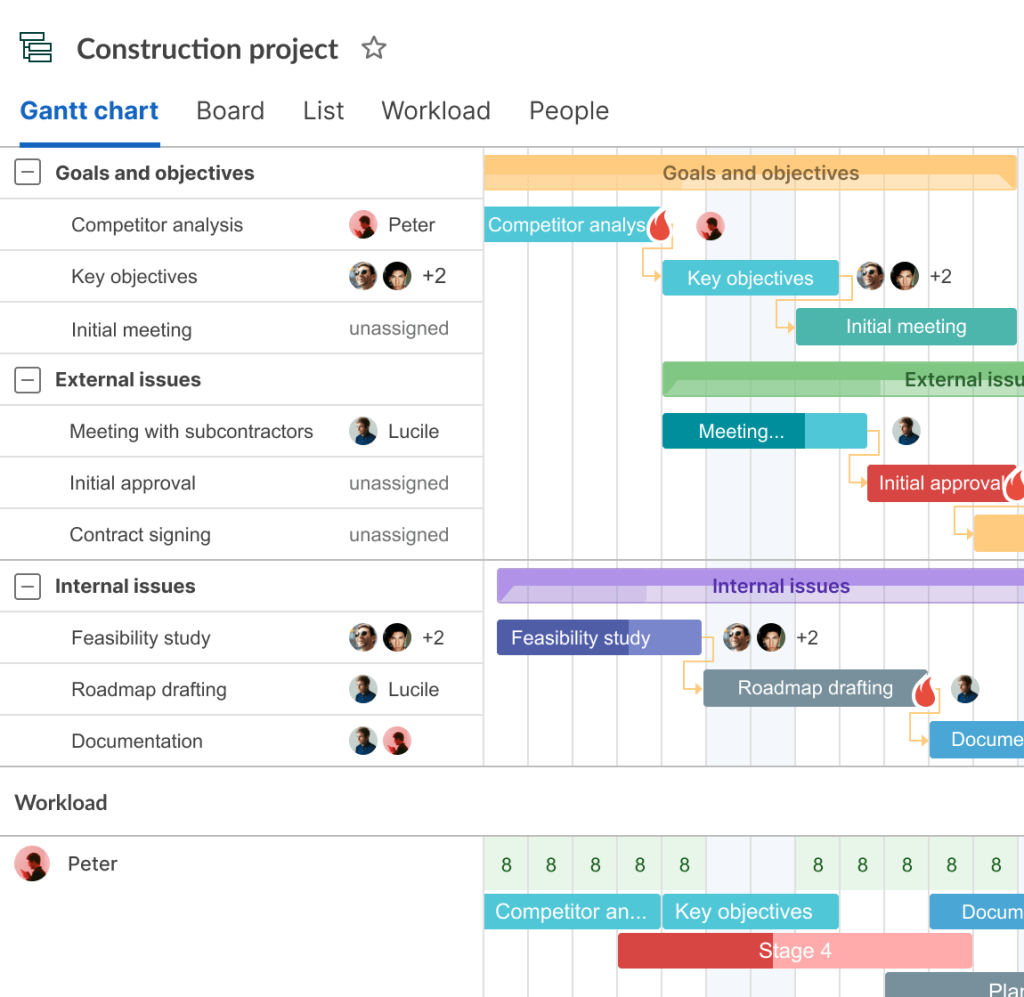 5. Get the whole team involved
This step is vital for ensuring a successful outcome even though it is often overlooked.
When composing your scope of work for a construction project, it's important to take the time to align with the entire team. Getting them involved will help you get their buy-in and create a collaborative working environment.
To build strong relationships with your colleagues, utilize a reliable communication tool such as GanttPRO.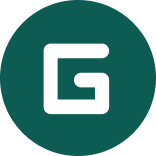 Advanced project management and planning
Create a construction scope of work with a handy Gantt chart.
Sign up for free
The Gantt chart maker strengthens communication between team members, ensures consistency, and assists in preventing chaos.
With GanttPRO, you can easily centralize all important information in a single source of truth, as well as communicate with all the people involved in construction. You can add comments to your activities, receive notifications, and support tasks with helpful attachments.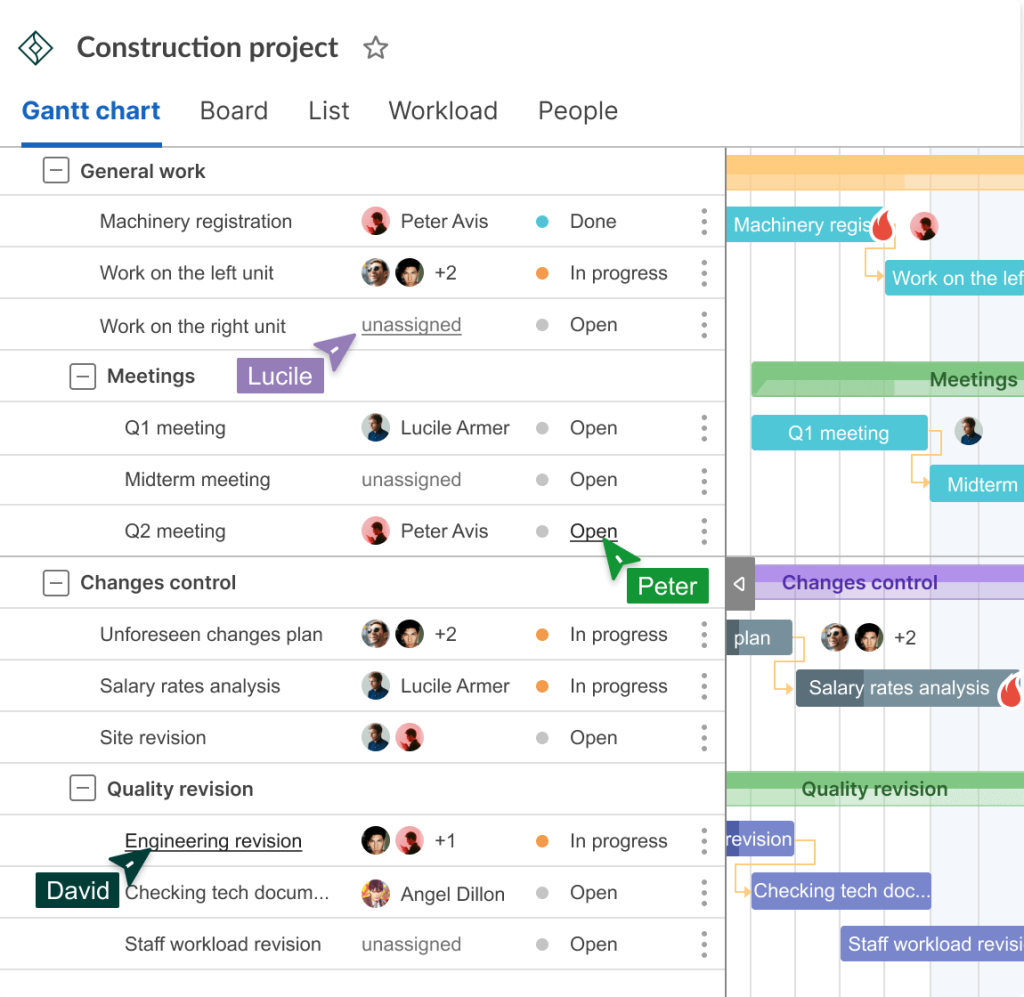 6. Add visuals
Terms and long descriptions can go a long way. However, words can be interpreted subjectively. Therefore, including additional visualization may help you reduce misunderstanding.
By the way, 90% of the information processed by our brains is visual. The research demonstrates that the human brain needs only 13 milliseconds to process any image.
Whether it's drawings, pictures, graphs, or 3D renderings, visual aids clear up ambiguity. By adding such visuals, you'll support the details covered in the scope of work and provide additional clarity.
Professional construction project management software solutions like GanttPRO allow for attaching your visuals to any task and sharing them with everyone involved in your construction project.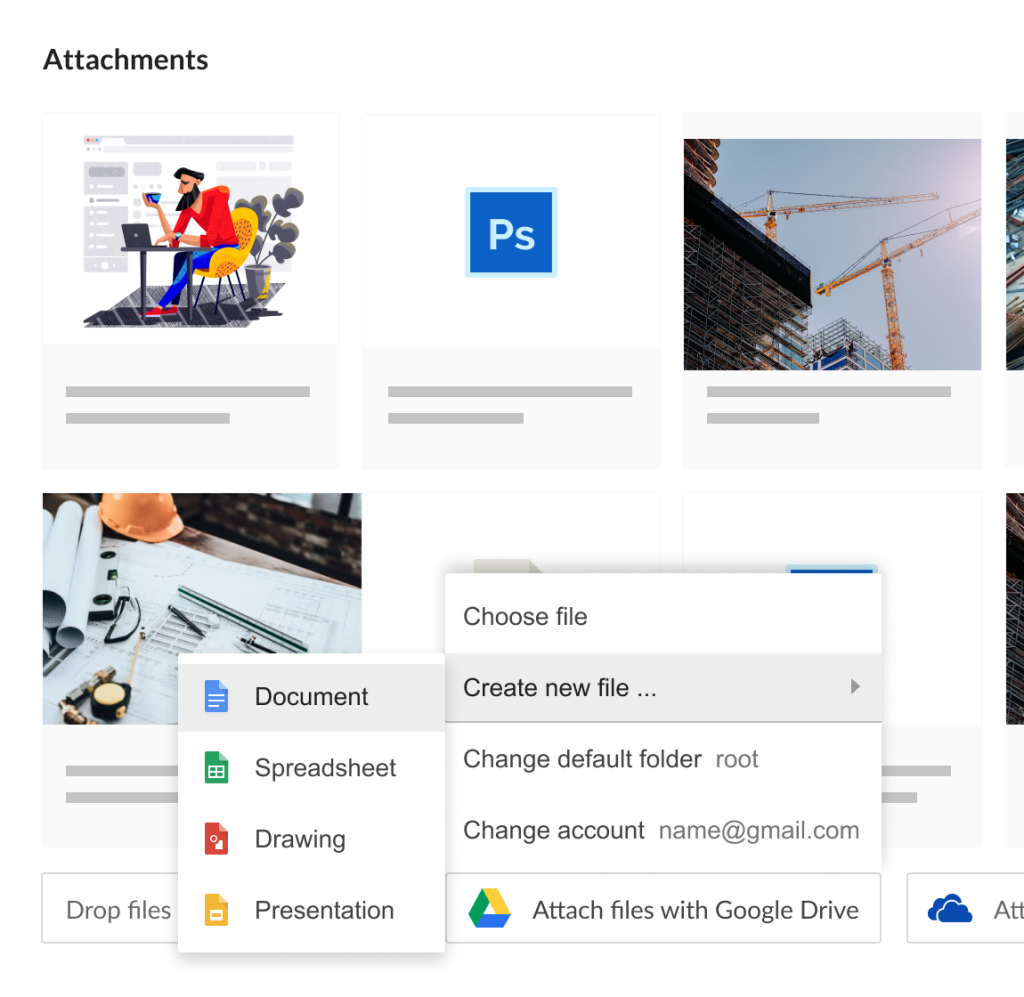 7. Be detailed but concise
A scope of work for construction should include all necessary details to adequately cover the work processes that will be performed.
If you fail to cover all the issues, your SoW document cannot be used as a point of reference at later stages. It will endanger project completion.
At the same time, make sure it is clear and easy to read.
8. Get signatures
Writing a scope of work in construction requires not only getting the client's approval signature but also acquiring written sign-off from the team members and stakeholders responsible for the deliverables listed in the doc. For example, you may need signatures from designers, subcontractors, etc.
This step is crucial for resolving potential disagreements and avoiding confusion on who is responsible for what task.
Let's move from theory to a practical example.
Construction scope of work example
A scope of work can vary depending on each individual construction project. It can be a SoW document for a home engineering project or for building a heavy industrial object.
Many scopes of work examples are not unlike what's described in this article. They typically start with defining goals and expectations and end with collecting final sign-offs.
Below is a simple construction scope of work example that demonstrates its components and the sequence of steps (all names and titles in this example are fictitious).
Project title: Partial renovation of the central pharmacy.
Duration: July 3-30.
Parties involved: The pharmacy's staff and the N Construction Solutions company.
Project overview: This project should result in a partially renovated version of the central city pharmacy as designed and approved by the N Construction Solutions company.
Objectives: A partial renovation of a pharmacy building to reflect the new design as provided by N Construction Solutions.
Scope of work:
Replace flooring.

Completely remodel booth.

Install new lighting.

Paint all walls.

Replace all the doors.

Replace wallpaper.
Task list:
Approve the flooring type.

Approve the new booth design.

Confirm the choice of lighting.

Sign purchase order for new wallpaper.

Complete order for paint.

Disconnect/reconnect water supply and electricity.
Project schedule:
Start of the partial remodel project: July 3.

New flooring installation: July 7.

New lighting installation: July 11.

Painting walls: July 11.

Covering new wallpaper: July 12-13.

Project halfway point: July 15.

Start of the complete pharmacy booth remodel: July 10-30.

Doors replacement: July 16.

Completion of the partial remodel project: July 30.
Here's how it can be visualized in GanttPRO: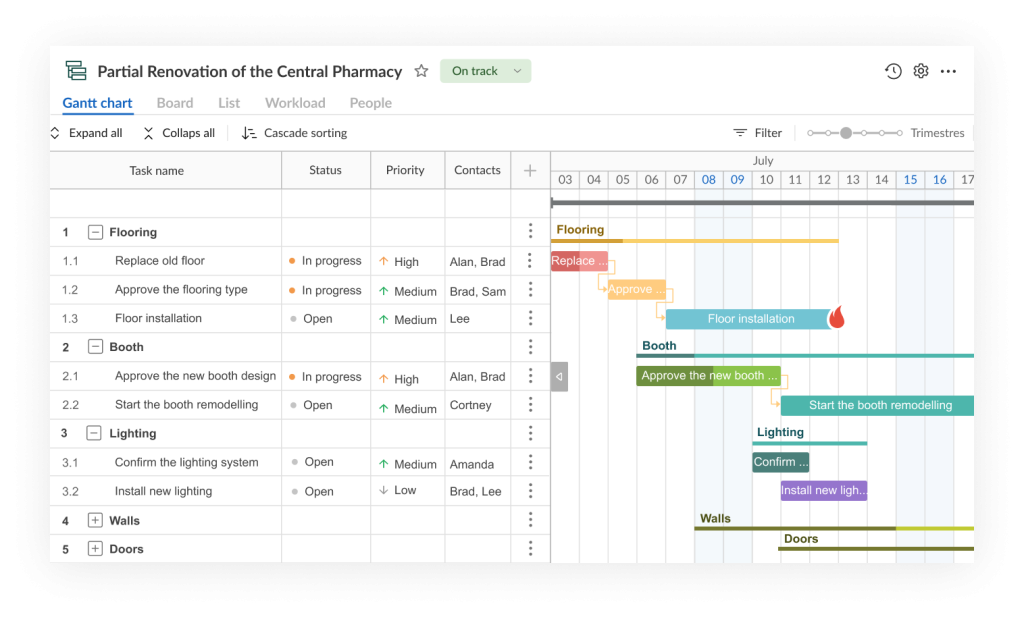 Project deliverables:
New wood floors.

Updated chandeliers.

Newly painted and wallpapered walls.

Larger lobby doors.

New sink.

New cabinets.
Project management:
Project manager: Alan P.

N Construction Solutions, general manager: Lee.

Emergency contact: Paul, Anna, Jeffrey.

Head of finance: Sam.

Construction and contracting: Brad, Cortney, N Construction Solutions.
Total budget: $18,5K.
Adoption plan: The additions to the central pharmacy will be ready for use once the project completes on July 30. The building is to open to the public on August 1. Every new item is to function completely by that day.
Compose your immaculate construction scope of work to ensure the success of your construction projects
A construction management scope of work needs to explain all the work involved in every stage of a project lifecycle. Its elements should include:
Project overview.

Scope details.

Deliverables.

Schedules.

Roles.

Protocol for changes.

Management issues.

Budget issues. 
Following the tips on how to write an awesome construction scope of work that we provided, you'll quickly celebrate the success of your project, avoiding miscommunication, inaccuracy, and construction project delays. 
To make creating your scope of work more efficient, take advantage of GanttPRO, the reliable project management software for construction teams.
Frequently asked questions about a construction scope of work
A construction scope of work outlines what activities should be included in a construction project. It usually describes a project's objectives, milestones, and expected deliverables. The document also explains how the workers should complete their tasks and who is exactly responsible for completing specific activities on the project.

This content is licensed by