5 Construction Workflows for Your Projects [And How to Improve Them]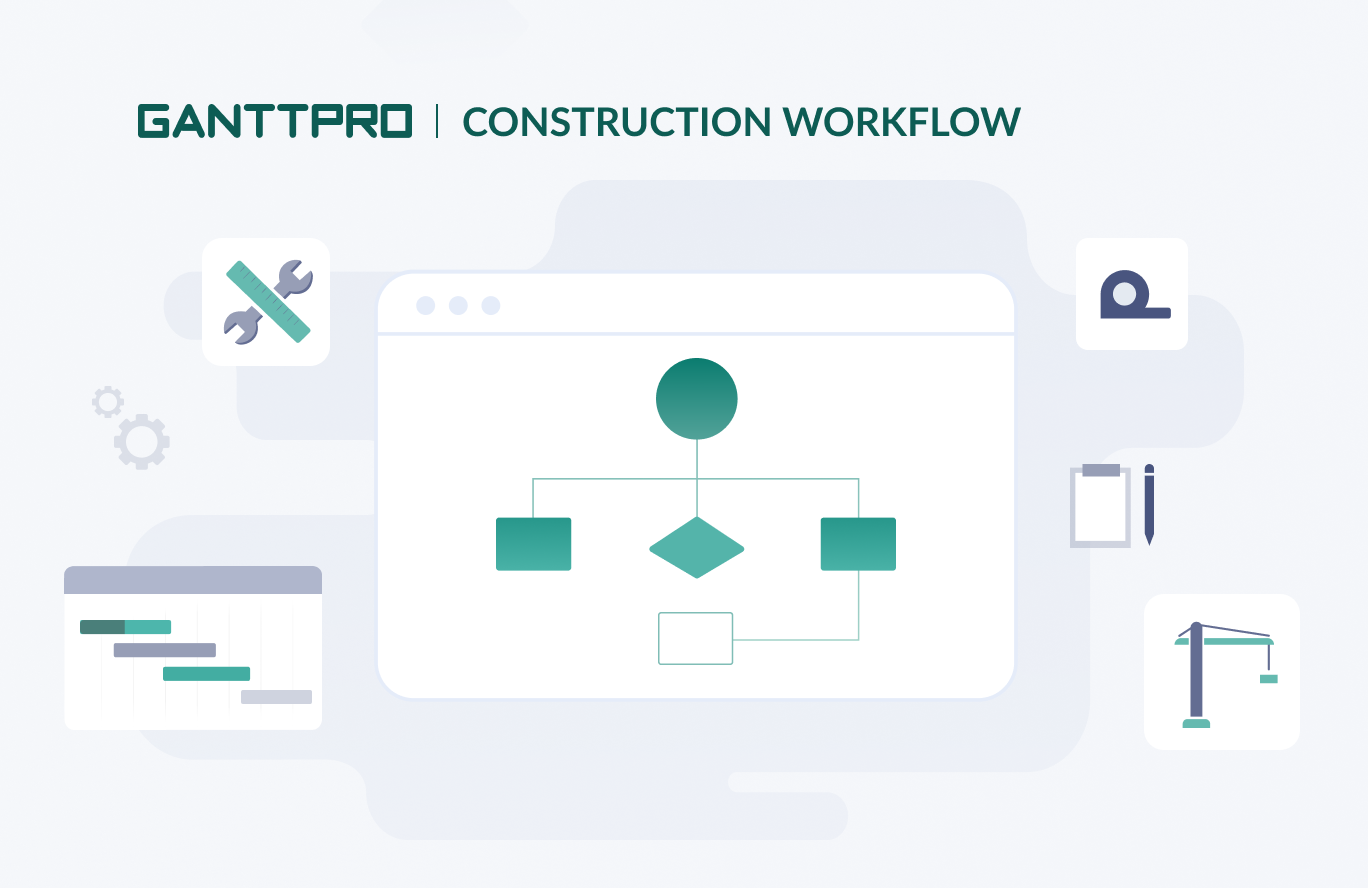 Audio version:
Construction projects involve many specific workflows – from planning to completion. All of them take time, cost money, and require concrete resources. 
An effective construction workflow ensures that one completed task leads to another until the project is successfully delivered. Poorly planned operations and processes cause team discord, chaos, construction project delays, and contract terminations. That's why we include this topic in the range of construction project management articles to anticipate and prevent such situations.
In this article, we describe five construction workflows and what needs to be done to improve each of them with the help of affordable construction scheduling software. 
Contents:
What is a construction workflow?
A construction workflow is a set of sequential activities that take place during any construction process, from planning to project completion. It streamlines processes, reduces inefficiencies, improves work quality, and ensures that all tasks and information flow efficiently from one participant to another.
The construction industry continues to evolve and offers numerous projects every day.
The Bureau of Labor and Statistics forecasts that the overall employment of construction workers will grow by 4% by 2031. The global construction management software market size is also expected to reach $16.6 billion by 2028.
It all means that you should thoroughly care about choosing appropriate workflows to succeed in construction.
Why is it important? Consider the following set of advantages a well-thought-out construction management workflow provides.
The benefits of construction workflows
A well-designed workflow has many advantages that make it important for any business. It is essential in construction for 8 key reasons.
Consider them to prevent mistakes, hold your team accountable, and save money.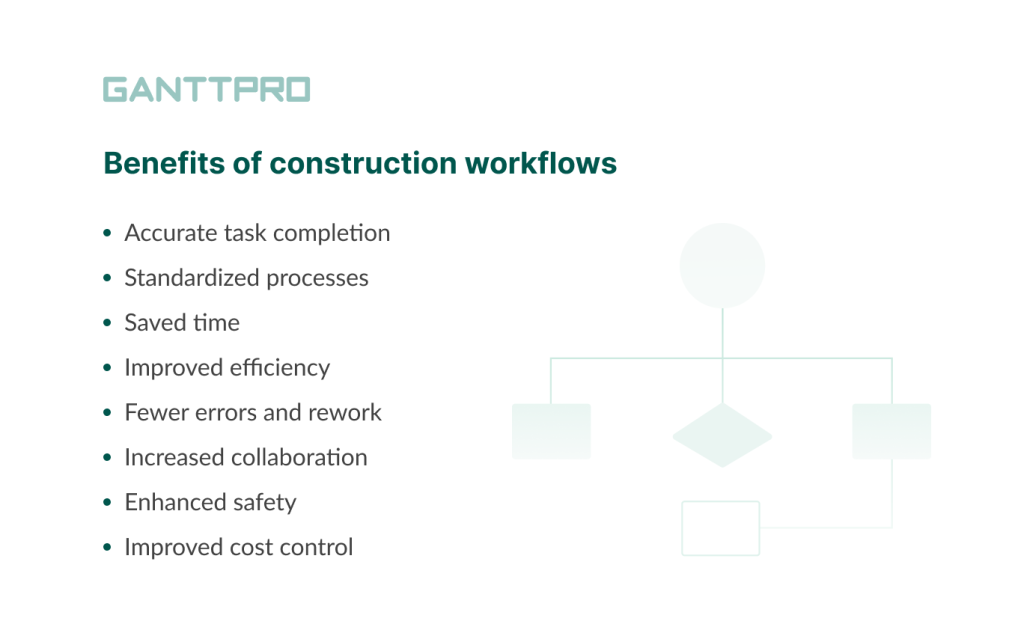 1. Accurate task completion
If you want all your tasks to be completed correctly, it's important to provide construction workers with clear instructions and guidelines through a workflow. This helps minimize mistakes that could cause project delays or compromise the quality of a scope of work for construction.
By planning an efficient workflow beforehand, you increase the chances that all processes will be done correctly and on time.
2. Standardized processes
Standardizing processes is also crucial for keeping construction projects on track and within budget. By defining exactly how each task should be completed, you can improve predictability and avoid unexpected delays or costs.
This allows for preparing a more realistic budget and a project timeline.
3. Saved time
Well-planned workflows save time for workers and project managers.
Once you have established a clear workflow, you can delegate tasks and believe that they will be completed without constant supervision. It will free up your time to focus on other important aspects of your construction project.
4. Improved efficiency
Standardized processes will ensure a clear order of tasks and timelines that will keep projects moving along smoothly and on schedule.
A workflow minimizes the need to rethink steps for each new project that boosts efficiency.
5. Fewer errors and rework
Even a plain work organization with to-do lists or construction project checklists ensures that everyone is aware of their responsibilities and timelines. It prevents last-minute actions and rushed work.
By prioritizing your work and task delegation, you will minimize errors and rework, being able to deliver higher-quality projects. This will save time and money and ensure customer satisfaction.
6. Increased collaboration
A successful workflow includes assigning tasks to the right workers. Professional construction management software solutions offer different kinds of customized flowcharts for this aim. This promotes collaboration among construction employees, holds everyone accountable for their project responsibilities, and highlights the importance of communication in construction.
A well-designed workflow also makes it easy to track progress and identify remaining tasks before moving to the next step.
7. Enhanced safety
Construction projects require implementing a maintenance workflow to ensure that all equipment and materials are regularly checked and tuned up.
Additionally, providing clear instructions for each task in the workflow can help avoid critical errors and keep workers safe. Staying on top of safety is also crucial to avoiding project delays and setbacks.
8. Improved cost control
After all, using standardized processes for repeated jobs and leveraging construction management tools will help you better control project costs.
By planning ahead and assigning tasks, you can reduce the time and money spent on each project. This is what the experts who share actual construction project management tips emphasize.
All the mentioned points are significant, but what workflow should you choose for your construction project to get the most out of these benefits?
5 construction workflows for your business
A workflow can be applied to any range of tasks and activities that need to be done during a construction project. There are multiple workflow styles to choose from to execute these tasks.
Which one will you select?
Here are five types of workflows for construction businesses and some practical tips on how to improve them right for your needs.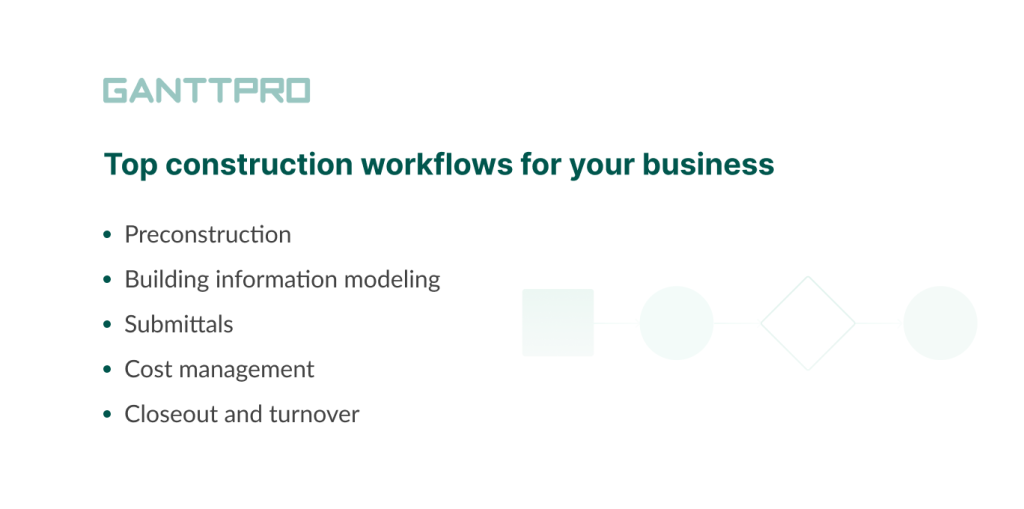 1. Preconstruction
A preconstruction workflow refers to the series of processes that occur prior to the actual construction of a building or infrastructure project. These processes are designed to ensure that the project will be completed on time, within budget, and to the required quality standards. It typically includes project planning, design, permitting and regulatory compliance, procurement, cost estimation, risk management, etc.
When project stakeholders don't communicate effectively, a preconstruction workflow can be time-consuming. This is a common problem as it involves multiple teams.
There is often disorganization and missing information with so many people involved in tasks. As a result, important data and docs can be lost. Therefore, construction managers strive to get everyone on the same page and organize all the necessary info to start off the project on the right foot.
Having a predefined workflow for construction planning and scheduling processes will prevent mistakes in future project management activities.
This kind of workflow should visualize every step from defining a project scope to highlighting project milestones and allocating resources. By creating this workflow, you'll have more predictable results and satisfied customers.
How to improve a preconstruction workflow
All processes involved in this type of construction management workflow need to be carefully considered by the entire team. Here's what to pay attention to.
Keep all data in one place
Different construction teams involved in the planning and scheduling processes often store their project data in various locations, from filing boxes to simple Excel spreadsheets. It can be inefficient and chaotic.
However, a well-chosen project planning and management tool can help centralize all information in a single source of truth. It will ensure consistency, strengthen communication between stakeholders, and simplify a preconstruction workflow.
One of the best examples of such tools is GanttPRO.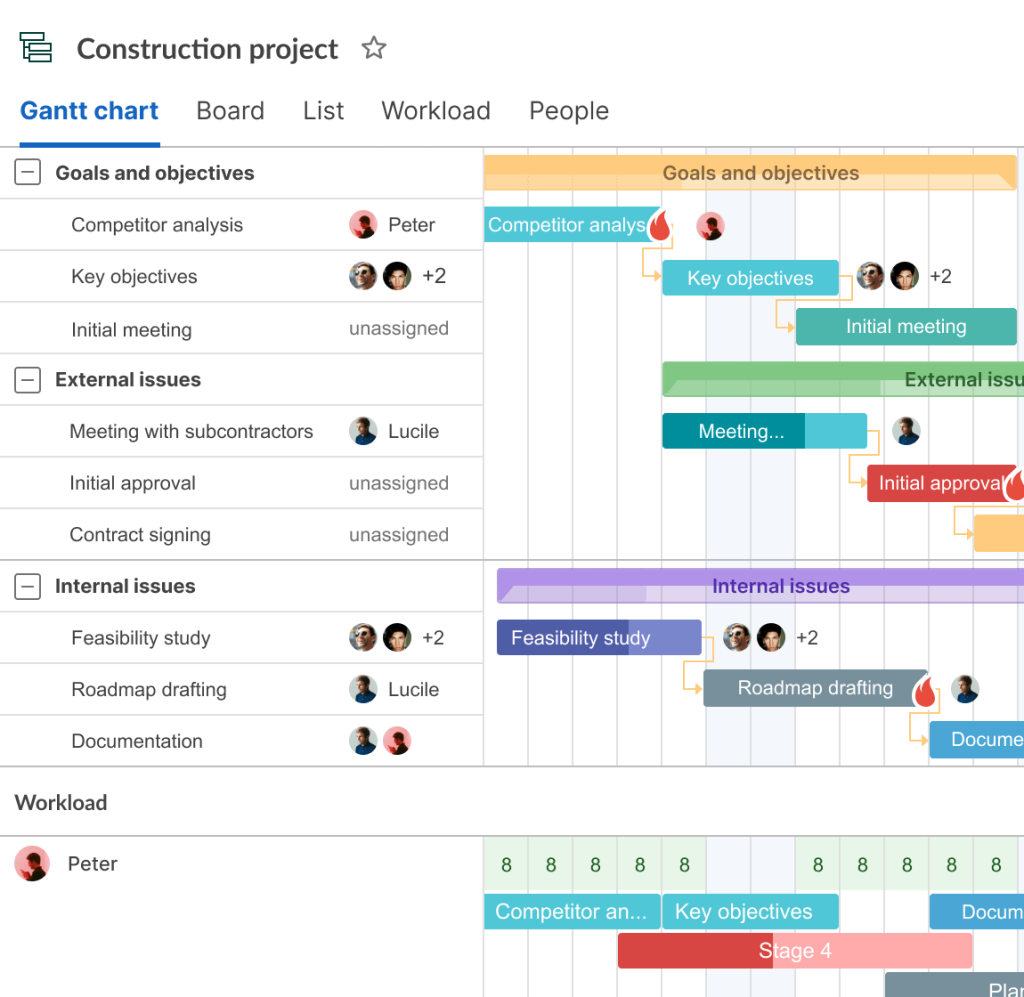 The online Gantt chart maker offers a range of professional features that let construction teams create and manage plans and schedules even for the most complex projects. You can place all your tasks and events on a handy Gantt chart and keep all your activities under control.
GanttPRO greatly assists in different kinds of construction management work, from home engineering to building heavy industrial objects.
Here's the feedback of Peter Stone, a project manager at KenWood Construction, LLC:
One of the reasons that I advocated for GanttPRO to the owner was that this tool allows people with different technical abilities to easily create and track schedules. Now, I handle the entire construction process in GanttPRO.
Automate and integrate your workflow
Emails and manual processes often leave workers out of the loop, while integrated workflows can be quickly reviewed by all team members. No one will be left in the dark, as online construction scheduling platforms help project teams to receive the same information and updates during all project phases, from preconstruction to the final closeout.
For example, in GanttPRO, you can easily communicate with all the people involved in construction. It's possible to receive notifications, leave comments, and add attachments.
Thanks to the handy GanttPRO mobile apps available for iOS and Android, you can do it even while working outside the office.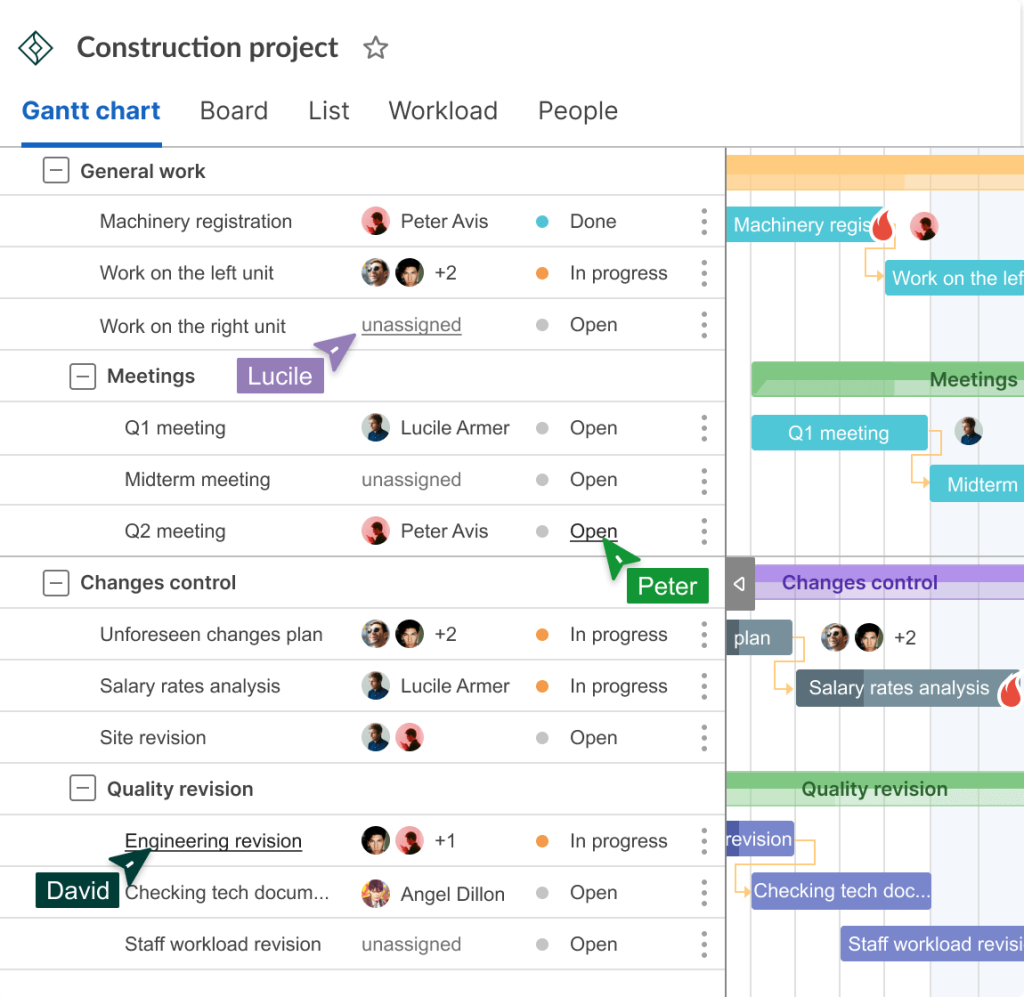 Connect your plans and actual work
It's also important to find a digital solution that will allow construction teams to seamlessly store preconstruction documents and data like schemes, designs, bid details, estimations, and more once actual construction starts.
Solving these issues is also in the power of GanttPRO.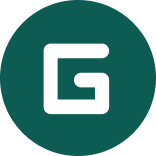 Professional construction management software
Plan and manage construction workflows with ease.
Sign up for free
2. BIM
BIM is building information modeling. This type of workflow involves the creation and management of digital representations of the physical and functional place characteristics.
BIM provides a 3D model that integrates the info about the building's geometry, materials, construction methods, and performance data. This data is shared among all stakeholders involved in the project, including architects, engineers, contractors, and owners.
This efficient construction strategy can save you time and effort, but only when it is used in the right manner. When BIM is implemented incorrectly, it can lead to wasted time, especially if you use incorrect information. All your attempts to recover incomplete data can result in errors, rework, and wasted resources.
How to improve a BIM workflow
The BIM construction project management workflow also requires some rules and standards that will bring your project to success faster. Below you will find the main ones.
Implement a common data environment
Embrace a cloud-based BIM to have a common platform and avoid redundant or missing information. It will show you what's already been uploaded or not, allowing easier tracking of the duplicate docs in the process.
Provide clear standards
Establishing clear standards for BIM implementation can help ensure consistency and efficiency in workflows. This includes file management, model coordination, and communication protocols.
Connect BIM data
Connect your BIM data to other construction project workflows to maximize its use and ensure accuracy. It will help you reduce risks and boost efficiency during the project planning and execution phases.
Enhance accessibility
Your BIM workflow will be more effective if you improve accessibility in the field. Provide your team with convenient and immediate access to essential operations.
For example, GanttPRO allows all construction workers involved in the project to have access to real-time planning statuses.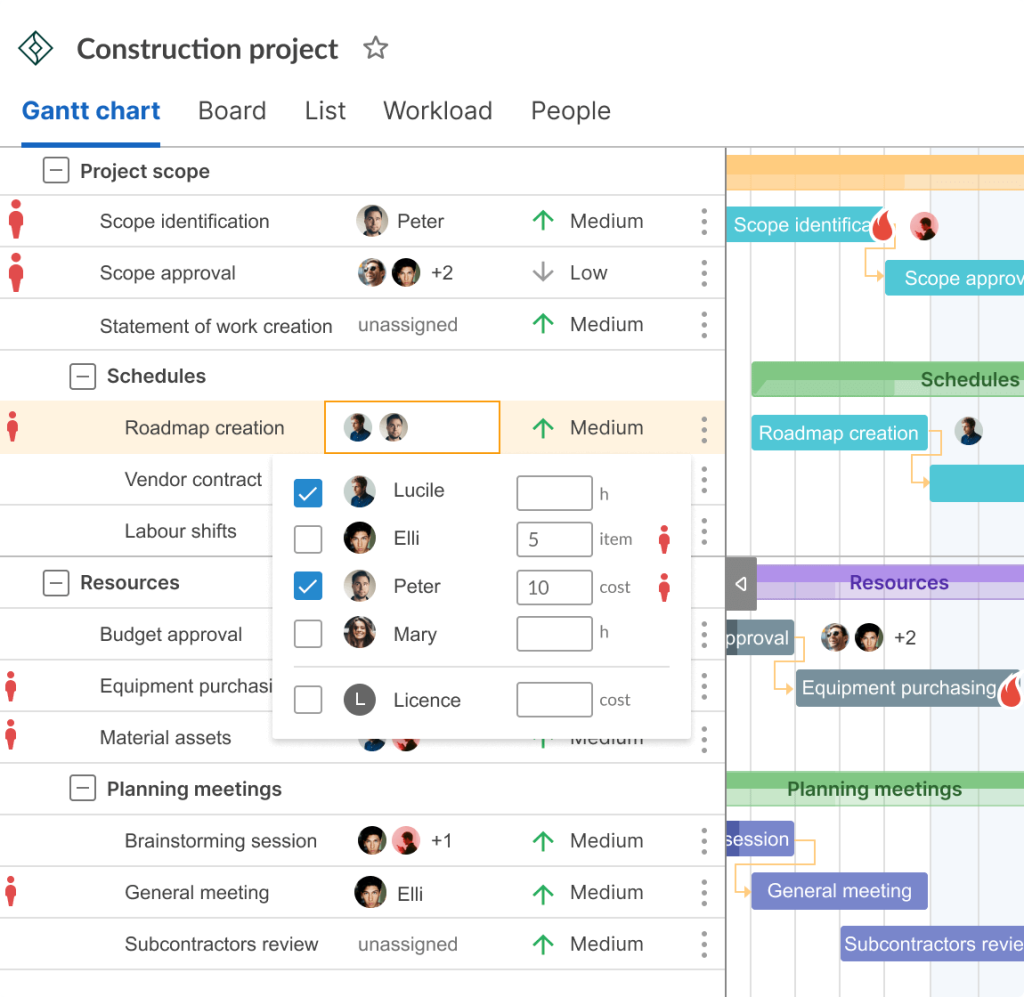 Invest in training and education
Providing training and education to all team members involved in the BIM workflow is a confident step towards the formation of a high-performing team at the construction site and in the office.
It will help you accelerate their proficiency and enhance their ability to collaborate.
Conduct regular reviews
Conducting regular reviews during the BIM workflow ensures accuracy and completeness. This can include model auditing, verifying compliance with project requirements, or clash detection.
3. Submittals
Submittals are one of the most vital construction workflow management types.
A submittal can be a method, a process, a deliverable, a product, or a sample used on your project. It is typically submitted for approval by subcontractors and suppliers to general contractors.
Submittals may also include specification documents, shop drawings, installation instructions for equipment, material samples, printed brochures, etc.
They are usually used to support construction quality purposes and provide evidence of compliance with building codes and regulations. In general, they provide an excellent explanation of how something should be applied or set up.
This construction workflow enables contractors to submit their work plans on time to stay competitive on the market.
How to improve a submittals workflow
If you have chosen this type of workflow and want to optimize it, the tips below will help you with this.
Care about clear submittal schedule
Establishing a clear submittal schedule with deadlines and milestones will help ensure that your workflow is healthy and that all required information is submitted on time.
Manage and track submittals digitally
Managing and tracking submittals in one digital system will allow stakeholders to initiate requests, manage reviews and approvals, and sync critical info to mobile devices for offline access.
Choosing a robust software solution, you'll get real-time tracking, automated reminders, and electronic approvals. All this will eliminate the need for paper-based submissions.
Automate submittal logs
It is extremely difficult to manage this kind of workflow confidently without a comprehensive submittal log.
Find proper tools to automate the creation of submittals. For example, you may generate a downloadable spreadsheet with all submittal register items in minutes. It will save you time and money as well as boost accuracy and reduce the chances of rework.
Continuously evaluate and improve submittal processes
Continuously evaluating and improving this kind of workflow will ensure that all the processes are efficient. It can involve soliciting feedback from your construction team, tracking metrics, and implementing improvements based on lessons learned.
4. Cost management
Managing costs and keeping a project on a budget can be the biggest hurdles in a construction project. It happens as the project may have dozens of changes.
Construction teams will always need accurate data about the financial health of their project. It will help them quickly make well-informed decisions. Therefore, a well-thought cost management workflow can play a decisive role in delivering a project on time and on budget.
How to improve a cost management workflow
This workflow optimization depends on many factors. Pay attention to the following ones.
Streamline change tracking
When changes are streamlined, you can be sure that you won't lose anything. It will reduce risks, allow for maintaining positive cash flow, and maximize profit.
You can easily replace spreadsheets with an efficient online construction management tool such as GanttPRO to track all cost changes transparently. An online Gantt chart helps keep in mind possible risks and financial changes.
GanttPRO allows for calculating the cost of your construction project based on the cost of tasks and resources. You can easily control your workflows and change management processes with a friendly drag-and-drop interface.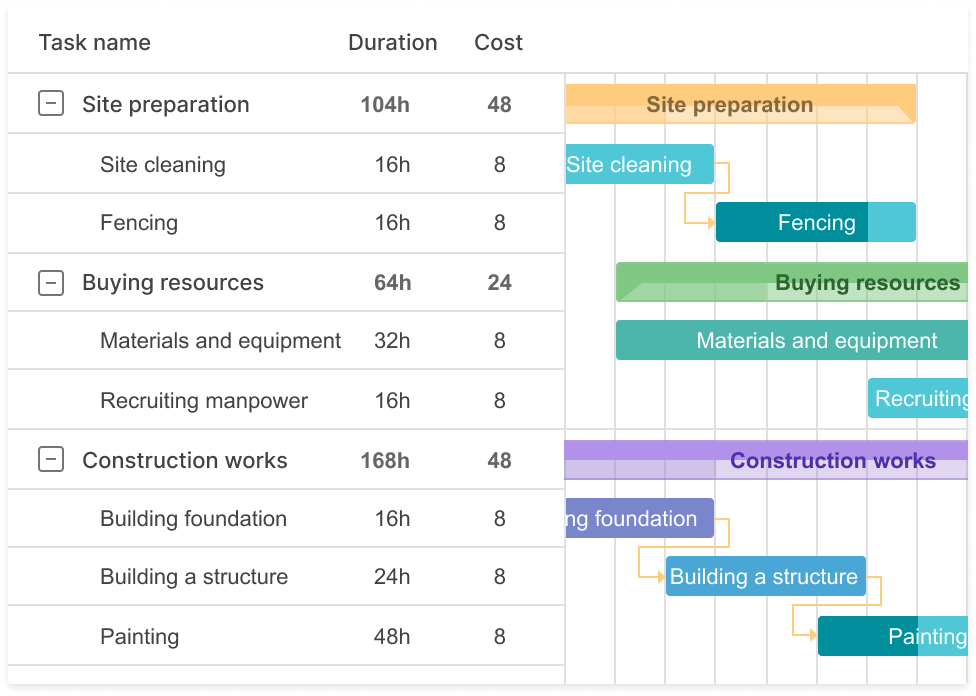 Automate contracts
By having a robust system for contract automation, project teams can easily prepare, edit, and view supplier contracts in a centralized location.
It provides a clear picture of costs, income, expenditure, and forecasts related to each contract.
5. Closeout and turnover
Closeout is also an important construction management workflow. However, it is often underestimated by construction managers. It results in delays at the end of the project.
The closeout phase of any project means that construction managers have to complete punch lists. They document any work that does not conform to the project and must be completed before final payments. However, they can be left to the last minute, delaying the closeout and the project's overall timeline.
You will be more likely to get paid on time if you turn all punch lists into a workflow and work through them before the end of your project.
How to improve a closeout workflow
The completion of your project is a significant point in its history. Therefore, this type of construction management workflow requires special attention, including the following aspects.
Constantly track punch lists as tasks
Track your punch lists as separate tasks using a powerful task management software solution. You'll have a much cleaner punch process if you use digital technology with shared access.
You can easily do it in GanttPRO. The platform allows for tracking punch processes, conducting reports, and considering unfinished tasks. With its help, you can analyze potential failures and log work time.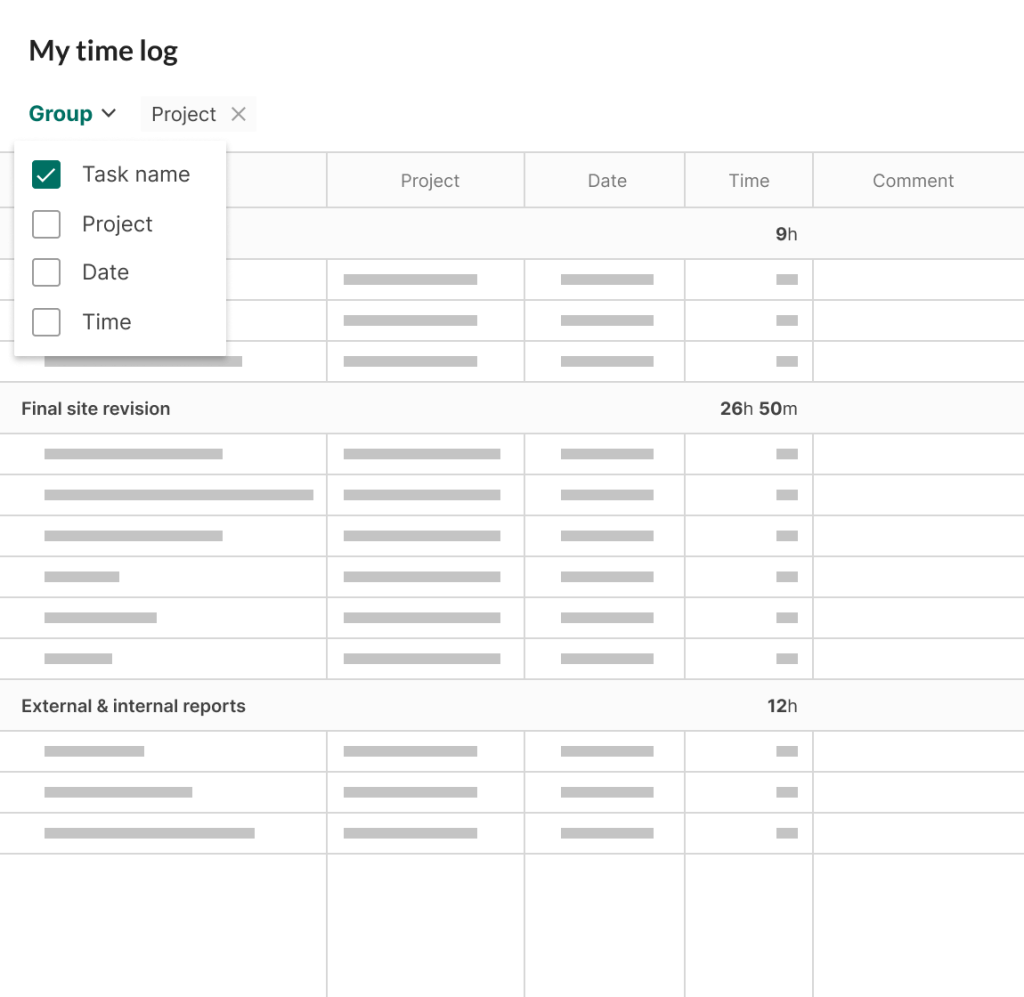 Apply mobile solutions
Add punch lists to the timelines in a mobile version of your management tool. It will let your team take the lists everywhere they go.
The GanttPRO mobile app is at your disposal.
Conduct quality checks and regular reviews
Arranging regular quality checks and reviews of closeout documentation will ensure that all required information is accurate and complete. This approach will let you eliminate errors and avoid delays in project closeout.
Choose the best construction workflow for your project and manage it with robust software
You cannot expect your construction company to fine-tune all the workflows immediately because changes don't happen with the snap of fingers.
Get started with improving your construction project workflows by following an available step-by-step guide to manage a construction project and with the help of a professional construction management tool.
Take advantage of GanttPRO, as the leading Gantt chart maker offers many progressive features and friendly tools that will help you to:
Improve scheduling and planning.

Enhance communication with team members involved in construction.

Connect your plans and actual work using the mobile apps.

Allow workers to have access to real-time planning statuses.

Streamline change tracking with a visual timeline.

Track punch lists as tasks, and more.

This content is licensed by