How to Manage a Construction Project Step by Step: a Complete Guide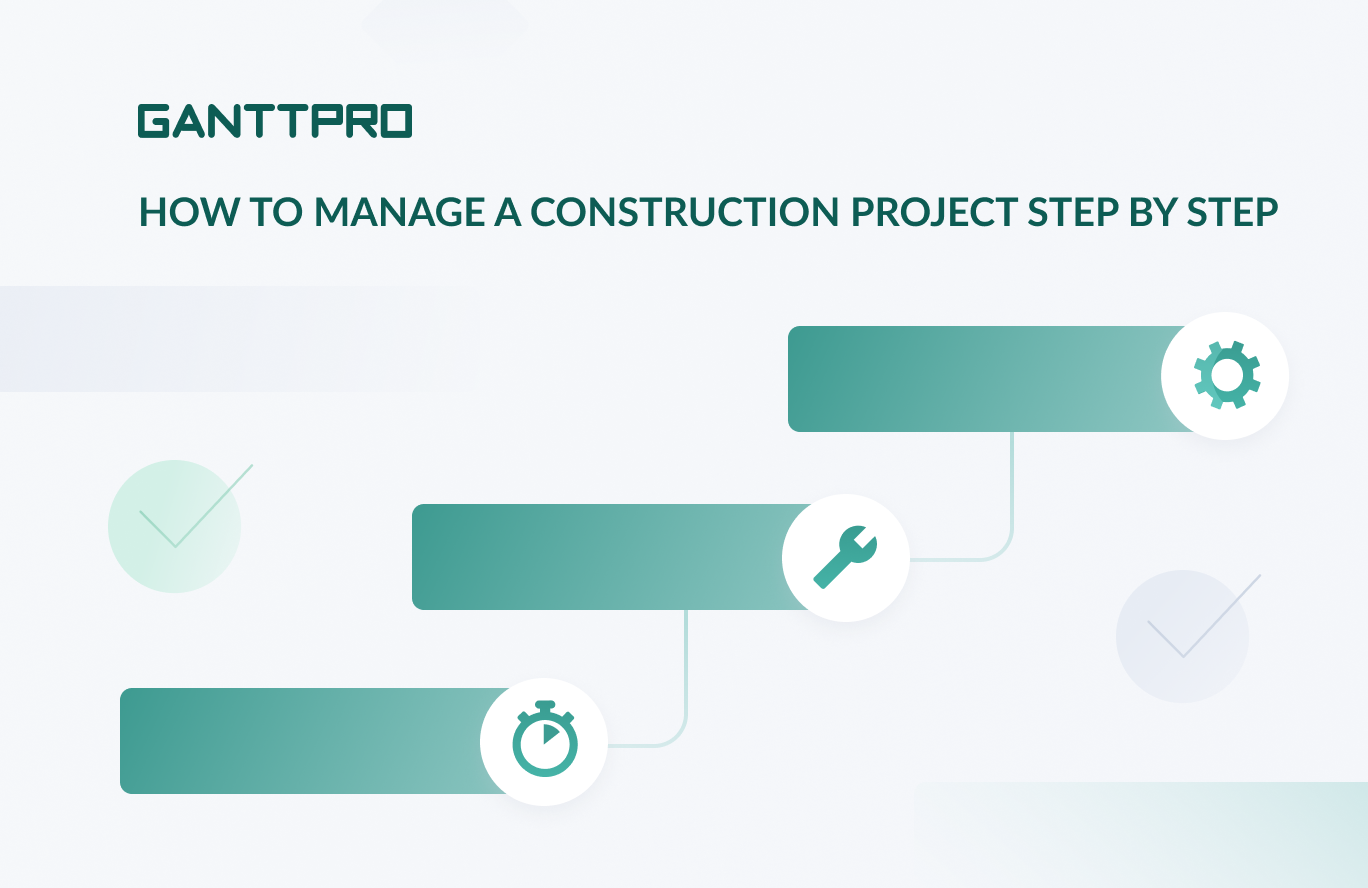 Audio version:
A successful construction project should meet industry standards and be completed safely, within budget, and on time. To achieve these goals, construction teams all over the world wonder how to manage a construction project step by step and finish it without accidents and delays.
By overlaying unique construction aspects on the fundamental project management principles, you'll get consistent steps tailored to the needs of any construction project.
If you read this article, which successfully complements our set of construction project management articles, you are probably interested in these steps. Let's make a long story short and figure them out.
How to manage a construction project step by step
Define a project conception.
Hire professionals.
Choose a project management tool.
Prepare a plan.
Execute your project smartly.
Track changes.
Consider all legal aspects.
Close the project and embrace reporting.
Construction project management is rather similar to managing projects in other spheres. The main idea is to get something delivered to the required scope with a defined degree of quality.
Below are eight steps for managing construction projects successfully. Let's explore them and see how professional construction management software can assist.
Step 1: start with a project conception and general preparation
Investigating the feasibility of your project is the first point you should think about before planning anything.
There is no way to start any task if you have no clear understanding that you'll be able to finish it. Therefore it's better to complete a project feasibility report first (sometimes called a business case), considering deliverables and predicting costs.
During this step, you should determine the goals and highlight the reasoning behind the project. You'll also need to identify potential obstacles and risks.
This initial step can be considered one of the most vital artifacts in construction project management. It provides the groundwork for the next steps.
Step 2: hire professionals
Hiring motivated and responsible people is a vital step in construction project management. It should lead to the creation of a solid and high-performing team. However, this is not an easy task.
According to the AGC study (2022), 91% of construction companies have difficulties hiring workers that leads to extra costs and delays.
Whether it's a construction site or an office, your employees need to be clear about their responsibilities and roles. And all further construction project management tips will be useless if you don't have a cohesive team. So make sure you've gathered around you worthy specialists you can rely on.
Define the roles and responsibilities and try to create an atmosphere of process transparency and trust.
Once the roles and responsibilities of your teammates are defined, it's easier to get the next step into motion.
Step 3: choose a professional project management tool
Choosing the proper tools for working within a particular professional area can be challenging.
Luckily, modern construction project management software solutions automate all manual activities associated with planning, organizing, estimating, allocating resources, and other aspects of construction projects. These tools increase the productivity of project managers and their teams by providing invisible levers to support collaboration, decision-making, administration, and other essential aspects.
Perhaps, you'll need several platforms to organize your work. However, there are multifunctional online platforms that can cover all the needs at construction sites and in the office.
One of the best solutions beloved by construction companies all over the world is GanttPRO.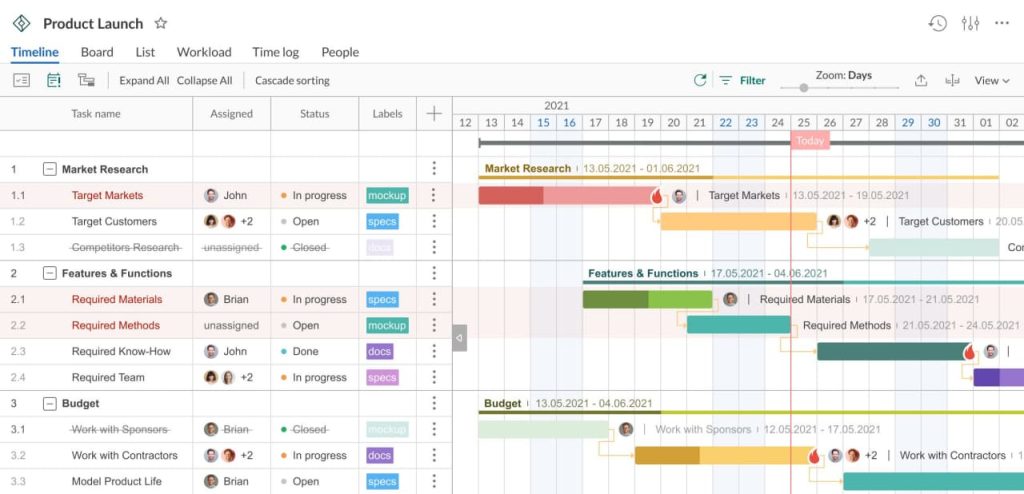 The platform is known for its professional Gantt chart online for planning and scheduling. Besides, construction teams rely on it because of the following features:
Task management.

Collaboration.
Resource management.
Budget management.
Deadline control.
Time tracking.
Notifications.
Timeline import and export.
History of changes.
Baselines.
Reporting.

Convenient templates, etc.
This easy-to-use software has a short learning curve and attractive UX/UI design. It helps to prevent construction project delays that often occur in the industry.
You can use GanttPRO mobile apps available for Android and iOS to synchronize work between the web and mobile versions in real time.
The next step in construction project management relates to the fundamental question "How to create a project plan?"
Step 4: make planning a habit
The next step should ensure that your team singles out all the work to be done. In many cases, planning means an ongoing activity almost to the end of the project.
Before planning, you should clearly understand the construction scope of work within your future project.
This step relates to the key priorities: to plan project time, costs, and resources. Based on these requirements, your team will develop the core project strategy.
One of the best ways to visualize your project plan is to create an online project roadmap. It will provide you with an overview to better understand what needs to be done to prepare detailed work schedules.
The roadmap is also a good way to check what the performance metrics should be. With its help, construction project managers determine whether a project is on or off schedule.
As an online Gantt chart is considered a powerful tool for facilitating foresights and plans, then GanttPRO can be your best helper.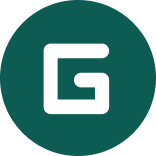 Advanced construction project management software
Create an online Gantt chart in minutes.
Sign up for free
The powerful construction scheduling software offers a range of professional features that let construction teams create and manage detailed roadmaps even for the most complex projects.
You can place all your tasks and events on a diagram and keep all activities under control.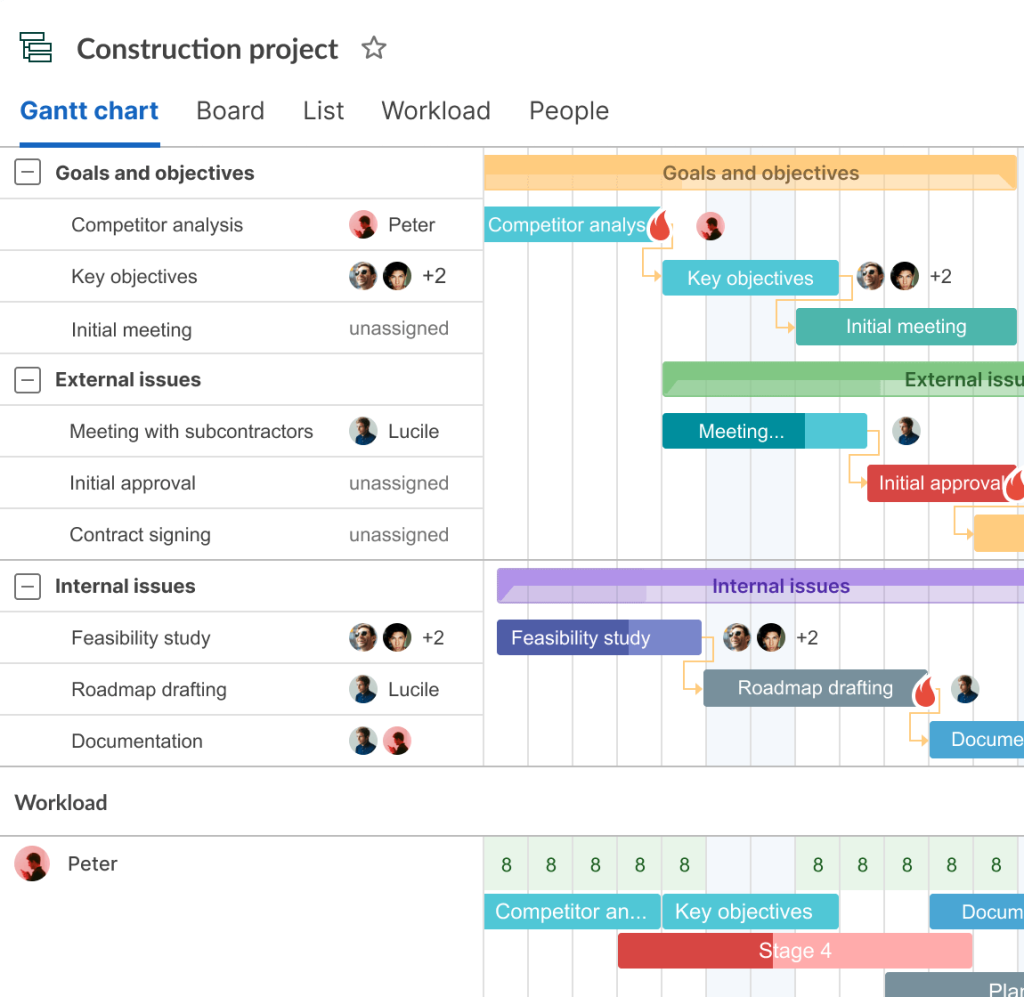 Remember that construction schedules and plans can change frequently. In GanttPRO, you can adjust them, depending on the previous phase of your project.
Step 5: execute a project considering tasks, time, budget, risks, and more
This step means that it's finally time to start the physical work.
Your visual plan is ready and now you need to execute your construction project. You'll have several tasks to complete during this step, including team development, assigning resources, holding status meetings, updating work schedules, and communicating effectively every step of the way.
You need to take the plan and implement it considering the changes and work management issues that can arise during such a process.
It is critical for any project manager to be transparent in managing projects to let everyone be on the same page and understand what needs to be done within the construction workflow. This includes:
Task management.

Time management.
Team management.
Resource management.
Budget control.
Risk management.
Task management
Construction projects contain many complex and small tasks. They can be linked with each other and involve specialists from different teams and departments.
That's why it's pretty important to visualize all work activities in one place so that nothing gets lost and confuses you.
Every large task may include subtasks, which in turn can also be divided into smaller activities.
Even the brightest head will not be able to keep all this information in order. But fortunately, smart software like GanttPRO comes to the rescue.
The platform acts as a great tool for creating a work breakdown structure that represents a hierarchical decomposition of projects. With its help, construction managers can break down complex projects into more manageable parts. It simplifies the work of the entire team, allowing them to manage, evaluate, and assign tasks with ease.
The WBS creator allows for building your structure from scratch or utilizing Gantt chart templates to simplify your efforts.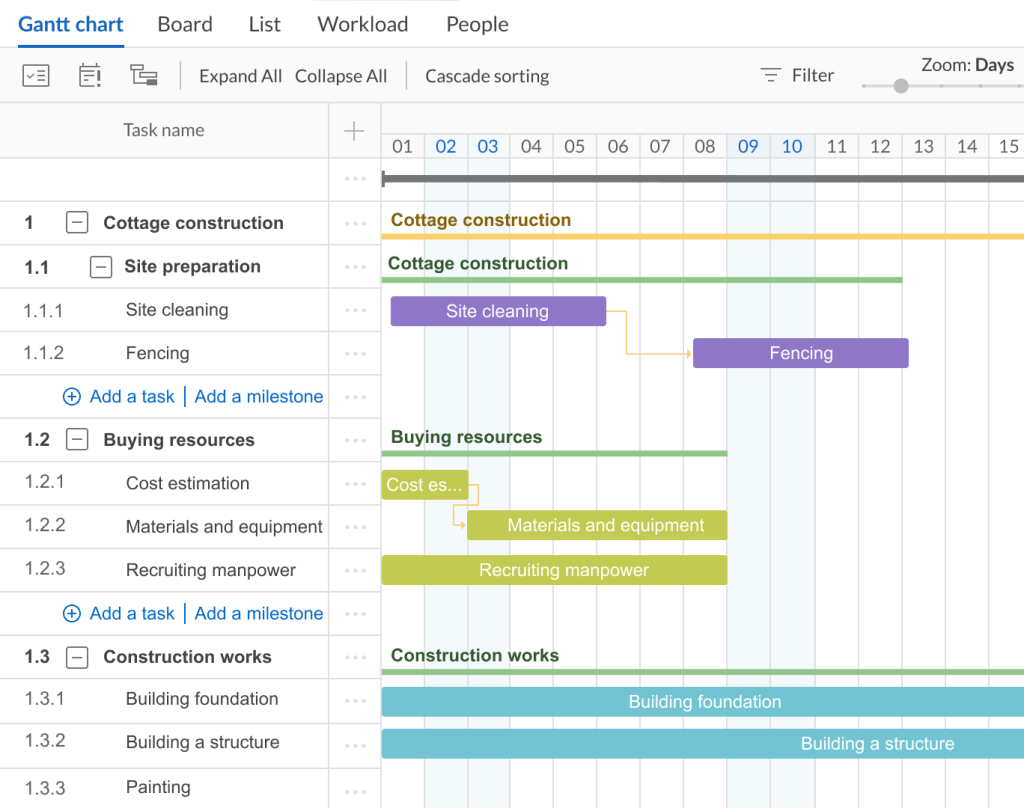 You can place all your tasks on the left-hand side of your construction schedule and add subtasks. To the right, you'll get a timeline that will capture the entire project plan in one place.
GanttPRO lets you link dependent tasks, set required milestones, and use a baseline to capture the plan to compare to your actual progress.
The platform also offers its users to work with various project views. For example, a board view, where all tasks are displayed in columns and cards.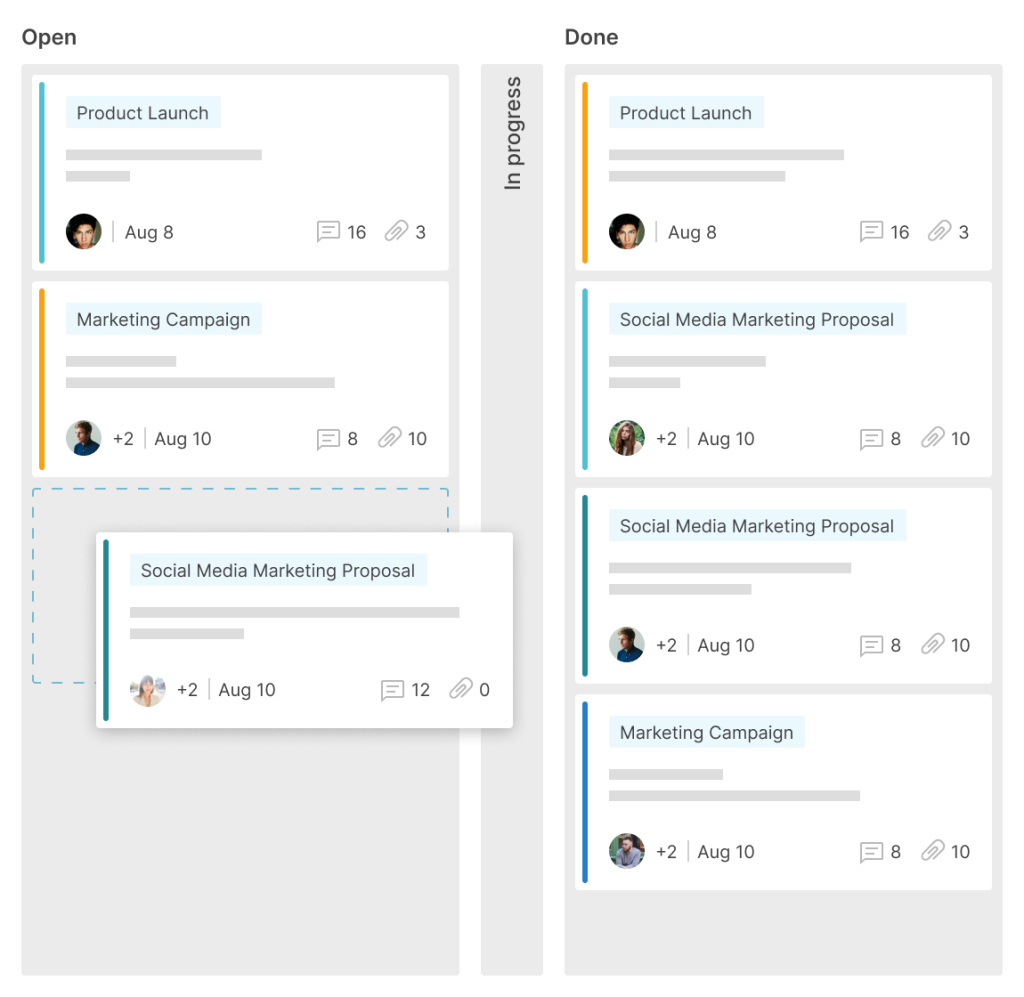 Time management
Tracking the time of your tasks is also an essential part of the execution step.
Any project manager wants to understand and clearly visualize the beginning and the end of each task, as well as control the actual time it takes to complete it. Moreover, no one desires to miss deadlines and collect overdue tasks.
In GanttPRO, you can set and estimate start and end dates, control task duration, and define deadlines for any activity on a Gantt chart.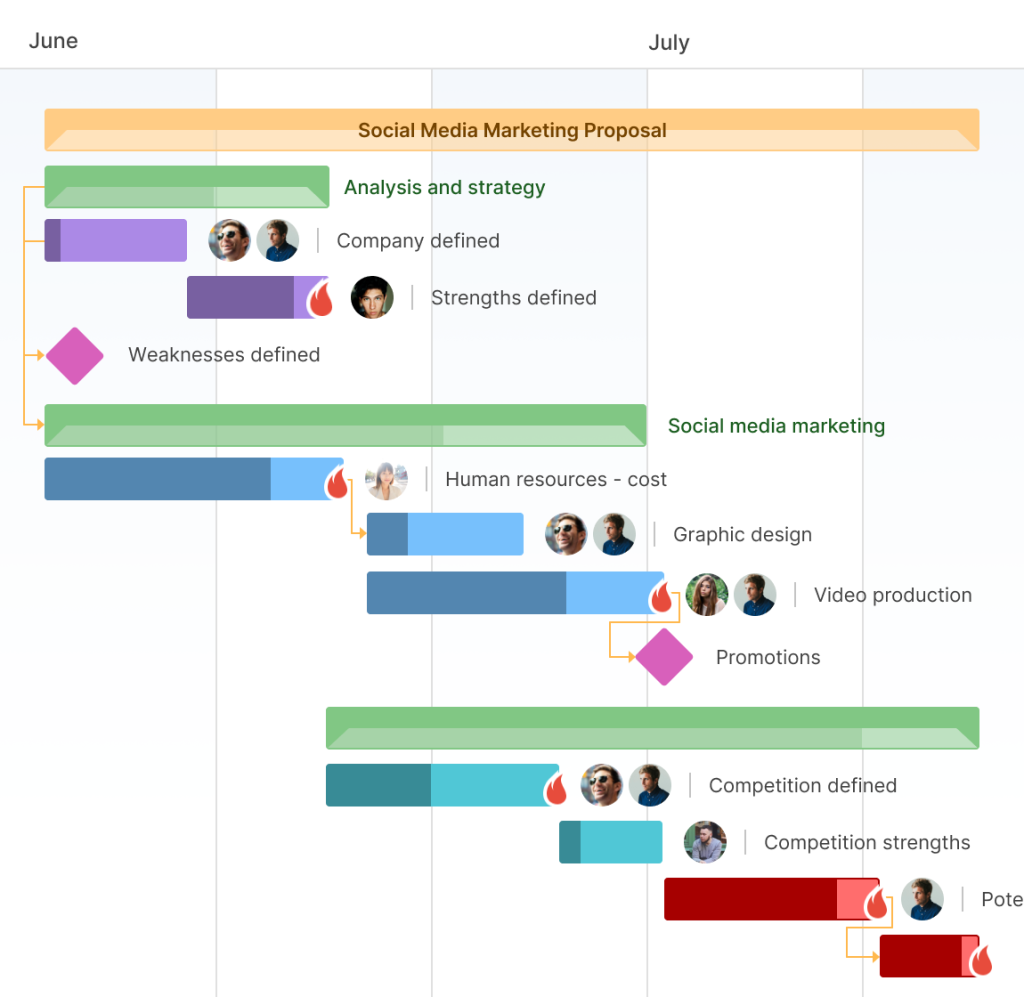 Team management
Integrated construction workflows should be constantly reviewed by all team members.
Smooth communication in construction is important no matter whether people work in the office or at a construction site. It helps achieve transparency, so everyone performs better from the very beginning of your project.
Modern project management platforms help teams to receive data and updates during all project stages. It ensures that no one is left in the dark.
For example, GanttPRO provides advanced opportunities for team collaboration and flawless communication.
You can leave comments, receive notifications, and add attachments.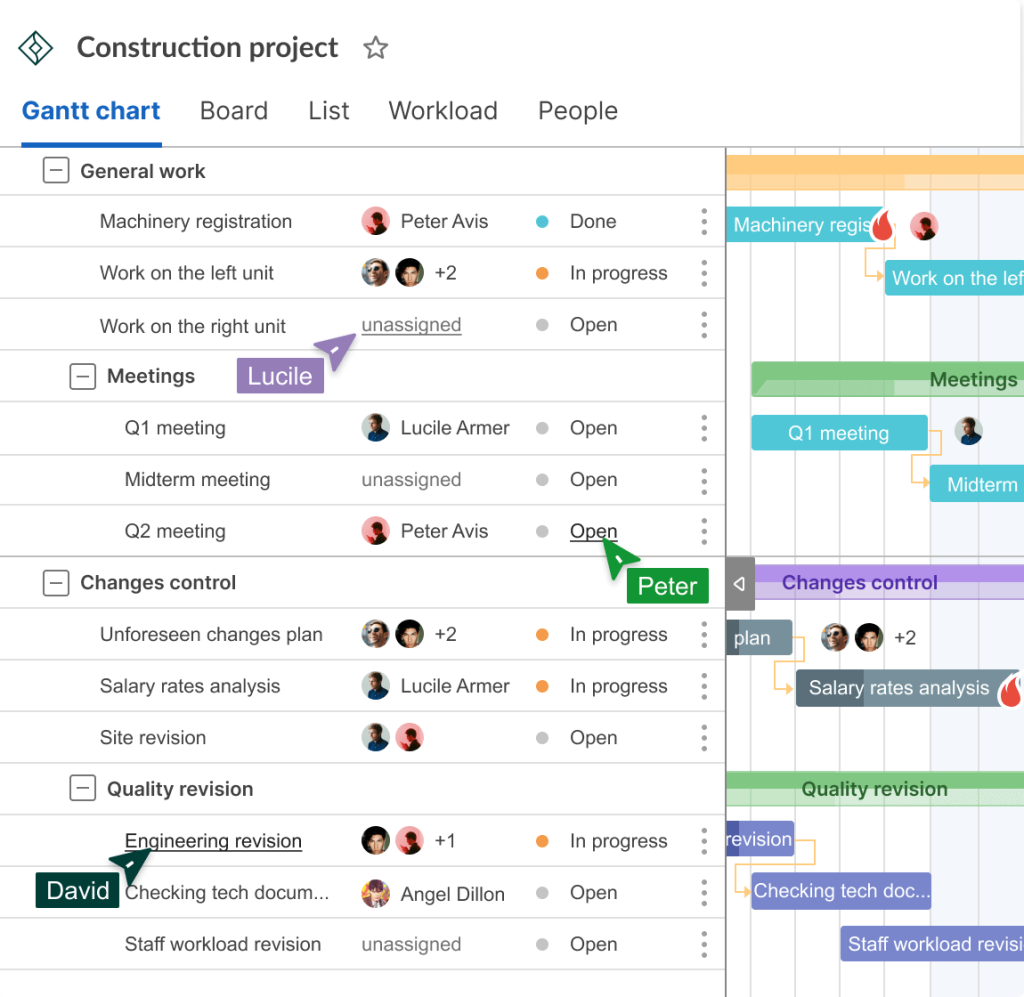 Striving to optimize team management, construction managers often want to customize work with project participants. In GanttPRO, they can make it without complex settings and manipulations.
The platform allows for working with roles and permissions at the account level and rights and permissions at the project level.
Construction managers who use GanttPRO can easily work with account roles and project rights. It allows them to differentiate access to settings and features for their team members and stakeholders and customize work.
Resource management
Like all complex projects, construction projects require assigning team members to separate projects as well as assigning tasks both to people and to virtual resources.
GanttPRO allows for adding 3 types of resources:
Labor resources.

Material resources.
Resources with a fixed cost.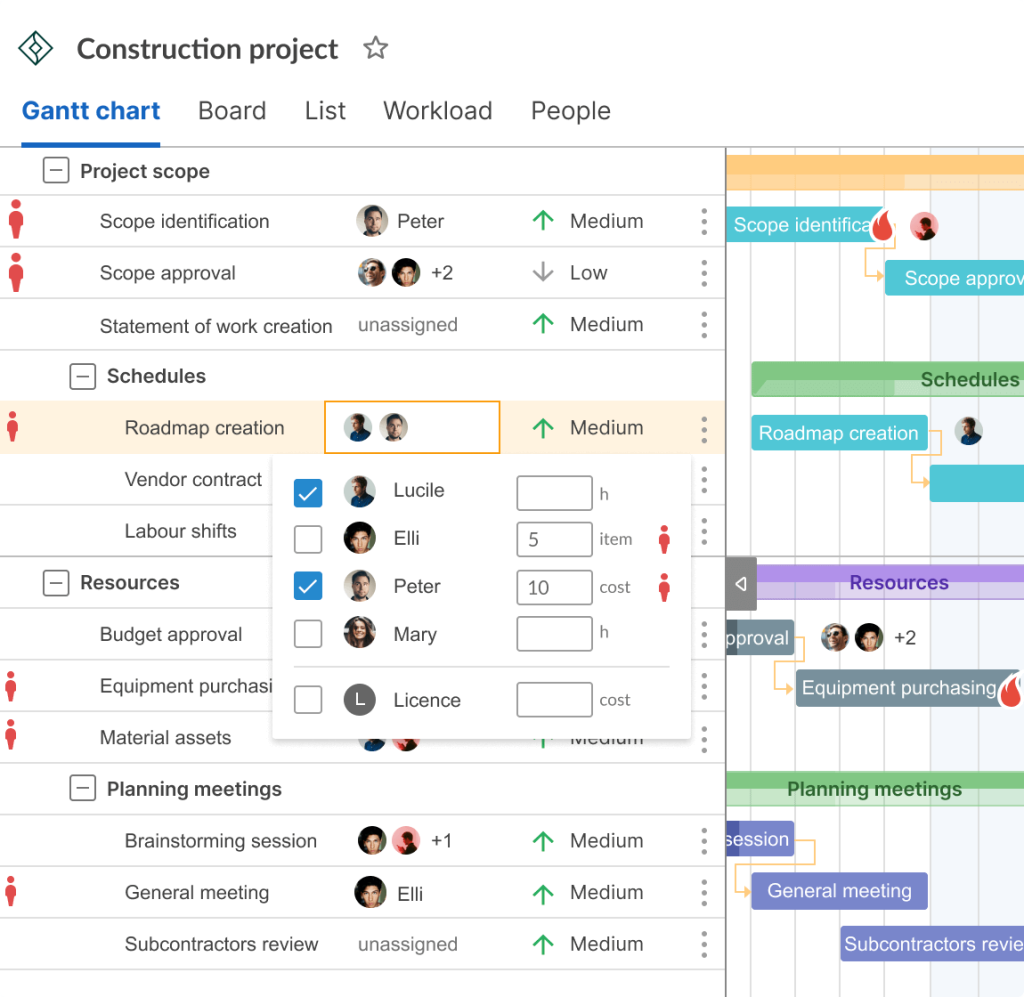 You can set values for them per hour, per item, or just per cost. It is possible to assign as many resources to any separate task as you need.
Budget management
Construction managers have to deal with wages, materials, and equipment needed for projects. From the initial bidding process to the project closeout, they are responsible for tracking costs.
Even small projects contain hundreds of moving parts and costs. Therefore it is recommended to use software that can also help you manage all budget issues.
GanttPRO enables your team to input costs, budget changes, and other calculations to keep track of your project finances.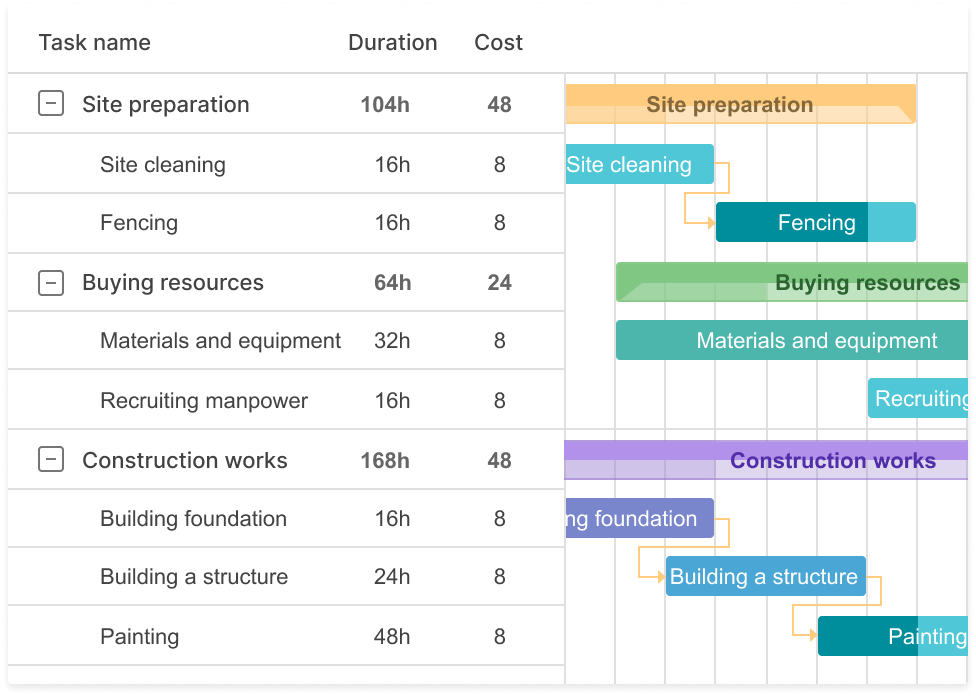 You can share your timeline with your partners, subcontractors, or vendors if needed. The chart can be exported in PDF, PNG, XML, or Excel formats.
Risk management
There are so many risks on a construction site that may cause project failures.
Many of these risks directly relate to project changes that involve uncertainty. This uncertainty means that projects can be blown off course by any potential future event.
Construction project managers need to recognize these risks and actively manage them.
By predicting potential events that may impact the entire project and by putting actions in place to address them, construction teams can minimize risks and increase the chances of successful project delivery.
Step 6: keep control and track changes
As long as construction is ongoing, changes can happen. Project managers should be able to balance the budget against the schedule, control teams, materials, and equipment to mitigate the forces of change.
When changes happen, they measure performance, recognize the reasons for deviations, and take corrective actions.
It's important to adapt and adjust to changes as soon as possible. Such tools as GanttPRO help to keep them under control.
The platform comes with an auto scheduling feature. It allows for tracking all the changes that may happen to dependent tasks in a project. The feature recalculates the dates automatically.
Step 7: consider all legal aspects of your project
One of the most essential aspects of construction project management that project managers shouldn't overlook relates to legal issues.
Even a project manager without experience should be able to offer adequate answers to potential legal disputes or risks that may emerge.
There are key areas to considerate:
Contracts. Even if you utilize specific fixed contract forms for your project, there can be a need for changes in the agreements.
Construction project parties (contractors, subcontractors, consultants, purchasers, etc.).
Legislation and regulation. Having a legal manager in your team, you'll ensure that all the legislation and regulation issues are followed properly.
Insurance. Project managers should be informed and take care of every detail concerning the insurance agreements.
Procurement. The process of purchasing different materials and services can be also thoroughly regulated from the legal aspect.
Step 8: close the project and embrace reporting
After your construction project has been completed, the final phase in its management named closeout begins.
During this step, managers reflect on the project's positives and challenges from an objective standpoint. They run final meetings with stakeholders and partners to discuss what went right, what went wrong, and how project workflows can be improved in the future. They often use a simple construction project checklist to write everything down and not overlook anything.
The team completes a project report that demonstrates when and how much time they have spent on specific tasks from specific projects.
It's better to issue such reports in one place, so having a platform with the reporting functionality at hand is a critical point.
Here we also recall GanttPRO where you can create time log reports that will reflect such details as projects, users, tasks, dates, time, and comments.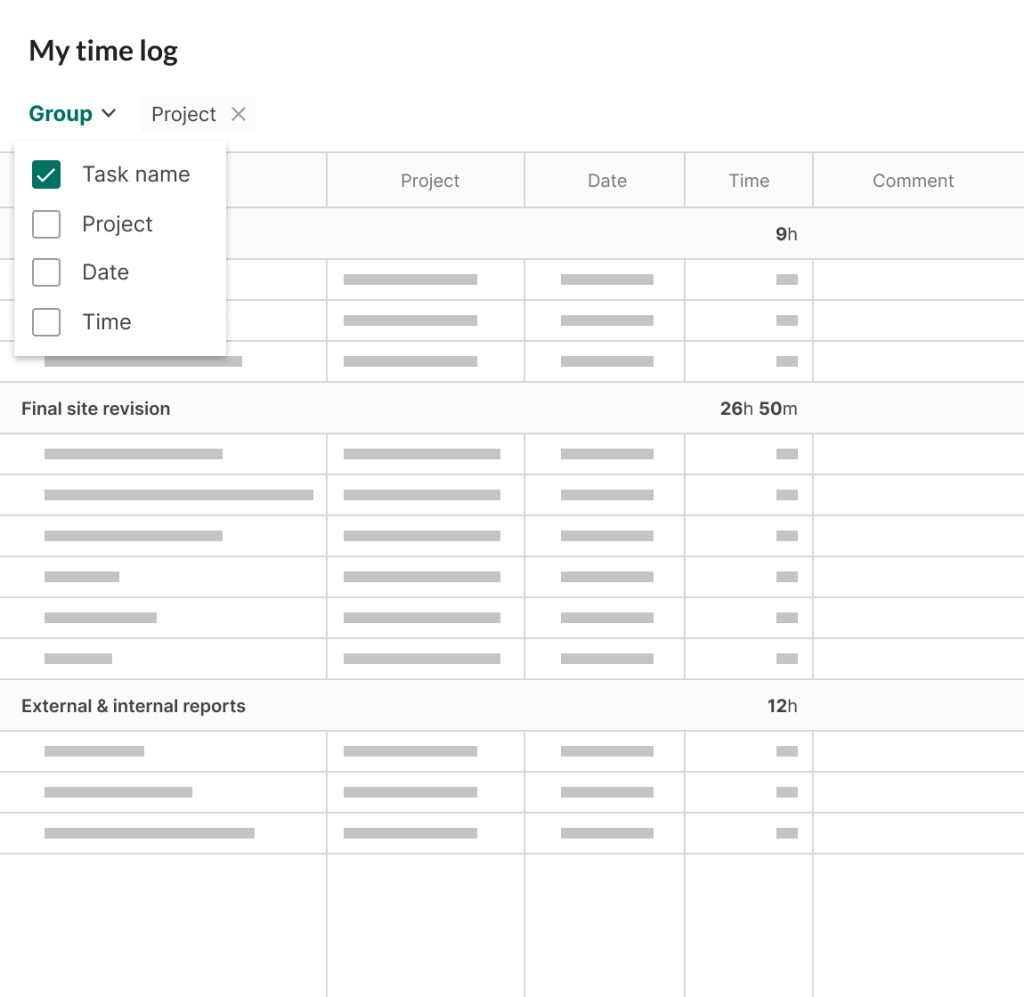 Get closer to successful construction project management
Effective construction project management keeps project teams aligned and leads to winning results.
Though there are always several challenges that you may face, you need to use a solid strategy and follow certain steps to overcome barriers and manage your projects in a professional manner.
Also remember that you'll need the right online platform to plan, control, and analyze the results on your constriction site and in the office.
Be sure, adhering to the right procedures with regard to construction endeavors and using professional software will result in desirable outcomes.
Frequently asked questions about managing a construction project step by step
Managing construction projects requires following a solid strategy and concrete steps. To succeed, make the next steps: define a project conception, hire professionals, choose proper software, generate a plan, execute your project properly, track changes, consider legal aspects, and close the project.

This content is licensed by