Construction Project Checklist To Make Your Work Flawless [Free PDF Included]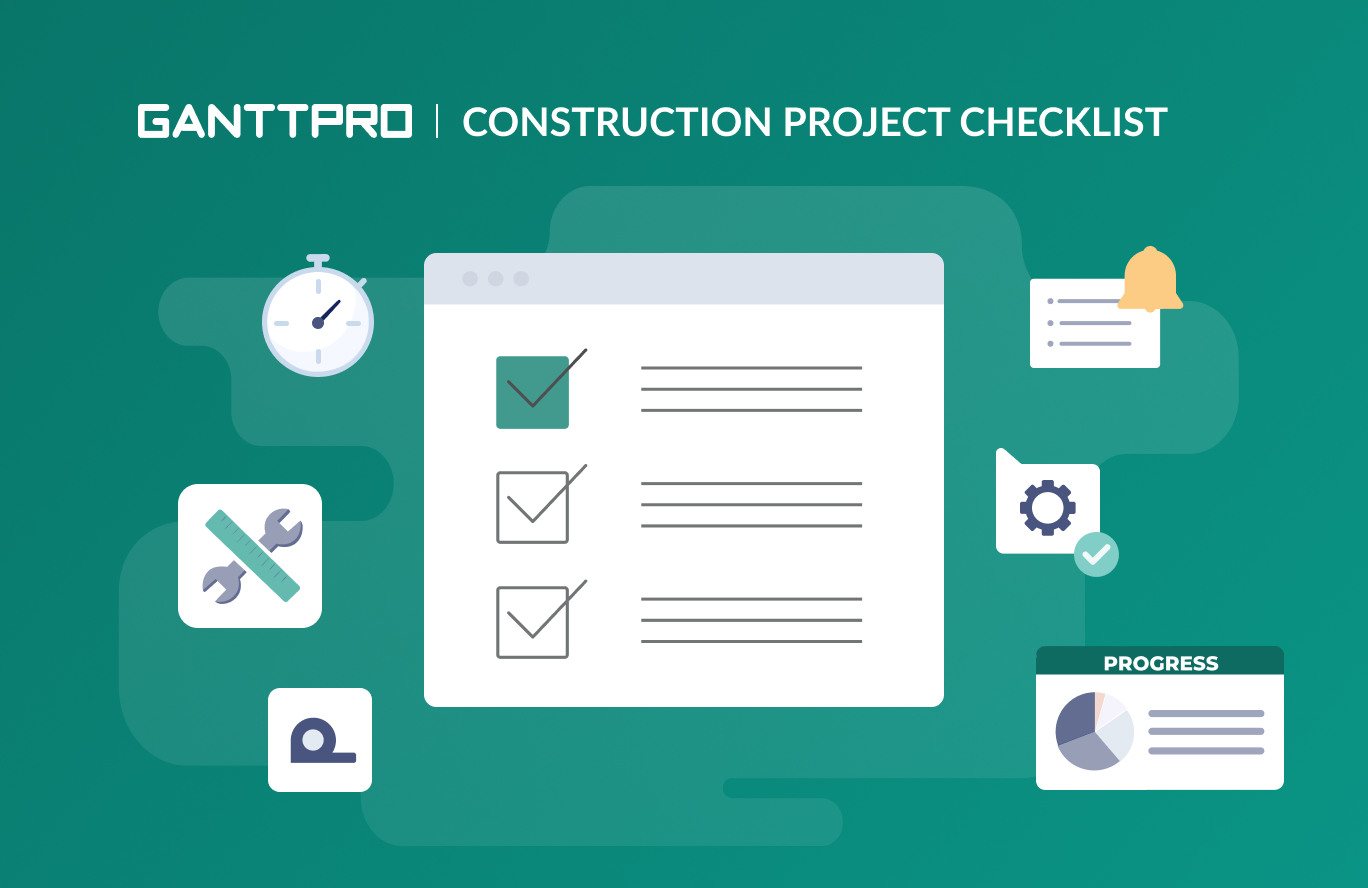 Audio version:
The process of managing construction projects can be challenging. By having a detailed construction project checklist, you'll know where to move and what can be changed for better results.
The form and the content of any checklist directly depend on a specific project. You can use a sheet of paper with check marks or professional construction scheduling software for this aim. Either way, this checklist should be an integral part of your construction environment that will ensure the order of things and uncover hidden issues.
We've compiled a brief guide on how to create a checklist for construction projects stage by stage. Like the rest materials from our set of construction project management articles, it will be useful for project managers, stakeholders, site employees, administrators, clients, inspectors, and everyone involved in construction processes.
You'll find a description of each checklist stage, accompanied by visual examples. 
At the end of the article, you'll be able to download the complete checklist in a pdf file and use it in your work.
Contents:
What is a construction project checklist?
A construction project checklist is a set of tasks or items that someone responsible for a particular construction project must complete or delegate.
According to the research, the construction industry is expected to grow by 6.1% in 2023. It means, among other things, that we'll face the increased use of professional tools, including simple checklists.
There are many kinds of checklists utilized in the construction industry. Here're the most common types of them:
General project lifecycle checklist.

Safety checklist.
Equipment checklist.
Emergency tools checklist.
Quality and certification checklist.
Pre-work checklist, etc.
Each type suggests a slightly different set of tasks and items. However, all of them are critically important to the successful completion of projects.
Below we describe a general construction project lifecycle checklist. This tool may serve as a resourceful guide for project managers to facilitate the work of their team from start to finish. And if you want to learn more insights and tools for successful work in construction, check out our step-by-step guide to manage a construction project.
But first, let's briefly formulate the real benefits of using a construction project planning checklist.
Benefits of using construction project checklists
Sometimes, it's not easy to incorporate checklists into a job underway. However, once they become an integrated part of your construction workflow, accountability and record-keeping become more efficient. In some cases, checklists can even uncover problems no one thought to look for.
So, what are the benefits of a typical construction project checklist?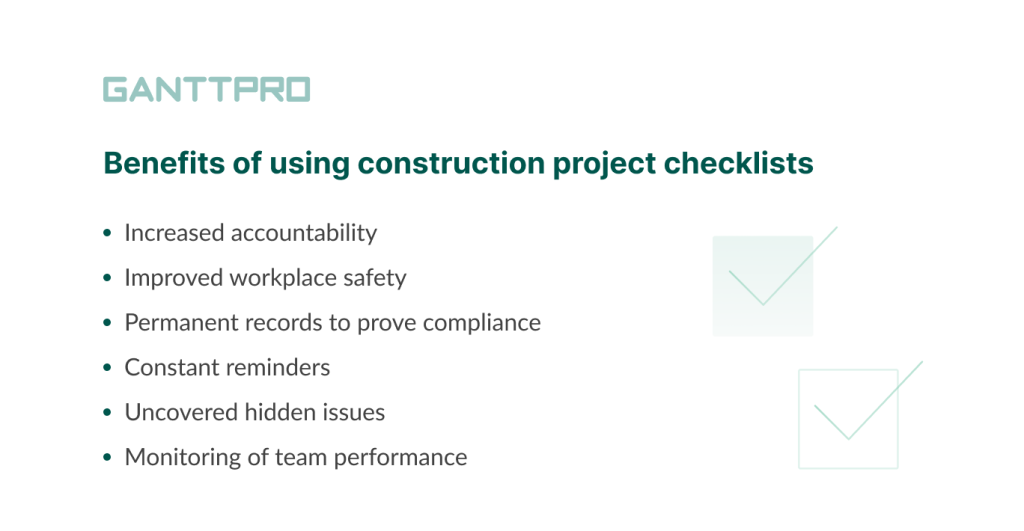 1. Increased accountability
Accountability is essential in maintaining an orderly worksite. It ensures that all employees can work independently of a manager.
Checklists increase this accountability as they make employees check themselves, without relying on a person in authority.
However, make sure your construction project checklist can be immediately applicable to the job at hand.
For example, if you ask an employee who is responsible for painting a fence to fill out a checklist for backyard maintenance, it won't make any sense and will waste your time.
2. Improved workplace safety
The wellness of your team and general safety are paramount and constant concerns at any construction site. When checklists control the construction management scope of work of more than one person, they can help prove safety compliance and provide significant information to site inspectors.
Adhering to project checklists is especially vital when your team works with heavy equipment, items at great heights, hazardous chemicals, electricity, gas, etc.
3. Permanent records to prove compliance
Construction work requires compliance with many rules. There are so many details to keep track of, so a project checklist may become an effective way to prove that your team meets a wide range of rules and standards. They can include safety, quality, health, environmental canons, legal, and so on.
When completed and stored digitally, your project checklist provides a permanent record. This valuable info is stored off the site. It is far more secure and easy to manage than any paper file.
4. Constant reminders
Project checklists help you manage every process, even across multiple construction sites. With their help, you clearly understand the answer to the question: "Why is communication important in construction?"
This tool is an excellent way to ensure that certain tasks are completed. Having a powerful online management and tracking system, you'll be able to use pre-set reminders to perform certain actions and provide valuable information about where your items are.
5. Uncovered hidden issues
Running through all the points of your checklist regularly ensures detecting particular recurring issues with the equipment or other aspects of the construction site. It makes the maintenance team keep a hand on a pulse and intensify their efforts.
6. Qualitative monitoring of team performance
One of the best ways to monitor team progress and find the space for improvements is to track performance and share this data.
A checklist assists in monitoring team performance and provides precise areas of evaluation. You can easily modify it to adapt to your specific tasks.
Now let's go back to a construction project checklist itself and explore its common phases.
5 stages of a typical construction project checklist
Construction is considered one of the largest industries in the world. It involves close to 7% of the world's working-age population. This is a complex sector. It contains many stages and processes that need to be constantly monitored and checked.
Fortunately, different types of checklists help project teams deal with this.
Let's look at the typical stages of a standard construction project checklist, which contains specific points and areas to be managed.
1. Initiation
Initiation is a kind of pre-planning phase. It's aimed at helping in the assessment of the overall situation and preparation for planning specific steps. Many experts who offer tips for construction project management emphasize the need to responsibly refer to this stage.
This stage covers everything you need to get your work started – from discussing whether your project is the right fit to signing a contract.
The main idea here is to evaluate whether or not the project makes sense for your company before you spend the money, time, and energy.
At this stage, you should consider the essential questions your company should ask before planning concrete activities. The list of these questions may include the following:
Will our project fit the client's needs?

Is the value of the project worth our time?
Do our other activities leave room for us to take on this project?
Do we have enough resources to start and complete this work?
If the answer to any of these questions is no, then you have to think twice before proceeding, as it can provoke various problems in the future, up to construction project delays. But if you can answer yes to all of the questions, you can surely move on.
This part of your construction project checklist should include an overview of how you'll manage your project. Think about the project's scope, deliverables, and stakeholders to be involved. Perhaps, you'll need to include a risk assessment, a list of estimated costs, and start and end dates.
After negotiating a contract and winning a bid (if required), the initiation process is over. It means, you can move to the next stage of your construction project management checklist, which will contain a more detailed plan.
But before we move on, let's explore the key points that this phase may contain. Of course, they vary from project to project. However, you can customize them considering the unique nature of your work.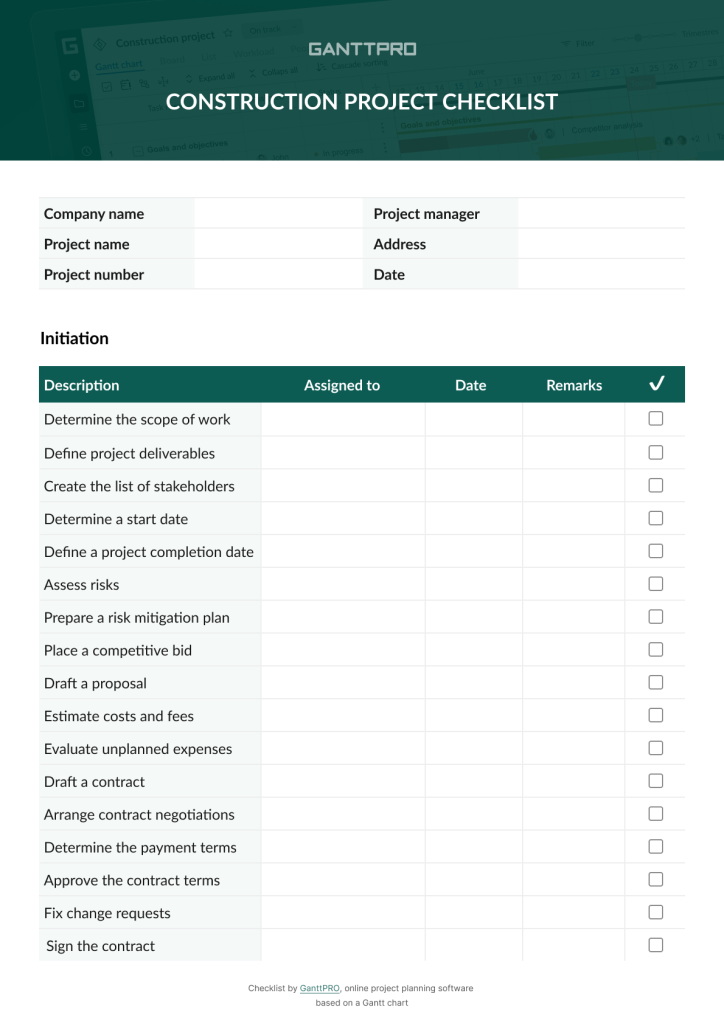 *This is not the final version of the checklist. You can change or supplement all the positions.
2. Planning
A planning stage of a typical construction project checklist signifies a period when you create your project roadmap. It includes work with the project scope, specific timelines, budget, quality control, risks, etc.
In some companies, planning can overlap with the initiation phase. Therefore, the planning stage of the project checklist can also overlap with its initiation part.
A project plan will form all the activities during the next construction project phase. It will reflect who will do what and when, and break down all tasks into manageable chunks according to the established work breakdown structure.
At this stage, you need to cover many aspects related to project planning.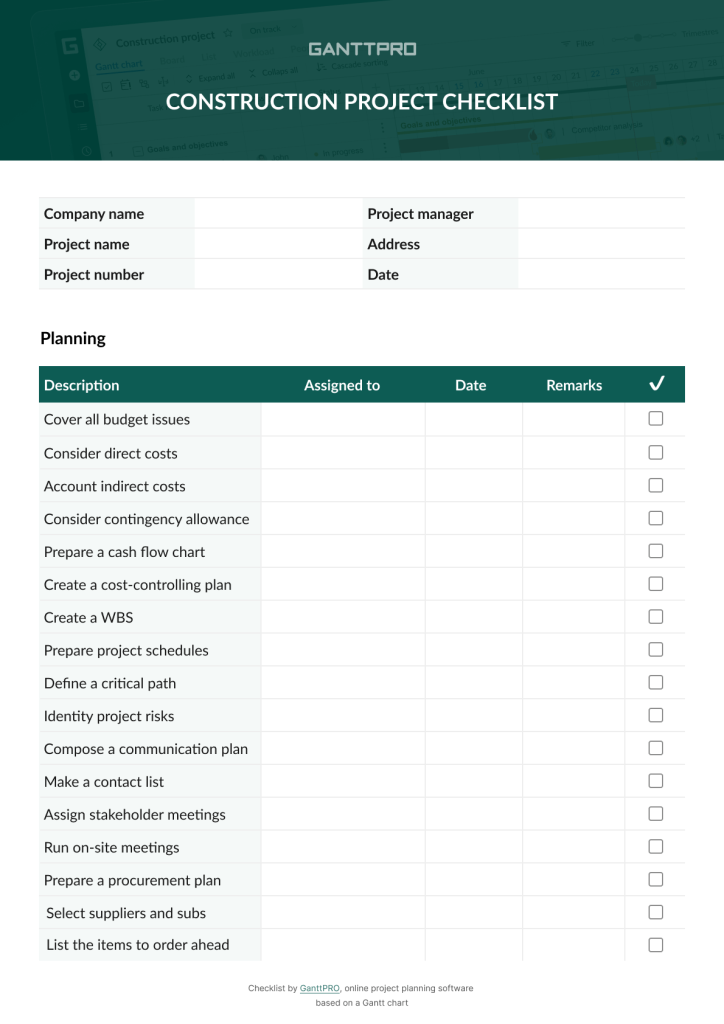 *This is not the final version of the checklist. You can change or supplement all the positions.
3. Execution
This is the phase of the construction project management process where all physical activities begin and the project comes to life.
Once plans and schedules are finalized, contracts are signed, and budgets are in place, project participants can get to work. They allocate resources, execute plans, structure tracking systems, update schedules, and refine the project plan.
During this execution stage, you should spend less time planning and more time ensuring plans are followed. Essentially, you need to make sure that everyone has their assigned tasks and is on the same page.
All to-do items will depend entirely on the nature of your project. For general construction or a building renovation, it could include the items described below.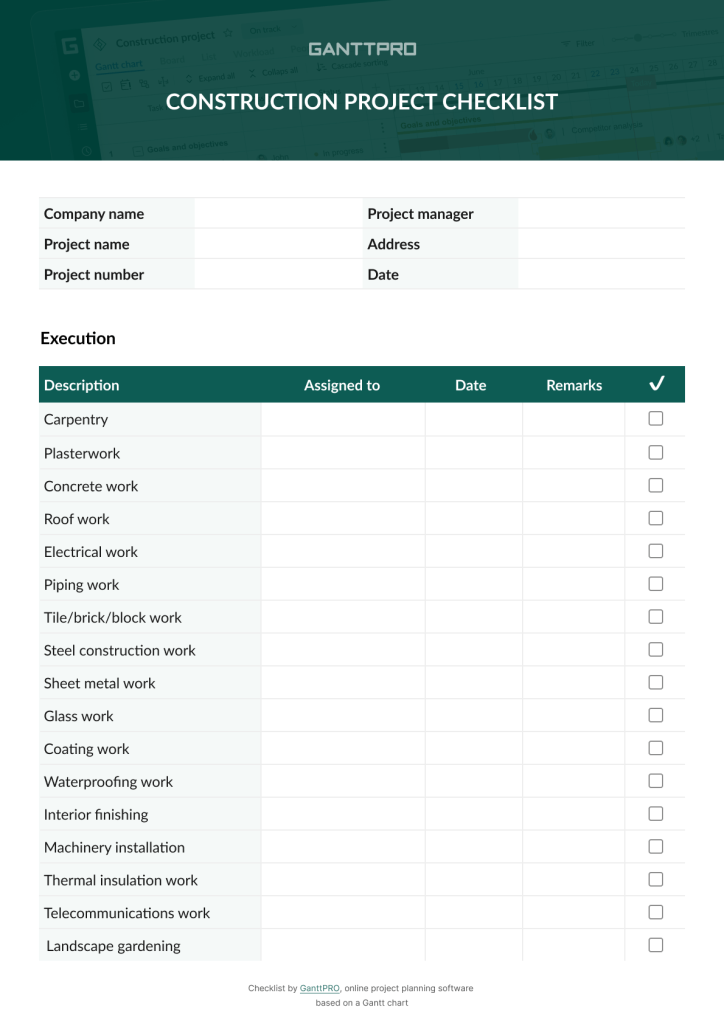 *This is not the final version of the checklist. You can change or supplement all the positions.
4. Monitoring and control
Once all construction works are underway, the monitoring stage begins. It can actually go hand in hand with the execution phase.
As your project advances from step to step, you'll want to track and measure the performance of everything that you have added during the planning stage. For example, you'll want to make sure your construction project is still on a budget or that the processes aren't going off-course in any way.
It is crucial to visit the site regularly to review the progress and make sure the work meets all your expectations.
If you note the project is not on the right track, adjust accordingly to keep it within scope, budget, and on time. Not all issues will be covered under the warranty. Therefore, it's better to discuss these issues with the stakeholders before authorizing work.
Here's a list of only some areas of work (construction segments) that need to be constantly monitored.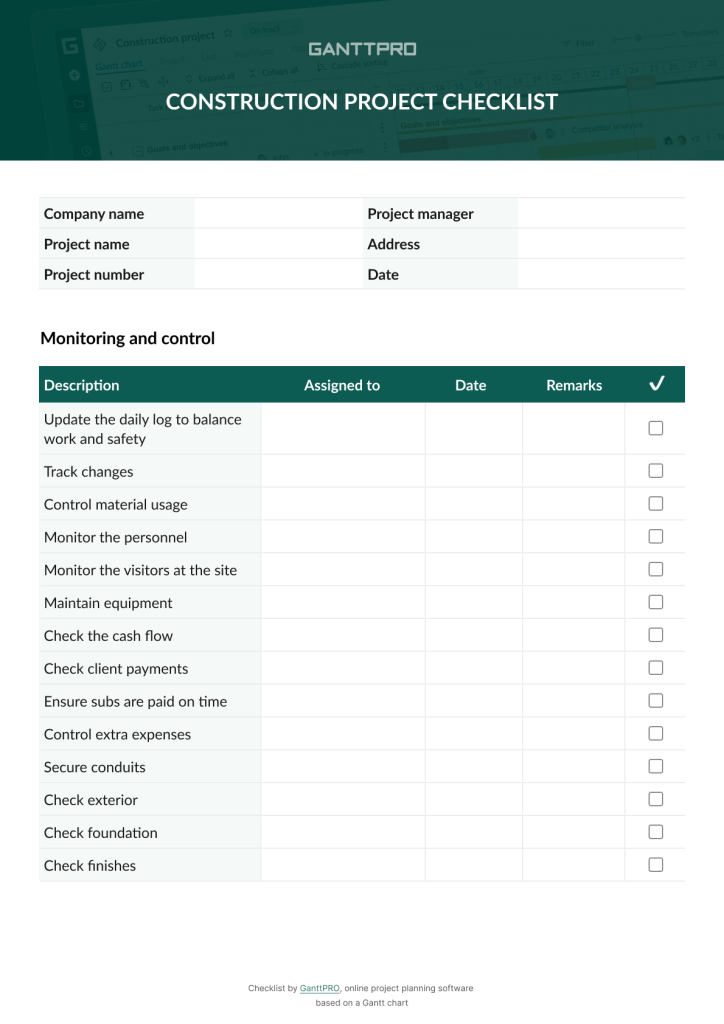 *This is not the final version of the checklist. You can change or supplement all the positions.
5. Completion and closure
The last stage of a typical checklist for construction projects is usually aimed at assessing what went well and what didn't. It includes everything that needs to be done to complete all work on the site.
Your team should generate a punch list, calculate the final budget, and prepare a final project report. They attend a post-construction meeting that is held between all stakeholders for the final assessment.
Payments are made to anyone who is owed. All necessary project-closing docs are signed and delivered.
Your final part of a general checklist may include the points mentioned below.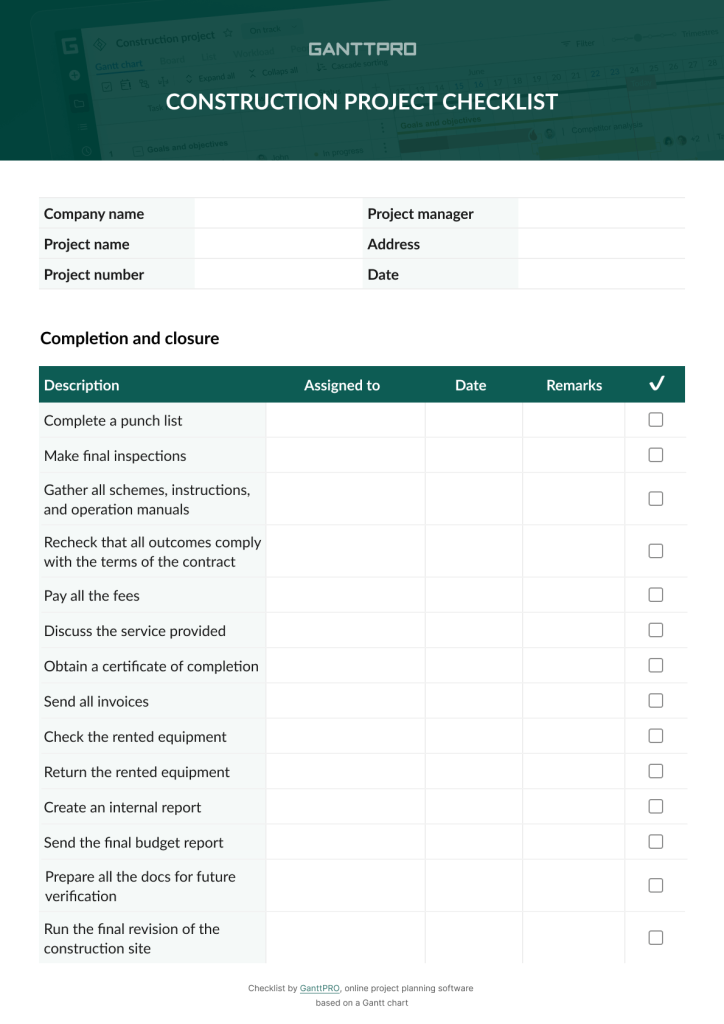 *This is not the final version of the checklist. You can change or supplement all the positions.
All of the steps in the above checklist relate to a specific case. Remember that every single construction project has its own characteristics and exclusive aspects.
When preparing your own checklist, make sure that its stages cover all the elements of your project lifecycle.
If you see that your checklist doesn't cover all the details of the project and doesn't reflect important steps and phases, feel free to try multifeatured project management software.
For example, GanttPRO Gantt chart maker allows for making the same things as checklists for construction but in a more professional way.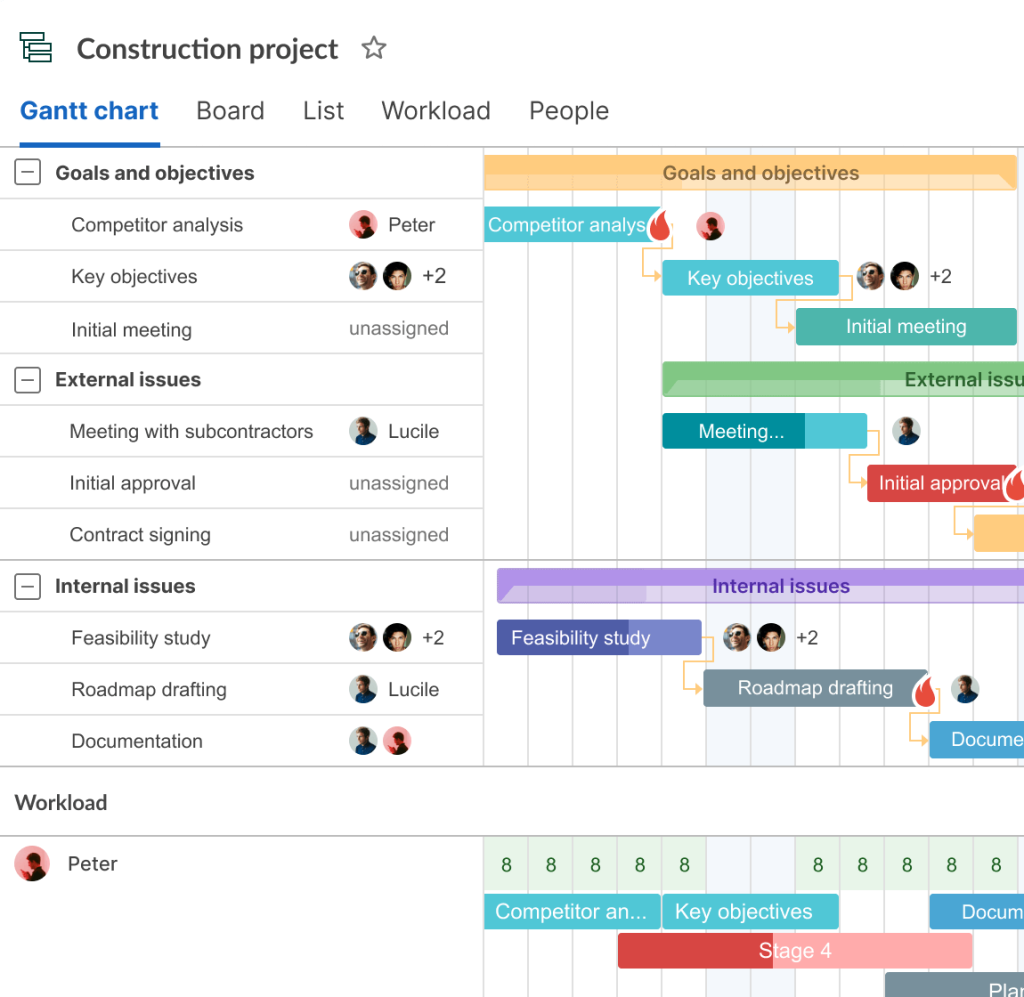 The platform provides a set of advanced features that let project teams create and manage visual timelines with tasks and activities needed to be done.
With the help of an online Gantt chart, you will keep all your construction projects under control and never miss anything.
You can also use a board view to display your tasks in handy columns and cards.
The Gantt chart maker will assist you in managing home construction works, engineering, residential construction, commercial construction, heavy industrial objects, etc.
GanttPRO helps to improve construction project management by providing teams with the advanced features for planning, controlling, and completing even the most complex tasks.
Take advantage of a construction project checklist and get all things done
A construction project management checklist helps to guide and control all the processes at the site. It usually contains initiation, planning, execution, monitoring, and completion stages. Each stage includes specific areas that must be inspected and checked.
A well-composed checklist may serve as a project roadmap. However, if you need detailed project visualization and tasks specification, it's better to choose professional project management software solutions such as a GanttPRO Gantt chart maker.
The construction project checklist reviewed in this article is available for download. You can get it and use as a reliable tool for managing your future projects.


This content is licensed by