How to Present a Project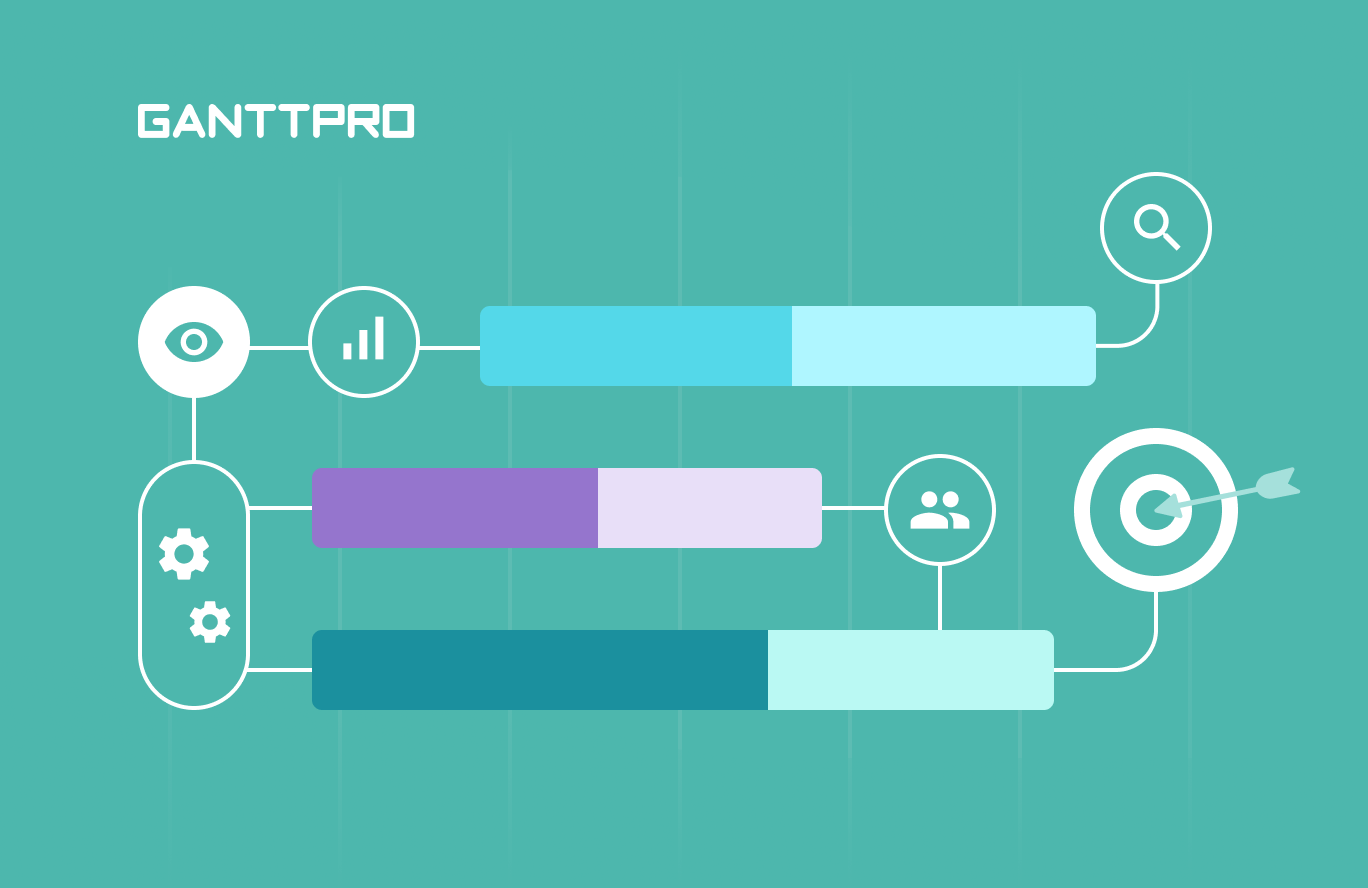 Audio version:
Presenting a project requires studying dozens of sources, from books and lectures to innovative methodologies. How to present a project so that your team members, stakeholders, executives, or clients say "wow!"?
It can be a challenge. But there is nothing impossible for managers who consider a project timeline presentation a part of their daily job.
Project success directly depends on its presentation. According to the latest research, effective presentations are 38% of your voice, 55% non-verbal communication, and only 7% your content. If you do it thoroughly, you have many chances to grab your audience's attention and take them to an agreement.
Below you'll find reliable tips on how to present a timeline of your project following some consistent steps. You'll also discover some creative ways to create a project presentation using online Gantt charts. Let's dive in!
Contents:
18 steps for presenting a project
Sometimes a project presentation is a nerve-racking activity. However, it doesn't mean it has to be complicated. You can prepare a creative project presentation that will open many doors following essential guiding principles and practices.
Here we recommend 18 simple steps for presenting your high-level plan with all project tasks, dependencies, project milestones, attachments, comments, and other attributes. You may use them while presenting your masterpiece to clients, managers, executives, your team, or the stakeholders who have a specific interest in your project.
Let's figure them out starting with the foundation of all activities in the project management world – setting goals.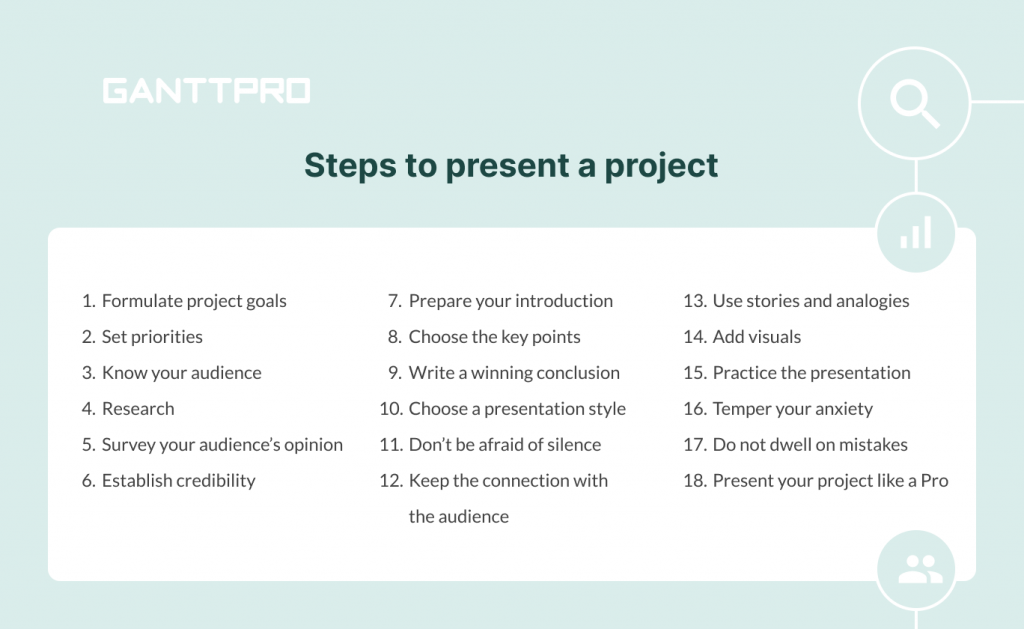 1. Formulate your project goals
Before you start finding the answer to the question "how to create a project plan," communicate the goals of your project. When you hold a presentation, you should define what effect you would like to reach beforehand. Discuss all necessary details and fix the goals by arranging a call-up meeting with your team members and the product owner. If you do not do this, you will not have the direction to go, and your efforts will be useless.
Project goals can be trivially similar, but a business college presentation will be differently built than a pitch by a construction project manager. You can explain the goals of your project verbally, with the help of visuals, models, special documentation, or can create a project timeline.
In some cases, you will have to share information clearly and, in other cases, present a more emotional overview. Anyway, make sure you set clear and achievable goals while you prepare your project.
2. Set priorities
After determining the goals, give priority to specific tasks within your project. It is crucial to communicate with the managers from different departments, such as marketing, customer support, sales, etc. Discuss their priorities and decide together how these priorities fit into the general strategic goals.
3. Know your target audience
Considering relationships between yourself and your audience will help you define what points are critical to them and what can be left out. Knowing your audience will also help you determine how to present your ideas more effectively.
Pay special attention to how many people you'll present your thoughts to. Talking to ten people is a conversation. Getting up in front of a group of twenty is already a speech. When you talk to more individuals, it's a full-fledged performance.
4. Research
When you know your goals and the audience, ask yourself, "What do these people care about?"
Your presentation will probably cover many project management metrics. Make sure you have your technical and financial info available. Try to compile your research into one place. Even simple word docs and timelines will help you organize your findings and research.
Or use a helpful online Gantt chart maker to help identify project progression, set all necessary dates, assign tasks, and consider risk points.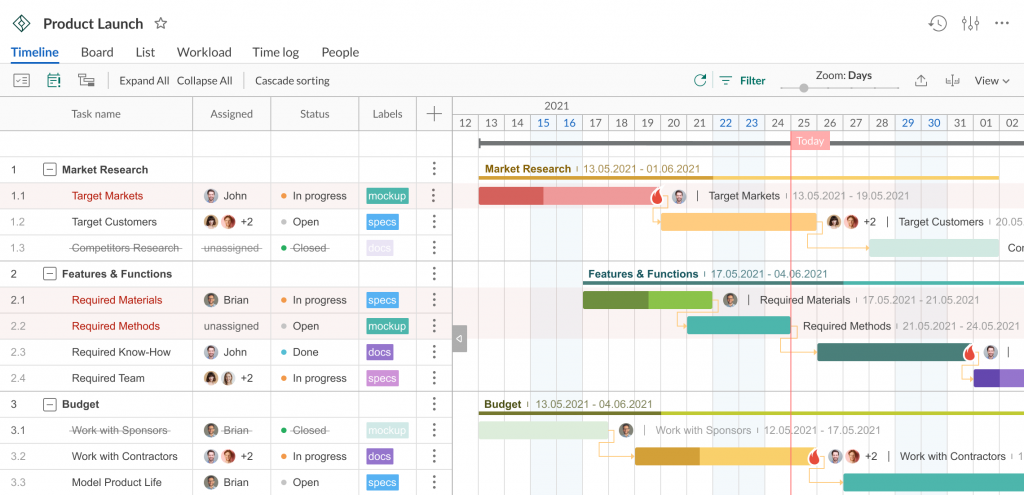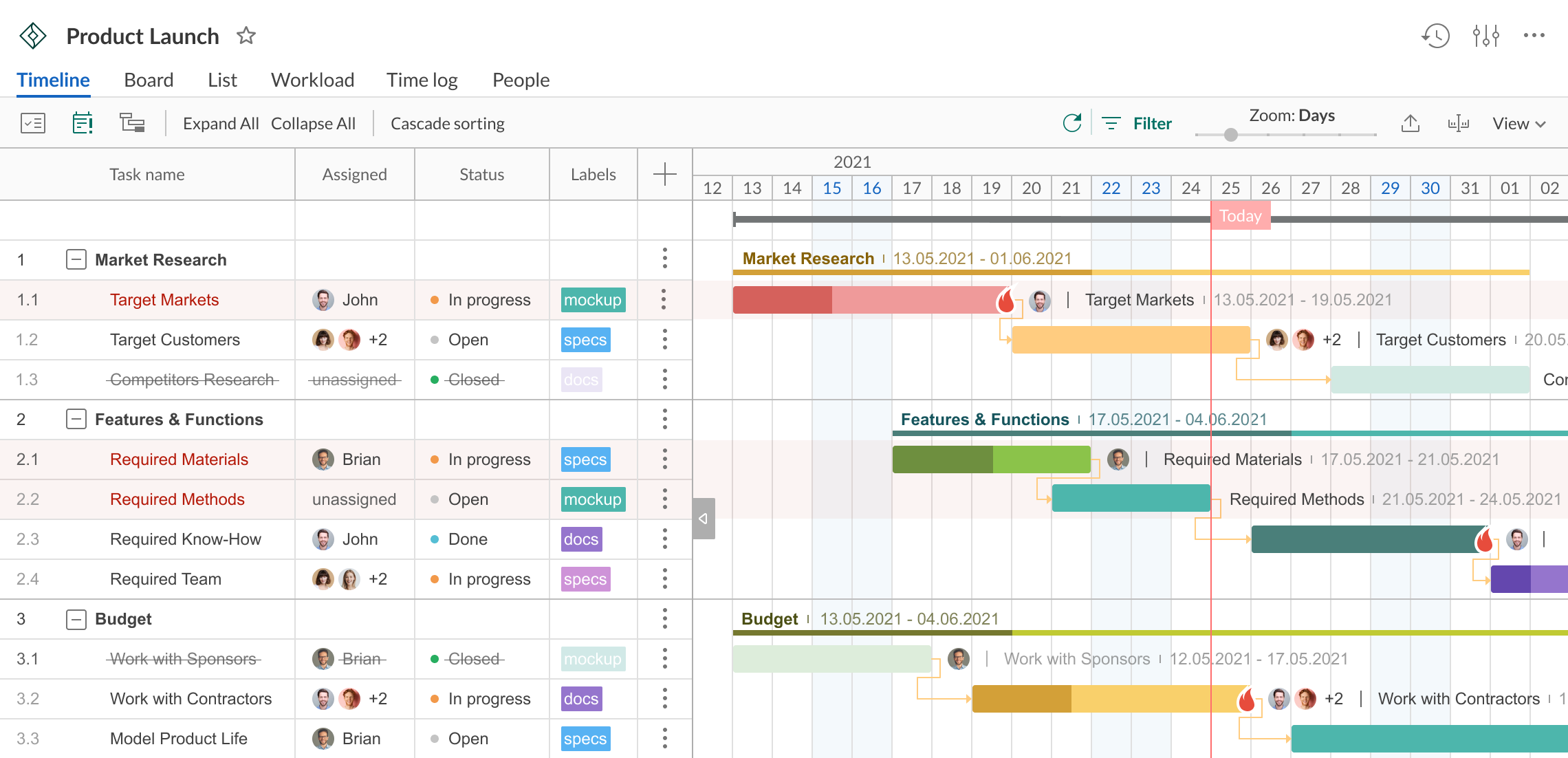 5. Survey your audience's opinion
By studying what your audience thinks about a subject partway into your presentation, you will get a chance to turn your project into a forum for discussion.
New ideas and insights from the people who may be hearing about your subject for the first time will add an organic quality to the presentation.
6. Establish credability
When you run a presentation, you are the expert in the room. Your goal is to convince the audience to know your stuff, so try to impress them. To boost the audience's trust, mention your background, first points of contact with the topic, nuances, exciting cases, or even rewards you have been given. It will help you to establish a greater degree of credibility and raise interest in the subject.
7. Prepare your introduction
An efficient introduction consists of three parts:
A preview, outlining your main points.

A thesis – a summary of your main points based on a big picture.

An attention-getter – the most critical part of your presentation speech as it encompasses the first few seconds that your audience will judge you as a performer.
It is recommended to start your speech with statistical facts, a quote, or an exciting story. Remember that goofy jokes can jeopardize your credibility.
8. Choose the key points
Pick up your main points that will compose your thesis statements. Choosing these points should be apparent if you've done your research and know what and why you're presenting.
Write down the essential topics that need to be presented and brainstorm what facts should be used to support your claims.
9. Write a winning conclusion
All presenters strive to end their performances with a bang. However, it isn't easy to do it with a business presentation.
The best way to keep your audience on track is to simply summarize and close. Prepare a brief and informative summary, or reiterate what you've already said in the preview. Asking for questions or thanking your audience are both great ways to end.
10. Choose an appropriate presentation style
Some people make their presentations funny or dry; some try to make them as exciting as possible. It depends on the presenter's style. Keep in mind that the quality presentation should be clear, concise, and concrete.
11. Don't be afraid of silence
Even silence can be an essential ally in impressing your audience.
Give people enough time to internalize what you're presenting. If you allow for some silence, they will be able to absorb and retain more information. Practice pauses after giving big problems or your unique solution. Allow presentation visuals to speak for themselves when you demonstrate necessary diagrams or meaningful images.
12. Keep the connection with your audience
Another key to a successful project presentation is connecting with the audience. Most people don't have enough attention span to stay engaged for an entire presentation. They will remember only the most interesting (not necessarily important) facts.
To catch their attention, use outline notes, avoid reading from a script, talk to one person who is the most interested in the audience. Make sure that the people who want to know your information aren't disappointed.
13. Use stories and analogies
Numbers and statistics work well. However, they can also scare off your audience.
Add interesting stories to engage people. The stories with analogies will allow participants to extrapolate the relevant meaning for their personal application. After all, people remember stories much better than boring facts.
14. Use visuals
Images, graphics, timelines, and other visual aids will help keep your audience engaged and ensure the key points remain.
Use images that clarify what is said verbally. Avoid complicated slides that could distract people, and remember to keep your prospective audience's age in mind if you use humor and funny images.
Support your statements with charts. Charts and diagrams are the lifeblood of any successful presentation. You may say that it takes time to produce them.
However, such great solutions as online Gantt chart makers help to do this quickly and reliably.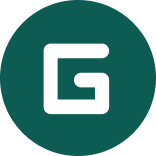 Gantt charts for visual project presentation
Apply Gantt chart graphics to present your project professionally.
Sign up for free
15. Practice the presentation
Just because you've designed your creative slides and timelines does not mean you are prepared to perform a stunning presentation. Some people never practice their speeches, by the way.
Review your presentation, talk it out, get comfortable with the delivery, and find good ways to present a project. Consider the tone, the speed, and the moments you wish to emphasize.
16. Temper your anxiety
When a speaker is relaxed, the audience will also relax, making for an overall comfortable experience.
Use notecards to ease your anxiety. Write them well, and you won't forget anything. Get a whole night's sleep, eat well the day before, and exercise – it will make you feel better. Do not forget to bring in a glass of water. Make pauses and allow yourself to regroup.
Give yourself a mindset that you will rock this presentation. Don't let your anxiety get in the way of your success.
17. Do not dwell on mistakes
Mistakes can happen at any time. Your equipment may fail, or you can even forget the critical idea from your presentation. Do not panic. Your audience will evaluate the way how you recover. Don't dwell on mistakes or failures and continue to perform.
18. Present your projest like a Pro
You've covered a lot of ground, and now you know almost everything about an effective project management presentation.
You will do well because you've rehearsed everything, and now the presentation of your project looks organized, clear, and entertaining. Your coworkers, executives, stakeholders, and clients will thank you for it.
The only thing you miss is a reliable project management tool to impress your audience. Below, we will talk about this.
Well, that was a lot of tips, but each one is worth your attention if you care about presenting your project in the best possible way.
Analyze all these steps and recommendations and choose the best way to present a project to your audience. Here are some thoughts on this matter.
Best ways to present a project
Knowing different ways to present a project makes managers true professionals. This skill is essential for any industry, no matter you want to present it to clients, stakeholders, or teammates.
Every experienced PM has their own best way to present a project. This exclusive method can be a real secret, but we will share the easy way to turn project management presentation ideas into a masterpiece.
As with many project management practices, your presentation requires the right tools. One of the good ways to present a project is to rely on powerful project planning software.
And now you will be pleasantly surprised when you find out how comfortable and easy it is to hold presentations with the help of Gantt charts.
Presenting your projects with GanttPRO
Project presentation with the help of GanttPRO is a true godsend for project managers and their teams who like comfort, order, system, attractive visualization, and ease of use.
Use the reliable online Gantt chart maker to present your project to your colleagues, top management, stakeholders, partners, or clients. To anyone! A set of the most essential and innovative features makes GanttPRO one of the most powerful tools for high-quality presentations.
There are several ways of how you can present your project with the help of GanttPRO.
1. Sharing via URL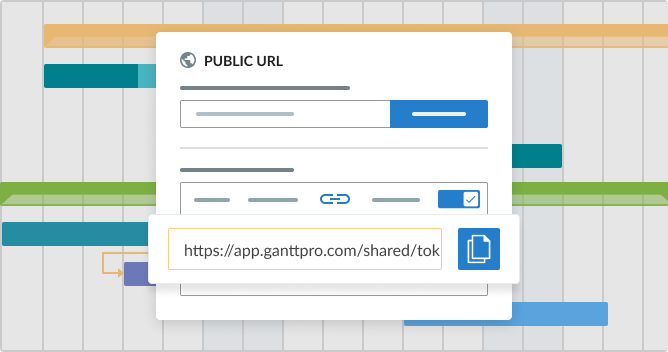 You may need to showcase your project to a third party (even if they are not registered in GanttPRO). How to do it? The Gantt chart platform allows sharing your projects using a Public URL.
To include a project in your presentation, open the Public URL window by clicking on the three dots on the right corner.

Demonstrate your project with/without filters applied, choosing the corresponding option.
You can share a dynamic URL to keep any changes you make active. If you don't want to share a dynamic URL, choose a Snapshot option. It will allow getting a static picture of your Gantt diagram taken when creating the URL (if you do not want to showcase any updates in your presentation).

Then push the Create Public URL button. By the way, you can leave a description of it.
The great news is that once the link is created, you can manage it. For example, select any of the following options:
Copy and send it to anyone you want.

Make it timely inactive if needed.

Finally, delete the URL if required.

Note: you can share your project with the URL at any stage.
That's it!
2. Advanced export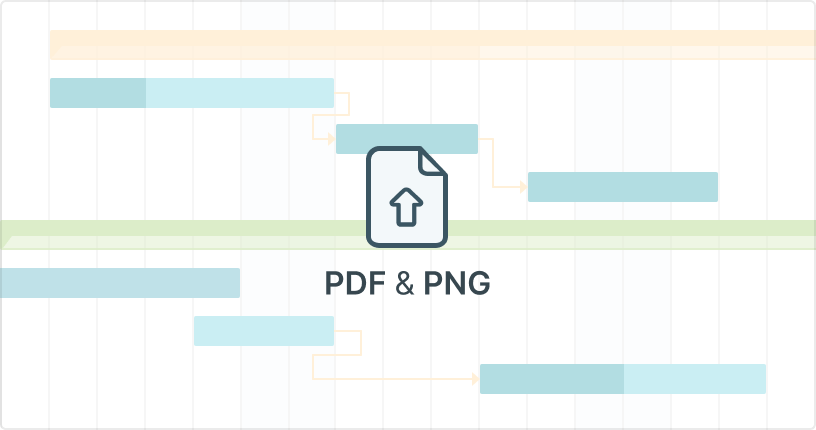 Another way to present a project with GanttPRO is to export it. This feature allows having your project always at hand as you can export your diagram to PNG, XML, PDF, Excel, and apply lots of other advanced options.
To export your project, find the Export button at the right corner.

On your right, you will see a dashboard where you can choose the export options:
A format.

A paper size.

An orientation.
Then you can also set the additional options.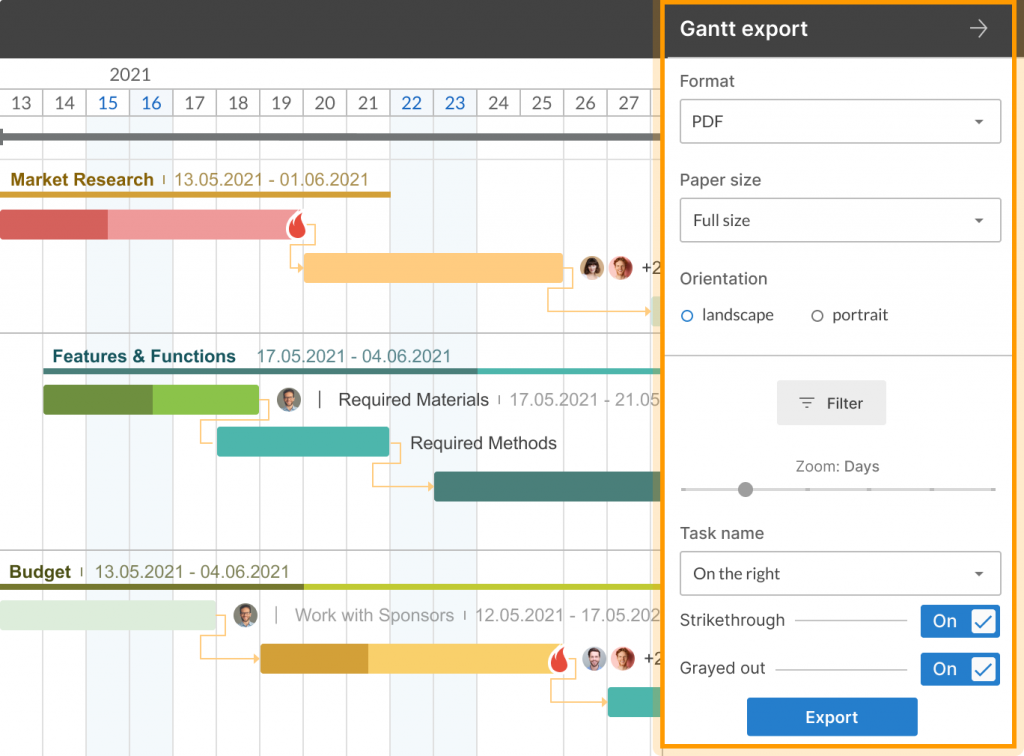 Nothing complicated, right? Hopefully, you'll figure it out in seconds. If not, take another look to understand this feature better:
3. Importing Excel and .mpp files to GanttPRO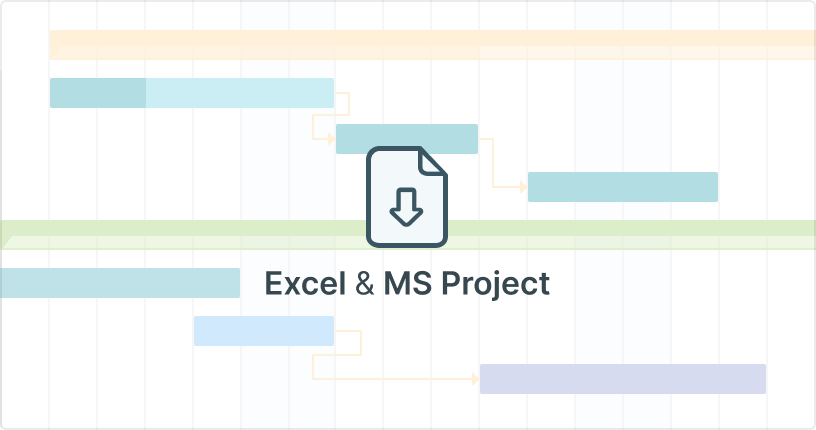 Using GanttPRO, you also have an opportunity to import different format files. If you have projects in .xlsx, .csv, or .mpp formats and want to present them more beautifully and professionally, you can easily import them to GanttPRO.
To do it, press Import when creating a new project.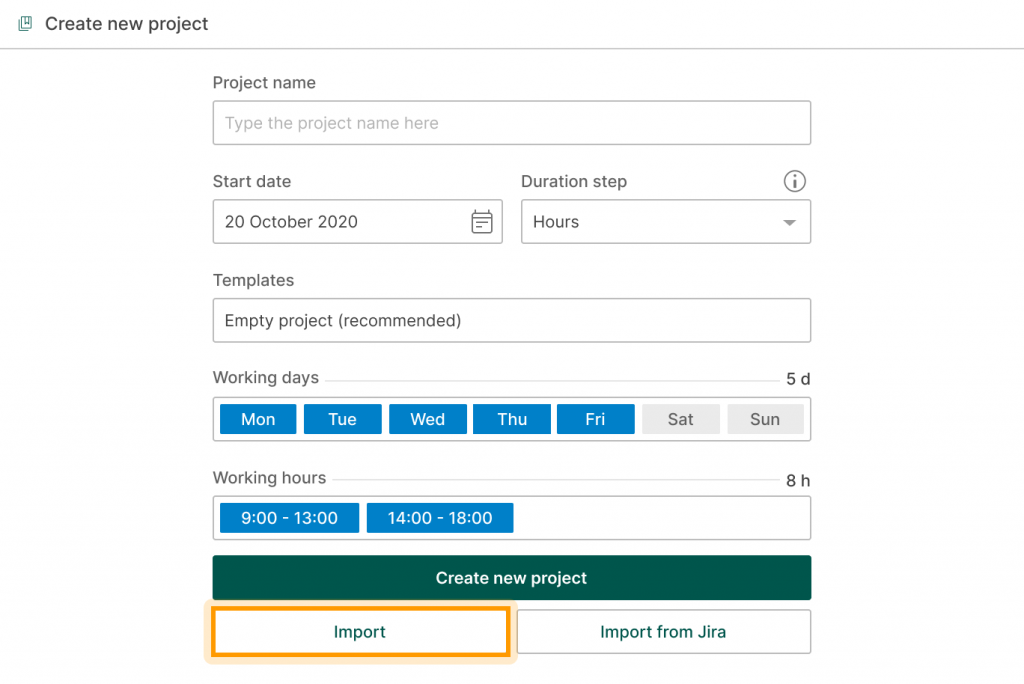 Then drag & drop or upload it from your computer.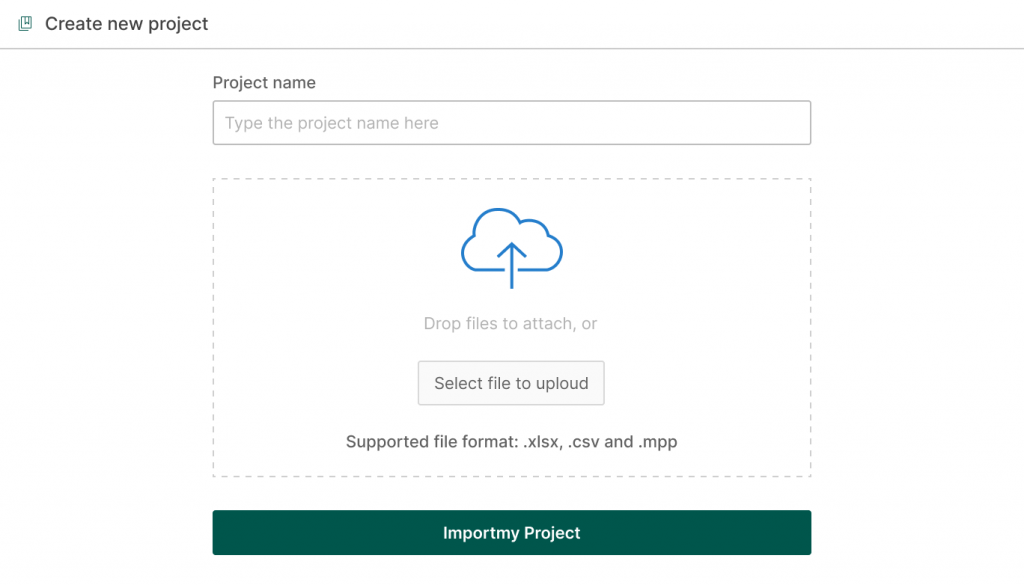 If you manage a project in MS Project, it will also be easy for you to import your .mpp file to GanttPRO.
Follow the steps described above, open an mpp file without any headache, and present it with GanttPRO like a real professional.
It seems like this is all we wanted to tell you about how to present a project and use a robust PM tool for this purpose.
Conclusion
Your ability to attract the audience's attention is what makes or breaks a presentation, no matter how good your material is. Although virtually all practical project management presentation ideas are based on careful planning, you should put equal thought into how you'll communicate your ideas to others.
When looking for your best ways to present a project, make sure you are passionate about it. After all, an attentive audience can tell whether or not presenters are engaged with the material they're talking about.
Now you know how to present a project. Organize the order of all steps you will discuss, do practice, work on grabbing public attention, and do not forget to choose the appropriate project management tool for succeeding in your efforts.
Bonus
It is not a big deal if you haven't caught all the details about presenting projects using a convenient Gantt chart maker. Here you will find short video tutorials on how to do it quickly and easily:
Sharing your project with "Public URL"
Export
Import

This content is licensed by