A Critical Path on а Gantt Chart: What is it and How to Find it?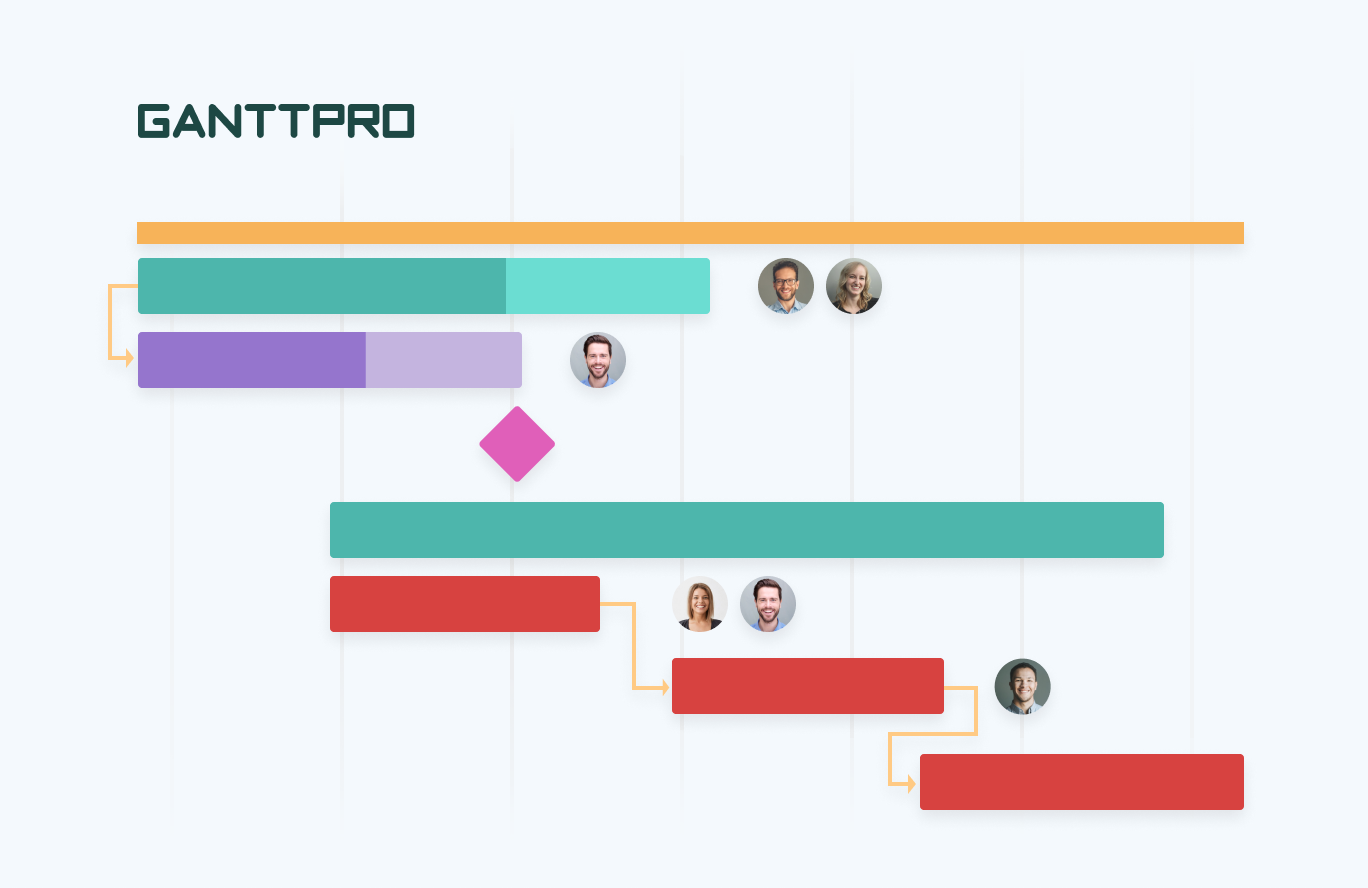 Audio version:
The world of project planning comprises many concepts and tools. A critical path and a Gantt chart serve as reliable assistants; and experienced project managers know how to combine these two components into one explosive mixture (in a good way, of course).
The critical path method (CPM) is widely known as one of the essential concepts in project scheduling. The diagram, invented by the American Henry Gantt, has also established itself as a robust tool for planning projects in various fields: from software development to construction.
Both Gantt chart and CPM have long been named classical deterministic scheduling techniques.
This article will help you understand a critical path Gantt chart – the stunning combination of the abovementioned concepts.
Contents:
What is a critical path in project management?
A critical path is the sequence of tasks (activities) in a project plan that must be completed before the project is finished. This path has the longest duration from the start to the finish of your project.
At the same time, the longest path can demonstrate the minimal time in which your project can be finished. You must remember that if there is a delay in one path activity, the entire project can be delayed.
The role of a critical path method
If you work on complex projects with hundreds of tasks, it may be hard to determine some of them with the most significant impact on the overall project time. Perhaps this is one of the reasons why most projects are far more likely to fail than to succeed (just think of the fact that more than 75% of business and IT executives expect that their projects are doomed from the very start).
A large number of task dependencies may complicate the situation. The critical path method was invented to solve such issues.
The main idea of this concept is to identify the sequence of tasks that determine the overall project's duration. If you strive to meet your deadlines, you must complete each task from the critical path in time. When unexpected delays occur, your project will be delayed.
The CPM involves the form of a flow chart to visualize the activities. Therefore you may easily define which tasks are essential for deadlines and which are not.
The everyday benefits of a critical path
A critical path visualizes project activities and shows the time required to complete your tasks.
There are three essential benefits for project managers that the concept of critical path offers:
Critical path and Gantt chart
A critical path is a reliable helper for scheduling tasks and keeping track of activities. It can visualize them on a network diagram, such as an online Gantt chart.
It is important to visualize all the tasks on this chart to have a functioning network of events and activities.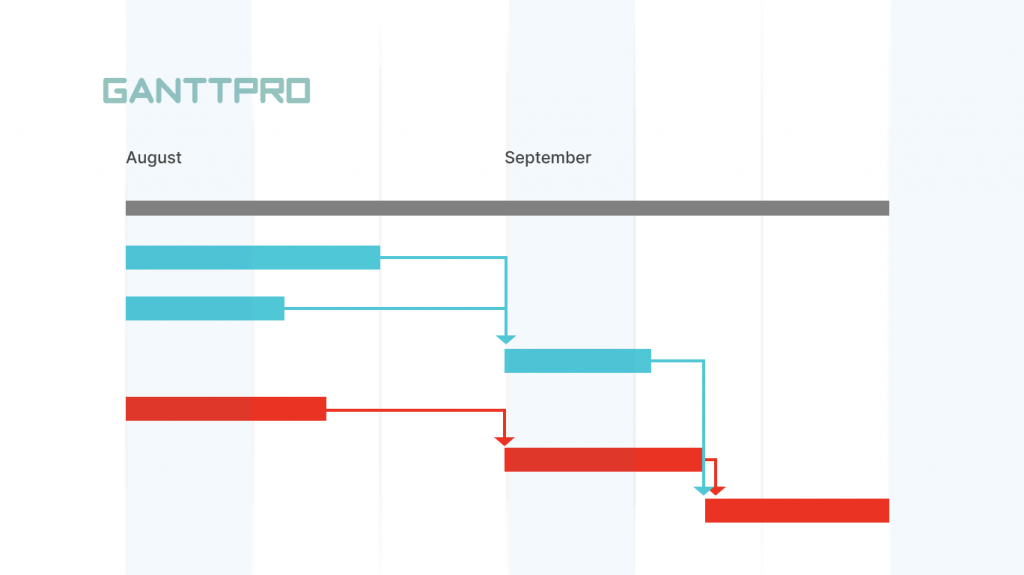 So, you can use a handy Gantt diagram to demonstrate the linked tasks that directly affect the project finish date. If any task is late on the critical path, then the whole project is late too.
The diagram looks suitable for projects of any complexity and size. It connects dependent activities instead of establishing a network diagram visualizing interconnecting independent tasks (as you can do with the help of another tool – a PERT chart for more complex projects).
A Gantt chart can also reveal scheduling conflicts. Using this tool, you can revise your project's start and end dates.
So, putting two tools together, we can talk about one beneficial collaboration – the critical path on a Gantt chart.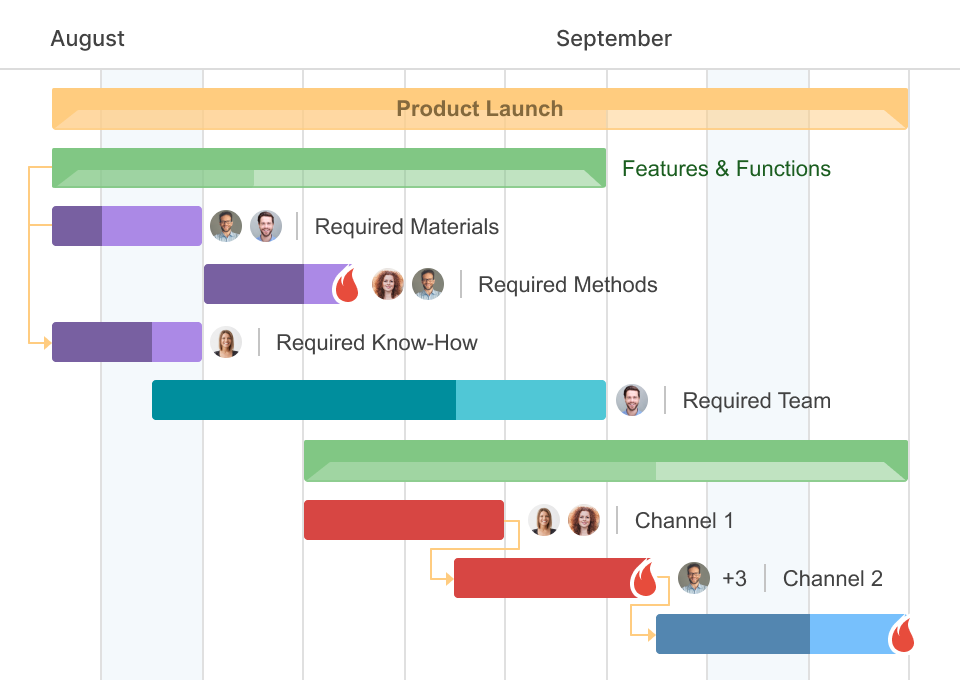 How to identify a critical path on a Gantt chart
Not everyone who works with visual timeline tools knows how to find a critical path in a Gantt chart. However, more and more software solutions help view your tasks on a timeline with advanced tools, like essential path calculations.
All you need is to add actual dates and dependencies and enable the path. The rest will be done by the critical path planner you've chosen.
If you wonder how to identify the critical path in a Gantt chart but still don't know what tool to use for this purpose, the following example will help you to figure it out.
Gantt chart critical path example
Let's consider the Gantt chart with a critical path example.
We can use a simple diagram to apply the critical path method in construction. This project demonstrates how to clean a house after construction work in 8 steps (one list for the inside stuff and another for the outside work.)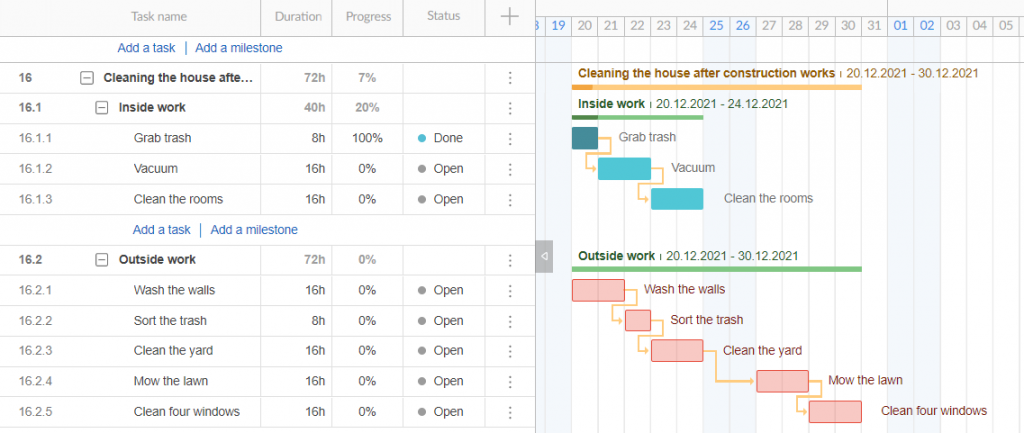 After creating tasks and subtasks, we've added dependencies between the inside and outside work steps. Adding task dependencies in project management indicates that one step should be finished for the other step to start.
The critical path is colored in red. It means that the outside works are on the critical path. So if the inside work takes a bit longer, it won't affect the time to clean the house and yard area.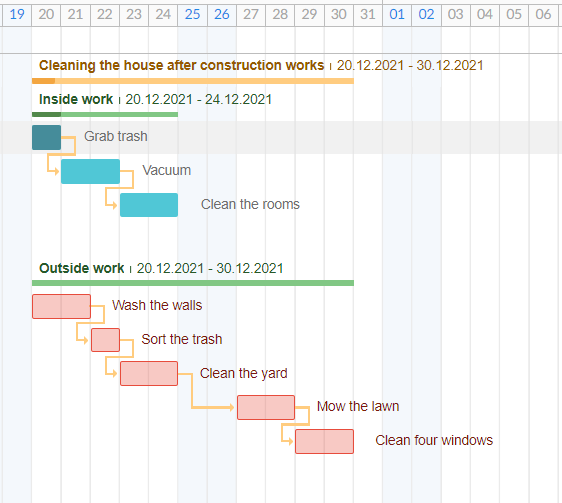 By the way, we don't have any dependencies between inside and outside works in our critical path Gantt chart example. In reality, we do one after the other.
You are probably wondering what tool we used to find the critical path in the Gantt chart. This is GanttPRO – one of the best project management software solutions.
How to enable a Gantt chart critical path in GanttPRO
Finding the critical path with GanttPRO is a quick and easy action.
Project teams use GanttPRO to identify significant tasks that impact project timelines, considering it reliable critical path software.
The platform allows identifying what tasks directly affect the project completion date without extra effort.
Here's how you can display the critical path in the Gantt chart view:
1. First, you need to enter your project with all its tasks, their start and end dates, and the duration of each of them. Identifying the predecessors is also helpful.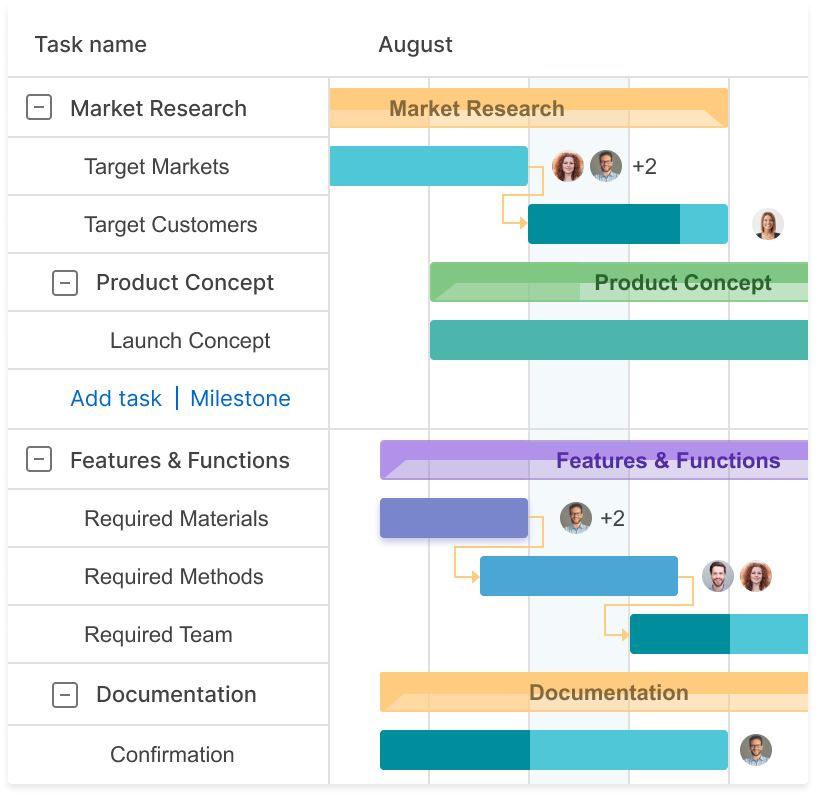 2. Don't forget to add all dependencies and project milestones. You can do it with the drag & drop feature.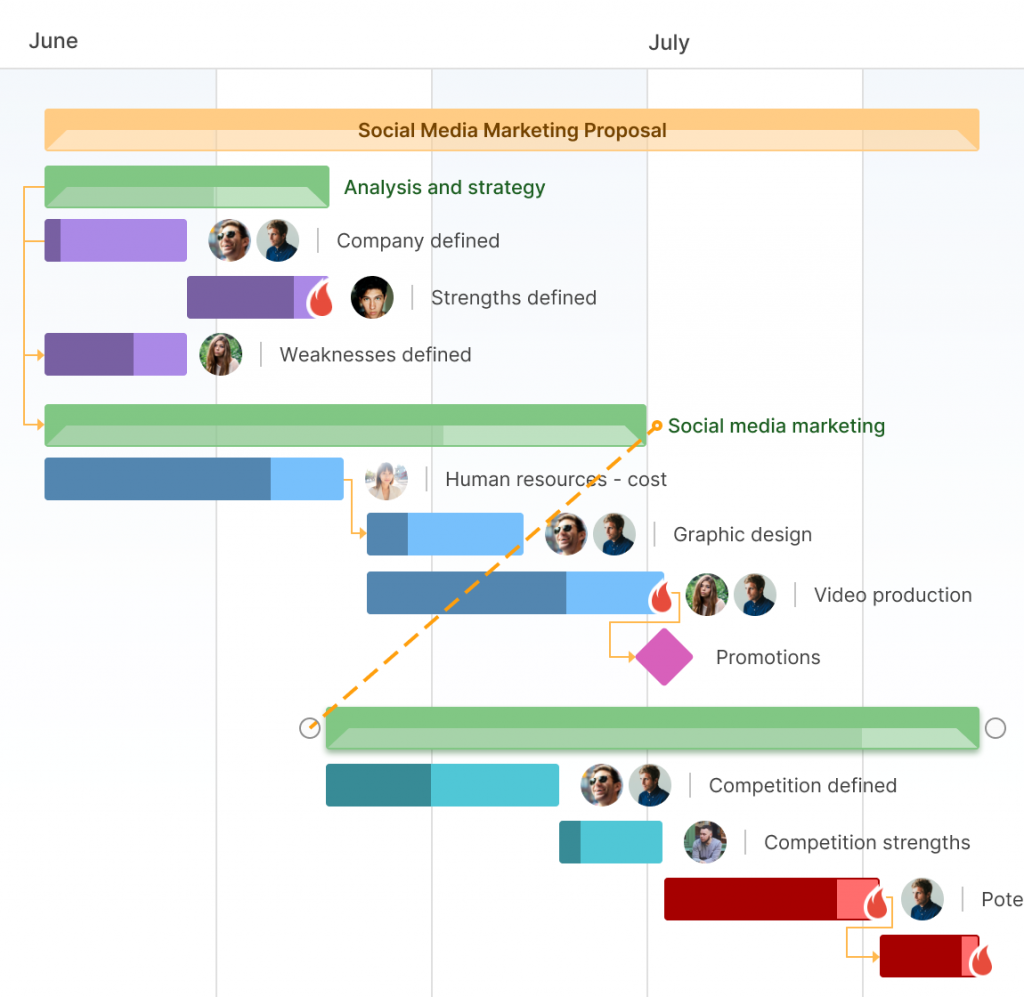 3. Then, you can adjust the view of your GanttPRO project to reflect the critical path. You'll need only one click to switch on the critical path in the project settings.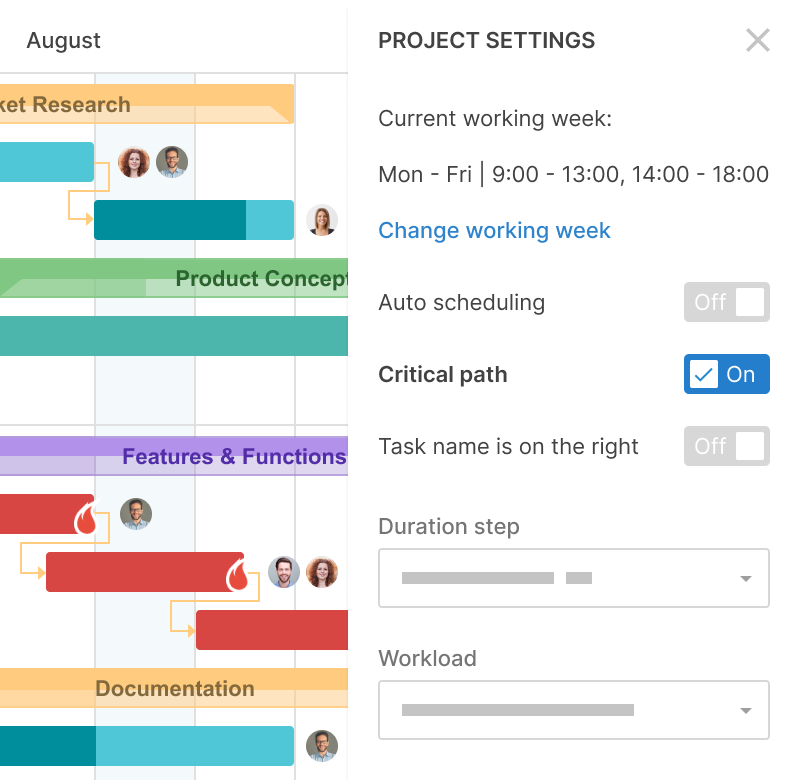 This chain of important tasks will be shown in red.
Don't worry if you missed any of the steps. Here's a quick overview of how to find and enable the critical path option in a Gantt chart:
GanttPRO also offers ready-made Gantt chart templates to make it even easier to define the critical path.
All you need to do is enter your project information. A handy Gantt diagram will automatically be made for you. With just the click of a button, you will be able to identify the critical path on your Gantt chart.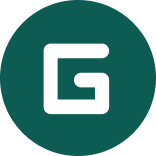 Online software for creating and managing Gantt charts
Manage multiple projects simultaneously and show critical paths on an online Gantt chart.
Sign up for free
Well, these were the thoughts about the critical path Gantt chart that we wanted to share with you.
Wrapping up
We've shared a straightforward overview of what the Gantt chart critical path is and how to find it. It is not a guarantee for a successful conclusion of your project; however, it is a vital tool that can help you and your team choose the right course.
This collaboration of two tools – a critical path and a Gantt chart is a very effective way to keep track of the timing of tasks and their sequence.
This collaboration is used by thousands of teams around the world. For example, in the construction industry, in app development, or in product development.
Here's how the CEO of BlackBook Technologies (the app for tourists) assesses the role of the critical path in the projects of his company:
We heavily rely on the critical path. In our weekly meetings, we look through the critical path and we know exactly what is behind and who is behind it. This is very important when you are launching a new product.
Do not hesitate to explore the best professional project planning and management tools such as GanttPRO – they will help you identify critical paths in your projects with no headache.
What do you think about the power of a critical path Gantt chart?

This content is licensed by