5 Effective Roadmap Examples [Plus Available Templates]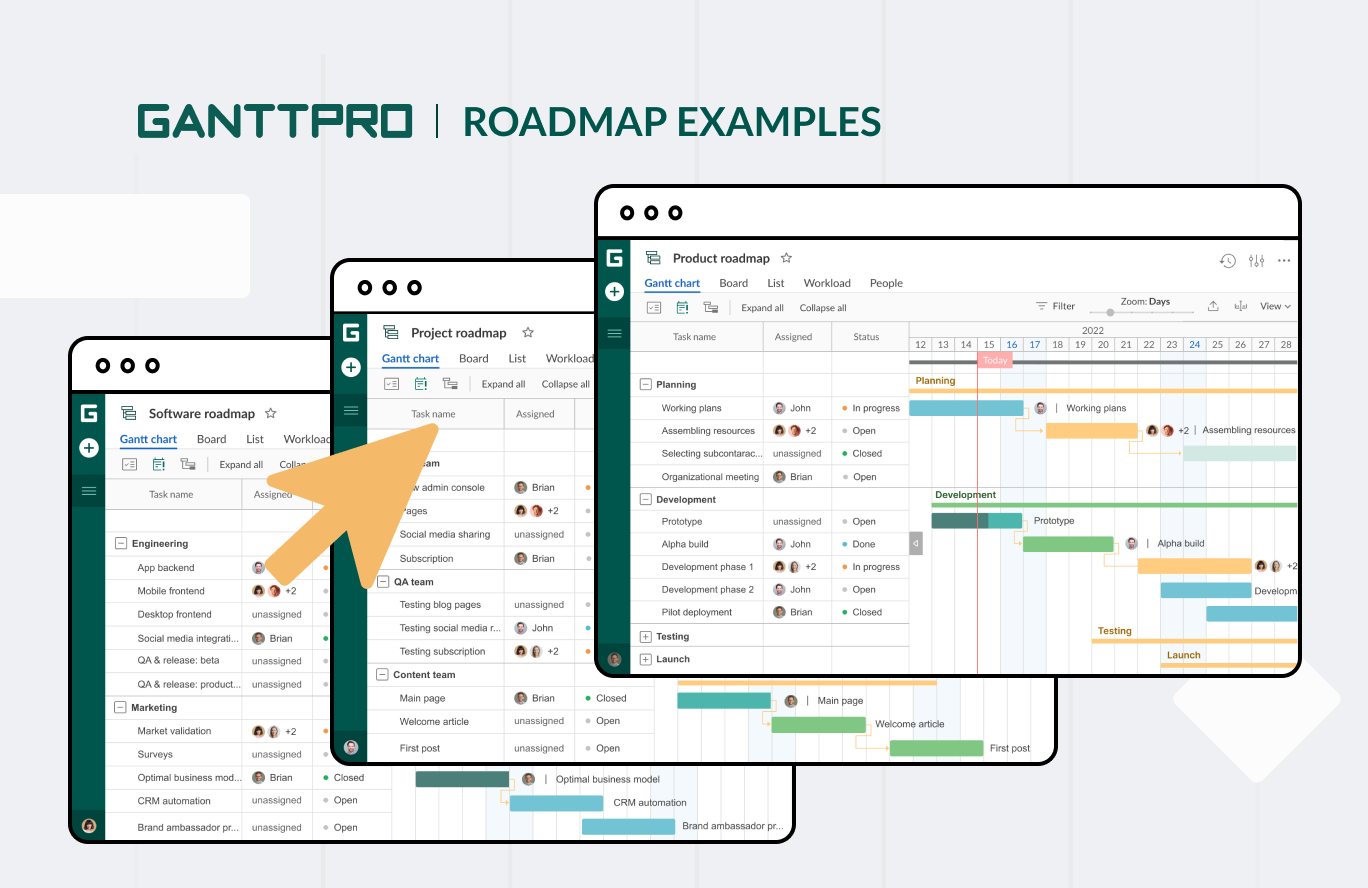 Before you create your own roadmap, it's a good idea to check out some reliable roadmap examples to understand what you need.
A well-planned timeline offers a single point of reference for anyone involved in the project to understand the goals that drive it. Product and project managers rely on this visualization tool to give teams a clear strategic overview, helping keep everyone aligned. Therefore useful examples of roadmaps are vital to set the right focus and guide the entire team in the right direction.
Want to check out some good roadmap examples for inspiration? Move on to get more details and answers to all your questions.
Contents:
Best roadmap examples you may need for your work
Around 94% of consumers admit that they are more likely to be loyal to companies that offer complete transparency. And when you share your plans on a high level with your stakeholders through a convenient roadmap, you definitely increase the level of this transparency.
Best roadmap examples as well as robust roadmap tools save you from chaos and uncertainty as they represent all the plans and initiatives in an organized manner. They accomplish the business mission or vision in a visual form and help you make your efforts transparent.
There are many paid and free roadmap examples, forms, and samples depending on a particular sphere or industry. Here we describe the most popular cases. Let's figure them out.
Product roadmap examples
A product roadmap is the most common example you may find in various sources. It has been existing around for the longest in different forms.
Best product roadmap examples are used to define a product strategy and development approach to a single product.
Timelines related to product management may include new major and minor versions. They can graphically represent the lifecycle of your product with its stages from launch to retirement.
Great product roadmap examples can be used both as an internal planning and communications tool and as an external communication and marketing means.
Imagine you are working on creating a new fitness site. This product will need to be visualized on a detailed timeline, where all the development stages will be described.
Here's how this new product roadmap example can be visualized: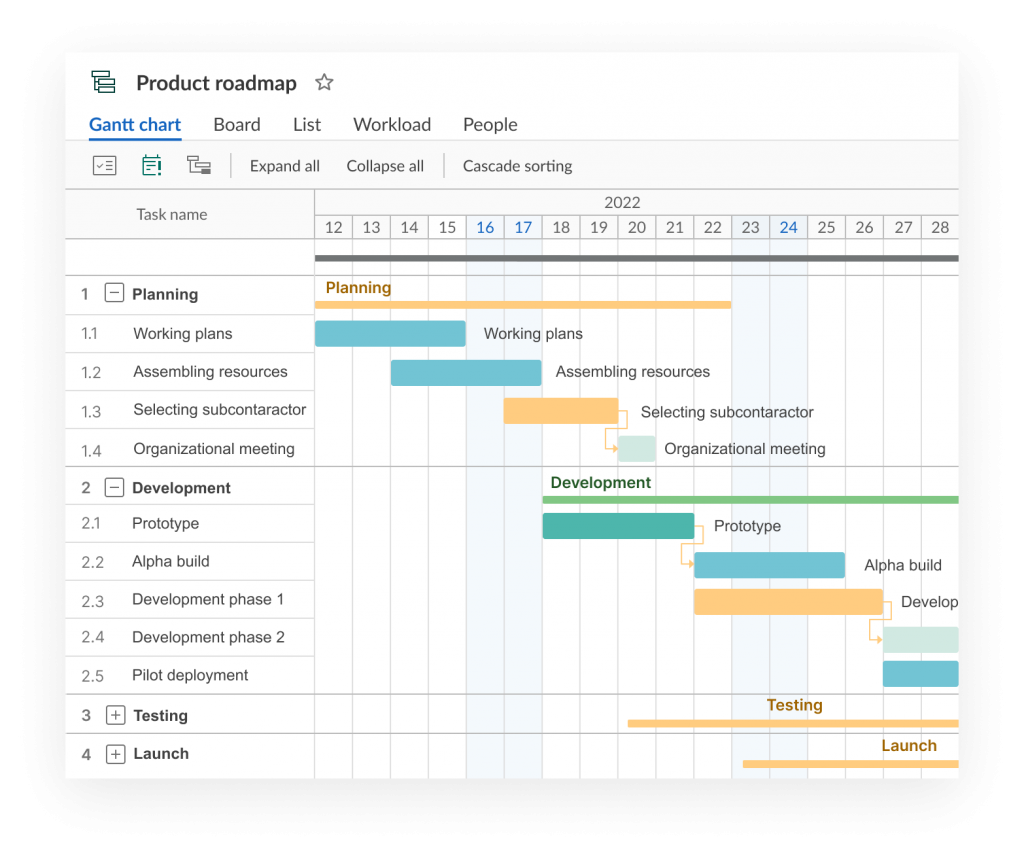 This product roadmap example may seem simple and straightforward at first glance. However, if you have little experience in long-term planning and its visualization, you may need some user-friendly samples to get you started quickly. For example, an online Gantt chart template.
This is where GanttPRO comes to the rescue.
A handy GanttPRO product roadmap template will allow you to delve into the details of compiling a robust timeline, take into account every step, and not get lost in the features.
Product timelines should be created and maintained correctly to help teams examine their strategic objectives. They should provide a clear framework to plan, track, and manage the assignments needed to meet those objectives.
That is why product roadmap examples should not look like built-in presentation tools. They have to be continually updated otherwise they will become worthless.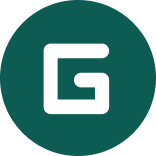 Roadmap tool based on an online Gantt chart
Create a timeline or use handy roadmap examples for easy start.
Sign up for free
Now we are moving to the examples of a project roadmap.
Project roadmap examples
A project roadmap is a simplified summary of key features and deliverables of your project. This is also an overview of all strategic steps on the project and the description of how, when, and who will complete these steps. A well-prepared project timeline helps to look at product development from a bird's eye view.
If project teams have no roadmap, they start feeling the long-term effect. They begin using quick fixes to speed up their projects, only to find that it is actually taking longer. This logically leads to poor quality work. Developers just wait for others to complete their tasks. Their tasks are no longer done in order.
As a result, they re-do functionality that leads to delays and increased costs. That is why project teams from the first day of their work should know how to create a project roadmap and manage it in an efficient way.
Looking for affordable or free project roadmap examples, you should remember that they are more informative for stakeholders than status reports. They should communicate key data in a way that is easy to consume without a detailed knowledge about your project.
Good examples of a project roadmap visualize at which point of the product development the team is and how things are going.
Whether you choose paid or free project roadmap examples, they will help you optimize your plans and tasks many times faster.
Look at one of the project roadmap examples that visualizes the process of developing a blog that will accompany a new fitness site that we've created in our previous example.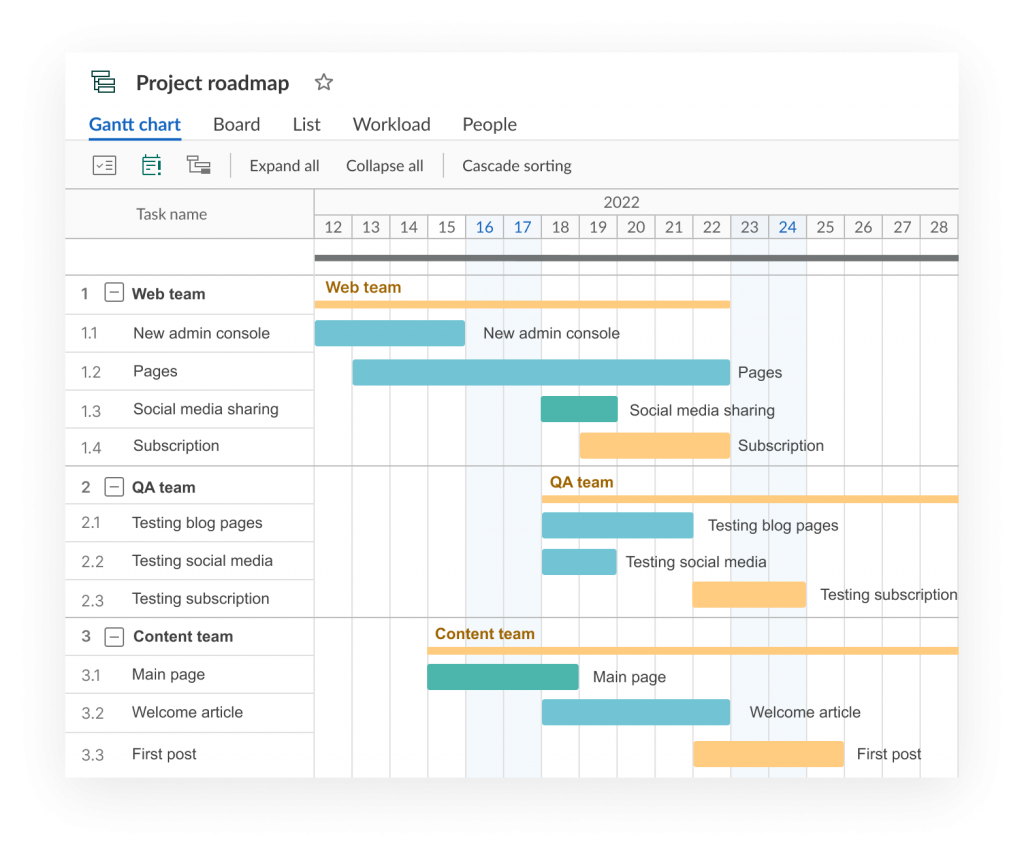 Many project managers admit that it's not always easy to build your first timeline in the right manner. Therefore the role of affordable examples of a project roadmap and friendly templates should not be underestimated.
The project roadmap template provided by GanttPRO allows for building professional timelines on the basis of clear and comfortable samples that you may use whenever you want. Just click on a simple Gantt chart example and customize it to your needs using convenient functionality of the platform.
The next examples are also rather popular among the modern teams, so let's dive into their details.
Technology roadmap examples
We often associate roadmaps with the development of products. Additionally, we associate their creation with the role of a product manager. However, this visual tool can benefit many teams, including tech departments.
A technology timeline supports the same concepts as a product roadmap, just applied to technology assets rather than products. You can use it to demonstrate the macro level evolutionary plans of IT services, infrastructure, etc.
It represents a high-level visual plan with a company's technology strategy. The main purpose of such a roadmap is to help internal groups to make strategic decisions around their technical infrastructure.
There are several types of technology roadmaps used for the needs of:
DevOps.

Internal IT.

Infrastructure.

Architecture.

Hardware procurement, etc.
The examples of technology roadmap often have a higher number of dependencies between items to reflect the connection of technology assets. They are useful for all stakeholders. However, internal tech teams rely on them most of all.
Now consider an architecture technology roadmap example.
Software architects are often responsible for building a solid foundation that will be the backbone of the company's products. Their typical method of creating and tracking this backbone is a technology roadmap. It may contain the UI, API, storage, and third-party services integrations. These components can be a part of other product roadmaps because features may rely on them.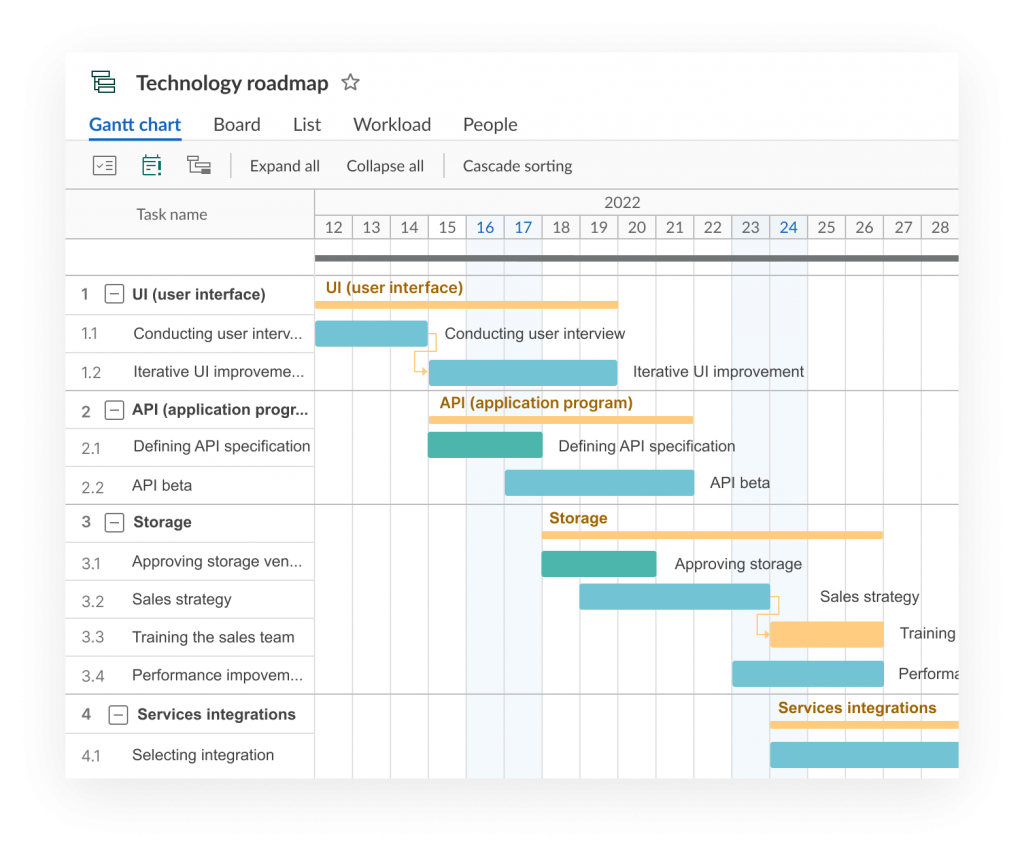 It is worth noting that each initiative within this timeline is discussed only at the strategic level but not at the task one.
As with the options described above, a technology roadmap is much easier and faster to build based on a quality and reliable template.
The GanttPRO technology roadmap template contains everything you need to understand the basics and details required for composing such a roadmap.
Actually, the simplicity and convenience of a Gantt chart online are what make it so popular among managers and business teams.
Strategic roadmap examples
With the help of a strategic roadmap you can easily visualize the actions needed to achieve long-term goals. It shows how your company will adapt to support a chosen business strategy and facilitate communication around your project plan.
When PMOs talk about roadmapping, they usually refer to this type. It provides the highest level summary of strategic priorities and the top-down perspective of the planned investments.
You can drill your strategic roadmap to prepare departmental, product, technology and more timelines to provide the complete integration of work from top to bottom of your company.
Strategy roadmap examples are the core communication vehicles that are used to convey information on strategy, and the work to execute that strategy, to all stakeholders.
The following strategic roadmap may help businesses to build a solid foundation for all their marketing efforts. Along with this, it contains some marketing activities and a course for optimal growth.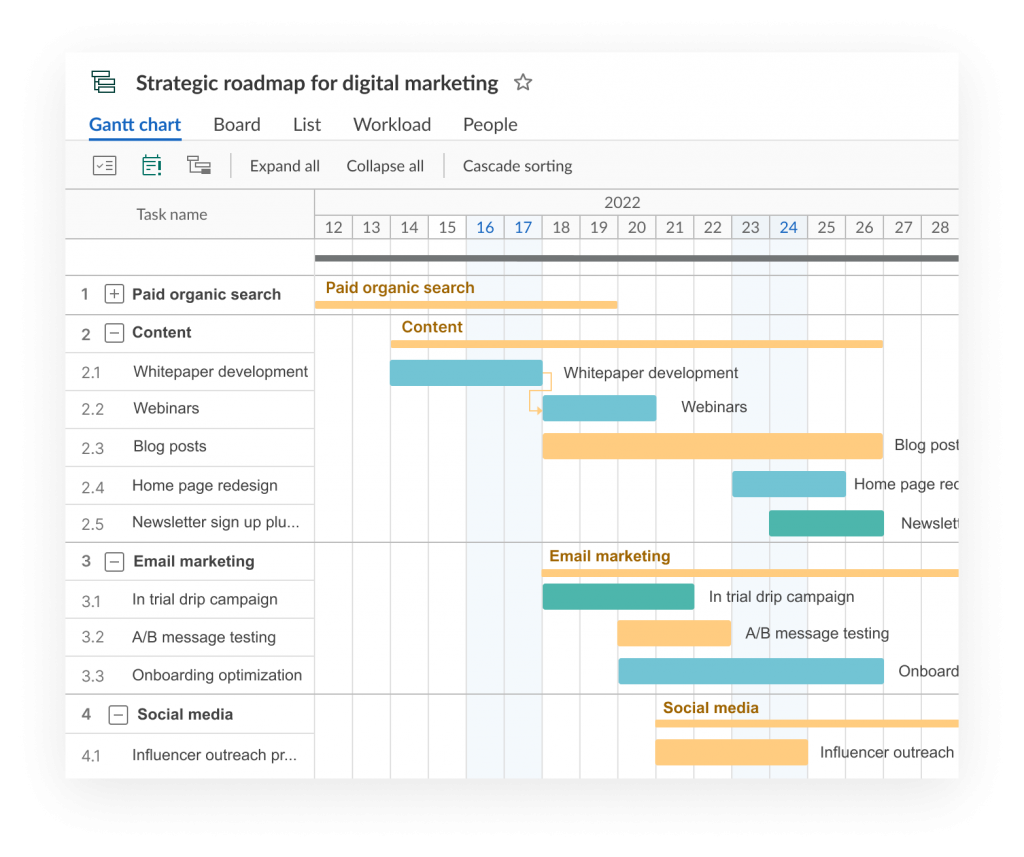 You can easily build your own strategy timeline using the professional strategic roadmap template offered by GanttPRO. As with the previous samples, you only need to tailor it to your specific case.
Software roadmap examples
Software roadmaps serve specifically for software products.
A product manager who works in the software development industry needs a roadmap to connect the company's product vision to the tasks required to bring that product to market.
This type of timeline helps understand how developers' work contributes to the bigger picture, assists the entire team in making proper decisions, and persuades stakeholders.
Software product roadmap examples demonstrate the initiatives involved in launching a new software solution.
The timeline is typically long-term, and the milestones mark major events (for example, a beta release and a general availability release).
Such a high-level roadmap will be useful for keeping your eye on the big picture amidst many tactical initiatives.
Here's a common example of a software roadmap that includes two main blocks: engineering and marketing tasks.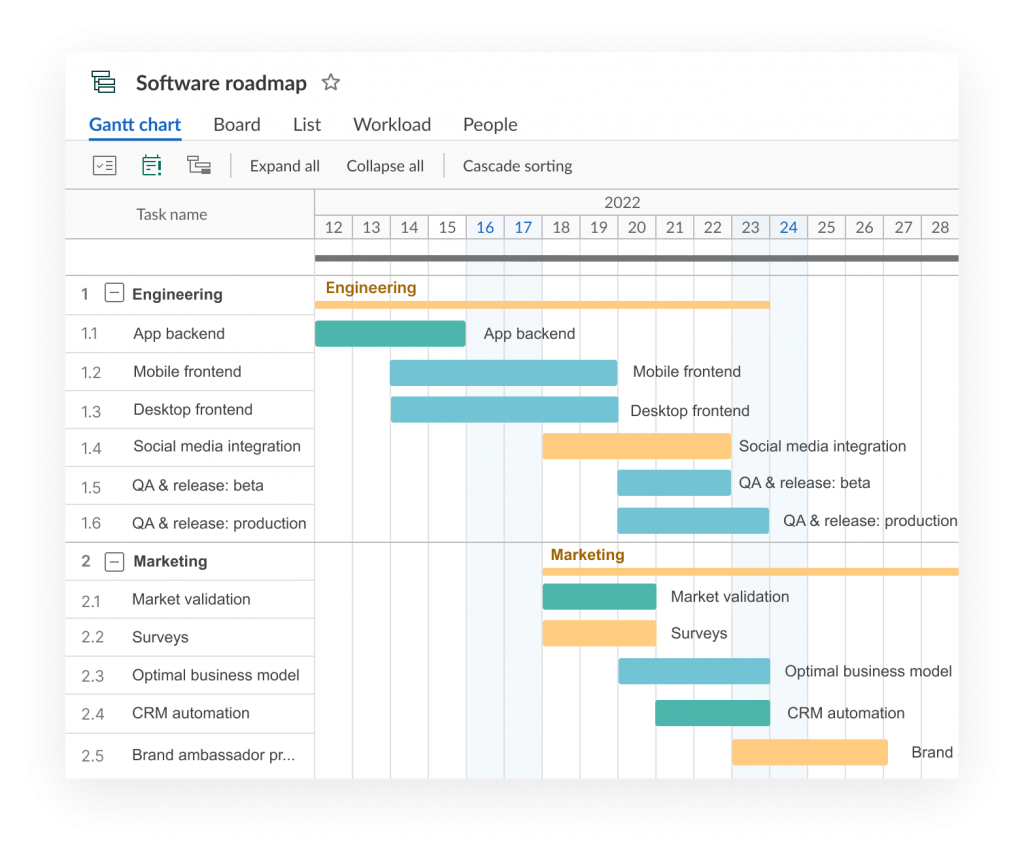 Keep in mind that in GanttPRO, you may use a friendly software roadmap template and feel how much easier it is to do a roadmap with a ready-made solution.
By this point of our post, you should clearly feel all the benefits of a Gantt chart for building online timelines. In case of confusion or ambiguity, please read the article "Gantt chart vs. roadmap" to better understand the subject.
These were the main roadmap examples and templates that we wanted to share with you. However, you may need other roadmap templates. Feel free to explore all the solutions that GanttPRO offers – you will definitely find what you are looking for.
Best roadmap examples: make your choice and create your own planning masterpiece
A well-designed roadmap will act as a GPS for your company. It will show the quickest way to reach your destination and will ensure the optimal route.
Roadmaps will assist in the development and communication of plans while helping to distinguish between different types of work, various business areas, etc.
Choosing proper roadmap examples, you will be able to visualize, adjust, and communicate your plans without any headache.
Remember that any roadmap example you pick up should not only be a visual representation of planned activities, but contribute to the ability to develop and evolve them.
Which of the roadmap examples we have described is best for your team? Are you ready to apply it to your real-life project?
We hope that your roadmaps will now be even more effective and successful.