Best Planners for Project Managers to Help Become the Master of Planning in 2023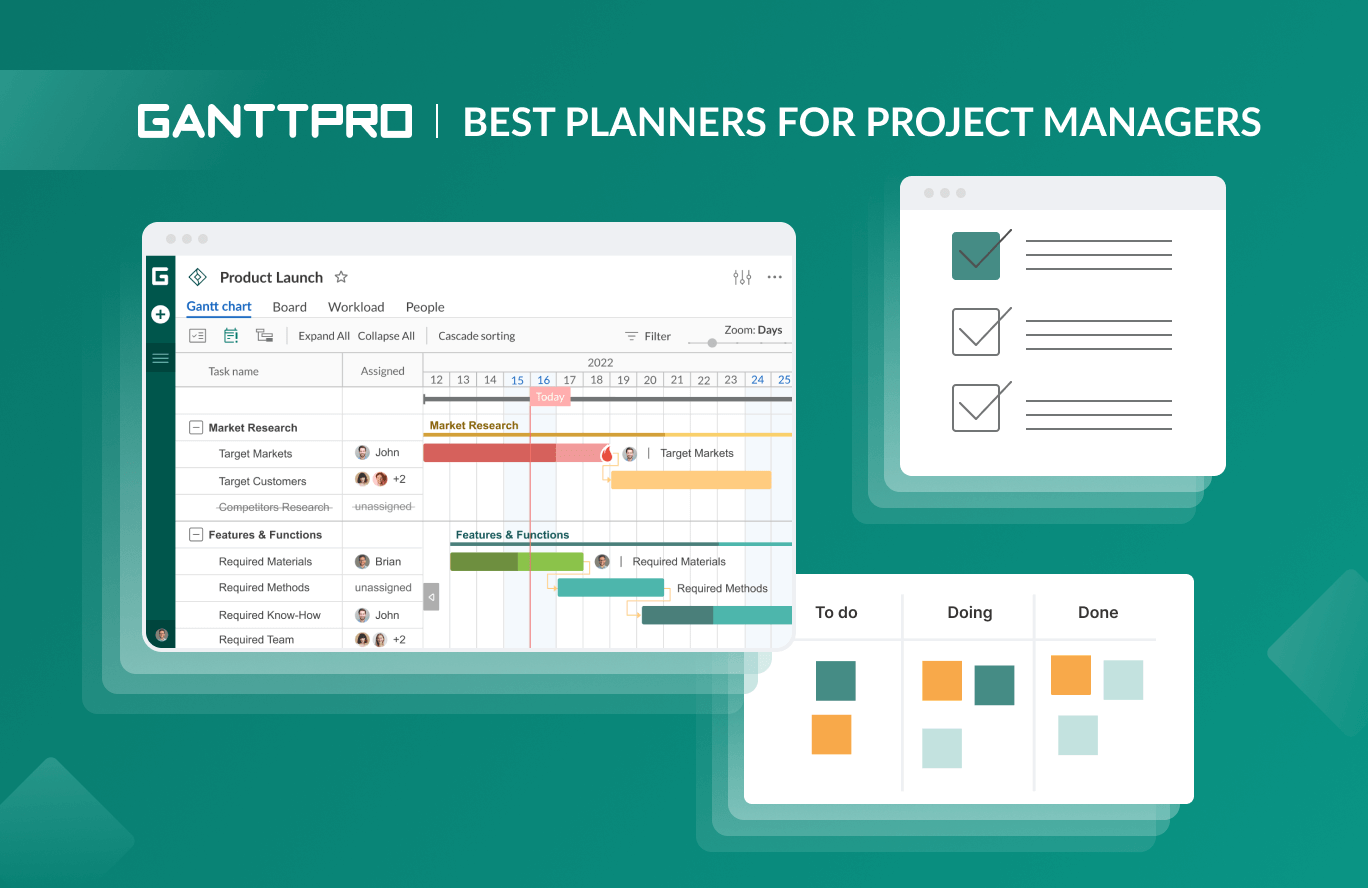 Audio version:
Whether your project is simple or complex, small or big, it needs to be planned. Best planners for project managers are what facilitate efforts in this area and help to start your activities in the right manner.
Through the years many types of different work planners have been designed. Let's just recall school notebooks or simple project management applications.
In this article, we'll run through the best online planners for project managers. Explore them and decide what's right for you.
Contents:
What is a project planner?
A project planner is any tool that allows for visualizing and planning your projects with all their activities and time frames.
This tool helps you track tasks, time, and even costs in one place. It can be useful in replicating every aspect during your project plan creation from a work breakdown structure to resource management and risk register.
The benefits of using a project planner
Below is the list of the evident advantages of the best planners for project managers.
Project tracking. With the help of an online planner, you can be always aware of project status and timely report it to top management.
Managing scope. It provides a clear understanding of who does what, when, and what for.
Managing schedules. The best planner for project managers assists in managing schedules and provides continuous workflow with no delays.
Allocating resources. You can assign tasks, allocate resources, and define responsibilities in the right manner.
Ensuring quality. Working with a planner for project management, you can integrate all work to assure a quality project for your partners or clients.
Let's say this is an overall picture of a planner for managers. Each tool has its own characteristics and specific purposes.
But what is the most effective planner? Which solution will lead your team directly to the project success?
Below we share the most commonly used types of planners that you can effectively apply in project management.
Best planners for project managers: from paper notes to professional software solutions
According to the Future of Project Management research (2022), human collaboration, mobile versions, and remote access are among the factors that will define the future of project management software. Therefore, finding the best planner for project managers with such options means gaining confidence in business and ensuring the right course of action.
One of the most simple tools at your disposal is a physical planner.
A typical paper notebook can include goal setting frameworks, bullet journal layouts, and more options to suit different preferences and working styles.
Even though the modern paper-based planners have grown leaps and bounds beyond their predecessors, they are still significantly inferior to their online counterparts.
Therefore, there are no reasons to hesitate. Digital enthusiasts will confirm that the online project management planners do really matter.
Let's move on to the list of the best planners for project managers from various spheres and industries.
1. Gantt chart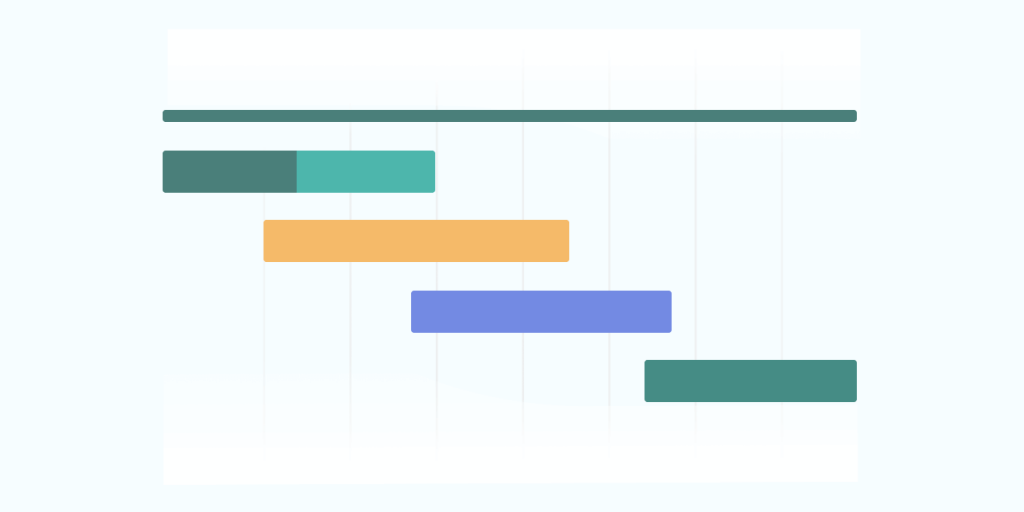 A Gantt chart is a gold standard planner for project managers and one that you should be familiar with even if you don't choose to use it.
This professional planner illustrates a schedule and shows the relationships between activities and current schedule status.
This type of project management charts is a simple and reliable way to communicate what it will take to deliver a project on time and according to the budget. It ensures that your team and stakeholders will be on the same page from the get-go.
A typical Gantt chart contains:
Task list.

Timeline.

Dateline.

Bars.

Milestones (major events, dates, decisions, and deliverables).

Dependencies that connect tasks that need to happen in a certain order.

Progress.

Resource assigned.
Gantt charts professionally serve if you manage large and complex projects. They combine the best elements of a spreadsheet on one side and a timeline on the other.
In a typical Gantt chart tool, all tasks are listed on the left and then fill the timeline to the right. It provides a full view of the project plan across its life cycle.
No matter what size and complexity of project you have, a Gantt diagram will provide you with the big picture, organize your tasks, and let you manage daily, weekly, monthly, or even yearly plans.
A professional planner for project management should be well-visualized, multi-featured, and easy to use. This is where GanttPRO wins.
GanttPRO – best Gantt chart planner for project managers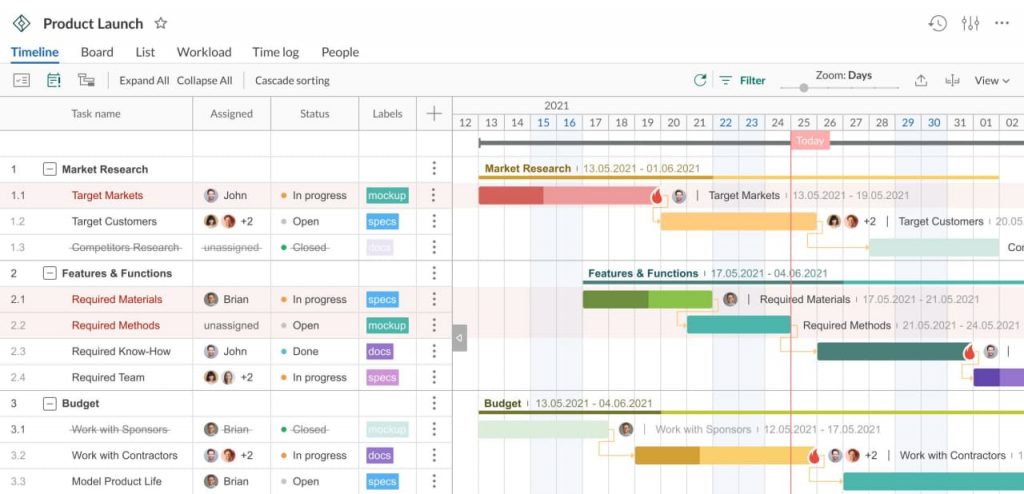 Basic: starts at $7.99 user/month (billed annually).
Pro: starts at $12.99 user/month (billed annually).
Business: starts at $19.99 user/month (billed annually).
Free trial: 14 days.

If you want to plan and manage your projects with the help of a Gantt chart, GanttPRO is what you really need.
The tool allows for creating an online Gantt chart and applying it to any of your projects. You can also use the set of additional features for managing and completing tasks of various complexity.
You can plan and schedule tasks, set dependencies and milestones, manage resources, and collaborate with stakeholders. Professionals use the platform to break down tasks into subtasks, therefore GanttPRO can be considered a powerful online WBS creator.
The tool is known for its convenient learning curve and friendly design. It is also possible to export and import your work plan from software like Excel and MS Project.
If this is the first time you've come across the diagram designed by Henry Gantt, you can explore a Gantt chart example for project management provided by GanttPRO. Handy planner templates are also available there.
Key features:
Professional project planning.

Time tracking.

Drag and drop functionality.

Collaboration.

Real-time notifications.

Board view.

Export/import.

History of changes.
GanttPRO is the solution for all kinds of teams and organizations. Many startups apply it as the basic platform for their business needs. Large companies also choose GanttPRO considering it as the robust project management enterprise software.
Professionals often apply GanttPRO as a construction scheduling software solution. It can be also used for educational, marketing, HR, healthcare, and other projects.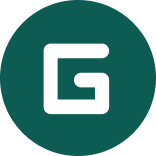 Gantt chart planner for project managers
Create an online project plan in minutes.
Sign up for free
Alternatives: ProofHub, Toggl Plan.
2. Task list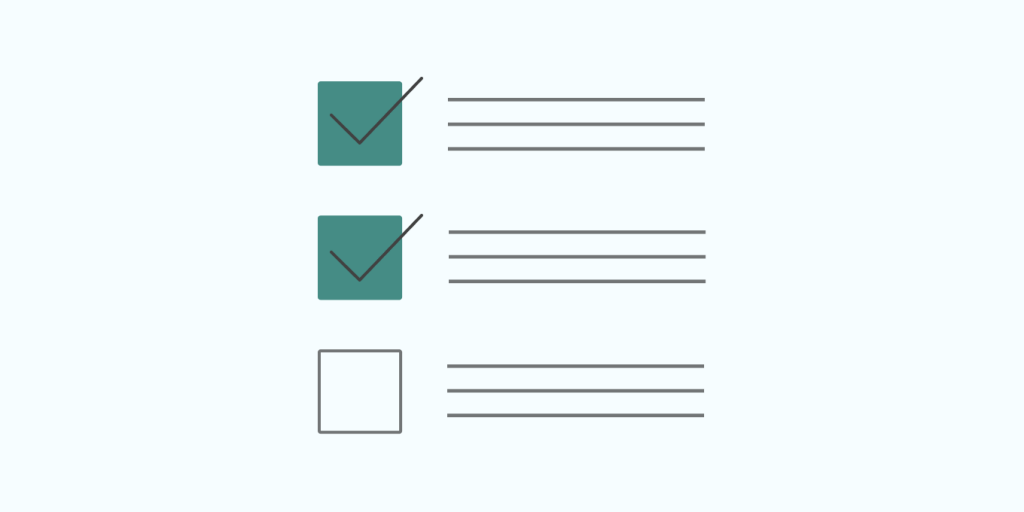 Another option in the row of the best planners for project managers is a task list.
This is a prioritized set of activities you need to do to complete your project.
This planner (also known as a to-do list) may contain specific time frames when the tasks need to be done. Project managers usually use it at the start of a project.
For a small project, this list may look like a simple checklist. However, for complex activities, the planner is often mapped to a resource timeline. This ensures the timely availability of resources to execute specific tasks and deliver the project on time.
A task list will perfectly serve whether you create a daily or weekly work plan or if you want to manage even more complex schedules.
There are a lot of software solutions that add efficiency by putting a task list online.
They typically allow for editing, filtering, and adding tags to prioritize your work. But best of all, a to-do list makes sure nothing falls through the cracks.
Todoist is a reliable example of a task list app that is used for small personal task lists to larger business-oriented activities.
Todoist – best task list planner for project managers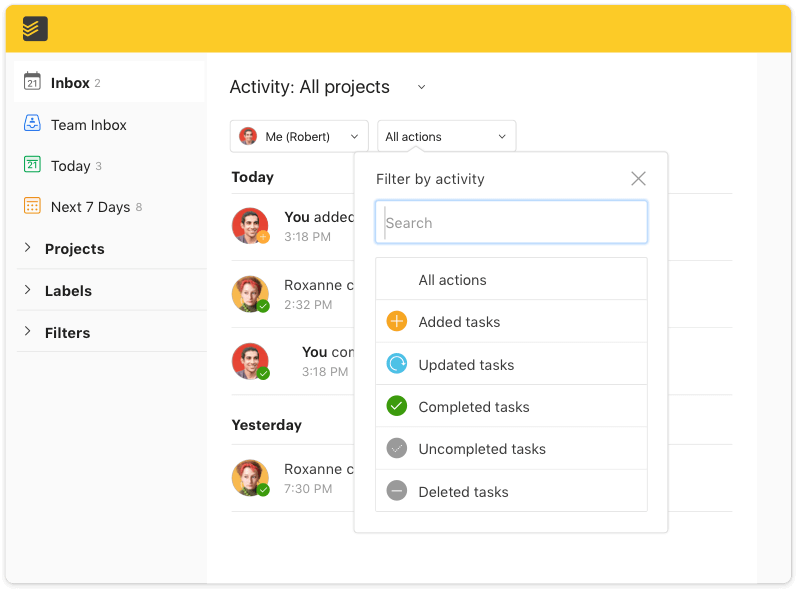 Pro: starts at $4 user/month (billed annually).
Buiness: starts at $6 user/month (billed annually).
Free trial: 30 days.

Todoist is a to-do list and task management tool for professionals in various businesses.
By combining tasks, comments, notifications, attachments, and more, its users streamline their personal and team productivity and work more effectively.
Applying the board or list view, Todoist users can manage projects and collaborate with other team members with ease.
The planner is available on every device. It integrates with many third party work and productivity apps.
Key features:
Task management.

Scheduling.

Assignment management.

Alerts/notifications.

Collaboration.

Commenting/notes.

Customizable templates.

Prioritization.

Reporting.
Alternatives: Google Keep, Any.do.
3. Kanban board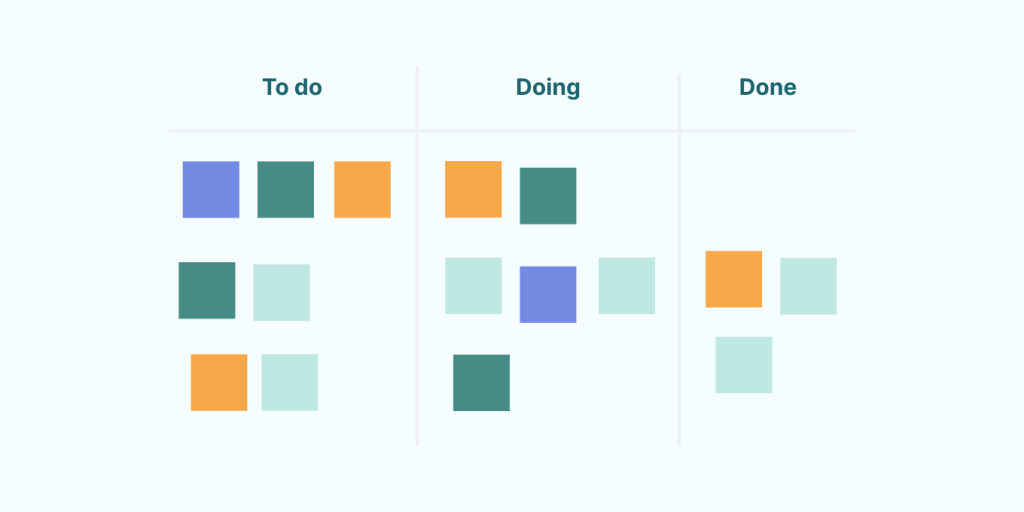 A Kanban board is a visual-organization tool that enables project managers and their teams to plan and manage workflows in the form of cards and columns.
Kanban boards provide a streamlined layout that allows users to make changes by moving cards with drag and drop functionality.
A card represents a task. It is placed underneath columns that stand for the different stages in the production cycle.
The typical columns in a Kanban board are To do, Doing, Test, and Done. You can move the cards from one column to another as you or your team members complete the work.
One of the vivid benefits of using a Kanban project planner is that it helps teams know what needs to be done and when. It also gives managers a view into the process and allows them to track and reallocate resources as necessary to keep the work moving forward.
If you search for the best Kanban tool, you'll definitely find good references to Kanbanize.
Kanbanize – best Kanban board planner for project managers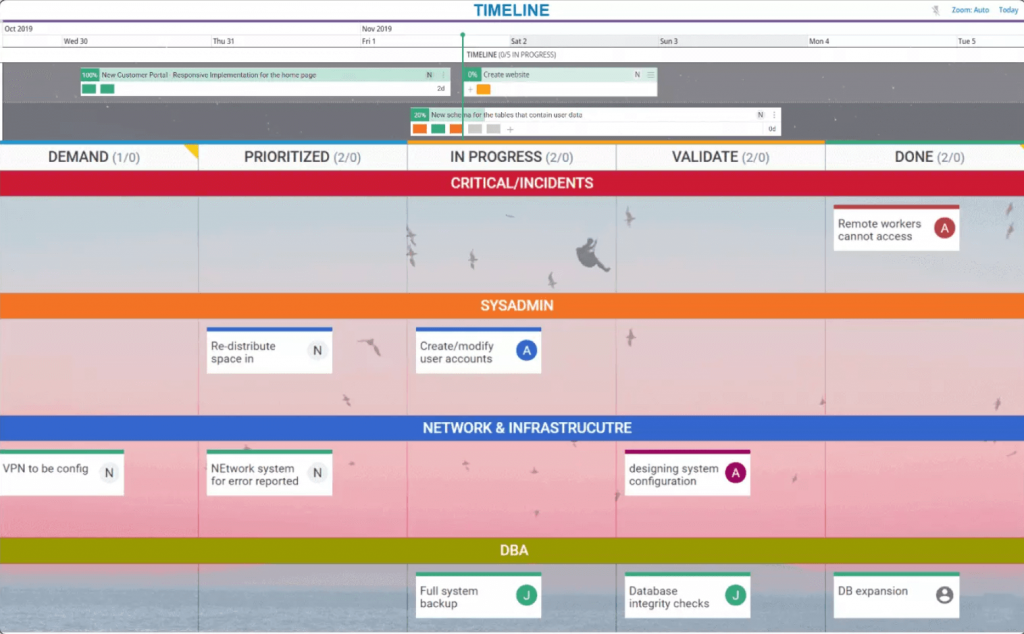 Basic: starts at $149 per 15 user/month (billed annually).
Free trial: 90 days.

Kanbanize offers an option to create handy boards and track task movements there.
You get an online task board that can be modified with different columns. It allows for visualizing activities by status, priority, or assignments. It is possible to track several levels of information simultaneously here.
You can generate work item links between various boards, create business rules, and add work in progress limits (WIP limits) to run a process that will work even for a large enterprise.
Kanbanize is the solution where everything can be visualized in one place. Moreover, it saves time on meetings.
Key features:
Comprehensive Kanban boards.

Multiple workflows.

Time tracking.

Portfolio management.

Reporting.

Email integration.

Data imports/export.

Analytics.
4. Spreadsheets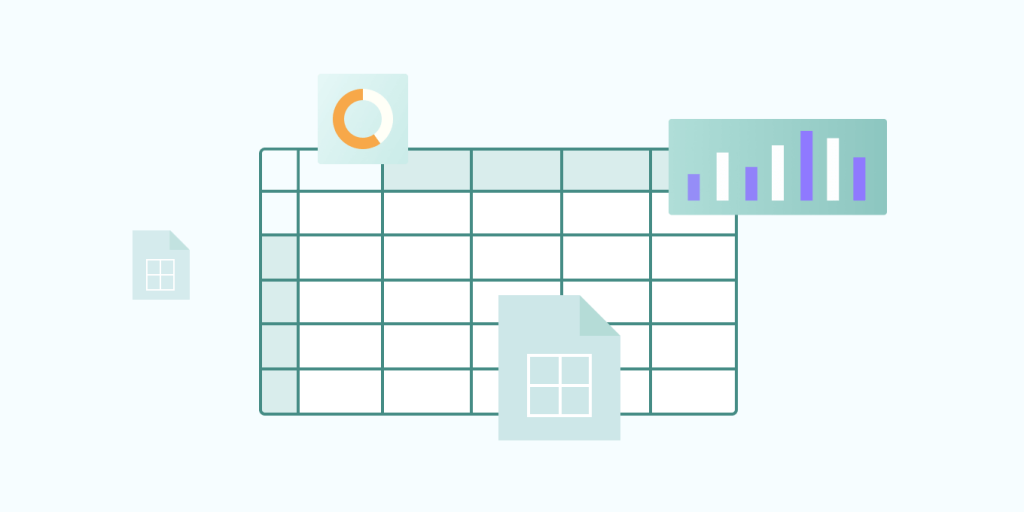 A spreadsheet can be also added to the set of the best planners for project managers.
The tool is made of rows and columns that help sort, organize, and arrange data. With the help of this simple project planner you can calculate numerical tasks efficiently.
What makes spreadsheets unique is their ability to calculate values using the data in cells and various mathematical formulas.
You may use a spreadsheet for managing any work plan for a project or for creating a more complex system. For example, for an overview of a bank's balance.
The project planner is widely used in many disciplines. When it comes to project planning, spreadsheets can be used to create basic charts and task lists.
Despite their ease of use, you can not apply them for file sharing and collaborating with team members.
If you want to utilize spreadsheets to keep track of a project and manage progress reports, Smartsheet is one of the best options.
Smartsheet – best spreadsheet planner for project managers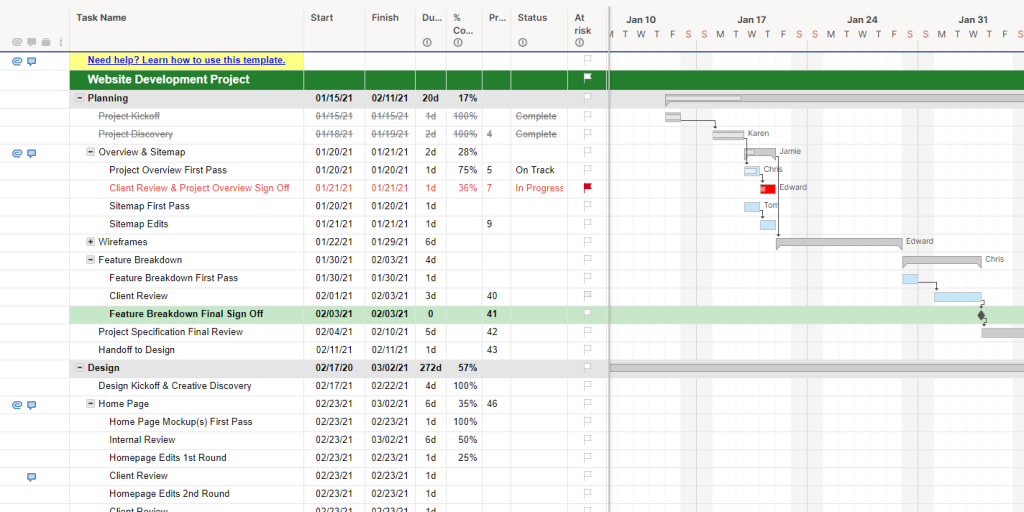 Pro: starts at $7 user/month (billed annually).
Business: starts at $25 user/month (billed annually).
Free trial: 30 days.

By choosing Smartsheet for project managers, you get a table-like interface, a database of basic features, and a simple UI to work with.
With a rich library of templates that you can modify, the use case options in Smartsheet are surprisingly wide.
You can take the existing project management template and customize it to your needs, add tasks, due dates, and apply many other options. This will allow you to create a dashboard full of charts without having to look at any raw data.
Of course, you can use Smartsheet as a regular spreadsheet app. However, its potential may seem wasted when used only in this manner.
Key features:
Activity planning.

Resource management.

Access controls/permissions.

Reporting.

Shared team calendar.

Time tracking.

Task prioritization.

Analytics.
Alternatives: Zoho Sheet, Quip.
5. Project calendar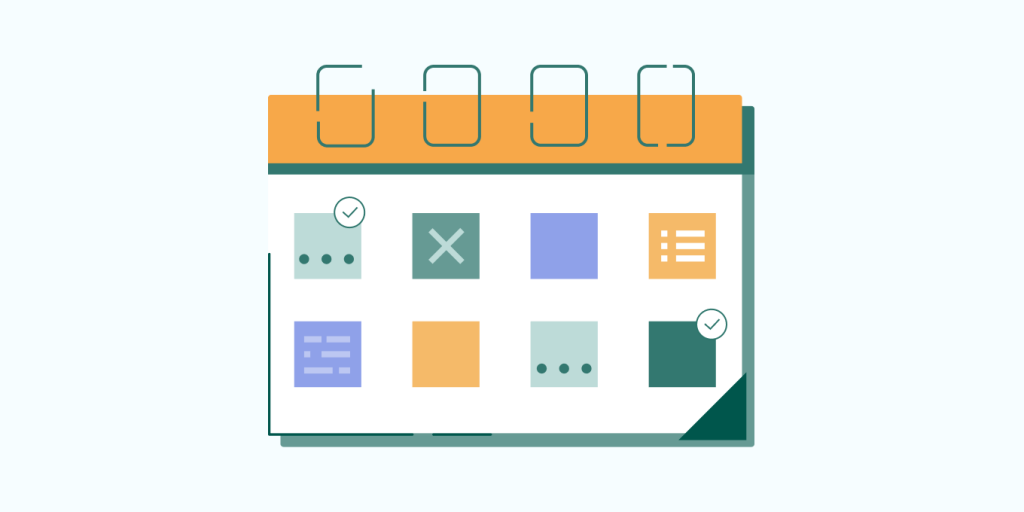 A calendar is a visual format for displaying a project schedule. This kind of a project planner helps in organizing a timeline and lets you plan project milestones, ensuring you deliver things on time.
Most people have used a calendar at some point in their lives. But only a few know that a calendar is also an effective project planning tool. With its help, you can track all your deadlines in one place, set goals, and promote transparency.
There is no need to buy a physical calendar anymore as you can pick up any project planner app equipped with an online calendar.
Well-designed calendars allow you to manually track and plan crucial work, get a bird's-eye view of numerous projects, as well as see your work by month, quarter, or year.
However, while an online calendar may remind you of deadlines, it is not meant to inform you what tasks are necessary to reach the deadline, who is working on them, and where they are in the completion process.
One of the best calendar management tools available is Google Calendar.
Google Calendar – best calendar planner for project managers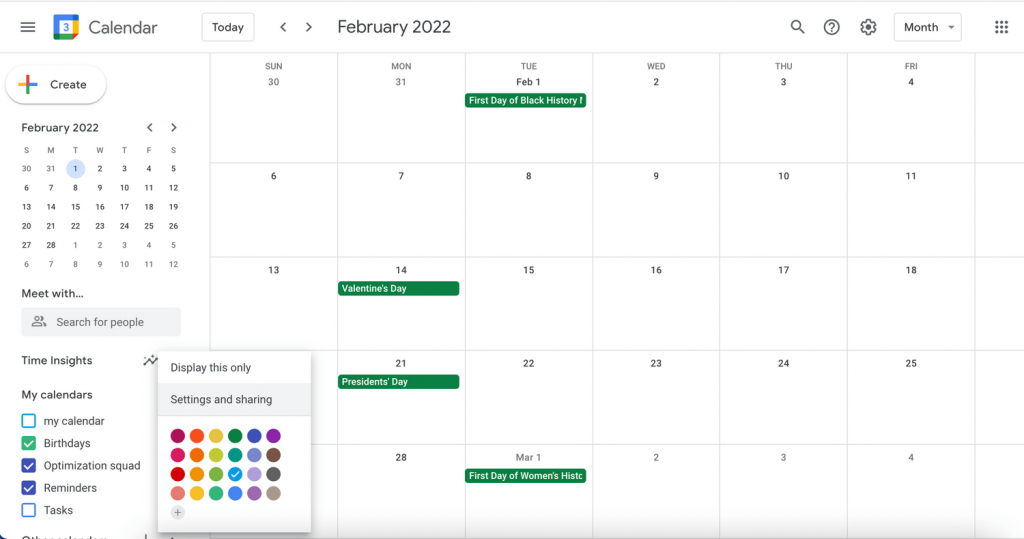 Google Calendar doesn't have a paid plan specifically intended for using Google Calendar. However, you pay for Google Workspace to gain access to all Google Calendar features. The plans are:
Business Starter: starts at $6 user/month (billed annually).
Business Standard: starts at $12 user/month (billed annually).
Business Plus: starts at $18 user/month (billed annually).

Many project teams use Gmail, making the native calendar app one that's integrated and easy to access. Therefore Google Calendar is quite popular worldwide.
It allows for calendar sharing that makes the planner a great choice for things like scheduling meetings or dropping important milestones. You can customize event notifications to be always aware of those upcoming meetings or commitments.
However, Google Calendar lacks a lot in terms of project scheduling. That is why you'll need extra functionality and additional tools to manage your projects.
Key features:
Schedule view.

Meeting rooms.

Simplified appointment slots tool.

Advanced search.

Time tracking.

Attachments.

Desktop notifications.

Keyboard shortcuts.

Time zone conversion.
Alternatives: Workato, Timely.
6. PERT chart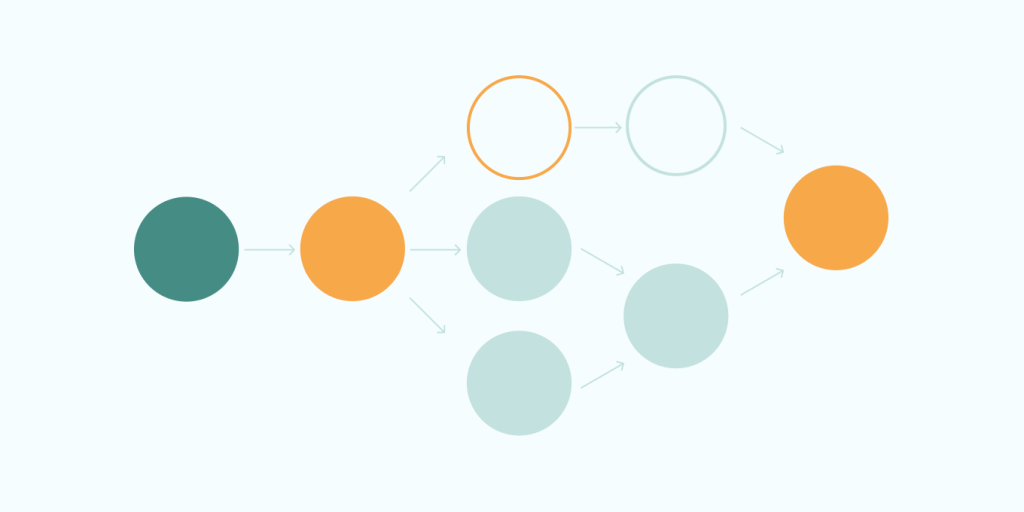 A PERT chart is a visual tool that's useful for mapping out separate tasks and planning the overall project schedule.
PERT stands for Program Evaluation Review Technique. It is used to create a PERT chart. So, think of PERT as the process and the PERT chart as the outcome.
This planning tool allows project managers to see essential scheduling details such as task duration estimates, dependencies, and the time your project can be completed within.
Lucidchart is one of the robust online PERT chart generators that you may use right away.
Lucidchart – best PERT chart planner for project managers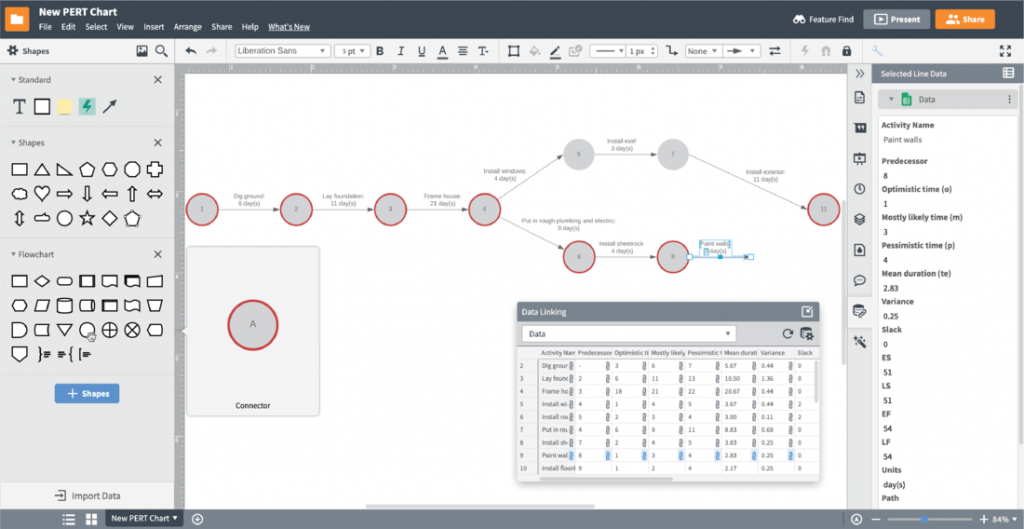 Individual: starts at $7.95 user/month (billed annually).
Team: Здесь текст
Free trial: 7 days.

Lucidchart is a friendly planner for project managers that allows the creation of PERT charts and other robust diagrams. Its users can build diagrams for various purposes from organization charts to emergency-exit illustrations. 
The tool looks great for planning and brainstorming projects as it can easily compress the flow of work or tasks to be achieved. It simplifies the way teams check progress and demonstrates which step to take next.
This online planner also comes with multiple PERT templates. However, none of these templates can be used for free.
Key features:
Charts and diagrams of any complexity.

Handy containers.

Commenting/notes.

Document management.

Drag and drop functionality.

Customisable templates.

File sharing

Timeline view.

Workflow creation

Mockup management.
Alternatives: Visual Paradigm, SmartDraw.
Best planners for project managers: take advantage of all of them and choose your favorite
Planning your project is not a waste of time and it should always be done as part of the project management process.
When choosing the right solution for planning, you do not need to rush. Study each of them, and also, if possible, try to work with the available tool templates.
Now that you have learned the six tools described above, you can definitely answer the question "What is the best tool for project planning?"
Make your choice and remember that the success of the most complex project always starts with a small plan.