How to Create an Asana Gantt Chart in Accessible Ways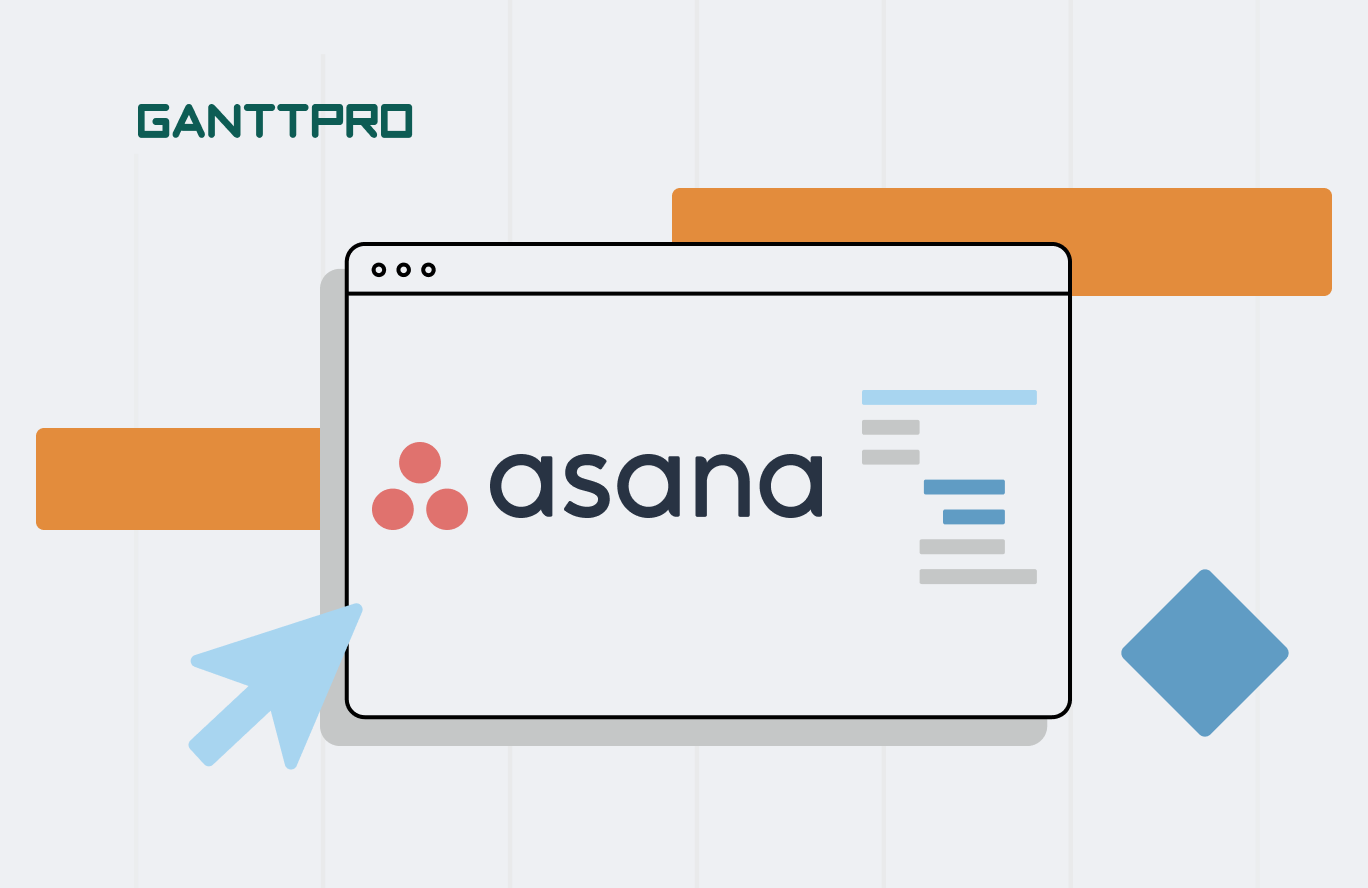 If your workflow is not organized properly, the entire project can quickly get complicated. Here's where a Gantt chart comes to your aid.
Many tools offer a Gantt diagram, but it's often not feature-rich and not free.
An Asana Gantt chart is also a "hot topic" for the users of this tool. Some of them ask a question "Is there a Gantt chart in Asana?" They need Gantt functionality to satisfy all their needs in planning and task management.
In this post, we are trying to figure it out and give the answer to the question about the Asana Gantt chart.
Contents:
Does Asana have a Gantt chart?
It does but not to the full. There was no Gantt chart in Asana until 2018. Now the Premium users of Asana have a Timeline – it visually represents projects and all the steps needed to complete them, including adding responsible people and task dependencies.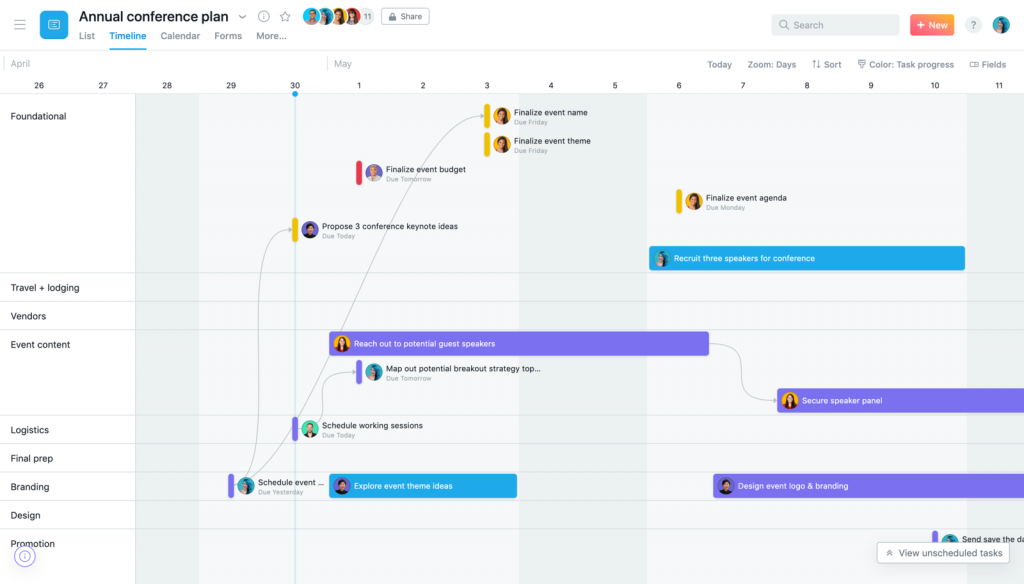 In order to understand the role and the power of this feature, it is beneficial to estimate the importance of a Gantt chart and take a closer look at Asana itself.
What is a Gantt chart?
A Gantt chart is a horizontal bar diagram that illustrates the project timeline, program, or work. It allows you to see your project schedule, set task dependencies, track milestones, and assess work timelines.
Each bar represents a step in the process (or task in the project). The length of the bar demonstrates the amount of time that step or task will take.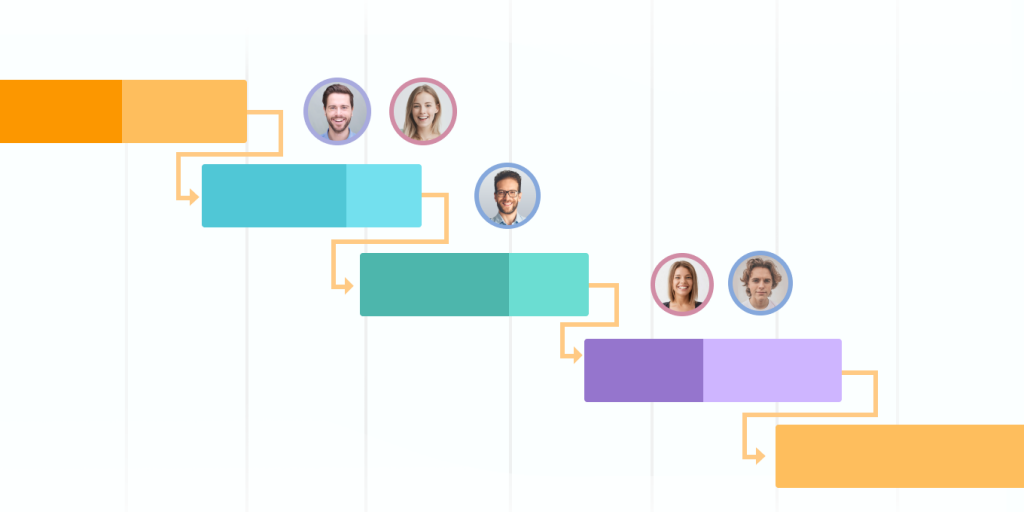 What about Asana and its connection with a Gantt chart?
Asana is a project management software solution that many teams use to track and manage their tasks. Its simplicity, versatility, and adaptability make project management a breeze.
It was designed in 2008 by Dustin Moskovitz and Justin Rosenstein. These software engineers aimed to enhance the efficiency and workflow of Facebook employees.
As of February 2021, more than 1.5 million paid users applied Asana worldwide.
The platform allows assigning tasks, tracking project progress, setting task priorities, adding dependencies, and keeping everyone on the same page. It professionally assists in managing your deadlines and goals.
Here's the list of the key benefits of Asana.
A feature-rich free plan.

Multiple project views.

Versatility.

Process management automation.

Team collaboration.

Agile and Scrum support.

Powerful integrations.
With Asana software users can:
Assign, customize tasks and create dependencies for them.

Track their work and projects.

Be aware of all upcoming steps and stages.

Meet deadlines.

Be sure who, when and what tasks are being performed.

Have conversations right inside the tool.

Get exactly those updates they need by following required tasks.

Use ready templates.

Attach files, comment on them, click likes.

Use powerful search.

Work in teams.
This list looks great but something is missing. Right, there is no Asana Gantt chart feature in it. But why?
We've already covered this situation with some other popular project management tools and described Basecamp Gantt chart and Trello Gantt chart. Now let's deal with the Asana Timeline.
What is the role of the Asana Timeline?
With the help of this feature, Premium users can see at a glance how a project is progressing and what's up next.
The Timeline is always in sync with whatever changes you make to your project in Asana and its associated tasks.
To see a Gantt chart compatible with Asana, Premium users should look for the Timeline tab to appear in the app. They have to click on it to get a visual representation of the project schedule.
Here are the key features the Asana Timeline offers:
Mapping out a project plan. With the help of this feature, Asana users can plan their projects and assign tasks to every individual member of the team.
Sharing the plan. The Timeline allows sharing the plan with everyone including all stakeholders and clients.
Altering the plan. The users can make adjustments to the plan, in real time. The changes are automatically reflected on the team member's pages.
Everything would be great, but user experience demonstrates that the Asana Timeline does not meet all the needs for planning and task management and still has some areas for improvement.
Here are some important features that Asana users are missing when using the Timeline:
Asana Timeline allows assigning only a single task to a person at a time. It doesn't let users work on different tasks in parallel.

The Timeline offers the feature that helps you track your projects and tasks; however, it doesn't provide any solution to track the time spent by your team members working on their tasks.

The exporting functionality looks limited, and Asana users often need a more full-fledged solution for this aim.

Users have to pay $10.99 per month to get the Timeline.
Because of these drawbacks, project teams need to look for supporting solutions.
So, how to create a Gantt chart in Asana in another way?
Below we describe such solutions: Asana Gantt chart integration apps, plugins, and add-ons.
Asana Gantt chart integration
Does Asana integrate with any Gantt Chart software?
Yes, it does. Collaboration with a robust PM application is a good way to add a Gantt chart to Asana.
Many of the apps allow integration that give users a convenient Asana Gantt view. And one of the most popular Asana Gantt chart integration solutions is Instagantt.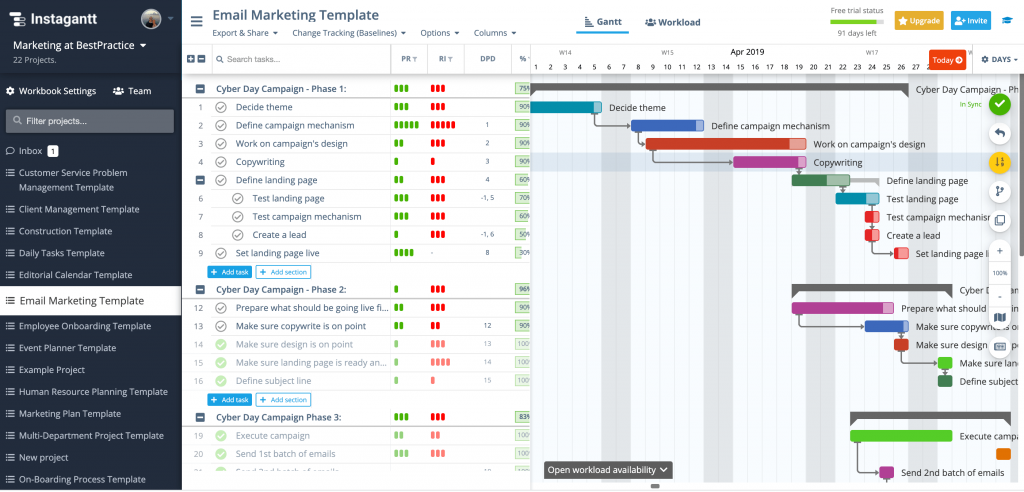 Single: $7 per user/per month.
Team: $5 per user/per month.
Free trial: 7 days.

Instagantt is the most popular Asana Gantt chart integration solution. Its diagrams sync with Asana, so you always get the updated information in the charts.
Any changes made in the chart will be also reflected in Asana.
Instagantt provides task dependencies and workload management. Each task also supports attributes like progress, subtasks, milestones, and colors. You can also enjoy some advanced features like a baseline, team collaboration, link sharing with anyone even without Asana or Instagantt Gantt chart app accounts, and export.
To get it, you only need to sign up with an email address or Asana account and then choose which project to synchronize.
Instagantt is a secure tool. As soon as you stop using this Gantt chart for Asana, your data will no longer be available in the app.
Integration and available apps are great. But there is another way to get a proper Asana Gantt chart view tool – to adapt any of Gantt chart plugins or add-ons.
Asana Gantt chart plugins
Because of the Timeline feature, there are very few third-party solutions that offer Gantt chart add-ons and plugins specifically for Asana. However, we've found some of them to diversify the possibilities of planning with the help of a Gantt diagram.
GanttProject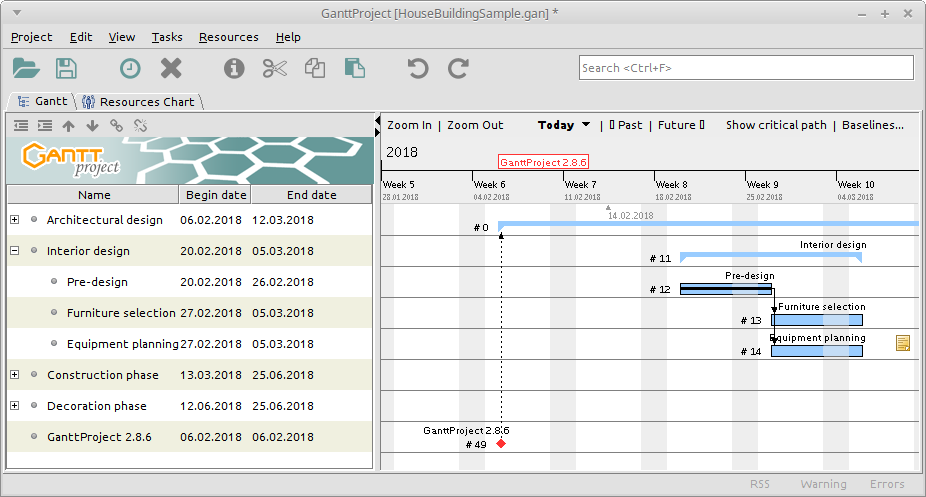 Free version: available.
Paid version: from $5 per user/per month.

GanttProject is not a direct add-on to Asana. It takes a little more effort by exporting Asana data into CSV, and then importing the CSV file into GanttProject.
However, many use this free scheduling and management app as an Asana add-on. Here you can create tasks and milestones with start date, duration, priority, cost, color and fill pattern, text notes, and user-defined custom fields.
Other features include setting dependencies, baselines, and a read-only PERT chart.
Velocity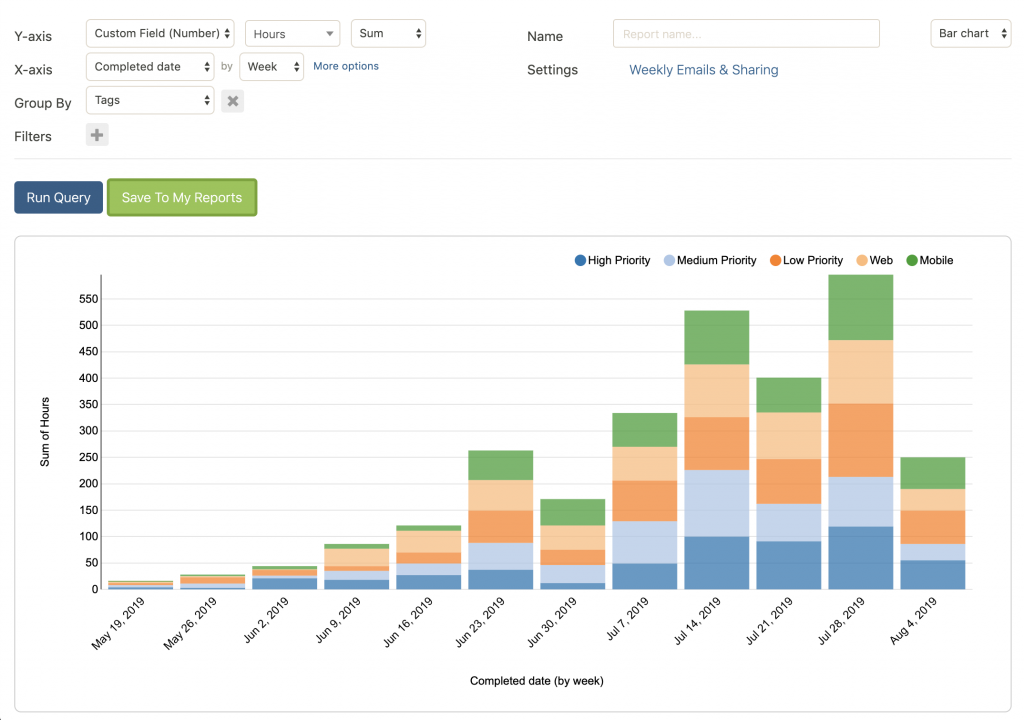 Individual: $25 per month.
Team: $60 per user/per month.
Business: $210 per user/per month.
Free trial: 7 days.

Velocity is especially good because of its custom dashboards and reports for Asana. It helps to measure how a company works.
This Asana add-on provides custom fields. With enough effort, it can be configured to provide info that is found on a Gantt chart.
Velocity allows tracking Asana's data by assignee, project, team, section, tag, custom field, and other fields. The tool can generate real-time CSV that can be shared or connected to apps that will build a Gantt diagram.
Bridge24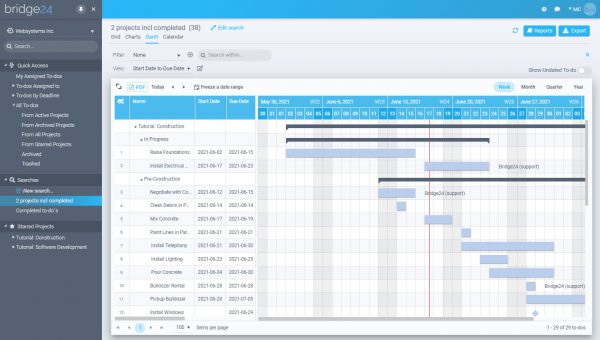 Premium Monthly: $25 per 5 users/per month.
Premium Annual: $240 per 5 users/per year.
Free trial: 7 days.

Bridge24 is a solution that enhances the reporting and exporting capabilities of Asana and some other project management tools. Besides viewing a Gantt chart in Asana, it offers additional views, such as a Power Grid view, a Calendar, and a Board view.
A Gantt chart view provides a flexible interaction with users and gives them a chance to search and filter the exact Asana project data they need and put them into a clear report. It is also possible to export the projects in several file formats.
You can note that implementing such plugins and add-ons looks enough to provide a complete process of planning and task management in Asana.
However, the main thing to remember is that Asana Timeline, like any third-party integration solution, only partially covers the important needs of project managers. Moreover, Timeline is available only for Premium members.
Fortunately, there is another way out – to use a professional Gantt chart tool.
Creating a Gantt chart with professional Gantt chart software
A Gantt chart within Asana is a real assistant to project managers in all their affairs related to planning and task management. Plugins, add-ons, and other integration solutions greatly simplify the work in teams, making Asana an even more reliable and functional solution.
However, there are no managers who wouldn't strive for excellence in processes and results. Therefore, many of them consider the tools that offer a complete and feature-rich Gantt diagram. GanttPRO is one of the best examples here.
GanttPRO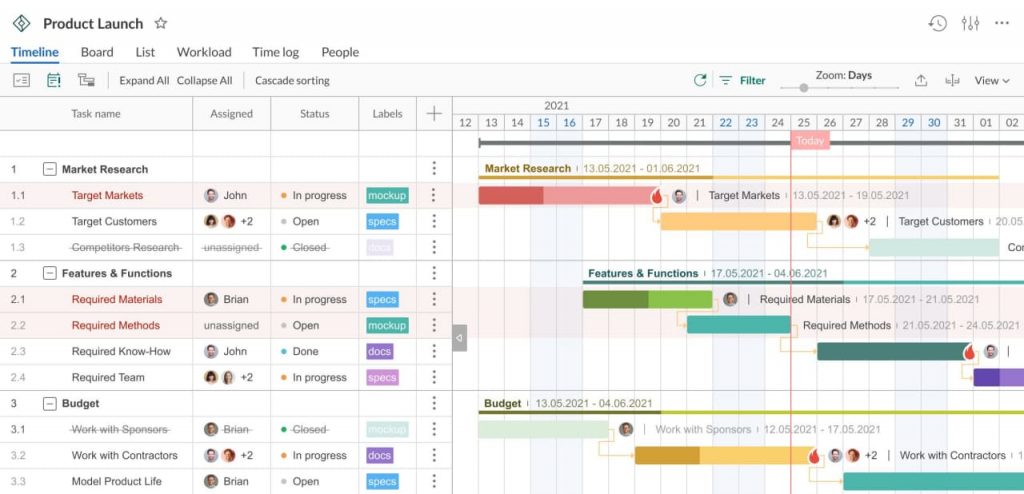 Basic: starts at $7.99 user/month (billed annually).
Pro: starts at $12.99 user/month (billed annually).
Business: starts at $19.99 user/month (billed annually).
Free trial: 14 days.

GanttPRO is a project management platform that simplifies project planning. It helps to track the team's work, set deadlines, and collaborate with all stakeholders.
GanttPRO is also a professional Gantt chart tool.
You may consider it as a reliable alternative to Asana, because:
It helps teams to plan and schedule their activities, working with unlimited resources, even using a free trial.
It offers many reliable features: task management, time tracking, reporting, project exporting, WBS hierarchies, and more.

It allows prioritizing tasks to push the crucial ones forward and make sure deadlines are met..

It can be used in many spheres: software development, construction, healthcare, events, education, finances, etc.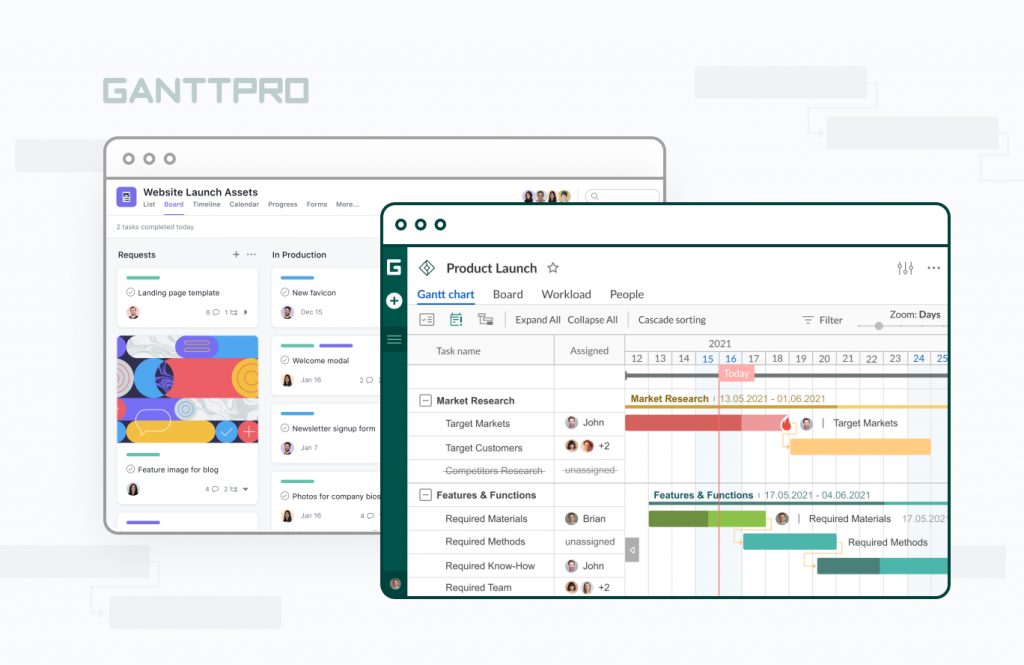 It's up to you which Gantt chart for Asana to choose. Just keep in mind that despite the popularity and reliability of Asana, it is not perfect and you can always use a tool with a built-in Gantt functionality.
After all, project management tools are designed to compete and be the best solution for you.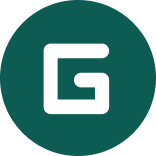 Gantt chart project planning tool
Create, manage, and share online Gantt chart timelines – all in one place.
Sign up for free
Bottom line
A Gantt chart is a tool for visualizing project plans and timelines. It helps to organize complex projects, estimate workloads, and coordinate stakeholders.
Asana's Timeline is a form of a Gantt chart that allows seeing how tasks and deadlines connect. Alas, it is paid.
If you want to make a Gantt chart in Asana without being its Premium user, you can apply available Asana Gantt chart add-ons, plugins, and integration solutions. They will definitely simplify your efforts in this field. But the best option is to give a try to a more professional Gantt chart tool.
GanttPRO is what you need. This Asana alternative will enhance your project management and provide all you need to succeed in planning and managing your tasks. All in one place.