12 Tips to Create an Actionable Weekly Work Plan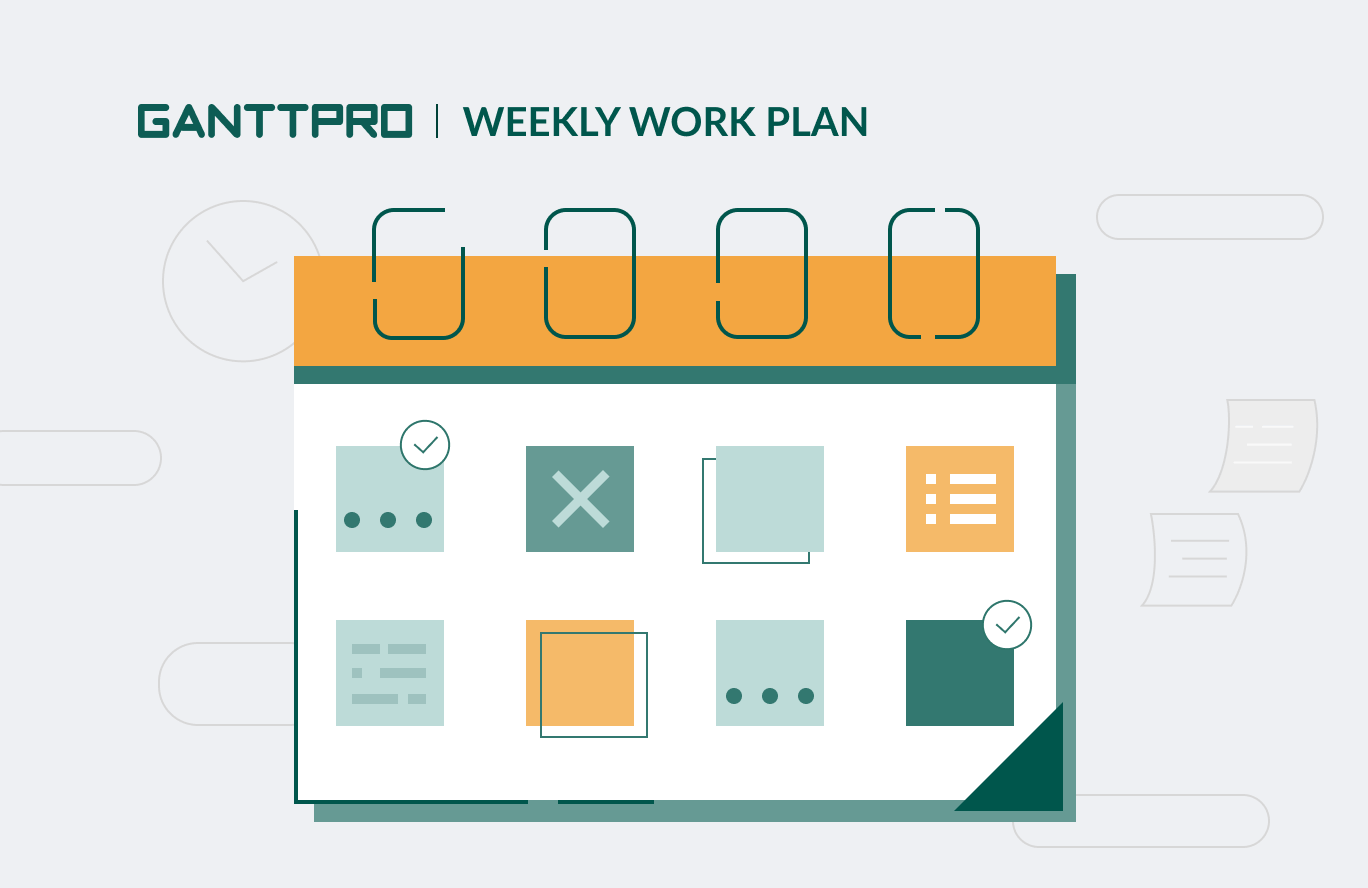 Audio version:
A weekly work plan may contain dozens of tasks. However, a typical work week is only five days, so you can feel upset that this time period is too short.
When it comes to defining the most important time management processes, planning and scheduling are what should be mentioned anyway. Whether you utilize a paper notebook, a super functional software solution or ready-made planner templates, you need an initial work plan for a project with its established rules and principles. Especially when it relates to organizing your week.
Our post is aimed to help you figure out how to create a weekly work plan that will really act. Here we propose some actionable recommendations, not just trivial tips like about how important it is to take breaks during the day or not to be distracted by extraneous matters.
So, let's delve into the essence.
Contents:
What is a weekly work plan?
A weekly work plan is a written document designed to help you plan and schedule work activities for a particular week.
In other words, this is a visual map that contains your to-do list.
This task management tool breaks down the tasks you need to complete during the week and helps to stay organized, hitting all deadlines.
The main goal of a weekly work plan is to make you proactive. Rather than waiting for the week to come before you start figuring out what to do, you visualize all your ideas and plans ahead of time.
You can schedule upcoming work weeks for just yourself, for your team, or for certain projects (for example, for creating a specific product or presentations).
There are many professional solutions that enrich and simplify daily and weekly planning.
You can use:
A Gantt chart.

A Kanban board.

To-do lists.

Tables.

Advanced calendars.

Prioritization matrices.

Time management apps (for example, based on the Pomodoro technique).

Other solutions.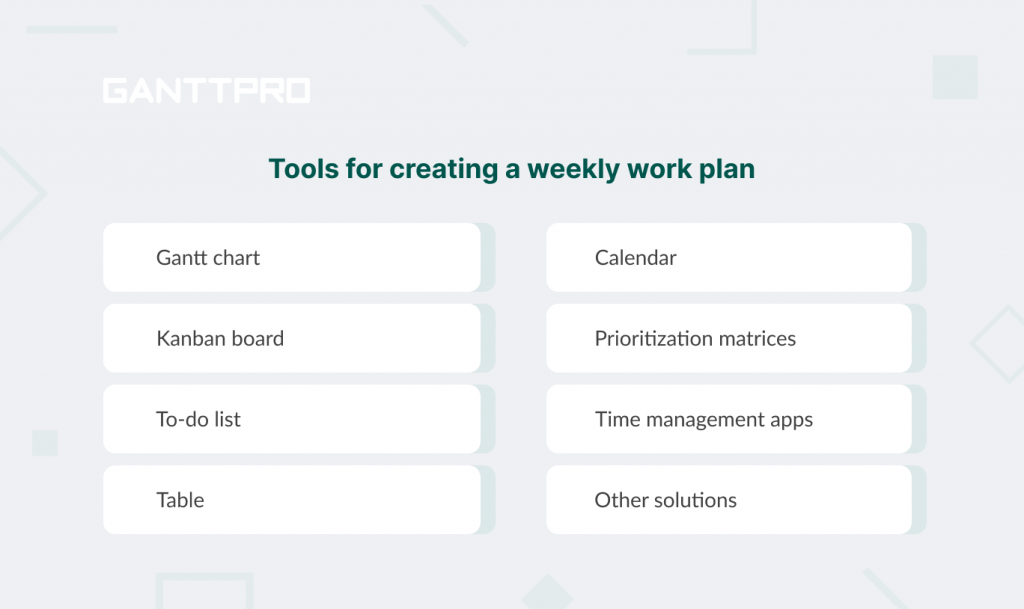 All these tools perform well, however, a Gantt diagram is one of the best combinations of ease of use and functionality.
To get more information about this PM tool, look for a reliable guide or tutorial where a Gantt chart is explained.
Evident benefits of a weekly work plan
A well-designed work plan for a week is a great way to enforce your time management. It helps you list all you need to accomplish and assign everything to different days, making sure you have enough time to complete every single activity.
Here're some more core benefits of this tool:
Clarity. ith the help of the work plan schedule, you'll be able to break down your complex weekly goals into an ordered task list with specific time slots and due dates. It will provide you with a more efficient approach to completing your tasks and making progress on the goals each week.
Advanced productivity. The plan boosts productivity and output at work. Applying it, you'll be able to streamline your workflow, improving your teamwork and project management abilities.
Work-life balance. The work you plan may logically complement your personal responsibilities and set a clear time boundary between the two. The concept of work-life balance will assist in focusing on work and switching off during the home and family time.
After such a small but crucial theory block, let's move on to practical ideas for creating a great plan for a week.
12 ideas to create a weekly work plan that will rock
Mondays are scary. You are familiar with this feeling, right?
After weekends people feel overwhelmed with the unknown amount of work awaiting them. This is all about stress and burnouts.
A weekly work plan serves as a lifeline that helps to swim out of the sea of routine. It relieves stress workers feel upon coming into work on Mondays.
This plan can help you organize everything you need to perform during the week and prevent the dreaded Sunday scaries from cropping up. The only thing you should pay special attention to is the correct preparation of this doc.
Below is the set of tips you may use right away to answer the question: "How do I write a work plan?".
1. Start with a quick brain unload
First of all, unload your thoughts and ideas from your head into one particular source. It doesn't matter if it's a piece of paper or a simple online to-do list. The main thing is to do it completely, without forgetting anything.
At the beginning of the article, we promised to avoid trivial tips. However, this initial step is indispensable.
Unloading thoughts and collecting them in one place is a vital action that will help you move on to choosing the right planning tool.
2. Choose an appropriate planning tool
This step is one of the most critical in creating a weekly plan as it actually defines and binds all further steps.
Every person has their own preferences for what software to use for work planning. Some are still using a pencil and paper. However, professionals prefer digital tools that enable them to access work from anywhere.
If you don't know where to start, explore and test task management and time management software solutions on the market to pick up the best project planner online for weekly planning sessions.
How to choose it?
Some of these tools can help you generate a complex work plan for a project, while others can assist with sticking to your schedule during the week.
There are three major types of planning tools that are well-known among managers. Here they are:
Time management tools. They are designed to optimize work processes so that you can achieve as much as possible in a reasonable amount of time.
Scheduling tools. These platforms offer a comprehensive view of things like the total workload and the availability of your co-workers.
Project management tools. They assist you in weekly planning, complex project planning, and tracking the progress of your team members' processes.
One of the best solutions for generating weekly schedules is GanttPRO.
It combines the best functionality from the three types of tools mentioned above, proposing a handy Gantt chart for weekly work planning.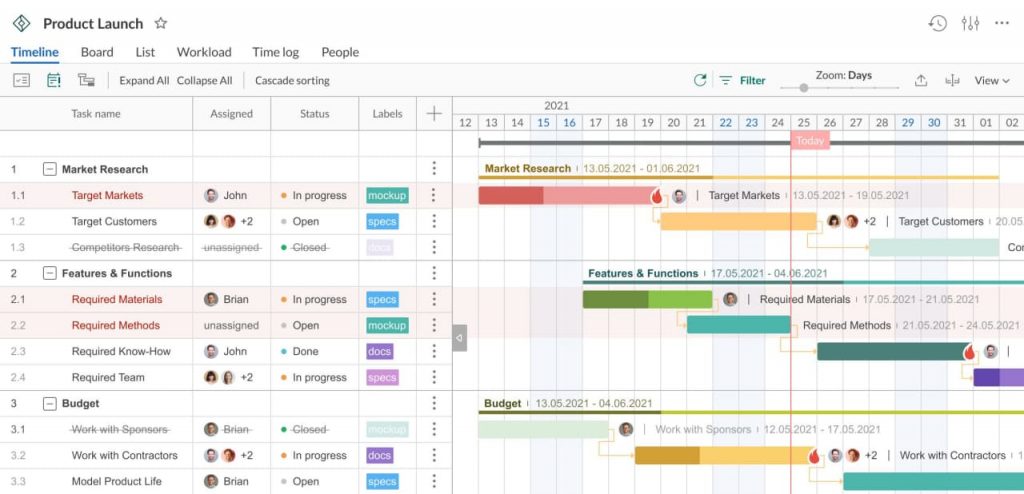 The next paragraphs of our list of ideas will be accompanied by GanttPRO visuals.
3. Turn paper-based ideas into online tasks
Having the list of your unloaded thoughts and ideas, you'll be able to quickly put them into a timeline, creating tasks.
You may say that a week is not such a long period of time for complex tasks. However, this is not uncommon in the project management world, and managers can have dozens of complex and minor activities even during the course of a week.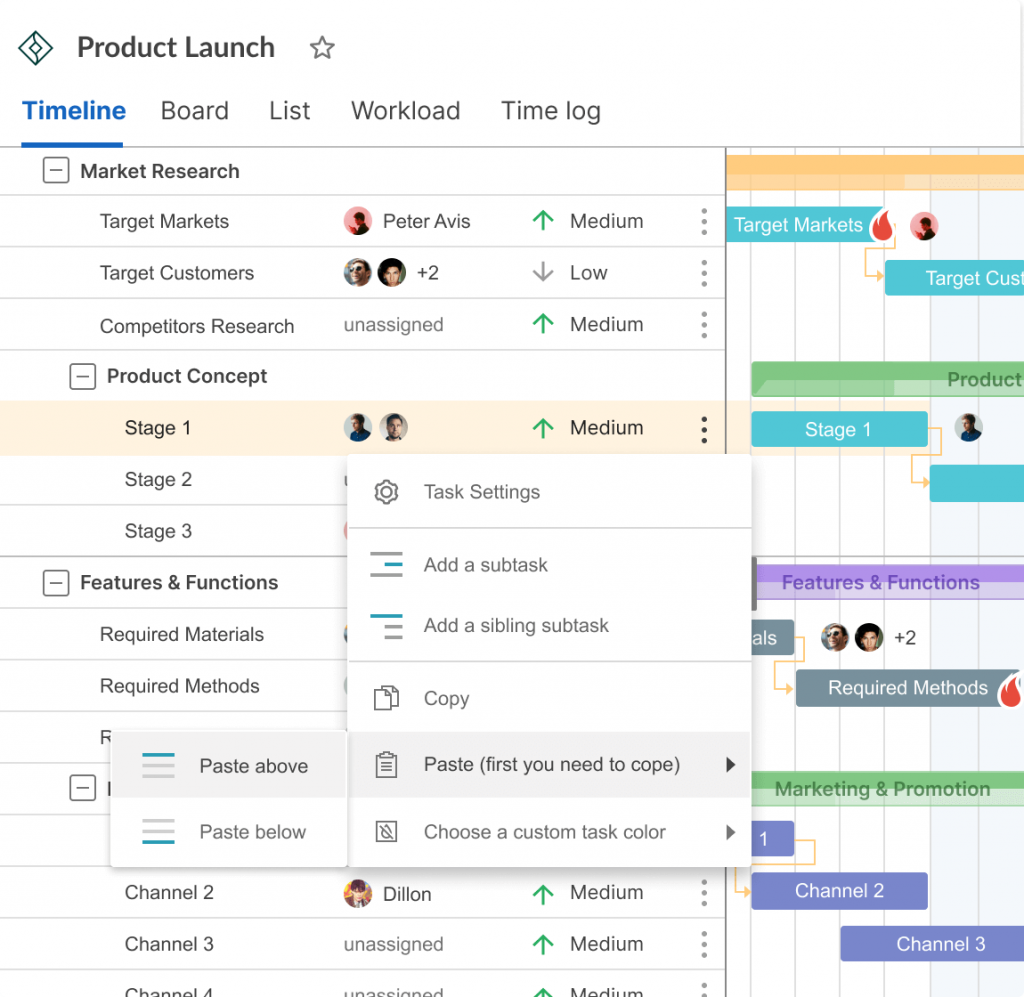 4. Attach contextual data
With a tool like GanttPRO, you can also attach contextual information to your week tasks to have the data you need without cluttering up your timeline.
You can attach:
Text.

Pictures.

Video files.
The main idea here is that everything you need will be in one space, being the source of truth for the whole week.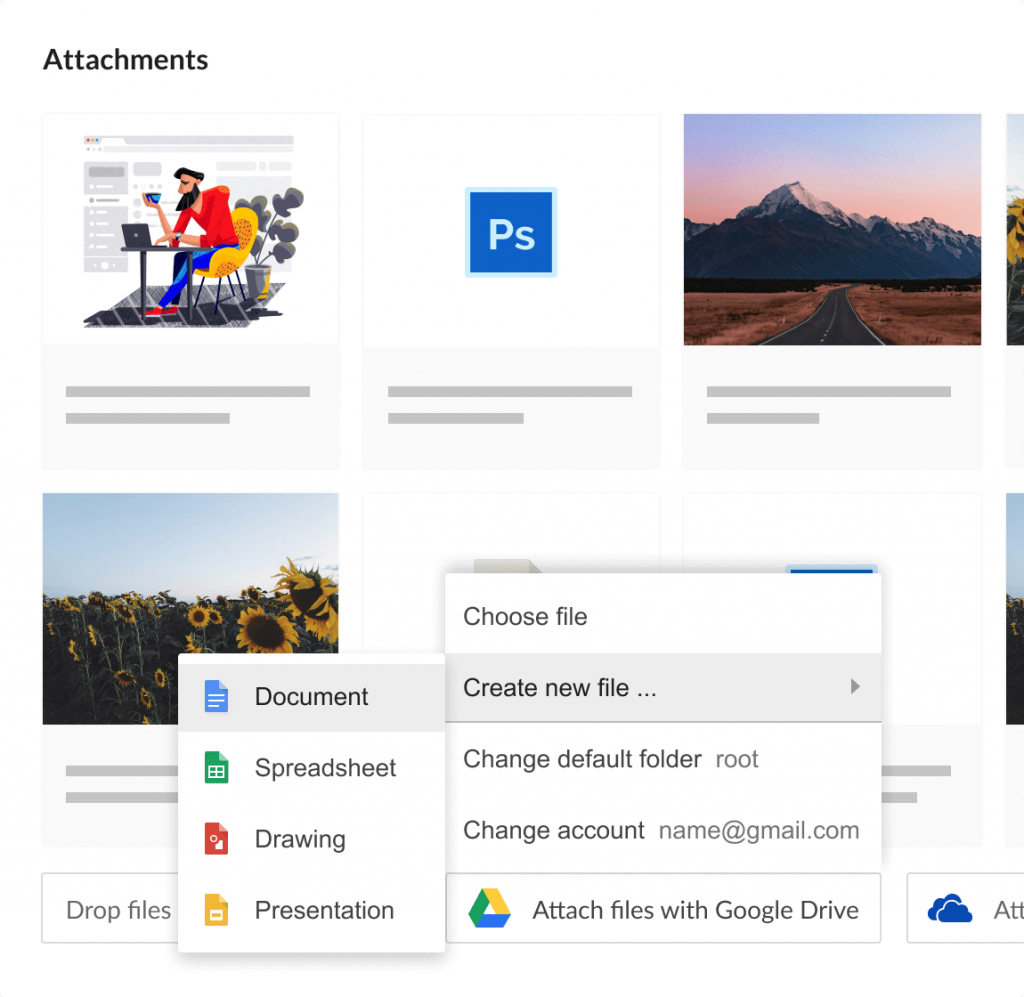 5. Prioritize your tasks
Balancing a weekly timeline with priorities is a tricky skill.
If you have long-term tasks, you can break these activities up into smaller pieces and complete a portion of the task every day until the due date.
By following this way you'll be able to avoid procrastination and having to scramble at the last minute to get larger tasks done.
In case things change and you have to shift priorities, you can easily relabel your weekly plan activities accordingly.
Incidentally, GanttPRO offers handy settings to organize your tasks and build needed hierarchies without extra effort.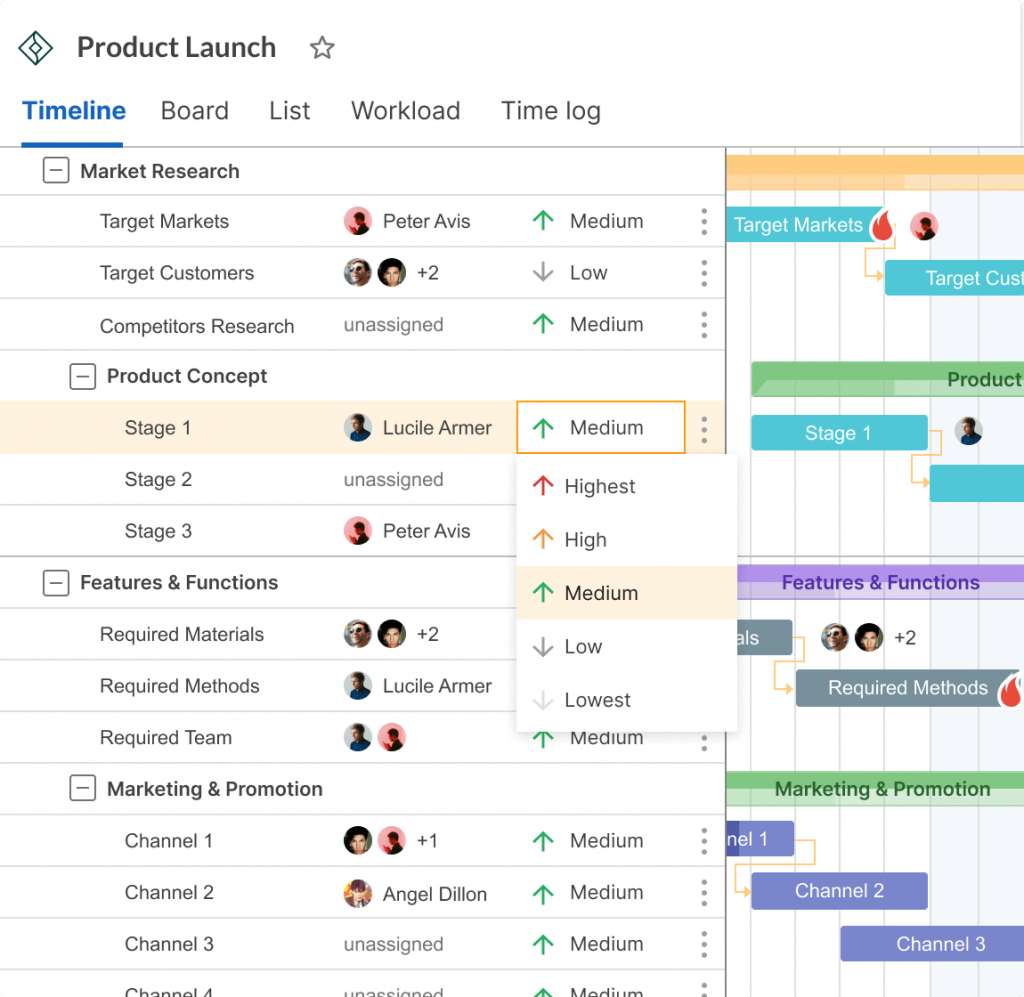 6. Set deadlines for your weekly tasks
An efficient weekly schedule is a doc where every action item has a corresponding due date.
Due dates help to dictate when you should be working on each activity. That is why it is an extremely important step for weekly work schedules.
In GanttPRO, you can set due dates and deadlines in minutes.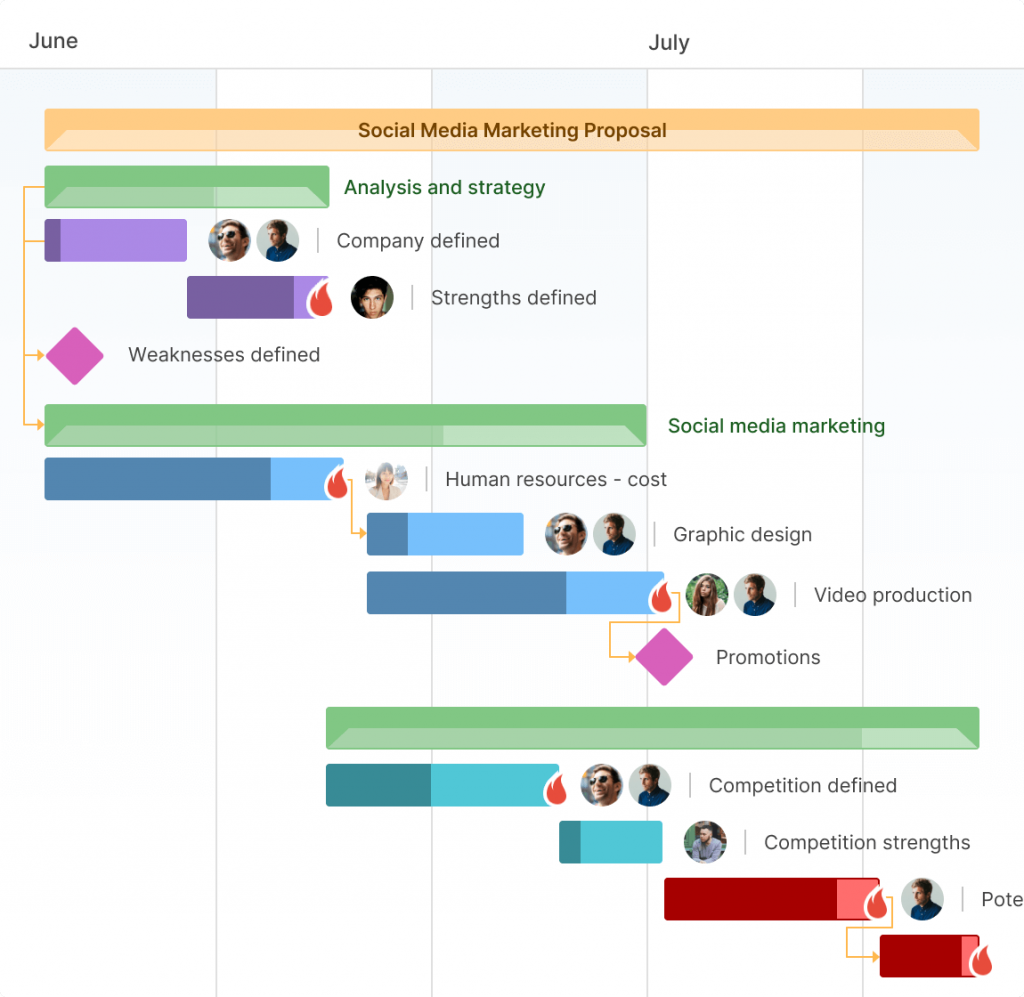 7. Delegate
Shifting decision making authority to another team member is what you may also need during your work week. Task delegation will affect the way you manage workload and prioritize action items.
If you need to involve some people in your tasks, GanttPRO will serve as a good assistant again.
Use the Gantt chart maker to assign tasks to let every team member work in the area where they can perform best.
8. Systemize your tasks by adding dependencies and milestones
Even a weekly work plan may require a clear system and detailed visualization. Many tasks should be logically linked with each other.
GanttPRO solves this need by offering task dependencies. Using the drag and drop feature, you can add dependencies with ease.
Handy milestones will help to highlight the most important activities within your plan.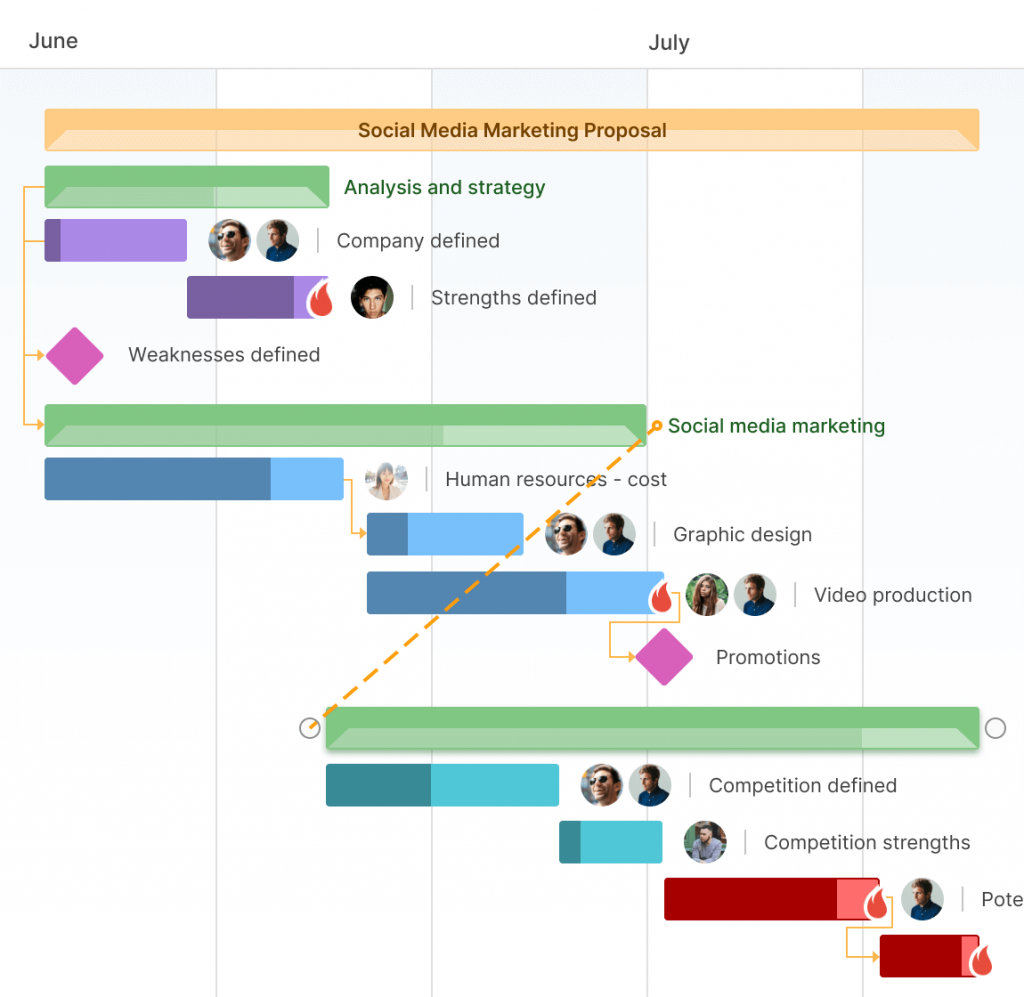 9. Mark meetings in a plan
Your business meetings can be also visualized on a timeline as tasks or events.
This visualization will help you prepare for the meeting ahead of time and do the necessary preparations a few days earlier.
You'll not miss any meeting if you use notifications. In GanttPRO, you can get notifications via activity feed, email or using push notifications.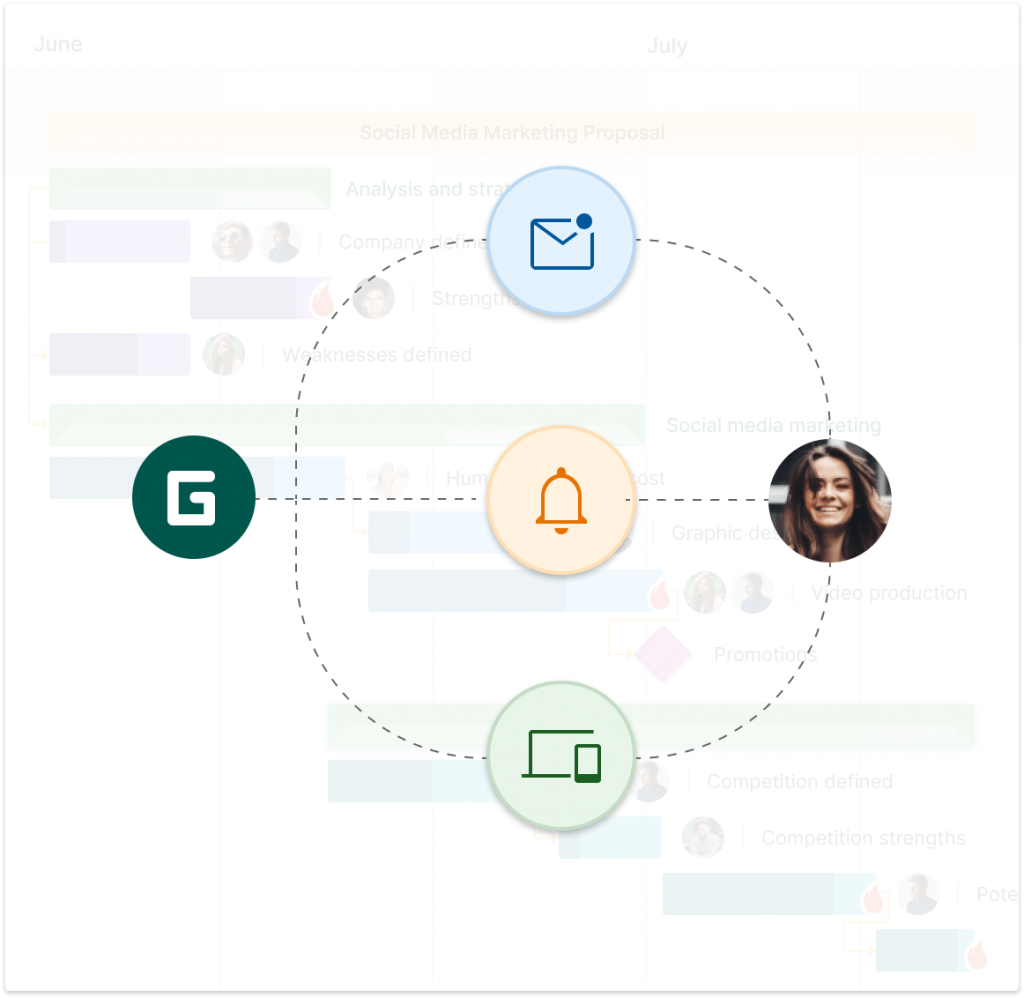 10. Be ready to manage changes
Even with the best laid plans, you can always expect some corrections or changes during your work week.
Your schedule should stay flexible and provide real-time data synchronization. If it involves your colleagues, it should enable them to stay notified instantly about all the changes and track the state of affairs on the plan.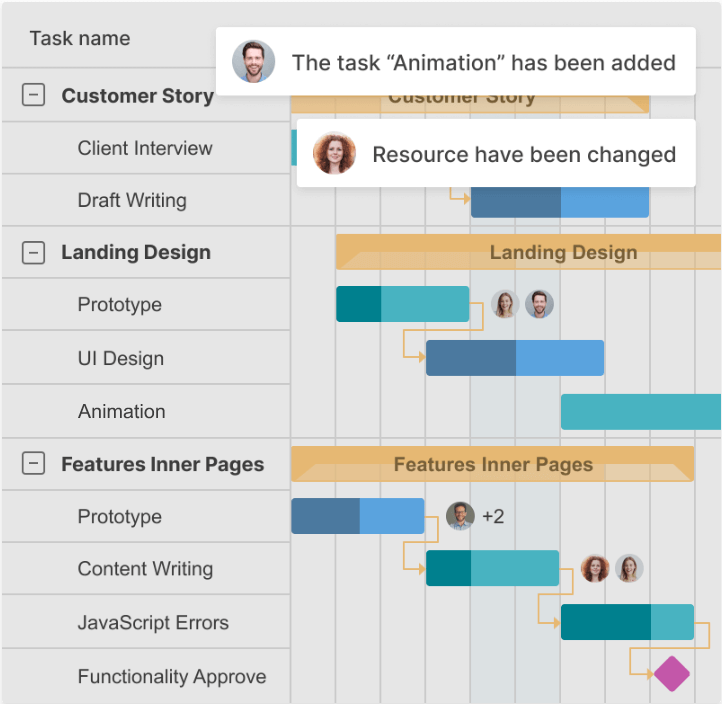 11. Make your plan available and clear for the colleagues
When generating your weekly tasks and events, you should also care about your team members and other stakeholders who can be involved in your projects.
In order to make your weekly work plan available for them, you may simply share your timeline with all the tasks, subtasks, milestones, and dependencies.
You can also export your GanttPRO's planning document. Choose different formats (such as PDF, PNG, XML, or Excel) and export your work plan.
You can also create a public URL to show your plan to users who are not registered in GanttPRO.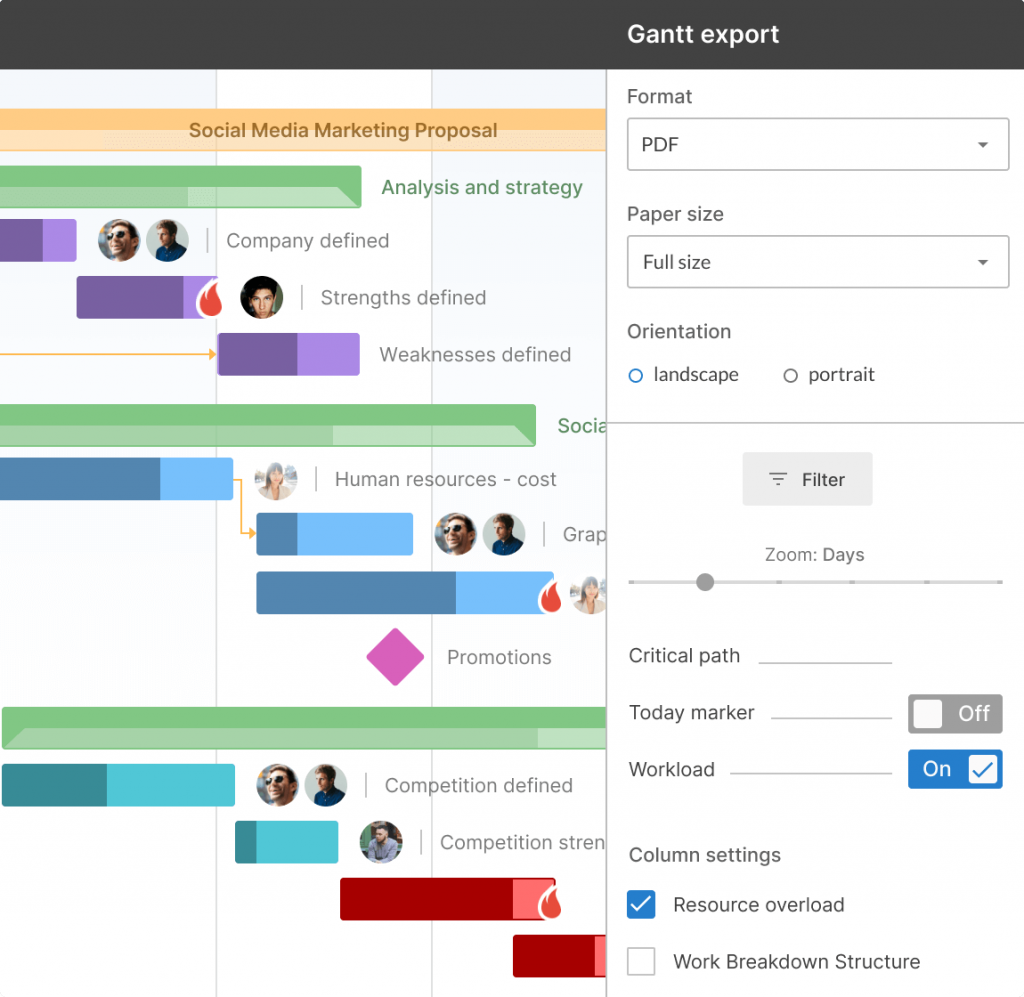 12. Reflect and improve
When you start creating your work plan for the next week on your designated day, review the effectiveness and the progress on your previous week's plan. It will help you to modify your goals and generate new tasks.
If there were activities you didn't complete, place them on your weekly work plan again or delegate to someone else.
That was the last but not the least idea on our list of tips that should help you to define a work plan for a week. If you have something to add, please, let us know.
A weekly work plan example
You may need to create a weekly work plan in any sphere from software development and construction to event planning and marketing.
Below you can observe the example of a plan designed with the help of a GanttPRO Gantt chart that is prepared for a project manager's needs.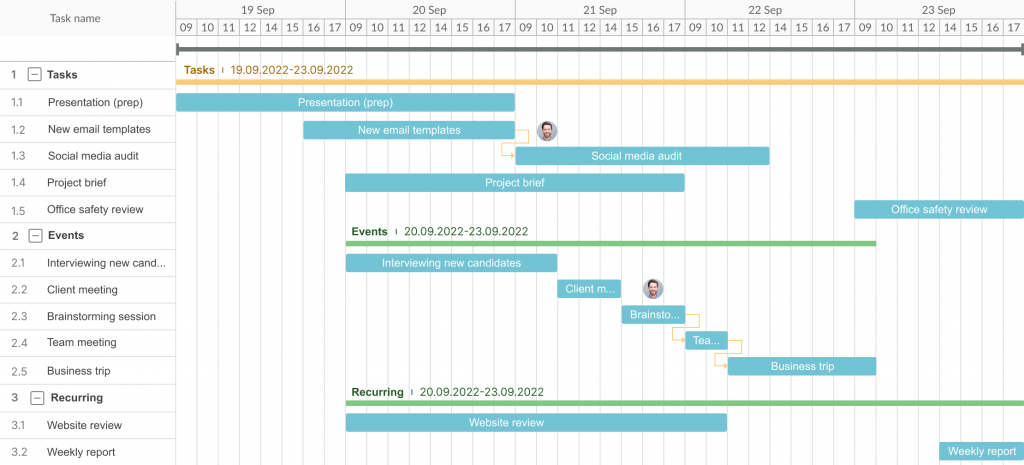 Make your week more productive with the help of a GanttPRO work plan
Planning your work week will lead to clarity, improve productivity, and optimize a work-life balance.
If you apply the above 12 ideas for creating and managing your weekly work plan, you'll be able to start your Monday morning knowing exactly what to do and how to do.
Using a weekly work planner such as GanttPRO is an excellent way to control how you perform, rather than having the circumstances determine it.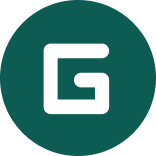 Project management software based on a Gantt chart
Create a weekly work plan for any project.
Sign up for free
If you are not familiar with the platform, you can start with a handy Gantt chart template that can be customized and adapted to your work plan needs.
You can also explore an available Gantt chart example for project management that will focus your attention on the right steps and principles of creating a robust plan.
Incorporate a Gantt chart to your work together with other planning tools and techniques and notice significant improvements in your productivity.

This content is licensed by