Guide to Marketing Project Management: From Benefits to Practical Example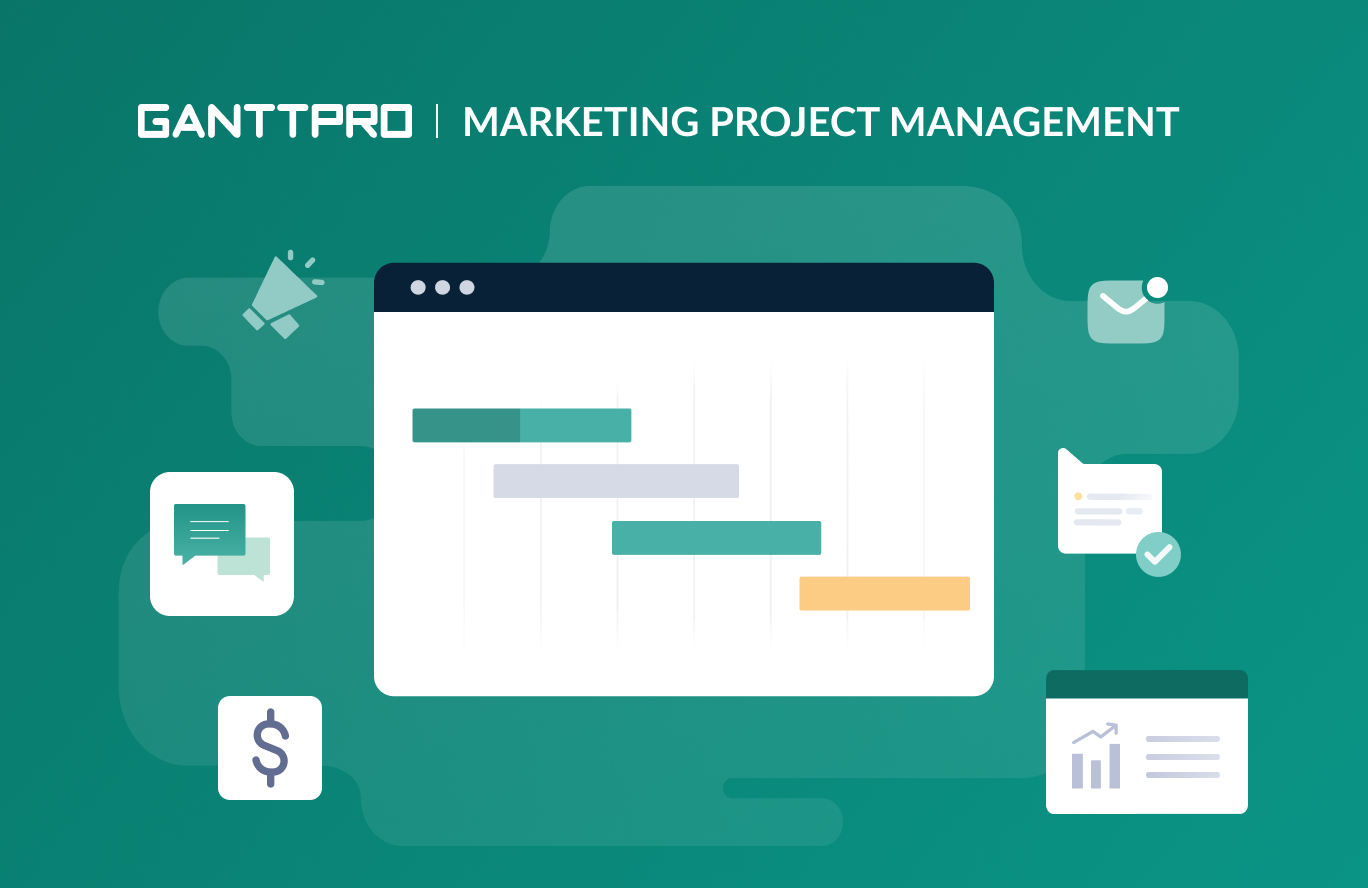 Audio version:
Marketing project management enables efficient resource allocation, aligns marketing efforts with business goals, and ensures the timely execution of campaigns. It facilitates effective communication with stakeholders, controls project scope and budget, mitigates risks, and ultimately leads to enhanced customer satisfaction.
In this article, we'll explain what project management in marketing is and how it helps to succeed in business.
Contents:
What is project management in marketing?
Project management in marketing is the practice of planning, organizing, and executing marketing projects or campaigns within an organization.
Marketing project management involves activities and events that are necessary to take a marketing project from an idea to execution. It can be a valuable tool for both internal marketing teams and external agencies. It looks beneficial in various marketing endeavors, including search engine optimization, content creation, email marketing, rebranding campaigns, etc.
Overall, project management and marketing are two fast-growing areas. Their combination opens up prospects and growth areas for any business.
According to the Project Management Institute, employers will need 88 million workers to fill project management-oriented roles worldwide by 2027.
The marketing sphere encompasses numerous activities, each requiring a focused approach. By applying a project management framework, marketing projects can be effectively executed as short-term initiatives with well-defined objectives.
Let's take a look at the core benefits of project management in marketing.
The benefits of successful marketing project management
Effective marketing project management ensures a significant advantage by establishing precise objectives and requirements, ensuring that every task and activity is geared towards achieving optimal efficiency.
The fundamental principles of marketing project management aim at simplifying processes, enhancing performance, and expediting time frames.
Marketing teams can get numerous benefits from professional project management, including the pros below.
1. Enhanced project control
If you practice detailed planning, you'll get a better understanding of your project, which is good for the whole team's understanding and project control. Enhanced project control improves processes because it helps team members identify and correct mistakes sooner.
The primary objective of marketing project management is to optimize the alignment of all activities and stakeholders with the project strategy while maintaining cost-effectiveness.
2. Increased productivity and work quality
Project managers in various fields, including marketing, strive to enhance productivity and improve the overall quality of work. They devote their efforts to determining clear goals and optimizing workflows, allowing for accelerated productivity and the creation of high-quality deliverables.
By having a well-defined project roadmap, marketing teams can effectively navigate their projects and execute necessary tasks, meeting deadlines and budgets. No matter this is a project related to digital marketing project management or a complex content marketing campaign.
3. Streamlined workflow
Through advanced project planning, marketing managers ensure that every team member possesses a comprehensive understanding of their assigned tasks, including their objectives and execution methods. This enables each individual to carry out their responsibilities more efficiently, resulting in a heightened overall work pace.
So if you invest time in planning, your projects will progress swiftly and seamlessly, contributing to their overall success.
4. Optimized communication
Communication brings significant importance to project management as it plays a vital role in ensuring the effective execution of projects.
Mastering communication in marketing projects can greatly enhance your ability to lead your project team. The more team members can reach one another, the more efficient a project will be. Therefore, it's crucial to make sure each team member is connected in one way or the other.
5. Long-term revenue
The structure of any marketing project is planned in advance. It makes possible adjustments easier if the client's needs change.
It can also ensure more revenue for the company over the long term since it involves storing essential data that can be reused for later projects.
6. Easily tracked costs
Another benefit of project management in marketing is that costs can be easily tracked. Therefore, it can be seen at an early stage if your project is run on a budget or if contingencies should be made.
This helps avoid the last-minute actions that typify underperforming projects.
7. Increased customer satisfaction
Marketing projects are typically completed to suit the needs of consumers. A team that is involved in such a project goes miles to increase the overall satisfaction of their clients.
8. Competitive advantage
Most companies that perform marketing projects work within a competitive marketplace. It means there's often little to no room for mistakes.
Leveraging the strong sides of professional marketing and project management helps to give an edge over the competition as well as improve relationships with customers and stakeholders.
From the benefits, let's move on to specific steps that help in managing marketing projects.
How to successfully manage marketing projects
Initiate your project.
Create a plan.
Execute all project tasks and activities.
Monitor the workflow and control changes.
Close the project.
One of the secrets of effective marketing project management is that a marketing team must work in harmony with people from different departments. Otherwise, they may have difficulties in completing projects on time and within budget.
Luckily, there is no need to discover continents as there are consistent stages of any project lifecycle (including marketing projects) that will help you manage tasks, events, and other marketing activities like a pro. Below are the tips to succeed during these stages.
1. Initiate a project
Initiation involves defining global marketing goals, developing a project strategy, and identifying stakeholders. During this stage, marketing teams choose the project with the highest priority from their marketing project backlogs.
If you execute this stage well enough, everything else will fall into place accordingly. However, all your efforts within the initiation stage will be useless if you don't gather and fix them in a single source of truth.
Therefore, to avoid chaos, confusion, and a project behind schedule in the future, experienced marketing teams use professional project management software.
A well-chosen platform will become the best assistant to a project manager at all further stages.
One of the best solutions well-known for its stunning online Gantt chart and highly appreciated by marketing teams all over the world is GanttPRO.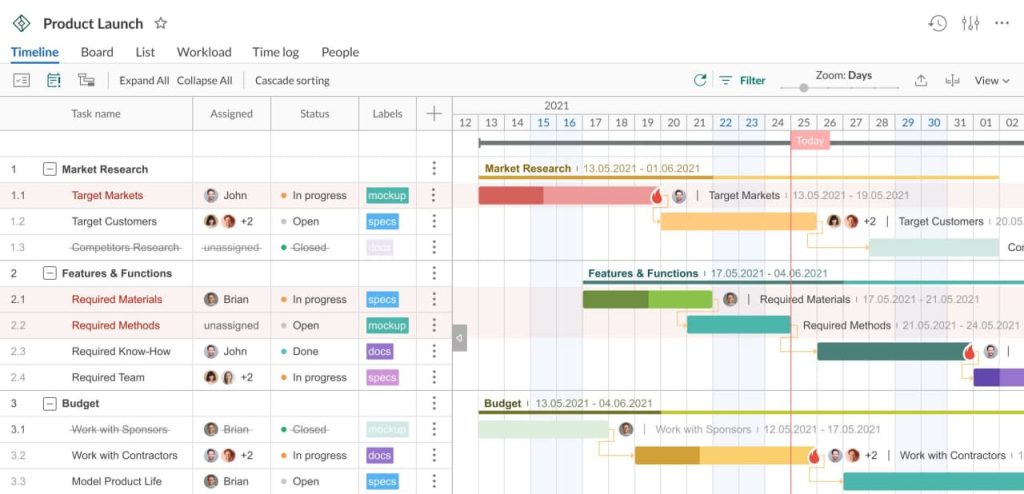 If you need to create a handy and visually appealing marketing Gantt chart, then GanttPRO is an excellent choice.
Besides the obvious benefits of Gantt charts, the platform comes with other professional features and opportunities including:
Task management.

Resource management.
Budget management.
Time tracking.
Reporting.
Integrations.
Importing/exporting, and more.
The Gantt chart maker helps get all your marketing ideas and creative thoughts together and brings you closer to the formation of a competent marketing strategy without something superfluous.
You just need to collect all your ideas and plans and visualize them on a convenient online timeline.The platform allows for dividing complex activities into smaller chunks, considering their order and logical hierarchy. Therefore, you will get a complete picture of all your work from A to Z.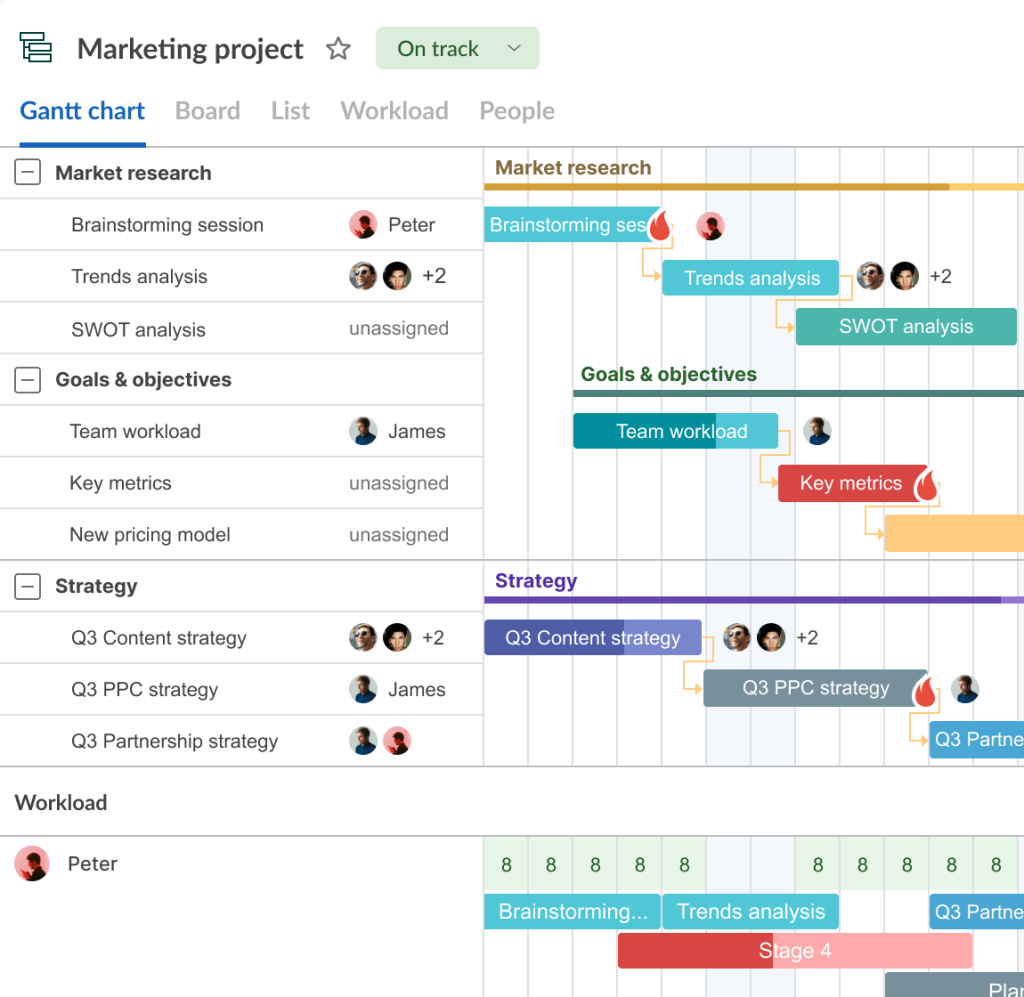 The advanced features, affordable pricing, and ease of use allow GanttPRO to keep its top reputation in the world of marketing project management software.
It is proved by Lloyd Stephens, a global operations director at Supernova:
GanttPRO was actually the tool of choice. I finally could map out my projects and manage the timelines accordingly. It has hands down the best Gantt chart functionality.
The successful outcome of the initiation stage is the approval of your project, which means a ready strategy and open doors for upcoming planning and great things.
2. Create a plan
For many, this is the first step in the marketing project management cycle just because they combine it with the initiation phase. This is typically the longest stage since it includes coordinated planning with all the departments involved in the project. The workload of each team depends on the complexity of a certain project.
During the stage of a project plan creation, marketing managers set the project's deadlines, define budgets, work on marketing resource management, and hand out activities to the people working on the project. 
They greatly benefit from marketing project management tools such as GanttPRO as these tools enable them to plan better and more practically. 
Here's the feedback from Anika Albrecht, a project manager and consultant at design for human nature GmbH:
GanttPRO made all the tasks and milestones clear for clients and saved us a lot of time, so we decided to switch to the tool. We started to plan every single project in GanttPRO.
Whether it's a commercial campaign preparation, digital marketing, global rebranding, content strategy alignment, or distribution training, well-planned project management is more likely to generate a higher return on investment than any unplanned action.
When planning your future marketing project, make sure you consider the following factors:
Project scope with its estimation.

Team workflow.
Roles and responsibilities.
Project milestones.
Project deliverables.
Agreeing on budget.
Approval processes.
Communication plan.
Risk management plan.
With the help of GanttPRO, you can create and visualize accurate marketing plans and estimates without extra effort.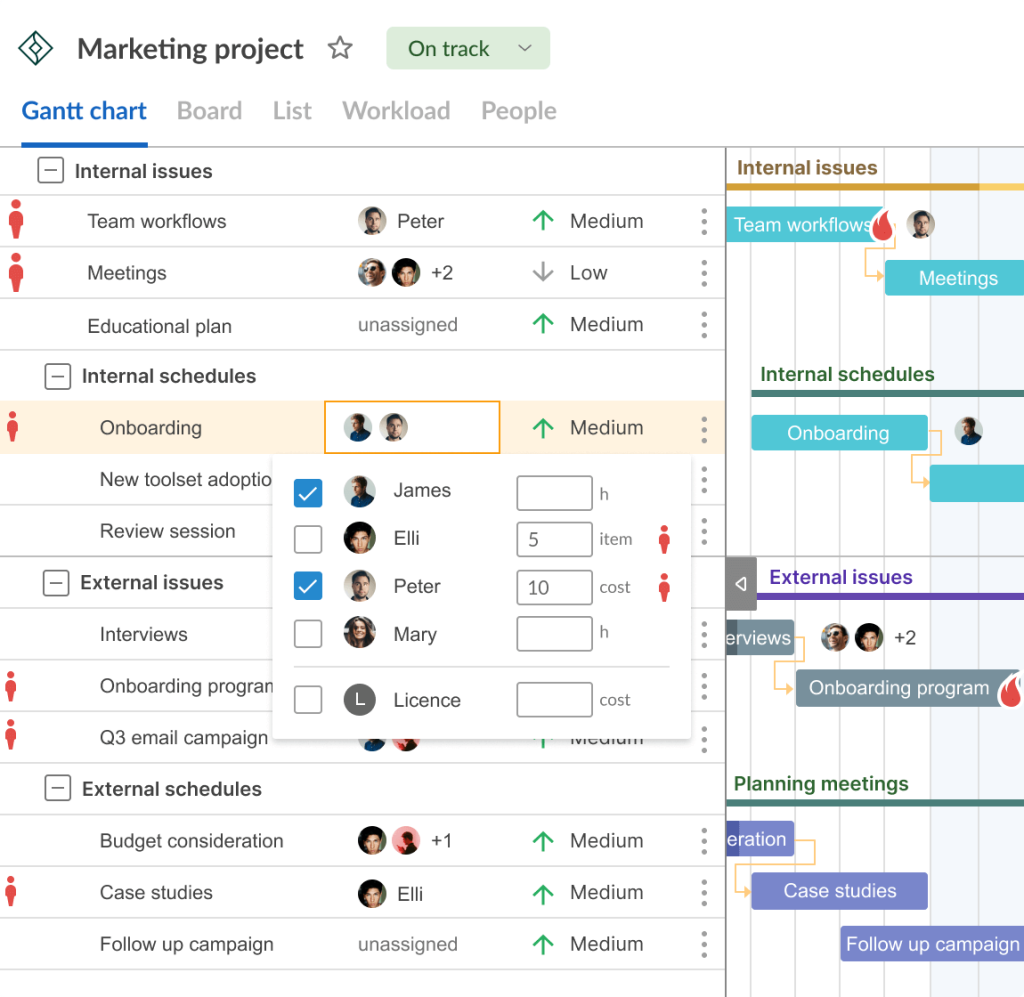 It is easy to break up the work into smaller parts in GanttPRO. The professional WBS creator allows for placing all your tasks and subtasks considering their hierarchy, key milestones, dependencies, and deadlines. You can add the required people and resources and set the workload for any specific case.
This is appreciated by Łukasz Wielądek, a project manager at GonnaBe:
When I have to plan work for a team for the whole week, it's really easy with GanttPRO. Thanks to the resource workload feature, you can see how many hours a person has and adjust the workload to these hours.
3. Execute tasks and activities
Once your marketing project has been planned, the next step is implementation or execution.
This phase means that your team puts all your marketing efforts into action. During execution, project managers ensure task tracking and reporting on their progress. They add new tasks if needed, manage changes, and take action when projects aren't moving forward.
Gantt charts, as well as some other project management charts, provide companies with solid visualization of all work processes. They help track the progress of teams, giving participants and stakeholders a big-eye view of work status.
Project execution involves permanent communication. It is rather vital, as 97% of workers admit the significance of communication, considering it an essential factor for effective project outcomes.
To make project communication smooth and efficient, marketing teams require simple but reliable tools and features.
In GanttPRO, you can notify your colleagues, leave comments, and attach files at any time you need. These opportunities make the platform popular among remote marketing teams, agencies with offices in different cities, freelancers, and other types of teams.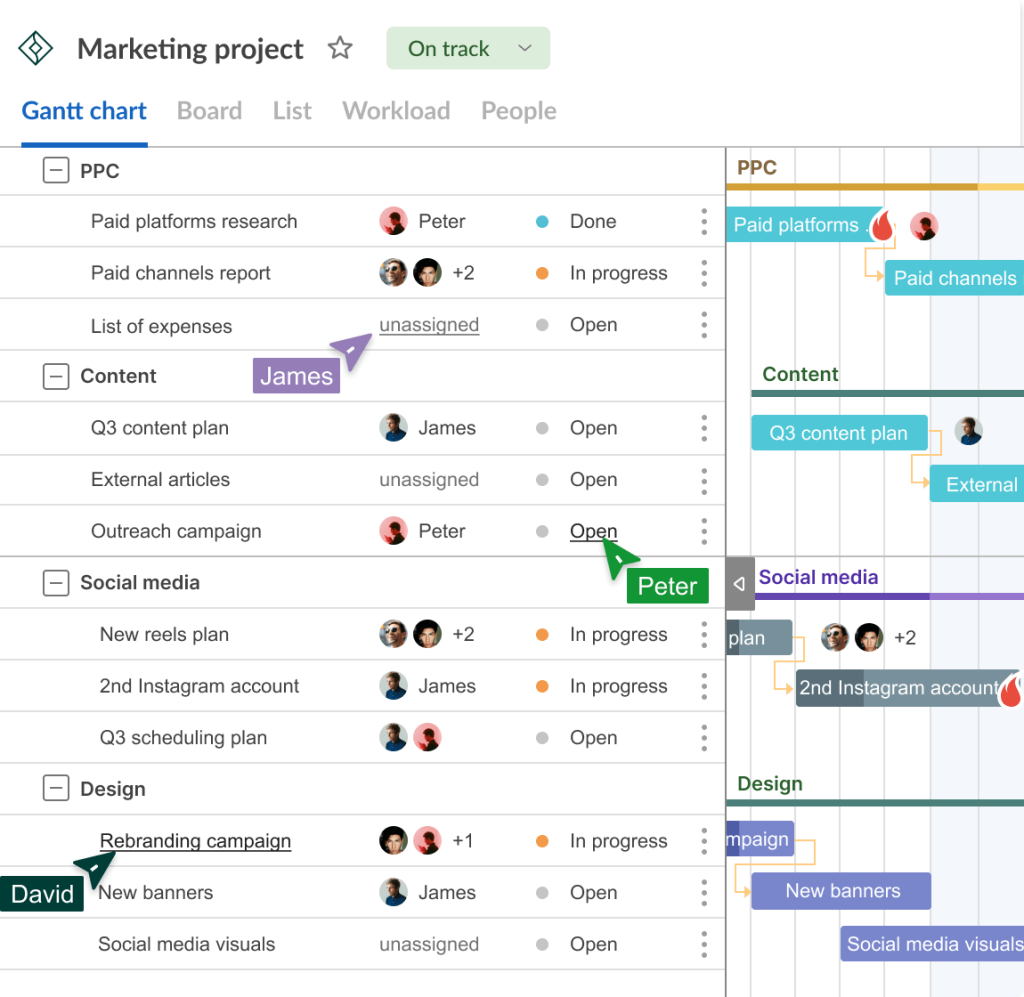 The good news is that project managers can provide their team members with special rights to view data.
GanttPRO allows you to work with different account roles and project rights. It means that your colleagues, whether working in the office or remotely, can get different access to settings and features and customize work.
4. Monitor the workflow and control changes
Once your marketing project is in motion, you need to make sure that all your work is on schedule.
Monitoring the progress of a project will require asking for feedback from your colleagues regarding their task completion. You'll need to control all problematic areas and make additional steps to rectify them as needed.
To succeed during this stage, hold regular meetings and encourage your team to share any areas of concern. Arrange brainstorms and discuss all unforeseen issues that may arise.
It requires some changes in work processes, but many large and small companies often practice it.
Here's what Hiroki Asai, the global head of marketing at Airbnb thinks about it:
We used to be completely all off-site. Now we're moving to a model where we will spend one week a month all together. We've found that there's something with a creative process where you need to get together, talk, look at things, post things up on the wall, have conversations, unblock ideas. And then you need to go away and think about it, work on it, develop it. And then you need to come back together again. There's this natural rhythm.
Luckily, you can take advantage of GanttPRO functionality to monitor all phases of your marketing project and keep teammates in the loop.
You can use handy GanttPRO mobile apps available for iOS and Android. They are powerful enough to let you control your work processes remotely.
5. Close the project
This stage ends the marketing project management lifecycle. Teams complete their projects and evaluate the results.
For project managers, it's rather crucial to compare these results to the initially set goals.
Before presenting a project, they collect insights from the customers and stakeholders on their thoughts concerning the outcome and any areas they'd like to improve. They also compose detailed reports.
GanttPRO is also helpful at this stage, as it allows for generating a report for sharing it with all the people involved to improve the next projects.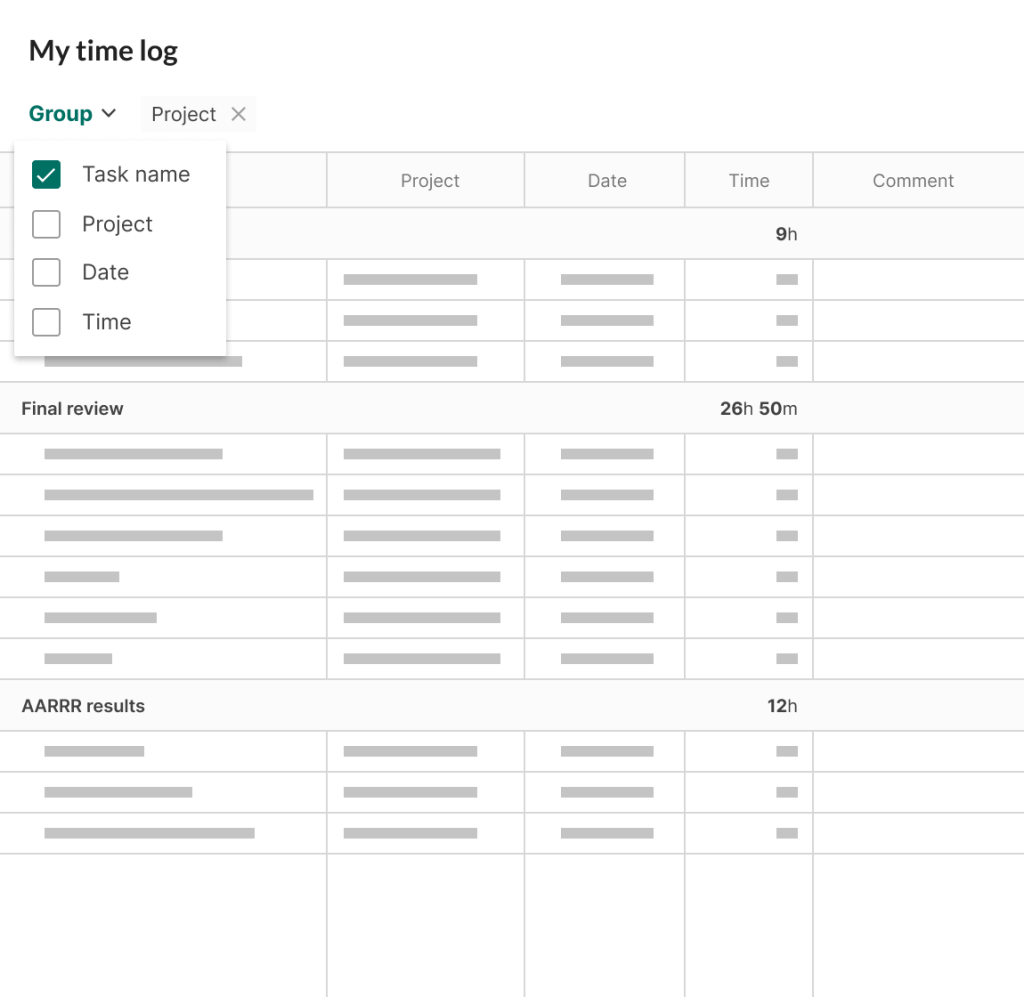 What is an example of marketing project management?
There are so many examples of marketing project management around us. Every day businesses try their best to plan, execute, and monitor various marketing initiatives.
Their marketing projects can be based on and include:
Market research project.

Product launch.
Event management.
Digital advertising campaign.
Content marketing campaign.
Website development.
Social media management.
Branding project.
Email marketing campaign, and more.
These project cases highlight the diverse nature of project management for marketing, which can vary depending on the industry, company size, and specific marketing goals.
One of the bright examples of a well-prepared marketing project is the marketing campaign for undergraduate admissions prepared by the Office of Communications for Enrollment Management of the University of Illinois.
The University shared the high-level overview of this project in 2021. The team of this project mapped out a detailed marketing plan with a thorough approach to defining objectives, tactics, and success metrics for every segment.
The project included the creation of admissions funnel stages, market research, strategic plans with objectives, detailed marketing programs aimed at achieving those objectives, success metrics, and more.
Here're the key segments of that project:
Research (pop-up form inquiries, focus groups, digital ad concepts research, accept/decline survey results by residency evaluation, stealth applicants research to gain insights, etc.).
Content marketing (blog articles about the college search process, SEO of titles and pages, audience comments, video content posts, social media stories).
Digital advertising (advertising campaigns on Facebook, Instagram, and Google; targeting ads by the audience; creation of attention-grabbing content (videos, photography, and unique messaging).
Direct printed mail (packets, self-mailers, postcards, swag).
Email campaign (application cycle emails, operational emails, targeted emails by audience, personalized emails from individuals such as admissions counselors, content marketing emails, event emails, and brand-building emails).
Events (presentations, tours, handouts, photo ops, college meetings, resource fairs, current student Q&A/interaction, table display and presentation, signages, etc.).
Handouts (the distribution of print and swag items at events such as campus visits, counselor articulation, college fairs, and high school visits).
Social media (posts on multiple platforms like Instagram, Facebook, YouTube, and Twitter. Post engaging content, responding to comments and questions, live video sharing).
Video marketing (video content on multiple platforms including YouTube, Facebook, Instagram TV, TikTok. Lead-generation ads promotion, answering common questions, showcasing student life and the campus, etc.).
Website (majors list with detailed program pages, application and admitted checklist, inquiry forms, visit calendar and registration information, landing pages, FAQs).
This detailed project plan contains many nuances and details that must not be overlooked.
Here is how it could be visualized in GanttPRO.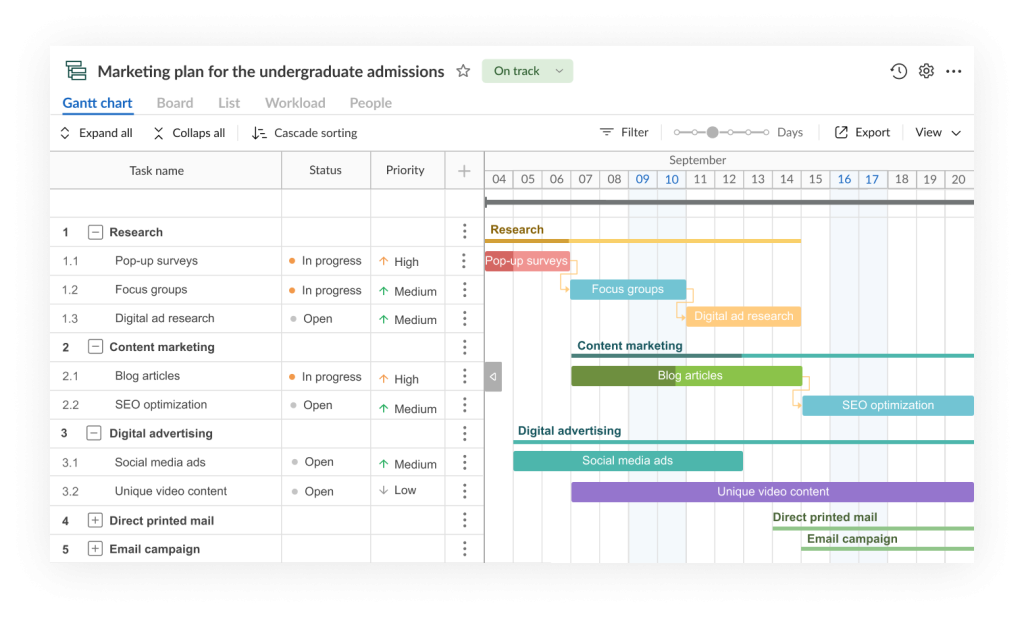 Bonus: marketing project management templates
Marketing project management can seem a breeze. However, in practice, some pitfalls and challenges may await you, especially if you are a newcomer.
Fortunately, there are handy marketing project management templates provided by many tools, including GanttPRO. These templates greatly facilitate the work of managers and save time.
These pre-designed docs provide a structured format for planning, executing, and monitoring various aspects of your future marketing project. They serve as a starting point or reference for project managers to streamline their work and ensure consistency in project documentation.
In GanttPRO, you may find the following free marketing PM templates:
Overall, you can apply these templates as valuable tools to streamline your project management processes, promote consistency, and enhance marketing success.
Like other GanttPRO templates for construction project management or manufacturing project management, they will provide structure, organization, and guidance.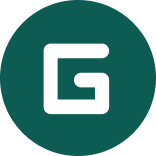 Professional marketing project management software
Plan, manage, and complete marketing projects on a Gantt chart.
Sign up for free
Approach marketing project management like a pro with a reliable software solution
Businesses all over the world struggle to deliver high-quality marketing projects on time and within budget. Effective marketing project management helps them properly plan, oversee, and deliver on marketing objectives using reliable PM frameworks, techniques, and tools. It helps teams manage their scope from initiation to closeout while keeping their clients and stakeholders in the loop on project progress.
If you use a professional marketing PM platform like GanttPRO for planning and managing your projects, most of the work is done for you.
Thanks to the extensive set of GanttPRO marketing project templates that are fully customizable, you can simplify your work and save time by modifying them to suit your specific needs.
Use them and other GanttPRO opportunities to manage your marketing projects most competitively.
Frequently asked questions about marketing project management
Project management in marketing usually relates to 5 stages including initiation (defining the project goals, objectives, and scope; planning (developing a project plan with strategies, tactics, and activities); execution (putting the project plan into action); monitoring (tracking progress, analyzing data, and making necessary adjustments); and closure (evaluating the project's success, documenting lessons learned, and preparing final reports).

Project management is essential for marketing. It helps ensure effective planning, coordination, and execution of marketing initiatives. Effective marketing project management provides structure, allows for better resource allocation, helps meet deadlines, and ensures that marketing goals are achieved efficiently. It enables teams to stay organized, track progress, and adapt to changes, resulting in improved marketing outcomes and overall business success.

This content is licensed by