Ultimate Guide to Digital Marketing Project Management: Best Practices, Benefits, and Helpful Templates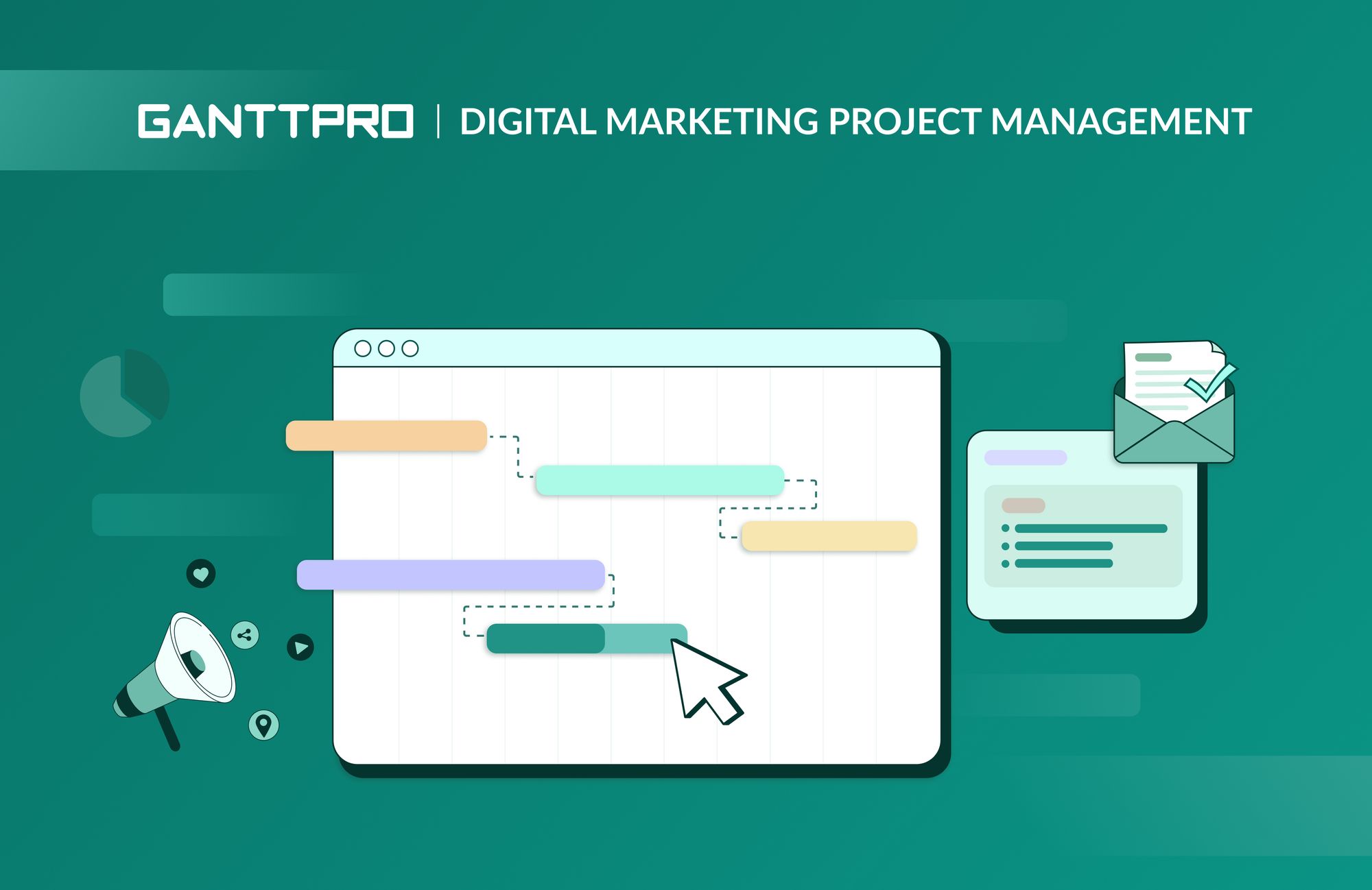 Audio version:
Digital marketing projects play a significant role in the strategies of many businesses since they help tell product stories and attract new clients.
Effective digital marketing project management ensures alignment between your company and your target market, fostering a sense of confidence about the efforts your team puts into each campaign.
This article describes the role and benefits of project management for digital marketing. You'll explore essential digital marketing project management processes and best practices as well as get an understanding of digital marketing project management skills required for purposeful teams.
Let's get started.
Contents:
What is digital marketing project management?
Digital marketing project management is the systematic planning, execution, and monitoring of marketing campaigns and initiatives in the online realm.
The global digital marketing market is projected to reach more than $786 billion by 2026. Effective project management in this field provides a complete framework for marketing teams and projects by defining workflows and processes.
Here're the thoughts of Tony Pec, the co-founder of the marketing agency Y Not You Media:
The digital marketing landscape is constantly evolving, and businesses that want to stay ahead of the competition must be willing to adapt and try new strategies. From virtual and augmented reality to artificial intelligence and voice search, there are many new technologies and trends you can leverage to reach new customers and drive more sales.
By efficiently managing digital marketing projects, businesses can enhance their online presence, engage their target audience, and drive business growth.
In fact, the primary goal of project management in digital marketing is to achieve specific marketing objectives and maximize return on investment (ROI).
Why is project management important in digital marketing?
Effective marketing project management is crucial for several reasons that make it vital in modern digital marketing companies and teams. 
This type of marketing encompasses various activities and channels. Managing them requires a structured approach, where creative project management comes into play. 
Here are some reasons why project management in digital marketing is important.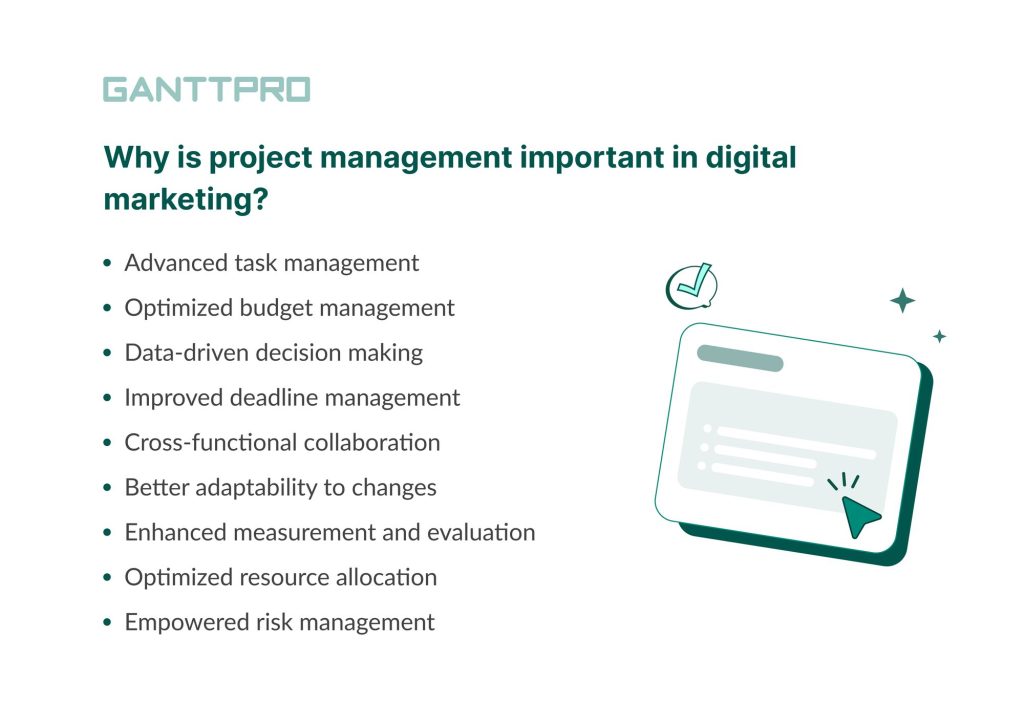 1. Advanced task management
Digital marketing campaigns may involve multiple teams and tasks that need to be coordinated effectively. Well-planned project management provides a systematic approach to handle the complexity and scale of all digital marketing efforts.
2. Optimized budget management
Projects related to digital marketing often have budget constraints. Effective project management implemented with the help of professional digital marketing project management software ensures that all costs and project budgets will be allocated wisely.
3. Data-driven decision making
This kind of marketing relies heavily on data analysis to optimize campaigns. Project management enables the collection, analysis, and implementation of data-driven insights for continuous improvement.
4. Improved deadline management
The world of digital marketing can also contain time-sensitive campaigns and product launches. Project management helps set realistic timelines, prioritize tasks, and meet deadlines.
5. Cross-functional collaboration
Digital marketing requires collaboration between various departments like design, content, analytics, and development. Project management facilitates communication and alignment between these teams, leading to better outcomes.
6. Better adaptability to changes
The digital landscape is dynamic and ever-changing.
When Alison Simpson, CEO of the Canadian Marketing Association, was asked to give advice to aspiring marketers, she recalled the importance of embracing changes:
Your success is very directly linked to your level of curiosity, your level of agility, and the degree to which you're willing to embrace change because we all know change can be incredibly overwhelming and intimidating. If you're curious about it and can see it as an opportunity, that will bode very well for a career in marketing.
Some popular project management methodologies allow teams to adapt quickly to new opportunities or challenges.
For example, Agile emphasizes flexibility and iterative development, allowing digital marketing teams to adapt to rapidly changing trends and requirements. However, many companies choose Waterfall. In its turn, it offers a structured approach suitable for well-defined projects, ensuring clear project milestones and deliverables.
7. Enhanced measurement and evaluation
Professional project management facilitates the setting of clear objectives and key performance indicators (KPIs) for digital marketing projects. It enables businesses to measure the success of their campaigns accurately.
8. Optimized resource allocation
Thanks to project management and advanced resource management software, companies can allocate resources efficiently within high-priority campaigns and projects.
As a result, well-organized marketing resource management prevents wasted efforts on low-impact initiatives.
9. Empowered risk management
Digital campaigns may face unforeseen risks such as ad performance fluctuations or algorithm changes. Timely PM processes include risk assessment and mitigation strategies to minimize the impact of unforeseen challenges.
From the importance of project management for digital marketing, let's move on to the fundamental processes that usually take place in this marketing area.
Most common digital marketing project management processes
Project initiation.
Goal setting and strategy development.
Resource planning.
Task and timeline management.
Project launch.
Monitoring and analysis.
Reporting.
Project closure.
Typical digital marketing PM processes involve essential stages from project planning to its closure. There can be additional steps or processes that vary depending on certain projects and organizations. Below we share some common ones.
1. Project initiation
This is the initial stage in digital marketing project management where the project's objectives, scope, and requirements are defined. Key stakeholders are identified, and the project's feasibility is assessed.
2. Goal setting and strategy development
This is the process when project teams establish measurable goals for their digital marketing campaigns. They generate a comprehensive marketing strategy, considering a target audience, channels, messaging, and budget allocation.
3. Resource planning
Project managers also need to allocate resources, including human resources, tools, technologies, and costs to support the execution of their marketing plans.
4. Task and timeline management
Task management involves the organization of simple tasks and breaking down complex activities into smaller parts. It allows for creating timelines with project milestones and deadlines. This ensures efficient task allocation, goal attainment, and project completion.
5. Project launch
This crucial process means that digital marketing projects and campaigns are launched across various digital channels following the planned timeline.
6. Monitoring and analysis
Marketing teams continuously monitor their campaigns' performance using analytics tools and data. They assess these campaigns' effectiveness against the set goals and make adjustments as needed.
7. Reporting
Regular reporting is needed to keep stakeholders informed about the project's progress, performance, and any changes or challenges in a plan.
8. Project closure
Once digital marketing works end or reach their intended duration, a project is formally closed. Teams evaluate results to identify successes, failures, and lessons learned for future projects.
The picture of the digital marketing PM world would be incomplete if we didn't mention the basic skills that professionals working in this field of activity should possess.
Typical digital marketing project management skills
Ability to schedule considering details.
Prioritization skill.
Time management skill.
Proficiency in PM methodologies.
Budgeting.
Analytical skill.
Adaptability.
Communication and team leadership.
Creative thinking.
Sometimes people mistakenly equate the job roles and responsibilities of a digital marketing project manager with those of general project managers. In reality, these roles are quite different.
While PM professionals in diverse industries are tasked with overseeing projects of various natures, the role of a digital marketing project manager is exclusively focused on organizing online marketing campaigns.
They are responsible for defining and guiding all marketing efforts within a company. They bear the responsibility of ensuring seamless project management for marketing campaigns throughout the entire process, spanning from the initial planning phase to execution and final delivery.
Competent project managers in any marketing field possess a balanced mix of hard and soft skills. These skills can be acquired and honed through training programs, self-learning, professional tools, etc.
Below we highlight the vital skills and responsibilities that constitute the comprehensive role of a digital marketing project manager. The focus of this list is specifically on project management-related skills. Therefore, we omit more general and trivial work skills.
Ability to schedule considering details. Effective scheduling is a crucial aspect of managing any marketing team. By establishing a well-structured workflow, digital marketing project managers can ensure that events, tasks, and milestones are appropriately scheduled, enabling efficient work management. Smart scheduling skills are also essential as they prevent understaffing while reducing unnecessary expenses.
Prioritization skill. A prioritization skill is paramount in managing multiple projects simultaneously. A competent digital marketing manager organizes tasks and prioritizes them to ensure that team members focus on high-priority assignments at the right time. It can prevent wasting valuable time on low-priority tasks and keeps teams on track to achieve long-term objectives.
Time management skill. Digital projects often involve multiple tasks and deadlines. A well-skilled project manager must be good at prioritizing tasks, setting realistic timelines, and ensuring that all work processes stay on schedule.
Proficiency in PM methodologies. Project managers who work with digital marketing projects should be well-versed in both traditional and Agile methodologies. By mastering them, PM professionals can effectively guide their teams and drive successful digital marketing project outcomes.
Ability to manage costs and finances. Budgeting plays a vital role in marketing projects. It falls under the purview of the digital marketing project manager to ensure timely work completion without surpassing the allocated funds. This requires a strong grasp of financial knowledge and proficiency in working with special online tools.
Analytical skill. Analyzing and interpreting data is vital to measure the success of any digital marketing campaign. Project teams should feel comfortable while working with analytics tools to make data-driven decisions.
Adaptability. The digital marketing landscape is constantly evolving. Therefore, project managers should be adaptable and agile in responding to changes and implementing new strategies.
Communication and team leadership. Working with digital marketing projects requires clear and concise communication. Project managers should be able to convey goals, tasks, deadlines, and progress to all team members and stakeholders. They also need to lead their teams effectively and encourage collaboration among different departments.
Creative thinking. Digital marketing often involves creative elements such as content creation, design, and messaging. That is why project managers should be able to think creatively to drive innovative and nontrivial campaigns.
The next point you have to care about is following the best digital marketing project management practices that you can start incorporating into your projects and marketing processes.
Best practices for digital marketing project management
Every project manager who works with digital marketing projects has their own unique set of best PM practices. Following these practices leads to the entire success of your projects and the prosperity of your company as a whole.
Below we propose the most common digital project management practices that help teams to build their portfolio of projects and advance their careers.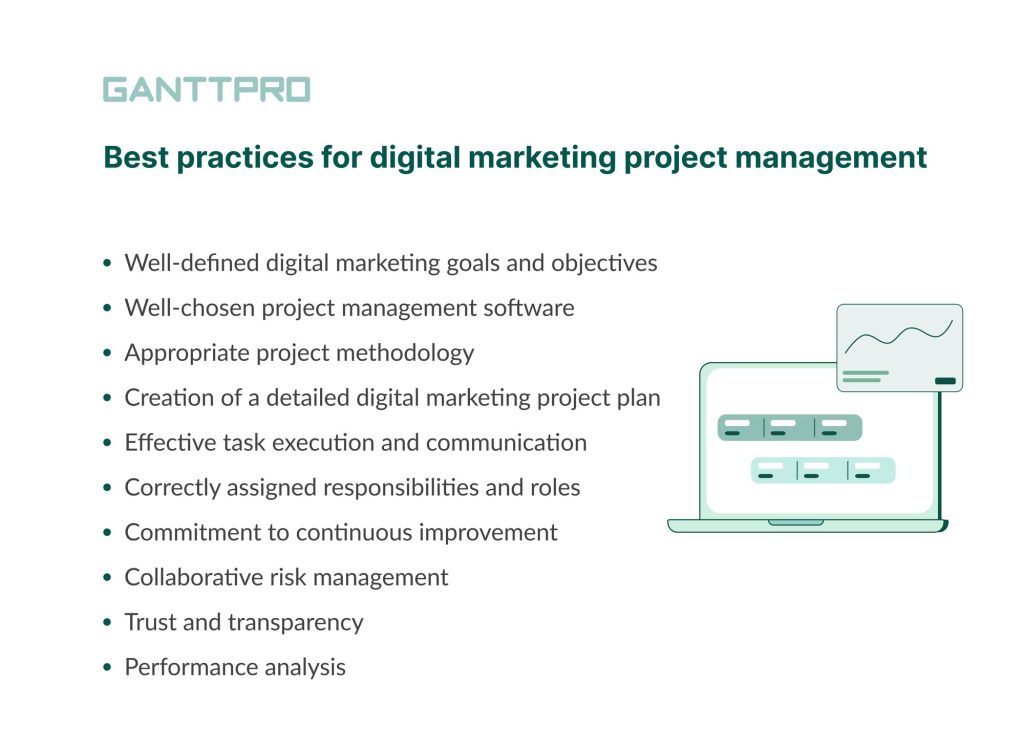 1. Well-defined digital marketing goals and objectives
Even the most experienced project managers in the world will be powerless if their projects don't have clear goals and strategies.
Digital marketing PM professionals should define essential goals by first meeting with necessary team members who also work on their common strategy. The critical sense of this process is ensuring everyone is on the same page before they discuss and generate a project plan.
It's not always easy to set the right goals and generate proven digital marketing strategies. To succeed, you can start by reading helpful books, such as Digital Marketing For Dummies (2020) by Ryan Deiss and Russ Henneberry. The authors, among other things, cover the issues of goal setting and creating project strategies.
2. Well-chosen project management tool
Choosing appropriate project management software for digital marketing projects is another crucial point in the list of best practices for project management in digital marketing.
Such software solutions usually offer the fundamental features needed to manage projects.
For example, managing digital marketing plans and schedules with the help of robust tools such as a Gantt chart allows teams to organize their own tasks, log time, consider deadlines, and automate workflows. They can view real-time timelines and make immediate changes if needed.
To make the best decision for you and your team, start by exploring top platforms that have good reputation and reviews.
One of the best solutions that are widely used among professionals as a marketing project management tool, creative agency project management software, and marketing agency project management software is GanttPRO.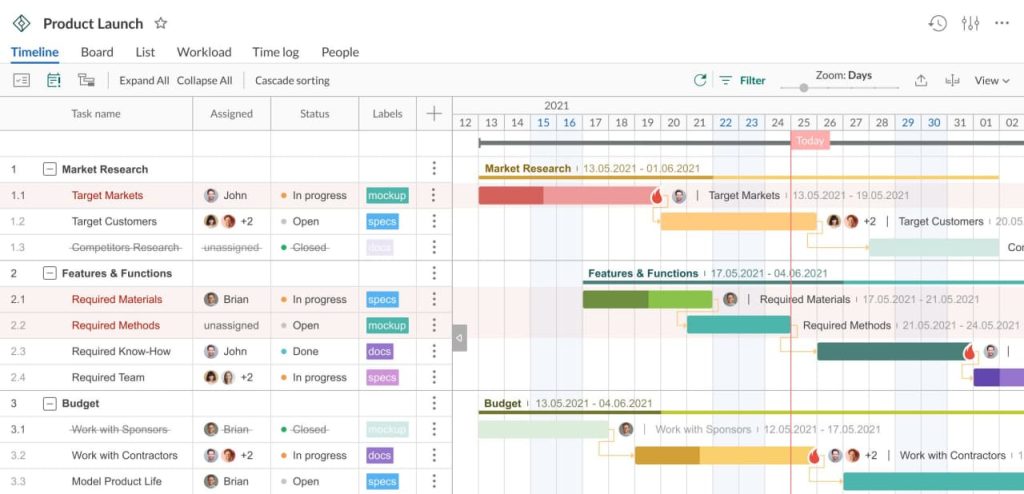 The robust Gantt chart maker allows for creating of appealing and powerful marketing Gantt charts, making the work of digital marketing managers more pleasant and easier.
The diagram is not the only strong point of this platform, as it offers many other useful features for managing marketing projects of any complexity, including:
Task management.

Planning and scheduling with a Gantt chart.
Resource management.
Deadline management.
Budget management.
Risk management.
Portfolio management.
Board view.
Time tracking.
History of changes.
Baselines.
Reporting.
Import from Excel, MS Project, and JIRA Cloud.
Export to PNG, PDF, XML, or Excel formats.
Integrations.
Templates, and more.
The software assists in consolidating all digital marketing ideas and creative thoughts, streamlining the process of developing an effective strategy.
Professional features, ease of use, and affordable pricing make GanttPRO a reliable tool with a stable reputation in the world of digital marketing PM.
Moreover, the Gantt chart maker is often used in some other areas related to marketing. For example, it has everything to compete with the best tools to manage content marketing projects or be considered trustworthy SEO project management software.
3. Appropriate project methodology
Marketing teams that deal with digital projects often work in accordance with Agile, Waterfall, or other methodologies, including hybrid ones. They can debate about the best PM methodology, however, the main thing here is to determine the methodology that will impeccably fit their work.
The choice of a certain project management methodology depends on many things, including the nature of your project, the type of project deliverables, the need to plug into the client's ways of working, etc.
Another important factor in this decision is the team's preferences. Any methodology is much less useful when no one in the team adopts it.
4. Creation of a detailed digital marketing project plan
A comprehensive project plan outlines all digital marketing tasks, timelines, resources, and responsibilities for each team member involved in a project.
During the plan creation, marketing managers set deadlines, define resources and budgets, and assign activities to the responsible team members.
Reliable project management tools help them to succeed as they enable teams to plan practically and efficiently.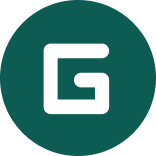 Digital marketing project management software
Plan and manage digital marketing projects on a Gantt chart.
Sign up for free
The truth is that well-planned project management is more likely to provide a higher ROI than any unplanned action, no matter whether you work with website design, keyword research, or a Facebook campaign.
GanttPRO will help you plan and visualize your digital marketing processes and estimate them with ease. You'll be able to break up tasks into smaller parts as GanttPRO is also known as a professional work breakdown structure creator. The tool will assist in setting milestones, dependencies, and deadlines, as well as in adding required people and resources to any of your activities.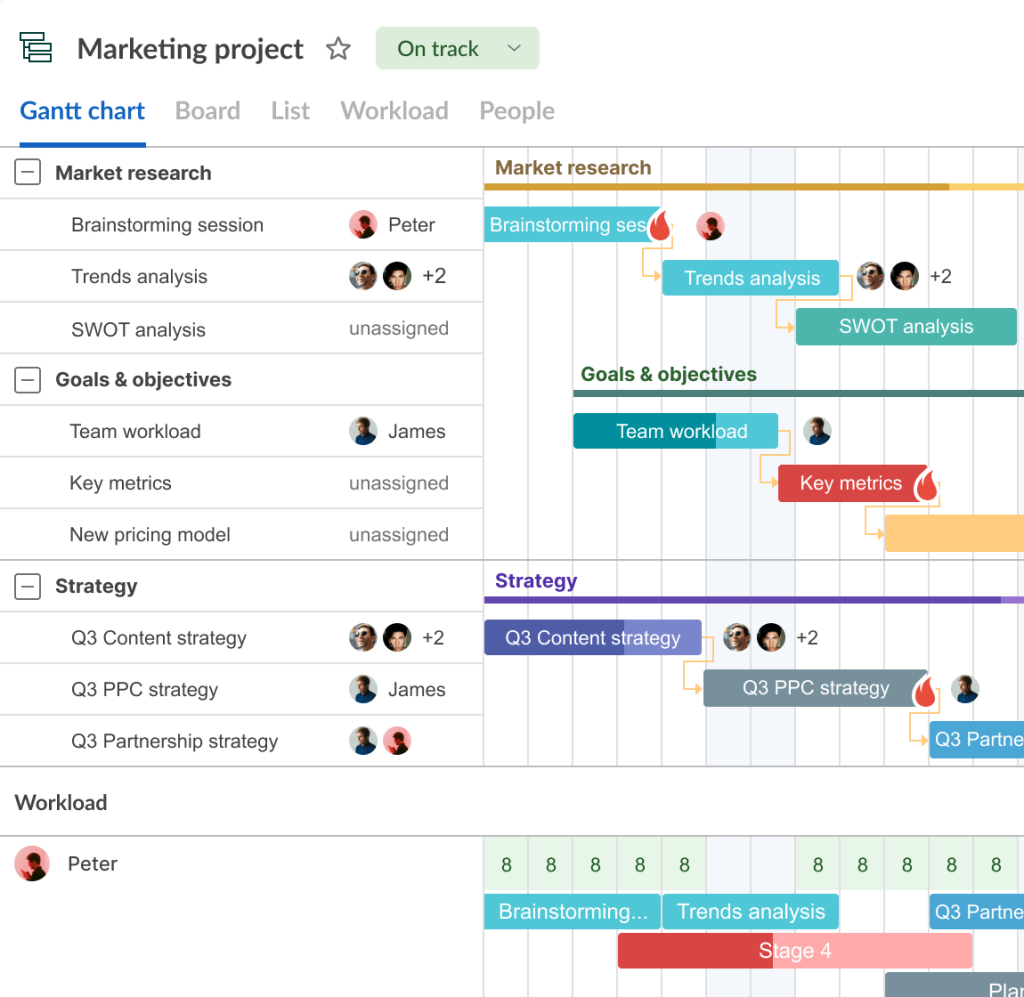 5. Effective task management and communication
Task execution is crucial for any digital marketing team, so responsible project managers should ensure detailed task tracking and reporting on their progress.
In GanttPRO, they can add as many tasks as needed, manage changes, and take action when projects don't move forward.
In digital marketing, project execution keeps up with constant communication.
When discussing a successful career in digital marketing, experts from Michael Page, an employment agency, highlighted communication skills as very important:
A digital marketer should have the ability to look at things from a different perspective, to be able to communicate ideas in a way that the audience will understand, along with understanding what the audience will find entertaining and worthwhile.
To make communication flawless and effective, managers need simple yet powerful tools and features.
For example, GanttPRO allows for leaving comments, notifying colleagues, and attaching files. These opportunities make the Gantt chart maker popular even among remote marketing specialists.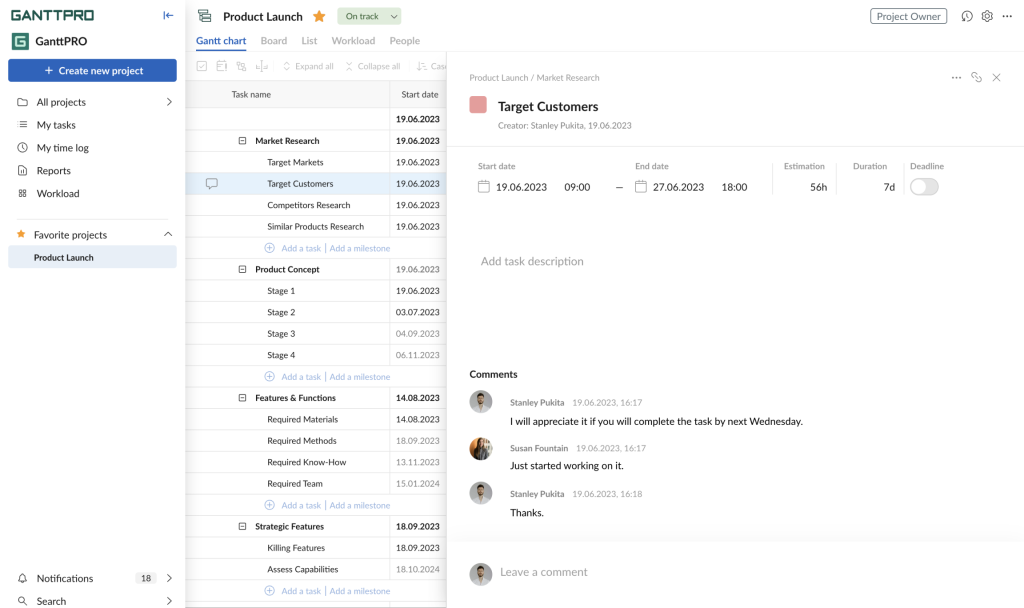 6. Correctly assigned responsibilities and roles
Defining the roles and responsibilities of each team member involved in a digital marketing project is also a point worth your attention. It ensures that everyone knows what they are accountable for and reduces confusion and conflicts.
By the way, GanttPRO allows project managers to provide their teammates with special rights to view data. They can work with different account roles and project rights. It means that different specialists can get different access to settings and features as well as customize work.
7. Commitment to continuous improvement
Digital marketing projects stand out for their rapid and iterative progress.
High speed and numerous moving parts may seem overwhelming, but they present a tremendous opportunity for continuous learning and improvement.
Understanding all marketing processes or projects from the various perspectives of those involved is crucial.
To maximize the benefits of these learnings for your entire team, it becomes vital to effectively share the knowledge gained. Organizing brainstorming sessions and experimenting with practical approaches can help make project insights easily accessible to others.
8. Collaborative risk management
Embracing new digital solutions may lead to unforeseen risks that will evolve and change throughout the course of your project.
To effectively address these new challenges, fostering a culture of collaborative risk management is crucial. It should involve your marketing team members and stakeholders.
Integrate risk assessment as a regular component of your project ceremonies, encouraging team members and stakeholders to promptly raise any newly perceived risks. By doing so, you'll proactively protect your project from potential pitfalls and increase its chances of successful execution.
9. Trust and transparency
Clients don't always fully understand all technical components and risks of projects.
Moreover, the spheres and areas that can be involved in digital marketing projects can be pretty different. Therefore, it is important for managers to establish trusting and transparent relationships with all clients.
Let's take a look at a vivid example of a completed project management plan for digital marketing.
Digital Marketing Expert, a digital agency, performed a project for Expert Electrical, an electrical retailer from Ireland.
This is a short case about how a client can trust an agency and get great outcomes related to digital marketing.
The client asked Digital Marketing Expert to:
Arrange an advanced search campaign.
Link all keywords to specific pages, based on product type and brand.
Make optimization by revenue, product margin, specific brand launches, and more.
As a result, the electrical retailer got a 300% increase in sales from generic traffic and a 20% increase in overall sales.
It is rather important to take enough time to build trust with your clients. You should keep them updated and explain possible complexities if they arise.
If there's an issue, try to communicate it sooner rather than later. Remember, that the role of a project manager is to provide viable solutions to any problem.
10. Performance analysis
Another role and practice of project managers is to continuously monitor the performance of their digital marketing campaigns against the established objectives.
They use analytics and data to determine areas for improvement and ask for feedback from their colleagues regarding their task completion.
GanttPRO also helps to track the phases of projects and keep teammates in the loop. Digital marketing teams can easily compare their results to the initially set goals.
They can generate reports for sharing them with all the people involved to improve their next projects.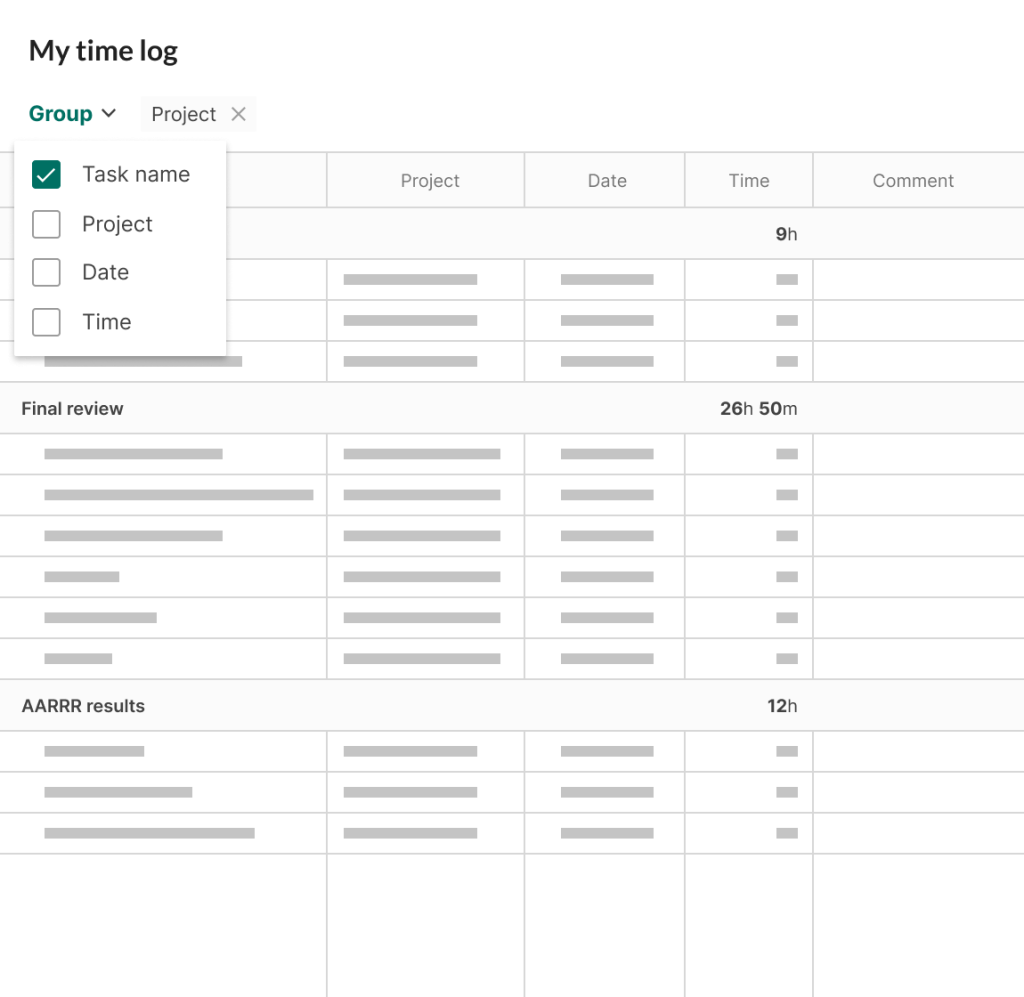 Celebrating success and learning from failures are also great practices worth your attention. However, we mention them outside the main list.
You can also diversify the above list with your own options and practices.
Bonus: digital marketing project management templates
Digital marketing and project management may seem straightforward and clear areas at first sight. However, their combination can present challenges and pitfalls, especially for newcomers.
Fortunately, modern online PM solutions often come with helpful marketing project management templates that can significantly ease the burden for managers and save time.
GanttPRO offers the following free digital marketing PM templates:
They are invaluable for streamlining project management processes, ensuring consistency, and enhancing marketing heights.
Elevate your digital marketing project management to pro-level using a trustworthy software solution
Trends (2022) and studies (2023) show that digital marketing is an area that is not going to give up. However, its bright future is impossible without competent project management.
To succeed in this professional field, you have to understand the importance and benefits of project management in marketing, adopt best practices, and know how to handle the basic digital marketing PM processes. It's also critical to master key skills related to this area and be able to implement professional project management software like GanttPRO.
The Gantt chart maker will help you handle digital marketing campaigns and collaborate with your team. It'll allow you to store all your digital projects and related assets in one place, making them your pride and the envy of competitors.
Frequently asked questions about digital marketing project management
Digital marketing and project management are related but separate fields. Digital marketing involves promoting products and services using online channels, while project management focuses on planning and executing tasks to achieve specific objectives within a defined timeframe. Despite this, project management principles can be easily applied in managing digital marketing campaigns.

This content is licensed by