Gantt Chart vs. Roadmap: How to Differentiate Them and Use for Project Success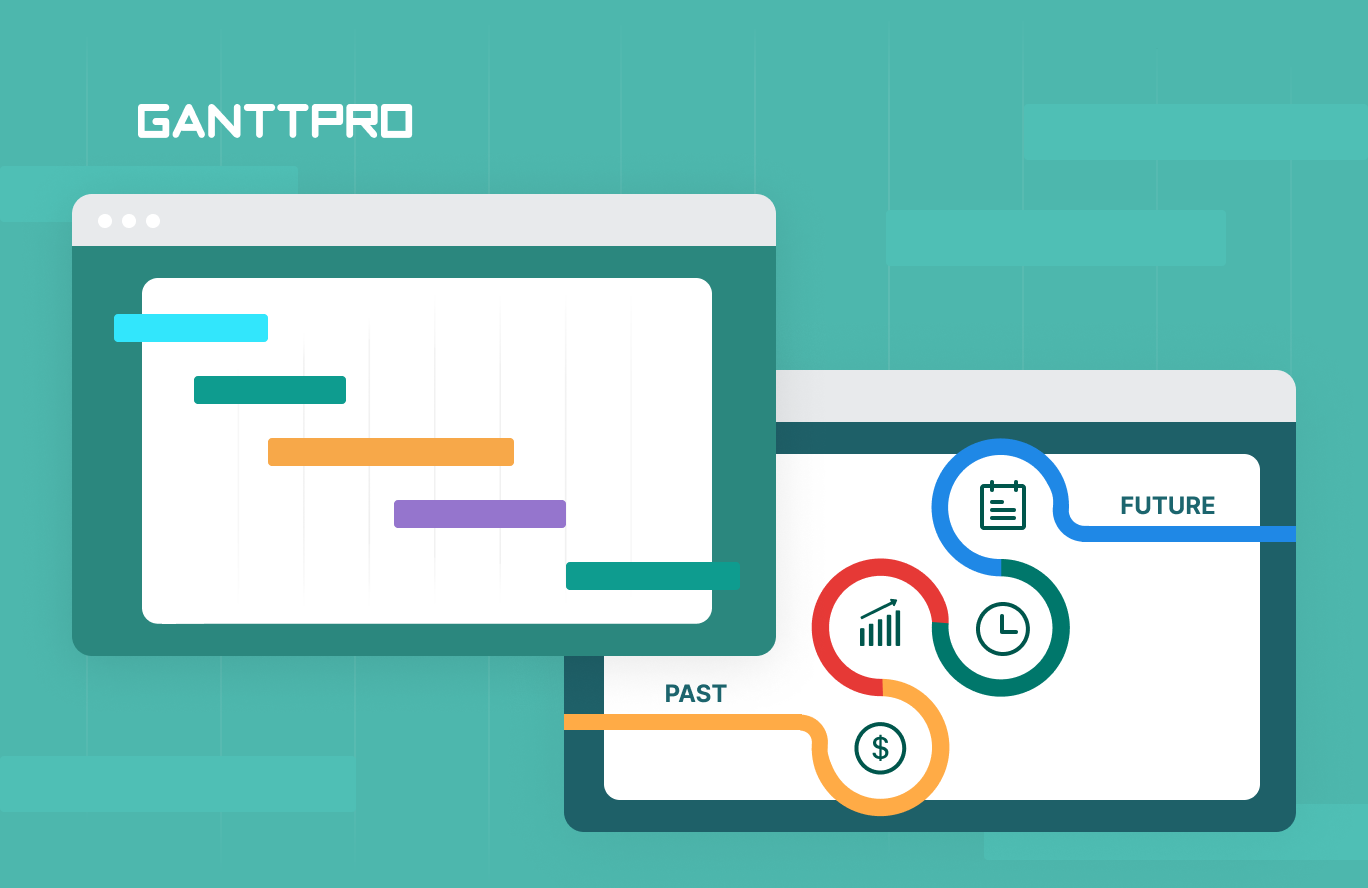 Audio version:
People involved in project management know when to use a Gantt chart and when to apply a roadmap instead. However, some individuals in this sphere still do not clearly understand the difference between the two approaches and don't pay enough attention to the "Gantt chart vs. roadmap" issue.
So what is the difference between these tools?
Many think that a project or product roadmap looks similar to a Gantt chart. However, they serve different audiences and purposes.
A Gantt chart serves as a detailed, linear schedule of tasks related to a particular project. A roadmap is a high-level, strategic plan aimed to communicate your project goals and vision.
If you do not have 5 minutes to read this text, this info will be enough. However, the details can be exciting and valuable.
We've explored the "Gantt chart vs. Kanban", "Gantt chart vs. timelime", and "Gantt chart vs. WBS" topics. Let's take a look at "Project roadmap vs. Gantt chart" now.
Contents:
If you are not closely familiar with both concepts, we can quickly remind you what a Gantt diagram and a roadmap are. So here we go.
What is a Gantt chart?
A Gantt chart is a bar chart that displays a detailed schedule of tasks related to your project. It was named after the American management consultant Henry Gantt.
You may use different tools for creating this diagram, but its basics are commonly the same:
A left column contains a list of tasks and subtasks.

A header displays time units in a linear schedule.

Bars on a timeline contain tasks. They are based on tasks' duration or project milestones.
What is a Gantt chart in the context of project management?
Using this diagram, cross-functional teams can understand the work required, and the order in which this work should be completed. It allows them to move on to the next stage of the project.

Using the chart, you can visualize the start/finish dates of your project and the start/finish points of every task, people assigned to particular tasks, task dependencies, essential project milestones, deadlines, and how long each task should take.
Let's move from the dry theory to examples.
Gantt chart examples
There are many projects where you can professionally apply a Gantt chart to display your work plan, track the progress, and monitor task implementation.
One of the widely used Gantt chart examples is a construction project management plan that can be visualized like this: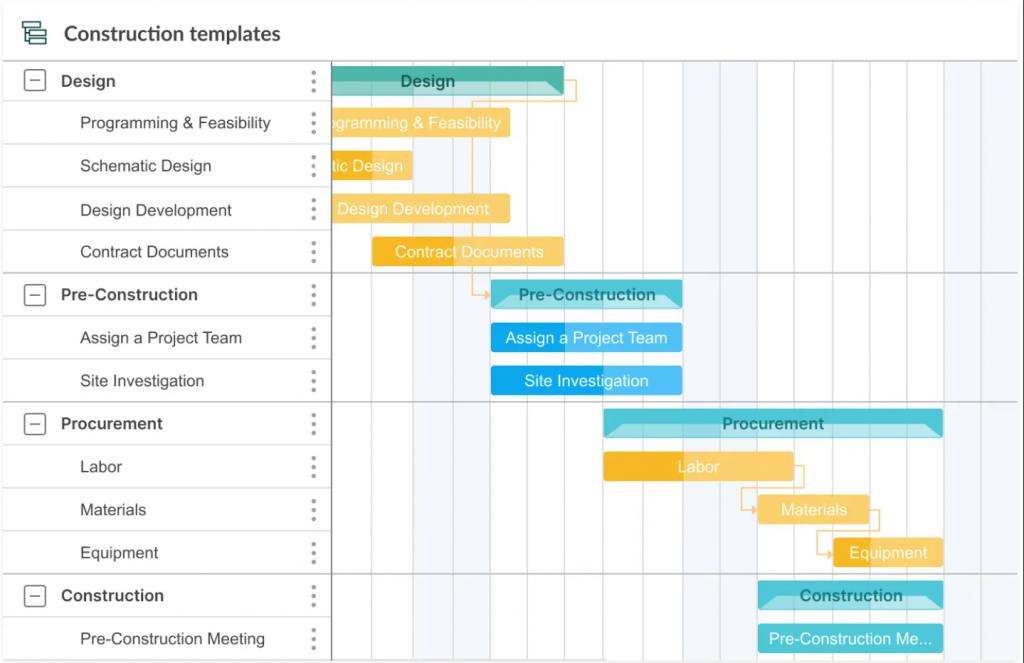 Advantages of a Gantt chart
A Gantt chart is well-known in the world of project management as an easy-to-understand and visually appealing tool.
What are the benefits the diagram provides? Here's the list of the most essential pros:
Assistance in finding workarounds for potential problems before a project starts.

Managing resources. A Gantt chart allows project managers to set realistic schedules and allocate resources based on those schedules.

Balancing multiple projects.

Advanced task tracking. The diagram assists in revealing possible issues or constraints.

Help in setting realistic deadlines.

Reflecting task dependencies.

Making complex information manageable – the diagram provides the visual clarity needed for simplifying complex tasks.

Minimizing work overload. It ensures that the resources will be used efficiently by eliminating the chances of overwork.

Keeping distributed employees aligned. An online Gantt chart performs even if individuals work in different countries and time zones.

Accelerating team productivity. A Gantt diagram helps team members to stay focused on the tasks they must complete. It boosts productivity.
Unfortunately, there is no ideal tool or system. Therefore we should also outline some drawbacks of Henry Gantt's invention.
Disadvantages of a Gantt chart
Here is the list of disadvantages that may prevent you from using a Gantt chart:
A time-consuming setup may confuse project managers with no experience.

Many details if you have a large and complex project with numerous tasks. They can make the chart difficult to understand.

Frequent Gantt diagram reworking can become complicated if you do not apply robust PM software.
Where to use a Gantt chart?
Project teams in many industries apply a friendly Gantt chart to plan and manage their tasks of various complexity. Their members can even share the project diagram with anyone outside the project.
If you do not know how to use a Gantt chart for your specific area, try to find an appropriate Gantt chart template that many PM tools for planning and scheduling provide. Here's the example of a web design project template:

Besides web design, you may find the diagram in:
IT project management.

Marketing.

Construction.

Education.

Healthcare.

Business planning.

Event planning.

Retail.

Consulting.
The template above is built with the help of one of the best project management solutions with the Gantt chart functionality. So, let's get more details about Gantt diagram software.
Gantt chart tools
According to the PM Trends by Wellingtone (2022), project professionals will be asked to mix and match project delivery methods. It means that the demand for flexible project planning and scheduling tools will also grow.
GanttPRO is a Gantt chart online system that offers advanced features for professional scheduling and managing projects.
With the help of this tool, your team will have all chances to plan and schedule tasks, set dependencies and project milestones, manage resources and risks, and boost internal and external collaboration. GanttPRO allows the creation of several workspaces and projects.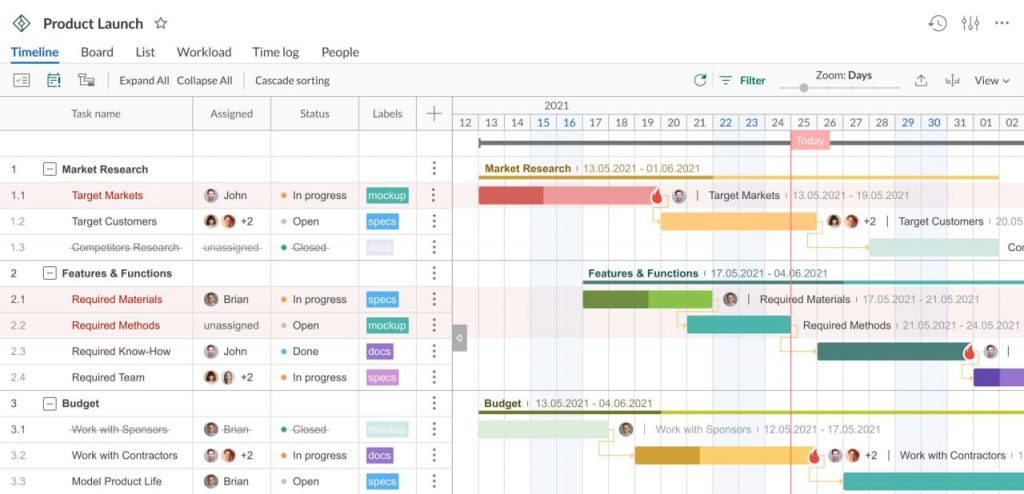 The advanced GanttPRO feature set includes:
Task planning and scheduling.

Gantt chart templates.

Drag and drop functionality.

Deadlines and notifications.

Resource management.

Risk management.

Budget management.

Time tracking.

File sharing.

Importing/exporting.

Reporting.
If you want to create a high-level roadmap for your product or project, GanttPRO will perfectly suit you as well.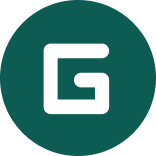 Gantt chart project management tool
Create an online roadmap and facilitate your workflow.
Sign up for free
As we consider the "Gantt chart vs. roadmap" comparison, then it's time to move on to exploring the second tool.
What is a roadmap?
With so much information about the Gantt chart around, you might logically ask: What is a project roadmap then?
A roadmap is a planning tool for keeping all project participants updated, from team members to stakeholders. Although it can be built with different concepts and tools, generally, a roadmap is designed with Gantt charts, and most roadmap tools are based on them.
A roadmap represents the outlined goals or desired outcomes with all required steps. Having the roadmap is crucial for successful product/project development.
While a Gantt chart helps to set up a plan with the details about how the team will complete a project, a roadmap assists them in determining and communicating why they should complete this project.
A well-developed roadmap isn't a one-time document that can be fixed in seconds. It reflects the product strategy; therefore, everyone needs to understand it.
There are two defining elements of any roadmap:
It is focused on a high-level plan (not details).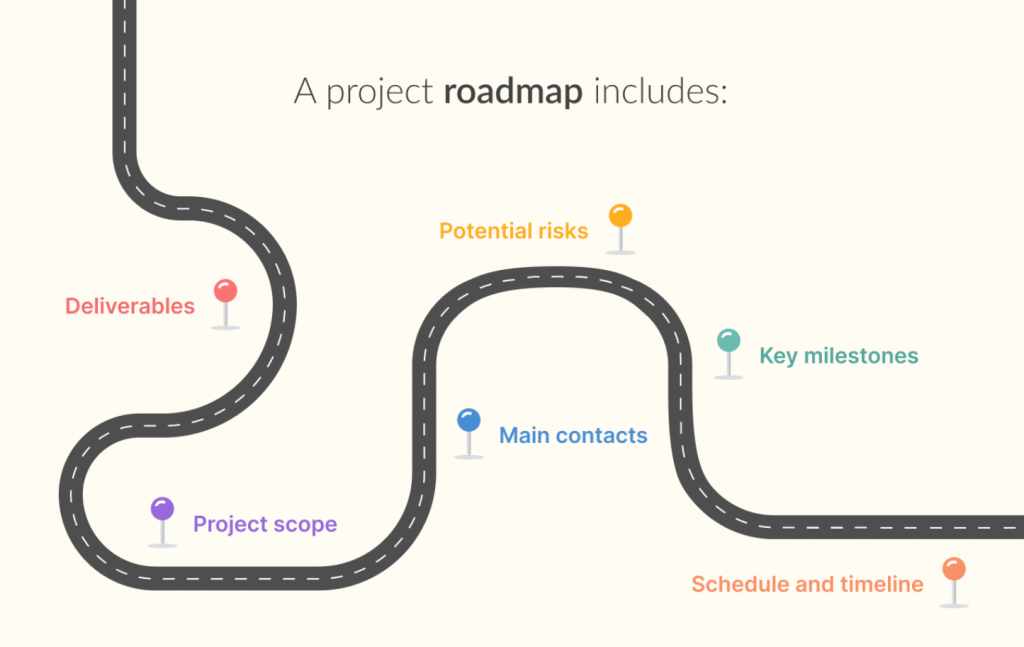 Roadmap examples
A roadmap aims to tie the day-to-day work of your team to the company's vision and strategy. This visualization of the product or project timeline will encourage internal transparency and assist the decision-making process.
Different types of roadmaps can help you to visualize your high-level plans and goals. Here're some examples:
Release plan.

Sprint plan.

Features timeline roadmap.

Objectives timeline roadmap.

Startup roadmap.

Business development roadmap.

Data strategy roadmap.

E-commerce roadmap.
The following example involves several teams and contains various objectives.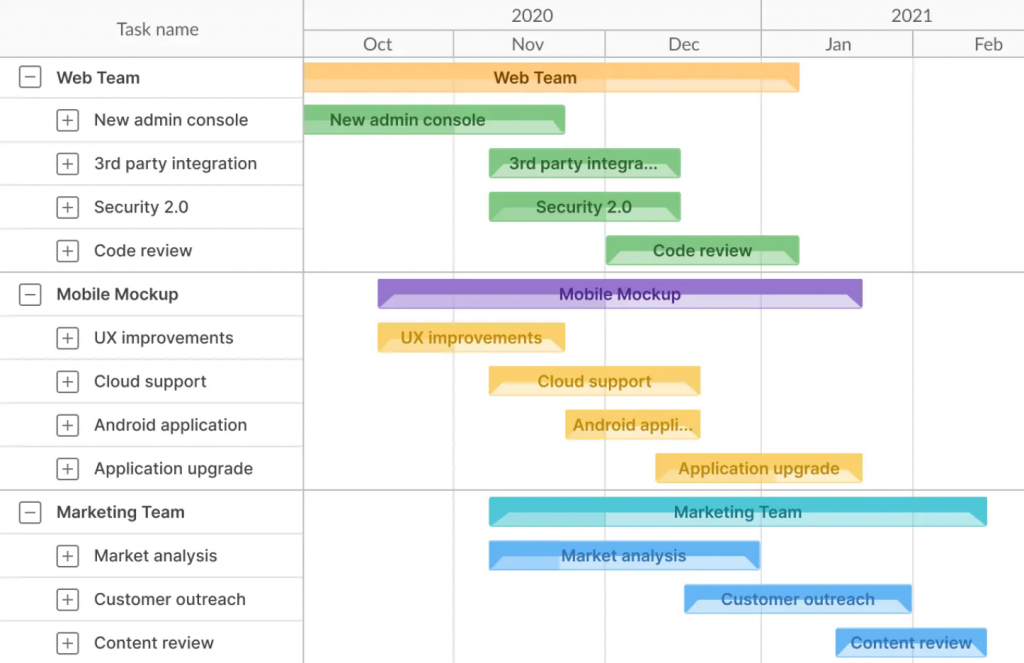 Let's get down to the pros and cons of this tool.
Advantages of roadmaps
In the context of the "Gantt chart vs. project roadmap" comparison, the following advantages of the roadmap can be distinguished:
Helps to keep team members on the same page in terms of an initiative's scope, objectives, and timeline.

Demonstrates which skills and resources you will need to reach your goals.

Drives self-awareness.

Provides a framework for success to keep working towards.

Allows sharing status updates quickly.
What about the drawbacks of having a roadmap?
Disadvantages of roadmaps
Despite its obvious benefits, this tool can stop you from using it. Here are some of the roadmap's cons:
If you do not update your roadmap frequently, initiatives can veer off-course. In this case, unplanned dependencies may cause the project to derail.

Your roadmap can become counter-productive if it is not used as a living working doc. That's why it's recommended to apply a powerful roadmapping tool to share the roadmap with all stakeholders in real-time.
Where to use roadmaps?
Project managers all over the world apply a roadmap to reach project or product success.
As we mentioned above, this tool can be used in various spheres and industries from complex IT projects to educational tasks and even personal planning.
A project roadmap will help you in any area if you strive to:
Start a project on time.

Ensure every team member is on top of business objectives.

Meet stakeholder expectations.

Share the progress of your project.

Split a team and stakeholders.
Roadmap tools
A dedicated product roadmap tool is a system that enables businesses to manage their product/project life cycles and communicate the strategy and goals to management, team members, and other stakeholders. Such a tool typically provides product/project goals, features, timelines, budget, and task status indicators.
In the research (2022), a respectable source notes that 39% of project teams use specialized PM tools, 20% use in-house systems, and 12% use non-PM commercial software solutions.
One of the popular professional solutions on the roadmapping market is Roadmunk. The platform looks suitable for various project teams, from startups to enterprises aiming to build and share digital roadmaps.
How to create a project roadmap using this tool? It shouldn't be too difficult as it offers friendly settings and powerful features, including:
Product roadmapping.

Workflow management.

Data import/export.

Commenting and notes.

Document management.

Drag & drop functionality.

File sharing.

Reporting and statistics.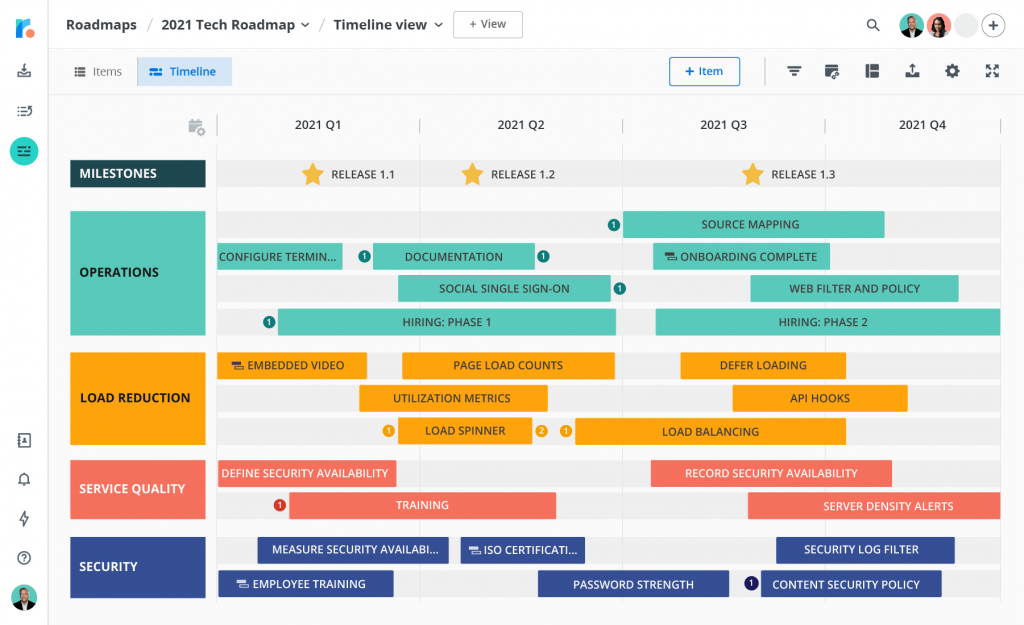 It won't be superfluous to remind that some tools offer advanced functionality for working with a roadmap and Gantt chart. It's about GanttPRO again 😉
After describing both tools in detail, it's time to take stock and figure out the best time for using each of them.
Gantt chart vs. roadmap: what to choose?
Businesses may use a roadmap and a Gantt chart for the same large-scale initiative. However, you have to define the key differences between a diagram and a roadmap. Below you'll see the most essential of them: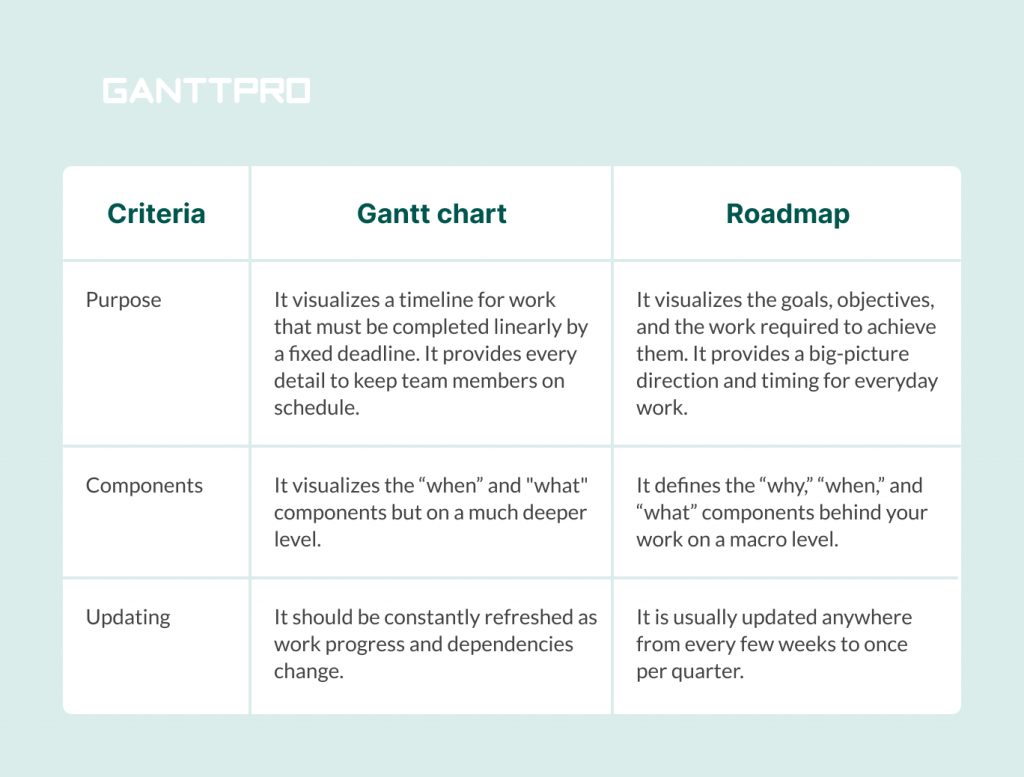 When to use a Gantt chart
The diagram invented by Henry Gantt serves as a reliable helper for many businesses all over the world. 
Use a Gantt chart if you need to:
Visualize your work timeline that must be completed linearly by a fixed deadline. The diagram will showcase every detail to keep your team members broader on schedule.

Determine the "when" and "what" components on a deeper level. A Gantt chart includes all the phases of work required from all teams involved to meet that deadline. It also contains milestones and dependencies between work items that impact the delivery date.

Update your work progress and dependencies change constantly. Real-time updates will keep your team informed on when they need to contribute to the overarching project.
When to use a roadmap
A roadmap is a good assistant if you want to communicate your product/project strategy clearly and realistically.
Apply a roadmap if you want to:
Visualize objectives and the work required to achieve them. You will get a big-picture direction and timing for everyday work. The roadmap will help you in strategic product planning.

Determine the "why" (for example, a vision, initiatives, and goals), "when" (for example, the high-level time frame for achieving your strategy), and "what" (for example, the features that need to be developed within each release).

Update your timeline from every few weeks to once per quarter. The roadmap does not need to be updated frequently as it provides a high-level framework for your strategy, timing, and work. You may update it when goals change or key milestones shift.
Conclusion
A Gantt diagram and a roadmap are two different project management systems, but they hold the combined power of delivering efficient projects.
Both tools have their benefits and some weak points. While choosing the best option for your needs, the main idea is to determine your purpose and the application area of the tool you are looking for.
They can work together to help you combine your plan's strategic elements with the tactical details required to execute that plan properly
We hope that now you know how to distinguish them and that you have no more questions about the "Roadmap vs. Gantt chart" comparison.

This content is licensed by