7 Product Roadmap Examples to Inspire Your Team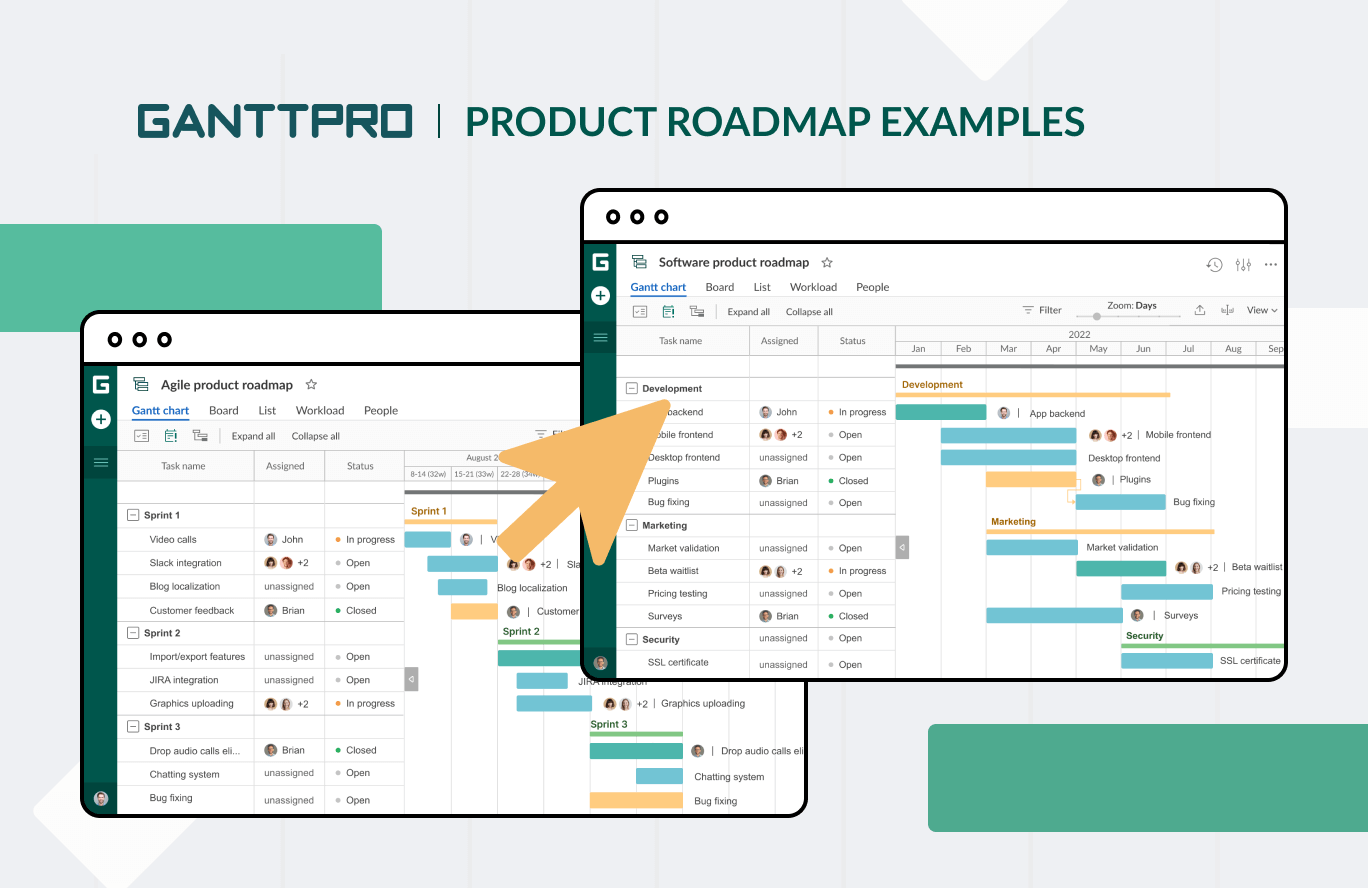 Managers all over the world are looking for the best product roadmap examples to improve their planning skills.
Often, they have to build timelines from scratch without initial experience in planning. But if they know how to create a project roadmap, it will be easier to visualize their strategic ideas and tasks on an online roadmap for product development.
If you also don't know where to start, handy examples of a product roadmap as well as ready-made roadmap templates will get you on the right track and help generate a great timeline that will benefit your team and all stakeholders.
You will need to choose a proper management tool such as an online Gantt chart maker. The rest is up to your talent and ability to adapt ready-made product roadmap examples to your needs.
Keep reading to explore the variety of timeline samples and get the best from them.
Contents:
The first product roadmap example we will focus on is the timeline that most managers and developers use in their daily work.
Software product roadmap examples
A software product roadmap serves as a visual bridge connecting the company's vision with the tasks required to lead that brand to the market.
Using reliable examples of software product roadmap, your development team will be able to better understand how their work contributes to the bigger picture, helps to make more intelligent prioritization decisions, and assists in persuading stakeholders.
A well-prepared IT product roadmap example will demonstrate all your initiatives related to launching a new software solution.
Visual milestones will mark key events, for example, a beta release or a general availability release. You will be able to track goals and initiatives and communicate how each activity ties back to the larger company strategy.
For these purposes, you can use a friendly GanttPRO software roadmap template that will help you to organize different components that go into your software solution launch.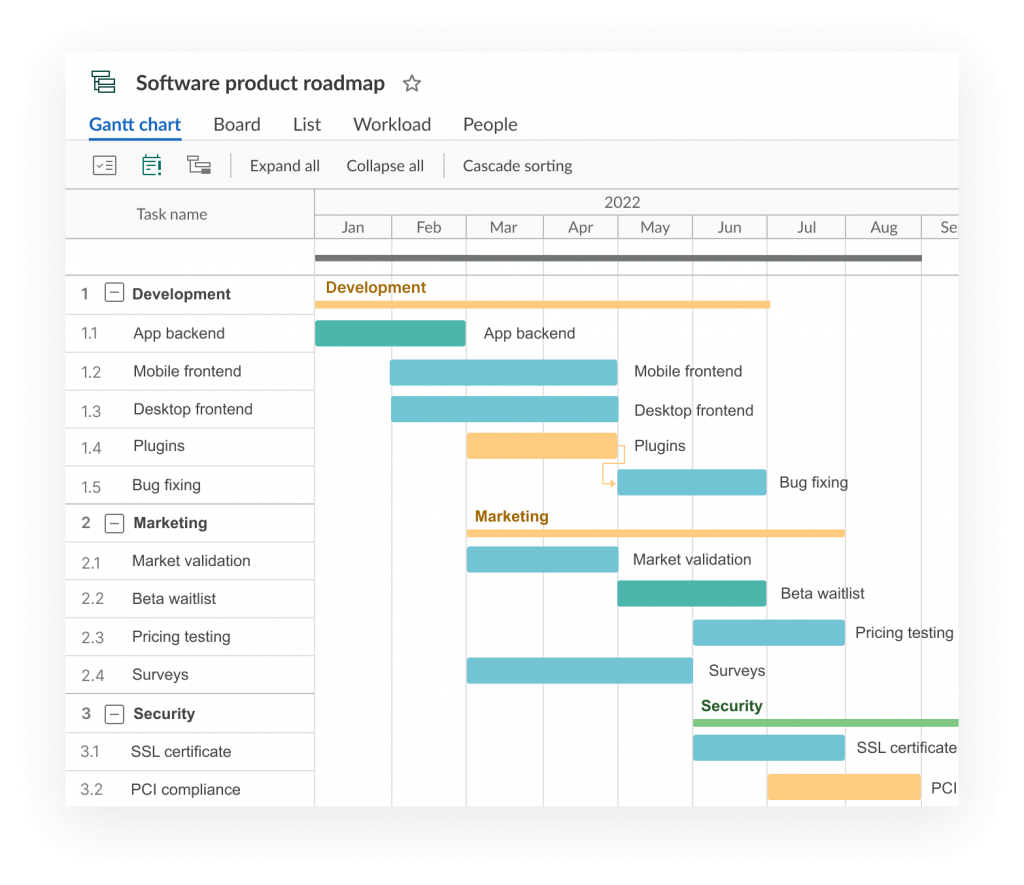 Agile product roadmap examples
Agile development requires creating timelines that will provide crucial context for the team's everyday work. The product roadmap example in Agile should respond to shifts in the competitive landscape.
Teams use Agile product roadmap examples to outline future functionality and clarify when new features will be released. A single timeline can be shared by multiple Agile teams.
The given product roadmap Agile example demonstrates how a company can strategically plan the development of its solutions in accordance with Agile methodology.
Consider an Agile sprint planning roadmap example with a delivery focus. Different teams may use it to align developers with upcoming work so they're always up-to-date and in sync.
Based on a Gantt chart view, it allows for planning delivery over multiple sprints and shows each feature's effort to monitor the team's workload.
The following product management roadmap example for Agile teams is designed with GanttPRO.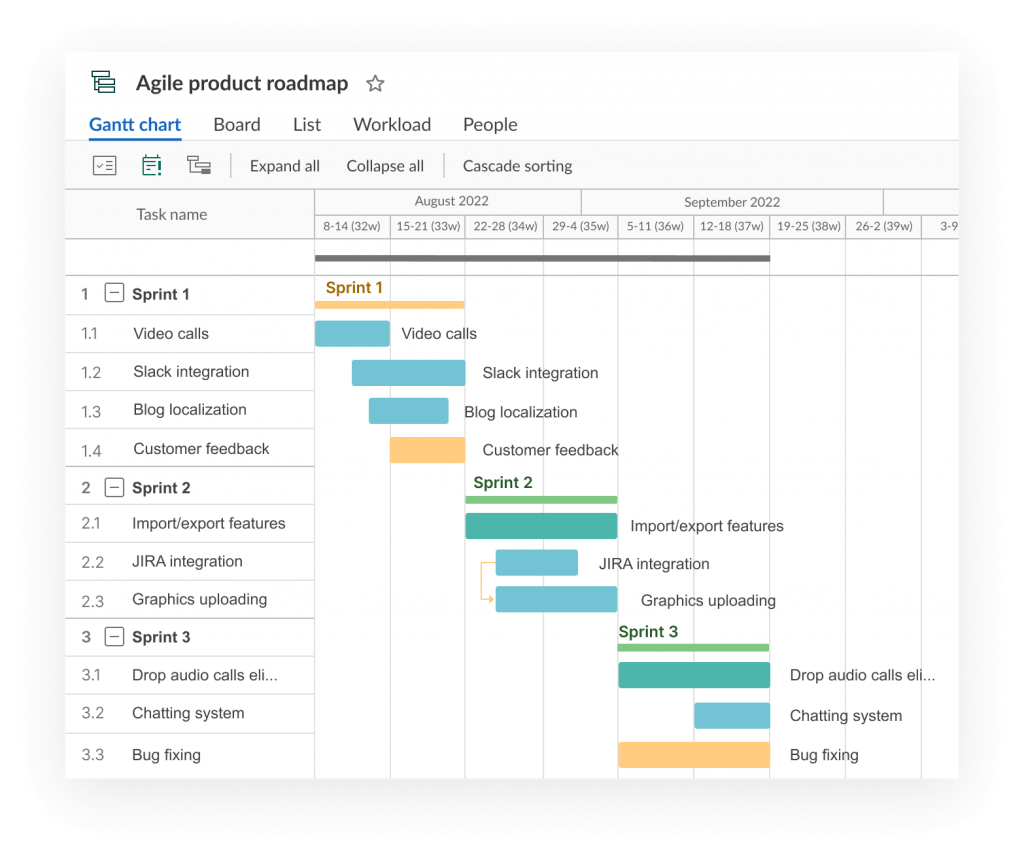 Product technology roadmap examples
The key goal of the handy product technology roadmap examples is to help in visualizing how IT departments will evolve to support their business. Therefore it is often called a product IT timeline.
This kind of timeline outlines the "why," "what," and "when" of major IT investments before you start the "how" work (development and implementation). It is essential to getting complex work done. For example, addressing technical debt and growth-oriented innovation.
This type of a product timeline demonstrates the available technology and highlights improvements that are scheduled in the future. It also considers when a technology may be scheduled for end-of-life.
Usually, this visual tool is owned by the engineering and operations teams.
There is no need to look for special roadmap tools with a technical focus, as the solution is closer than you think.
In GanttPRO, you may find a friendly technology roadmap template that can be customized and adopted to your needs and requirements.
Just look at how one of your new product roadmap examples may look like.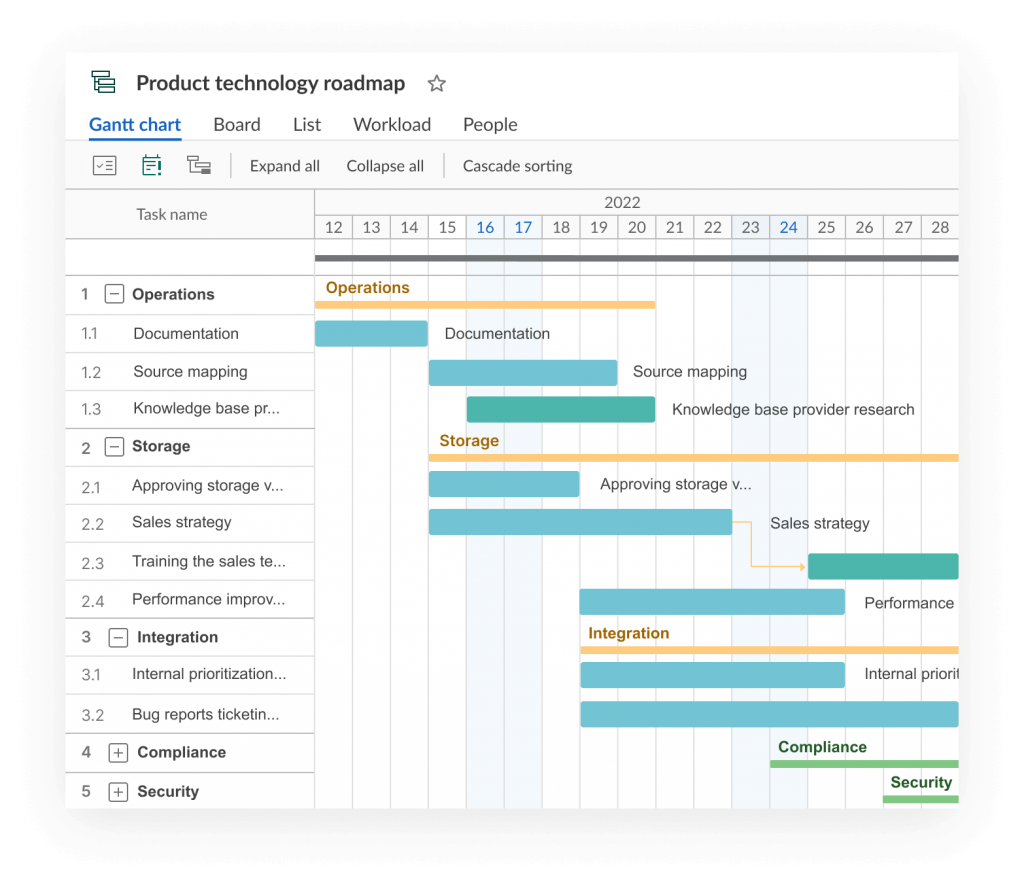 Product launch roadmap examples
The launch of a new product is always a stressful campaign for any business. Therefore a professional product launch roadmap example serves as a reliable helper that illustrates how this new solution will hit the market.
This visual communication tool crosses all teams involved – from developers to marketing and sales. It contains tasks required to ensure that pre-launch, launch, and post-launch stages are efficiently executed.
A great way to structure your launch timeline is to create a Gantt chart view. Taking advantage of the GanttPRO product roadmap template, you can design your own timeline that will show every step of the launch with the amount of time required for each stage. You can also highlight what needs to be achieved within each phase.
Look at the following digital product roadmap example that covers the main directions and tasks included in the launch preparation.
Startup product roadmap examples
Startups have their specific needs and requirements.
The common goal of any startup product management roadmap is to help coordinate work of PMs, designers, and data analysts. Therefore, it is in many ways similar to a regular project roadmap.
A startup product roadmap example may include views for stories, epics, domains, and sprints.
For example, within the sprints view, you can have a clear visualization of all sprints, separate tasks with subtasks and their dependencies, milestones, and many more useful fragments. You can also track who owns which role and features.
The product development roadmap example below contains the common steps most startups should follow to lead their affairs to success.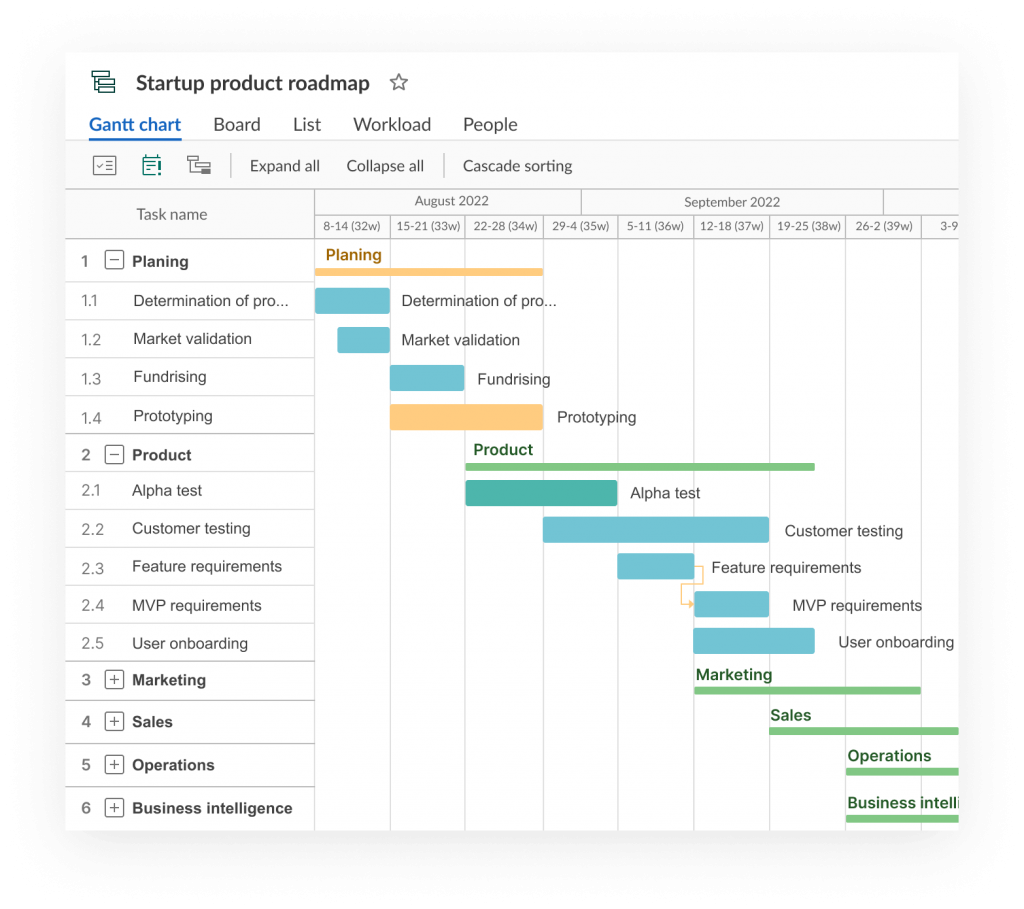 SaaS product roadmap examples
Not every timeline is well suited for the SaaS operations.
That is why it is vital to pick an appropriate SaaS product roadmap example. It will play a critical role in keeping your SaaS solution in order despite the non-stop pace of its development.
A SaaS timeline represents the steps that your company needs to take to continually develop and improve the defined processes. It balances the strategic know-how along with the technical aspects of product development.
This kind of timeline is especially crucial for the strategic planning processes of the products that are continually being updated.
The following timeline example may help a SaaS team to build a better solution and turn user feedback into greater operational efficiency.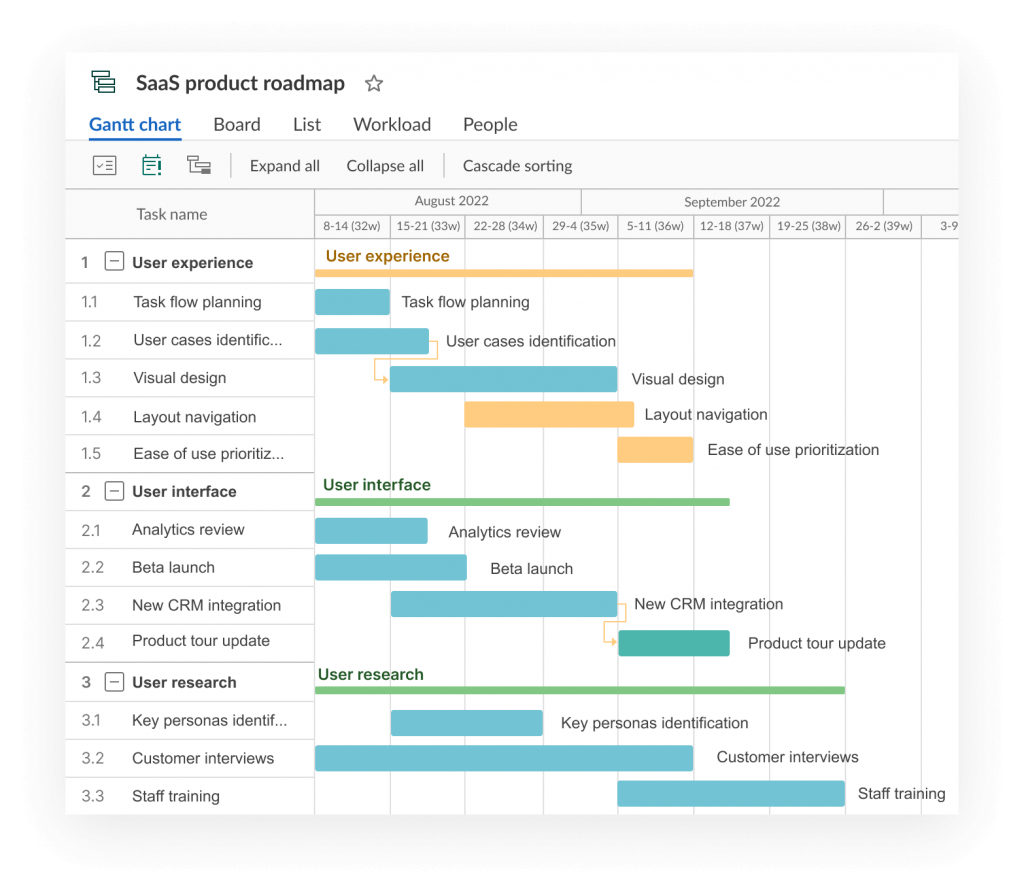 Product strategy roadmap examples
Another high-level document that explains the vision behind your brand and helps guide your direction is a strategic timeline. It articulates customer challenges, capabilities you are striving to provide for them, key features and components, and a timeline of when to deliver those features to market.
A well-designed product strategy roadmap example that you can adopt to your business will help your team to understand what, why, and how you will create. However, it will differ enough from your development backlog, which is focused on how you create the product.
Here's the example of a typical strategic timeline that reflects the development including planning, marketing, sales, and other essential stages on the way.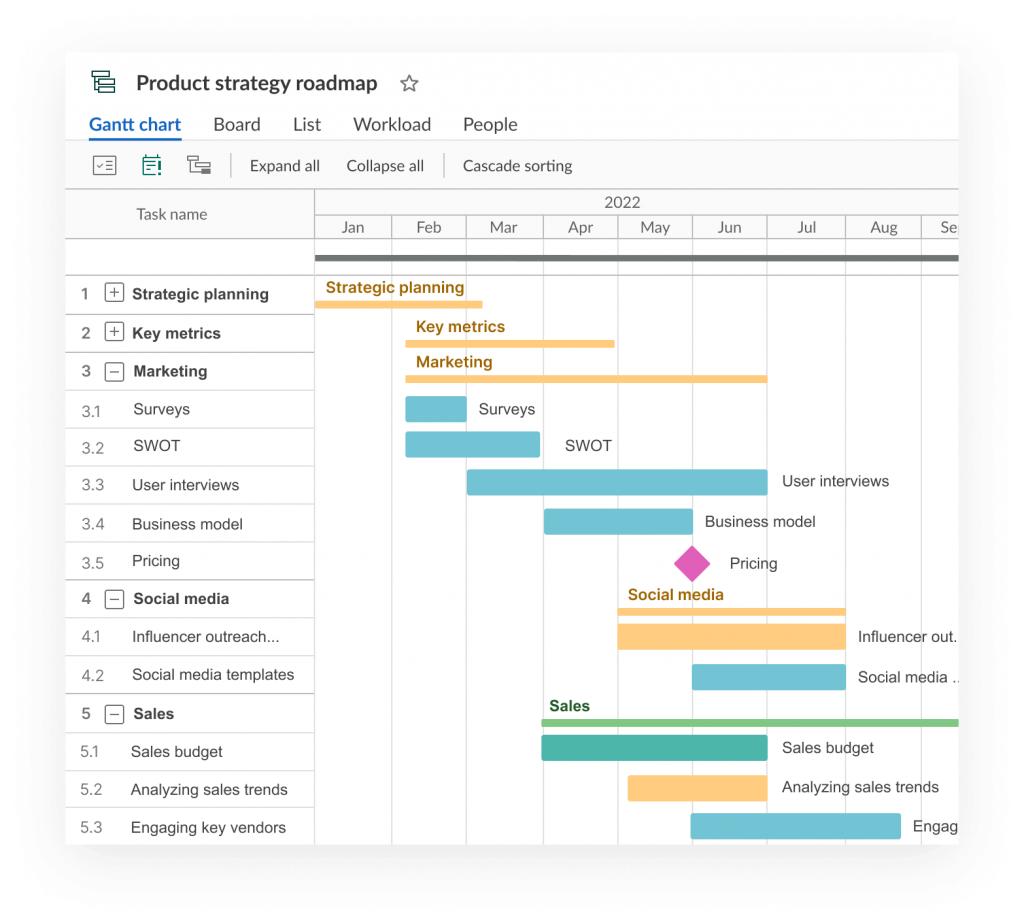 If you want to stay focused on building a professional user-centric product that will solve the right problems, use a handy Gantt chart template. 
For example, the GanttPRO strategic roadmap template will serve as a guide to your successful business strategy implementation and will provide all necessary features to lead the strategy to a logical final.
Well, the examples of online timelines do not end there – we have only shown you the most significant of them. However, even those samples will help you quickly navigate the process of building your own timeline and adapting to your needs.
Map out your business vision and strategy with great product roadmap examples
A product timeline aligns teams around a high-level strategy. It offers visibility and promotes collaboration. And an online Gantt chart is one of the best helpers in this area.
But if you still do not fully understand the difference between the well-known planning chart and the online timeline, then feel free to read the article about Gantt chart vs. roadmap to clarify all the nuances and gaps.
To be effective and accurate, online roadmaps need to be as flexible as the development process they represent. Luckily, GanttPRO takes the pain out of creating and maintaining effective product timelines. 
GanttPRO free product roadmap examples and templates will help you build your own professional timelines that will be accurate, customizable, and automatically updated to reflect your current data.
Use the platform to organize your projects and tasks into a highly intuitive Gantt chart that will provide your team with the needed perspective. 
The only thing you need now is to define the best product roadmap examples from our list that will suit you most. Review them again and make the right choice.