Gantt Chart vs. Kanban: What Will Empower Your Project?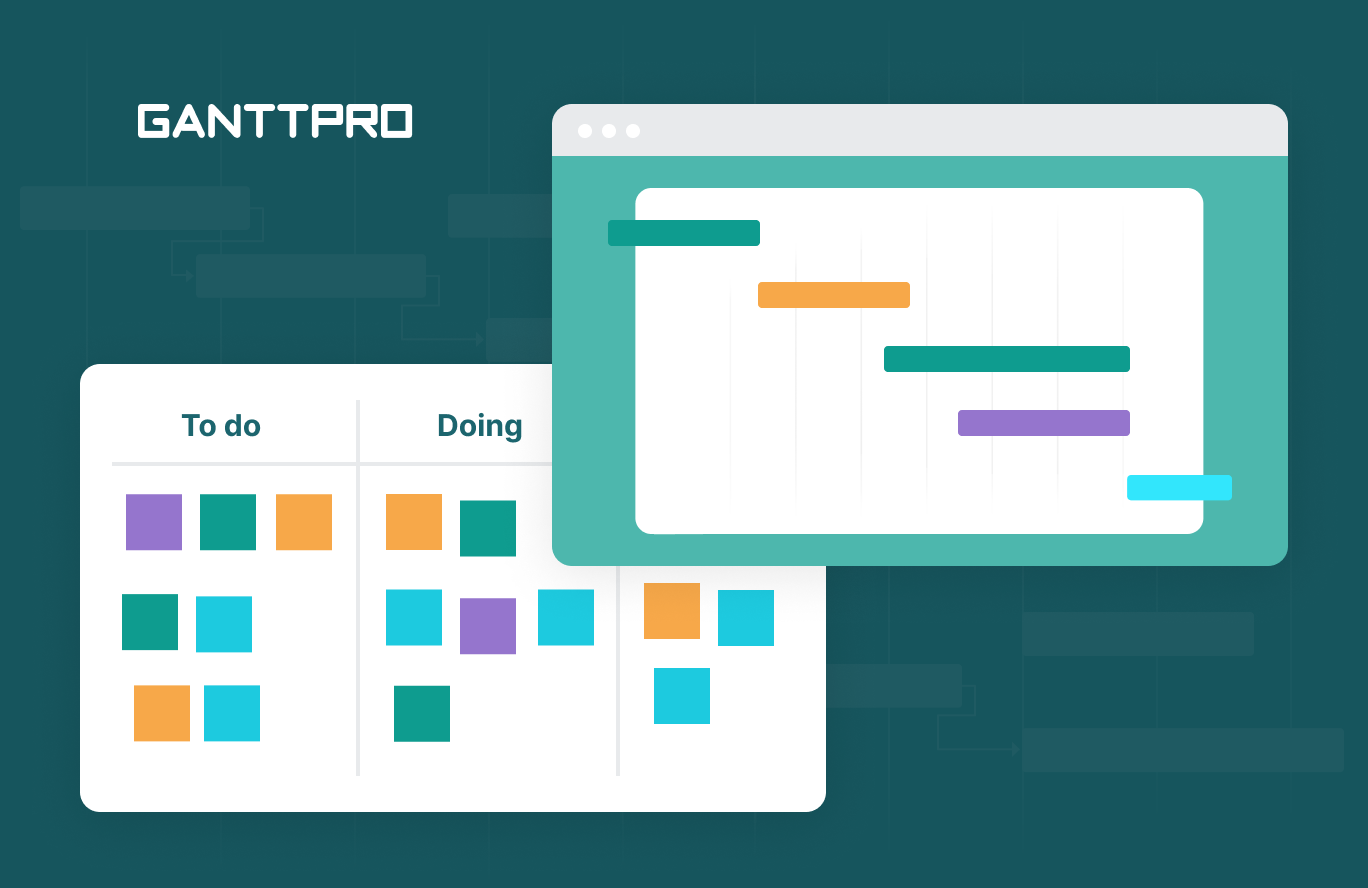 About 100 years ago, the American Henry Gantt presented the chart that bears his name. A little later, Taiichi Ohno, an engineer at Toyota Corporation, developed the Kanban system.
Gantt chart vs. Kanban is the real dilemma for project teams that strive to find out the best way to visualize their projects, schedule, manage, and complete their work. By the way, the most successful project management platforms are based on these systems.
A Gantt diagram is often compared with other tools and approaches. For example, the topic "Pert chart vs. Gantt chart" is also under discussion. The same concerns "Gantt chart vs. roadmap", "Gantt chart vs. timeline", and "Gantt chart vs. WBS".
But this post is focused on a bar chart and an online board that came from the Toyota production.
Contents: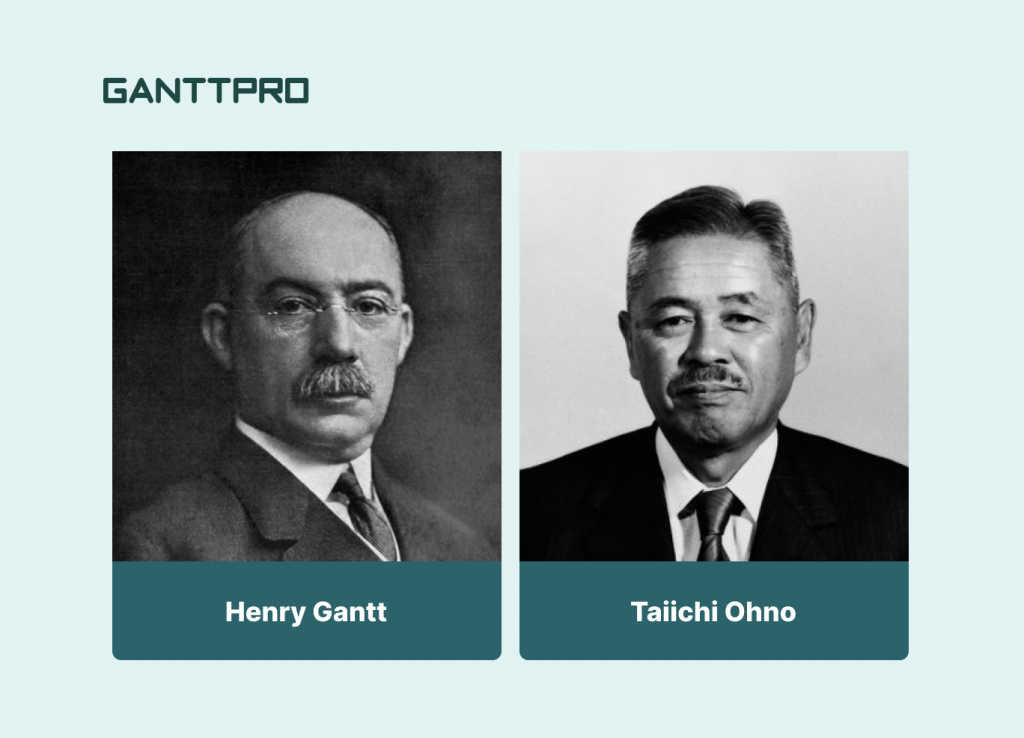 According to a reputable consulting group survey, 77% of highly successful projects use online tools to plan, execute, and control project processes. For these purposes, the tools contain a brilliant digital chart or an online board.
What is the difference between an Agile Gantt chart and Kanban? What tool from the professional project management toolbox looks more popular and valuable?
Let's figure out the vivid pros and cons of both approaches and explore their simple examples.
But first, let's clarify what a Gantt chart is. Then we'll look at Kanban and compare the benefits and drawbacks of both concepts.
What is a Gantt chart?
A Gantt chart is a type of bar infographic used for planning and scheduling.
It displays a timeline across two axes:
The horizontal axis visualizes the schedule.

The vertical one lists all tasks.
Each task is shown as a colored bar. It aligns with the place on the schedule where it needs to be completed.
What is a Gantt chart for project managers? Using the diagram, they understand how long their tasks and the entire project should take.

A Gantt chart displays:
Start and finish dates of a project.

Start and end points of every task.

All tasks included in the project.

People assigned to particular tasks.

How long each task should take.

Important project milestones.

Task dependencies.

Deadlines.
It can be built even with the help of the Excel template, but if you want to create a more professional chart, you'll need a powerful software system.
Gantt chart examples
A Gantt chart is widely used to visually display the work plan, track the progress, and monitor task implementation. Looking for a Gantt chart example, you can find real-life cases from project management, software development, construction, marketing, web design, event planning, business planning, and other areas and spheres.
After all, you can apply the diagram for your private events. Look at how it can be implemented for wedding issues.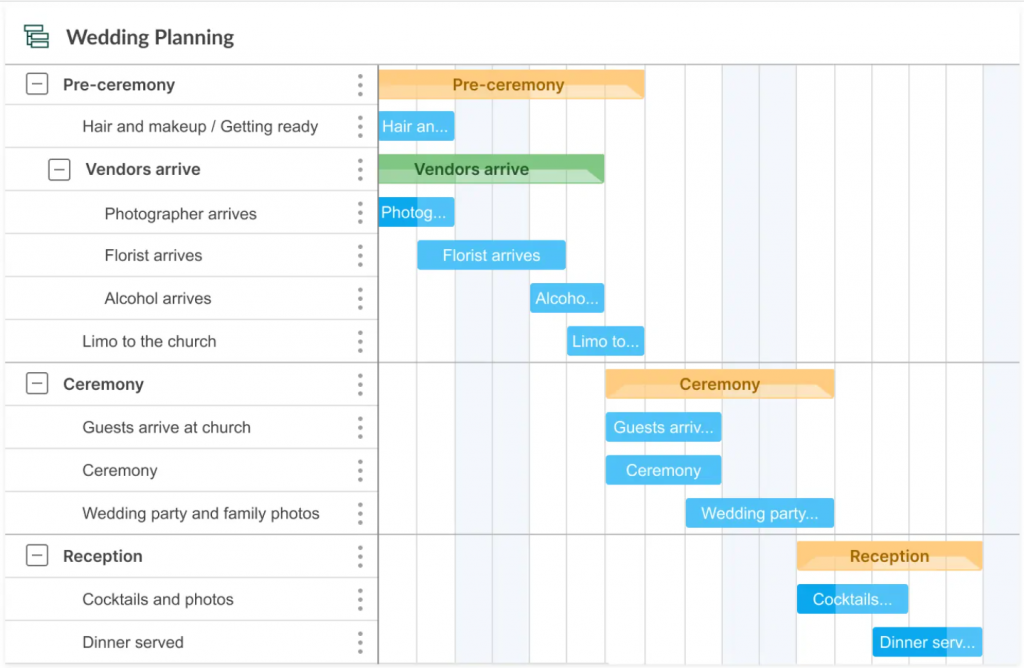 Looks super handy, right?
Besides being friendly and convenient, there are some more evident Gantt chart benefits.
Advantages of a Gantt chart
Project management professionals outline the ability to show a top-line perspective of a project as a key benefit of the chart. This high-level overview is visually appealing and easy to understand.
Here are some more essential benefits of the diagram:
Allows managing resources. Project leaders and workers can manage their time and resources, setting realistic schedules and allocating resources based on those schedules.

Helps team members to find workarounds for potential problems before a project starts.

Provides advanced task tracking. The chart can reveal possible issues or constraints. It allows teams to adjust accordingly.

Allows balancing multiple projects. Project managers can track various projects and balance the work on each because the Gantt chart indicates how to utilize the right resources at the right time.

Illustrates task dependencies. The online chart clearly shows how the beginning of one task can depend on completing another one. Having this info, managers can schedule work and provide resources without disturbing the progress.

Makes complex information manageable: the tool provides the visual clarity that helps in simplifying a complex set of tasks.

Helps to set realistic expectations and deadlines. Managers clearly understand all the tasks that their team must accomplish. Coherent visual communication provides a realistic view of the time it takes to complete the work.

Helps to keep remote workers aligned. A Gantt chart improves communication and collaboration among all team members even if they work in different countries and time zones.

Allows employees to avoid work overload. It ensures that the resources will be used efficiently by eliminating the chances of overwork.

Boosts team productivity. The high-level visibility of the diagram helps teammates to stay focused on the tasks they must complete. It also ensures the accountability of workers regarding their tasks.

Motivates people. When individuals visualize their tasks, it inspires them to work on the project well and on time.
Well, everything in the world would be too harmonious if there were only advantages around. Therefore, it's time to recall some weaknesses of a Gantt diagram.
Disadvantages of a Gantt chart
It would be great to think of this tool as the ideal PM solution. However, it isn't perfect. Here're some disadvantages:
If you have large and complex projects with numerous tasks, their details can complicate the chart and make it difficult to understand.

Its setup can be time-consuming, especially for a project manager with no experience.

Repeated Gantt diagram reworking can become complicated if your company doesn't use powerful software to help.
Where to use a Gantt chart?
Projects are everywhere, so people need reliable tools for planning and managing their tasks in various spheres and industries.
You can apply a Gantt chart where there is a necessity to visualize tasks and dates and track progress. Additionally, the diagram can be shared with anyone outside your project.
It may seem tricky to apply the diagram outside of an IT project. But fortunately, many PM tools offer friendly Gantt chart templates for different areas, such as:
Software development.

Construction.

Marketing.

Web design.

Event planning.

Consulting.

Retail.

Healthcare

Education.
Here's a marketing template example: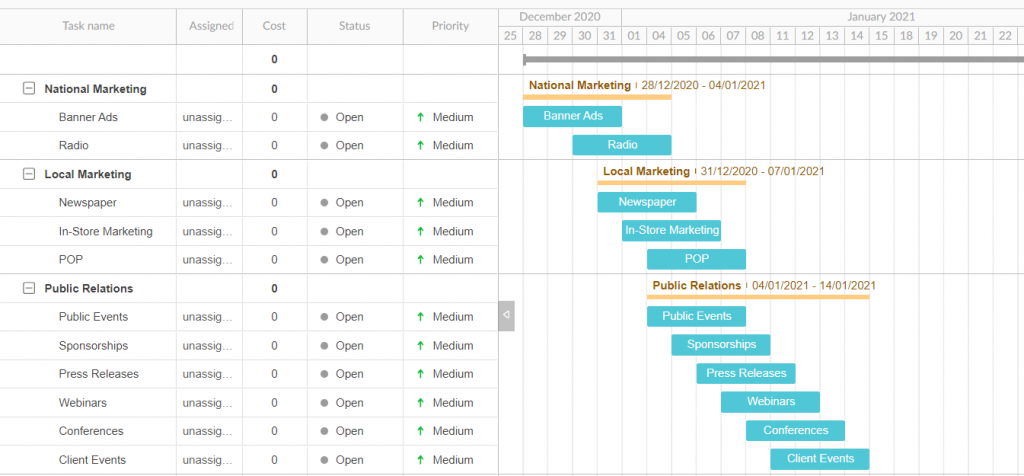 Gantt chart tools
If you are looking for an online Gantt chart tool, you'll logically seek the best option on the market.
GanttPRO is a complete project management tool admired by hundreds of thousands of users worldwide. The tool provides robust features for scheduling and managing projects and perfectly suits the needs of businesses in many spheres.
It empowers project teams to plan, schedule tasks, set dependencies and milestones on a friendly Gantt chart, manage resources, and improve collaboration. It allows the creation of several workspaces and projects.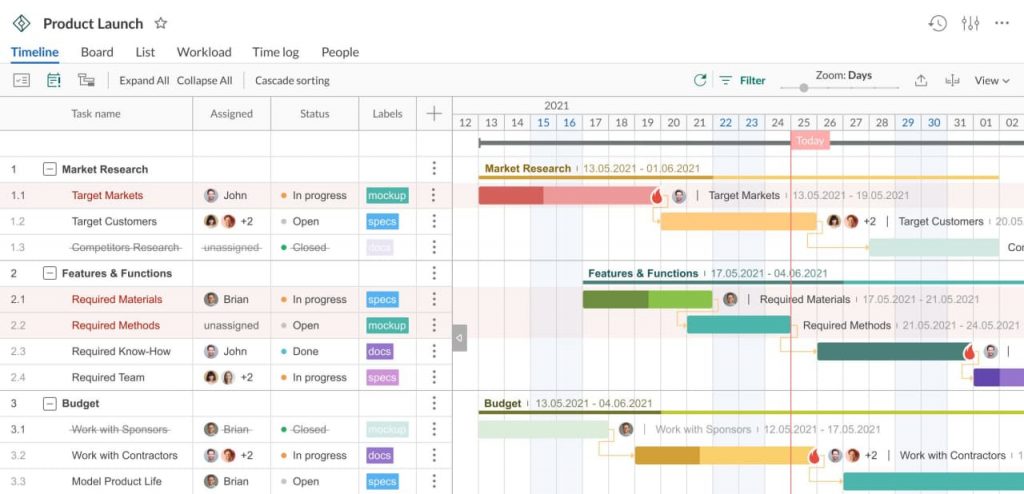 By the way, the Gantt chart Kanban board is also available here.
GanttPRO provides the following features:
Planning and scheduling tasks and projects.

Friendly Gantt chart templates.

Drag and drop task management.

Resource management.

Budget management.

Risk management.

Kanban board view.

Notifications and deadlines.

Importing/exporting.

Time tracking.

Reporting.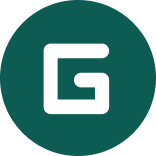 Gantt chart project management software
Plan, manage, and complete your projects effectively – all in one place.
Sign up for free
We can talk about a Gantt chart endlessly, but let's not forget that the topic of this article is "Gantt chart vs. Kanban". It means it's time to move on to the next system for displaying the project view.
What is Kanban?
Kanban is a visual method for managing workflow at the individual and team levels. It utilizes Agile practices and principles to help project managers track work progress using a visual board.
A Kanban board is designed to provide an overview of the current work status and improve team collaboration. (Further, in the text, we equate Kanban with a Kanban board, meaning the way for project visualization).
Unlike a Gantt diagram, this tool is represented by vertical columns (typically – "To Do," "Doing," and "Done"). So, a project looks like a board where tasks are cards in columns. The Kanban board can include as many columns as needed.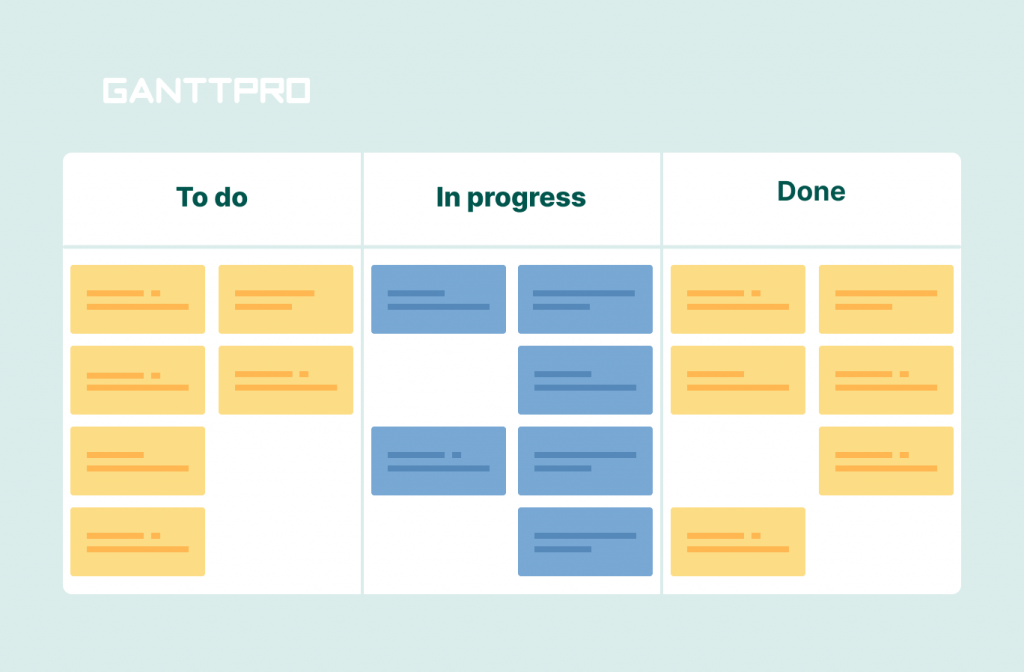 The purpose of Kanban is to establish a continuous workflow. You can manage individual tasks as cards that are moved along the board divided into the different stages of production. This puts the focus on a continuous flow of a small number of tasks. It means that your team can be prevented from overcommitting or getting distracted by less important tasks.
Kanban board examples
An online Kanban board provides the possibility for your progress to be automatically monitored and analyzed with time tracking and numerous metrics.
Project teams often use them for software development, UX design, product backlog issues, marketing, sales pipeline, customer support, and more.
Here's what the IT support board may look like:
A Kanban board and the methodology itself have a range of benefits.
Advantages of Kanban
So, a Kanban board assists project managers in the following ways:
Provides better visibility. All projects have backlogs of tasks to get through. A board demonstrates how these tasks are moving through the process. The simplicity of its visual presentation allows spotting bottlenecks while they are forming.

Provides ease of work. A board with cards is a pretty simple system. Kanban helps to break down projects into tasks even without a specialized tool. You only need a whiteboard and stickers to place your tasks.

Boosts awareness. Every team member who works according to Kanban can see what their colleagues are doing now. All upcoming or accomplished tasks are collected in one place on one board.

Encourages changes. When your tasks and priorities change often, the Kanban philosophy is an appropriate choice.
What about the drawbacks?
Disadvantages of Kanban
Let's consider some weak points and cons related to the method and the board.
Looks imperfect for result-driven projects.

Assumes the plans that are stable and consistent to a certain level. That's why it does not fit into a dynamic environment.

Comes with high risks as too many or too significant changes can happen.

Does not provide a strict accent on time frames as too much focus is on phases.
Where to use Kanban?
Kanban looks good for any team that wants to know the status of their tasks: what to do, what is in progress, and what is already done. 
The approach works well in combination with other methodologies that provide teams with more flexibility. You can apply it in different spheres with a bias for software development and technology-related projects.
A handy online Kanban board will boost efficiency since your team members will not wait for one task to finish before starting the next one.
It is worth adding that according to the Global Kanban Software Market Research Report, the Kanban software market revenue grew to $1M in 2020.
Well, the battle "Project management Gantt chart vs. Kanban" will not be complete if we do not provide an example of quality software based on a Kanban board.
Kanban tools
Incorporating a digital Kanban tool into a team allows companies to get actual benefits. 
There are many Kanban-focused platforms to choose from. How to define the best one? 
We have made this decision easier by narrowing down the range and highlighting one of the best software solutions with a Kanban board feature. It's all about Trello.
Trello is a reliable Kanban-based collaboration tool that professionally assists in organizing projects into boards, managing tasks, to-do lists, initiatives, and discussions in one spot.
Businesses from many industries use its basic free version to work. It looks perfect for everyone who needs handy Kanban board functionality.
Despite its apparent benefits, the platform has some drawbacks. There is no native time tracking and some more crucial features; that's why Trello users need to pay for the additional functionality.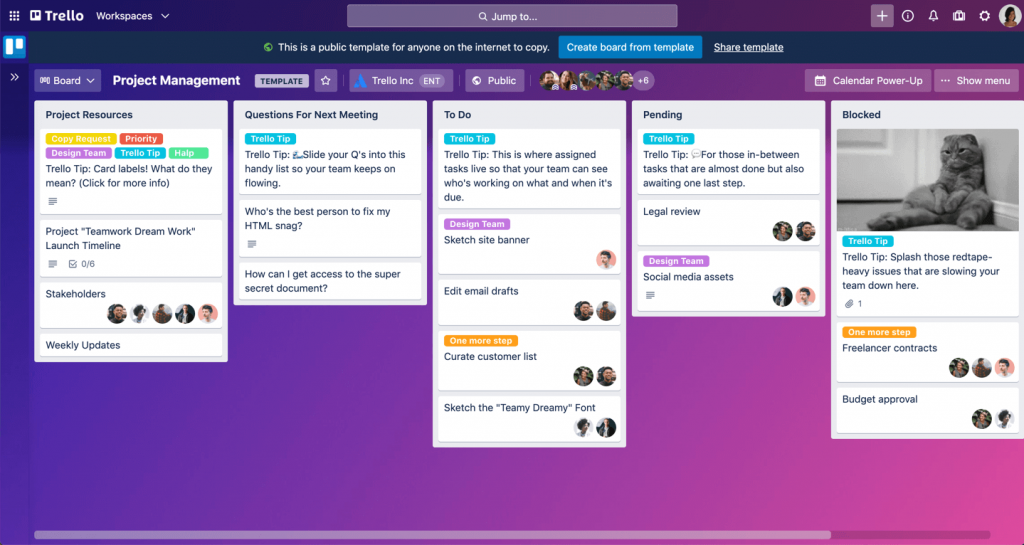 Here's the list of the key features that Trello provides:
Straightforward and functional Kanban boards with robust features.

Advanced visibility to share projects and boards with a team.

Drag and drop editing.

Easy task organization with tags, labeling, and comments.

Individual and group task assignment.

File attachment.

Handy data filters.

Deadline alerts and notifications.
Gantt chart vs. Kanban
In order to better understand both tools, we suggest comparing their main characteristics. Let's take a look at them and get some more details below.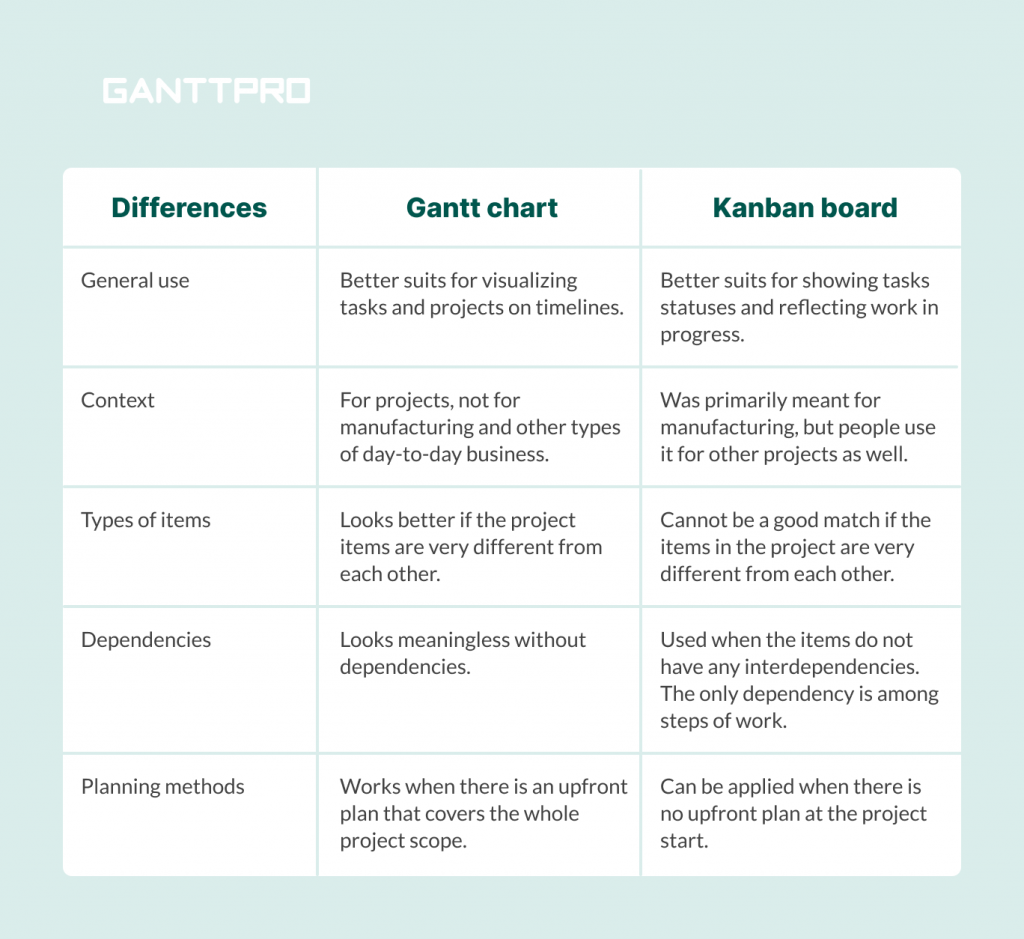 When to use a Gantt chart
The diagram presented by Henry Gantt is explicitly designed to support predictive projects with many dependencies and a scope that is defined upfront. Its true benefit is that you may use it in different industries and apply it for projects of various complexity. 
The system is a great assistant if you want to see projects on a timeline and get their defined overview with deadlines and priorities outlined.
Here are some essential points about using the diagram:
A Gantt chart is for projects, but it looks not ideal for manufacturing.

It suits better if the items in your project are very different from each other (for example, in construction task management). A Kanban board may not be a good match in this case.

This tool is almost meaningless without dependencies. 

A diagram works when there is an upfront plan that covers the whole project scope. If you have no detailed plan at the beginning of your project, it won't help.
When to use a Kanban board
Most Agile projects can have items without dependencies. That is why you can use a Kanban board in them. You may use a simple board for visualization or apply the complete Kanban methodology with its principles and rules.
Brands use a handy board if they want a simple, visual overview of a workflow process in real-time.
Here're the main things you should know about the usage of Kanban and Kanban boards:
Kanban was initially meant for manufacturing, but people use it for other projects as well.

A Kanban board may not be a good match if the items in your project are very different from each other.

It is used when the items do not have any interdependencies. The only dependency is among steps of work that are visualized as the board columns.

The method can be applied when there is no upfront plan at the beginning of the project. It is possible to add new items to the first column and order the column again. Then you can add more items as they come up.
Kanban vs. Gantt: how about mixing them?
Each of these concepts is more useful for one of the Agile or predictive approaches, so it is not good to mix them at the project level. However, you may create a Gantt chart for the project as a whole and apply Kanban boards for its subsets (when it suits).
You may find such cases of collaboration, mostly in construction and design projects.
Final thoughts
Many years have passed since the ingenious American and Japanese enthusiasts came up with their brilliant project planning and management approaches to the world.
A Gantt chart and a Kanban board are both good choices for many projects from different spheres. The diagram looks great for visualizing tasks and projects on timelines. The Kanban method suits for showing task statuses.
The only thing left is to ask you: Which is your favorite in the battle "Kanban board vs. Gantt chart"? Hopefully, you have the answer now.