7 Productivity Tips for Marketing Managers
As a marketing manager, your job is to manage people. And sometimes managing others is less difficult than managing your own time.
Let's face it: marketing managers don't have it easy. It is expected of them to manage multiple teams at once and to make sure every marketing activity is synchronized and coordinated. When it comes to marketing managers workday, every minute counts.
This doesn't sound very joyful. When you're not organized in the right manner, your job becomes a burden and you risk suffering from burnout.
And what will you gain by increasing your own and your team's productivity?
You'll feel more fulfilled.
You'll have more energy.
You'll achieve your goals faster.
You'll feel more in control with your work.
You'll enjoy your life and work more.
And how exactly do you get there? Well, by following these next seven tips about how to increase your productivity as a marketing manager.
Develop a morning routine
First, things first. Your day begins in your home and if you start it the right way, you'll be more productive throughout.
You should always look to:
Get enough sleep: according to the research by Jeffrey Ellenbogen, sleep improves your cognition and concentration, which in return leads to increased productivity and work performance.
Get up early: use your mornings to prepare for the busy day by meditating or enjoying your morning coffee in peace and quiet.
Exercise: as soon as you wake up, you should take some time to exercise. That will help your brain be more alert and energized.
Plan your meals: meals are an important part of your aim towards being more productive. Planning your meals ahead will help you avoid stress and junk food. Eating healthy is crucial for keeping your energy levels high throughout the day and right nutrients will help your brain work harder.
Use commute time in your advantage
Did you know that the average person from Los Angeles spends about 102 hours per year stuck in traffic?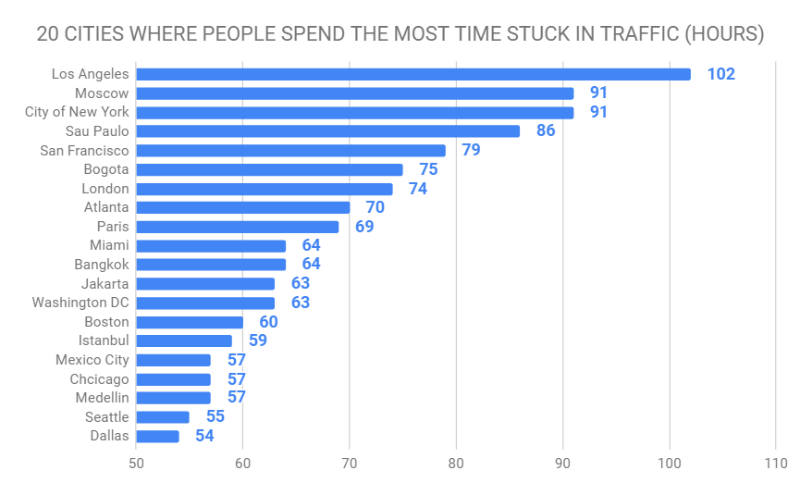 Long commute times are a serious problem for many people, but it doesn't have to be that way. Commute time is often regarded as dead time, time wasted every day in crowded subways or noisy streets. But if you use that time in your advantage, that means you will gain an hour or more every day for something more productive.
Commute time can easily help you catch up with some of your work or private errands. Use your commute time to handle with work emails, listen to an audiobook that will help you enhance your skills, learn a foreign language with an app, etc.
Set goals and deadlines
When you set your goals, you have a clear idea of which steps and activities you need to take for accomplishing them.
A smart way to set goals is to use the SMART goal system. What exactly is that?
Well, simply, you just make sure the goals you have set are:
Specific.
Measurable.
Attainable.
Relevant.
Time-bound.
This will make your goals more manageable, so you'll feel more inspired to go tackle them.
Likewise, deadlines help you put your activities and tasks into perspective. By setting your own goals, independent from official deadlines, you will inspire yourself to fixate on a certain date and time — and aim to beat it.
Track your and your team's time
The best way to start managing time is to learn how you spend it in the first place. Use one or more days as your starting point and write down every activity you do and the amount of time you spend on it.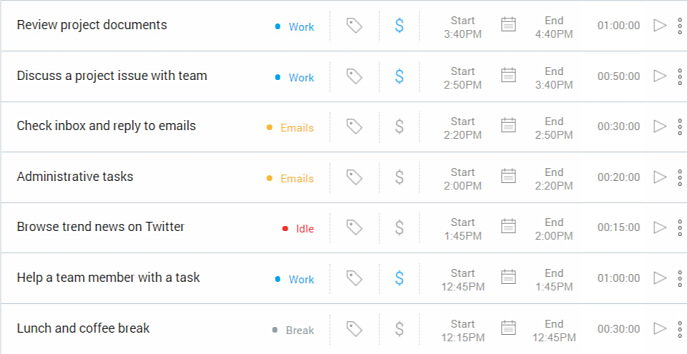 After you have a clearer picture of where your time is spent, you need to identify your biggest time wasters and the activities you need to optimize further.
You can also implement time tracking of tasks and projects into your team's workflow. That way you can identify bottlenecks in the marketing process and optimize it accordingly.
Make good use of productivity tools
Like in everyday life, good use of tools makes your work much more simple and productive. For marketing managers, there is a plethora of great tools they can use for making them and their teams more productive and efficient.
Some of these tools are:
Don't waste time on needless meetings
According to MIT Sloan research, executives spend about 23 hours a week in meetings.
65% of senior managers said meetings keep them from completing their own work. 71% said meetings are unproductive and inefficient. 64% said meetings come at the expense of deep thinking. 62% said meetings miss opportunities to bring the team closer together.
Meetings can be a huge waste of time as many managers take them too far, having them too frequently or over matters that are not of immediate importance.
Email is still one of the best communication tools. So, before you call for a meeting with your team, think about whether you could share your message via email instead. Or you can arrange communication and collaboration in a project planning tool.
Use templates
Templates are a great way to save loads of time when dealing with activities that repeat themselves in every project. Templates are also great when starting new projects as they enable you to have a starting framework ready.
For example, marketing managers can use marketing templates for creating various marketing plans.
Other useful templates include timesheet templates for tracking the team's attendance and time spent on projects and tasks, and email templates for saving time on emailing by having customizable and automated email templates, just to name a few.
Closing remarks
A marketing manager next to learning how to manage people, needs to learn how to manage time effectively. By implementing some time-saving practices into their and their team's workflow, they can increase the productivity and overall output of the teams they manage. It just takes a little time for planning and implementing new techniques, and smart use of tools that can streamline crucial processes.
Join 800,000+ project managers!
Create Gantt charts in minutes with GanttPRO and reduce time spent on managing tasks by 40%
Try for free
No credit cards required. No obligation.