50+ Best Online Collaboration Tools for Focused Teams in 2023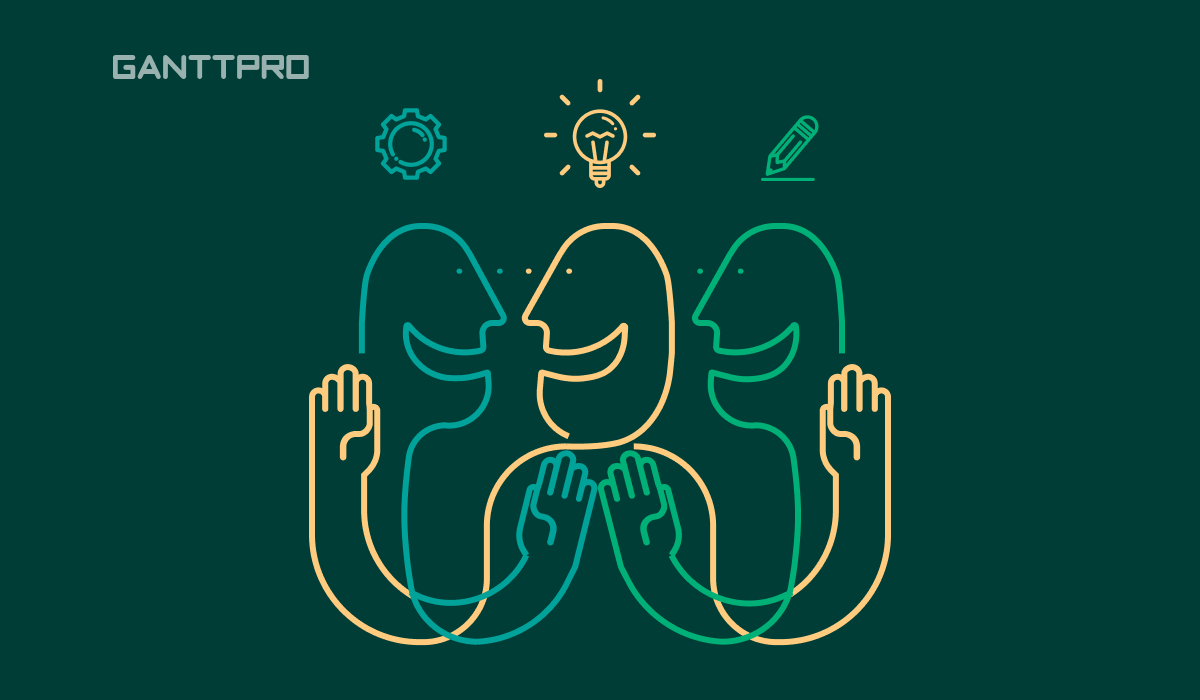 At GanttPRO, we communicate and collaborate a lot, every day and every hour. Luckily, our software facilitates planning, scheduling, and collaboration challenges.
However, there are some other aspects of collaboration. And we know how painful it can be to make the machine work at its best.
To make online collaboration much easier for you, we've collected this huge list of collaboration software.
Let's start with the basics.
What are online collaboration tools?
An online collaboration tool helps team members connect with each other in a timely manner while working on a project and provide them with a smooth online collaboration.
You may find dozens of such handlers in the market. So, before speaking about collaboration software, it is better to divide all the apps into relevant categories.
Key features for communication and collaboration
What do people need for best collaboration on a project?
They need to simultaneously:
Work on tasks.

Communicate using messengers or video calls.

Track time.

Work with documents.

Share files.

Manage knowledge,

and more.
So in the article, team collaboration platforms are combined in the following groups, of course, with examples.
To ensure the best possible work, managers often use software from different categories. Our list below will help you to choose the most efficient combinations.
Project management tools
Originally, these apps were used for dividing projects into tasks, assigning them to team members, creating dependencies between tasks, and tracking statuses.
However, nowadays project management platforms are more complex solutions that allow managers to work on plans from different perspectives. They also help to manage resources, project expenses, and workload, communicate with colleagues, create baselines, present dynamic or static states of plans to third parties, and simply visualize every detail of schedules. Let's review team project management software.
1. GanttPRO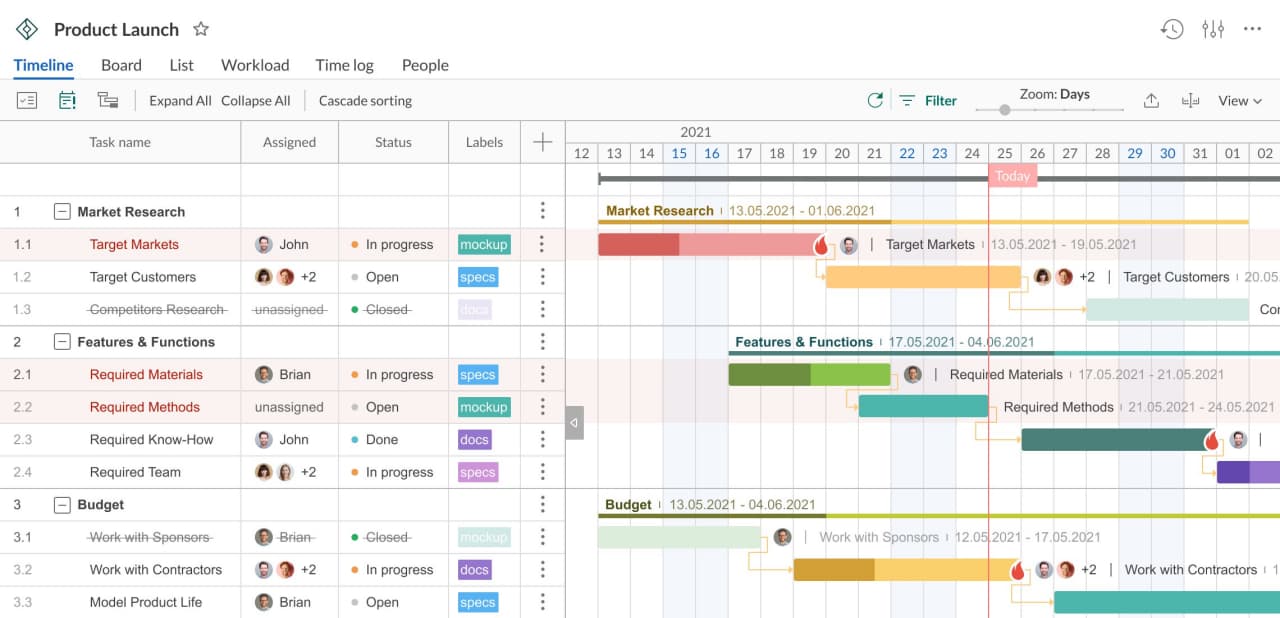 GanttPRO is an online Gantt chart software that helps work with personal as well as team activities. Thanks to a Gantt chart view, all the tasks and their dates are clearly seen on a timeline. With GanttPRO, managers are able to track tasks' and the whole project's progress. Team members are always aware of the statuses and avoid risks and fallacies in planning.
Collaboration opportunities in the cloud-based GanttPRO are powerful. Members can collaborate in real time: comment tasks, attach files, leave descriptions to tasks, export their charts in PDF or PNG and share them with a public URL. With the real-time notifications, project participants will be aware of all changes.
Actually, these features contribute to turning your colleagues into a high-performing team.
GanttPRO is widely used as a professional construction scheduling software. Managers also apply it for IT, educational, marketing, healthcare, and other projects. It can be utilized as the enterprise project management software solution or the robust tool for small businesses and startups. 
Moreover, this Gantt chart maker provides with possibilities to work with resources, costs, and calendars what makes it a sound resource management tool.
What is so unique about GanttPRO:
Visually appealing Gantt chart view. But if needed, managers can switch to a board view.

Real-time collaboration.

History of changes with Undo opportunities.

Resource management.

Short learning curve.
2. nTask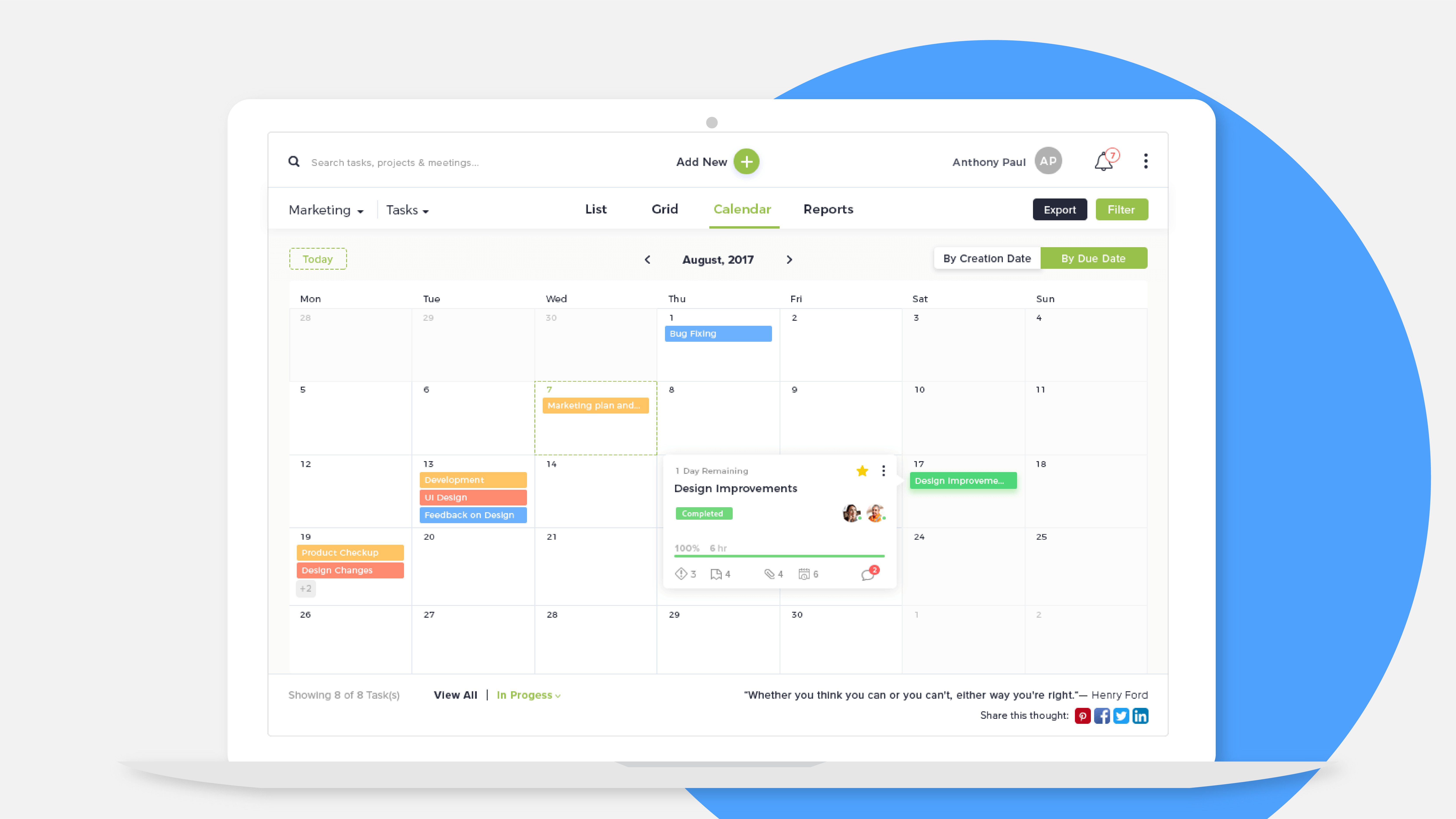 nTask is an online project management software built for Agile managers, small teams, freelancers, and solopreneurs to organize work. It has a simple but beautiful user interface and offers 7 tools natively built inside the platform.
With nTask, you can manage tasks, plans, timesheets, and meetings. You can also document and manage risks and track bugs. Also, the software allows managing tasks which synchronously update the project's Gantt view, input task effort which works in sync with employee timesheets, and more.
What is so unique about nTask:
Simple onboarding process – takes seconds to get started.
7 critical tools built natively inside the platform – no integrations needed.
A team meeting scheduler and planner to better manage Scrum meetups.
Resource management and weekly timesheets.
3. ProofHub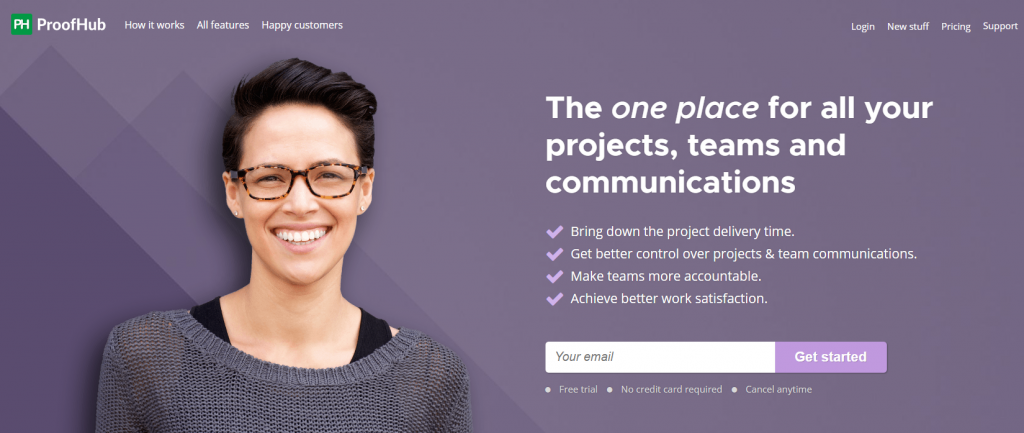 ProofHub helps to unite all projects, distributed teams, and clients in one place that allows managers to have a full control over their plans. Therefore, ProofHub could become a central place for all your work.
All you need to manage projects you will find in the software: tasks, their progress, collaboration with files and attachments as well as a group chat, and even time tracking. In theory, the tool provides everything you need to succeed in management, not only online collaboration, like some of ProofHub alternatives do.
What is so unique about ProofHub:
Gantt charts.

Collaboration.

Group chat.

Reports with timesheets.
4. Filestage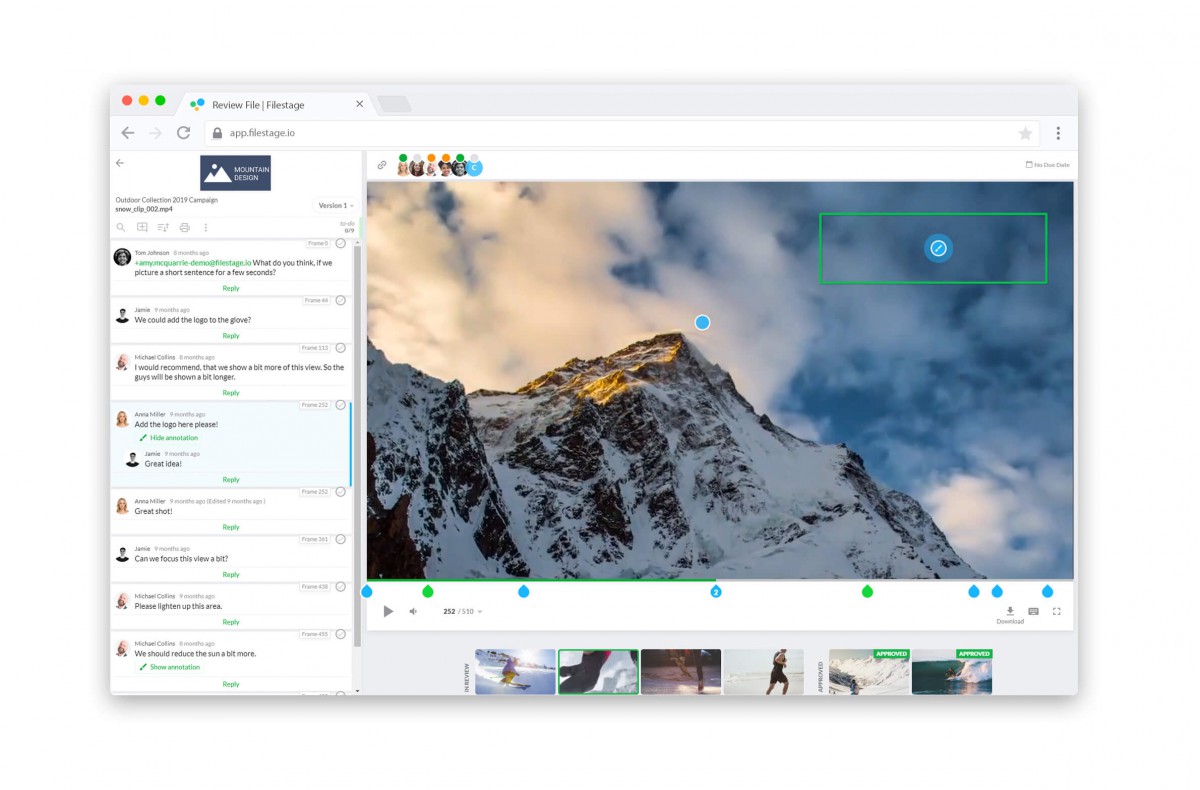 Filestage is a review and approval app that gives marketing teams and agencies complete control over the content review process. The platform makes it simple for creative teams to invite internal and external stakeholders to review videos, images, documents, and more.
Stakeholders can leave clear and insightful in-context feedback with just a few clicks. This allows putting to an end to the often complex and confusing chain of emails that creative professionals know all too well.
The software is simple to use and generates an integrated to-do list for creative professionals based on the comments left. This ensures that creative professionals never miss that key piece of feedback. Project owners can track statuses at a glance, too, to see which stakeholders have approved a piece of content.
What is so unique about Filestage:
A wide range of supported file types.
The ability to collaborate in real-time.
Clients' feedback without registering.
Annotations to leave intuitive feedback.
The ability to archive and export comments.
5. FunctionFox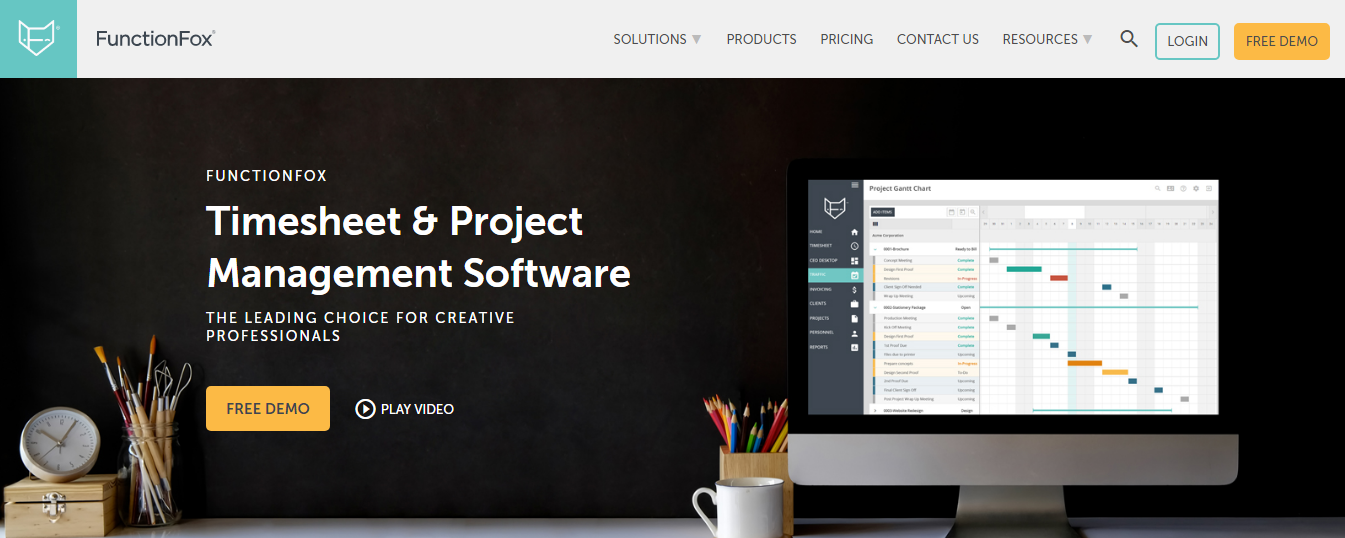 FunctionFox is the leading choice for creative professionals worldwide.
It provides time tracking and project management tools that are simple to set up and extremely easy to use. Use the timer function to track real-time as you work, and say goodbye to budget overruns with project estimates and expense tracking.
Powerful reports and interactive charts allow you to dig down and get the
details of each project, from concept to completion.
What is so unique about FunctionFox:
Timesheets and project management.
Everything you need from concept to completion including invoicing.
Starts at $10 a month and $5.00 per user.
All customer service, onboarding, and support are included free of charge.
6. Hive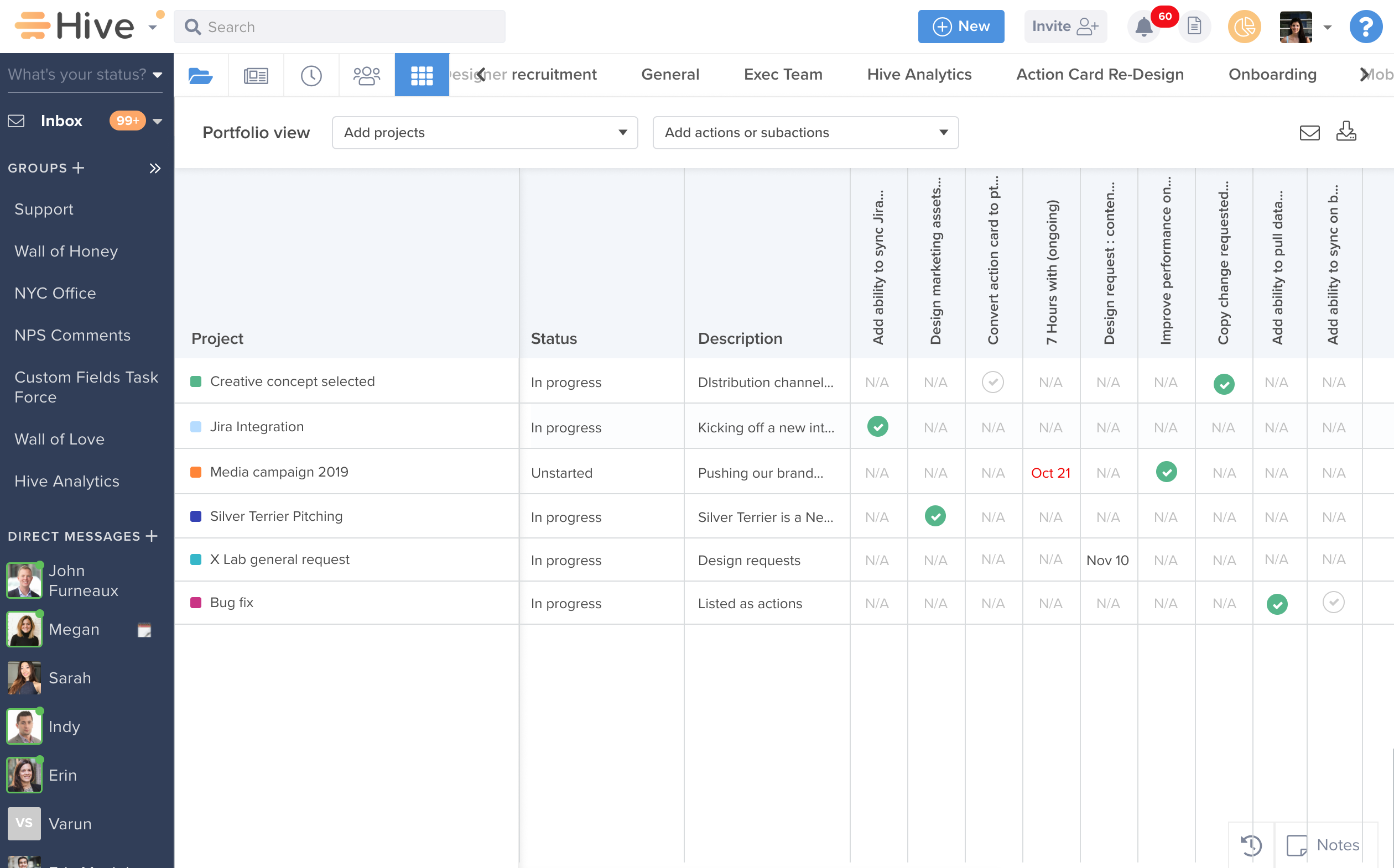 Hive is a powerful project management software used by teams of all sizes around the world to stay productive. This platform is a true all-in-one platform, as it allows users to seamlessly communicate through chat or integrations with Slack and Zoom, as well as collaborate on projects, actions, and subactions. Hive is also loved for its flexible plan views which include Kanban, Gantt, portfolio, calendar, table, and summary view.
What is so unique about Hive:
Automation capabilities that do your work for you.
Ability to track time with timesheets and timetracking.
AI-powered analytics.
Simple and clear UI.
7. ZenTao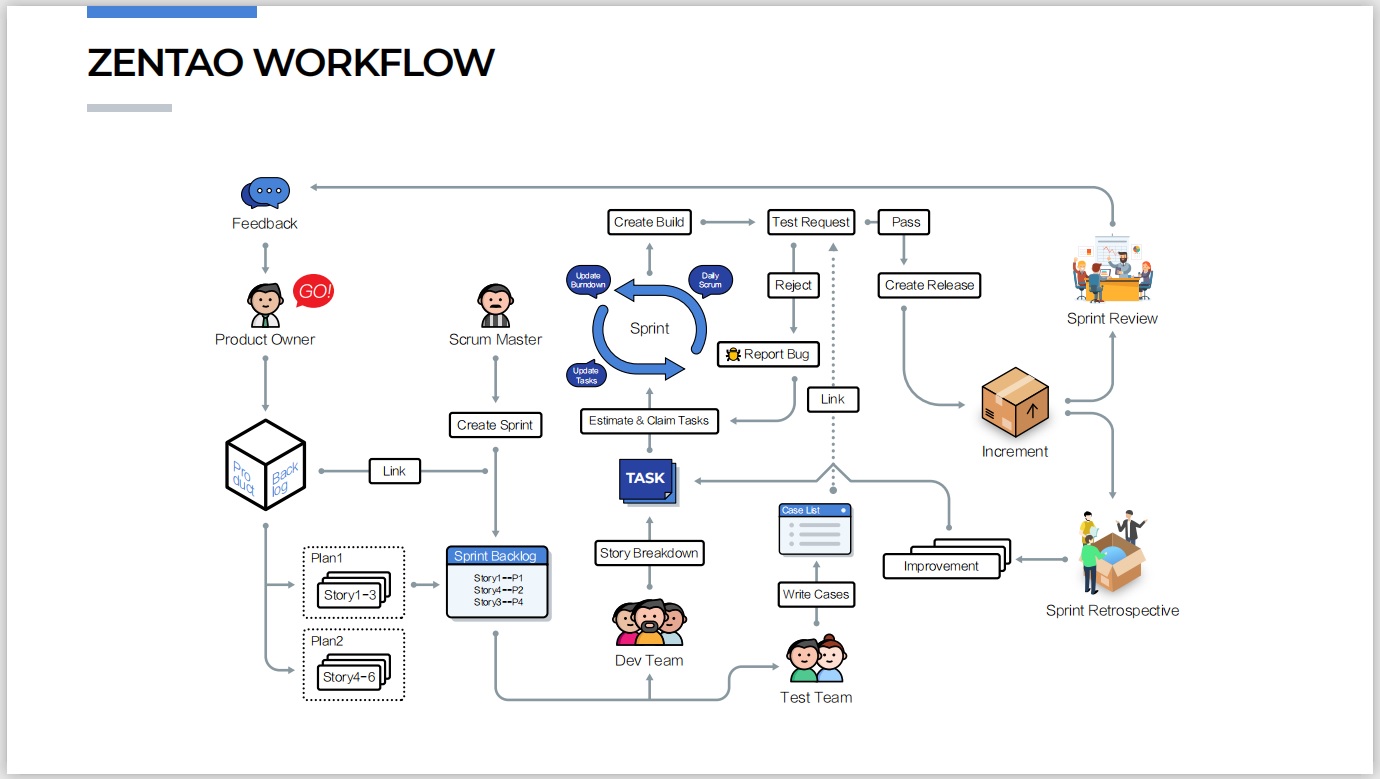 ZenTao is an open source Scrum app for application development projects. It is available as a SaaS solution as well as self-hosted one. The features include backlog management, sprints and tasks, bug tracking, Scrum, roadmaps, release, Burndown, Kanban, Wiki library, etc.
What is so unique about ZenTao:
Open source version available and totally free.
Written in PHP, easy to do extensions and customizations.
Gantt chart, Burndown, Kanban are all included for sprint and task tracking.
Application lifecycle management.
MS Word & Excel import & export.
8. Teamwork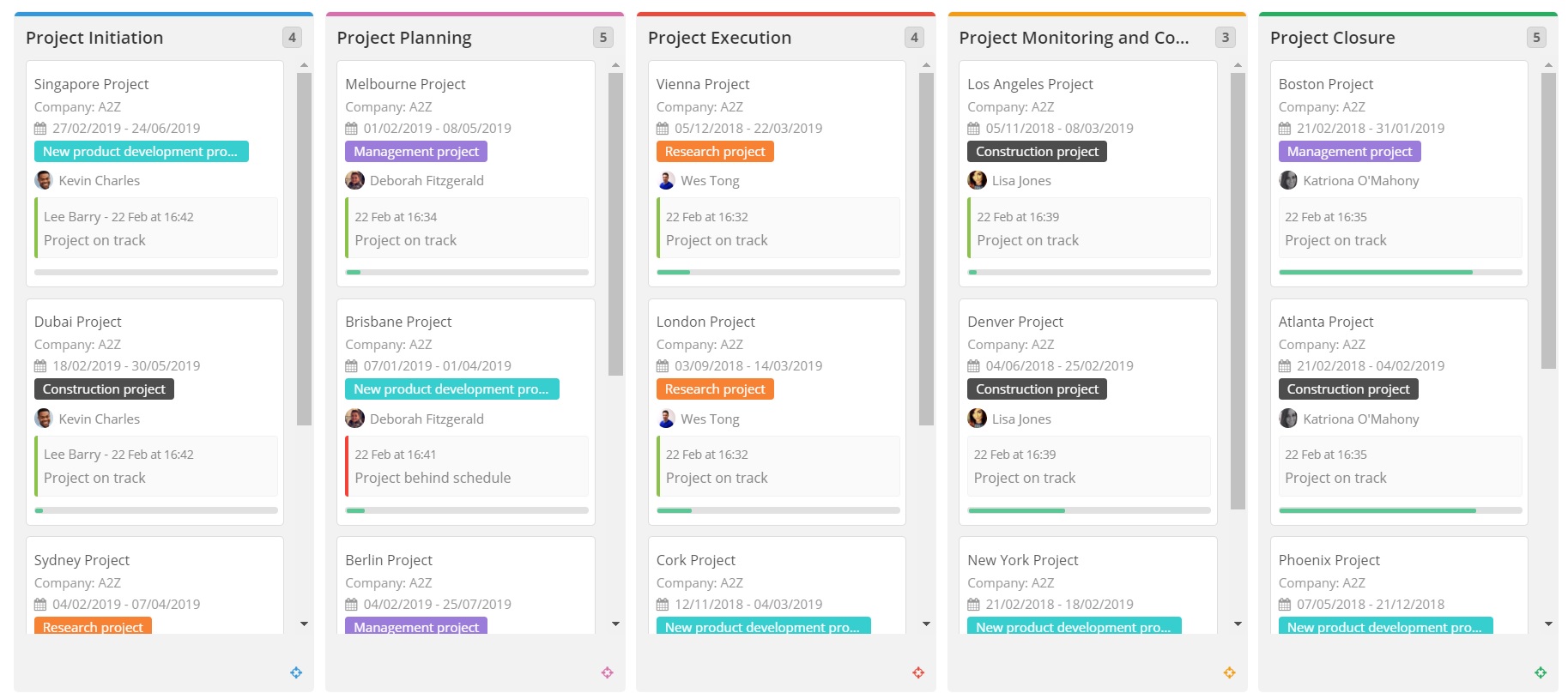 Teamwork is a powerful project management software. It is trusted by tens of thousands of users. The tool is easy to use, yet powerful and feature-rich with an intuitive user interface. It is designed to be "powerful when you need it to be", making it an excellent choice for teams looking for an effective all-in-one solution they can rely on and adapt with as their business grows and their requirements become more complex and demanding. This is what sets it apart from the popular Teamwork alternatives.
Many complex projects can be managed simultaneously and tracked against Gantt charts, lists or board views so you can adapt the tool to how you work. It is loved by many different types of businesses and users from project managers to business owners.
The developers believe agencies will see the most benefit from excellent features such as time tracking, client permissions, and individual workload managers.
There is a free 30 day trial option available.
What is so unique about Teamwork:
Great for businesses of all sizes.
Easy to use yet feature-rich.
Excellent customer support.
9. Paymo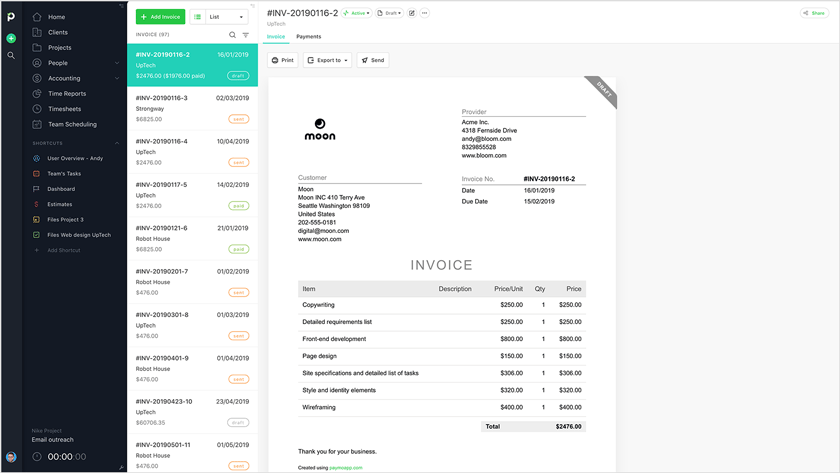 Paymo is a project management solution that offers all kinds of features to help teams collaborate, finish projects, and bill their clients. Its interface is neat and user-friendly so that users avoid unnecessary disruptions.
Teams can communicate in real-time in the task's comment section and open threads in the Discussion tab, or leave comments when proofing uploaded documents. Whenever there is a milestone or update, they get notified easily via push notifications, e-mails, or Slack integration.
Project managers can use the Team Scheduler to manage workloads, and see what the team is working on through the Active Timers widget.
Also, Paymo offers the invoicing module. Project managers can generate invoices based on the team's time entries or completed tasks. Although Paymo alternatives offer more integrations, Paymo can also integrate with well-known tools. It has integrated a native payment gateway to allow US clients to make payments straight from the invoices they get.
What is so unique about Paymo:
Inviting Guests (Clients) to comment on tasks, view reports, and pay invoices.
Real-time communication, comment threads, discussion tabs, and notifications.
File management, file proofing tool, and versioning with Comment threads.
Multiple Task views (List, Table, Kanban, Calendar, Gantt), a Team's Tasks dashboard.
Smooth third-party integrations, such as Slack, Google Suite, and Zapier.
10. Teamwave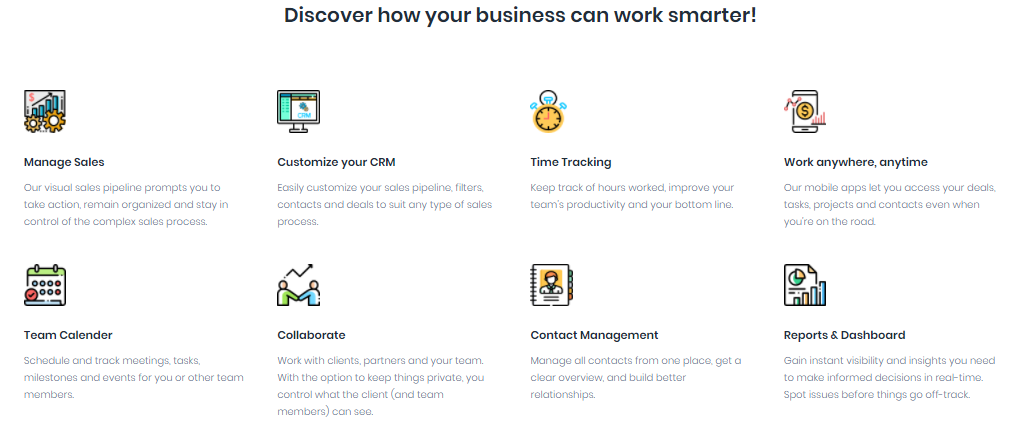 TeamWave is the perfect online collaboration tool for startups and small businesses as you will find CRM, task/project management and HRM at one place.
TeamWave is very intuitive and you'll need only 5-minutes to learn the ropes. It has all essential features like sales, contact, project, and HR management. You can also integrate it with QuickBooks, Xero, MailChimp, Gmail & G Suite, and more. And all this is available at an affordable pricing for unlimited users.
What is so unique about TeamWave:
The REST-based API lets developers integrate CRM, project & HR functionality into any system.
Robust on its own, it can be integrated with Zapier, Slacks, QB, FB, Xero, Dropbox, and more apps for all-around project management, sales, and marketing suite.
G-Suite integration and simple UI/UX puts you in a familiar setting.
Products feature to create a library of all goods or services businesses provide and to link them to the deals.
11. HeySpace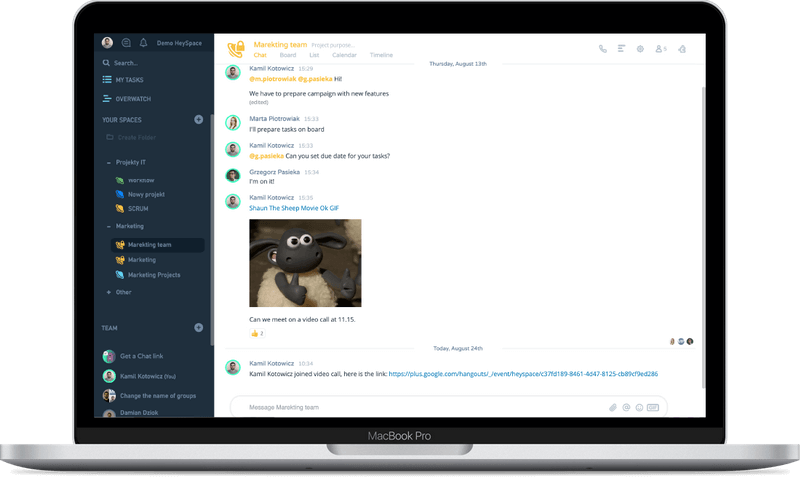 HeySpace is an online collaboration software with task management features and chat. The app is designed for small and medium teams and offers an easy-to-use interface. HeySpace allows users to work remotely without a hassle of long email threads and too many status meetings.
HeySpace provides four task management views: board, list, calendar and timeline. With chat and video calls for communication the app is a great all-in-one project management tool.
This software is available for web, desktop and mobile (Android and iOS). If you need more advanced features like time tracking or automations, you can use one of their integrations with TimeCamp, Gmail, Zapier, Google Calendar and more.
What is so unique about HeySpace:
Task management and communication features in one place.

Free forever plan for up to 5 users.

Simple and good-looking UI.

MyTasks view for all tasks assigned to you.
12. Infinity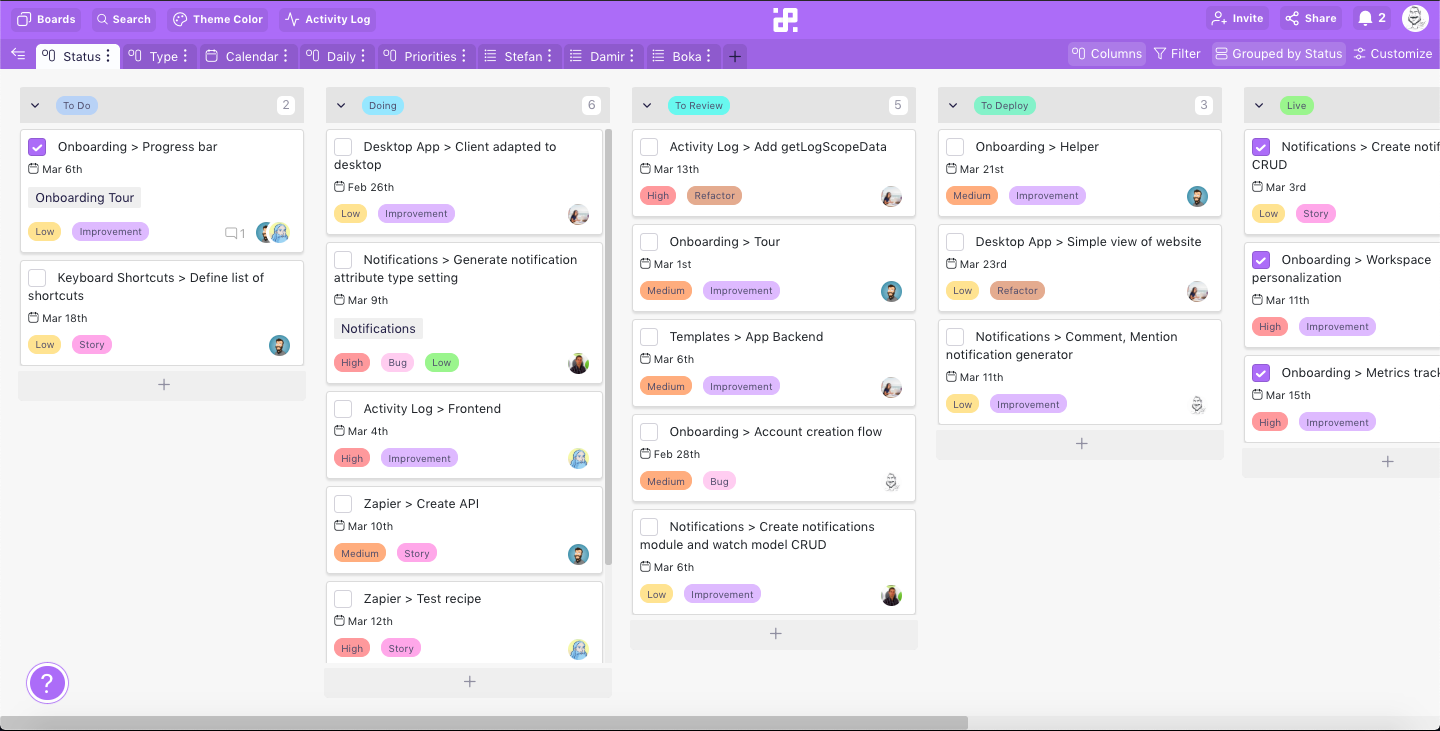 Infinity is an all-embracing project management solution packed with heaps of superb collaboration features. It makes a good choice for both in-house and remote teams seeing that it makes it a breeze to communicate with your fellow workers via comments.
Beyond that, with Infinity, you can stay up-to-date with everyone's progress on tasks and jump in whenever a bottleneck occurs or re-assign work to establish a buttery smooth workflow within your organization and successfully bring projects to a close.
Collaborating with people outside your company, freelancers, and clients is no sweat, either. Bring whoever you want to the Public Board and take things wherever you want from there. Simply set board permissions in a few clicks and share a link with relevant parties or even embed the board on your website and allow guest collaborators to create items, comment on tasks, and more!
What is so unique about Infinity:
Endless possibilities to organize your workflows and teams.
More than 50 ready-made, fully customizable templates to help you kickstart your projects from the first second of using Infinity.
Lifetime deals give you access to all the features Infinity has to offer, plus upcoming releases.
The dedicated support team at your service 24/7.
13. Ganttic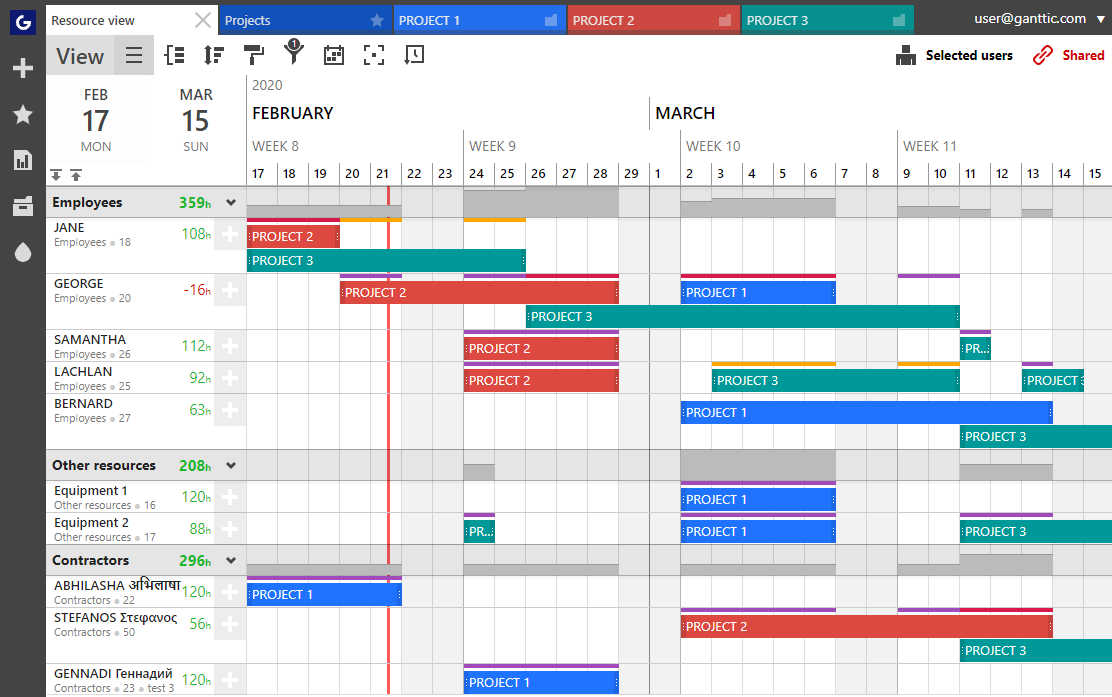 Ganttic is an online resource planner and project portfolio management tool. The app helps managers get the most out of their limited resources and budget by preventing overbookings, keeping utilization in check, and ensuring project capacity. 
Whether your team's located at the office, in the field, or across the globe, Ganttic is perfect for dispersed and hybrid teams. Each pricing plan allows for unlimited users. Plus, customizable viewing and editing permissions ensures transparency, while keeping your data safe from unnecessary changes.
A multi-user environment with instantaneous updates lets managers work together, without anyone stepping on each other's toes. 
What is so unique about Ganttic:
Share plans with anybody with a simple URL.

Ergonomic planner: plan from either tasks' or resources' POV, see data as a Gantt chart, list, or Kanban board.

Prevents burnout: the planner automatically tracks utilization for individual resources, resource groups, or tasks.

Connect all your tools: create powerful integrations with Ganttic API or via Zapier.

Automatic reporting saves you time.
14. Monday.com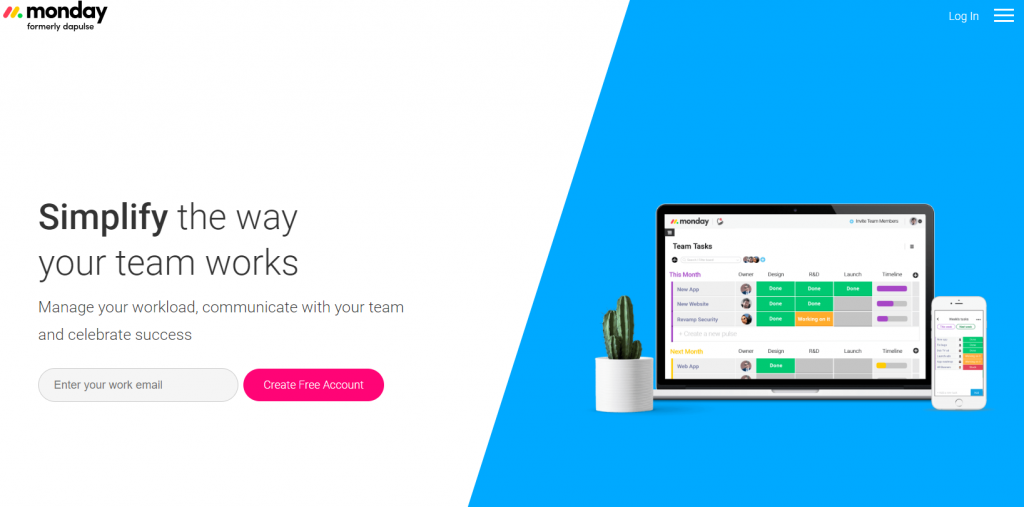 Formerly dapulse, Monday.com provides with a single board where managers work with projects in a visually appealing way. They have to-do lists, current statuses of tasks, what is supposed to be done, etc.
The software works well as a resource management software. Managers can get an instant picture of who is doing what, how much a task requires, who is underperforming or overloaded.
Monday.com is a powerful online collaboration app. Managers have possibilities to invite clients as guests to work on a project or simply share plans with them. The software offers real-time notifications via desktop or mobile, mentions, comments and thumb-ups, and file attachments.
What is so unique about Monday.com:
Single space for work management.

Real-time context collaboration.

Deadline management.

Search options.

iOS and Android apps.
15. Podio

Podio directs projects and teams towards the right ways and keeps everyone on the same page making collaboration smooth and effective. All project related processes are kept in one place what allows managers to easily define steps and take them to successfully complete their activities.
In the software, there are different roles for team members. For example, an admin, regular or light member. However, collaboration is not limited to internal teams. If there is the need to share a project with external parties, it can be done in seconds.
Notably that Podio is integrated with popular products like Dropbox, Google Drive, Google Calendar, and others.
What is so unique about Podio:
Various communication tools that look more powerful compared to the similar tools offered by some Podio alternatives and competitors.

Mobile apps.

Open API.
16. ProProfs Project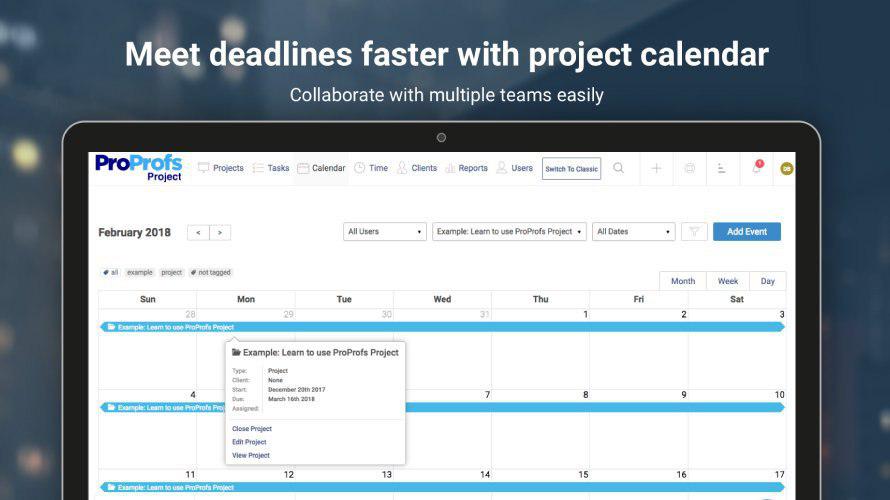 ProProfs Project is a simple project management software that facilitates proper plan execution and team collaboration. Right from a goal and objective definition to completion, the software helps managers ensure everything is on track and deadlines are met effortlessly. 
ProProfs Project also features report and invoice generation making it extremely easy to create insightful reports and accurate invoices in just a matter of seconds. It also has a mobile app, so you can stay informed regarding updates on the go.
What is so unique about ProProfs Project:
Quick, easy setup.

Simple UI.

Rich functionalities.

Affordable pricing plans.
17. TipHive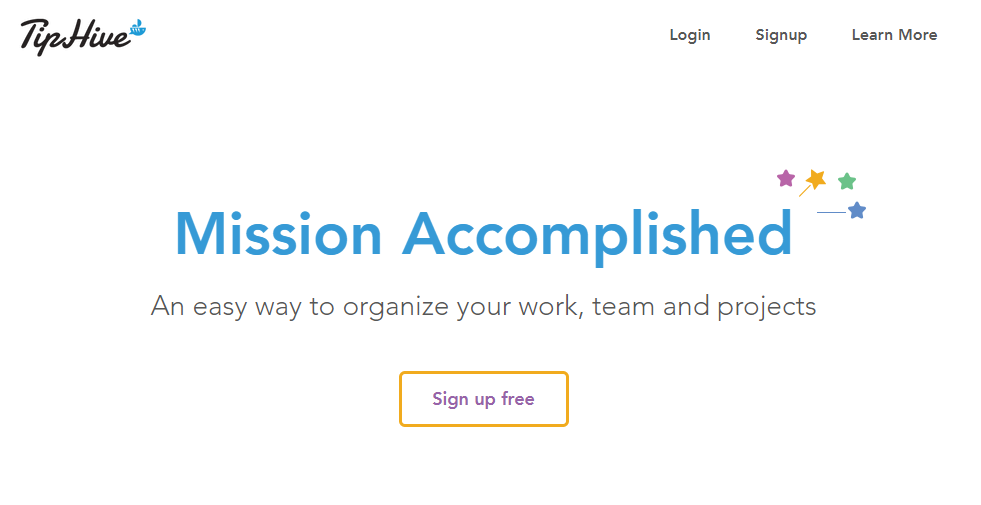 Like other mentioned online collaboration apps in this category, TipHive provides with a clear view of tasks and assignees in a project. Thanks to it, the software gives good opportunities for resource management and efficient resource allocation. Every member will know what, when, and how to perform a task.
At the same time, TipHive allows team members to create personal workspaces to better organize their activities.
With this software, users can create, share, and organize files, notes, links, videos, and do many other things.
What is so unique about TipHive:
Various collaboration tools.

Personalized workspaces.

Different views: Kanban, timeline, sheets.
18. Aha!

Aha! is a professional online roadmap software. It allows concentrating purely on fast product experience. Here, managers are able to set dates and dependencies to get a clear view of their projects.
Online collaboration features allow working with cross-functional teams. You don't have to worry about any unexpected changes in a project – you'll be instantly notified.
This roadmap software offers a variety of other features: templates, estimation, progress tracking, and many others.
What is so unique about Aha!:
Dozens of integrations.

Burndown charts.

Ideas dashboard.

Possibilities to create mockups.
Worth mentioning tools in the project management category
Of course, this is not the ultimate list of project management software as it is almost impossible to describe each of them.
Nevertheless, here are some great platforms.
Trello as it is the most widespread Kanban software. It looks nice and is very pleasant to work in.
Wrike as it is a rich in features machine.
Basecamp as it is loved by thousands.
Communication and video conferencing tools
The apps from this category are needed to provide instant communication between team members, colleagues, project participants, etc. Also, these platforms are used for file sharing, attachments, and keeping all communication including video calls in one place in general.
19. Troop Messenger

Bring team conversations to one place with Troop Messenger. Simple to use application with power-packed features allows you to seamlessly run your office chat efficiently. Talk about the projects you work on, share ideas to build a great product, exchange information through diverse forms of file sharing across direct messaging or through shared spaces such as groups.
The simple learning curve enables even the novice user to understand the application within no time. It is loaded with lots of functional collaboration features such as one-on-one messaging, voice-video calls, screen sharing, audio messaging, burnout, advanced search filters, etc.
What is so unique about Troop Messenger:
Easy application sign-in.
Rich feature stack.
Awesome pricing structure.
Matchless customer support.
Collaboration with clients, customers, and vendors with the vendor-collaboration feature, the Orange Member.
20. Ryver

Ryver online collaboration software offers splendid communication and task management that takes the best of Trello Kanban tool. What can be better?
Almost all you need for communication you will find in Ryver. There are open forums, private teams for closed communities, private conversations and threads, freeform conversation in a chat for everyone without specific topics, file sharing from Dropbox, Google Drive or via any URL, and voice and video calls. And all this is accompanied by personal and team task boards with checklists.
What is so unique about Ryver:
Team communication + task management.

Audio and video calls.
21. Flock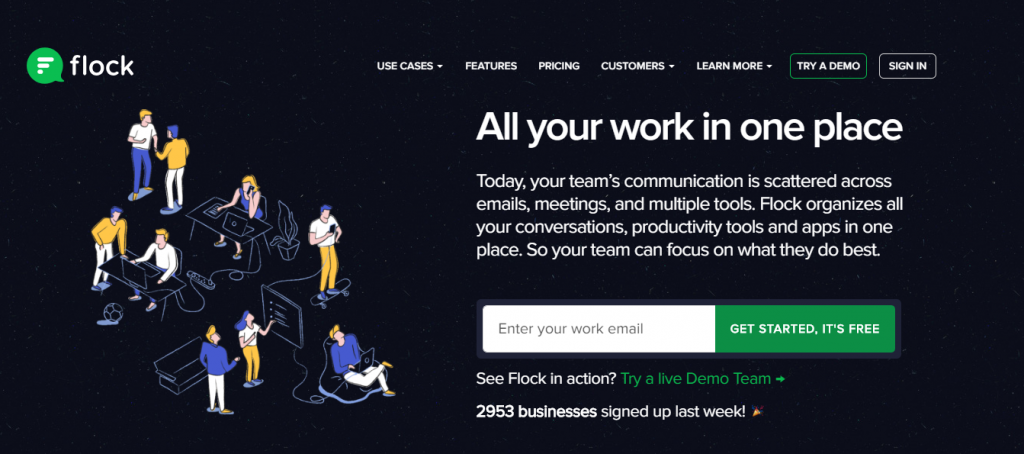 Less known than the niche leaders, nevertheless, Flock gives exactly what you expect from an online communication app – increased productivity and efficiency. Users can communicate in private and group chats, make voice or video calls, and share screens. Also, Flock offers some task management functions like to-do lists and reminders. Surprisingly, but here users can even conduct polls.
This online collaboration software offers searching options that allow finding messages, files, and even links with no difference who shared them. By the way, sharing is also a breeze with drag and drop function.
What is so unique about Flock:
Audio and video calls.

Fast and easy searching.

Task management.

Limited access to invited guests.

Integrations.
22. Yammer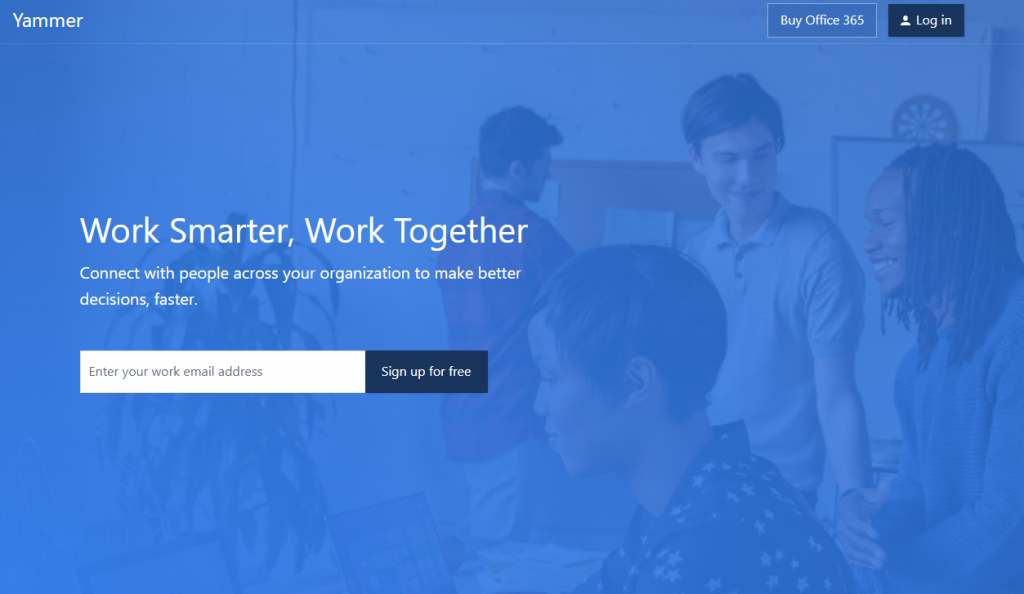 You've probably noticed on the screenshot that Yammer is the Microsoft owned product. Therefore, don't be surprised as the software allows users to work and edit documents with Microsoft integration.
Actually, Yammer is an enterprise network with the aim to assist your business. It enables collaboration between departments and across locations. No one outside your organization can access this platform as users are authorized in it with the email from your company's domain.
What is so unique about Yammer:
Serves as a closed enterprise network.

Can be used as a help desk channel.

Reports with analytics.
23. Scribblar

Scribblar has a specific nature as it is designed to be applied in a certain sphere. It is a perfect online collaboration platform for students and teachers. It offers chats and audio, and it makes it a good choice for online tutoring. That's why Scribblar is a good online collaboration app for teachers.
What is so unique about Scribblar:
Good for online tutoring.

Virtual whiteboards.
24. Chanty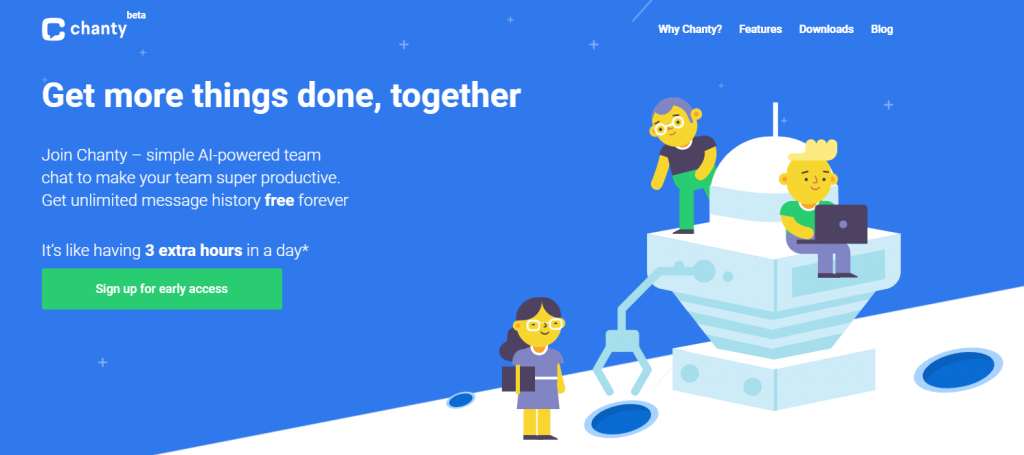 Chanty is a business AI-powered communication app that is pretty affordable in comparison with some other online collaboration platforms. Moreover, at Chanty, they call themselves an affordable alternative to Slack that is easy to start to work in and that has the intuitive interface.
They offer faster message delivery time and file sharing what increases productivity. More storage capacity opens possibilities to store more files to collaborate with a team. What is more is that you can turn your messages into tasks, manage, and assign them to fellow colleagues.
What is so unique about Chanty:
Powered by Artificial Intelligence.

Faster file sharing in comparison with competitors.

No message history limit.

More room for files in comparison with competitors.

Integrations.
25. Fleep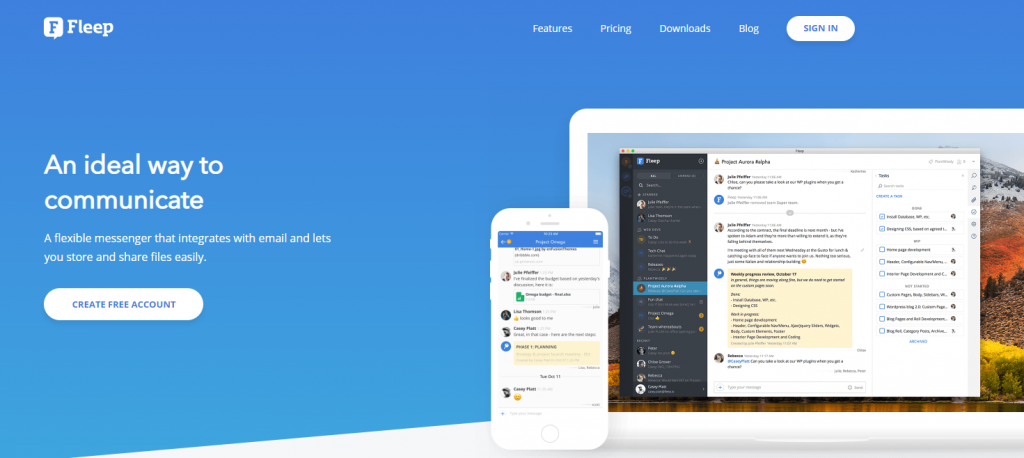 Fleep is an open network that allows users to communicate regardless of team size. You only need to be a Fleep user. But if you are not, no worries as it has integration with any email client. So, if you are a user of this online collaboration software and someone is just an email user, there are no obstacles to communicate with them. It provides with opportunities to keep track of all your conversations too.
The files you share in this collaboration app are stored in the cloud and are available everywhere where there is an Internet connection. It works on Android and iPhone, PC and Mac.
Also, the platform serves well as a task management platform with to-do lists.
What is so unique about Fleep:
Integration with email.

Multi-platform.

Audio and video calls.

Public API.
26. Appear.in

This is a very simple to use online video collaboration tool. It takes seconds to create your room where you can communicate with up to four people at once and 12 – on the PRO plan. At the same time, it can be a good collaboration app for business as users can share their screens and show presentations, images, etc.
What is so unique about Appear.in:
No registration or downloads.

Easiness to work in.

No logins for quests.

Video add-ons.
27. GoToMeeting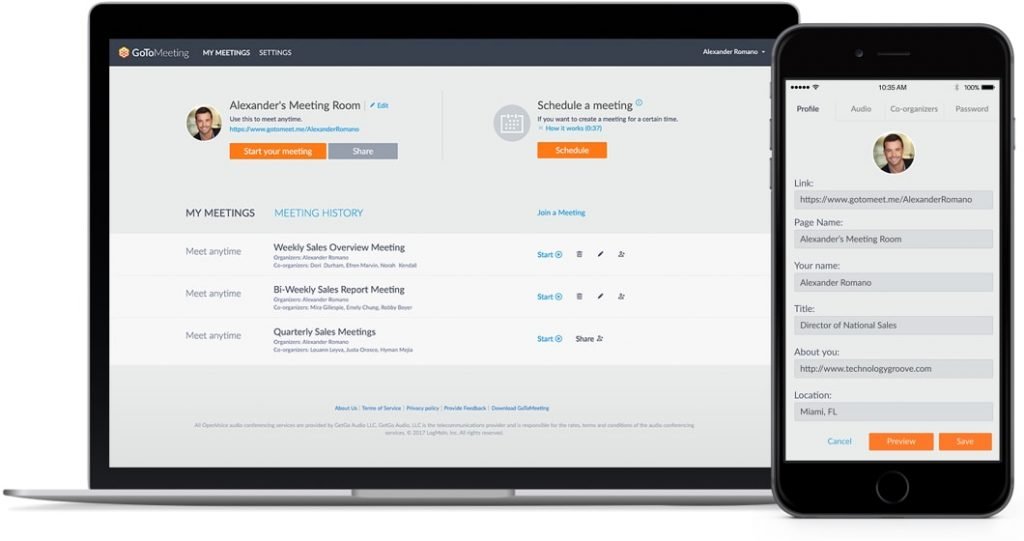 Again, this is the software for making video calls of high quality. With GoToMeeting, it's easy to organize a Webinar or a conference just from your working place. This all makes the software best for remote collaboration. To get access to a video room you only need to click on the link.
One of the coolest features is that users can schedule their meetings in calendars beforehand. Also, team settings are customizable to your needs.
What is so unique about GoToMeeting:
HD quality video calls.

Drawing tools while sharing a screen.

Calendars for scheduling meetings in advance.

Recognized by millions: rated #1 in customer satisfaction.
28. ReadyTalk
ReadyTalk video conferencing tool is good for organizing audio and video meetings and conferences, webinars, and live streaming videos.
The platform enables online collaboration with multiple users and content sharing where you can show presentations or even sales demos.
What is so unique about ReadyTalk:
HD video capabilities.

Open API.

Skype for business and Lync integrations.

Google Calendar gadget.

Privacy options.
29. Zoom
Highly recognized among users, Zoom meets the requirements of businesses of all sizes. Here you can organize meetings, training with whiteboards, webinars or conferences with dozens and hundreds of people.
Being one of the best collaboration apps in the video conferencing category, Zoom allows for screen sharing, group messaging and offers other collaboration features that are highly recognized around the world.
What is so unique about Zoom:
HD video and high-quality audio.

Up to 500 video participants & 10,000 viewers.

Extensions for popular browsers.

Mobile apps for Android and iOS.

Highly reliable.
Worth mentioning tools in the communication category
Slack as it is the most rocking and popular app for communication. Keep in mind that you can also try some Slack alternatives.
Skype as it was a successful pioneer that is still (well, with performance issues) running for free.
Google Hangouts as it is a product by Google that develops reliable products for everyday use.
Time tracking/Time management tools
These platforms are used to organize work in teams with precise time tracking. They help to work with plans, tasks, and projects showing what exactly takes time during the work process.
30. Time Doctor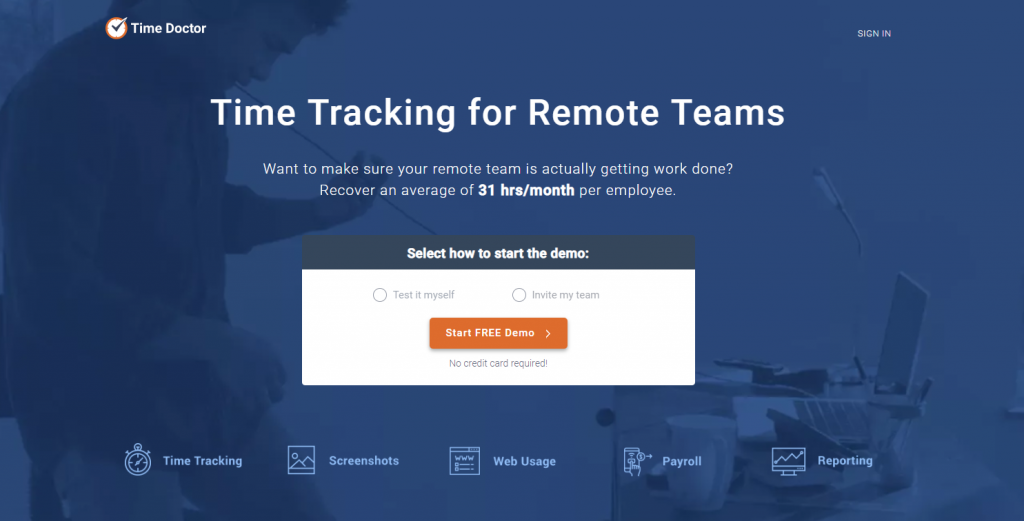 If you need to increase online collaboration and productivity, Time Doctor time tracking software will be your choice. When you are able to track time spent on tasks, it enables you to do more in less time. As a business owner, you'll get a chance to pay employees or bill clients based on tracked time.
Moreover, Time Doctor helps to avoid distractions gently reminding you what you are working on. Also, it monitors Internet usage of employees during working time. If they spend too much time on sites like Facebook or YouTube, the software will remind them that they need to work.
What is so unique about Time Doctor:
Shows user's weaknesses and the ways to improve them.

Reports with time spent on sites and in applications.

Screen monitoring.

Integrations with world-known management applications.
31. Replicon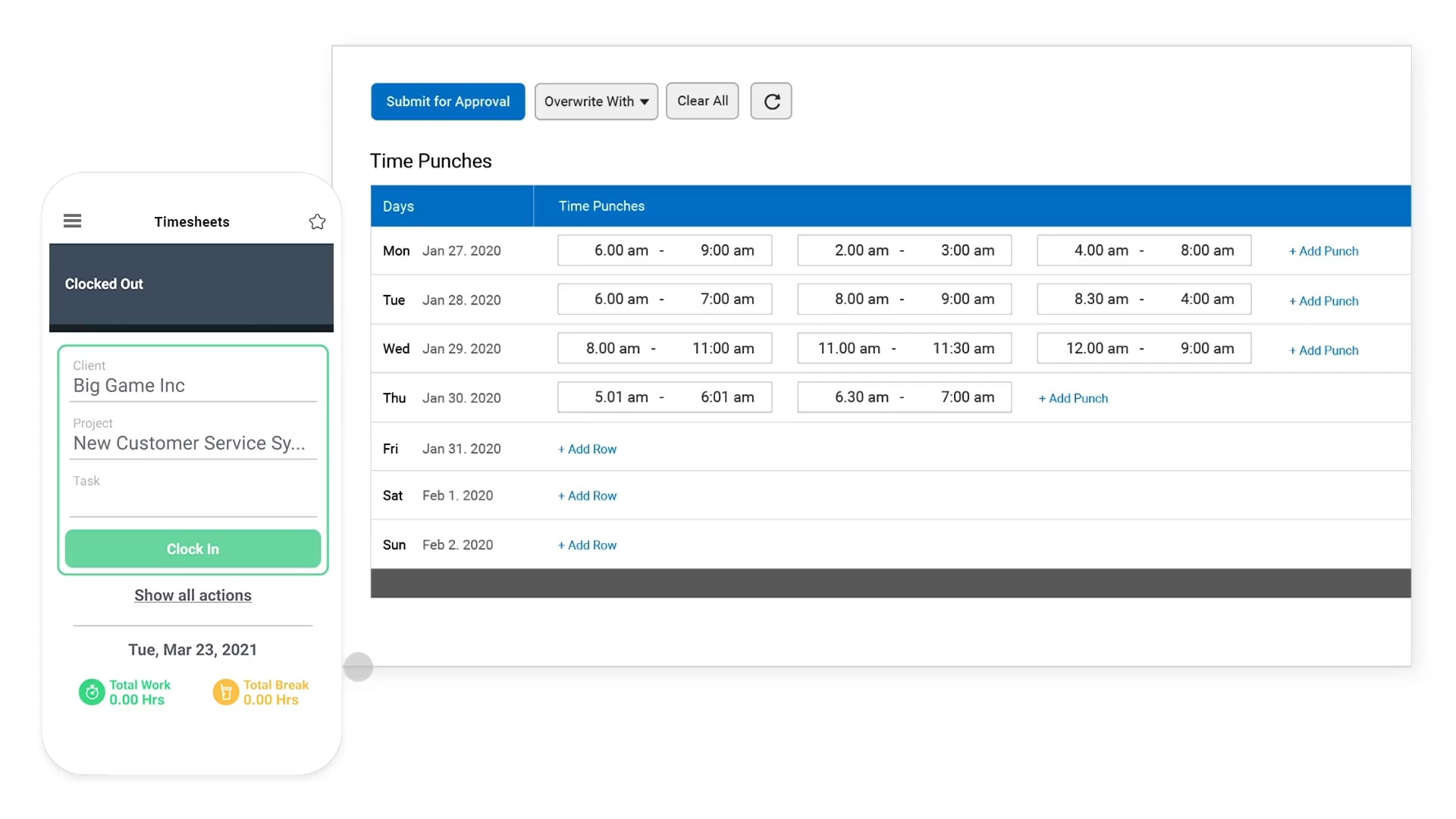 Replicon is a leader in time tracking applications. Over the past 25 years, the company has helped thousands of customers around the world solve every use case around time to increase productivity, eliminate revenue leakage, improve project visibility, and maintain labor compliance. Replicon's products help global businesses manage time as an enterprise asset by accurately capturing, managing, and optimizing it every day.
Replicon is a global, scalable, and configurable platform enables organizations of all sizes to automate the process in managing their employee time tracking, project time tracking, expense tracking, and resource scheduling and gives them real time visibility in what is happening with the entire company.
Moreover, Replicon integrates seamlessly with other software and tools a business uses to automate data sharing between systems. Replicon is also a mobile first application, which is built with the changing nature of the workforce in mind.
What is so unique about Replicon:
Mobile first application.
Flexible timesheet capture.
Robust program management.
Configurable approvals.
Budgets vs actuals tracking.
Enterprise-ready platform.
Plug and play integration with your eco-system.
Artificial intelligence to help manage time intelligently.
32. Workpuls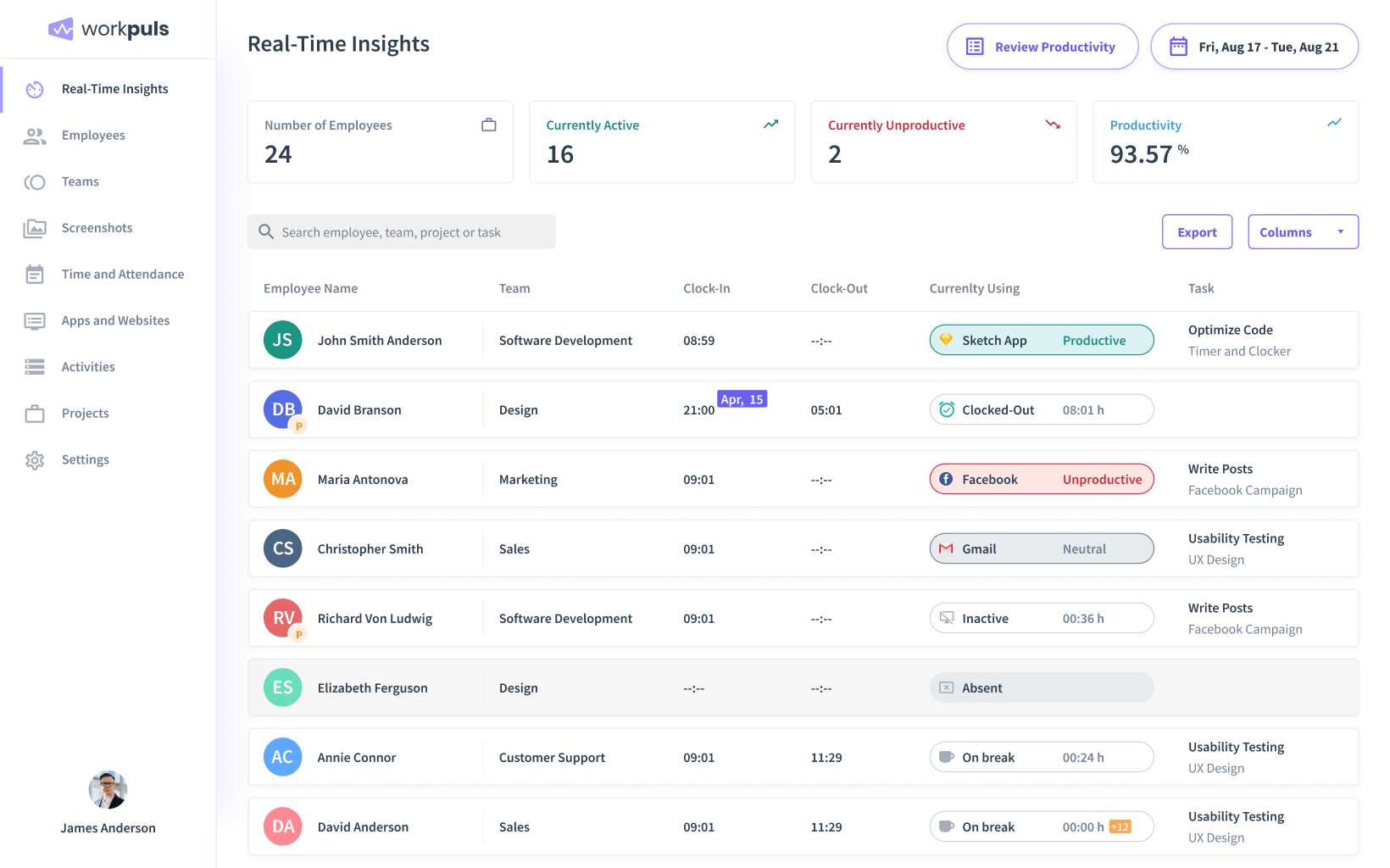 If you're looking to boost the productivity of your remote, hybrid or in-office team, Workpuls employee monitoring software is a great choice. It uses advanced productivity and behavioral data to give you more visibility over your workforce. You can use it to learn more about how your team works best and get the most out of them daily by uncovering bottlenecks and improving workflows.
As an employer, you can manage and support remote employees as if they were still working within the same office.
Workpuls also enables you to segment your data between remote and office employees to show you where your employees do their best work. It has time tracking and budgeting capabilities to make sure your team stays profitable.
What is so unique about Workpuls:
Gives detailed, downloadable reports and timelines adjustable to different time periods.
Can also work in stealth mode.
Gives access to historical data easily.
Offers integrations with any other app or service your team uses through API.
33. Everhour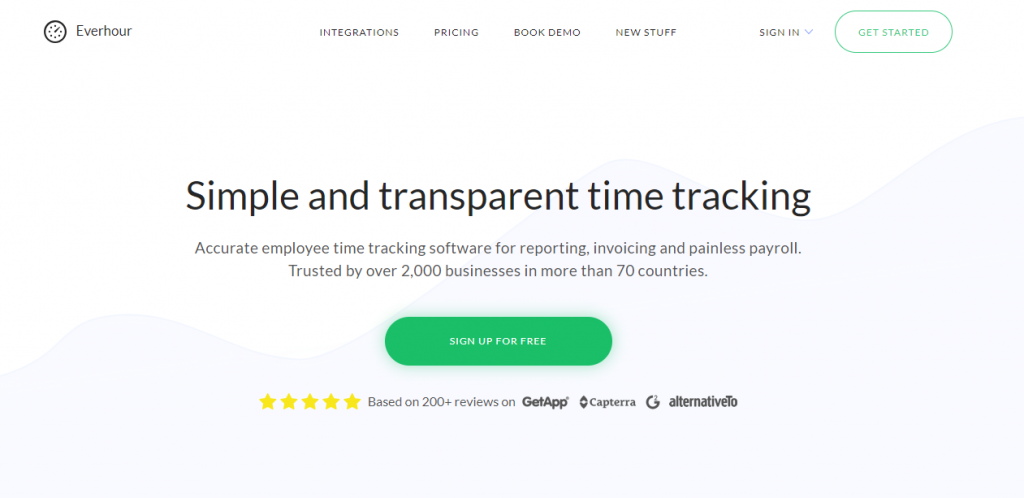 Trusted by 2000+ business, Everhour is another big player in the time management category. This online collaboration platform offers plenty of useful features: budgeting, expenses, resource planning, task management, reporting, invoicing, and of course, time tracking.
Live dashboards show who is working on what, what has already been done or simply empty fields if your team member did nothing at all. If you need the whole summary of your project, with Everhour, it is a matter of seconds. It will show money and time spent, the individual progress of each employee, and also give a comparison of profit and cost.
What is so unique about Everhour:
Quick set up.

Rich functionality.

Powerful integrations with project management tools, CRM, and accounting systems.
34. Hubstaff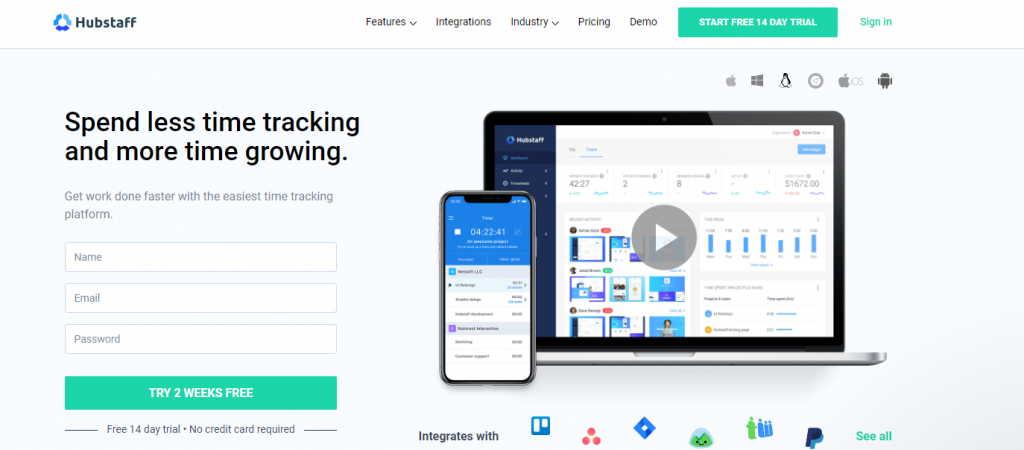 With Hubstaff, managers know what every employee is working on. As with other time management apps, it helps to monitor employees showing screenshots and activity levels, their Internet usage, and websites visits even with a quick preview of a page.
Moreover, Hubstaff offers features that won't be found in some other platforms. For any project, users can set time and cost limits. For team members, there is a possibility to set weekly limits. This all ensures payments according to the actual delivered work.
What is so unique about Hubstaff:
GPS and location monitoring.

Weekly limits.

Powerful API.

Many integrations.
35. Harvest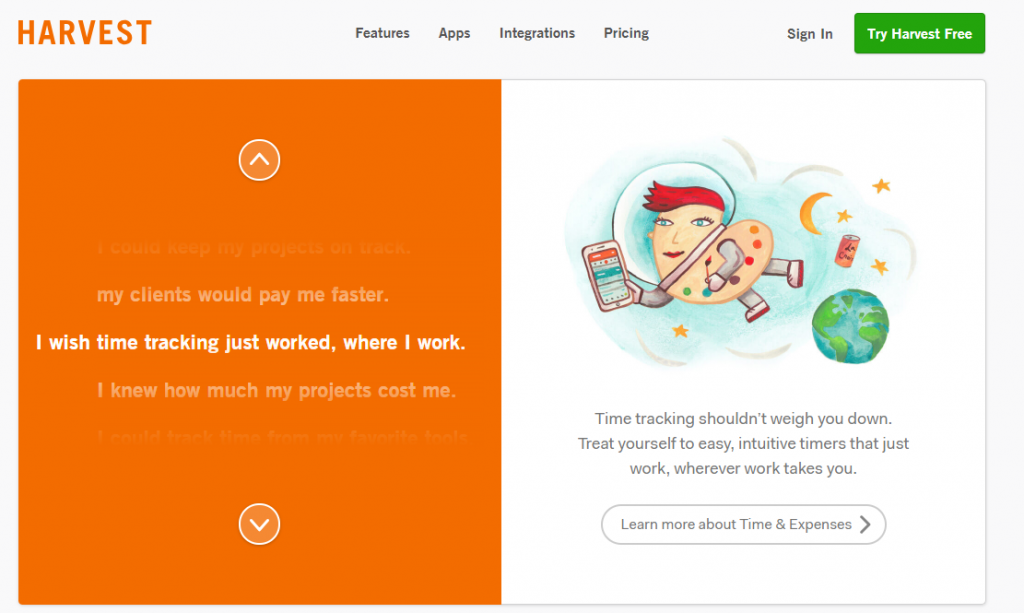 If you have a question "Where is my time working", this online collaboration app for teams will easily give an answer. Harvest is another well-known player around the globe in the time tracking category.
With the software, managers can track time and expenses thus getting unique knowledge of the critical data. Other features can be called classical for this kind of software: you can see who is doing what and in what project as well as how much time is needed.
What is so unique about Harvest:
Extended free 30-day trial.

Professional invoices.

Friendly reminders for colleagues to submit their time.

Data export.
36. Toggl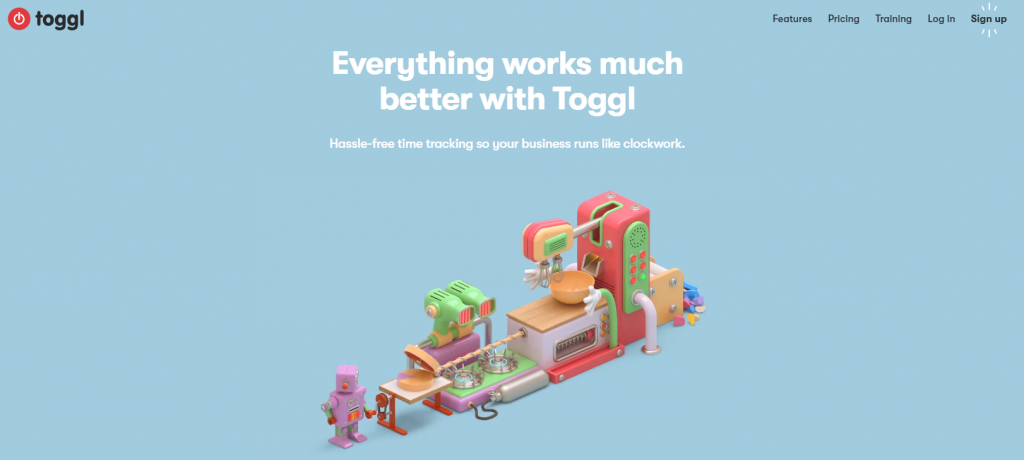 At Toggl, they call their product as the simplest time tracker. And it is really so: to start a timer, you only need to hit the button – that's it. You can start your work on your computer and then finish it on your phone. All time entries are synchronized between extensions, desktop, and mobile apps.
Reminders work great: idle detectors can remind of time-tracking and get you back to work.
It is multi-purpose and can be used by freelancers, colleagues, and even agencies for a greater collaboration.
What is so unique about Toggl:
Flexible reporting.

Automated timesheet management.

Reports scheduling to email.

Report export.

Public API.
37. TimeCamp

TimeCamp helps to deal with employees, tasks, and projects. This online collaboration platform will show you how your team members spend their day with a detailed history. As a result, you will never miss a billable hour.
Moreover, TimeCamp gives insights on what sites or applications take most time from your colleagues during the working day. It will provide you with analytical data on productivity.
There are possibilities to send invoices based on the time tracked per customer and project.
What is so unique about TimeCamp:
Intuitive interface.

Powerful integrations.

Computer activities tracking.
38. 10to8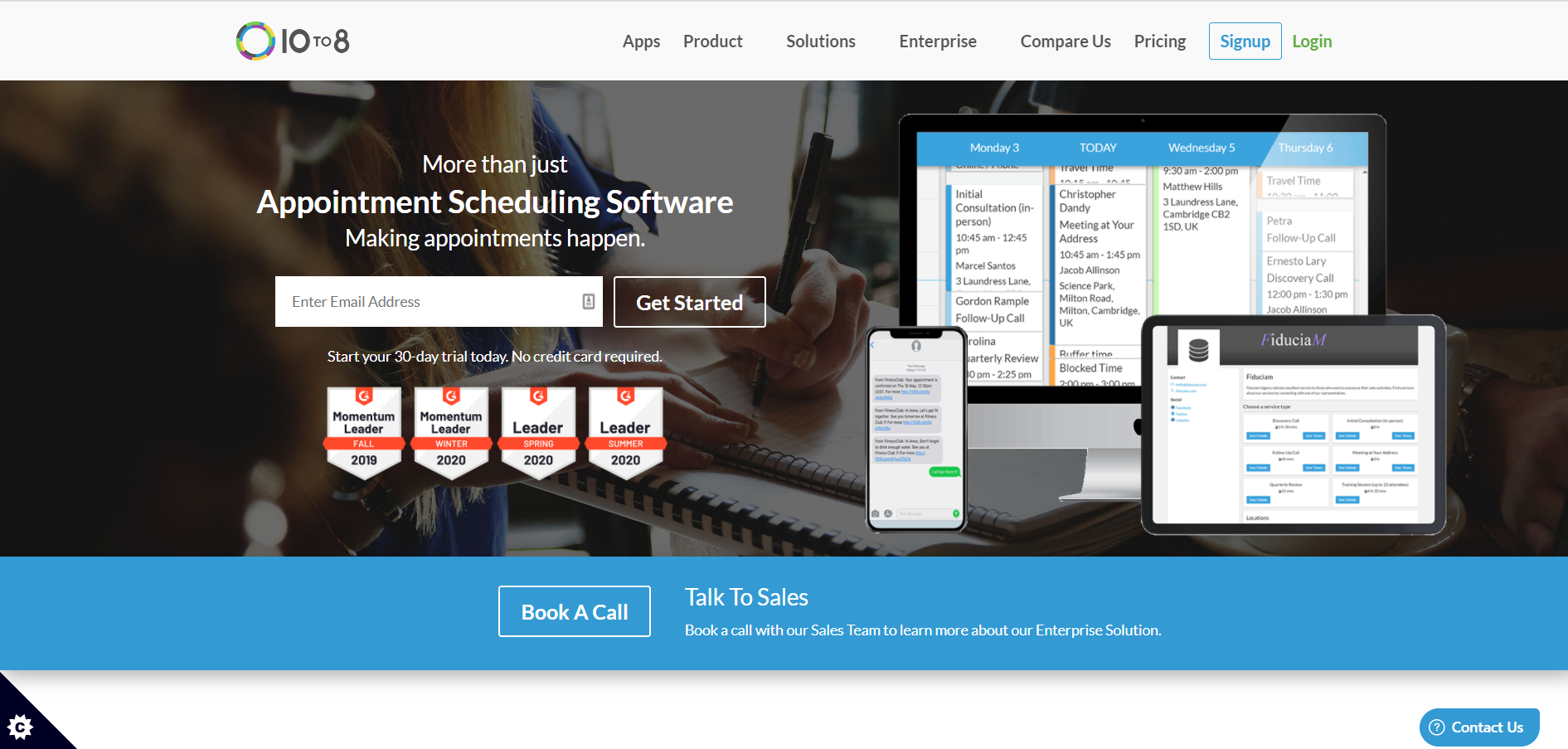 10to8 is an appointment scheduling software that can rid your business of wasted time by reducing no-shows by up to 90%.
It is a powerful app to coordinate with external clients and internal teams with features like two-way chat, automated email and text reminders, and personalized booking pages.
You can set up 2-way calendar sync with Google, iCal, Exchange, Office 365, and Outlook. The flexibility of customization for complex set-ups makes 10to8 the perfect solution for Universities, Healthcare Organizations, Retailers, Gyms, Therapists, Counsellors, and other businesses with complex scheduling needs.
What is so unique about 10to8?
Free forever plan.
GDPR, HIPAA, and CCPA compliant.
Integrations with 1500+ applications including Microsoft Teams, Salesforce, Zoom, MailChimp, and Google Classroom.
Worth mentioning tools in the time tracking/time management category
ClickTime as it is simple to use with lots of functionality.
Replicon as it is a time intelligence platform.
Documentation management tools
Online document collaboration apps help teams work on documents simultaneously. They allow for online editing, sharing or e-signing documents. In general, these platforms significantly simplify collaboration on documents.
39. Google Docs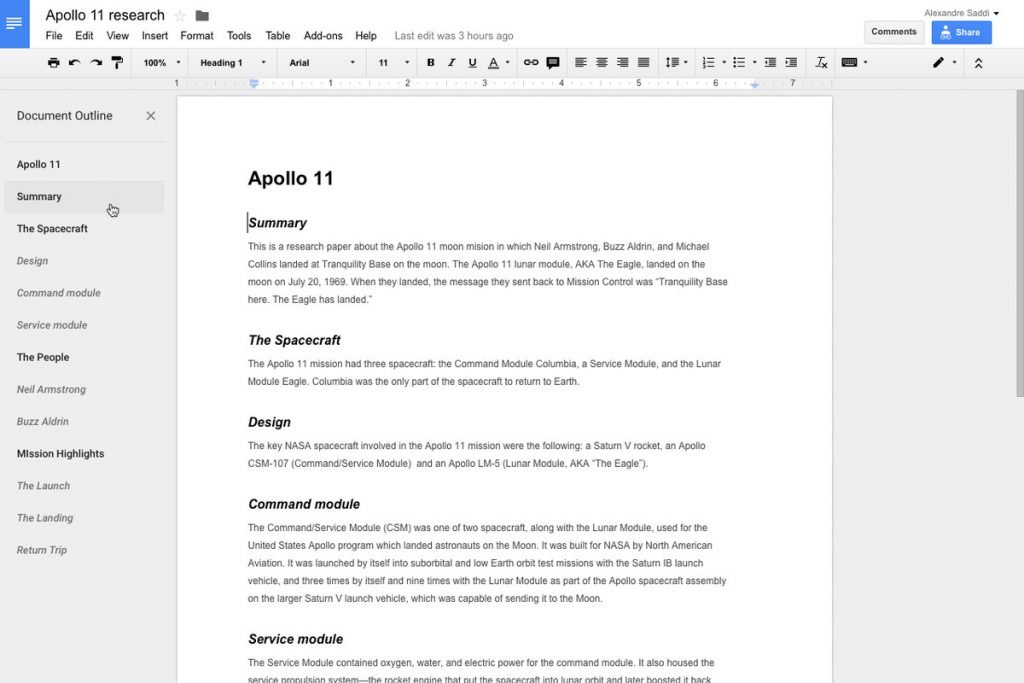 This is a well-known online collaboration software that needs no introduction. You might not know the apps from the project management or time tracking category, but this is another story. If you have ever worked with documents online, it is 100% sure that at least you have heard of Google Docs.
The powerful software allows creating and editing documents wherever you are as well chatting and commenting. These are awesome collaboration features that make all word-related work a breeze.
Google Docs offers dozens of templates and add-ons. You only need to log in and that's it. Everything else you have to do is to enjoy smooth online work on documents.
What is so unique about Google Docs:
No lost data – everything is instantly saved online.
Great link sharing with different access levels.
Rich functionality.
40. Microsoft Office 365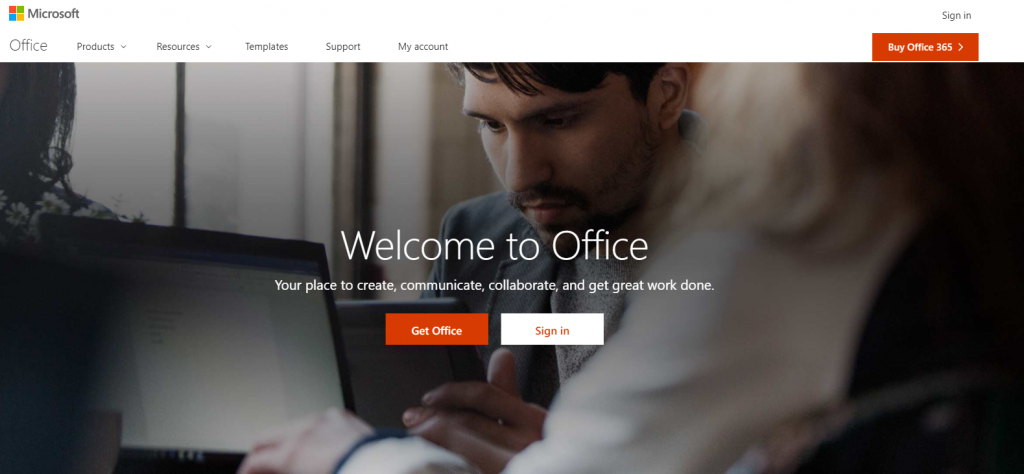 It looks like this one does not need an introduction either. But the reason is different: many of us work with letters and words in the original offline Office suite that also offers Excel, PowerPoint, and other tools. Meet its updated brother for online collaboration.
You can edit documents online, share files, invite other people, and set access permissions. In general, it is easy to keep and work with your documents in one place.
What is so unique about Microsoft Office 365:
Convenient online collaboration.
The familiar set of tools.
41. Brandfolder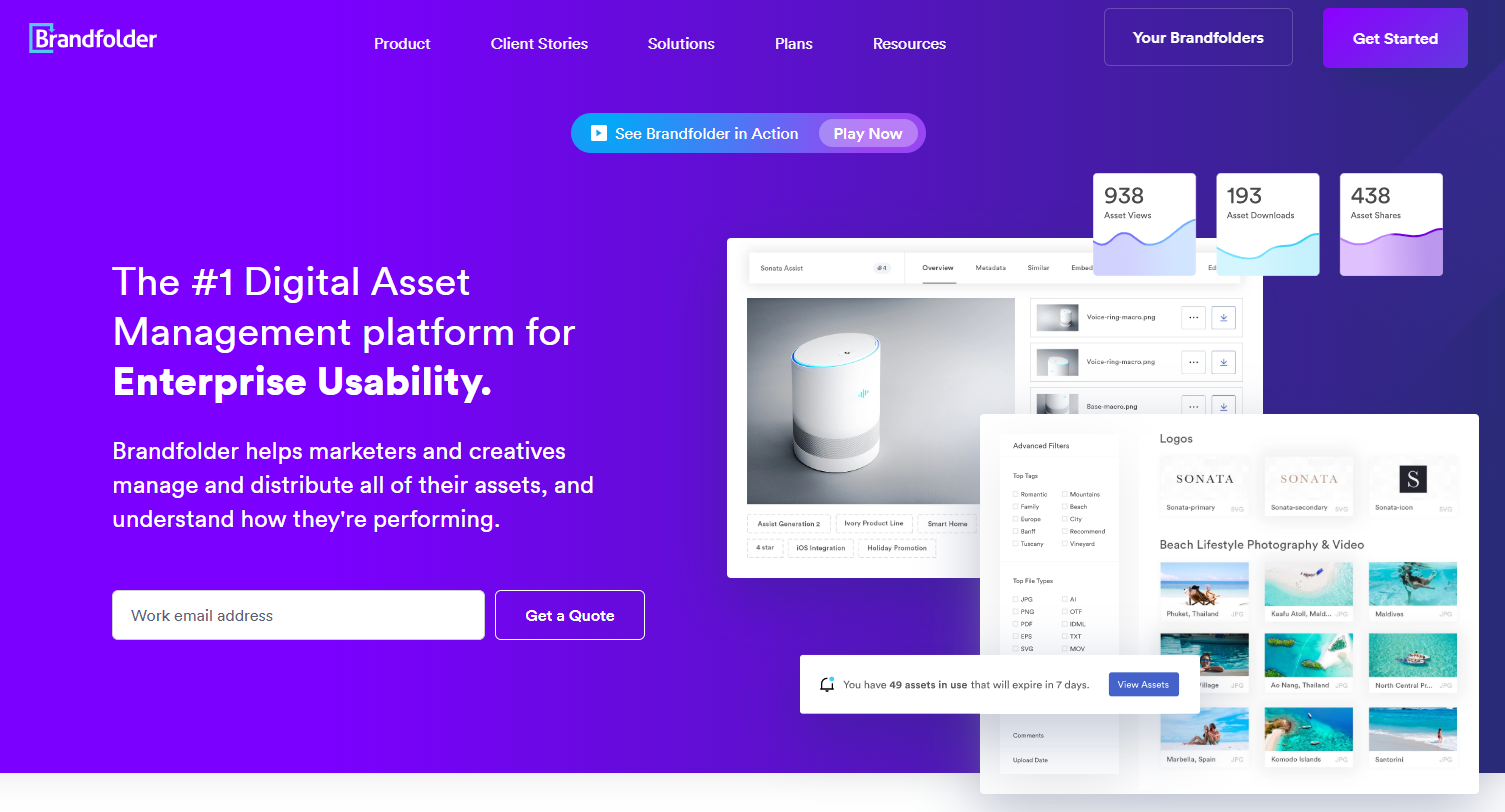 Brandfolder is a leading digital asset management solution for enterprise marketing and creative teams. The platform enables its users to easily upload, store, organize, and share unlimited digital assets, in any format.
All file types are securely stored and organized using collections, sections, labels, and pins. Brandfolder's in-document search, filtering, and AI-powered image recognition make it easy to locate assets across different campaigns and projects.
In addition to the storage and organization capabilities, users are able to centralize the entire creative process with Brandfolder's built-in video editor and design tools that integrate with popular services such as InDesign, Illustrator, and PhotoShop.
Users can view metrics to see who is using specific assets and set strong privacy controls as well as user-level permissions.
What is so unique about Brandfolder:
AI-powered image recognition and auto-tagging.
Asset analytics and user insights across file collections.
Adobe plugin makes it easy to quickly search and embed digital assets from Brandfolder within Adobe Illustrator, Photoshop, and InDesign.
42. ClickHelp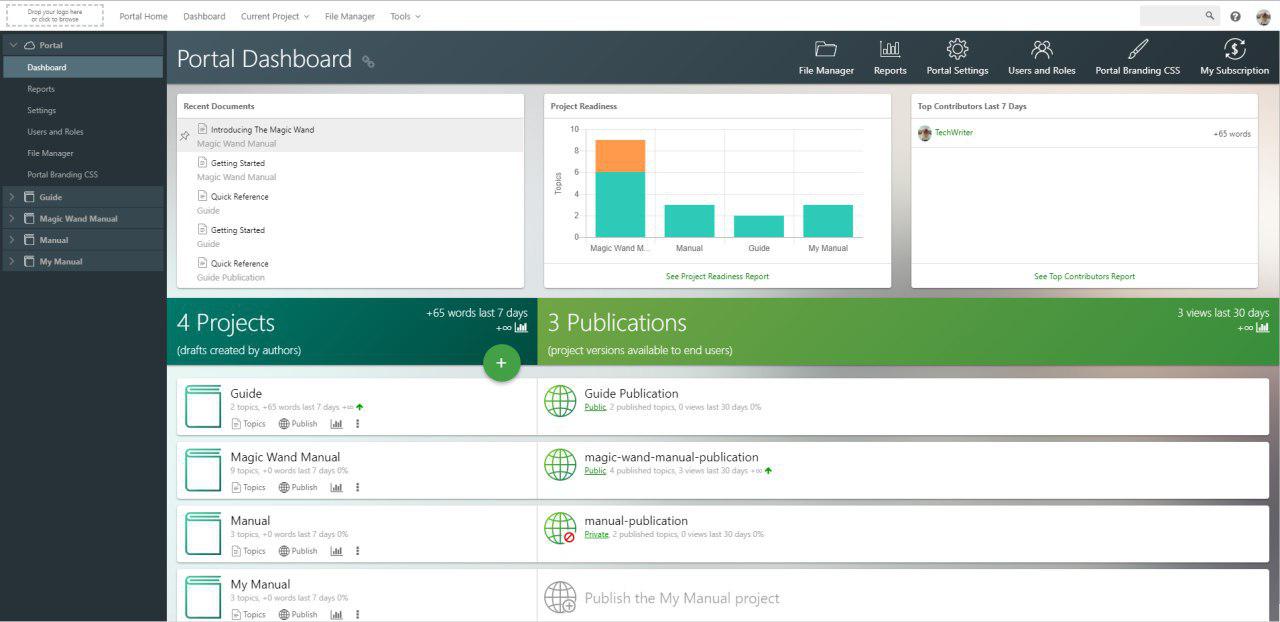 ClickHelp is a modern online documentation app. It's used by companies all over the world to create and publish different types of documentation like manuals, user guides, help files, FAQs, and so on.
ClickHelp is easy to use for doc teams. It is browser-based and supports multiple platforms: Mac OS, Windows, and Linux, so you don't need to install anything. This makes it easy to author and deliver your documentation from any place in the world.
You can also work on your documentation together with your colleagues in one online portal. Nothing will be missed because notifications will keep everyone updated.
What is so unique about ClickHelp:
Password-protected online help.
Easy importing and exporting.
Powerful full-text search.
Branding features.
and many more.
43. BoardDocs
BoardDocs is an online platform that will help organize collaboration. With its help, users can formulate guidelines, implement policies, discuss issues, collect ideas, and conduct online meetings with carefully prepared agendas.
What is so unique about BoardDocs:
Designed for school systems, municipalities, and public governing bodies.
Recording and video conferencing.
Library categories.
44. Quip

Quip organizes online collaboration on documents and task lists in a very smooth way as it helps teams to work faster and more productive.
This online document collaboration platform serves well for making collaborative meetings notes and managing plans. Quip will be the place where you will keep all documentation to get work done.
What is so unique about Quip:
Possibilities to add project trackers, calendars, and many other tools right into a Quip document.
Combines team chat, checklists, documents, and spreadsheet in one place.
45. PandaDoc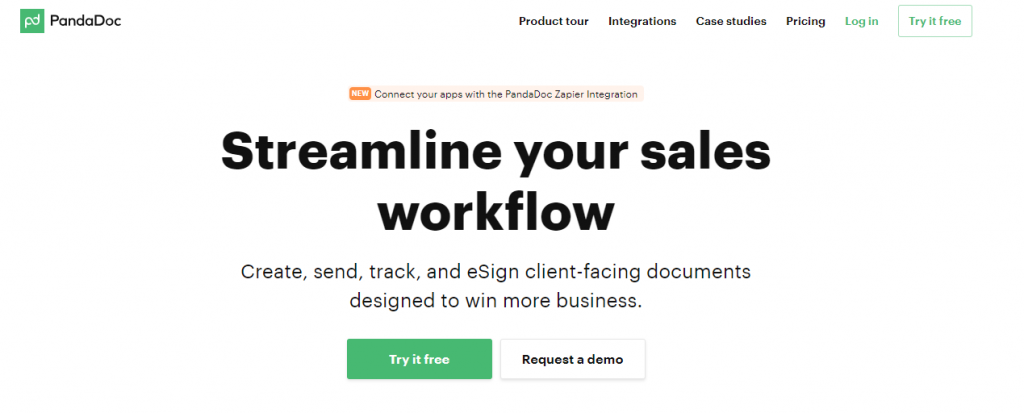 This software is more about collaboration to organize online sales workflow. Actually, this is powerful all-in-one software that offers plenty of features. With its help, users can create and edit documents, connect to payment systems, organize workspaces and track their performance, eSign documents, and do many other things.
In the case of PandaDoc, it is better to test it on your own as this software is really powerful with lots of features.
What is so unique about PandaDoc:
Esignatures.
Interactive and personalized documents.
Automated quote creation.
Pre-approved templates.
Document tracking.
Powerful integrations.
46. Creativity 365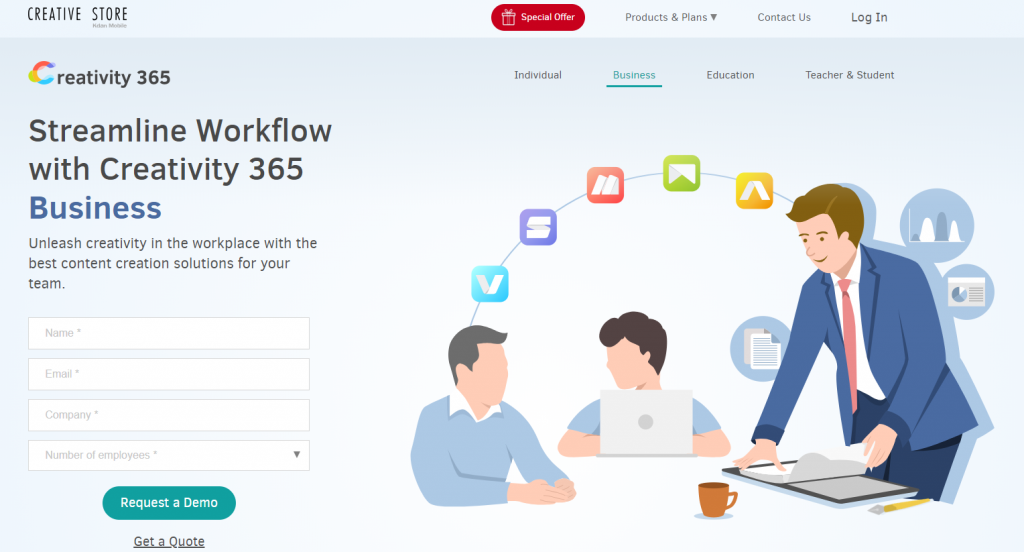 Creativity 365 offers Individual, Business, and Education content creation solutions. With the help of this app, teams can easily collaborate online and implement their concepts across desktop and mobile devices.
The complete suite includes five apps: Animation desk for creating your own animation, GIFs or storyboards; Write-on Video for making and editing movies; NoteLedge for taking notes, sketching ideas or recording moments; Markup for making annotations of Web pages, ePub or PDF documents and sharing them; Pocket Scanner for scanning paperwork and digitalizing it.
What is so unique about Creativity 365:
Great for creative teams.
Enormous storage capacities.
Presentation feature.
47. DataScope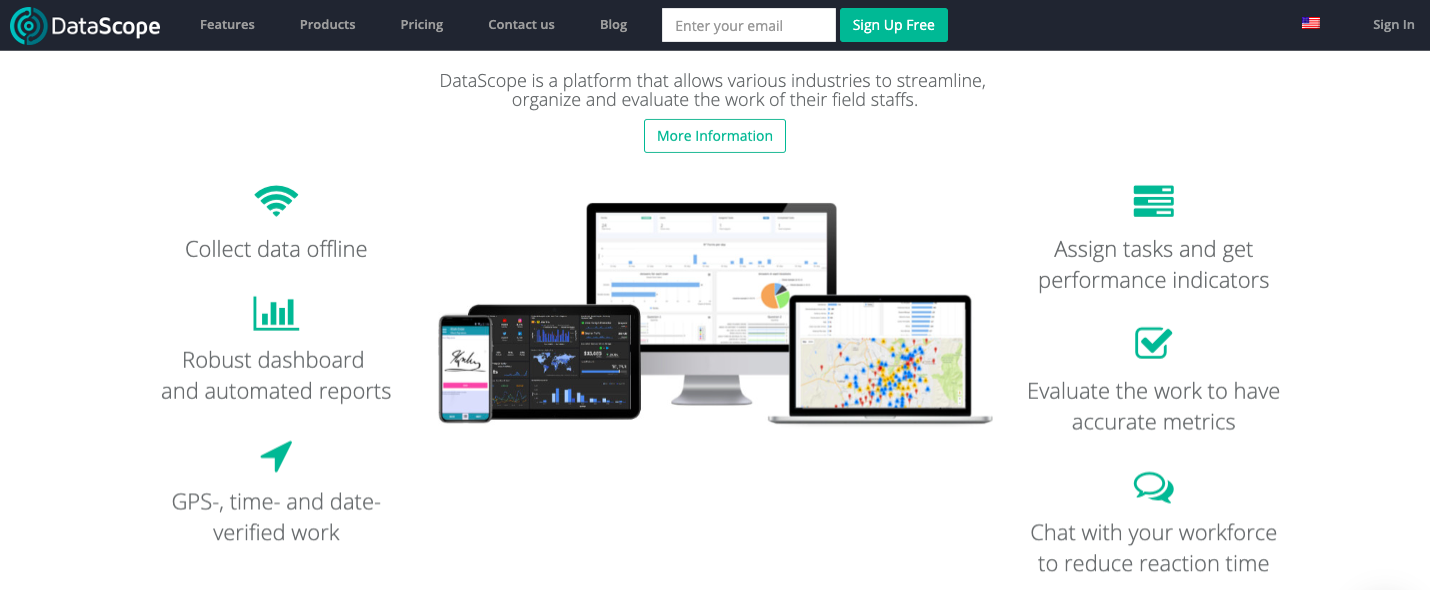 DataScope is an ideal platform to get rid of paperwork by collecting data efficiently from the field saving time and trees. The platform allows users to answer mobile forms (even offline) from their phones or tablets through the DataScope App. It has an intuitive Form Builder, which allows you to create any form adding photos, GPS location, electronic signature, reading QR code, checklist, among others.
All the information collected is safely stored in the cloud and is available to be viewed in real-time, exported (PDF, Excel, Google Sheets), analyzed in dashboards or integrated with other software.
What is so unique about DataScope:
Great customer service.
Easy to configure.
Integrations with other software.
Works offline.
48. Xtensio

If your team is looking for a platform that enables real-time collaboration, you have to try Xtensio.
Xtensio is the perfect software for individuals and teams to work jointly in crafting excellent presentations, reports, slides or just about any online documents. It's very user-friendly with its drag-and-drop feature and keeps you stay on brand with its customized dashboard.
What is so unique about Xtensio:
Drag-and-drop features.

Customization to meet branding.

Privacy controls.
49. Ziflow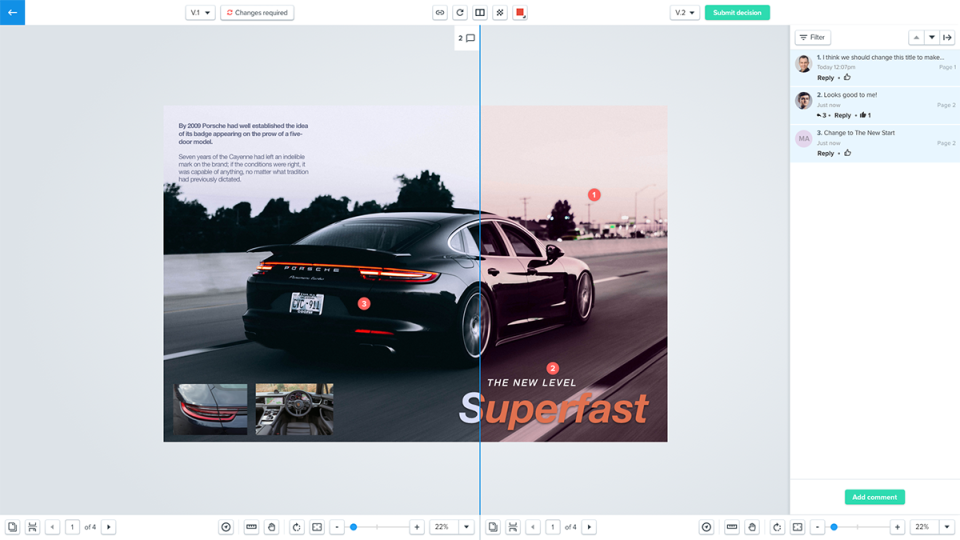 Ziflow is an enterprise-level online proofing app that enables creative agencies and in-house marketing teams to centralize all of their creative review and approval content and processes in one place.
Built by the same team behind ProofHQ, Ziflow is truly a review platform for creative organizations that work in large volumes of content and campaigns and manage complex processes across many working groups, stakeholders, clients, and creative production stages. Robust workflow automation, precise annotation tools, customizable stages and review groups, and triggered actions and notifications all provide a single source of truth for creative content as it flows from ideation to creation and completion. 
What is so unique about Ziflow:
Over 1,200+ supported file types, including live websites, video, and more.
Automated marketing workflows with sequential and parallel stages and flexible triggers.
Detailed annotations, markups, and version comparison for precise feedback.
Decision checklists, status updates, and automatic reminders and notifications to keep projects moving on deadlines.
Role-based permissions for easy internal-external collaboration with clients, partners, and outside reviewers. 
SOC2 compliance and audit trails for enterprise-level security.
Integrations with Slack, Asana, Monday.com, Adobe Premiere, and other project management and creative suite tools.
24/7 customer service.
Worth mentioning tools in the documentation management category
Etherpad as it is an online editor that is highly customizable and an open source.
Zoho as it is all-in-one CRM, Mail, Books, and Creator system.
File sharing tools
The platforms from this category are used for storing documents, images, and video online as well as for sharing and distributing them from any place.
50. Google Drive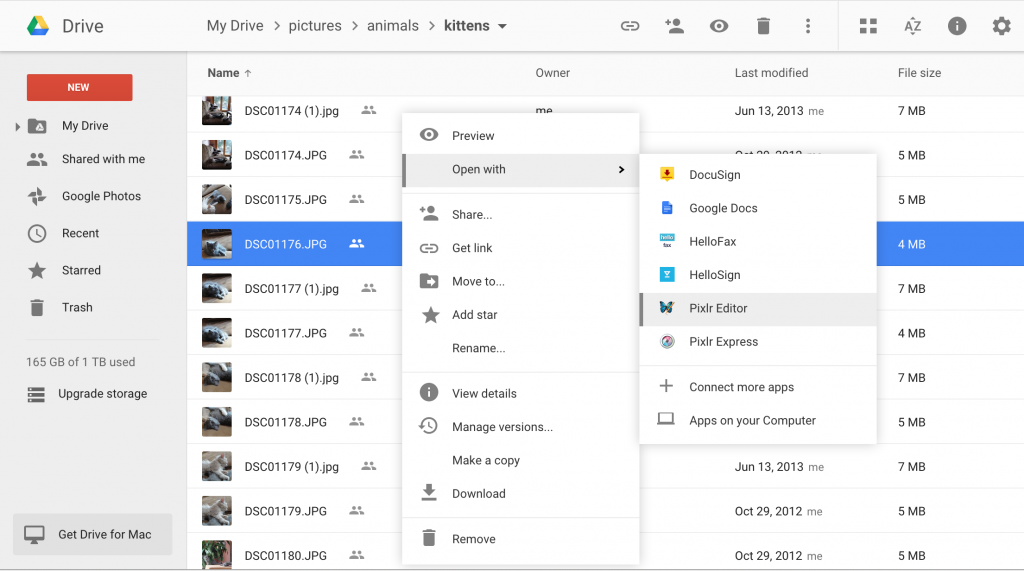 This is another well-known product by Google and, probably, the most popular online file sharing software. If there is a need to save documents, images, drawings, tables, or any other digital file, Google Drive is a strongly reliable handler.
The files you store in the platform will be accessible by anyone from your team, anytime. With Google Drive, online collaboration is a breeze.
What is so unique about Google Drive:
Easiness of use.
First 15 GB of storage are free for a Google account.
Files are accessible from any device.
51. Dropbox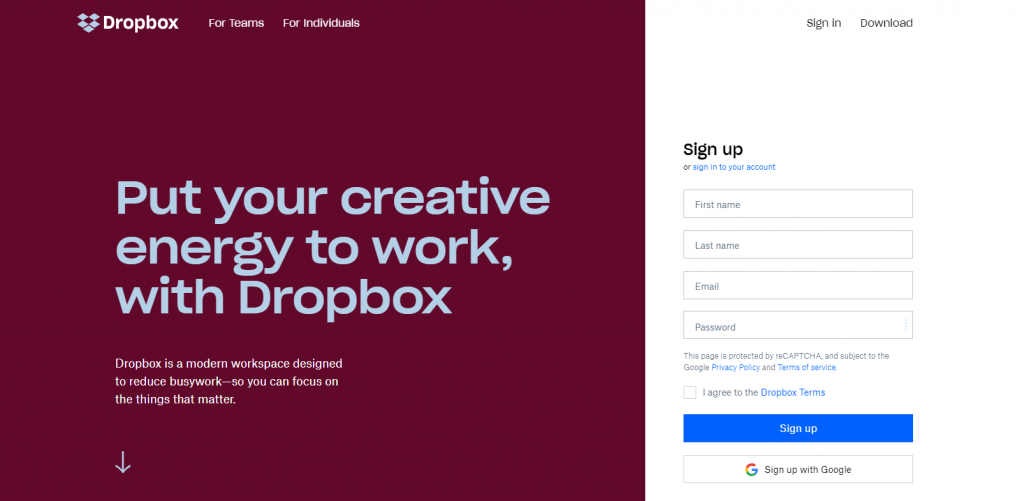 Dropbox is also a highly widespread online file sharing app. Users can easily store their media files in it and share them with team members what gives great opportunities for real-time collaboration from any device at any given moment.
The business version of Dropbox gives access to a long list of super features: file and version recovery, smart synchronization, admin dashboard, and many others.
What is so unique about Dropbox:
Free version for individuals with up to 2 GB file storage.
An unbelievable number of integrated apps.
52. Wiredrive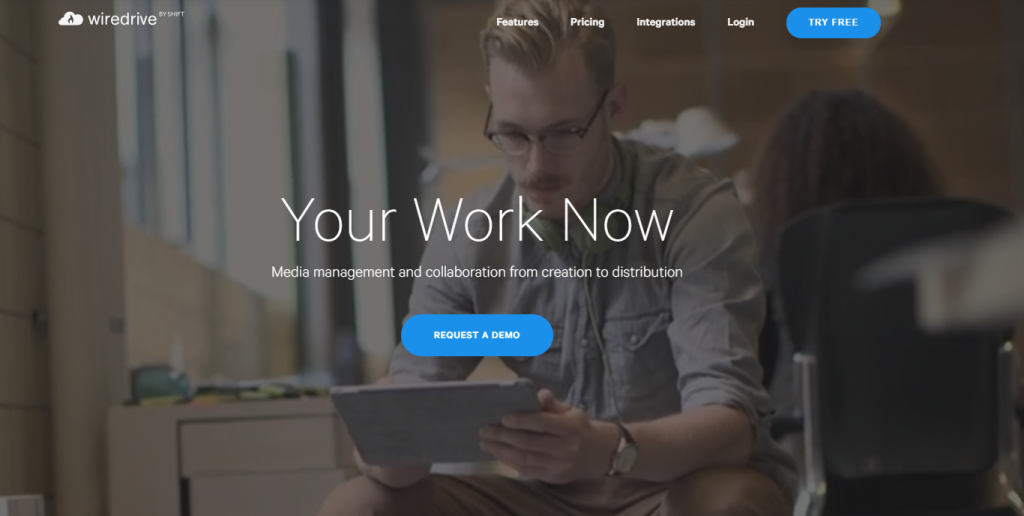 Wiredrive makes media management and collaboration processes smooth and easy to deal with. The software can become a centralized place where creative teams can store project related files.
Shared workplaces for projects and teams allow for quick online collaboration between colleagues: you can review, comment, and track all activity. By the way, shared work is encrypted so you don't have to worry about security issues.
What is so unique about Wiredrive:
Notifications that keep everyone from a team updated.
Robust search and filtering.
Presentations in seconds.
53. OneDrive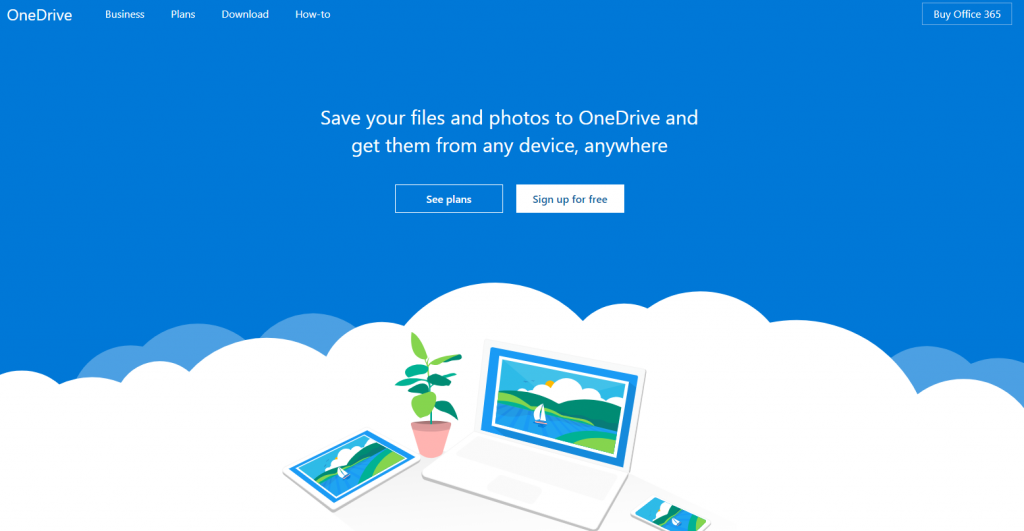 OneDrive, the Microsoft product, allows saving files for free of up to 5 GB with an instant online access from any device be it your phone, tablet or computer. Moreover, the app provides with an offline access – you can work with your documents anytime, anywhere.
The collaboration itself is a breeze. Users can share photos, files, and folders with anyone they want. For that, you only need to send a link – that's it. If you are concerned about security, you can set expiration dates for shared files.
With OneDrive, users can organize online collaboration in Word, Excel, PowerPoint, and OneNote from any device.
What is so unique about OneDrive:
5 GB of file storage for free.
Increased collaboration with Office 365.
Expiring links.
54. Hightail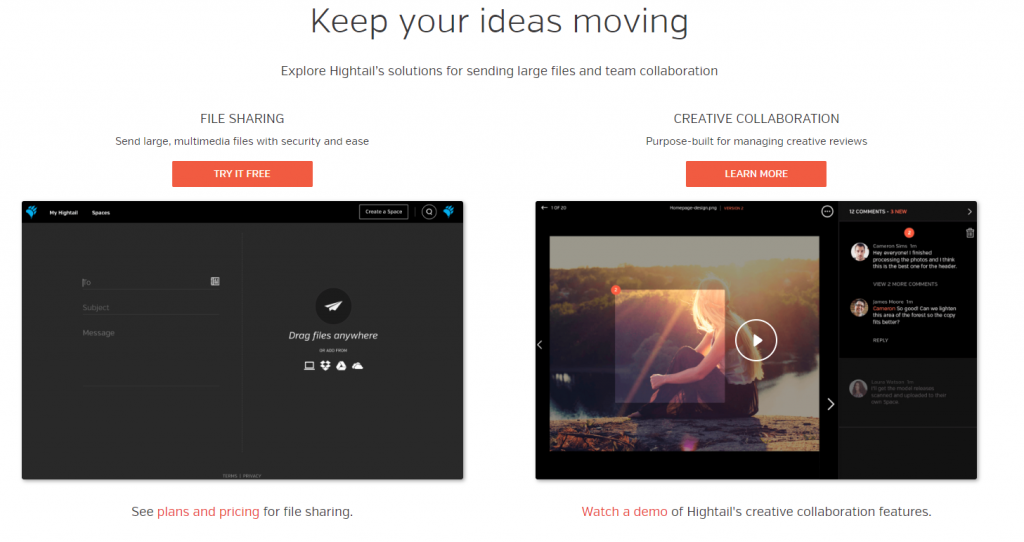 Hightail will be your choice if you need working opportunities for file sharing, creative collaboration, and project management.
File sharing opportunities allow sending large multimedia files with ease. For this, just select, drag & drop or import your files from other services – Hightail will cover you. Creative online collaboration provides a single space for teams what eliminates miscommunication issues. With project management features, users can gather, set up to-do lists, comment on assignments, and assign follow-ups.
What is so unique about Hightail:
Access codes and expiration dates.
Lots of file formats supported for previewing.
Files track delivery.
Version control.
55. ShareFile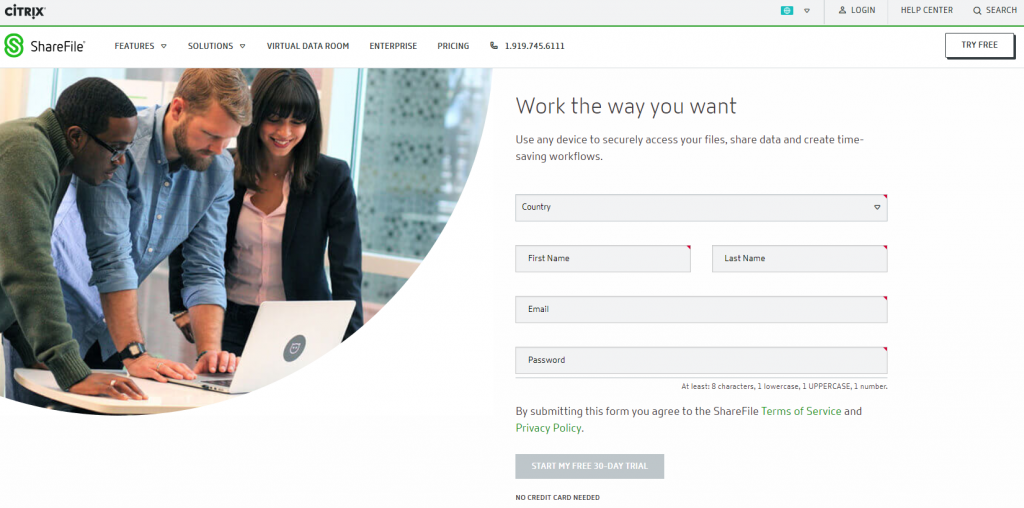 The software allows for online real-time collaboration with business-class file sharing opportunities that are backed by high security and encryption standards. Then, you can access your shared files from any device. ShareFiles allows users to co-edit documents, get real-time feedback, and request approvals.
Also, ShareFile offers quite an unusual feature for file sharing category – legally binding eSignatures.
With this online collaboration tool, teams report that they manage to increase productivity and save time.
What is so unique about ShareFile:
Two-factor authentication.
Industry-leading encryption.
Integration with Office 365.
Secure eSignatures.
Real-time tracking.
Worth mentioning tools in the file sharing category
Box as it is an enterprise level system with lots of features.
Mediafire as it remains simple and offers powerful features.
Tresorit as it offers powerful security and encryption.
Knowledge management tools
These platforms serve as a source of structured information needed for work. They can be a place where all up-to-date information is stored, where teams can share information, and communicate.
56. AnswerHub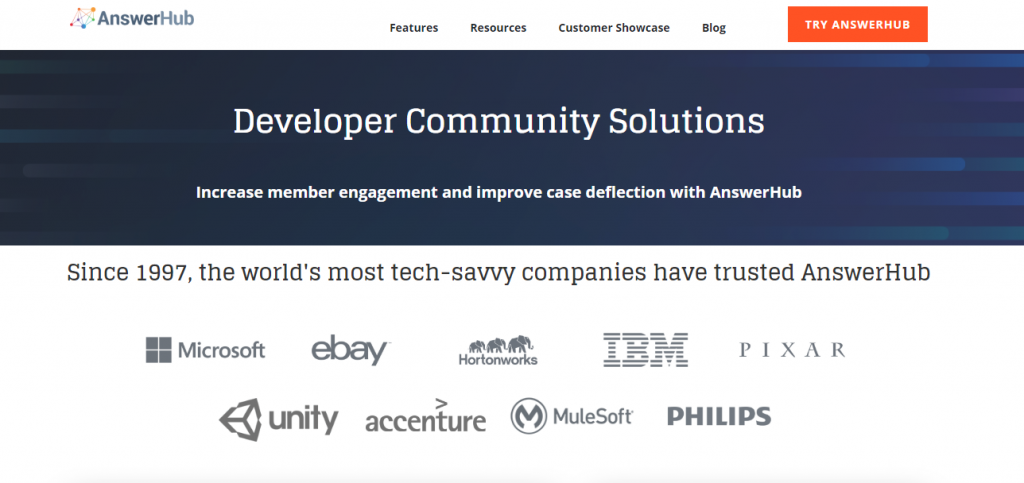 This collaboration software has an answer and question format. Here, users can write articles, leave comments, asks questions, like ideas, etc. In the app, it is easy to structure all the post or organize them in such a way that it gets really easy to find what you were looking for.
What is so unique about AnswerHub:
Reduce support costs.
Increased engagement.
Reward quality contributions.
User-generated content.
57. Confluence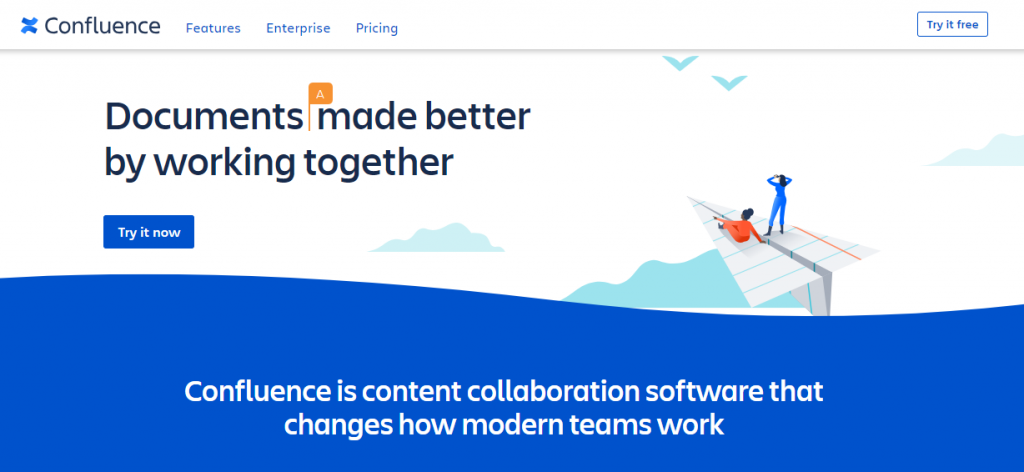 In Confluence, online collaboration is centralized and the information is kept up-to-date. The software allows creating, sharing, and collaborating on projects in one place. It significantly simplifies the way teams collaborate online.
Users can create notes, receive feedback, comment on tasks, create plans, include multimedia or any other dynamic content. Also, your structured information is kept in one location. Thus, your customers can access it and help themselves with knowledge.
The tool is very popular. That's why there are so many alternatives to Confluence.
What is so unique about Confluence:
Work in one place.
Powerful search engine.
Connection to JIRA, other powerful add-ons.
58. BoostHQ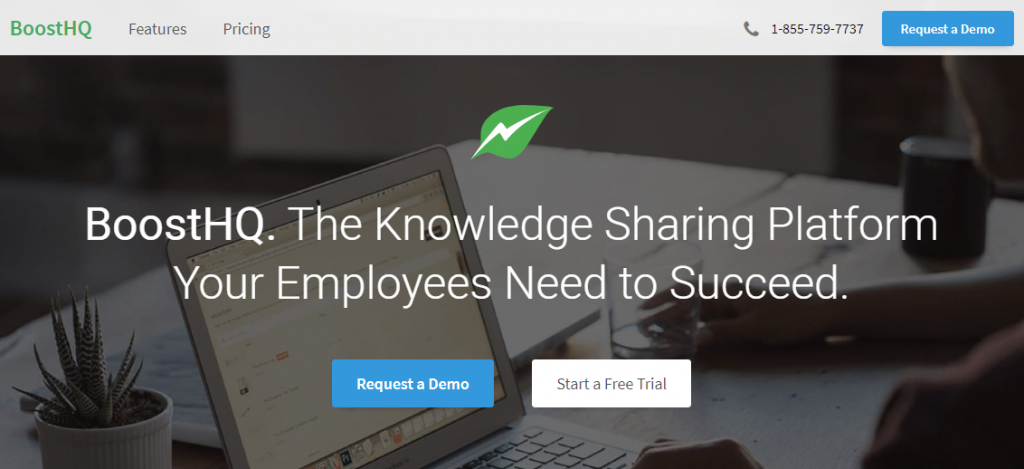 BoostHQ is a place you can organize, discuss, and share the knowledge of your company. The tool helps to create a resource library of your organization where you can collaborate through sharing materials, allowing employees to share their ideas and thoughts, and organizing content by groups and categories for further convenient search. As a result, users are able to build a robust learning community.
With the analytics in this online collaboration software, you'll know what content is used most and who is the most active in your team.
What is so unique about BoostHQ:
Smart content search.
Robust analytics.
Permissions.
Good for sales and marketing teams, customer service.
59. Bloomfire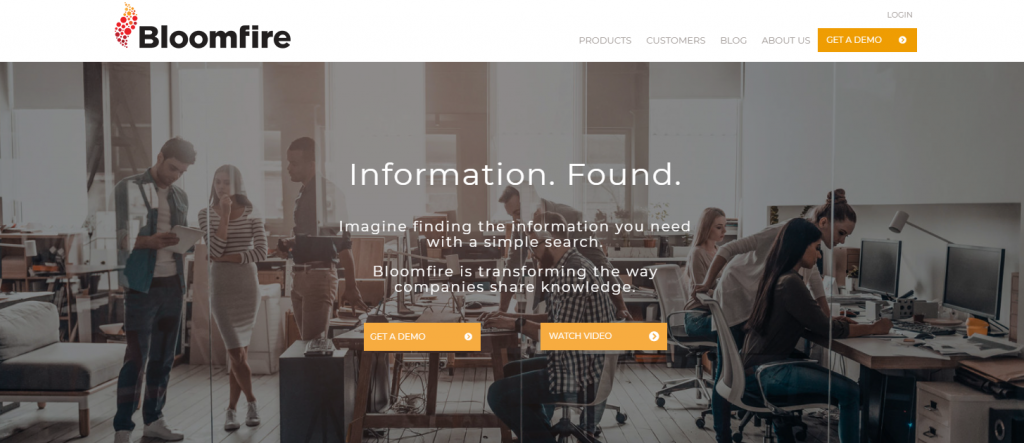 This online collaboration tool can be used for two purposes: for knowledge sharing and for customer insights. In the first case, it will help your team to find online the exact company-related information at any given moment. In the latter case, the platform helps to manage research and make it accessible.
In general, Bloomfire allows spending less time on content search and increasing the efficiency of online collaboration.
What is so unique about Bloomfire:
Simple and powerful search.
Powered by Artificial Intelligence.
60. Crowdbase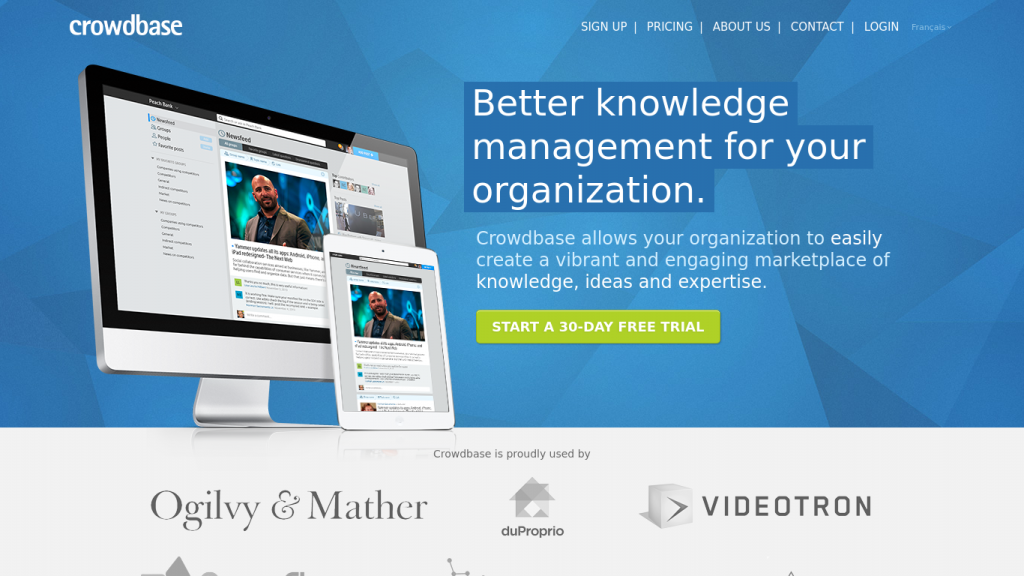 In Crowdbase, users can gather documents, reports, articles, build a library of answers, share files, video, etc. All the content needed for collaboration is stored in one place and in the secure and private environment.
The tool allows for creating private space or groups of interests. Thus, users will follow only those sections they have the concern about.
What is so unique about Crowdbase:
Content can be sorted out.
Third-party integrations.
Can be served as an intranet for small and medium companies.
61. Nuclino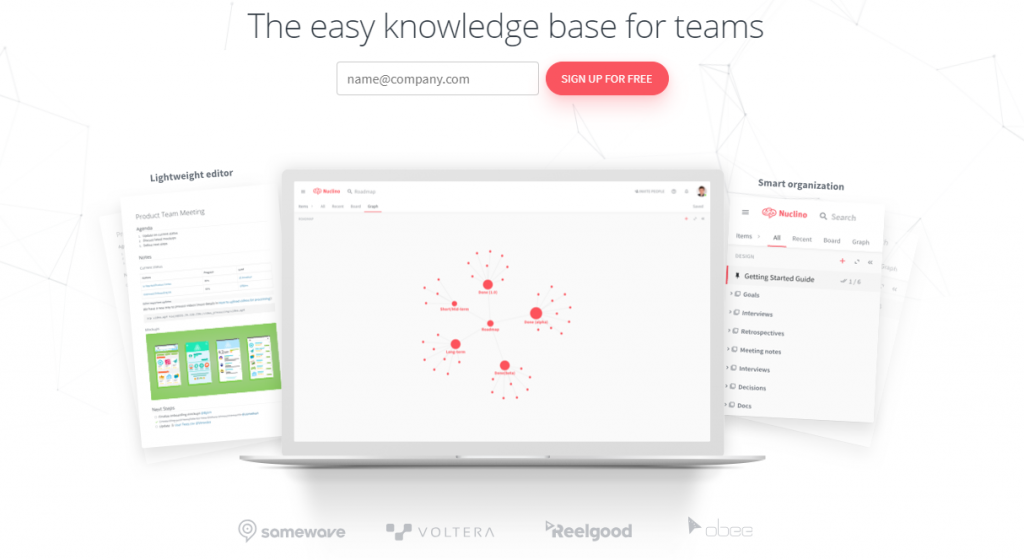 Nuclino is a knowledge sharing platform where your team will be able to collaborate online from the very first steps of using it. It is an easy-to-understand software with lots of useful features.
In the online tool, users can write and edit articles and enrich content with images, videos, embeds, code blocks, etc. Also, Nuclino offers version history: if there is a need to restore previous content, users can simply undo unnecessary actions.
The tool has iOS and Android apps. All the work is synchronized across devices.
What is so unique about Nuclino:
Flexible views: users can work in lists, boards or graphs.
Linked documents.
Instant search.
Export.
Integrations with world-known applications.
Worth mentioning tools in the knowledge management category
KBPublisher as it is an easy to use and open source app.
ProProfs as you can try their Knowledge Base software for free with up to 20 pages and it is forever free. Note: only one user is permitted.
iMeetCentral as it offers plenty of features.
What online collaboration tools do you use?
If you use some other tools for collaboration with your team and I haven't described them, please, give us your feedback in the comments below!