The Ultimate Event Planning Checklist: How to Plan Ahead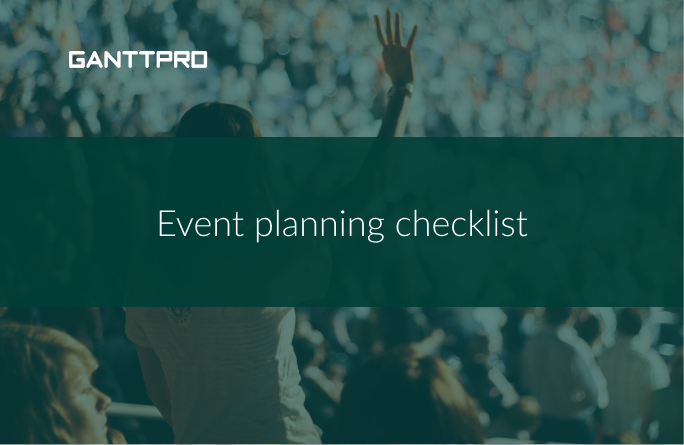 Event planning can be draining; even more when you don't have everything at the right place at the right time. For the smooth transition from starting your event planning business to executing post-event sales, of course, you'll need a professional background. Event planning certifications solve this issue.
Planning for an event, no matter the size requires layers upon layers of details. Whether you have planned over 100 events or you're just starting, your success depends on how well you nail these details.
17 steps of event planning
1. Project management and setup
Proper project management help avoid lots of unexpected issues that can ruin an event. Here is a to-do list for planning and executing proper project management and setup:
Set the event budget and objectives.
Set the schedules and deadline
Identify key staff responsibilities.
Set goals and milestones that must be met.
Delegate tasks to staff.
Identify a communication channel for your team.
Continuously update the budget and work with budget estimates.
Event planning templates can be a real game-changer for you.
GanttPRO is an online project planning tool that helps event planners work with tasks, schedules, deadlines, and budgets, communicate with team members, and successfully achieve goals.
2. Venue research and contracting
What geographic area works best for your event? How many people do you think will be attending? Do you need to provide Wi-Fi to your attendees? Does the venue have the infrastructure to support the number of people you expect will attend? Can you rely on local dealers?
Create a shortlist of possible venues.
Confirm availability and pricing.
Organize a visit to potential locations.
Negotiate and sign a contract for the chosen venue.
Create room allocation such as parking area, etc.
3. Sourcing partners and vendors
Once you have a venue, you can start looking for partners and vendors for your event. Here are things to consider:
Confirm availability of guests and performers.
Coordinate accommodation.
Ensure you communicate expectations with the events partners, exhibitors, and stakeholders.
Contact event vendors for purchase advice.
Sign all agreements with vendors.
4. Sponsorship checklist
Getting sponsors for your event is a big deal. To get started on the right path, here's an overview of what you need to do:
Get familiar with current sponsorship trends.
Target prospects that are known to sponsor events.
Conduct market research.
Study the prospect's objectives.
Pitch the idea.
Allow minor compromises.
Draft and deliver a proposal.
Maintain consistent communication.
5. Marketing checklist
Your event marketing plan should create a buzz among your target audience. It should build anticipation so you can meet your turnout targets. Mapping out a marketing plan will involve a lot of details, including creating logo and branding, printing flyers, launching paid advertising, and more. For a quick start, you can choose predefined marketing templates.
Here's an event planning marketing checklist:
Identify the key selling point for the event.
Identify marketing objectives.
Identify precise marketing.
Create a persona of the target audience.
Map out customer and stakeholder touchpoints.
Schedule marketing times.
Use previous event videos.
Review marketing plan.
Assess the success of your strategy.
6. Social media marketing checklist
Social media is the best channel for pre- and post-event marketing, depending on the type of event and target audience. Here's a checklist for social media marketing:
Identify key objective areas.
Map out your process.
Identify the content to include.
Identify the target audience.
Create tone and guidelines for the social media marketing team.
7. Event communication checklist
Communication is crucial for a successful event. You'll need to ensure everyone is on the same page when it comes to communication. You also have to:
Create a strategy to follow up on RSVPs.
Make pre-event information available.
Establish communication channels for the on-site team.
Identify the fastest communication channel to key individuals.
Create a plan to tackle escalations.
8. Health and safety event planner checklist
You'll want to keep track of everything that can affect your guests' experience. Here are a few things to consider:
Obtain relevant permits, insurance, and licenses.
Arrange for event security.
Conduct risk assessment.
Identify potential risks.
Create a contingency plan and share it with key players.
These are the small but essential details, which you need in your event planning checklist.
9. Technology for event planning
To cover the needs of various possible event processes, there are technologies that can help. Event apps handle numerous aspects planners face every day from registration where event registration tools are used to project management with event planning and management software.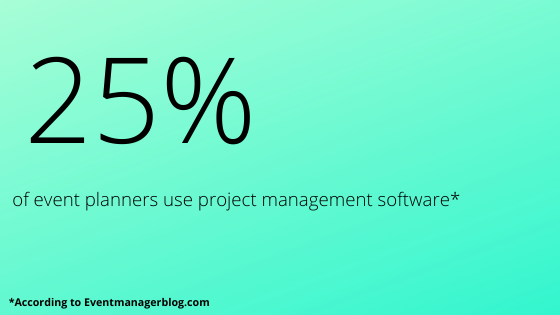 Event planning tools are reliable handlers of every event planner regardless of the event type. It helps organizers:
Schedule tasks and actions.
Assign tasks.
Set dates and deadlines.
Connect tasks with dependencies.
Set milestones.
Work with resources.
Collaborate.
Furthermore, you can also use other online collaboration tools to maximize the efficiency of your planning. For example, you can use a timesheet app and a collaboration tool. With these tools, you can track how you spend your limited time and collaborate with your team to ensure event success.
10. Audio-visual checklist
As you think about technology, consider audio-visual equipment and add to your checklist. You'll need to: 
Book and confirm a reservation for audio-visual tech.
Create room for audio-visual equipment on your platform.
Review graphics for audio-visual setup.
Cross-check available microphones and intervals for changeovers.
Set up a specific date and time to set up audio-visual equipment.
Schedule a rehearsal.
Set contingency plans for technical problems.
Carry out final testing.
Introduce performers and speakers to the audio-visual team.
Check lighting and sound during rehearsals.
Agree and confirm the performer's or speaker's audio-visual specifics.
11. Event planning budget
Creating a budget plan can be daunting. You can create a budget on Excel or Google spreadsheets, and it's not that complicated. What you need to do is:
Identify what to budget for.
Create a spreadsheet and share with your team.
Include details of items.
Identify deadlines for payments.
Separate budget from income and expenditure.
12. Event day final check
During the event day, you'll need to coordinate with your team to ensure everything is in place, including:
Ensure you are ready for the expected turnout.
Check all necessary components in available rooms.
Test Wi-Fi connectivity.
Run through the set timings.
Check all social amenities and ensure they are clean and operational.
Check-in with all event suppliers.
13. Meet and greet checklist
If you have invited important persons or hired speakers or performers, you need to add more items to your checklist. For example:
Ensure your team is fully aware of where the VIPs and attendees should be directed.
Place staff in the receiving area for important persons.
Ensure communication is working perfectly.
Test all equipment.
14. Catering event planning checklist
Your caterer needs to be aware of the final registration numbers. You also need to:
Run through details with the catering team.
Discuss last-minute changes.
Determine what should happen to surplus food.
15. On-site health and safety checklist
What if someone has a medical emergency at your event? Are all health and safety provisions ready to handle any cases? Here's more to consider:
Conduct a final safety check.
Ensure all safety paperwork is signed.
Ensure fire alarms are in good shape.
Ensure your staffs are aware of evacuation and emergency procedures.
Prepare to note down details of any hazardous occurrence.
16. Post-event project management
After the event, take the time to debrief your team and write a post-event analysis. Talk with your team about what went right and what can be improved in future assignments. You can also:
Get feedback from all relevant stakeholders.
Brief the venue team.
Check agreement with suppliers, vendors, and the venue.
Analyze the collected data.
Evaluate whether the event objective was met.
Send-out follow-up messages.
Finalize budget and cross-check invoices.
17. After the event checklist
After the event, do a follow-up with your guests. This is an opportunity to reinforce your event's message and prompt guests to take action and meet event objectives. Here are things to consider:
Thank all performers, guests, presenters, and exhibitors.
Thank suppliers and get feedback.
Report and analyze feedback for improvements.
There is a variety of ways to follow-up with your guests. You can share photos of the event, send thank you notes, or post on social media.
Conclusion
With this event planning checklist at hand, you should be able to visualize and plan an event from all perspectives. Invest quality time in planning your event and amazing execution will follow.
Join 800,000+ project managers!
Create Gantt charts in minutes with GanttPRO and reduce time spent on managing tasks by 40%
Try for free
No credit cards required. No obligation.