Event Management Software: 8 Apps that Fully Cover Your Event Project Requirements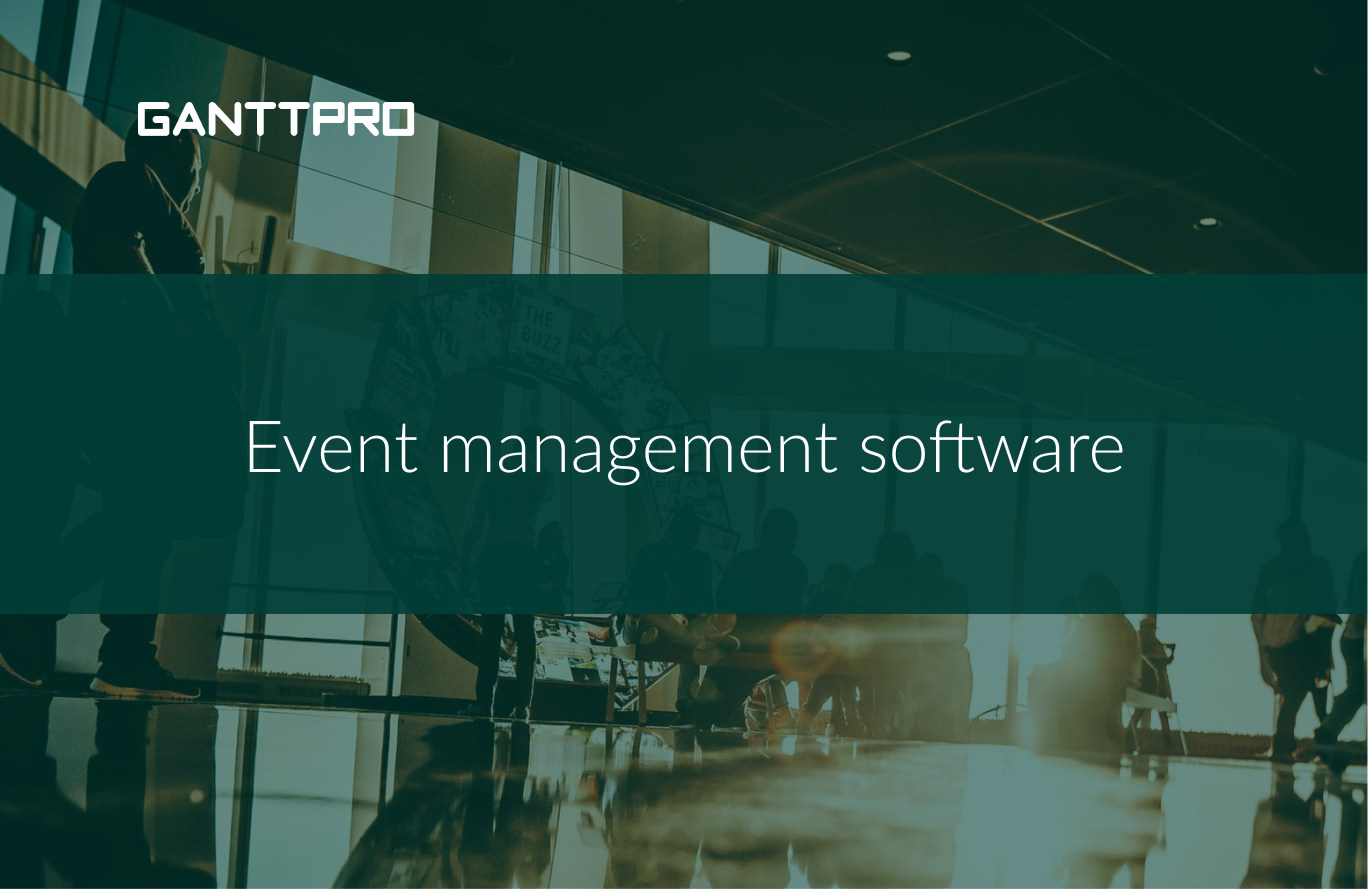 Planning and managing an event is a big challenge regardless of its type: whether it is a conference, exhibition, meeting, wedding or just a birthday party. It requires not only possession of certain skills but also having a talent for it.
However, to stand out and be a real superhero of event planning, an organizer needs to have an event planning certification and a good command of special software. You will find it in a few categories: event management software, event planning software, event planning apps or simply event software. Anyway, it is the same type of tools.
In this guide to event planning software, you will find apps from different categories, as there are different reasons why event organizers need a planning app. However, regardless of the category, all of them will help you plan and manage your event and follow event planning checklist in a very efficient way and, according to the survey conducted by Gather, significantly improve your overall organization.
To give you a clear understanding of the apps, each planning software goes with pricing options, pros and cons, scores, and real reviews.
But first, let's clarify two things:
What is event management software?
Which event management software is right for you?
What is event management software?
An event planning app is a tool or a set of tools that in its generic term are used in the management of a wide range of events.
As planning and management make the nature of event software and can't be considered separately from each other, in this article, event management and planning tools are reviewed as the apps serving the same goals.
How to choose the best event management software
For sure, it depends on your needs and goals. When choosing an event planning app, remember that it is obligatory to:
Identify the reason why you need event management software.
As there are different reasons for utilizing a specially designed app, this first step of choosing the right tool can save you tons of time and effort during the whole event life cycle.
The event planning software market offers dozens of solutions for event planners. They differ in their purpose and can be used for scheduling and task management, registration, ticketing, sales, progress tracking, and many other needs. However, no matter the software nature, they all help streamline event management processes automatically in an efficient way.
Event management software categories: from task management to all-in-one solutions
The article covers not every possible category of event planning software. If you have something to add, please, share it with us in the comment section.
Here, you will find the following categories:
Planning and scheduling software
Event attendance tracking software
Planning and scheduling software
1. GanttPRO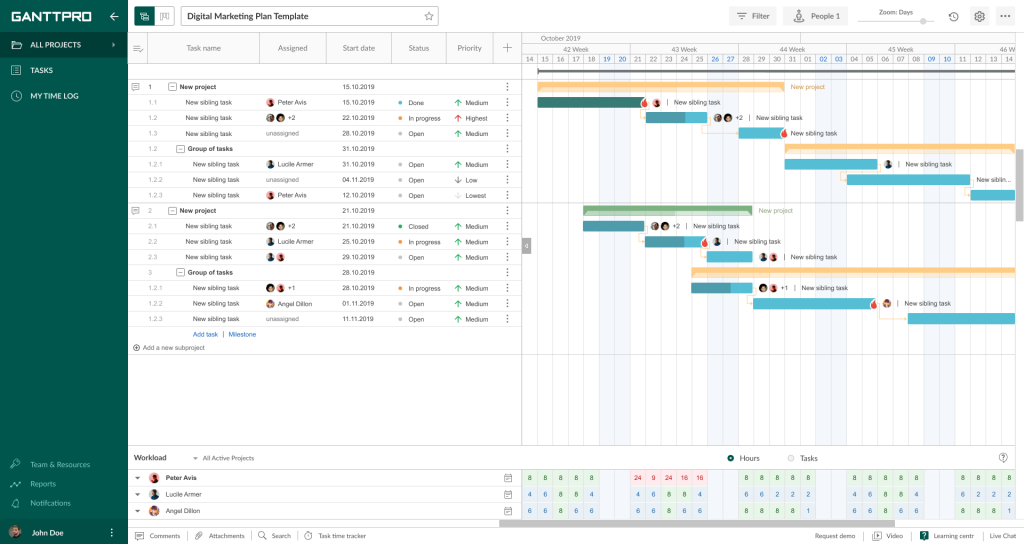 GanttPRO is online project management software based on Gantt charts. It allows event organizers to break down their activities into smaller tasks with clear start and end dates and deadlines, plan and assign all the tasks to real team members or virtual resources. Then, every assignment is very easy to track.
GanttPRO provides a big picture of an event allowing managers to plan activities long before they start and closely track in real time every detail of a project.
Pros: this Gantt chart maker is more than just a simple planning tool. It also has robust resource management, resource workload, team collaboration, and time tracking features. With its help, it is very easy to see the big picture of an event. It can be your central place for all project-related information like tasks, dates, files, and discussions.
Cons: limited integration options. No mobile apps.
Summary: a very easy-to-use planning and management tool for all kinds of events with a nice interface and a short learning curve.
Helen Polyakovsky, an event manager:
GanttPRO really helped me not to lose my senses during the intense 4-month wedding preparation. Everything was clear on my to-do timeline! Even when something had to be delayed, I could see what kind of adjustments were needed to be done in my plan right away.
Venue management software
2. Planning Pod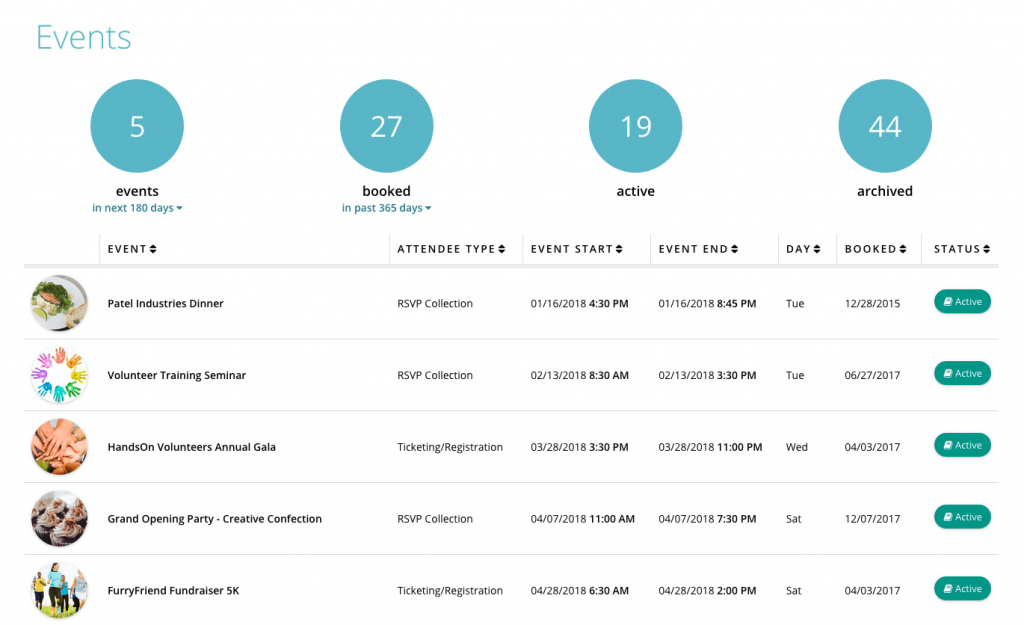 Pricing: Not available.
Trial: Free 14-day trial.
Mobile apps: No.
Product demo: Info not available.
Scores as of December 2019: Capterra: 4.3/5 based on 27 reviews. G2: 4.1/5 based on 12 reviews.
Alternative app: EventTemple.
Planning Pod is venue management software that helps event professionals and businesses be more productive and organized. This event planning app will be your central place for event details.
Planning Pod offers two solutions. For venues, it serves as a venue management software that streamlines processes. For planners, it gives a big picture and keeps teams in the loop.
Pros: integration with Zapier, easy to use, lots of features that allow being confident in your event.
Cons: no mobile apps, not the greatest UI.
Summary: planning Pod offers basic functionality that, however, should work fine for event management.
Heather l., an event organizer:
For event professionals, such as wedding and event planners, this is one seriously helpful option. I would highly recommend checking it out.
Event floor plan software
3. Social Tables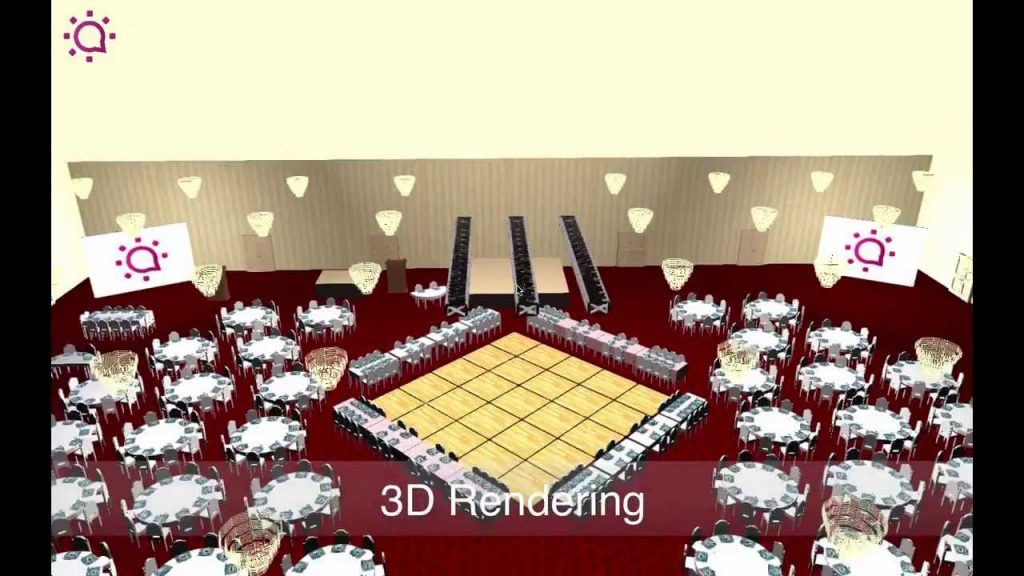 Pricing: For planners, prices start at $99 billed monthly. For properties, upon request.
Trial: Yes.
Mobile apps: No.
Product demo: Yes.
Scores as of December 2019: Capterra: 4.5/5 based on 23 reviews. G2: 4.4/5 based on 102 reviews.
Alternative app: allseated.
Social Tables is one of the leading tools in the event management software category that allows planners and properties to effectively collaborate. Global companies use Social Tables to earn more profit and develop their business.
In an easy way, the event planning tool allows designing room layouts, seating, and event-diagramming in general.
Pros: serves well for event sales, event services, and different venues.
Cons: not mobile-friendly.
Summary: this software is a robust solution that allows managing guests, communicating, creating diagrams, finding venues, and much more.
David, works in event services:
I love being able to layout design for any event no matter the scale – small gathering, large party, banquet, conference, meeting, wedding, etc. Social Tables is easy to use and easy to export any design created.
Event attendance tracking software
4. Attendease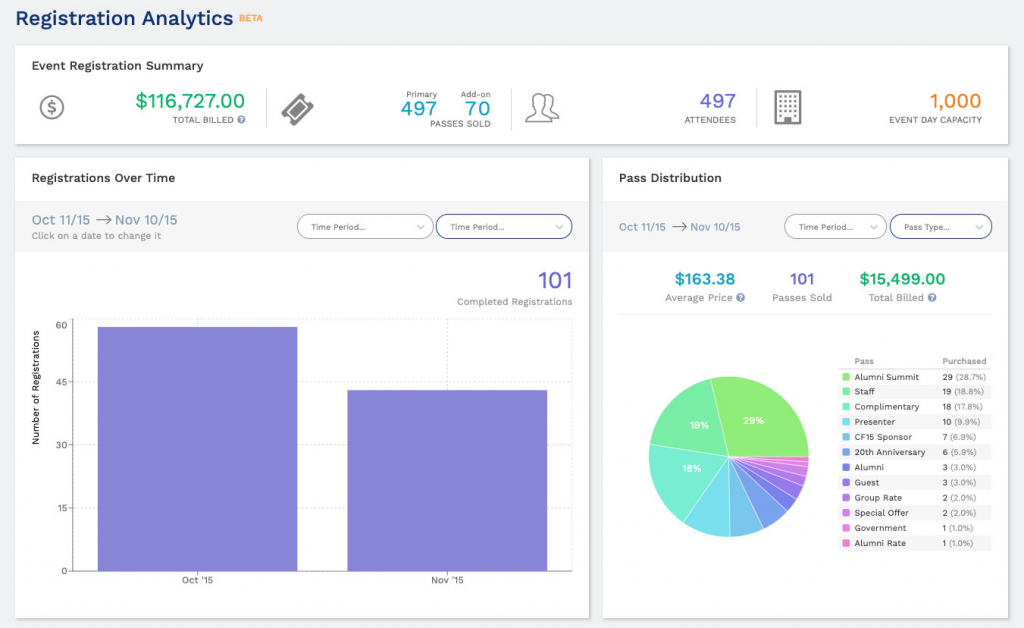 Pricing: Upon request.
Trial: Upon request.
Mobile apps: Yes.
Product demo: Upon request.
Scores as of December 2019: Capterra: 4.5/5 based on 8 reviews. G2: 4.6/5 based on 17 reviews.
Alternative app: Cvent.
Attendease is an up and coming all-in-one event management software that can help event planners to manage events of all types and sizes. Winner of the 2019 Event Tech Awards in the category "Best Attendee Management Platform", Attendease is a solid solution to help planners to track member attendance.
Used by enterprises such as Adobe, Autodesk, Pepsi, and NBC, Attendease offers a complete suite of features, including a website builder, registration, email marketing, event analytics, attendee management, and more.
Pros: real-time data for event reports and metrics and deep insight into attendee behavior. Attendease offers many solutions under one umbrella, reducing the technology stack used by event teams. The tool is also easy to use and onboard, and teams can start using the platform with no downtime.
Cons: it looks like the product meets the needs of most event planners.
Summary: a powerful event management software that covers a plethora of day-to-day activities of event planners and organizers.
Joni A., NBC:
I love the flexibility within the Attendease application. It handles small events all the way to large and complex events. The biggest win is the time savings – our event managers are putting their time into enhancing events rather than searching through email.
5. Cvent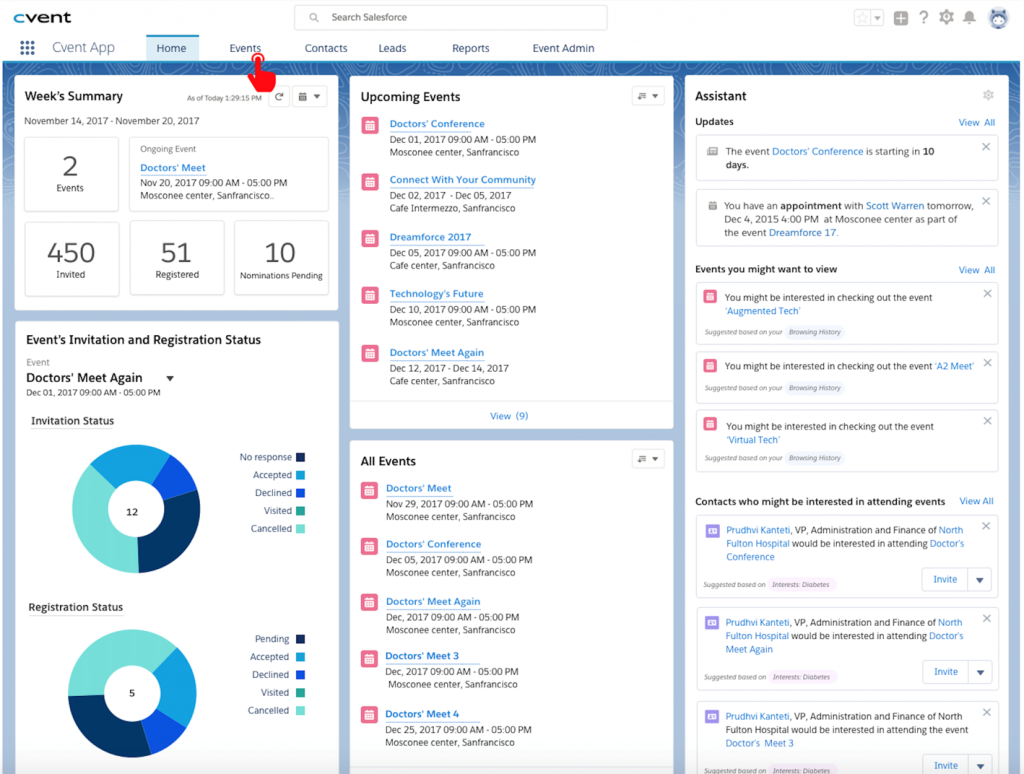 Pricing: Upon request.
Trial: Yes.
Mobile apps: Yes.
Product demo: Upon request.
Scores as of December 2019: Capterra: 4.5/5 based on 589 reviews. G2: 4.2/5 based on 1186 reviews.
Alternative app: Whova.
Founded in 1999, Cvent is a globally recognized tool that helps organizations plan and manage events regardless of industries and sizes. This all-in-one event app can be also easily used for attendance tracking.
Cvent offers a smart attendance tracking technology that significantly increases attendee experience.
Pros: real-time data for event reports and metrics, deep insight into attendee interests, booth visitor tracking, and much more.
Cons: it requires time to figure out how to configure the software for your needs.
Summary: a powerful event management software that covers a plethora of day-to-day activities of event planners and organizers.
Lindsay J., an event coordinator:
We finally have a program where attendees can look over a webpage with all event info and register easily, so our attendee experience has definitely improved.
Event registration software
6. Eventbrite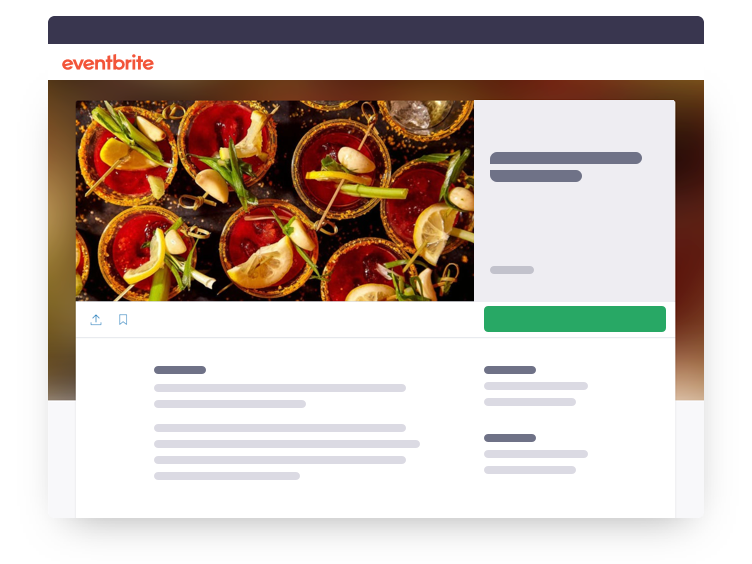 Pricing: The fee per paid ticket starts at 2% + $0.79.
Trial: Yes.
Mobile apps: Yes.
Product demo: Yes.
Great bonus: Free to use for free events.
Scores as of December 2019: Capterra: 4.6/5 based on 2257 reviews. G2: 4.4/5 based on 607 reviews.
Alternative app: Event Smart.
Event registration will be a breeze with Eventbrite, the event planning and management software that helps businesses manage and promote their events online. The tool is a perfect choice for all those who want to organize events of all sizes, from small dinners to big music festivals.
Eventbrite is a global platform that operates in more than 170 countries.
Pros: integrations with 100+ apps including Facebook integration that allows increasing sales, more than 10 reports and chart views with 24/7 access from any device.
Cons: many people state that the pricing is steep.
Summary: with the tool, it is really easy to set up events with different ticket pricing options.
Ashley A., a Vice President at a non-profit organization:
Love it and we will continue to use it! It has helped us organize numerous events!
7. Purplepass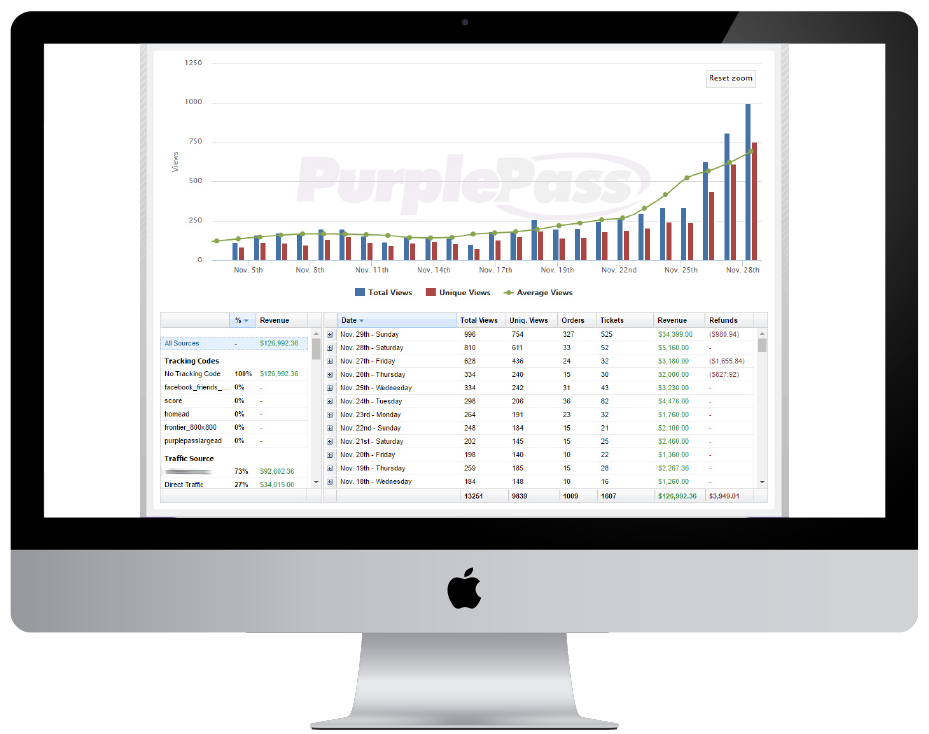 Pricing: Service fee is 2.5% + $0.99/ticket. Credit card processing is 3% online and 2.5% box office + $0.25/transaction.
Trial: Yes.
Mobile apps: Yes.
Product demo: Yes.
Great bonus: If your event is free, so are they. There is also a discount for nonprofits.
Scores as of December 2019: Capterra: 4.9/5 based on 154 reviews.
With this event registration software that is both affordable and innovative, you can sell tickets like a pro. Besides their 24/7/365 support for promoters and their customers, event planners can implement a management solution that has everything they need.
Purplepass is perfect for all organizers of all event sizes.
Pros: every user has access to a support team for them and their guests; no upgrades or special pricing plans required. It provides access to custom reports, stats, real-time alerts or you can build your own. Equipment is available for rent and free after spending X amount of tickets.
Cons: it looks like this event management software is highly appreciated by customers with relatively few insignificant cons.
Summary: with the right tools and support team behind you, promoting your event is easy from start to finish.
Michelle C., an Arts event director:
Overall, my Purplepass experience has been positive! If I had any questions or trouble using Purplepass, each member of their staff was knowledgeable, ready to help, patient, and kind. I recommend those considering a ticketing platform to look into Purplepass!
8. GEVME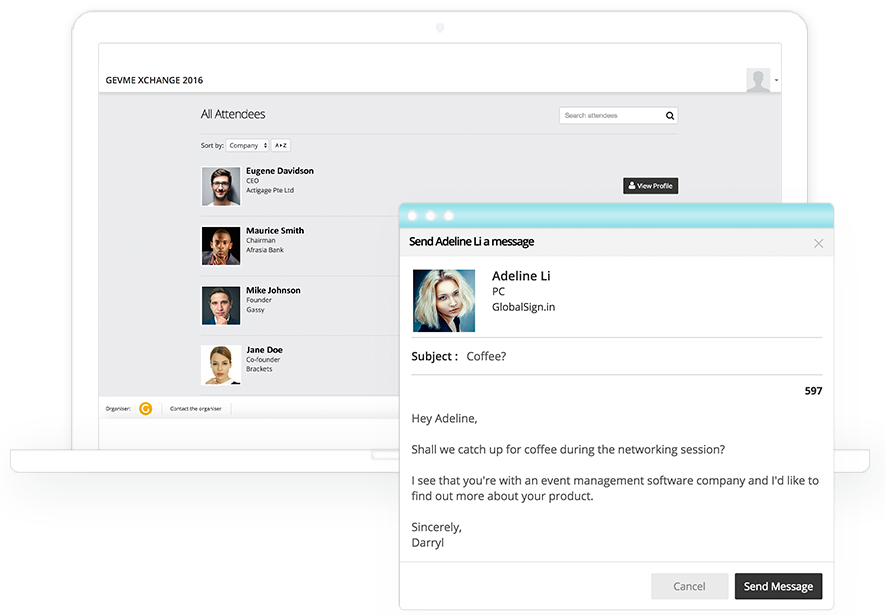 Pricing: For 1 user, it starts at $250 per month. For 5 users, it costs $1200 per month. Enterprise solutions – upon request.
Trial: 14-day free trial.
Mobile apps: No.
Product demo: Yes.
Scores as of December 2019: Capterra: 4.5/5 based on 6 reviews. G2: 4.5/5 based on 2 reviews.
GEVME is a fully integrated event management software. It can power an entire event lifecycle from event website, online registration and email marketing for pre-event execution to on-site registrations to the post-event follow-up process. It transforms the ways how events are conceptualized and executed.
With additional capabilities such as using RFID to track attendees, GEVME is highly focused on using technology to deliver an effortless, seamless, and integrated experience for event organizers and attendees alike.
Pros: GEVME provides all the features needed for the whole lifecycle of an event. They enable their users to create unlimited events and have unlimited attendees.
Cons: GEVME's pricing model is mainly geared towards event planners who run large-scale events or multiple events. It is less suitable for those running a one-off small event.
Summary: a fully-integrated tool that provides all the features needed for any event management needs.
Rachel T., an Even manager:
We had used the GEVME software to send out invitations to our guests, on-site check-ins, and door gift redemption. The support provided by the team is excellent and they are always ready to suggest solutions for the improvement of the processes.
Share with us your favorite event management software in the comments below!