Top 7 Simple to Learn Project Management Tools for Teams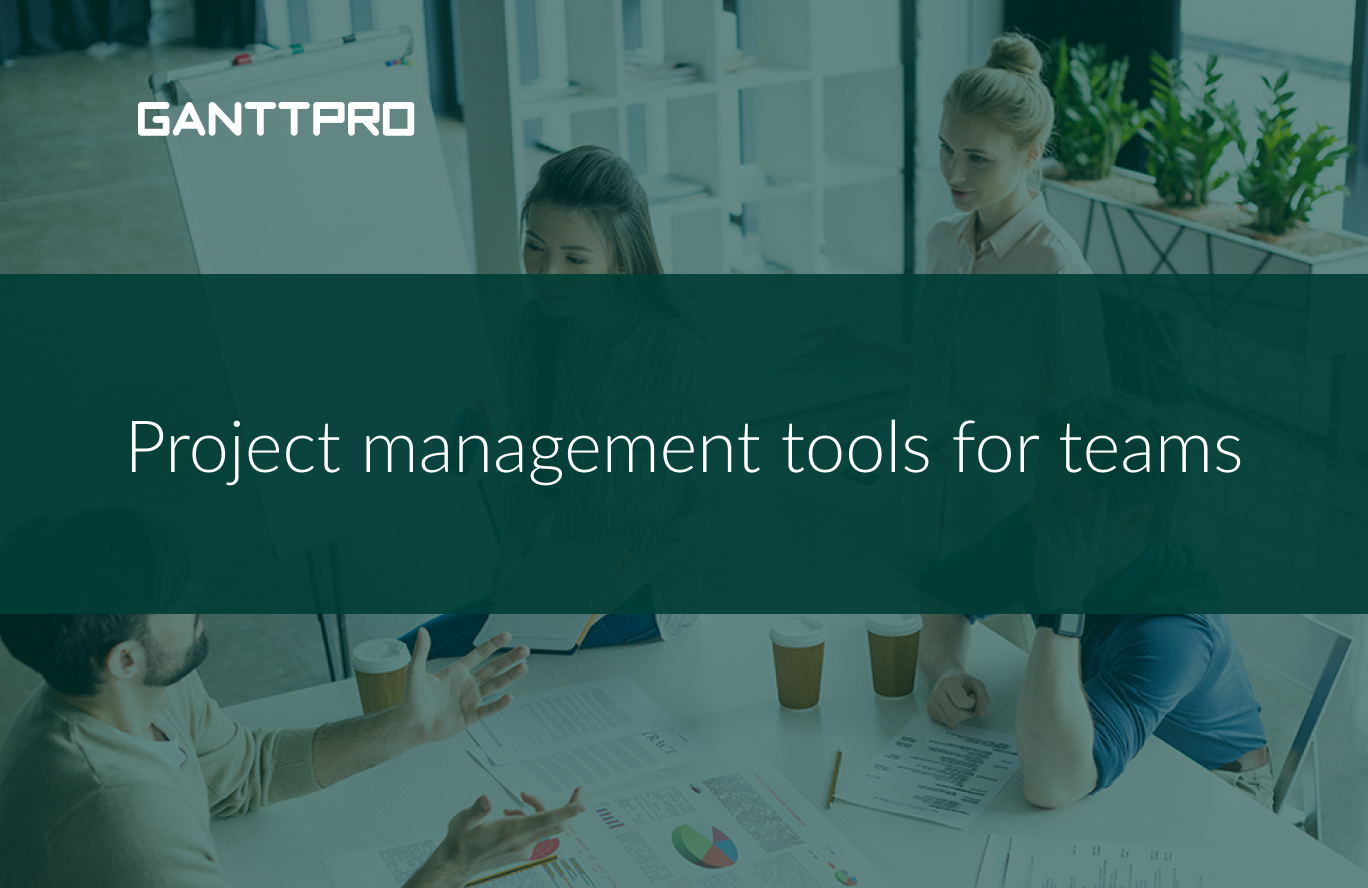 Relying on traditional, costly, and time-consuming approaches for project completion is now a thing of the past. Project management software tools have flooded the market and started a dynamic revolution. They are intuitive and smart and help in running any startup, small business, or large company to the best of its capability.
Project management tools can kick up the productivity level to great heights, and bring down project costs thereby creating a highly conducive work environment. This software has largely entered the business world as it can simplify any organization's operations and turn colleagues into high-performing teams.
Modern companies can now deliver strategic solutions by implementing cost-effective project management systems that pump up scalability along with business agility. Expanding and diversifying your business model can also be made possible by getting the apt project management solution. It can help firms to transit difficult phases with ease and tractability.
How to choose the best project management tool
There are tons of project management software suites in the market, and choosing the best one for your organization is certainly not an easy task. It is important to conduct careful research and choose the best project management tool that will help you effectively achieve corporate goals. What is also important is to find a simple to use one.
Here are seven advantageous and simple to learn team project management software that is well equipped with robust features and will prove to be beneficial for your organization. Just in case, you can also choose something from this list of Gantt chart tools.
1. GanttPRO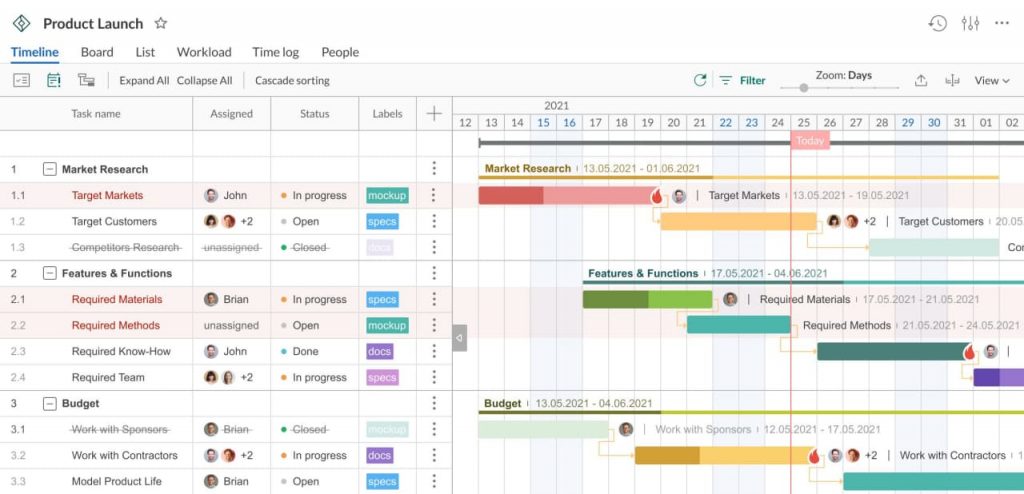 This innovative end-to-end project planning tool is a market leader thanks to its excellent features and capabilities. GanttPRO is sophisticated software that helps project managers save time, effort, and money through the efficient planning of project tasks. It leads to a dramatic increase in team collaboration and streamlines business communication for better results.
GanttPRO is an interactive online holistic project management platform that splits projects into tasks and subtasks to set accurate estimates along with effective resource allocation and management. User-friendly Gantt charts act as visual indicators that facilitate projects to maintain deadlines and pump up operational efficiency. A simple, agile, and flexible tool – GanttPRO is a huge success with most global organizations and it is the best way to keep your projects on the right track!
2. ProofHub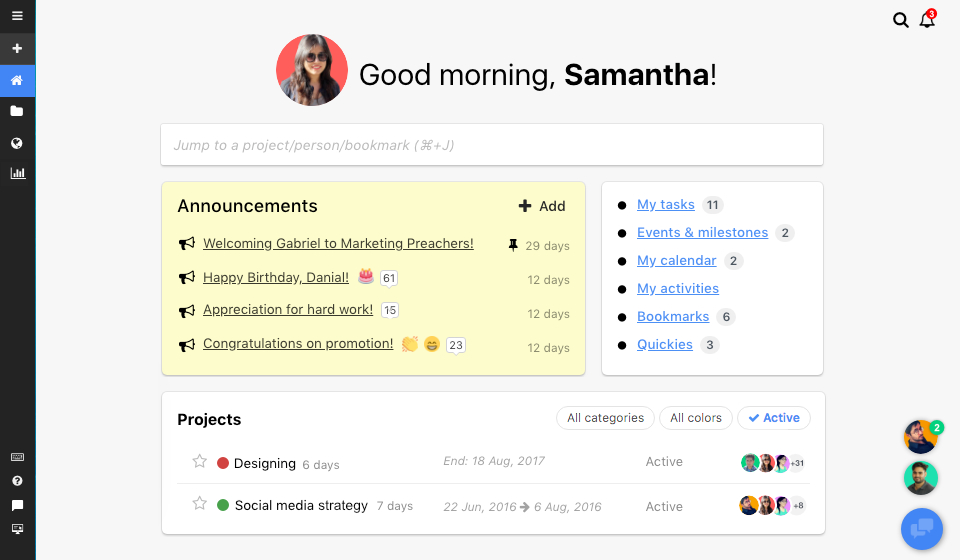 ProofHub is a highly effective project management and team collaboration tool used by thousands of teams and businesses from around the world. It brings clarity in project planning with its visual project timelines and Gantt charts, even though, they look not as professional as the timelines in some of ProofHub alternatives.
The interface is easy to use, and hence there is little to no learning curve. ProofHub brings sanity to your work life by giving you a central, secure place to keep all your files, notes, and documents organized.
ProofHub keeps your team connected, no matter where they are. You can communicate in real-time using the in-built Group chat app or start brainstorming virtually using the discussions feature. There's a wonderful online proofing tool to simplify your review and approval process. ProofHub also has time tracking and powerful reporting capabilities to help teams always stay in ultimate control of their work.
3. Monday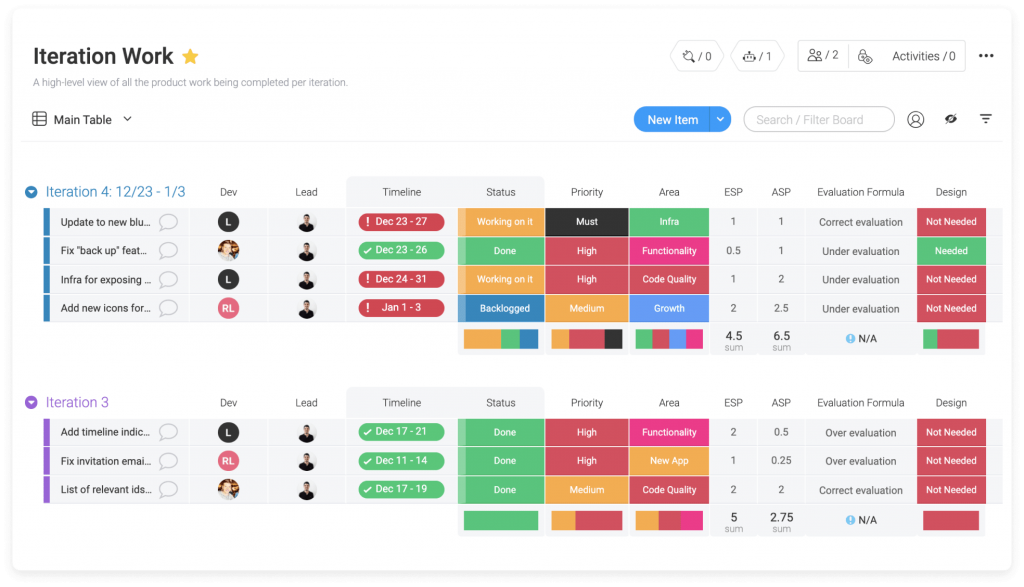 This is an amazing project management tool designed for small and medium businesses. It helps organizations manage project schedules by improving communication and flexibility. It also helps to plan the project well ahead of time by utilizing visual project timelines so that all project team members are aware of their tasks and goals.
Monday.com is a highly scalable software system. Newly updated modules can be frequently added according to requirements. It is highly user-friendly and has a navigable interface that can be mastered with minimal training for staff members. There is no doubt that Monday.com is a great project management tool and can be used to align goals and delegate project activities in the most efficient manner. It is a real investment for any company looking to develop a niche competitive advantage in today's rapid fast-paced business arena.
4. Asana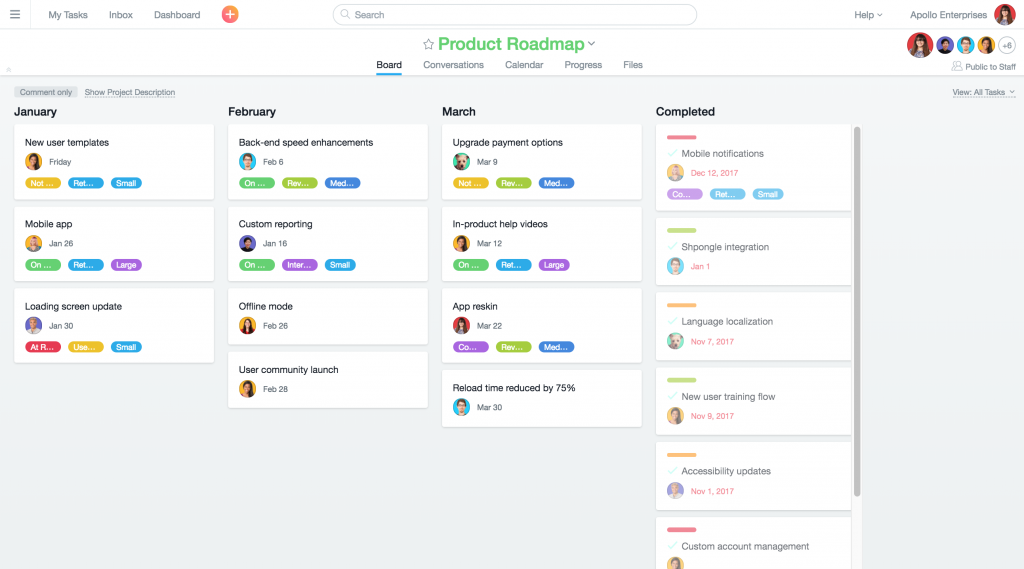 It is a sophisticated project management platform that can help companies keep a real-time track of their important projects. Asana is great for implementing marketing campaigns, developing product launches, achieving a company mission, and meeting project requirements in a timely manner. It is the ideal tool for companies to move towards higher-level complex project plans.
Asana ensures real-time live updates so all project team members can view the latest information that results in better business decisions. It has an intuitive and simple interface and is packed with a number of novel features. If your company needs a system to visualize goals and kick up project efficacy, getting Asana will be the best long-term decision and augment profitability to great peaks.
5. BaseCamp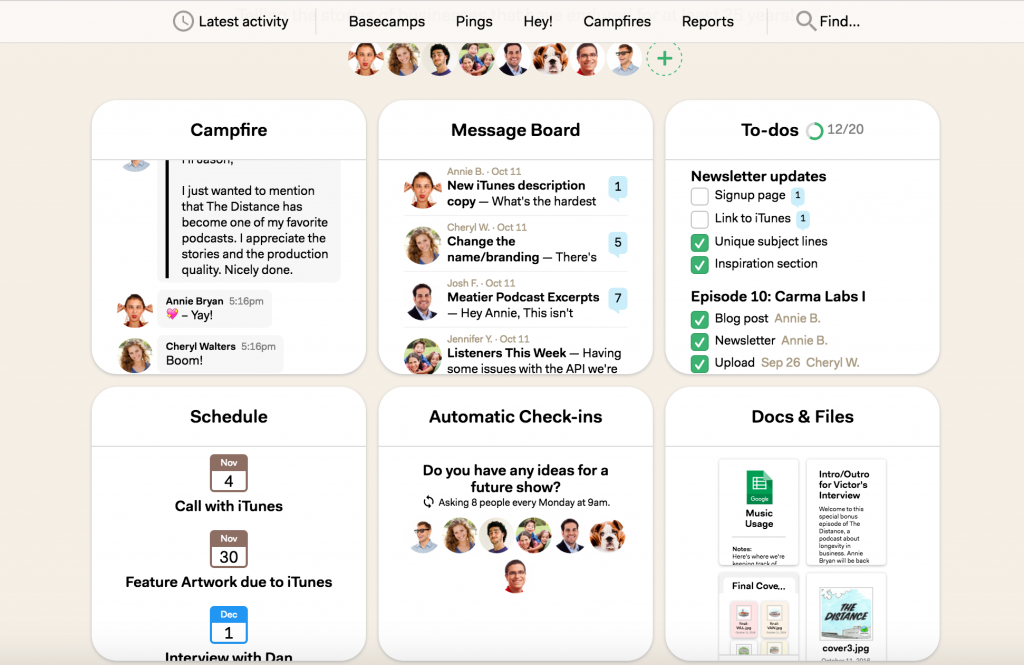 If your company is focusing on project agility and team collaboration, BaseCamp is the perfect solution. This unique project management tool consolidates documentation, lists, spreadsheets, and business communication for seamless operational efficiency. An easy-to-use software – it is a good choice for first-time users thanks to its visual dashboards and ingenious features.
One amazing advantage of BaseCamp is that it includes real-time discussion boards, where team members can have project-related conversations and share vital project data. It also has the facility of automatic check-ins that regularly provides insights to the entire project team. Highly cost-effective, BaseCamp is a must-have for any organization that wishes to increase its bottom-line results in the fastest time ever!
6. Trello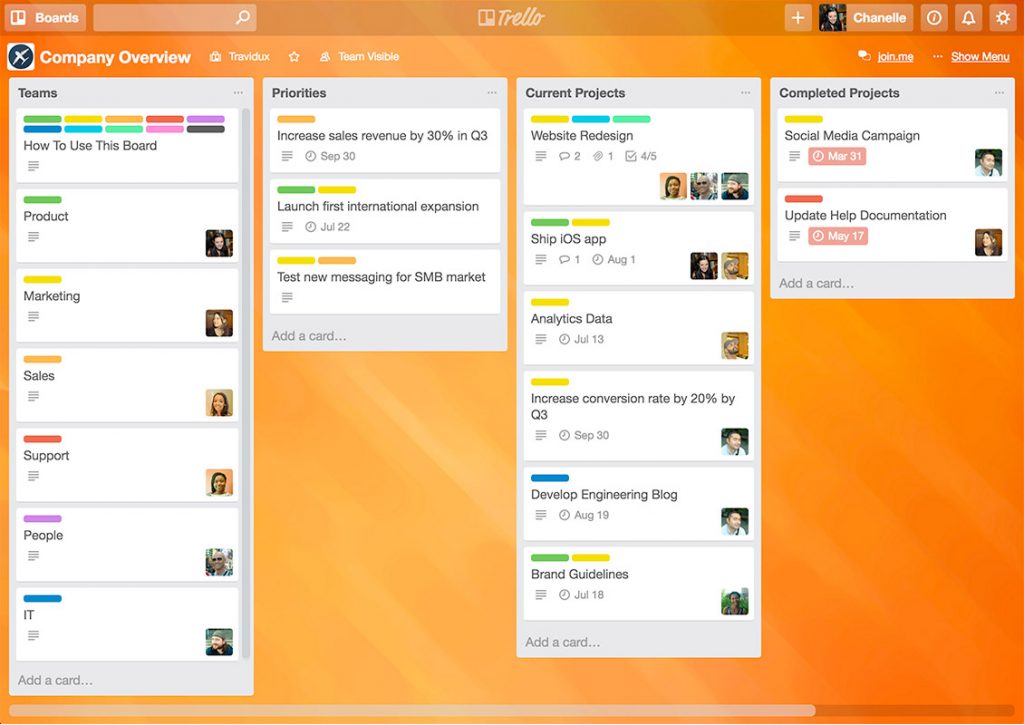 This popular project management software utilizes the Kanban Japanese scheduling system to emphasize just-in-time processes and smooth task management. Trello works best for creative project teams that rely on speed for project planning and implementation. It provides state-of-the-art analytic solutions and reporting templates that facilitate streamlined data dissemination across project teams.
Trello also has movable visual boards which is a real asset in information sharing. It makes it super easy for members to view the actual progress on crucial project tasks. It also has a shared calendar system for better transparency and work scheduling. Upgradable and affordable software, Trello is definitely a good option for any company. It can augment comprehensive project implementation at all stages.
7. Hive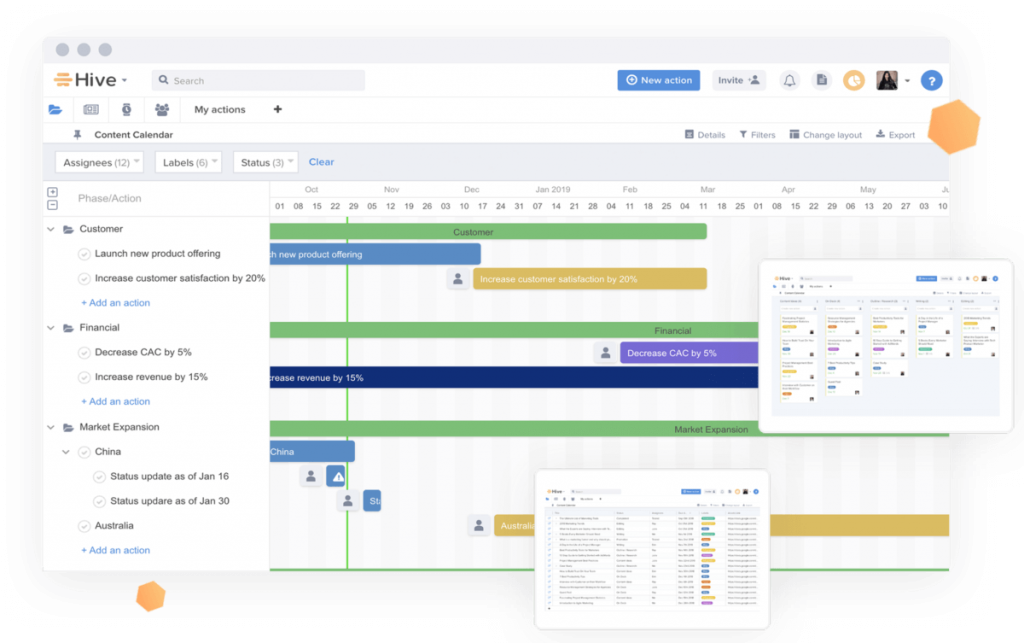 Hive is a leading project management tool that helps teams work faster in one single dashboard. Hive offers all the project management functionalities you could ask for, including task management, time-tracking, resourcing, proofing, and approvals. Hive Mail and Hive Notes are what separate this platform from other tools. Hive is the only project management software that pulls in your inbox and has an in-app notepad, letting you create and assign actions right from an email or note.
Hive is used by thousands of companies of all types, including agencies, small businesses, and enterprise corporations. Hive's affordable pricing model starts at $12 per user and gives each customer the option to add on additional features based on your needs. Hive also offers a 14-day free trial so you can try it out before you commit.
Wrapping it up
Efficient project management can help your organization escalate the ladder of success and gain a rock-solid positive reputation in a competitive market space. Make sure to invest in the best project management tools for your organization to witness a dramatic increase in your bottom-line results along with a workplace transformation.