Guide to Building a Super Team: Project Team Roles and Responsibilities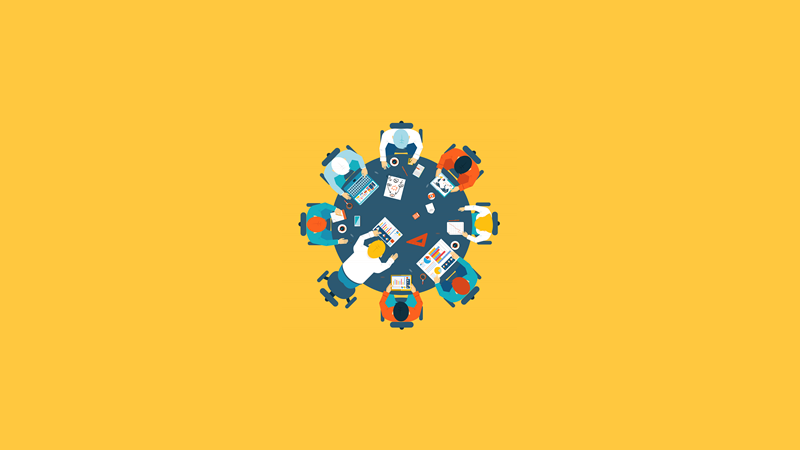 We have already discussed project management methodologies that can help you to improve your team's results. In this article, we want to share with you some tips and tricks how to organize your project team and delegate roles and responsibilities that, we hope, will help you with your hard but usually invisible mission of project planning, team organizing and guiding the working process. Once a team is organized, you're ready to move on and choose team project management software, whether it is construction schedule software or you're choosing the perfect one for an IT team. But first things first.
The fact of the existence of bright minds by itself does not necessarily guarantee the realization of bright ideas. The trick is to gather (them) all members together and organize the working process the best way. Due to the complexity of the existing IT solutions, to successfully compete for the attention of users your dream team should consist of specialists in different fields.
Team project management – Do not fear pluralism
Create a detailed project scope before starting. Ensure that you have full project details before getting to work. Deep and clear understanding of your goals, available resources, interim milestones, due dates, budget worksheet, and other tiny and big details is the primarily required condition of the successful project. The constant communication between the stakeholders is crucial at the step of planning.
Project team roles and responsibilities – Establish an Organizational Culture
Organizational culture consists of the attitudes, values, beliefs and behaviors of its employees. To reach the required level of organizational culture you can follow so-called Project Culture Initiative. The full process takes a few steps. Firstly, you should create a Steering Committee that consists of a mix of management and staff. This committee reports directly to the CEO/President of the organization.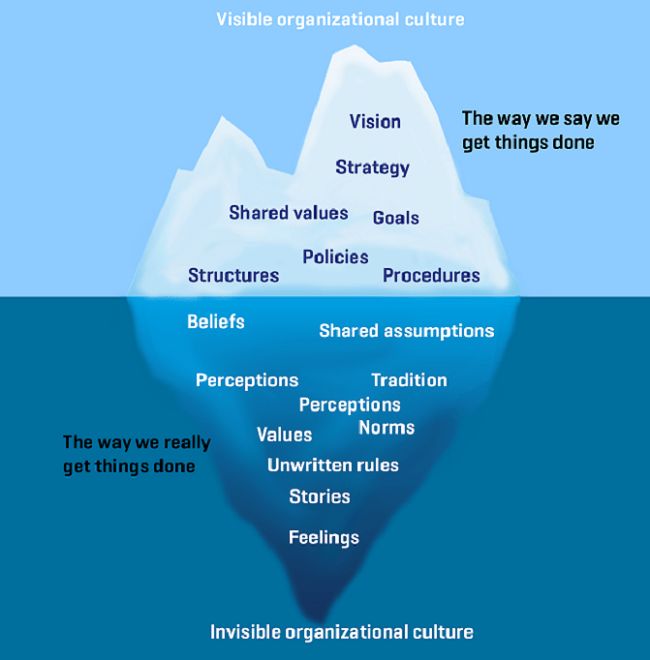 It will be important for the Steering Committee to define their purpose, roles and responsibilities as well as their communication strategy and expected outcomes. They will develop sub-committees of staff who will help to manage the on-going project change requirements. Then, the committee will communicate the initiative to the rest of the organization.
After that, to measure the base point for the current organizational culture in relation to the "ideal" organizational culture, staff of all levels will be asked to complete a survey. Analyzing the results of such survey will help to determine the required improvements. Finally, you'll be able to develop strategies to close the gap between current and "ideal" project culture. As a result, you'll be able to create a healthy project management environment.
Project team should be accountable
Regular meetings with the aim to discuss what was done, what should be done, and what issues have arisen can boost productivity and efficiency. If there's no possibility to bring all your team of developers together, you can always rely on the specialized software. For example, Trello will help you know what particular task was assigned to the particular team member.
Trello boards visualize the workflow in the form of several separate areas that represent the stages of the project and a bunch of cards, each of which represents the particular task. Such approach allows defining the possible bottlenecks with ease.
Additional functionality, such as notification system, tags, due dates, will help finish tasks in time. You can assign an employee or a team to the particular task to quickly determine which team members are responsible for which parts of work.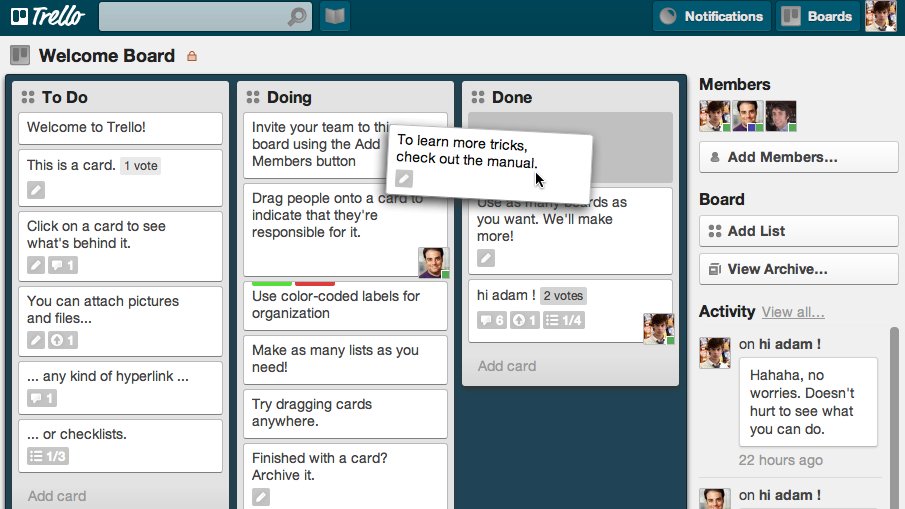 Use team project management software to be clear about the deadlines
Besides the understanding the amount of work should be done by your employee, every member of your team should clearly understand a precise timeline of when tasks need to be completed. It can help your team members to get a clear understanding of how each of their efforts contributes to the project as a whole. As one of the forms of representation of the current state of your project that contains the deadlines for different parts of it, you can use the Gantt chart.
They look like a sequence of horizontal bars. Each bar represents the particular task. To use these charts in your project planning, you can create a project team and manage it with project planning software GanttPRO: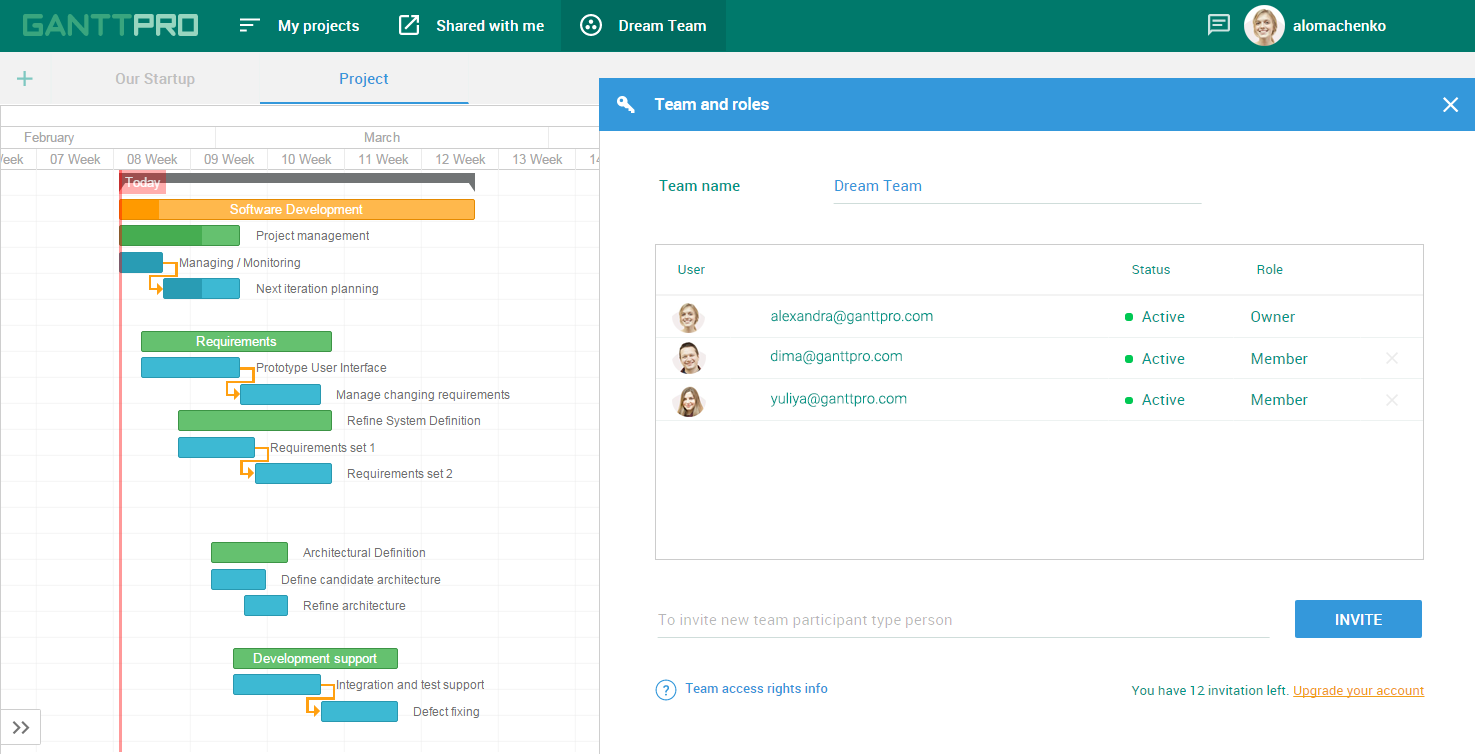 As you can see on the screenshot above, it's pretty easy to see what's the current state of a project. You can see deadlines for every task and the current progress for each of them. Advanced features such as scaling, exporting, sharing, and others make this project collaboration software pretty useful.
Make sure you use unified team project management tools
Email is the most common type of communication. But in the case of project management, it can complicate and slow down the working process. Digging into the depth of emails that was accumulated during the long working period can be a real headache.
Sometimes, even for such trivial task as sending messages, it's better to use specialized software that is available to every team member. DropTask, a visual task management solution can be helpful in this case. It keeps all project information and communication in one place which can save you some precious time. If your team or clients are located across the world, it could be uneasy to share the files among them. Project management apps can also serve you as an online file storage making it easier to work with documents.
Motivate project teams
Motivate your team members by rewarding them for reaching milestones. Celebrating milestones can be an excellent way to track progress while keeping team members motivated.
Define exact project management team roles
Build in extra time to have resources for changes. You should remember that projects don't ever follow specifications exactly as you planned it. To avoid possible issues and save time, build in extra time to be able to make changes.
Conclusions
Those were only a couple of tips and online tools that can help you with managing your project. But here's the main tip: do not rely entirely on tips. Keep in mind that project management is rarely straightforward. Maintain flexibility instead of strictly following the set of learned skills is the indispensable quality of every project manager. That's why you should stay open-minded and always ready to absorb new knowledge and learn new approaches.