Construction Schedule Templates: GanttPRO – Gantt Chart for Construction Projects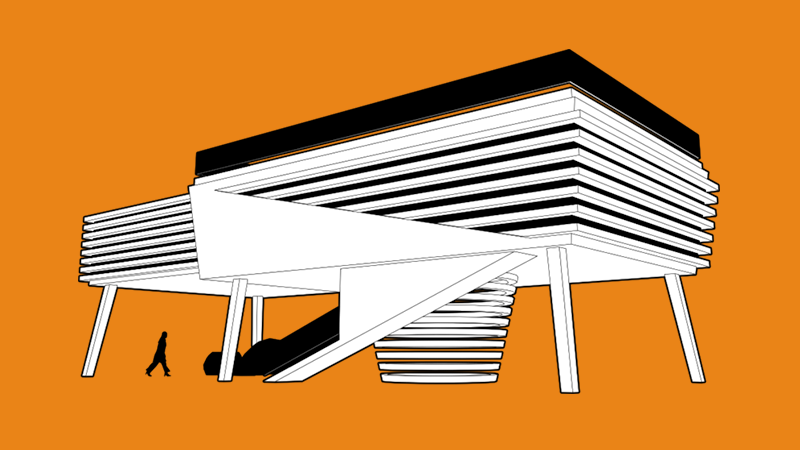 Almost every day we talk to people who are hesitating about choosing and implementing new types of Construction project management software even if it is clear that such kind of software can become an absolute deal breaker for their business. 
The reason for it is that managers who work with a commercial construction schedule face too many questions from the start. In previous articles, we have already talked about new trends in project management and bad project management.
But how to find perfect construction schedule software that covers all needs, from collaborative features to a construction schedule template?
Even if you know answers to these questions, it is always hard to implement construction schedule software and make your team believe in the success of construction schedule software. At this moment, in most cases you can start slacking or going back from new construction schedule software to old ways.
So, let's try to figure out how to choose and implement the construction schedule software you will be ready to make a part of your company.
Are you ready for implementation of commercial construction schedule?
Before starting choosing best construction schedule software, you should find out whether your team is ready for implementing a new way of planning projects, creating construction scheduling templates, collaborating and managing construction schedules.
You can easily find the right answer to this question by giving heed to the questions that help to identify core problems in construction schedule processes and needs. From "How can we can be more effective in construction scheduling?" and "How can we meet our management needs?" to "How can we speed up construction schedule processes?".
Start from creating a list of the most important questions you are facing with on a daily basis and decide whether construction schedule software is something that can help you in your project management. If the answer is "NO" for most of the questions, you would better find another way to improve efficiency in construction scheduling. If you answer "YES" to a majority of them, identify 3-4 questions affecting the most important issues in construction schedule that stop your team from being effective and go to the next step.
Start choosing software for creating a construction schedule template from understanding requirements
Construction schedule software can help you with accelerating construction processes, creating a Gantt chart template for your project in minutes (from home construction schedule template to commercial construction schedule template), identifying the causes of delay, reducing overhead costs, connecting office to the field, establishing communication between managers who are responsible for construction schedules and site workers and managers and clients, etc.
If you compare the above-mentioned statements with your project management and see gaps in it, then a construction schedule template is something that can help you.
Despite the fact, there is plenty of construction schedule software available on the web right now, all of them cover different use cases: from a simple construction schedule to investments tracking. It is clear that the first step you have to make is to list your main requirements and choose construction schedule software that best meets your needs.
A great suggestion that Gari Nickson, CEO of GenieBelt, gives is that you should think about finding construction schedule software as about recruiting a new employee. Once you have decided you are lacking an additional pair of hands, you start from identifying a gap in your company where you would like to see a new specialist, after which you go to specific requirements (not every specialist can be a solver) and create a list of responsibilities. Once ready, you can start selecting candidates and interviewing them.
The same with construction schedule tools. Ask yourself the following questions:
Do I need to connect workers on site with managers?
Do I need to manage project plans and costs?
Do I need to save time on creating a construction schedule template?
Do I need to keep my clients informed about the statuses?
Do I need to receive daily reports?
Do I need to control investments and lead documentation?
Granted, this list of questions is not a complete one and can vary depending on a company. That said, you should focus on your company's problems and write down the questions to which you are trying to find answers.
Group related questions and see what the most important group for you is, a solution to which will be a complete game changer for your construction company. Once you have identified your construction management weakest sides and requirements, it is a high time to find your perfect construction schedule software!
Create a list of alternatives
Finding construction schedule apps are the easiest and the most pleasant part of all. There are plenty of platforms, which gather project management and construction schedule software in lists, allow filtering by types and features and seeing reviews before making a final decision:
For example, on Capterra.com you can filter software by a number of users, deployment, features, categories, and even see which software offers, let me say a free Gantt chart template with the help of which you can create your first project plan in minutes and understand how Gantt charts can improve your project management: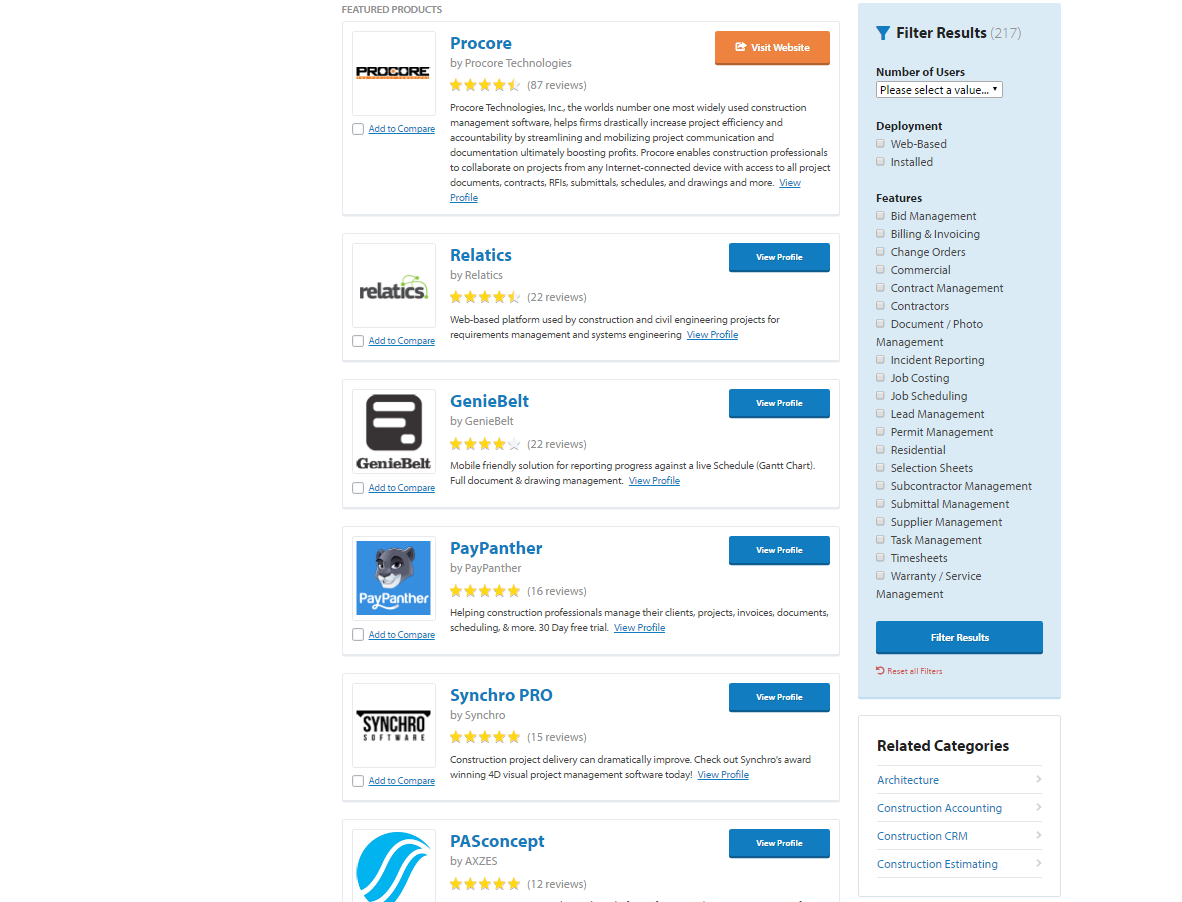 Do not buy construction schedule software without trying it out first
The name of construction schedule software does not mean anything if it does not meet your main requirements and contain construction schedule features that could potentially cover your needs. Having said that it is twice as important which features you need construction schedule software cannot offer to you (whether it is a free construction schedule template, a possibility to collaborate, see your project in a form of a construction schedule bar chart, etc.). So make sure you have tried the trial version of the construction schedule software out or requested a quick demo.
Tip: Find the most user-friendly construction schedule software possible only with features you need, keep to your list of requirements.
Analyze collaboration features of construction schedule software
Whether you need to create construction schedules or track the efficiency, it is also a great idea to check collaboration features of the construction schedule software out from the start. Even if you are okay with a plan for one person only, you definitely will not want to move your project to another platform just because you do not have enough space and features in the construction schedule software you have chosen to expand your management team.
Consult with your team members and make a construction schedule solution important to them
If you decide you are going to work on your projects with colleagues, take some time to explain why you think by making use of construction schedule software you will make getting jobs done quicker, easier and more cheaply. Make your team believe in construction schedule software from the start and involve members into validating and choosing construction schedule software from final candidates.
Be quick and simple about testing, even if you think construction schedule software you've chosen is your silver bullet (it is not). In most cases, your team members will be final users of this construction schedule software, so let them make a final decision… directing them.
Ask right questions to avoid slacking from construction schedule software
Every single construction schedule solution will fail if you do not make it clear for your team members why it is important to them. Being perceived as some extra work that is not as important as current tasks and a new method of controlling, construction schedule software can be met with hostility from the very beginning.
The solution is easy: ask the right questions. Find what problems construction schedule software can solve and point out them by asking questions and assigning tasks that can be easily completed with the help of it. For example: "Could you please share the construction project schedule template with a client?"
Tip: try to find a multifunctional application that allows managing multiple processes. For example, to be a construction schedule software with a free construction schedule template to start with, a file storage and a place where people can comment on tasks and see recent updates.
It is often hard to start, but try to sustain a life of the construction schedule software you have chosen only for a month, and it will definitely become a part of your team!
Construction software you can take advantage of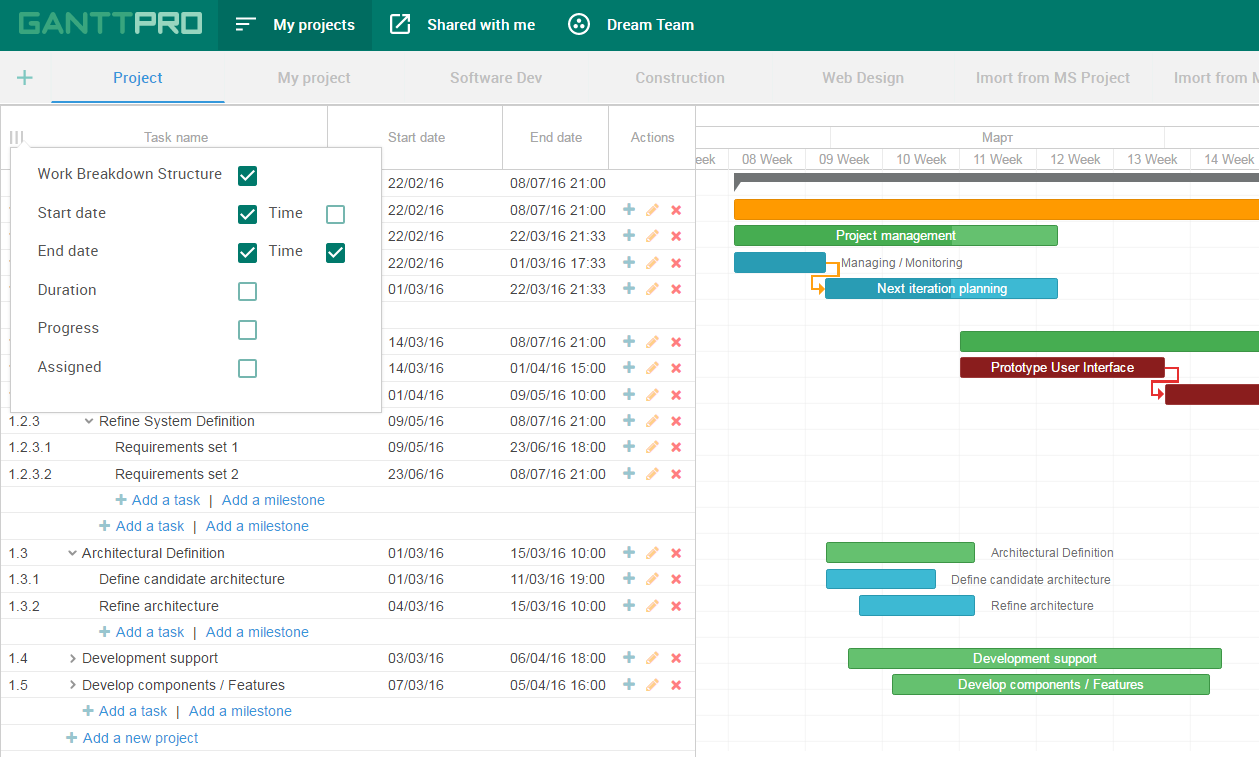 Use Gantt chart – GanttPRO construction schedule tool to create project plans from scratch or with the help of construction scheduling templates, from a home construction schedule template and a residential construction schedule template to a commercial construction schedule template.
In our construction schedule software, you can obviously use a gantt chart for a construction project where exists some useful features as file storage and import.