12 Planning Software for Business and Personal Projects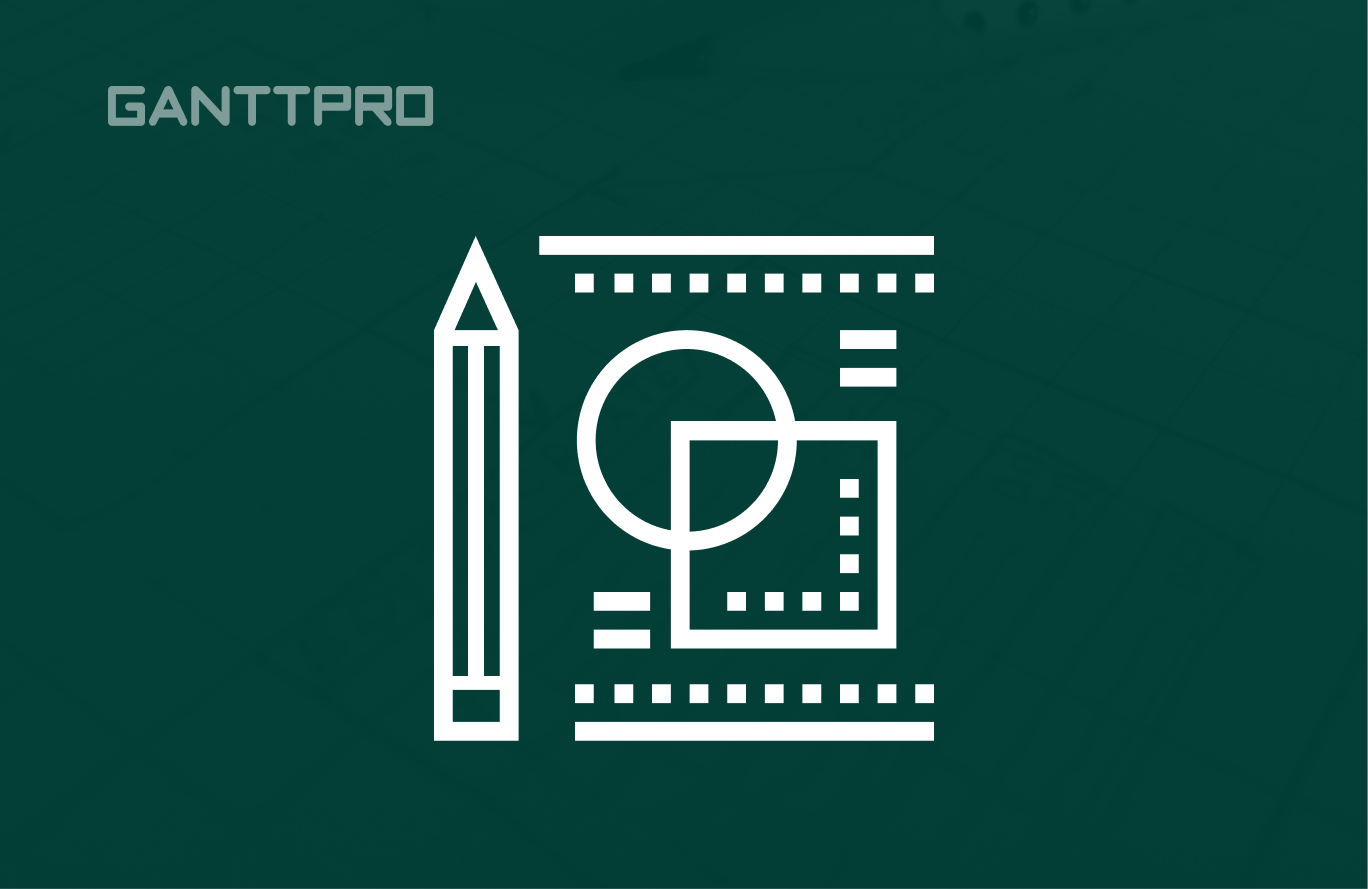 Project managers and business owners know how critical it is to create a detailed plan of a project from the very beginning. It doesn't even matter what time period a project can take: it can be a daily, weekly, monthly, or even annual plan.
In any case, managers need special software that will be a true helper in day-to-day activity and the single source of the truth that everyone can rely on.
In 2020, only 23% of organizations utilized project management software. However, this number is growing.
From the business perspective, a robust planner is something that can boost your growth and drive money to your account in 2022 and later.
Planning software: from daily to annual business scheduling
This is not going to be the greatest news ever: business plans are different. Some executives may need a daily planner; some – a clear picture of what should be done within a month or a year. Therefore, managers, CEOs, and founders can benefit from using planning software. The choice is certainly not the easiest one as the market offers dozens of solutions. With that in mind, I collected those tools that can turn planning processes into enjoyable moments in 2022.
1. GanttPRO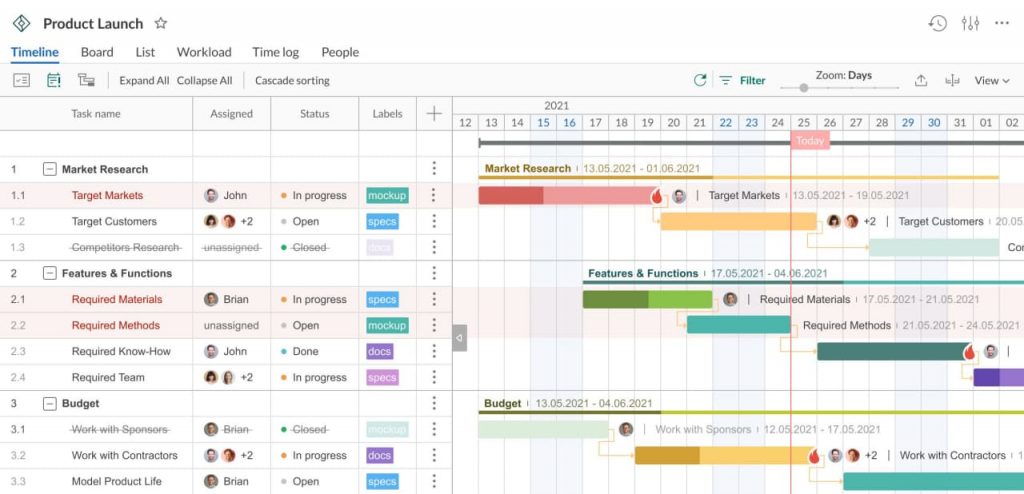 Type: Gantt chart creator. There is a board view.
Best for: daily, weekly, monthly, and annual planning.
Pricing: free 14-day trial. Basic plan starts at $7.99 per user per month billed annually. Pro plan starts at $12.99 per user per month billed annually. Business plan starts at $19.99 per user per month billed annually.

GanttPRO online Gantt chart creator gives perfect opportunities to schedule and manage plans be they daily, weekly, monthly or annual. To plan tasks and consequently, projects, you only need to make a few clicks. After that, you get a clearly visualized timeline with the start and end dates of every assignment and the entire plan.
Great planning becomes possible thanks to a Gantt chart view, one of the best ways to visualize projects. It has two axes: vertical and horizontal ones. When you create a task with dates, it gets visualized along a vertical line as a bar. The horizontal line will highlight the dates.
In the planner, you can change the zoom option and choose the best way to show your plan. You can select Hours, Days, Weeks, Months, Quarters, and Years.
Teams from many industries rely on its professional features. For example, GanttPRO is used as a powerful construction scheduling software solution. No matter what size your organization is, you may use GanttPRO for a particular objective for a small project or as a multifunctional enterprise project management software.
However, this tool is a good choice for not only scheduling and planning. It serves also for team management and collaboration, progress tracking, resource, cost management, and as a budget planner.
Key features:
Progress tracking.
Resource management.
Zoom options.
Team collaboration.
Sharing via public URL.
2. Celoxis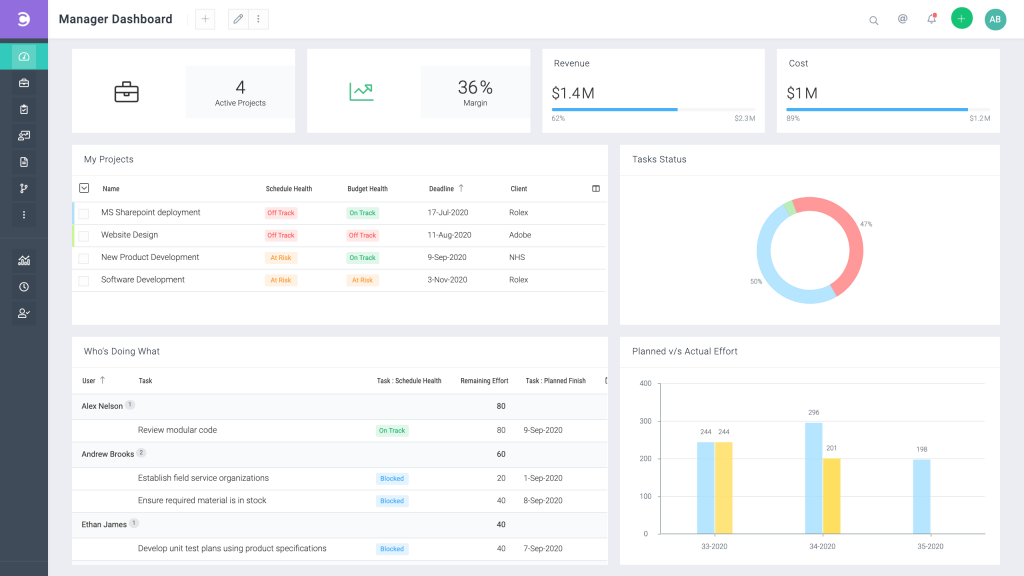 Type: all-in-one project management software.
Best for: daily, weekly, monthly, and annual planning.
Pricing: SaaS: $22.50/user/month; on-Premise: $450/user.

Celoxis is an award-winning all-in-one PM tool. It helps organizations to plan and track their portfolios, projects, tasks, resources, timesheets, issues, and risks from one place. It has extensive collaboration features including a customizable free client portal. Its dashboards and reporting capabilities are superb and one of the best in the market. It is feature-rich, intuitive, and highly customizable.
If you are comfortable with the Microsoft Project scheduling paradigm, Celoxis will work for you as one of the alternatives to Microsoft Project.
Key features:
All-in-one project management tool.
Easy collaboration, file sharing, discussions, and comments not just with the colleagues but with the clients as well.
360-degree real-time insights with powerful reports and dashboards.
Customizable and intuitive.
Resource allocation to tasks based on availability, demand, and skills.
3. Good day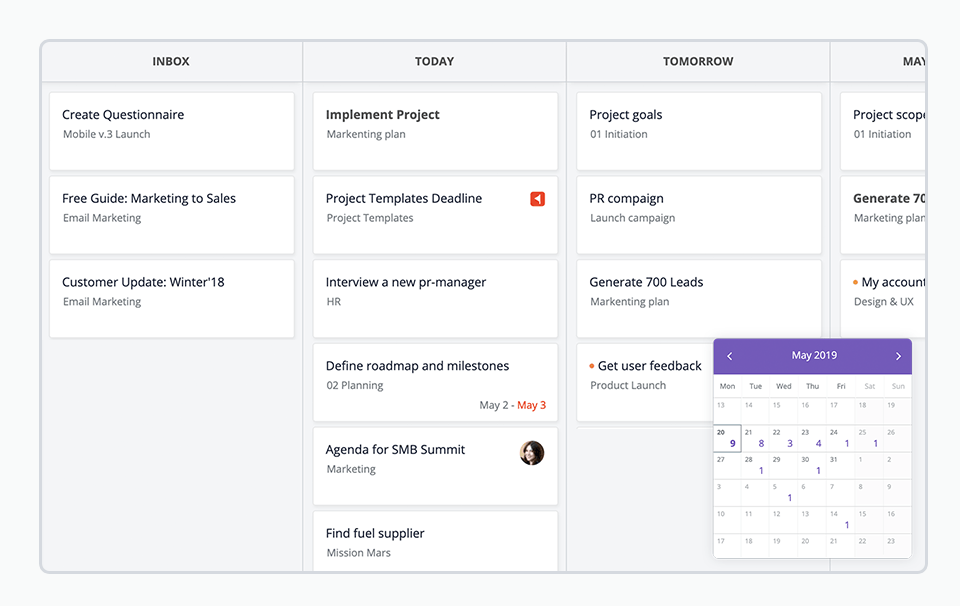 Type: Type: work management platform.
Best for: Best for: daily, weekly, monthly, and annual planning.
Pricing: Pricing: free for 1-25 users. Starts at $4 per user per month billed annually.

The tool offers solutions for task management, project management, and planning as well as productivity increase. At any moment, Good day gives details on what is going on in a project now, what should be done next, and an overall picture of a plan.
In this planning software, you will find the following dashboards and views. In My work, you plan, schedule, organize and prioritize your tasks. The Calendar view gives a picture of the planned processes happening in a team or a company. What's done view shows the accomplished tasks.
The classical Kanban board and Timeline that is an actual Gantt chart will help you get different task organization. Tasks planning view shows all work planned by users. User activity gives a detailed live summary. Today shows everything planned for a specific day.
Key features:
Custom dashboards.
Progress tracking.
Automatic reports.
Time tracking.
4. Toggl Plan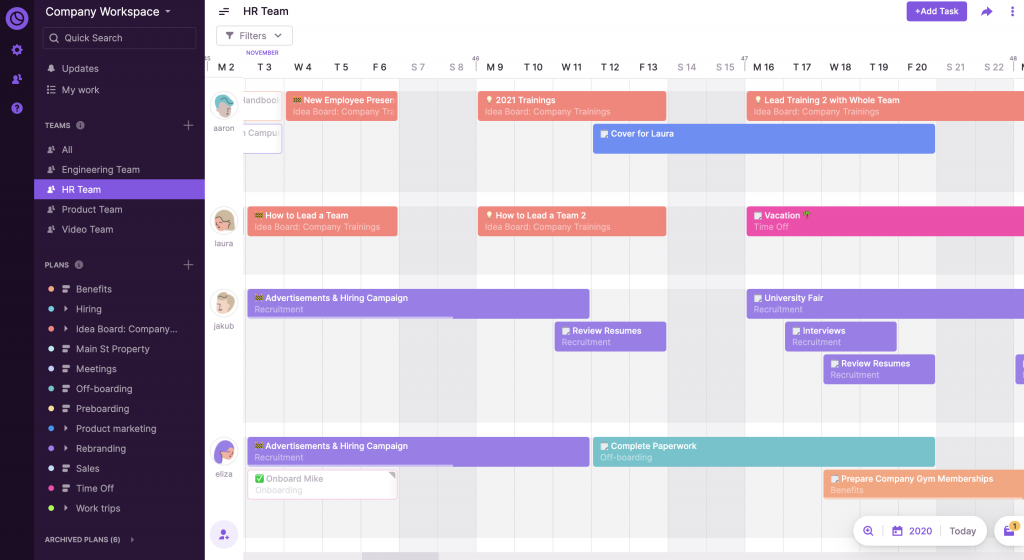 Type: tool for planning projects, getting things done, and managing team workloads.
Best for: creative and marketing teams for planning and executing weekly, monthly, and annual projects.
Pricing: free for up to 5 users. Premium plan at $8 per month.

With Toggl Plan, planning project schedules is as easy as dropping tasks on the timeline. The timeline can be zoomed in on a week, month, quarter, or year. That way, you can dig into the details or just get a great overview of the project. Projects are color-coded to give clear visual cues, even if you work on multiple projects.
If you prefer the Kanban way or use Agile methods, Toggl Plan also gives you boards. Boards are great if you want to focus on sprints, i.e. short, week or 2-week long iterations.
Boards automatically sync up with the Gantt chart timeline. This makes it easy for everyone involved in the project to stay up to date, enjoy management processes, and don't even think about the possible Toggl Plan alternative.
Key features:
Project plans, roadmaps, and schedules.
Kanban or Agile boards with custom workflows.
Team workload timelines.
Resource and capacity planning.
5. Workfront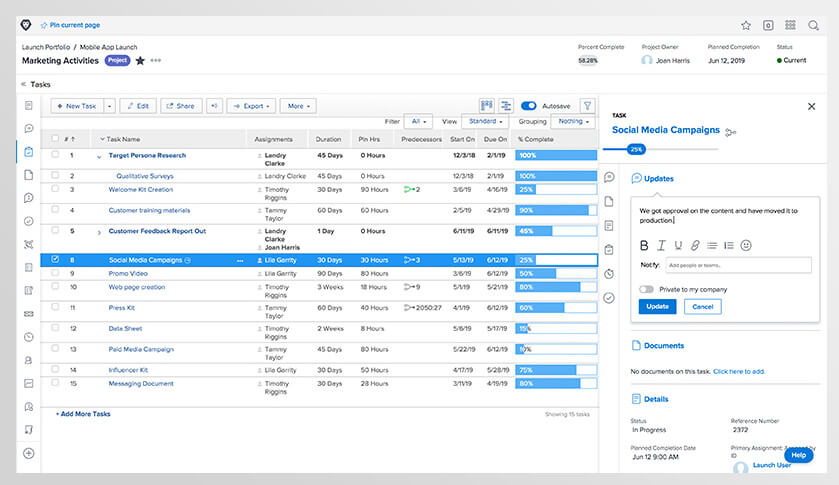 Type: Type: work management software.
Best for: Best for: weekly, monthly, and annual planning.
Pricing: Pricing: upon request.

This planning software puts more emphasis on connecting people while they work on the same project. At the same time, Workfront can be easily called project management software that allows working with the entire project lifecycle from planning to accomplishment.
The software allows working with resources. Thus, managers can balance dates, resources, and budgets. If something goes wrong, manual resource allocation makes it possible to quickly change the project development. Also, AI-enabled technology allows distributing work based on availability, skill requirements or priority.
However, there are some weak points that make Workfront alternatives win: a limited Gantt diagram and the lack of an inbuilt chat. These features are crutual in the modern work environment.
All in all, this planning software is pretty great for meeting business goals.
Key features:
Demand management.
Resource management.
Project automation.
Real-time collaboration.
Operational reporting.
Stakeholder insights.
6. Paymoapp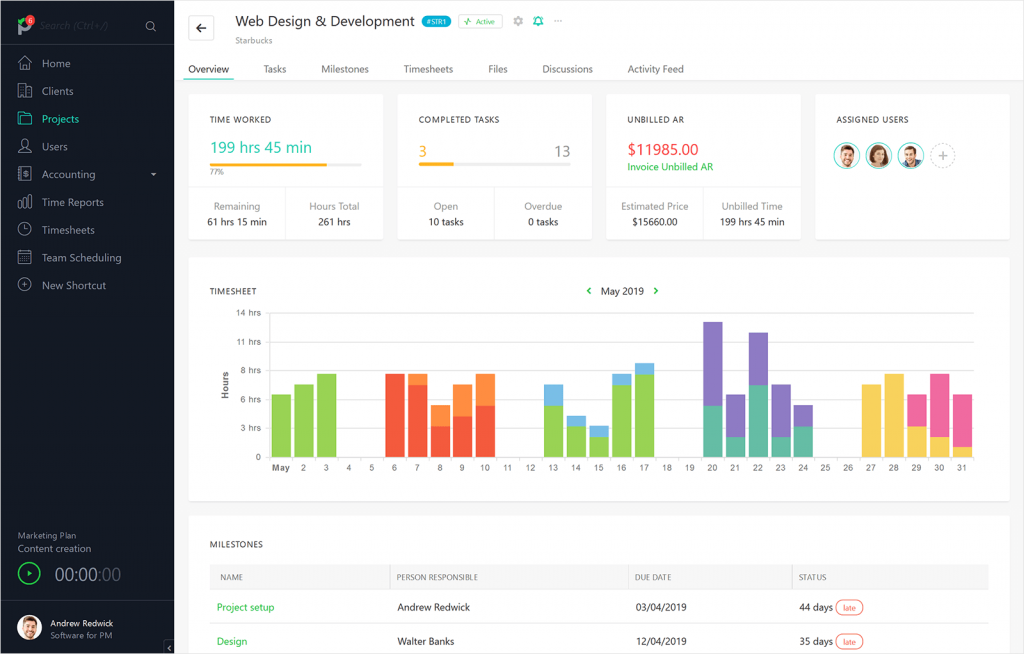 Type: project management software.
Best for: daily, weekly, monthly, and annual planning.
Pricing: Small Office plan at $9.95 per month.

The application covers business as well as personal needs from start to finish. With the help of this annual planner, managers and teams can create plans with Gantt charts or a Kanban board.
However, the planning software serves well for other project management activities. Need efficient communication? In the software, teams can comment in real time. Time tracking? Team members can track the progress and overall work. Resource management? Paymoapp gives details on resource allocation.
Also, this planning software allows working with reports, team scheduling, and multi-language invoices. A nice bonus is 1000+ Zapier and other integrations.
Perhaps, Paymo doesn't meet everyone's expectations like the available Paymo alternatives do. However, the platform is really worth your consideration.
Key features:
Real-time task management.
Kanban board.
Resource scheduling.
Web timer.
Automatic time tracking.
"Table view" of the entire project portfolio.
File sharing.
7. Plan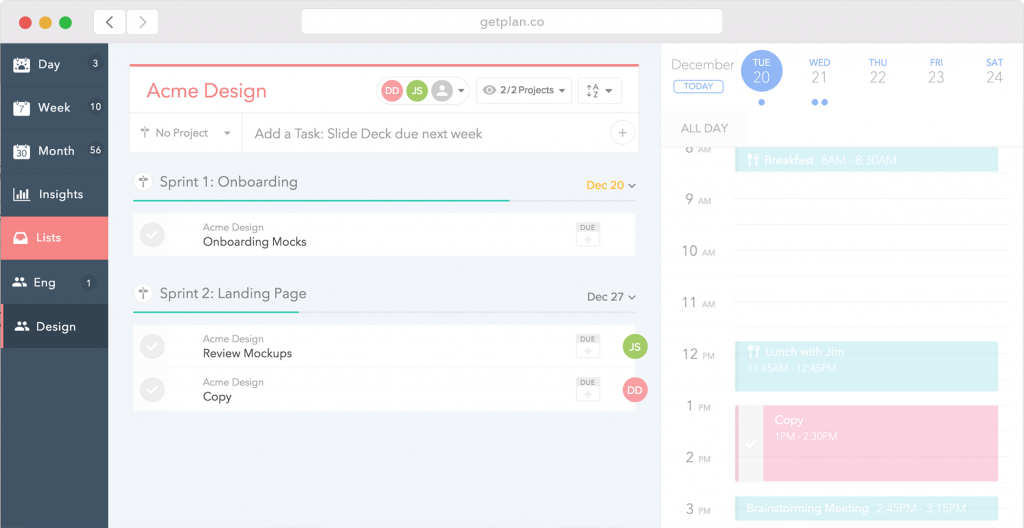 Type: part calendar, part project management tool.
Best for: Best for: daily, weekly, and monthly planning.
Pricing: Pricing: free for 1-4 members. Starts at $6.67 per user per month billed annually.

On Plan home page, they state that this planning software saves an average of 15 hours per week for teams. It gives opportunities to spend more time on working, not managing.
The software allows for moving towards goals together with a team. It offers Agenda + Calendar view, the Timeline view as well as Team feed where you will find comments, statuses, etc.
Users note that this planning software offers an intuitive interface and an efficient approach to task management.
Key features:
Agenda + Calendar view.
Work timeline.
Team feed.
8. Weekplan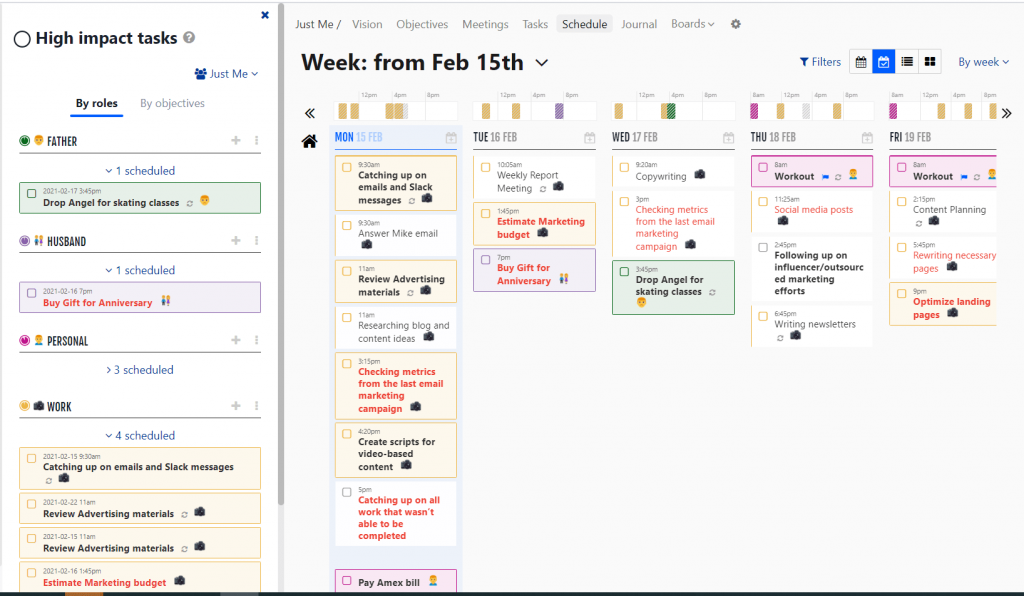 Type: priority planner.
Best for: weekly planning.
Pricing: starting at $10.83 per week billed monthly or annually.

Clarify vision, set goals, work with them – Weekplan will do the rest for you improving your time management. This software is best for planning your weekly activity. Thus, you will see what you are doing as well as the progress you are making. Weekplan allows you to see critical tasks, pay attention to them, and postpone those that are not urgent.
Notably that this weekly planning software is based on the approaches described in the popular "The 7 Habits of Highly Effective People" book. In case you need more books, take a look at our list of project management books in pdf.
Key features:
Calendar view.
Time tracking.
High impact tasks.
Team collaboration.
Recurring tasks.
Available on desktop, smartphones, and tablets. There are Chrome extensions.
Two-way synchronization with Google Calendar and Outlook.
9. Weekdone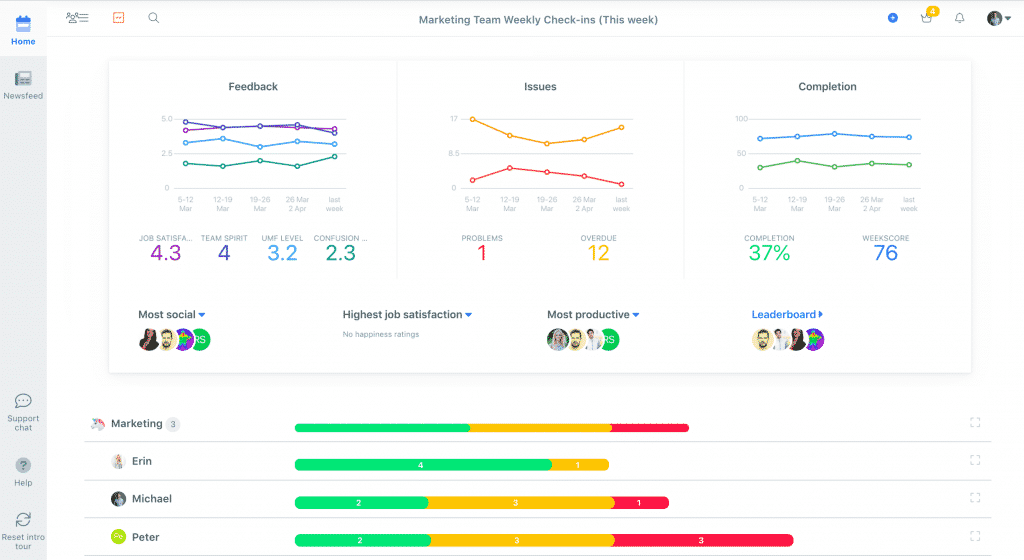 Type: planning tool.
Best for: Best for: daily, weekly, and monthly planning.
Pricing: Pricing: free for 1-3 users. Start at $4 billed annually.

This planning software is designed for setting and organizing goals, tracking activities with a focus on weekly ones, and improving team coordination. Moreover, Weekdone makes emphasis on the OKR approach – Objective and Key Results. To put it shortly, it is one of the best practices for setting, communicating, and tracking quarterly goals.
In addition, the software sticks to PPP – Plans, Progress, Problems – Reporting. It is a technique to hold weekly team meetings and report statuses.
Key features:
Objectives and Key Results.
Progress sharing and tracking.
Real-time dashboards.
PPP Reporting.
10. LivePlan
Type: business plan software.
Best for: monthly and annual planning.
Pricing: starts at $15 per month billed annually.

This tool stands out from all the others as it is designed not purely for planning but for preparing a sound business plan. So, this is not a planning tool in its broad sense.
With LivePlan, making a business plan is so simple that it quickly takes out all the fears connected with drafting one. This planning software allows documenting a few business ideas in a visually appealing format and then pitch it for funding.
To start making your business plan is very easy in this planning software. No wonder, why it is so popular in the Web.
Key features:
Visual format with the LivePlan One-Page Pitch.
Team collaboration.
Progress tracking.
Easy-to-read dashboard.
Drag & drop forecasting.
Milestone tracking.
11. Wrike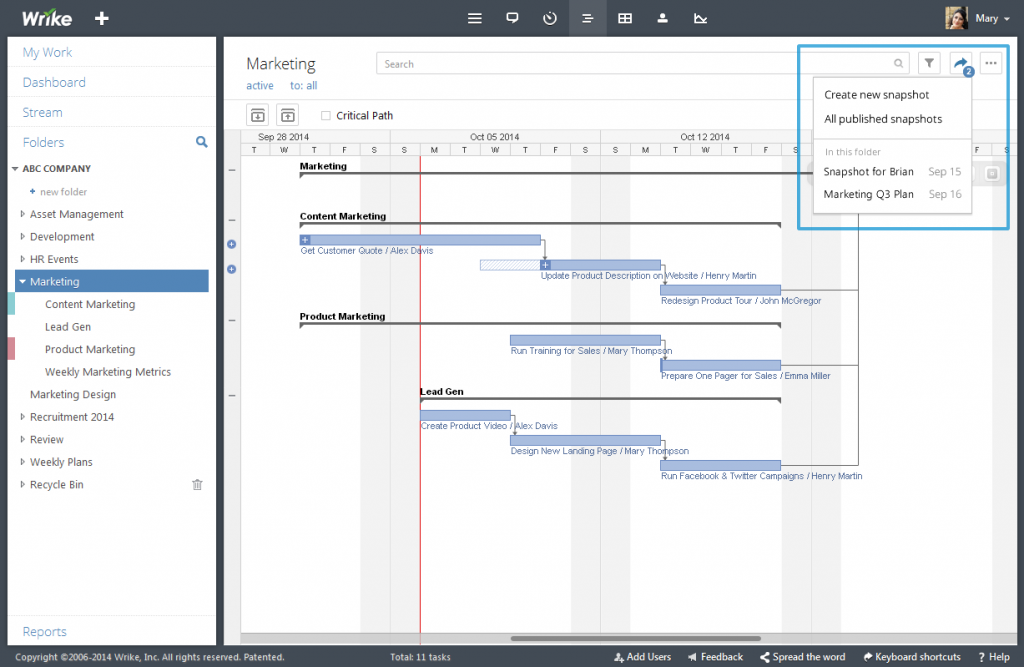 Type: work management solution. Project management software.
Best for: weekly, monthly, and annual planning.
Pricing: free for 5 users. Starts at $9.80 per user per month billed annually.

Wrike is one of the leading project management software globally. On the one hand, it requires time to learn it. On the other hand, it pays off after you are done with the learning curve.
This planning software is entirely focused on managing projects together with a team enabling close collaboration. Moreover, it can cover any of your business needs through simplifying planning and streamlining workflow.
Key features:
Priorities managements.
Customizable dashboards.
Resource allocation.
Team collaboration.
Interactive reports.
12. Inspire Planner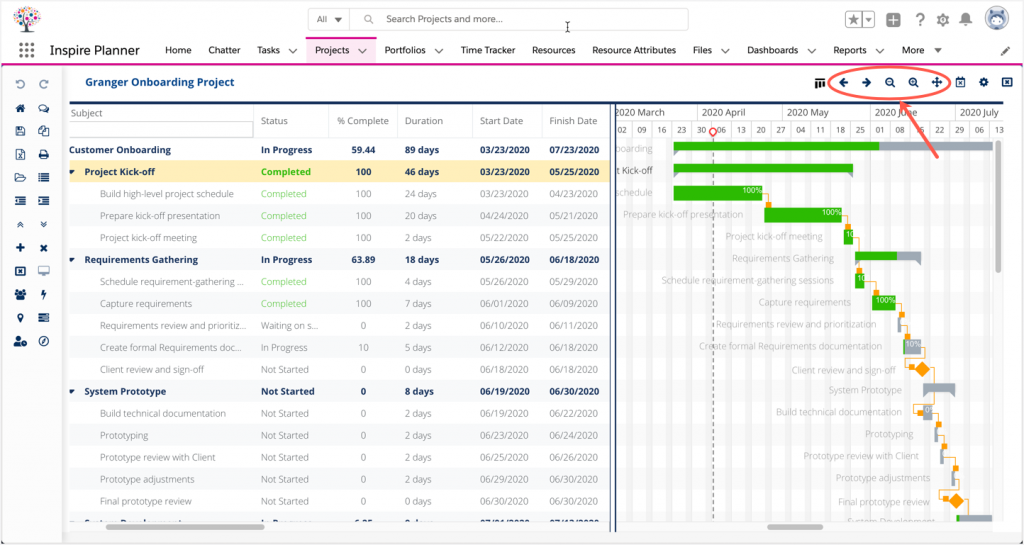 Type: all-in-one project management software.
Best for: daily, weekly, monthly, and annual planning.
Pricing: free 30-day trial. Starts at $29/user/month. Special discounts for non-profits (and 10 free licenses included).

If you are a Salesforce user and you are looking for a Salesforce-native project management tool, then Inspire Planner is probably the best choice for you. It is a powerful yet easy-to-use project management app that can handle projects of any shape and size.
Inspire Planner offers all of the standard features that you might expect from a PM tool, such as project templates, Gantt chart, and Kanban views, team collaboration, time tracking, and many more. It also offers a free client portal where you can share Gantt charts and task schedules with milestones, while contacts can view projects and update their project tasks.
If you are currently using Microsoft Project but want to utilize your Salesforce CRM, Inspire Planner can be an ideal transition.
Key features:
100% Salesforce-native.
Project templates and automation.
Time tracking.
Resource allocation and resource attribution.
External portal for sharing projects with third parties.
Gantt chart & Kanban view.
Multiple Predecessors.
Dashboards and detailed reporting.
Wrapping it up
Personal, team or business goals need to be set beforehand as well as a robust plan needs to be prepared from the very beginning. All the chances for success purely depend on well-crafted plans. With that in mind, choosing powerful planning software looks like one of the most critical steps on your way to successful project accomplishment.
Have you tested the above-described tools? Do you have something to add? Please share your thoughts with us in the comments below.