The Top 20 Project Management Tools and Resources for 2016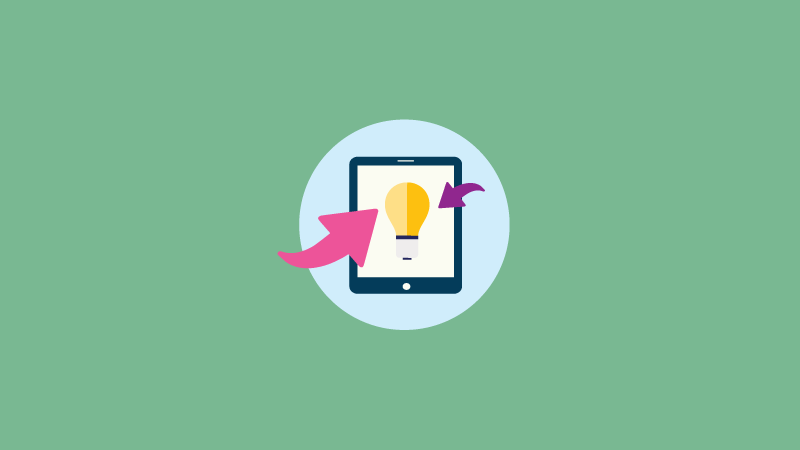 Managing a project is like running a marathon. To show good results, get in time, and not get exhausted before the race is over you must have enough experience to plan wisely, spend the available resources reasonably and choose a project management tool that could help you with it.
In both examples, the key to success is enhanced training. But since the real project is a bad training field, in the case of project management roles and responsibilities it's better to rely on the existing experience and tools. That's why we're here. In this article, we want to tell you about some helpful project management tools, educational resources, and blogs on which you can find the information about project management methodologies and cases.
1. Building an Information Risk Management Toolkit (Coursera)
Let's start with the educational part. There's no reason to jump straight into choosing a perfect project management tool without knowing the basics. Coursera is probably one of the most popular resources that offer you online project management courses. Now we'll concentrate our attention on one particular course: Building an Information Risk Management Toolkit. It's taught by University of Washington Professor Barbara Endicott-Popovsky and will help you understand such topics as risk assessments (RA) and developing and maintaining risk management plans (RM). The whole course will take three months, and if you'll decide that you do not have enough knowledge, there's a lot of more advanced project courses for you.
2. Designing and Executing Information Security Strategies (Coursera)
The course Designing and Executing Information Security Strategies is prepared by the professor Mike Simon and it will take about ten weeks to finish it. This course provides you with opportunities to integrate and apply your information security knowledge. You'll face real-world cases and will have to design and execute information assurance strategies.
3. IT World
Let's proceed with other online resources. IT World delivers IT news and thematic videos. Besides that, you'll find dozens of articles that describe how innovations challenge for IT professionals and projects how a project management tool can help them with modern project management.
4. Guerrilla Project Management Tools and Techniques
The main aim of this blog (http://www.guerrillaprojectmanagement.com/), according to the available description is to bring together thought-leaders from Project Management, Organizational Change Management, Psychology, Social Science, and Neuroscience. It covers a pretty wide range of issues that a project manager can encounter. But the best part of Guerrilla Project Management Blog is that it not only tells you about management techniques and tools used by project managers. List of topics varies from "Top Project Management Tool" to "Effect of Culture on Innovation" which means that besides the learning of some new tricks, with this blog you're able to open the mind.
5. How to Manage a Camel
If you find yourself enough experienced and open-minded to conquer new frontiers as a project manager, pay attention to How to Manage a Camel (http://www.arraspeople.co.uk/camel-blog/). It's all about a project manager, his job and career). Where to find the jobs, understanding job specifications, how to write CV'a and covering letter, etc. Everything that you need to know whether you're a beginner specialist or an experienced professional who knows a lot about scrum project management tools and wants to make his job easier or boost the career.
6. Herding Cats
This blog's name follows the fact that people often refer to project management as "herding the cats." The author brings the mathematical mind to understanding the project management tool and issues. Some videos explain how you can estimating on projects with an agile project management tool, book reviews, decision-making strategies and much more.
7. Cisco Blog
Cisco Blog tells about IT practices in different spheres such as education, health care, or retail. Besides describing the routine day-by-day issues like "Creating Context to Attract the Connected Customer," it highlights exotic experience. For example, how does the life of the Cisco employee in Nigeria look like? Blog shares different aspects of life by telling simple human stories. For example, check this article 10 Career Tips from Moms (of Cisco Employees!). A truly versatile resource.
8. Rain Partners' Influential IT Pro BLOG
It is a blog of the IT consulting company. Authors share their experience focusing on various sides of their job. The role of IT project leader, possible issues of IT project team reorganization and a project management tool that can help to overcome them, or even acceleration of your career growth.
9. CIO
Started in 1996 as the online part of the CIO Magazine, this resource has become the modern classic for every IT project leader that wants to follow the recent trends. Besides the articles that cover the process of project management itself and review almost every enterprise project management tool on the web, you can find a plenty of useful info about the security, mobile applications, and other sides of your profession.
10. ComputerWeekly
ComputerWeekly is an online resource with hundreds of thousands of subscribers that focuses on IT management. Any specialist, despite its area of interest, can find valuable and helpful info. There are plenty to choose from: IT project management, legislation, innovation, business services IT, manufacturing IT, etc.
11. Computerworld
Computerworld is a true colossus of online IT publishing. It published internationally and well-known all over the world. The field of its interest is cloud computing, hardware, enterprise applications, and, among the others, IT management. You can find almost anything from tips and tricks to technology law and regulation.
12. A Girl's Guide to Project Management
Initially, this blog was started by Elizabeth Harrin to provide a female perspective in the world of management. The author provides news, insights, and opinions, and try to help project managers communicate better.
13. CERT's Podcast Series
If you're not able to read the articles you're interested in, it's not a reason to interrupt the educational process. If you're on the road or simply tired of reading, you can always rely on podcasts. Let's talk about a couple of them. CERT's Podcast Series named after Carnegie Mellon's computer emergency response team. It'll be good both for rookies and professionals since it elucidates general and specific principles of project management.
14. CIO Talk Network
CIO Talk Network is former CIO Talk Radio. This radio broadcasts on the regular basis and dedicated to the questions of leadership. "Developing Leadership as an Organizational Capability" or "How to Develop, Recruit and Retain Talent" are the typical themes of these broadcasts.
15. The IT Management & Cloud Podcast
The IT Management & Cloud Podcast is regularly updated and offers you fun and easy to listen to podcasts. It tells about computer infrastructure, cloud computing, data centers, and the latest news of the industry and reviews project management tools.
16. IT ProShow
IT ProShow is a podcast for enterprise IT. It's loved for informative topics and updates about the IT industry.
17. CecurityCurrent
Securitycurrent as it follows from its name, is dedicated to the security issues and tools. Its mission is to explore what is really on the mind of information technology security executives and practitioners.
18. Tool: GanttPRO
In the end, let's talk about some useful tools that will help you apply your knowledge in practice. We'll start with GanttPRO, a project management tool that helps to create Gantt charts based on a Gantt chart template or from scratch: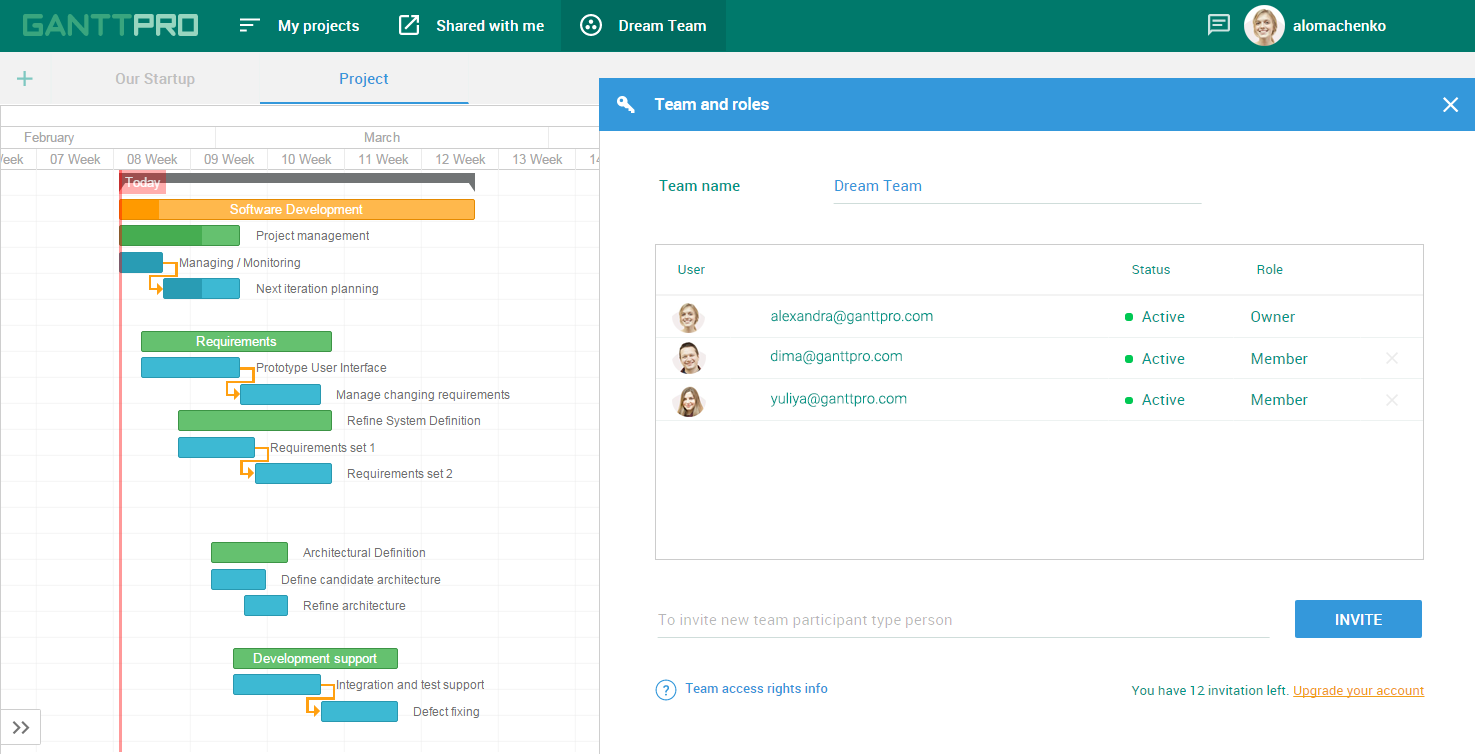 With this Gantt chart tool, you can share created charts with other team members, send them corresponding notification giving right to view or edit the particular chart. A collection of available templates can speed up the working process. The notification system, critical path finder, exporting features, scaling, and other capabilities of the tool should also draw your attention.
19. Tool: Trello
Trello being a simple project management tool allows you create packs of cards each of which corresponds to the particular project or project's step: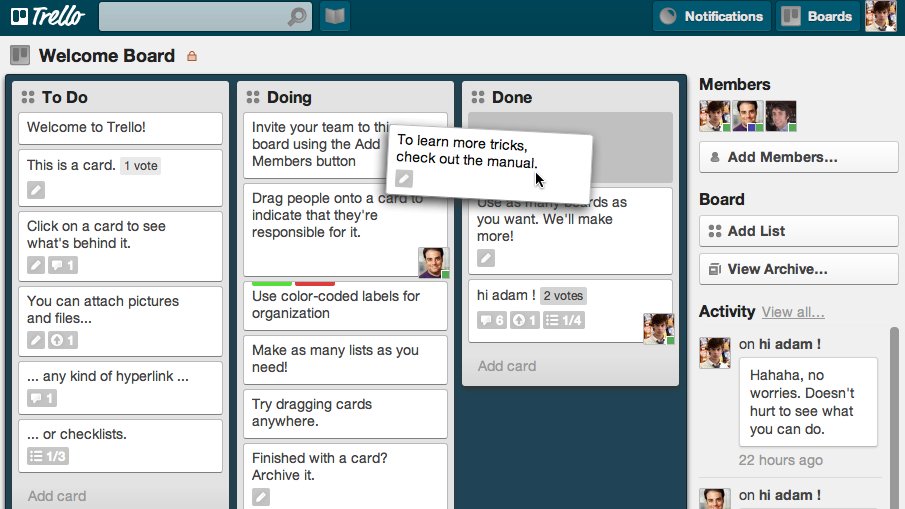 You can manipulate each them by holding discussions, voting, attaching files, using tags, adding due dates for tasks, etc. In this project management tool, the members of your team can see the changes real-time and get e-mail notifications. Besides the online version of the tool, there are mobile apps for Android and iPad.
20. Tool: Zoho Project
Zoho Projects project management tool follows the all-in-one approach: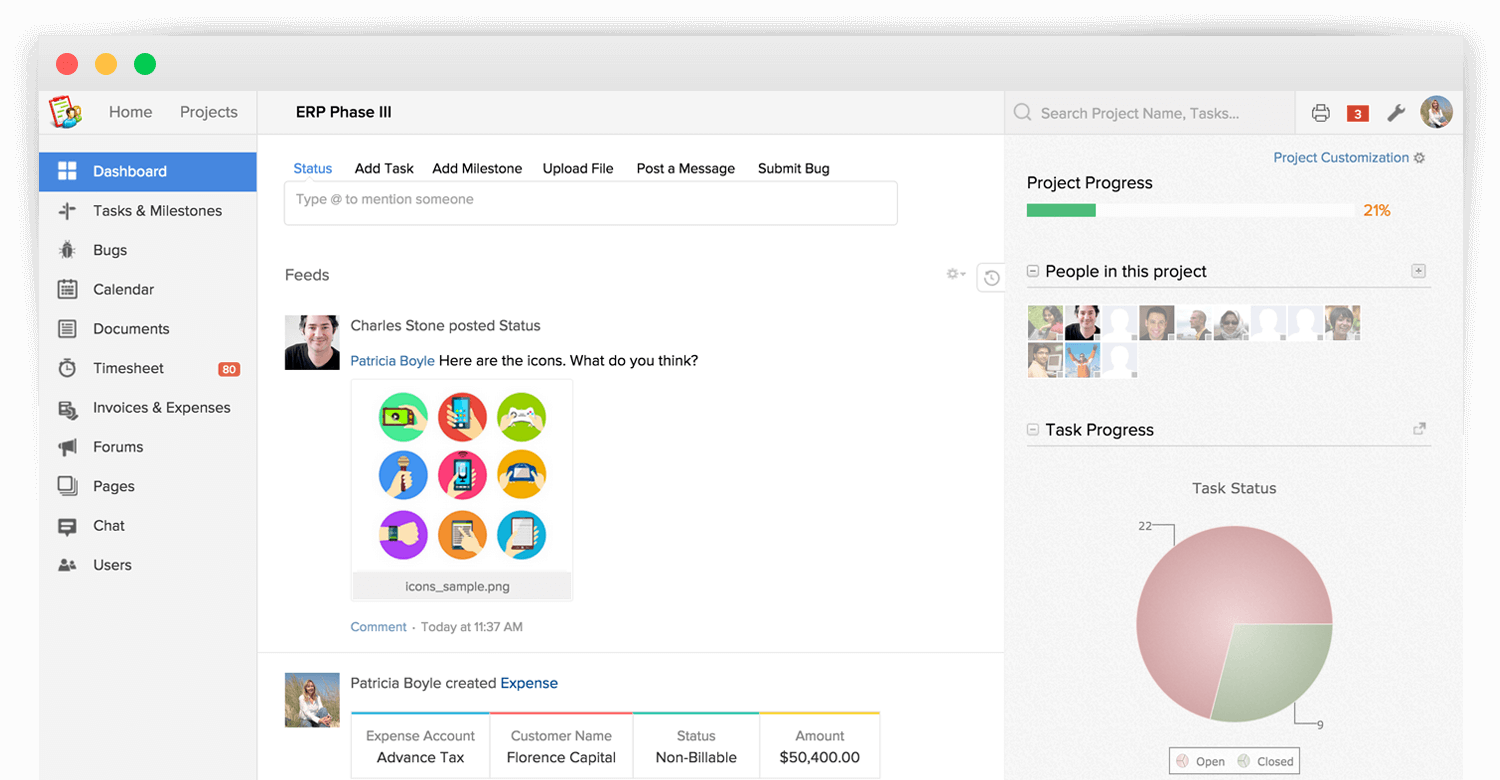 This project management tool allows you create Kanban boards for visualizing the workflow. An interactive calendar, chat rooms, message boards will be pretty helpful to coordinate your team. There's instrument for creating Wiki pages dedicated to specific parts of your project, reporting tools, document management tool with the version control support, etc.
21. Tool: Epicflow
Epicflow is a multi-project management tool successfully used by different size companies working in manufacturing, engineering, IT spheres, as well as education and healthcare industries.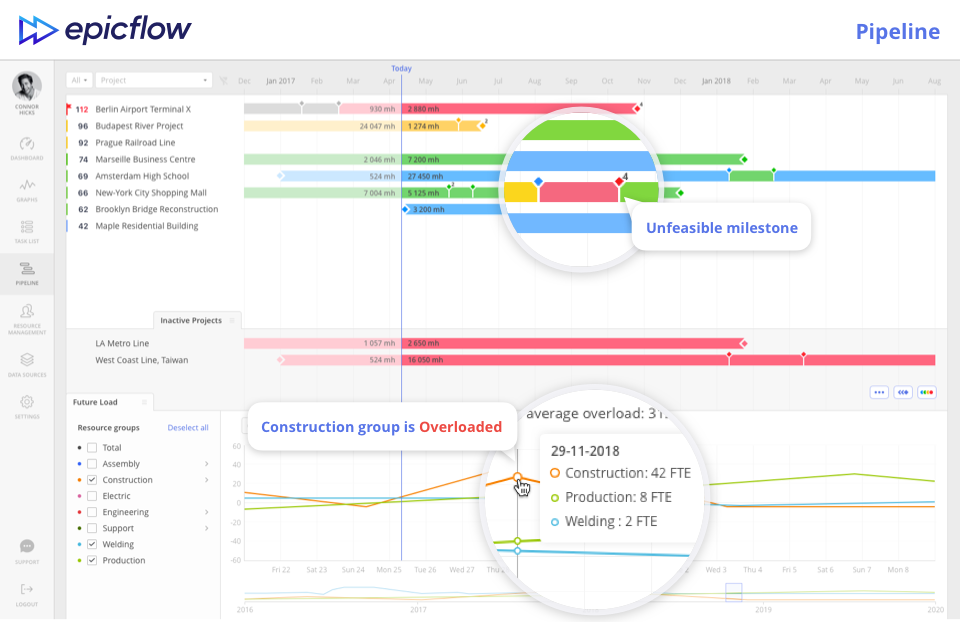 It helps to track workflow, prioritize tasks, allocate resources, test hypotheses, and predict where new bottlenecks may apear. Epicflow integrates with Primavera, Jira, MS Project and other systems. It's instinctively simple in use that makes the project management process faster and more effective.