Project Management Trends 2020 as Seen by the Experts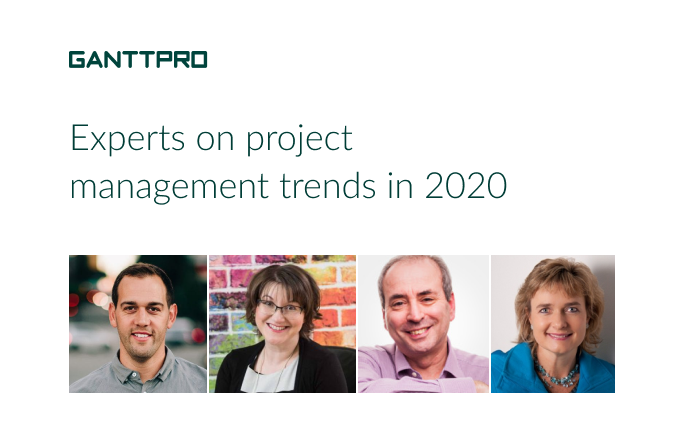 You won't doubt our world constantly changes. Different economic, technological, and social developments bring on new trends in almost every sphere of our lives. Your success, business success in particular, directly depends on your reaction to new trends and the way you can adhere to them.
Project management sphere changes too. If you are in the field for years, you must have witnessed the evolution. There were fewer methodologies, working tools, and projects themselves did not require so much attention and detailed management even 10 years ago.
Probably, these changes in project management do not gallop and can be used by managers for years. It all depends on the circumstances. However, changes always happen. And you will benefit a lot if you are prepared for the upcoming trends well in advance.
What are the future trends in project management?
Experts always feel the pulse of what is going on now and clearly see future tendencies. With their help, we already figured out what project management skills are needed in 2020 and later.
This time, we continued our talk to four highly acknowledged project managers about project management modern trends that are already traceable in 2020. Also, we asked them which approaches do not work anymore.
Which trends do you see in project management in the 2020s?
Remote working and gig workers
There's a general business trend that is impacting project management – a growing, global gig economy. This means lots of teams are bringing on gig workers, and we're seeing more remote working and co-working arrangements on "in-house" teams.
I remember being surprised when I read a World Economic Forum's Report in which almost half (44%) of respondents rated "changing work environments and flexible working arrangements" as the top socio-economic driver of change. That is definitely impacting our work as PMs as well!
Soft skills, Artificial Intelligence (AI)
Soft skills count for more than certification. Particularly as Project Management Institute (PMI) is changing the Project Management Professional (PMP) exam in 2020, and Association for Project Management (APM) is retiring the Registered Project Professional designation – there is a shakeup in certifications that might confuse employers.
Artificial Intelligence is a powerful project management trend for the coming years, particularly robotics as it relates to automating processes. There are lots of applications for this in project management including:
Identifying potential risks through natural language search.
Improving risk assessments.
Testing risk response.
Allocating resources and resource leveling.
Intelligent scheduling.
Automating mundane and repetitive tasks.
Improving consistency in process and decision making.
PMOs, in particular, can benefit from using tech effectively.
GanttPRO is a project planning tool based on Gantt charts that makes project management easier and more enjoyable. 500K+ users and big world-known companies already benefited from using this powerful project management software.
Technology, Cultural Intelligence
I'm going to agree with the PMI about the relevance of Project Management Technical Quotient (PMTQ), which they documented in 2019's Pulse of the Profession report. We are seeing an increasing growth of the importance of technology in our profession, and I covered that report in some detail in this article.
However, I want to focus my response in a completely different direction.
It does seem to me that nations are becoming more insular at the moment. Toleration for "outsiders" and people who are different seems to be lower than it was 10 years ago.
However, whatever electors and Governments may be saying in your country, the big companies will make their own choices. And they are continuing to become ever-more multi-national. The big corporations cross borders to serve (sell to) people wherever they can. That means local teams around the world.
For us, as project managers, the trend is clear. Our projects can span continents… and cultures.
First, there was an IQ: Intelligence Quotient. The granddaddy. It's one measure of general intelligence. The concept may be debated and the implementation may be flawed. But there is evidence that intelligence matters in many job roles including ours.
Then there was EQ: Emotional Quotient. Thanks to the popularization by Daniel Goleman, Emotional Intelligence came to the fore in the late 1990s. To succeed in work, we need to understand and work with people. In our work, communicating with stakeholders, sponsors, and team members is 80% of the job. Many project managers (and the PMI and APM) have embraced the concept.
Next, there came PMI's 2019 Pulse of the Profession report focused on the need for PMTQ in the coming years. As I say, I don't doubt that this is hugely important.
Now, welcome CQ: Cultural Quotient. This is a cultural intelligence that allows us to understand people from other backgrounds, anticipate and interpret their behaviors, and make choices that will get the best from people from different countries, races, religions, genders, political systems, and social backgrounds.
Wherever you work, there will be people who aren't like you in every way. Frankly, nothing could be better for a thriving project.
Your job, as their project leader, is to get the best from them all. Harnessing that diversity will give you the very best chance of delivering a successful project.
So, for me, Cultural Intelligence, or CQ, is the project management trend I'd highlight for the 2020s.
Digital transformation, Agile and Hybrid approaches
Digital transformation is a major trend among organizations with projects supporting that.
I also mention the move to an Agile way of working or Hybrid approaches in some cases. For professional project managers, it is good to have a good grip on Hybrid approaches.
Which project management approaches do you consider out of date?
Black and white approaches
Any approach that attempts to be black and white. Everywhere, we see working arrangements that are more flexible, rules turning into guidelines that are less starkly defined, and futures that simply feel less certain than before.
So, any project approach that attempts to do things "the one right way" is fooling itself — the best approach is one that can be adapted along with shifting requirements, teams, and goals.
I think it's wrong to write off any approach. While there are some that I don't favor (like command and control), they might work in some situations or for some projects.
Strict adherence to a single methodology
I don't think any formal approaches or project management methodologies are out of date. They all have their domain of application. What is out of date (but was never a good idea) is blind adherence to a single methodology.
Anyone who swallows the PRINCE2 pill or the Scrum pill and thinks their method is inherently superior is, frankly, missing the point. All these methodologies are good and have their uses. But none will ever be the right solution for everything, any more than a screwdriver will always be the right tool for every household job.
And please, don't ever get drawn into binary choice arguments of whether A is better than B. They are a stupid waste of time!
Rigid belief in one or specific methodology or tool
A dogmatic, rigid belief in one or specific project management methodology or project management tools is not supposed to work at all.
The future requires project managers to be much more flexible concerning approaches, practices, and tools.
What modern trends do you see in project management?