GanttPRO Project Management Affiliate Program: Join It and Get the Highest Comission Rate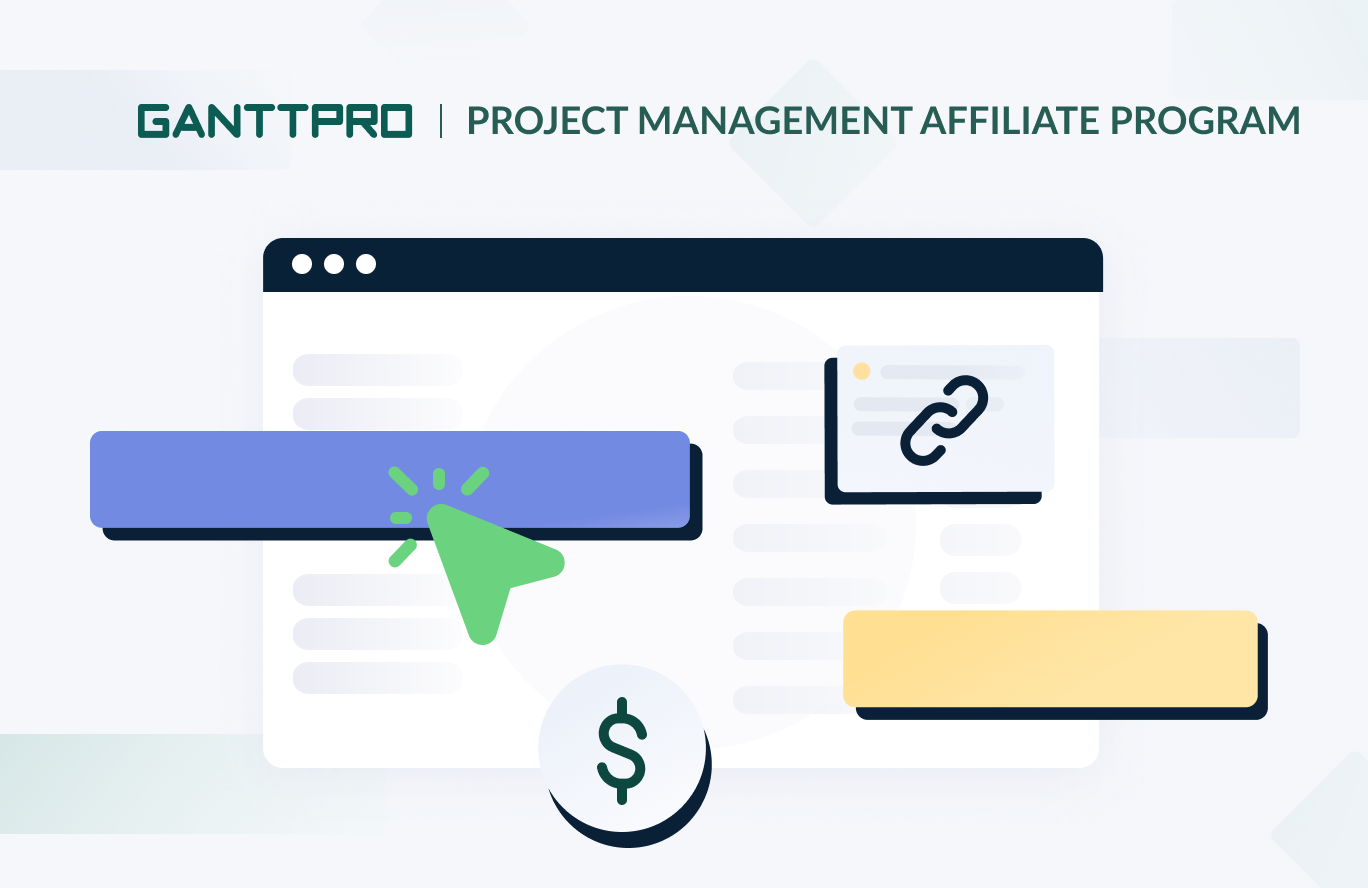 Audio version:
GanttPRO, the world's high-rated Gantt chart maker, provides a stunning project management affiliate program built for savvy partners. If you are a website owner, a marketer or a general affiliate, who can bring traffic to GanttPRO, we want you on board.
How to join GanttPRO project management affiliate program to earn while promoting our reliable software? Easy as pie. You'll learn it from this article, but first, let's formulate the key basics of affiliate marketing.
What is the power of affiliate marketing?
Affiliate marketing means you earn a commission by promoting a company's product/service.
If you work in the IT industry, you're likely aware of affiliate programs. Most software development companies rely on such a program as a cornerstone of their marketing strategies. Luckily, you don't need something special to begin earning this type of income.
Affiliate marketing may become your most successful marketing channel. You just need to determine your audience and set the right goals.
Applying this affiliate model can help you drive traffic and generate leads like no other marketing channel.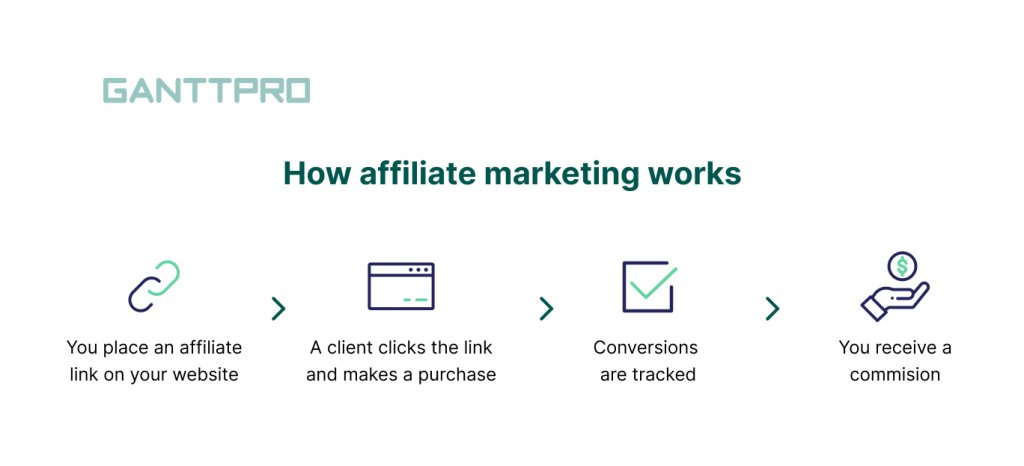 What to consider when choosing an appropriate affiliate program?
To select the right affiliate program, you should keep in mind the following points.
High-quality software
Don't agree to work with a company if you haven't tried its software. Perhaps, you'll have to walk away if you can't recommend a product to your audience in good conscience.
Fair communication
As an affiliate, you should expect reliable communication with your direct contact at the software company. It should include the info about new features, payments, policies, and performance in general.
Transparent payout
Make sure your affiliate marketing partner offers fair payments for the promotion you provide. The company should also have a transparent way to display your current earnings.
Now you know some basics about affiliate marketing, so it's time to explore the GanttPRO project management affiliate program and get rewarded.
What is GanttPRO project management affiliate program and how to turn it into a stable stream of income?
When it comes to finding a new business, it's always desirable to succeed with a company that is already out in front. GanttPRO is recognized by top review platforms and trusted by 800k+ satisfied users globally who rate our Gantt chart maker 4.85 out of 5. This audience score speaks for itself, so all you need to do is promote the software properly.
We've ensured that the GanttPRO program is one of the best affiliate programs for project management and an easy way to earn money as we offer a 50% commission rate.
GanttPRO affiliate program is one of the GanttPRO SaaS partner programs. It is designed to provide all Gantt chart maker features that come with affordable pricing plans to the people who need project management software for running their businesses in a professional manner.
Unlimited link expiration is what sets the GanttPRO affiliate program apart from similar competitors' solutions.
The information about the users who've registered to GanttPRO by the affiliate link will be secured and saved. No matter when the purchase happens, you'll get the commission.
And this is not the only benefit of the program. Let's sum up the other pros.
Reasons to join GanttPRO project management affiliate program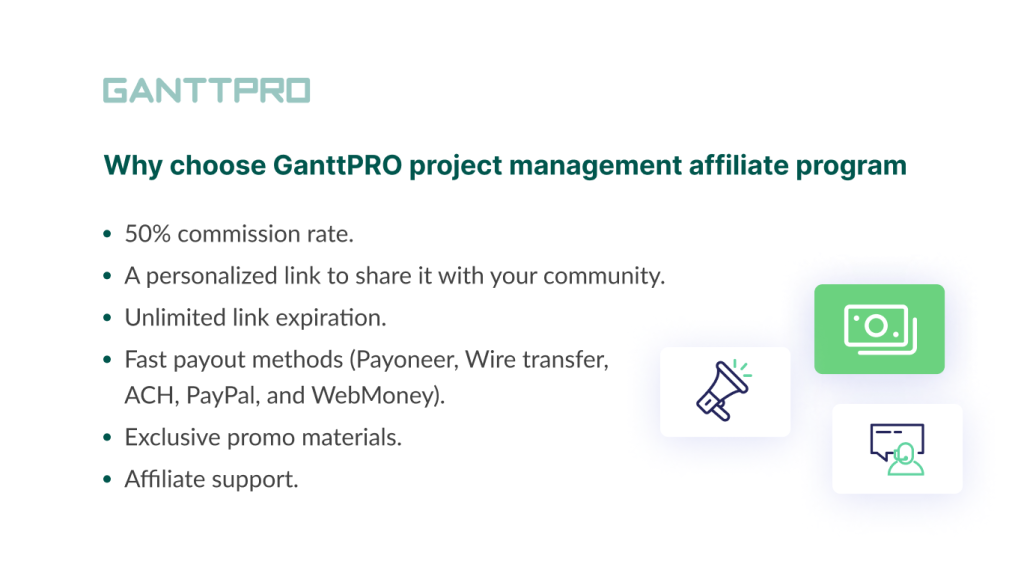 The program provides valuable benefits including:
Commission rate: 50%.
Personalized link. You can share your personalized affiliate link with your community.
Link expiration: unlimited.
Fast payout methods. You may choose from the most popular payment methods, including Payoneer, Wire transfer, ACH, PayPal, and WebMoney.
Promo materials. You get ready-to-use banners, videos, and texts in several languages.
Affiliate support. Our experienced affiliate manager is always ready to provide you with any business advice.
So, how to try this free program that will allow you to earn passive income?
How GanttPRO affiliate project management program works
The referral process in GanttPRO is pretty simple. All you need is to have a PayPro account and follow three simple steps.
1. Apply to the affiliate program
The first step includes registration. Fill out a special form to become a part of the GanttPRO team and get your unique link.
2. Use your networks
This step contains your promo activity. After filling out the registration form, as well as registering with PayPro, a unique link is sent to each partner to let them track product purchases. After someone clicks on this link, it is stored on their device.
3. Earn commission
It's time to get a reward. The more clients you attract with your affiliate link, the more commission you get.
Let's consider the example.
You drive annual subscriptions to the Business plan from 50 users. The sum you get is over $5K.
The payment process
When registering with PayPro, you get a unique ID. With its help, you can track payments and withdraw money in your account, where the popular methods of money withdrawing are available.
It looks clearer on a real example.
Let's say you posted a link in an article on your blog. A reader clicked that link, saw your product, registered, but didn't buy it. However, we stored that link. 
A month later, this reader came back and made a purchase. The good news is that you still receive money, as the info about the links is stored and this link will work long after it is posted. 
Stay in touch
Have any questions that we haven't answered here? We'd love to talk to you.
Get in touch by emailing us at [email protected]
Frequently asked questions about affiliate marketing and affiliate programs
Affiliate marketing is an activity and process when partners earn a commission by promoting a product or service made by another retailer using an affiliate link. The affiliate partner is rewarded for providing a specific result (typically, a sale).

1. Choose your niche – the category you want to promote. 2. Select a content platform. 3. Define an affiliate program to join. 4. Create your unique content. 5. Drive traffic to your affiliate site. 6. Track your affiliate campaign. 7. Boost your affiliate income.

An affiliate program is a marketing tool that focuses on paying commission to external affiliates to drive traffic to a website or promote a product. The affiliate websites post links to the product site and are paid according to a particular agreement.

Some of the famous highest paying affiliate programs are provided by Siteground, Cloudways, HubSpot, Shopify, Bluehost, and Hostinger. One of the highest paying affiliate programs in project management is the GanttPRO affiliate program. According to it, you get a personalized link to share it with your community, 50% commission rate, unlimited link expiration, popular payment methods, advanced promo materials, and reliable affiliate support.

There are many effective project management affiliate programs suitable both for beginners and seasoned affiliate marketers and project managers. Most of them are free to join.

One of the best project management affiliate programs is provided by GanttPRO Gantt chart maker. According to the program, you get a 50% commission rate, unlimited link expiration, popular payment methods, advanced promo materials, and more benefits.

You can explore some more efficient affiliate programs in project management: Monday.com affiliate program (25% commission rate, 90-day period of cookie duration), Wrike affiliate program ($300 commission per sale, 90-day period of cookie duration), Taiga affiliate program (30% recurring commission rate, 90-day period of cookie duration), and Avaza affiliate program (20% commission rate, 90-day period of cookie duration).

This content is licensed by