GanttPRO SaaS Partner Programs: 6 Ways to Build Trusted Partnerships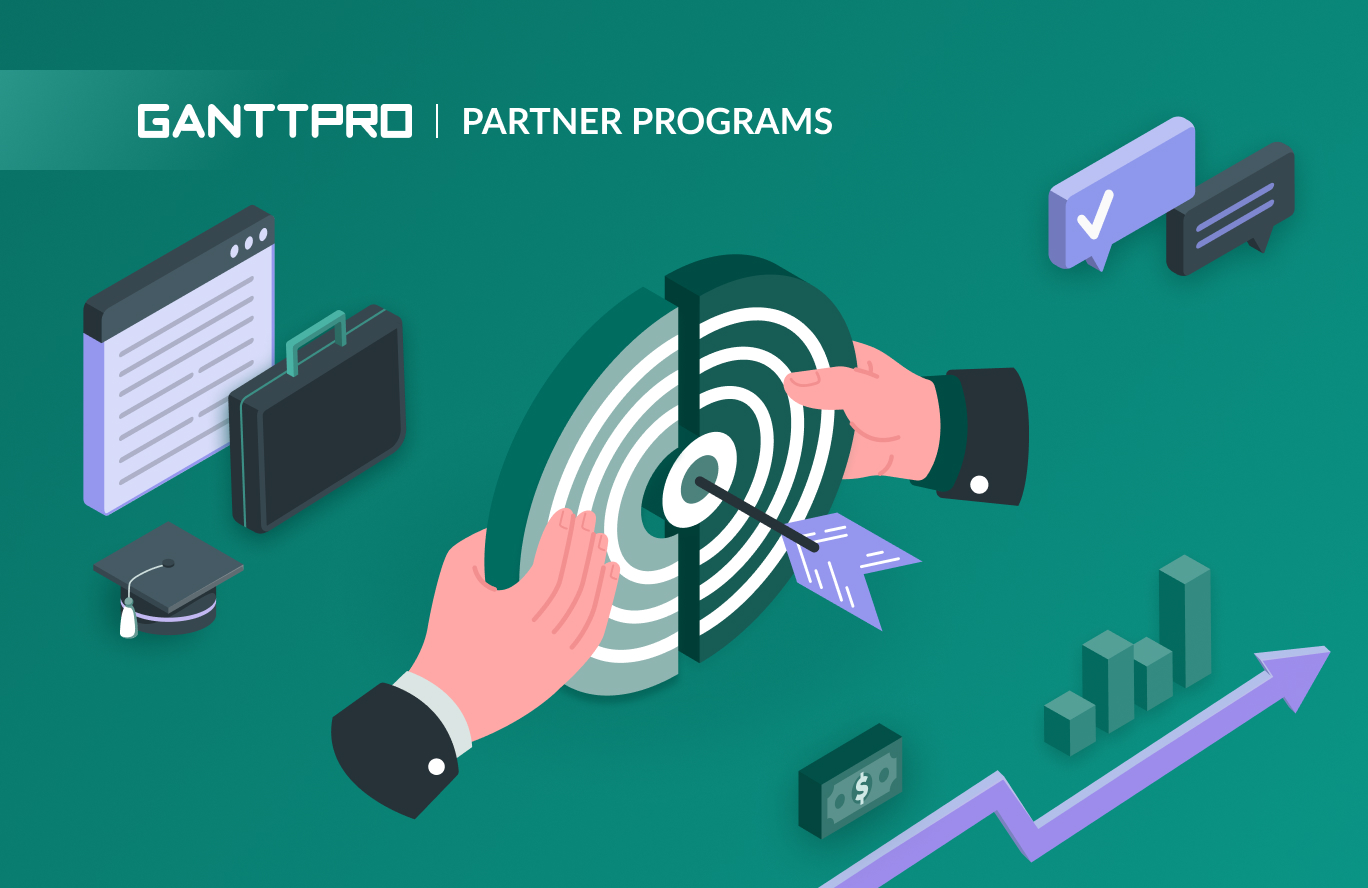 The growth and influence of SaaS (Software as a Service) partner programs constantly increase.
According to the State of Partner Ops and Programs Report (2022), 78% of all organizations have a partner program. In addition, 96% of respondents to the "Channel/Partner Marketing Benchmark Survey" (2022) expect to increase revenue directly attributed to the partner ecosystems they are involved in.
GanttPRO partner programs also help establish and develop strong partner relationships. By becoming a GanttPRO partner, you'll get various benefits from accelerating brand awareness to driving revenue growth.
This article will help you explore the best SaaS partner programs by GanttPRO and find the way to establish the most effective relationship with ease.
Contents:
Why partner with GanttPRO
All GanttPRO SaaS partnership programs clearly outline their strengths, incentives, and the support they offer.
As our partner, you'll quickly realize that your time and efforts for collaboration are not wasted in vain. By registering in one of the GanttPRO partner programs, you'll get many long-term prospects, which depend on the chosen program and its specific traits.
So, what makes GanttPRO partner programs beneficial?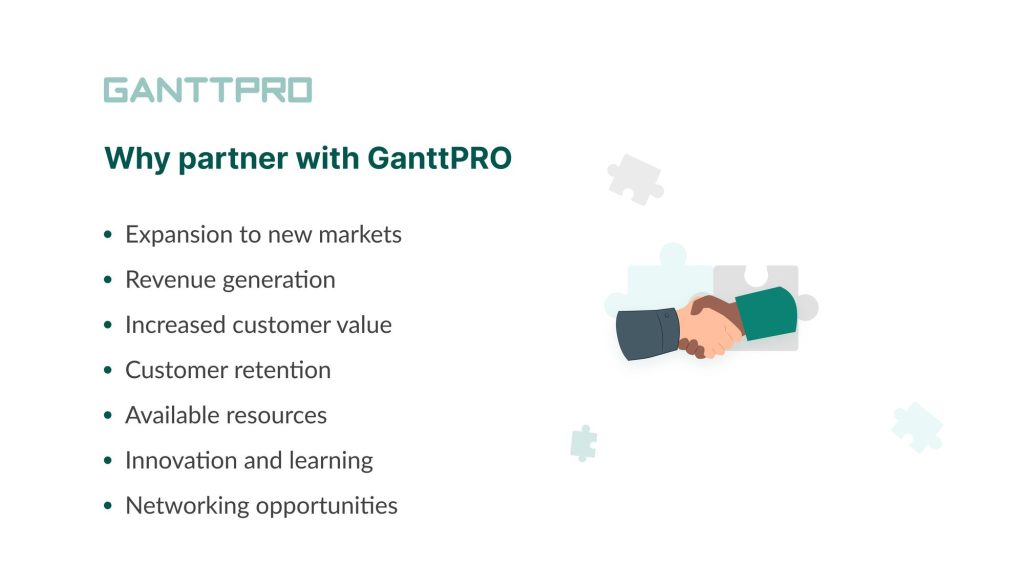 Expansion to new markets.

The programs help expand market reach and tap into new customer segments that you might not have reached on your own. For example, the reseller program gives real chances to improve your market strategy by connecting you with a community and also lets you share revenue benefits.

Revenue generation.

Solutions like the GanttPRO affiliate program offer a revenue-sharing model, where partners earn a percentage of the revenue generated through referrals or joint sales efforts. It provides an additional revenue stream for participating companies or individuals.

Increased customer value.

The programs help create more complete and valuable solutions for customers. By bundling services or integrating products, companies can deliver higher value to their audience. For example, by becoming a technology partner, you'll have a chance to expand your product's reach and add value for common customers.

Customer retention.

The programs improve customer satisfaction and retention rates. Your clients will be more likely to stick with a solution that addresses multiple aspects of their needs. You can influence this, as, for example, according to the organizational development program, you can integrate your expertise with GanttPRO to promote collaboration and boost customer retention.

Available resources.

Participation in the affiliate program allows for getting access to high-quality marketing materials, co-branded content, and training resources.

Innovation and learning. Partnership with GanttPRO can expose you to new technologies, strategies, and ideas to stay up-to-date in the rapidly evolving PM industry, as well as professionally manage them. For example, by joining the educational partner program, you'll have a chance to implement the robust software with multiple awards

and professional recognition into your educational processes. You'll get it with a discount or for free.

Networking opportunities.

The programs provide opportunities for networking and building relationships within the industry and outside it. This can lead to new partnerships, business relations, and knowledge sharing.
GanttPRO SaaS partner programs
By highlighting the potential for growth, market expansion, and often increased revenue, GanttPRO proposes to choose a partnership program from 6 available options and leverage the advantages of mutual collaboration.
The programs are different, but they have one thing in common – an undeniable benefit for all parties involved.
Let's figure these offerings out.
1. Affiliate program
Affiliate marketing is a powerful strategy that involves promoting products or services offered by other companies and earning a commission for each sale or action generated through promotional efforts.
According to the Affiliate Benchmark Report 2023, global affiliate marketing spending is anticipated to climb further to $15.7 billion by 2024.
GanttPRO affiliate program provides you with the opportunity to share your affiliate link on your website or social channels and get rewarded for promoting our Gantt chart maker. It is worth adding that it doesn't require extraordinary skills or knowledge to begin earning.
The program offers a 50% commission – one of the highest rates within the project management market.
Additionally, GanttPRO affiliate partners get a range of other benefits including:
A personalized affiliate link to share with a community.

An unlimited link expiration.
The most popular payment methods, including Payoneer, Wire transfer, ACH, PayPal, and WebMoney.
High-quality promo materials including banners, videos, and texts in several languages.
Timely support of an experienced affiliate manager.
How to join GanttPRO affiliate partner program
To join this project management affiliate program, you just need to have a PayPro account and fill out a special form on the GanttPRO affiliate program page.
2. Reseller program
By becoming a reseller partner, you get a direct license to sell a product on your digital channels.
Resellers are often certified to help with setup, customization, and other support needs. Therefore, you may act as a customer support team but remain an independent third party.
GanttPRO reseller partner program is a great chance to improve a market strategy by connecting with a new community and sharing revenue benefits. These benefits can come after a couple of weeks to months and grow substantially in the long run.
Here are the key characteristics of our reseller partnership program:
A proven way to increase a customer base with minimal effort input.

New sales chances.
Decreased expenses on SaaS marketing due to outsourcing sales to people who own their networks.
Strong collaboration with a community.
How to join GanttPRO reseller partner program
If you are interested in becoming our reseller program partner, fill out the form on the GanttPRO for resellers page and boost your revenue with the Gantt chart maker.
3. Referral program
Another type of the best SaaS partner programs is a referral program.
This partnership is a formal agreement, where the key goal is to recommend GanttPRO to your friends and relatives and get free use of the Gantt chart maker.
The partners of this program are typically the users with whom we already had a history of paid-basis relationships. This is a pretty powerful type of cooperation for a business because of the high level of trust involved.
How to join GanttPRO referral program
To become a GanttPRO referral partner, you need to apply by filling out a short form.
4. Organizational development program
This type of partnership typically involves non-competitive companies whose products can easily integrate with GanttPRO. It allows both parties to combine their resources, strengths, networks, and knowledge to solve a shared challenge or get new opportunities.
You can also become a GanttPRO development partner and seamlessly integrate the Gantt chart maker with your expertise to drive revenue growth and promote collaboration.
How to join GanttPRO organizational development program
If you want to start this type of partnership with GanttPRO, go to a special page for registration and further cooperation.
5. Technology partner
Technology partners typically work together to develop seamless integrations or APIs that allow their products to communicate and share data effectively. This integration can help customers streamline their workflows, eliminate data silos, and enhance overall productivity.
This technology partner program will enhance the functionality and value of your SaaS product by integrating it with GanttPRO.
This type of partnership will improve the capabilities of both sides participating in the program. As a result, you'll get increased market visibility, access to new customer segments, improved customer satisfaction through a more comprehensive solution, and the ability to offer unique value propositions.
How to join GanttPRO technology partner program
Such a collaboration doesn't require much time for registration. However, you have to be confident in the quality of your product, which can be easily integrated or connected with GanttPRO via API. Our API makes it easy to set up such connections.
You need to follow the link to the registration page and become a GanttPRO technology partner.
6. Educational program
The educational partner program is designed to collaborate with schools, colleges, universities, training centers, or online learning platforms. Students and teachers who work according to an individual program are also interested in such proposals.
This is a kind of win-win scenario where educational institutions or individuals gain access to valuable software functionality.
As an educational partner, you get access to a professional Gantt chart at a significant discount or even for free.
This program can be a perfect match for:
Teachers.

Students.
Universities and other educational institutions that specialize in project management.
How to join GanttPRO educational partner program
The principle of joining the program is as simple as with other GanttPRO programs. Just fill out the registration form on the GanttPRO for education page and become our partner.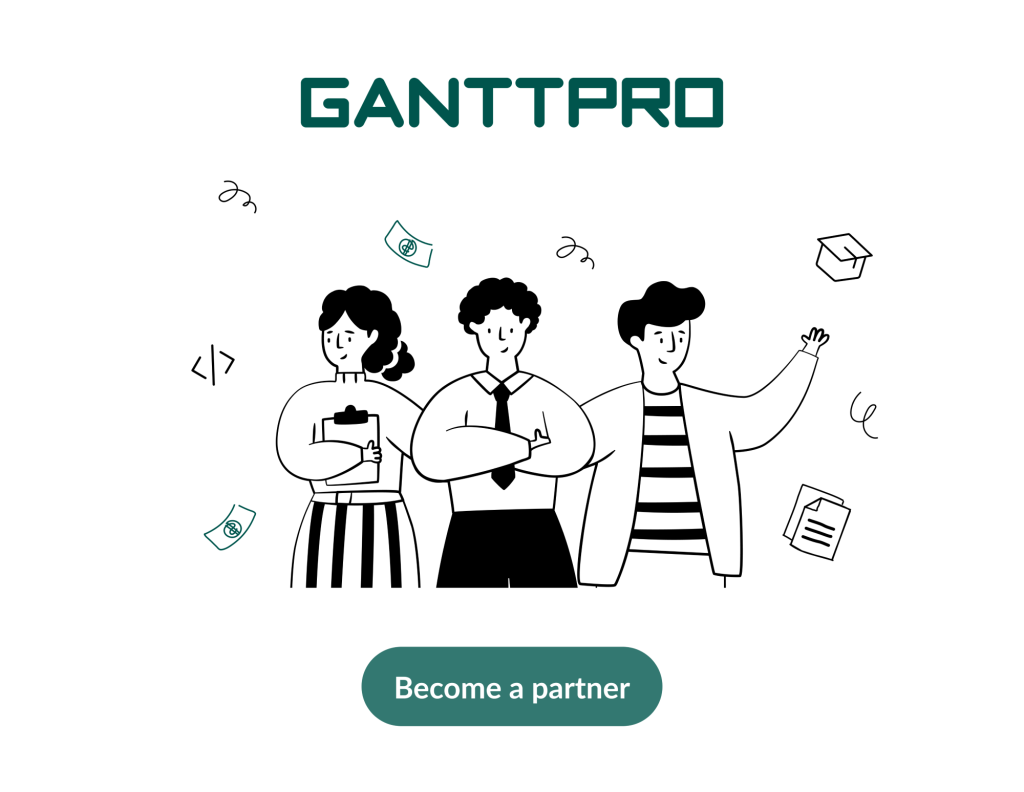 Want to try a different type of partnership?
We don't limit your partnership opportunities and strive to propose more options. If you are interested in a type of cooperation not represented in our set of SaaS partner programs, we can discuss and consider it at any time.
To leave a proposal, go to the registration page and select the "Other" option in the "Partnership type" field.
If you have additional questions about GanttPRO SaaS partner programs, feel free to email us at [email protected].
Frequently asked questions about SaaS partner programs
A SaaS partner program is a collaboration between a software provider and external entities (resellers, consultants, etc.) to jointly promote, sell, and enhance the value of the SaaS provider's software offerings. This program aims to expand market reach, increase revenue, and create a network of partners that benefit from the partnership.

This content is licensed by