GanttPRO v.1.5: More Improvements in Project Scheduling, Project Management and Planning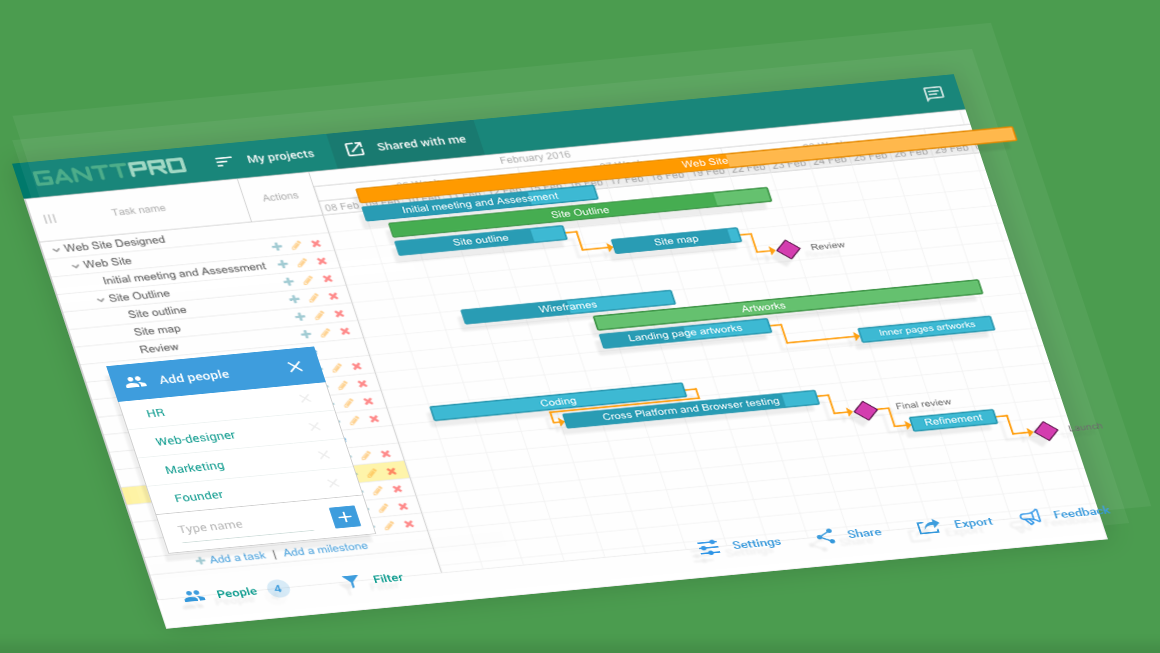 What does automatic scheduling mean in project scheduling software? Automatic scheduling allows users to plan projects easily and calculates task durations and set start and end dates automatically based on dependencies between tasks, time spent, working hours and days, etc. Moreover, with Automatic project scheduling, you can set up gaps between tasks and always be sure tasks of your project depend on each other the no time conflicts will appear. Automatic project scheduling allows you to accelerate project planning processes and save time for things that really matter. Sounds like it's what every project manager needs, and it's high time to check out what's new in the update!
Today I am happy to announce a new update of GanttPRO, our smart Gantt chart tool, that features improved automatic project scheduling, attachments, and renewed Gantt chart templates. In the update, all issues with automatic project scheduling were solved and new behaviors are developed, attachments were added so that you could use GanttPRO software as a file storage system, and also we have added new free project plan templates: from software development templates to construction schedule templates.
Automatic Project Scheduling Tool Gantt Chart GanttPRO
In the February's free update of GanttPRO software, with your help (thanks a lot for you feedback and bug reports!) we have fully renovated automatic scheduling in our project planning and scheduling software. Now GanttPRO software ignores cyclical and incorrect dependencies. This feature allows avoiding any hangs of the online Gantt chart.
Moreover, in the update of project scheduling software, durations of groups of tasks and projects fully depend on start and end dates of tasks inside, and the start and end dates of dependent groups of tasks can be also changed based on durations of external tasks.

Attachments To Tasks Of The Online Gantt Chart Maker
We continue improving our project scheduling software, and in this updated we have added a feature that has the highest number of requests. In this update, you can take advantage of a possibility to attach files to your tasks right on the Gantt chart.

If you are using the Essential plan of GanttPRO project scheduling software you can attach up to 300 MB of files to your Gantt charts. In the Team plan, you can upload up to 1500 MB when managing a team Gantt chart, and you can share 3500 MB and 5000 MB of files in the Growing team plans.
New Free 
Templates Of GanttPRO Project Scheduling Software
You may have already noticed that in our project scheduling software we have renewed free Gantt chart tasks templates. Now you can choose and plan your projects using one of eight available project plan templates: a software development project plan template, construction schedule template, website design project plan template, simple project plan template and other templates.
Hope you'll enjoy planning and scheduling your projects with a new version of GanttPRO software! We continue working on fresh updates and new features for project management based on feedback we received from you (keep sending us your ideas, seriously, we love them! ? ).
Have a great day!