5 Must-Dos for Efficient Resource Allocation Strategy in Uncertain Times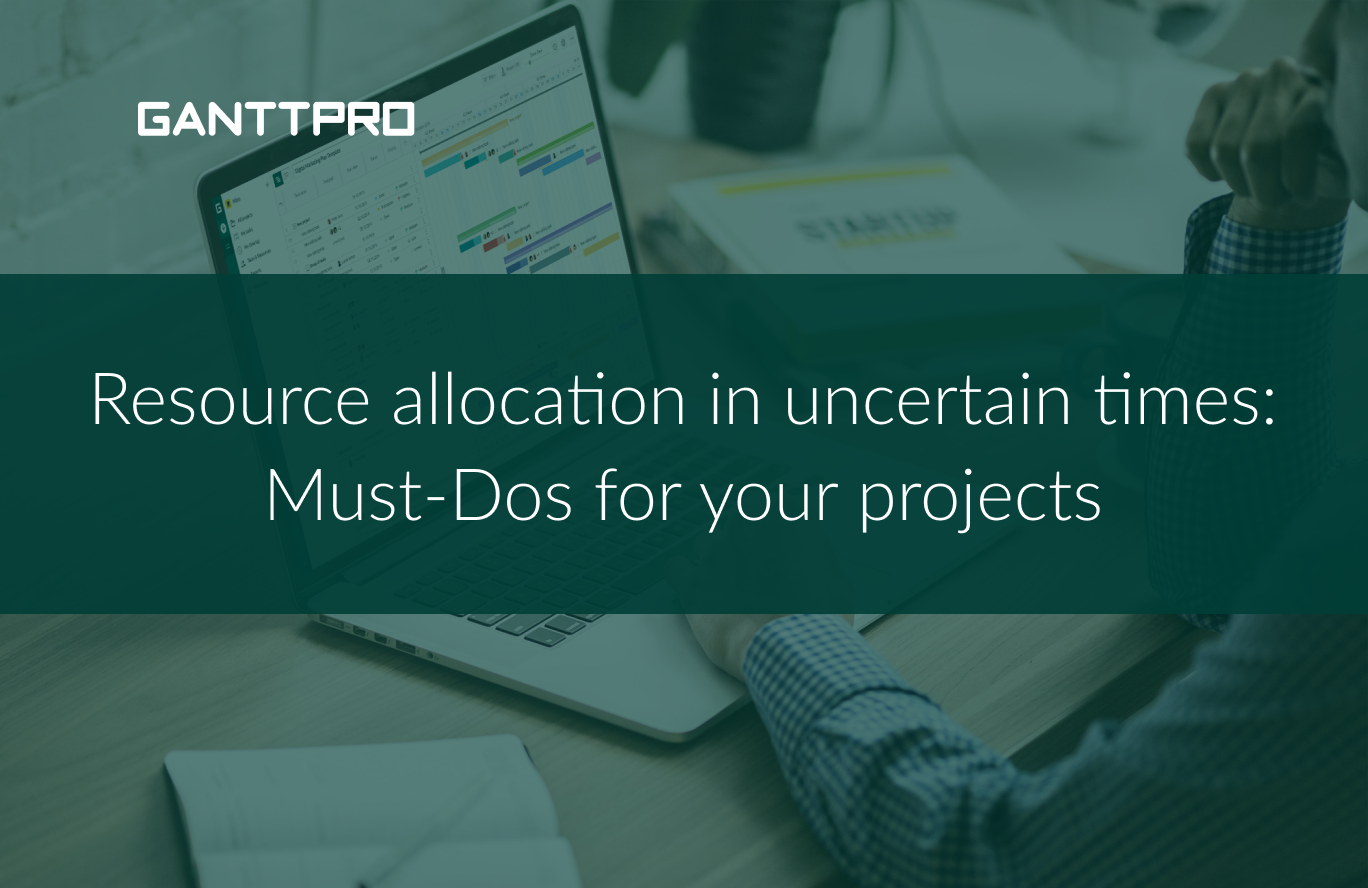 Shifting resources to where they will bring more value is a difficult task, with its recognized importance for company growth. According to the 2016 McKinsey research, 83% of polled executives stated they saw it as a booster for development and delivering higher returns.
However, stating importance does not mean that proper resource allocation in project management is easily achievable. According to PMI's 2017 The Pulse of the Profession report, only 26% of organizations always used resource management to estimate and allocate resources, 11% – rarely, and 4% – never.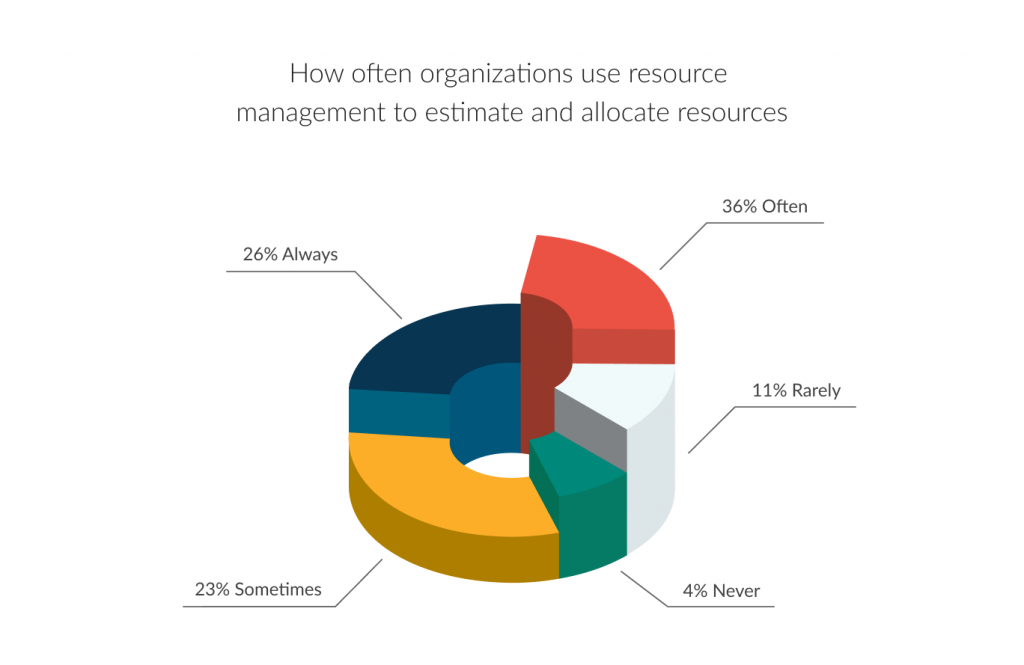 The 2019 State of Project Management Annual Report by Wellingtone, a project, portfolio and work management consulting and training company, indicates resource allocation as a top project management challenge. Compared to 2018, poor resource management saw an increase by 60%.
The same report states that resource allocation took the fourth position in two categories:
Processes that add the most values.
Most difficult processes to embed.
Have you noticed the correlation? The data show that once you adjust resource allocation, you will add more values to project management processes.
But what is the situation in times of crisis?
Resource allocation: scarceness in times of crisis
New conditions create a new reality: organizations have to work with scarce resources. It poses new challenges. While businesses have to efficiently allocate scarce resources, their productivity should not be affected.
Following a crisis management plan in times of uncertainty could be a good way to start recovering your business. One of its points reads: "Manage your resources even better than before", and it certainly makes sense.
They say the crisis shows what you should have done before but you had no time for it. Taking into consideration the scarceness of resources now and in the future, it is high time to start learning the ways to better allocate time, money, equipment, and people.
Forewarned is forearmed.
We've made this guide to share must-dos and methods for efficient resource allocation in project management. Whether you are a manager, stakeholder, or someone who wants to optimize in-house or remote resources, it could be a good starter for proper management, in times of crisis and after it.
You'll learn:
What a resource is.
What resource allocation is.
Must-dos for efficient resource allocation.
Let's start with the basics.
What is resource allocation?
But first things first.
What is a resource?
A resource in a project is an asset needed to complete a task.
If you are new to project management, you may take this conception slightly narrowed thinking of them as purely people.
However, these assets can be anything that will help you work on tasks in your project.
In project management, resources are:
People: team members or third parties.
Equipment and tools: machines, software, doors, tables, bulbs, etc.
Time.
Money.
Projects from different industries rely on all of them simultaneously.
A good manager who wants to complete projects in a timely manner has to allocate resources before projects even start.
Here we come to the question: "What is resource allocation in project management?"
You will find the term "Resource allocation" in, at least, economics and project management. We cover the resource allocation definition in project management.
What is resource allocation?
Resource allocation or resource management is the process of assigning of available resources and activities for them in a way that brings more value.
Why resource allocation is important
From the very beginning of a project, a manager needs to properly distribute all the work. It is one of the most important facets of a project manager's activities. Why?
Some resources can be overloaded or in other words, overallocated working at, for instance, 150%. Technically, this resource has tasks to do. In reality, during the same period, they can't perform different tasks as the total working capacity is exceeded.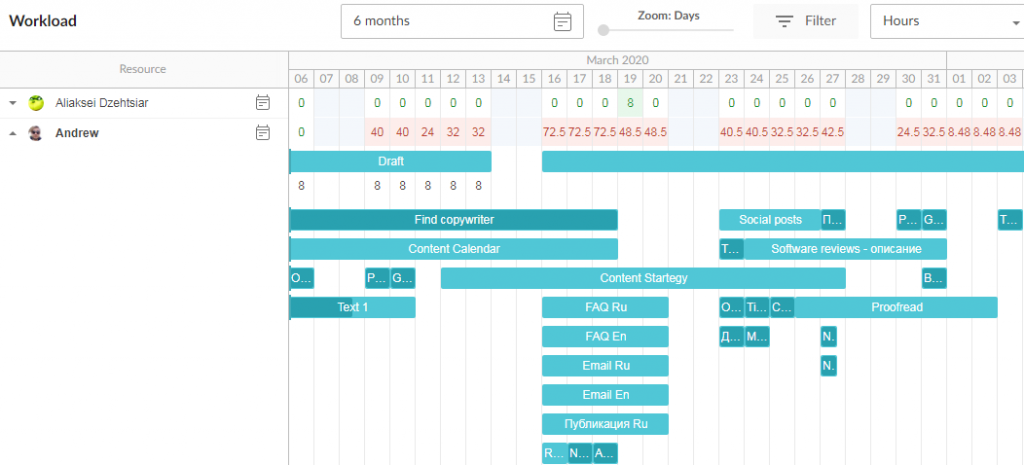 At the same time, some resources can be underloaded or underallocated. It means they are available for extra tasks but due to poor resource planning, they have spare time.
If done right, allocation shows who and when works on certain tasks tying resources with the set goals.
If you allocated your resources efficiently, you already put your project on the right rails.
Resource allocation example
Suppose, your marketing team works on content for a huge product update. You give a task to James, your content writer, to prepare a release update setting 8 hours for tomorrow. However, this resource already has a task for tomorrow, it requires 8 hours, and it is urgent.
What do we have? Two different tasks start and finish at the same time and have an 8-hour duration span. James is overallocated and supposed to work at 200%. This is impossible and you need to balance his workload.
Determining where resources can bring the most value and distributing them is one of the crucial challenges of efficient resource allocation.
Including the following tips in your plan and implementing them might become your power in times of crisis.
Resource allocation: tips for your projects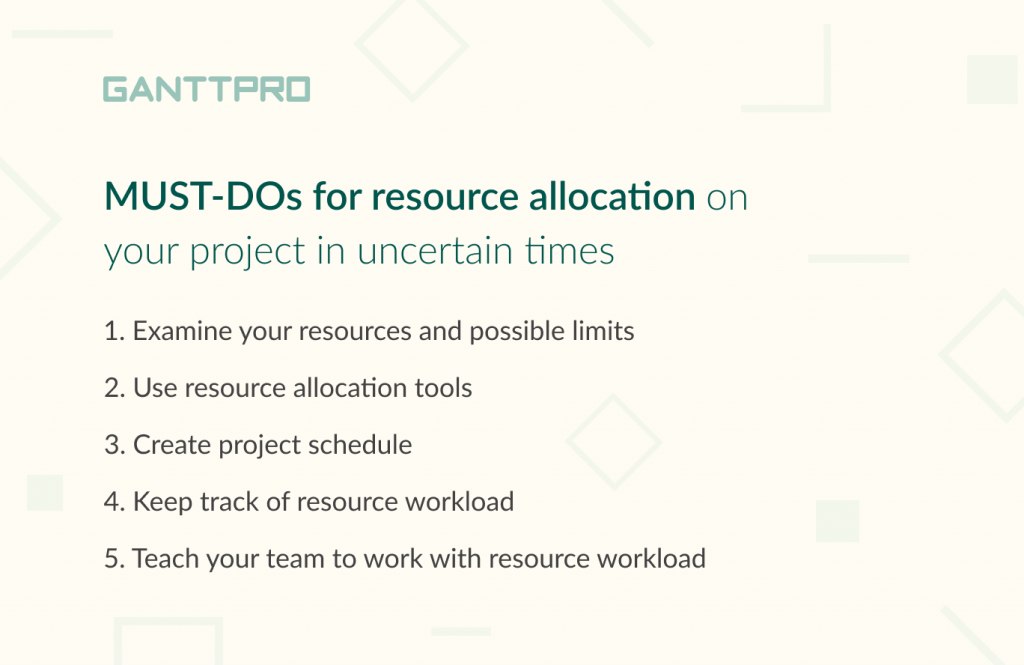 1. Examine your resources and possible limits
You have to know all the details before you start allocating resources:
Determine what types and how many resources you have.
Check their availability. Remember that in times of uncertainty, you do not have a magic box to pull them from. It is time to allocate them carefully considering all their tasks, whether they are overallocated or underallocated.
Take into account personal calendars with days-off, vacations, and other holidays when resources are unavailable.
Think of any changes and limits such as deadlines, unexpected breakdown of your equipment, weather conditions, etc.
Tie your resources to new goals.
2. Use resource allocation tools
Keeping in mind the types of resources you need to allocate and manage, choose a resource allocation tool that matches.
If you need to manage only human resources, you will find dozens of human resource software. There are some popular tools such as Kissflow HR Cloud, Zoho People, Bitrix 24, and Workday HCM.
If you need to manage financial resources, look for finance management tools that work especially well for small businesses: Zoho Finance Plus, Quickbooks, Score, and many others.
Besides, you can choose among tools that cover most of the project management and resource allocation needs. Here, you will find a well-known MS Project and MS Project alternatives like GanttPRO.
GanttPRO is an online project management tool based on Gantt charts. Managers and teams use it successfully for task and cost management, resource allocation, time tracking, and collaboration.
3. Create a project schedule
There are lots of situations when schedules are created without resources. It is not the best way to start your project as it then may lead to challenges with the allocation.
But with scarce resources, the issue is even more critical.
Keep in mind that a project schedule is a place where you connect tasks and resources. That's why you should look for a tool with a greatly visualized project timeline. It will help you keep track of the progress, follows all the dates and deadlines, manage resources, and foresee risks.
Make sure that your schedule includes critical information:
Tasks.
Tasks' attributes: statuses, priorities, progress, start and finish dates, deadlines, etc.
Dependencies.
Resources.
Milestones.
Duration and estimation.
Time spent on tasks.
In GanttPRO, business owners, project managers, and teams can create visually appealing timelines and include the data mentioned above.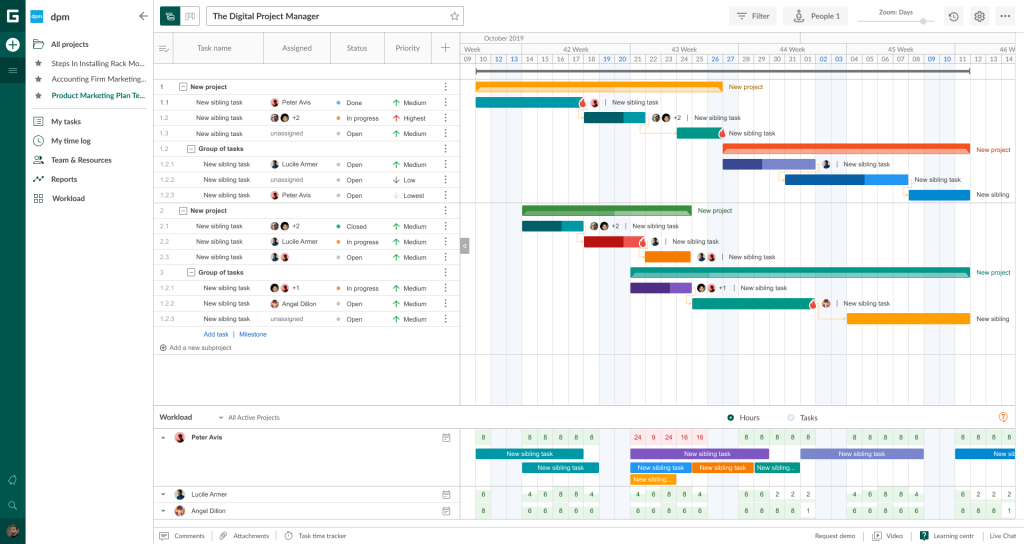 4. Keep track of resource workload
In times of crisis or other uncertainties, keeping track of resource workload and reallocating them could be your efficient solution to keep plans within the budget.
Organizations that regularly check and reevaluate their resource allocation have higher chances to create more value for their projects and, eventually, deliver higher returns.
In GanttPRO, one can keep track of resource workload in one place; see the availability of their resources, how many tasks, and how much time they have.
What is more, the software offers color differentiation for overallocated and underallocated resources as well as for those who are loaded optimally. With the drag & drop simplicity, it is a matter of seconds to reallocate any resource from your project.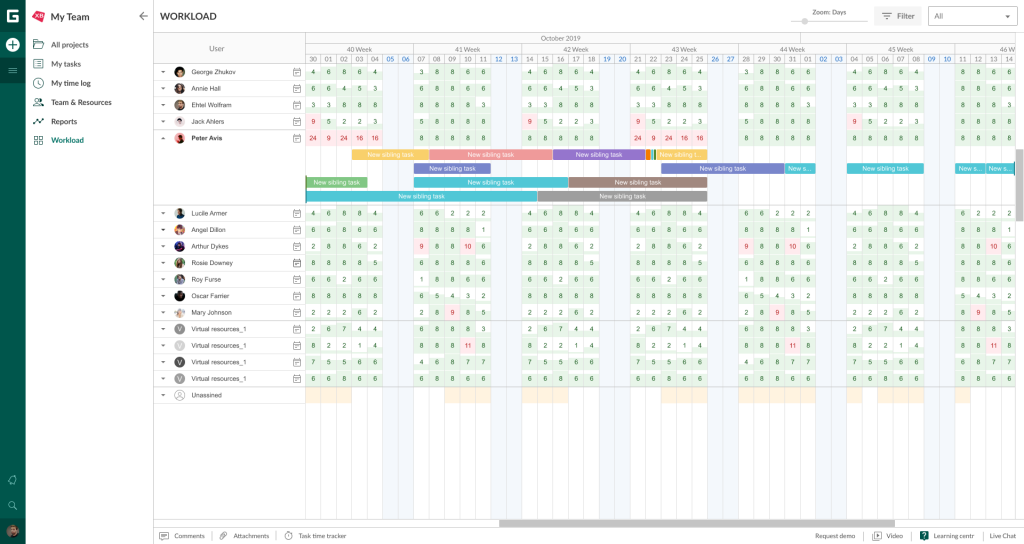 5. Teach your team to work with resource workload
Trust your team and delegate them tasks to work with their workload. It is not necessary to teach every member of your organization. But key players should know how to balance tasks and, if needed, reallocate them without your participation.
In GanttPRO, owners may make your key players admins. This role implies almost the same set of rights as owners have: create projects, invite and remove resources, and track their workload.
Resource allocation done right
In times of uncertainty, organizations have to learn new ways to work with their resources. They can't simply ignore the importance of proper allocation.
After uncertain times and numerous challenges and crises, your success as a business owner is directly connected with your ability to learn new ways to efficiently allocate and manage resources.