GanttPRO Was Recognized as the Top IT Project Management Tool by Capterra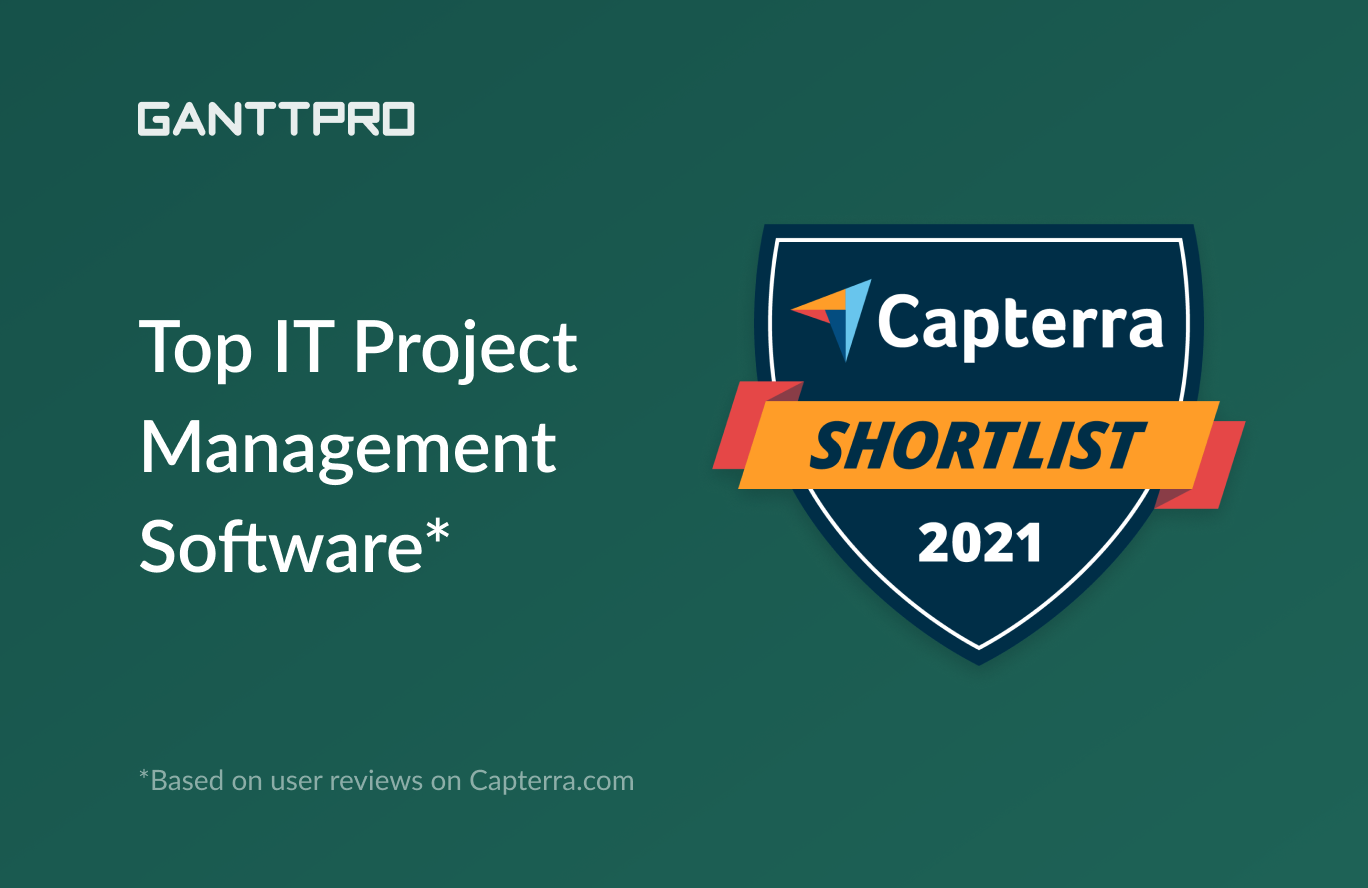 Audio version:
We are proud to announce that GanttPRO continues to win industry awards in key categories, as determined by the latest software user reviews.
The accolades from Capterra just keep coming. The popular online marketplace recognizes GanttPRO with a new award, adding it to the fast-growing GanttPRO awards list.
This time the leading reviews and rating platform acknowledges our online Gantt chart maker among the leaders in the IT field.
Capterra Shortlist constitutes the subjective opinions of individual end-user reviews, ratings, and data applied against a documented methodology; they neither represent the views of nor constitute an endorsement by, Capterra or its affiliates.
IT project management is the conducting of any information technology projects that a company undertakes. It's about initiation, planning, budgeting, executing, troubleshooting, maintaining, and controlling all project tasks involved.
To complete all these steps, companies need a professional project management tool. And we are more than happy that GanttPRO is named as one of the leaders in the IT sphere.
Being recognized among the best IT project management software is truly an honor and merit in the highly competitive and rapidly developing market.
According to the presented shortlist, GanttPRO has the following rates:
Rating: 50/50.
Popularity: 23/50.
So we are at the top of the rankings and still have something to strive for in the popularity rate.
How Capterra created its shortlist
130 products in the IT project management software directory were thoroughly analyzed.
Products that didn't meet all requirements for functionality and reviews were eliminated.
The most popular tools with the highest rates were selected and compared then.
About Capterra
Capterra is a famous online marketplace that features verified software user reviews. It helps people find the right software for their business. It includes ratings, reviews, comparisons, and the most comprehensive database of tools listings.
The company was founded in 1999 by Michael Ortner and Rakesh Chilakapati. It is based in Arlington, Virginia.
By the way, GanttPRO was highly recognized in the field of IT project management not only by Capterra. Another award in this area came from Software Advice.
This company also provides advisory services, research, and user reviews on software solutions for businesses in over 300 market categories.
The badge Software Advice Frontrunners also looks very honorable and attractive.
We'd like to thank all involved for your ongoing support, feedback, and your fantastic reviews of our platform. 
We're thrilled that you like us so much!

This content is licensed by
Join 800,000+ project managers!
Create Gantt charts in minutes with GanttPRO and reduce time spent on managing tasks by 40%
Try for free
No credit cards required. No obligation.